Open kitchen shelves are a godsend and contemporary Indian homes have been quick to embrace them. Why? Not only are they a practical solve for space constraints but also a great device for improving the aesthetic appeal of a kitchen.
So if you're wondering how to go about decorating your open kitchen shelves, our styling ideas are here to help you through:
Open Kitchen Shelves Decor #1: Use accent pieces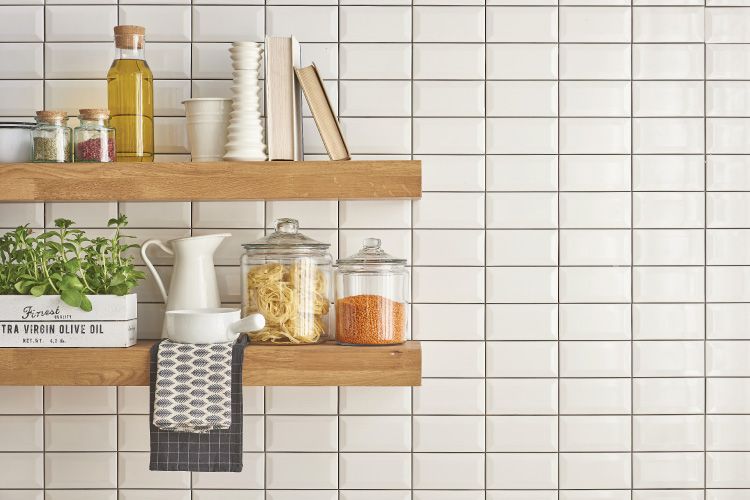 Apart from housing crockery and cooking ingredients, kitchen shelves can also be used for displaying your favorite curios as well.
For example, it's the perfect opportunity for cookbook junkies to display their collection or have a handy notebook where they can jot down new recipes, grocery needs etc.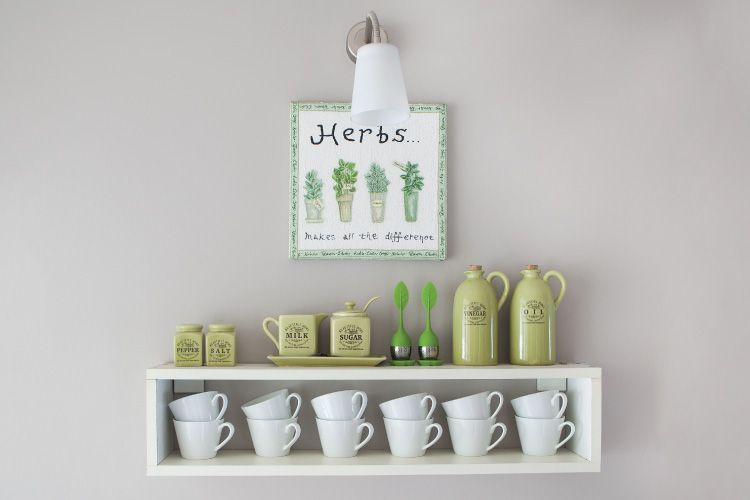 Use the area behind the shelves to lean artwork or if you don't have space, pin up it up for a pleasing effect. Alternatively, you could add some photographs here as well.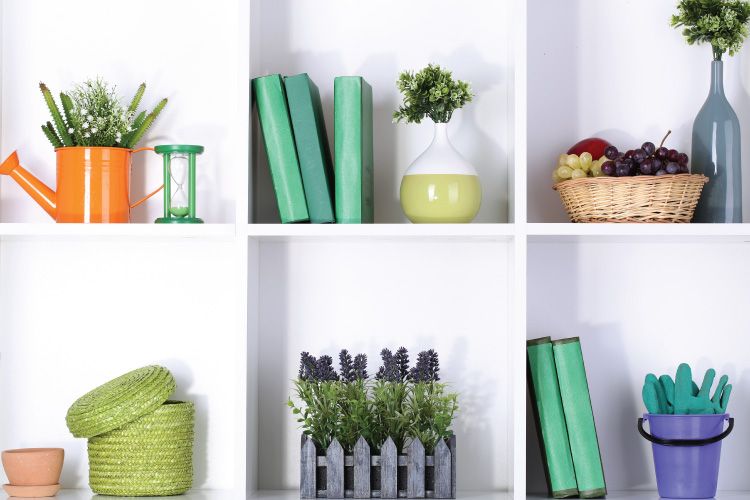 Multiple open kitchen shelves give you more opportunity to display a variety of accent pieces. The above arrangement has a cute assortment of items that instantly inspires smiles.
Open Kitchen Shelves Decor #2: Vitalize with plants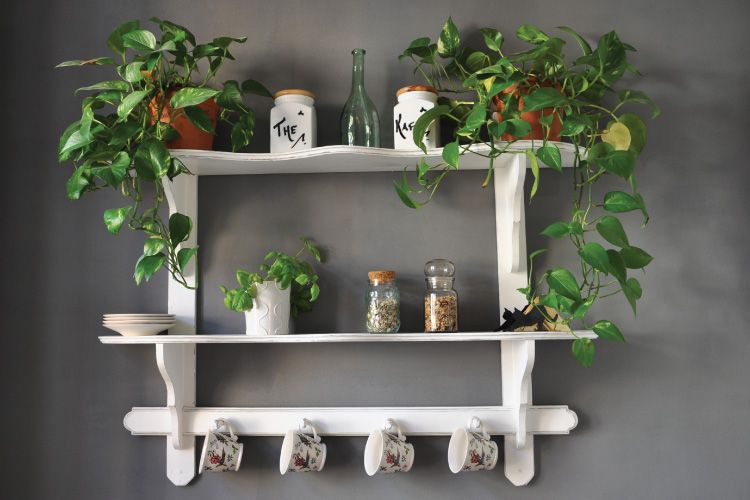 We know how important plants can be and some of the most useful and low-maintenance potted plants thrive in our kitchens. Ensure that they get the right amount of sunlight and are within arm's reach for watering.
Dense foliage offers organic appeals and beautifully drapes either side of this sturdy, traditional-styled shelf.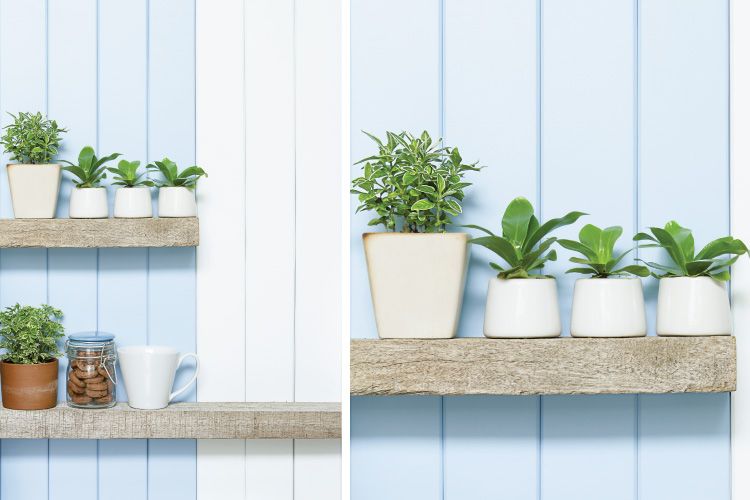 These sleek floating kitchen shelves are styled with tiny potted plants and ensure that the slim shelves stay clutter free. The shelves themselves work as a beautiful design element and offer warmth and interest.
Open Kitchen Shelves Decor #3: Show off some crockery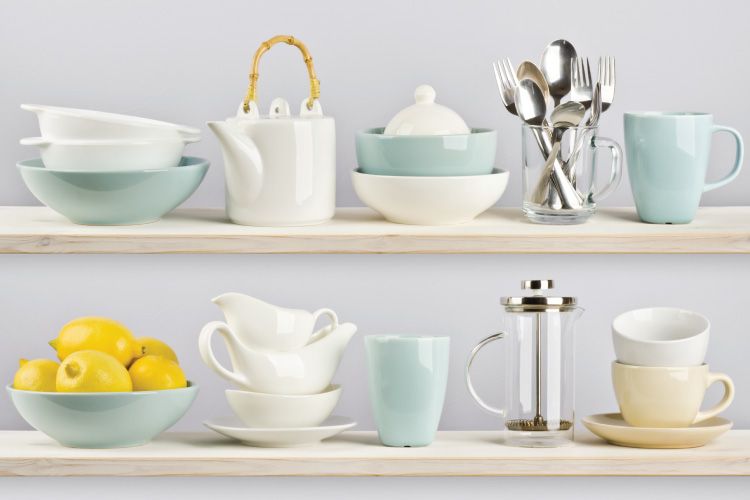 Spruce up your open kitchen shelves with your favorite china sets or vibrant crockery instead of stocking them in your cabinets. They're not only handy but add so much personality to a basic shelf.
Look for a common color thread and ensure that you leave out anything that does not go with the theme.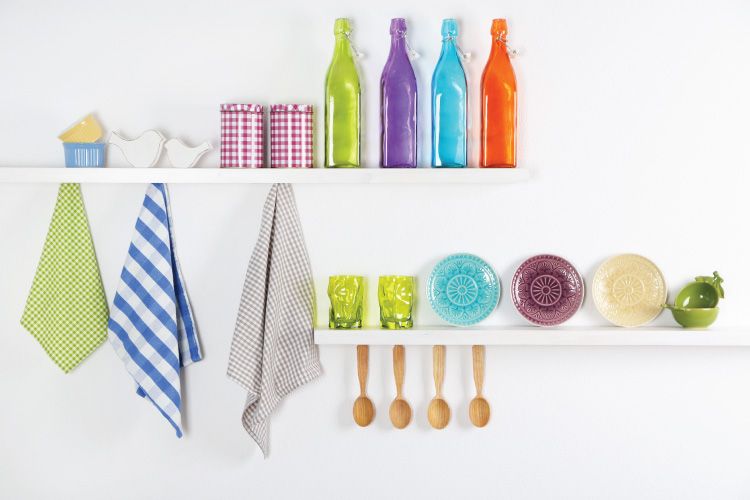 There are plenty of interesting ways you can arrange your crockery as well. The above floating shelves has neatly arranged vibrant bottles and pretty saucers among other items.
For a shabby-chic look, colour coordinate and stack plates and cups. The lopsided arrangement gives the kitchen a pretty yet busy feel.
Open Kitchen Shelves Decor #4: Theming with the background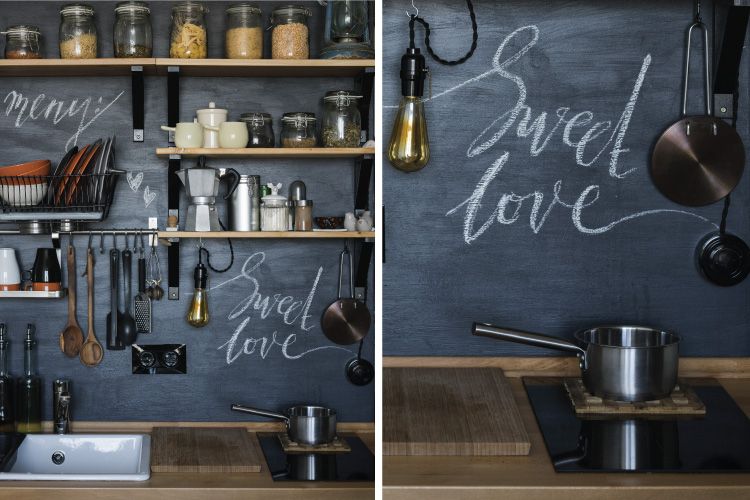 With multiple shelves, crockery and cookware, this kitchen exudes a stylishly chaotic vibe. But the blackboard background is what steals the show.
The slim bracket shelves pair beautifully with the grey background which can also be used to scribble to your heart's content.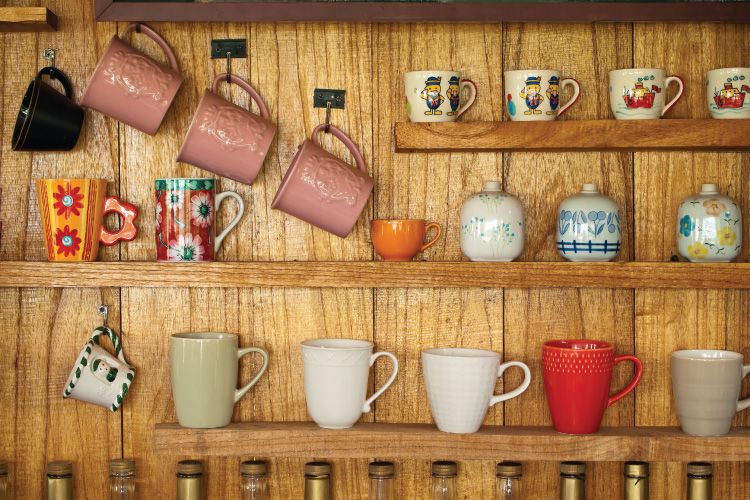 But if you want a more uniform look, you can opt for something like this. The open kitchen shelves seem to melt into the background, thus ensuring that objects placed on them stand out beautifully.
Open Kitchen Shelves Decor #5: Add extra lighting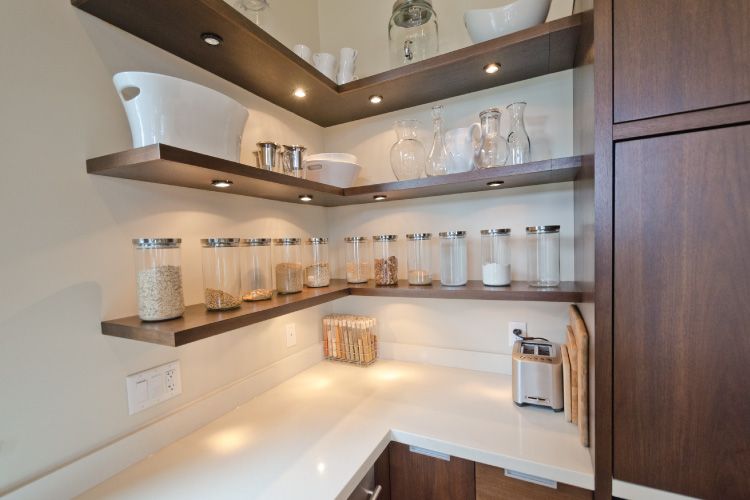 Adding task lights under your floating kitchen shelves not only adds a dash of swank to the space but serves a functional purpose as well.
Kitchen ingredients and essentials on the shelf are better illuminated this way. Not to mention that it's a handy add-on for those looking for a late night grub.
Also, this feature is extremely helpful for elderly parents or those suffering from poor eyesight.
There are a variety of open kitchen shelves using in Indian homes these days – floating shelves, corner shelves, multipurpose hook shelves and more. Choose from our above tips or mix and match decor ideas to create the layout you desire.