The idea of having a modular kitchen is to make cooking an effortless experience with an efficient kitchen design. However, to ensure that happens, there are a number of principles that you need to put into the design. Here is an insight on how you can increase the efficiency of your kitchen to improve your culinary skills.
Efficient Kitchen Design Idea #1: The Golden Triangle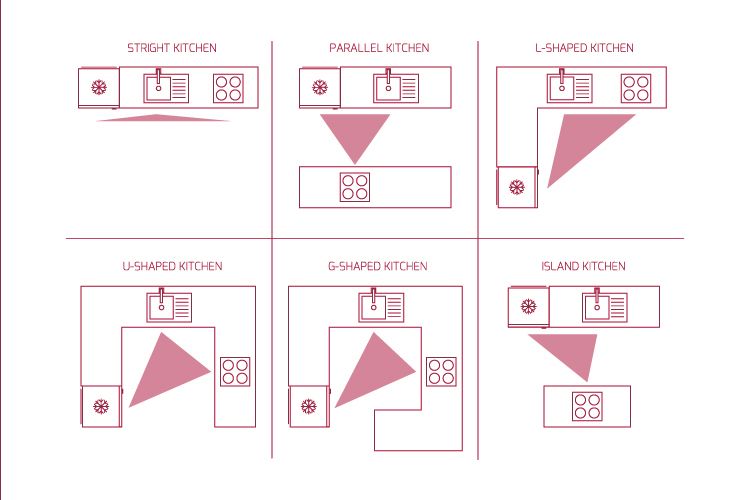 A practical kitchen design should have the hob, sink and refrigerator at an accessible distance. The reason is that these are the frequently-used workstations, and their proximity to each other can reduce the effort you put into moving between these counters. For a better understanding of the kitchen work triangle, refer to this article.
Efficient Kitchen Design Idea #2: The Size Standards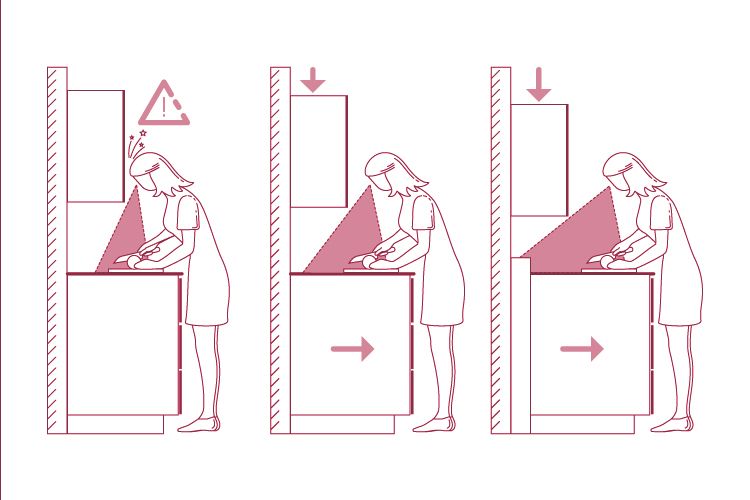 If you're getting a modular kitchen done for your home, then you should know that there are standard sizes for the height. This is designed keeping in mind the ergonomics of the kitchen. For the base units, 820 mm including the countertop is an ideal height.
Leaving a gap of 600 mm for the backsplash, you can go for either 600 mm or 720 mm height for the wall units. While 580 mm is the standard depth of base modules, the wall modules are 340 mm so that you don't hit your head on the wall unit or face difficulty while cooking.
Efficient Kitchen Design Idea #3: Storage & Hardware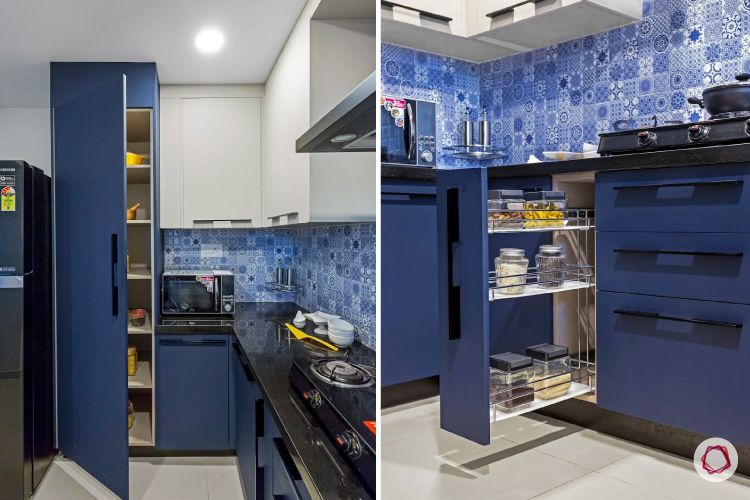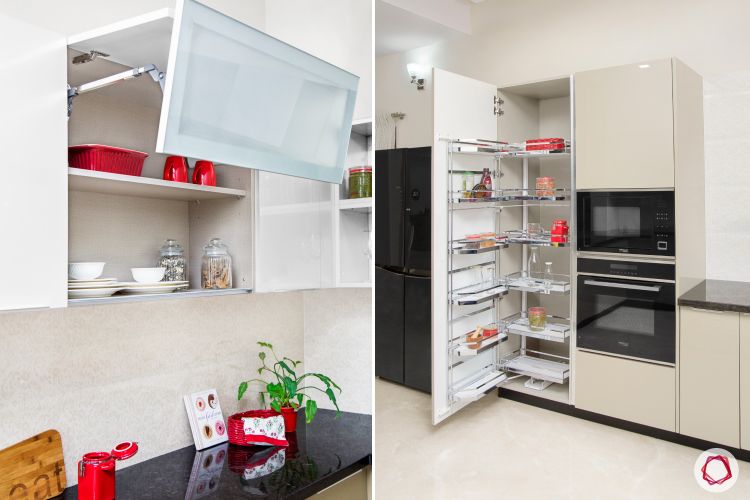 Storage is the major element of the kitchen and can make your cooking seamless if it is planned right. While drawers, pull-outs and baskets make organising effortless, having cabinets like pantry units can ease the storage of groceries. Also, you can check for an area to store appliances like toasters, mixers and so on, giving you a countertop that's free of traffic. Opt for a soft-close mechanism to cook with ease and increase your kitchen cabinets' shelf-life.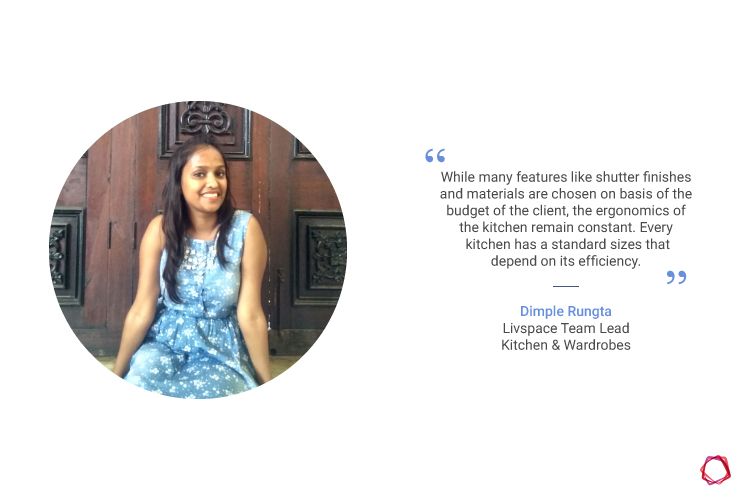 Efficient Kitchen Design Idea #4: Organisation Tricks
Smart kitchen organisation is a blessing in disguise when you're in a hurry to prepare food. So keep in mind to layer the appliances in three tiers. The first zone should contain the constantly used items within arm's reach—the second consisting of your frequently used equipment and on the farthest corners the rarely-used vessels. Refer to the picture for a better understanding.
Efficient Kitchen Design Idea #5: Dividing the Kitchen into Zones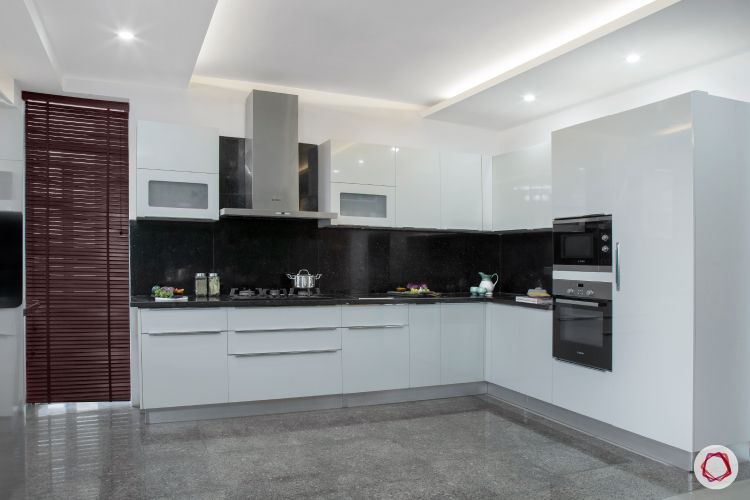 You should also divide your kitchen into two essential zones — wet and dry areas. The wet areas can be made waterproof with the right cabinet material to preserve your kitchen for longer. Your designer will recommend a boiling waterproof ply or boiling water-resistant or moisture-resistant ply depending on the need.
Efficient Kitchen Design Idea #6: Open, Closed or Frosted?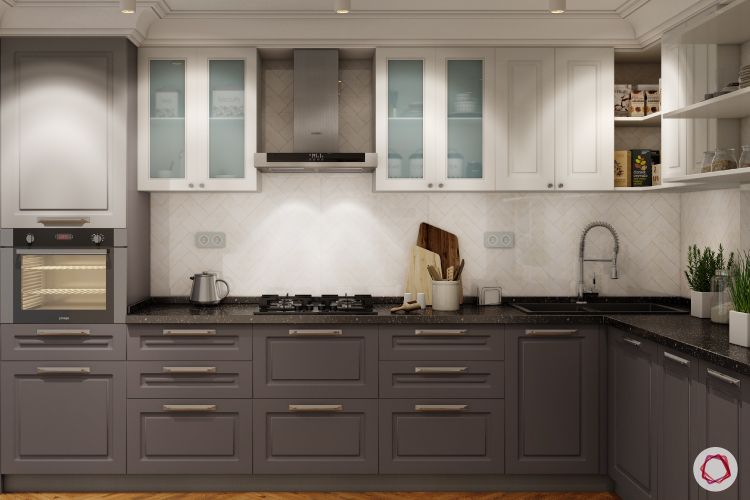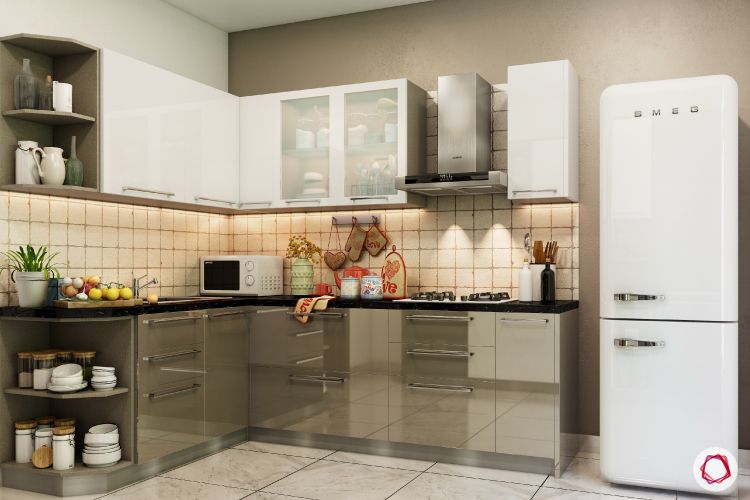 Last but not the least, is the decision on what kind of shutter you should opt for that influences the efficiency of your kitchen. Open shelves give you the luxury of easy access and add to the airy feel of your kitchen. However, if you're not the type to clean shelves regularly and still want this feature, plain glass or frosted glass is better. Closed shutters are a good option if you have hired help since the glass is prone to breakage if not handled with care.
Now that you have great tips to make your kitchen completely suited for your convenience, let us know if you this helps you breeze through your cooking session.