With global temperatures soaring and climate change on the rise, sustainability is a hot topic of discussion. It has also become a rather familiar household term, in a manner of speaking, which has led to making more conscious choices when it comes to consumerism and design. Among the many green choices we can make for our environment, opting for eco-friendly materials is a good start. Particle board is one such sustainable material you can use in your modular interiors. It isn't just good for the environment, but also offers some bang for your buck. How, you ask? Read on and find out!
In this guide, we'll take a look at what exactly particle board is, and its many types, uses, and costs. So, be sure to take note because this material might just be your new favourite!
What Is Particle Board?
Particle board is the most inexpensive option out of all the core materials (materials used to construct the structure of the cabinet) we offer at Livspace. In terms of classification, it falls under the engineered wood -category as it is manufactured from recycled timber, making it eco-friendly and sustainable.
A lightweight particle board plank is formed by heat-pressing wood chips and sawmill shavings along with a resin. In fact, it's the lightest in terms of density when compared to MDF and HDF-HMR.
While particle board is extensively used in kitchens around the world, its use in Indian kitchens is restricted to areas that are not exposed to water. This is because particle board is not as water-resistant as other materials, so it's best used in dry areas.
What Are the Uses of Particle Board?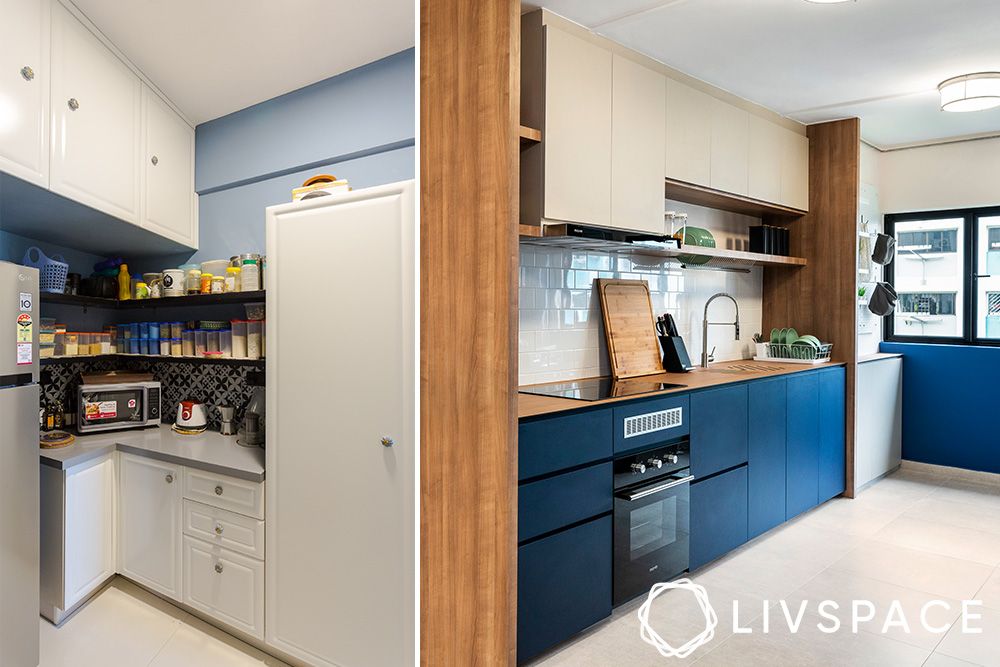 Typically, particle board is widely used in commercial and retail furniture due to its affordability. However, as a material, its durability may not surpass more than 10 years.
Nevertheless, it finds common use in ready-made furniture, kitchen wall units, false ceilings, panelling, wall partitions, and the carcases of modular furniture.
Also Read: What Is Plywood and How Do You Pick the Best Plywood for Your Furniture?
What Is the Cost of Particle Board?
*Please note that the above prices are an estimated range and are subject to change. Consult a designer for more details on the latest pricing.
What Are the Types of Particle Board?
Types of Particle Board
How to Identify Them?
Single-layer particle board
Comprises wood particles of similar sizes
that are pressed together
Three-layered particle board
Uses a layer of large wood particles
sandwiched between two layers of very
small and dense wood particles
Laminated particle board
A pre-laminated particle board is created
by attaching a thin laminate sheet to the
surface of a plain particle board
Particle board with veneer
It has a thin slice of wood (known as a
veneer) attached to the surface of a
particle board plank
What Are the Benefits of Particle Board?
Need more reasons to consider using particle board for your cabinets? Here are some of its benefits:
Lightweight: Due to its low density, it's comparatively lighter than other materials
Affordable: It's one of the most inexpensive materials to use for cabinetry
Eco-friendly and Sustainable: Made from recycled timber, particle board is an environmentally conscious material to use in design
Thermal and Soundproofing Properties: Thicker sizes of particle board can help insulate sound and heat
What Size Is Particle Board Available in?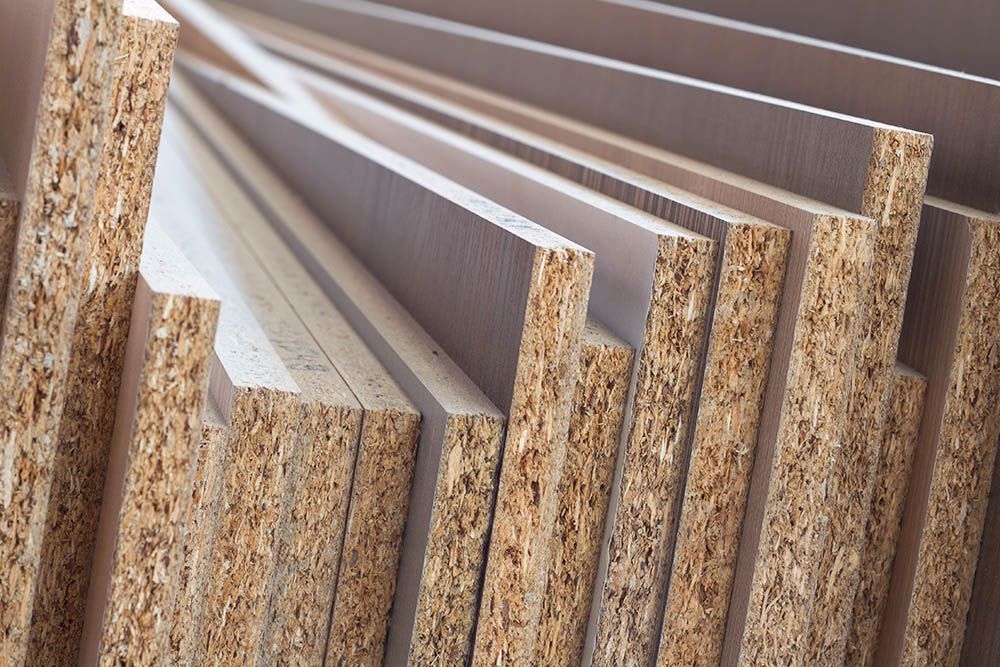 The standard sizes of particle board are 8 feet x 4 feet and 7 feet x 4 feet respectively. You can also find them in the following thicknesses, based on your cabinet requirements:
9.00 mm
11.00 mm
12.00 mm
15.00 mm
17.00 mm
18.00 mm
25.00 mm
How Can Livspace Help You?
Be it modular interiors, full home designs, or renovations, we're here to help you with end-to-end interior solutions from design to installation. With our 146 quality checks and *flat 10-year warranty, we'll have you loving the way you Liv in no time!
Book an online consultation with Livspace today, and we'll help you find the best-quality materials to curate your dream home. You can also check out these Livspace reviews to know how our customers feel about working with us.
*For all modular and semi-modular products. For the full scope of warranty, please visit www.livspace.com/in/service
Disclaimer: All contents of the story are specific to the time of publication. Additionally, mentions of costs, budget, materials, finishes, and products from the Livspace catalogue can vary with reference to current rates. Talk to our designer for more details on pricing and availability.