Bask in the gorgeous hues at this Crescent Bay home!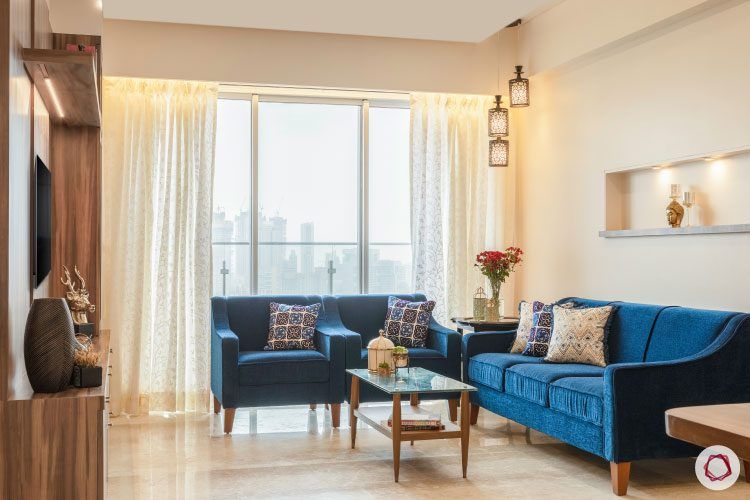 ---
Who livs here: Roxanna and Behram Cooper with their two daughters
Location: Crescent Bay, Jerbai Wadia road, Parel, Mumbai
Size: A 3 BHK home spanning 1,074 sq ft approx.
Design team: Interior designer Niharika Tewari with Project Manager Naresh Bess and Design Manager Shilpy Gupta
Livspace service: Living room, dining room, study, bedrooms, prayer room
Budget: ₹₹₹₹₹
---
A well-lit home with ample storage and an appealing outlook – that's the dream! For most of their life, Behram Cooper and his wife Roxanna lived in a gorgeous ancestral home that has been in their family for generations. It was a 3,000 sq ft home where they lived with their two daughters and Behram's parents. But after his parents passed away and their eldest daughter moved to USA, they decided to shift to a new home that was modern and practical. They wanted their new home to be doused in lighter colours to take a break from dark shades they were used to in their family home.
During their search for someone to bring their ideas to life, they were introduced to Livspace and our designer, Niharika Tewari. They pictured a cozy home with warm hues of brown that was also modern and smart in space management. Niharika also visited their family home for a bit of inspiration. Keeping their preferences in mind, she set out to design their new abode.
Cobalt Pop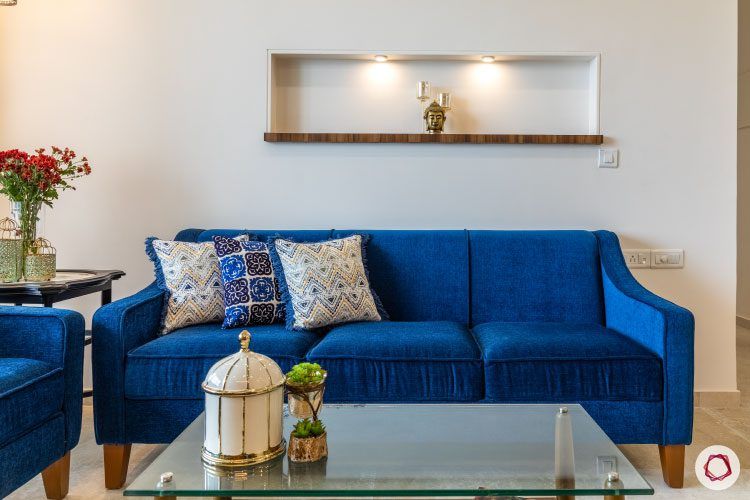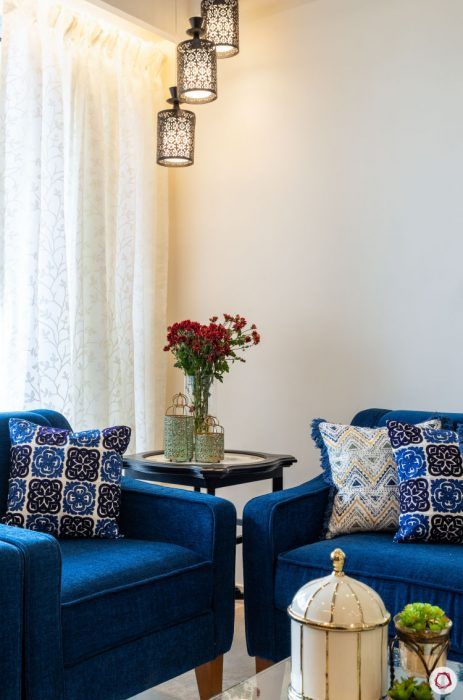 The cobalt blue sofa catches your eye the minute you walk into their living room. Set against white walls, it instantly uplifts the mood of the room. The room while being subtly stunning, is also comfortable and cozy. The blend of cobalt blue, white and wooden accents have worked to make this space warm and inviting.
The Coopers like to travel and have collected showpieces over the years. It was only obvious that they would want plenty of storage and display for their treasured artefacts and books. While adequate seating options have been provided for family and friends, there's plenty of storage and display space, courtesy open and closed shelves in the TV unit. A glass-top coffee table brings the look together. 
Wooden Delight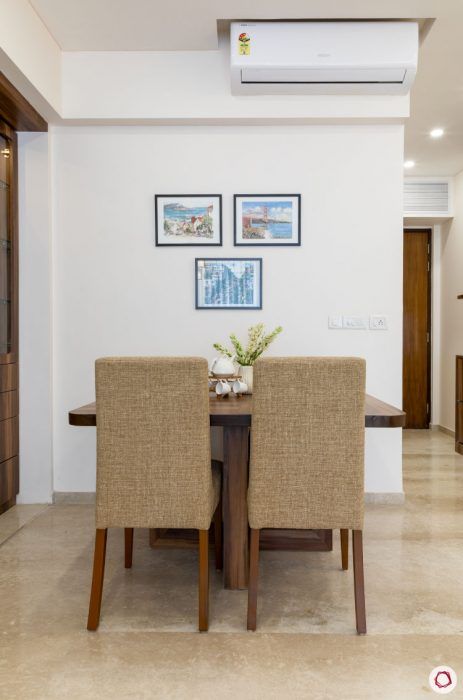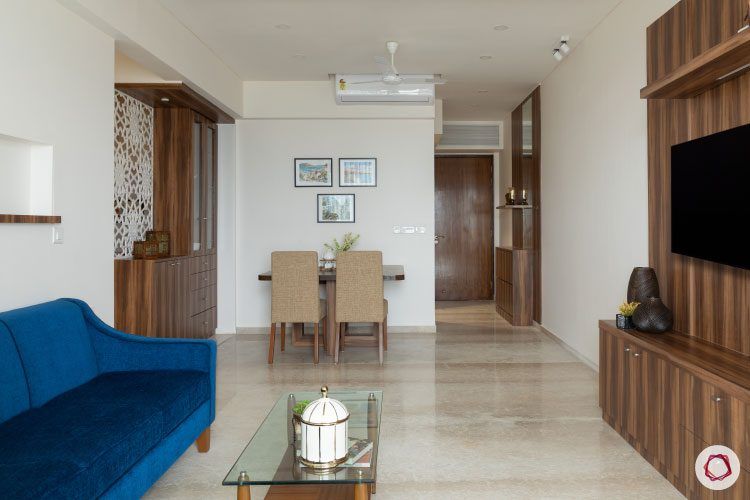 Feast your eyes on their beautifully designed dining table that has polished wooden veneers. These veneers were placed both horizontally and vertically. The Coopers love what Niharika has pulled off in this space, matching the wooden accents and designing a dining area within the given area.


Delicate Work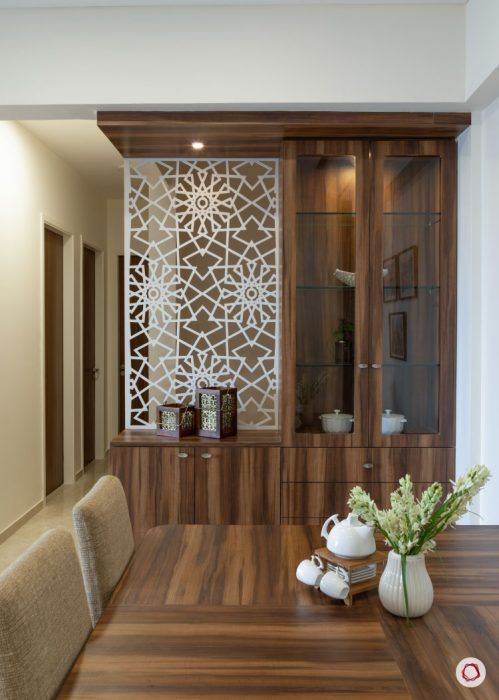 For their prayer room, they broke down a wall beside the dining table to open up some space. This also gave them the scope to add storage for showpieces. Besides this, if you look through the white jali in the wall break, you would see the light from the prayer room that is lit throughout the day.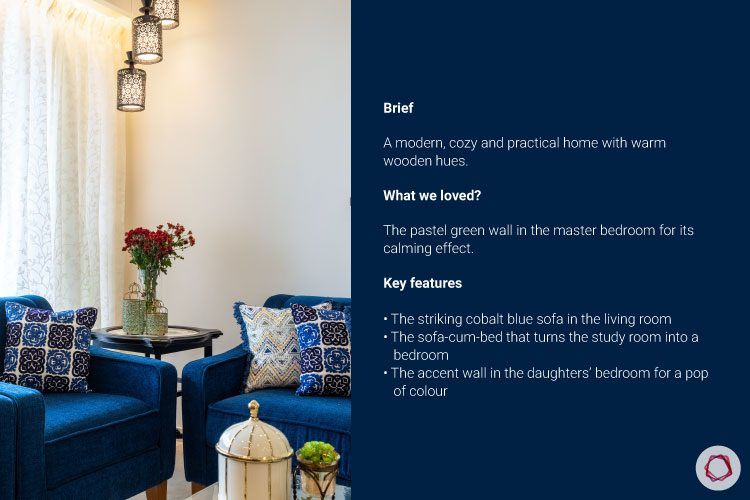 Teal Beauty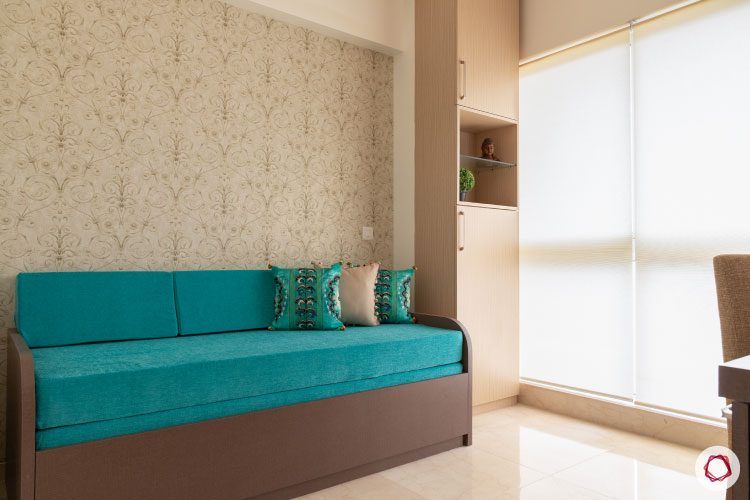 Since Behram Cooper works from home mainly, he wished for a personal space with a study table, a comfy chair and enough storage. The idea was to design a comfortable working space. They chose a patterned wallpaper that pairs well with the teal sofa. The best part of the room is probably the sofa that doubles as a bed for guests – smart use of space!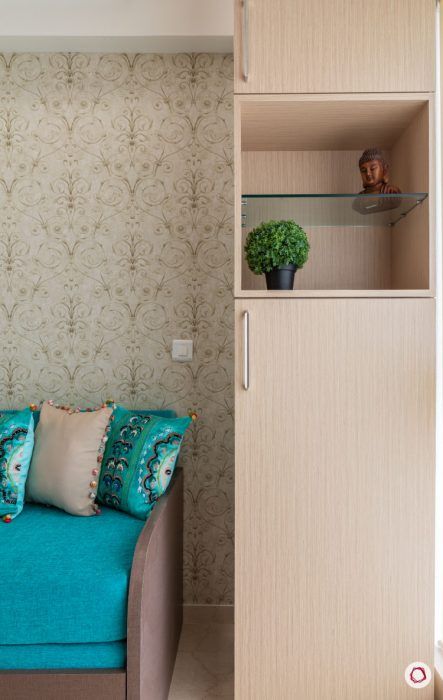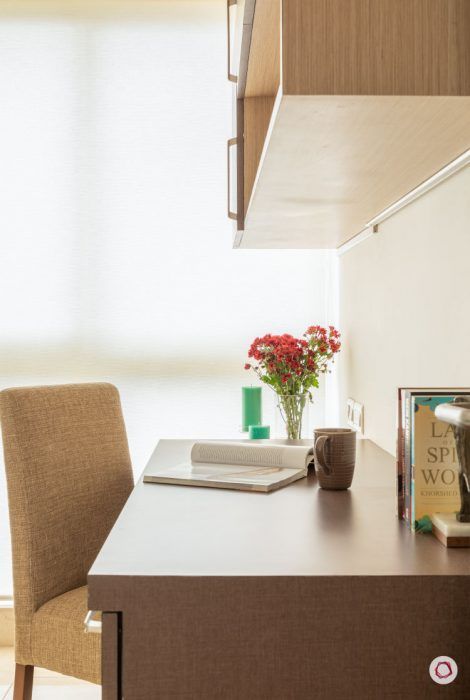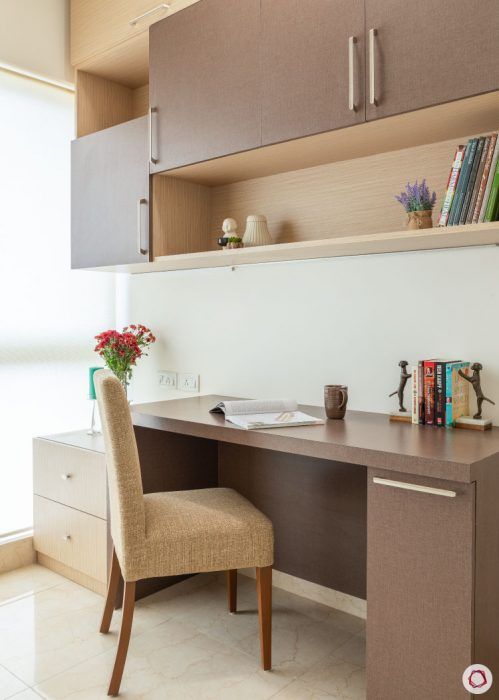 Another feature about the study room was that they used a lot on warm wooden hues. For the table and cabinets above, they used a light and dark shade of brown. This complements the sheer blinds, turning it into a well-lit room.
Pastel Serenity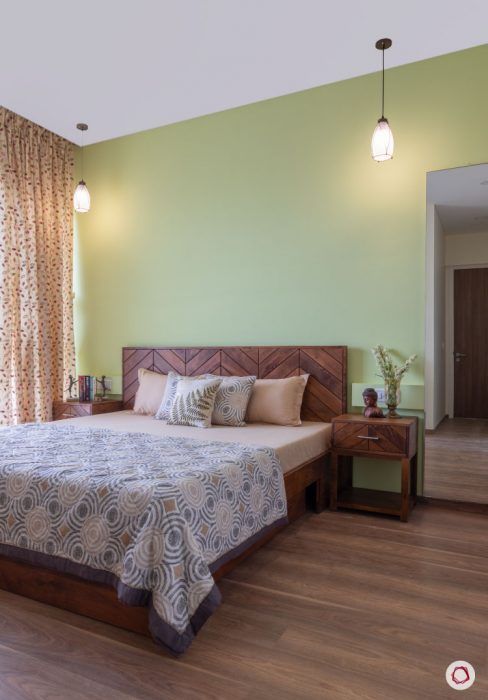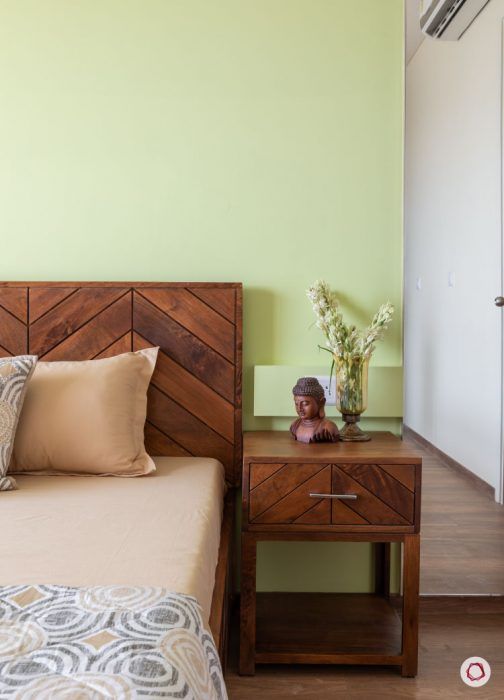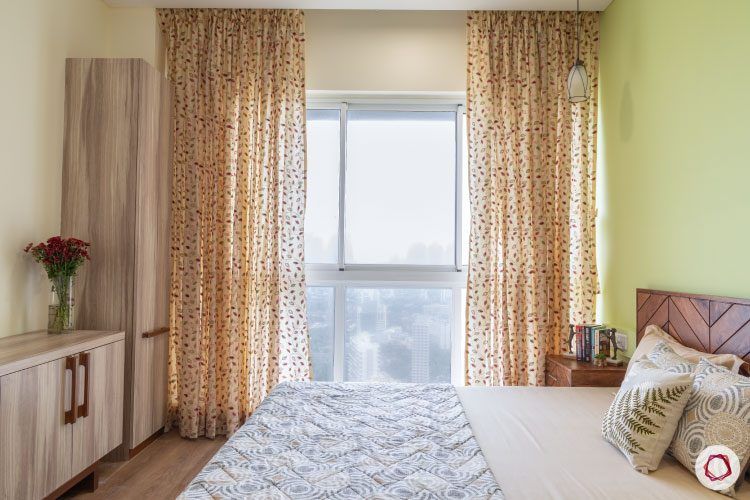 If you ask the Coopers what their favourite part of their home is, the main bedroom would be their immediate reply! Thanks to its calming pastel green walls and light curtains that complete the look.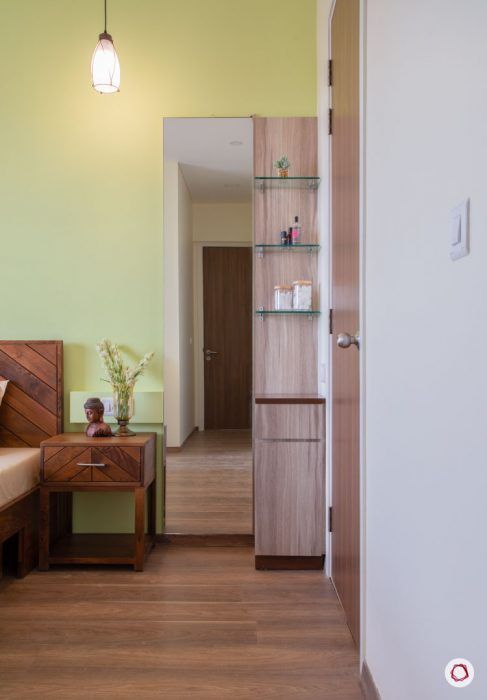 The wardrobe, TV unit and dressing table are in light wooden tones to match the flooring. All the pieces had a laminate finish, which makes maintenance and cleaning a breeze! This also matches the wooden flooring in the room.
Fields of Lavender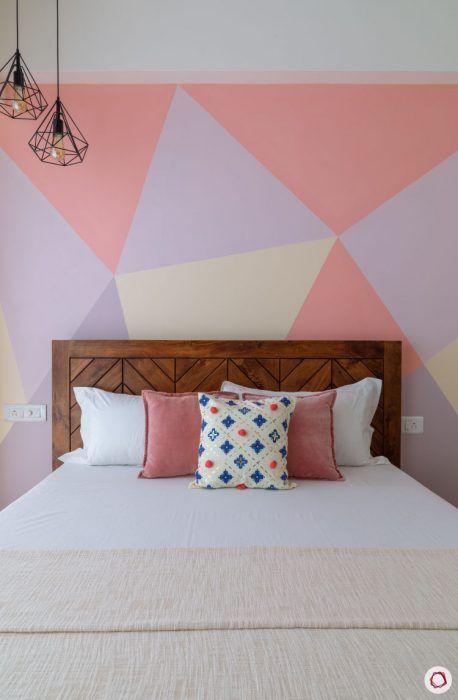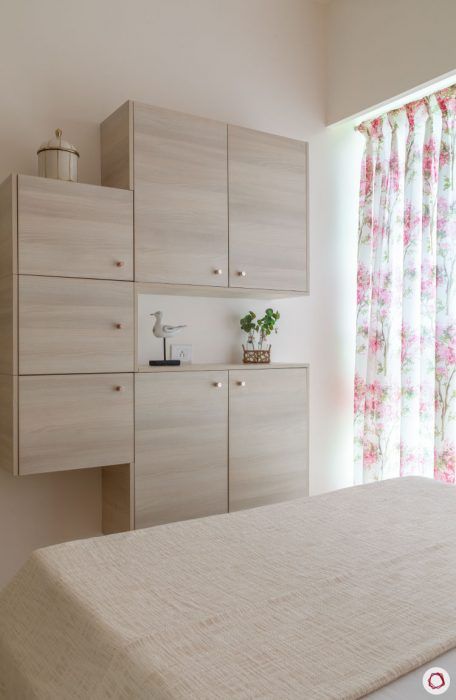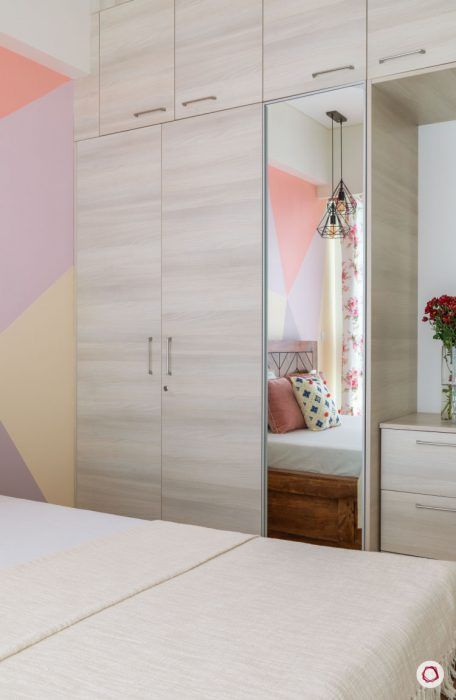 Niharika enjoyed designing their daughter's bedroom. The selection of lights and the painted accent wall are the highlights of the room. To store their things, Niharika put in a lot more cabinets and extra storage in their wardrobes. The light sand coloured wardrobes added to the softness of the room.
What they have to say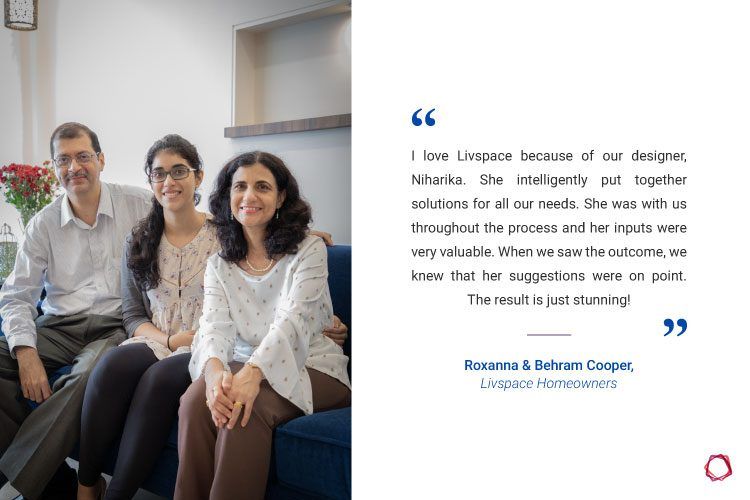 ---
"It was a very seamless experience working with Behram and Roxanna Copper. They knew what they wanted. They were clear about their requirements, quick with their selections and also open to ideas."

– Niharika Tewari, Interior Designer, Livspace

---
Want to see other pretty homes? Check out this Monochrome Home for more designs by our experts.