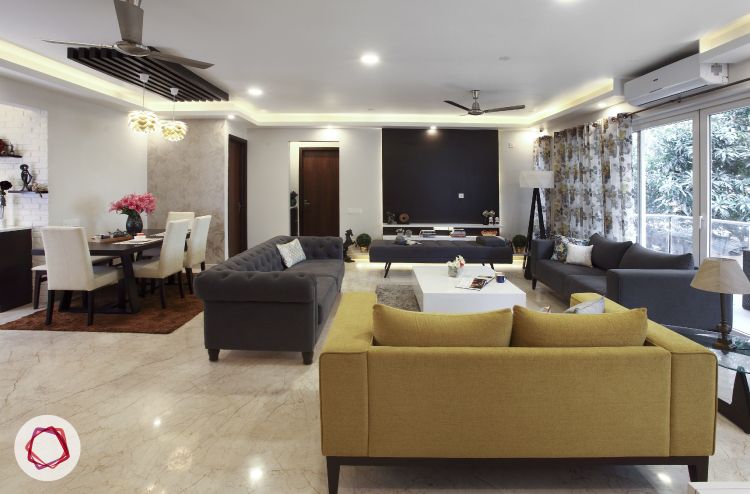 ---
Who livs here: Satish Baid and his wife Vidhi Khanna with their 2-year-old son, Kabir
Location: Vaishnavi Prime, Shanthi Nagar, Bangalore
Home type and size: A 3 BHK home spanning 2,450 sq ft
Design team: Interior designer Hamsa Ganesan with project manager S Karthikeyan and design
manager Divyalakshmi
Livspace service: Full home design
Budget: ₹₹₹₹₹
---
When Satish Baid and Vidhi Khanna decided to move into their new home, they knew there wouldn't be unanimous agreement on how they'd do up their home. Vidhi, a banker with Kotak Bank fancied a chic, elegant home, while Satish, an avid collector of comic figurines and owner of The Entertainment Store in Bangalore, prefered an edgy, rustic update.
The two conflicting minds knew they had to concede either this way or that. That's when Livspace designer, Hamsa Ganesan waltzed into the picture to take over the daunting task of merging both their design aesthetics. Hamsa worked her magic and gave the family an up-scale, practical home with clever design details without intruding on the airiness of their new home.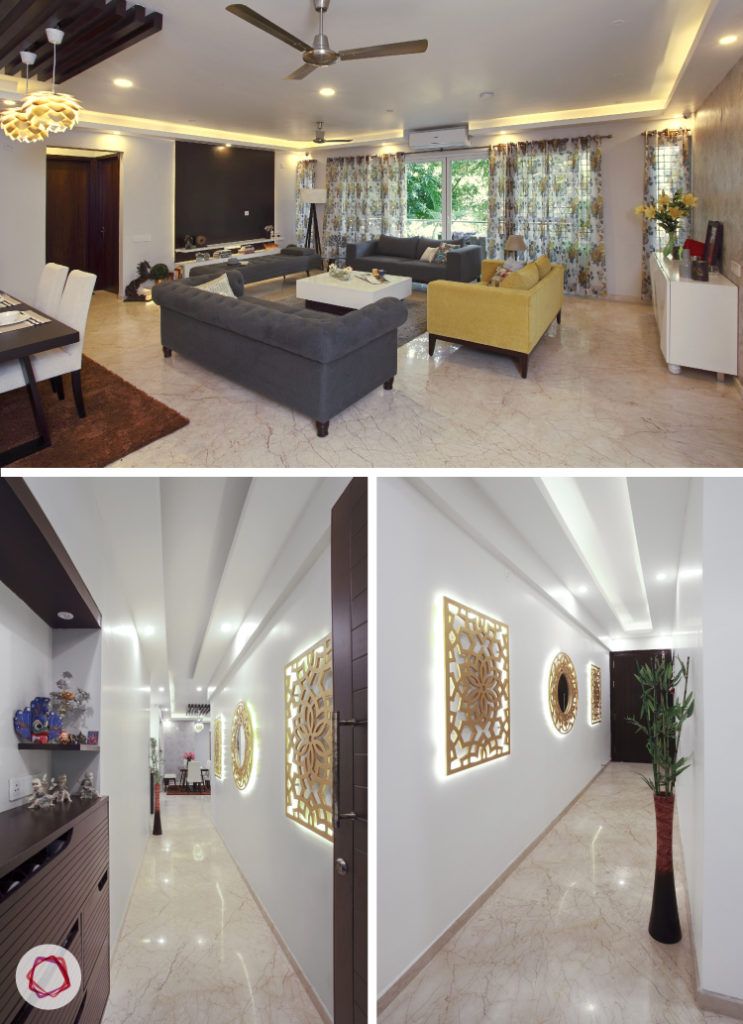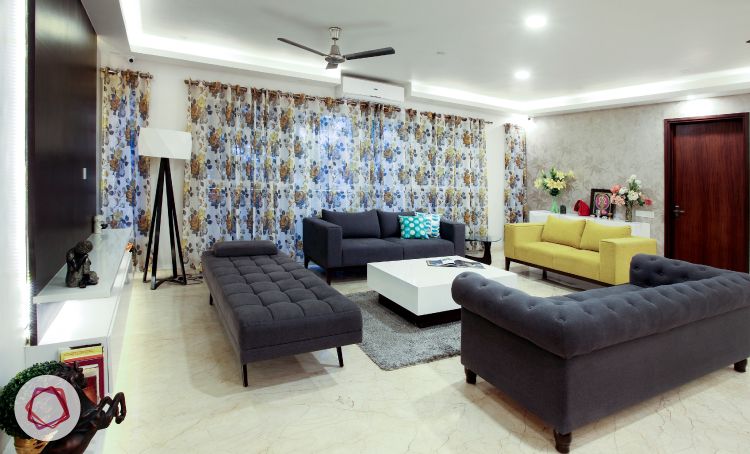 ---
The comfortable living room is filled with quintessential furnishings that do justice to every nook and corner. Pops of mustards were incorporated through the couch and wall-to-wall curtains to add intrigue to this elegant space.
---
Unlike most homes today that are tightly packed, this Garden City home is graced with plenty of space and natural light that leaves no room for complaints. The extensive entryway is adorned with intricate gilded LED jalis and a mirror that reflects Vidhi's desire to enjoy hotel-like grandeur.
The open-plan canvas gave Hamsa a free reign to fill it with furniture that was delicate yet impressive. In came Scandi-inspired pieces that embody minimalist tendencies but look equally majestic. The neutral palette with a spot of colour through the mustard couch binds the look together.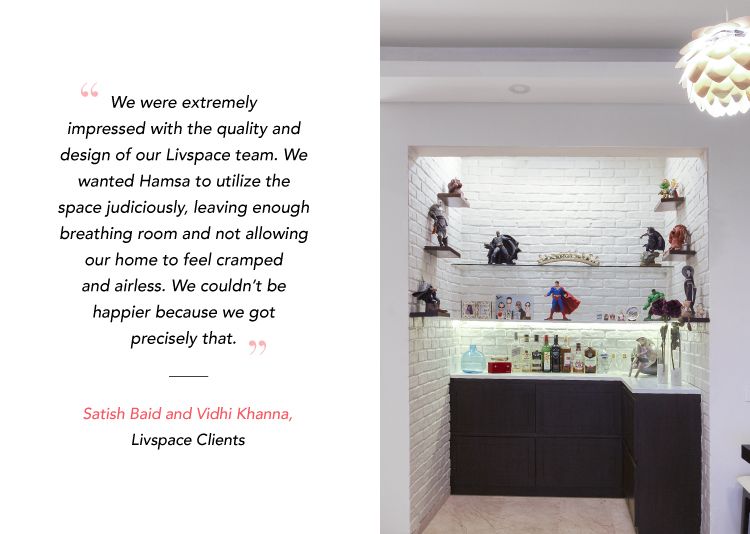 ---
The bar alcove was treated to exposed white brick walls that pander to Satish's rustic design sentiments. Floating shelves give the father-son a stage to flaunt their Marvel heroes.
---
Since Hamsa was thrusted with the challenging task of incorporating aesthetics that resonated with both Vidhi and Satish's individual style — she chalked out an alcove to create balance. Satish's love for comics and all things rustic compelled her to weave exposed white brick walls to create a backdrop for his favourite Marvel heroes to pop. This space also doubles up as a well-equipped bar so that the couple can throw around a few mixology tricks when entertaining.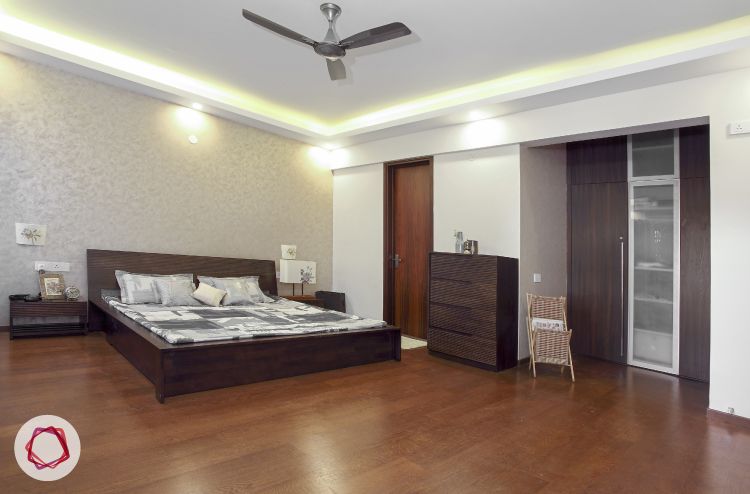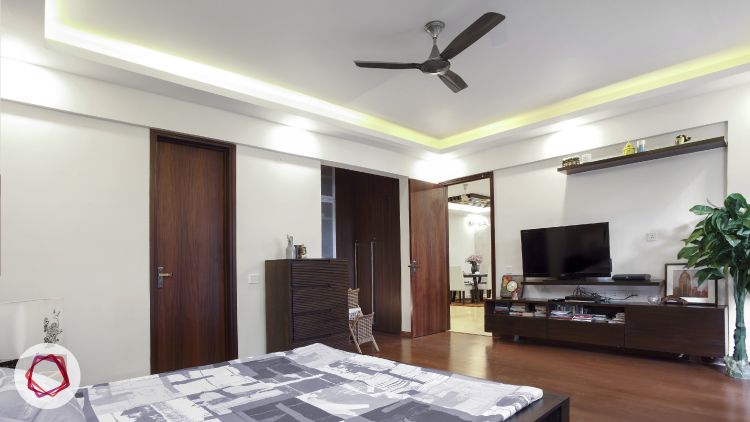 ---
Simplicity governs the master bedroom with an all-encompassing TV unit that makes unwinding an absolute pleasure.
---
The master bedroom, the couple's second favourite spot after their luxurious living room, has been designed keeping in mind their need for a subdued space that is far from being flashy. Since the bedroom is where they would unwind after a long day, they wanted a soothing palette and design driven by practicality.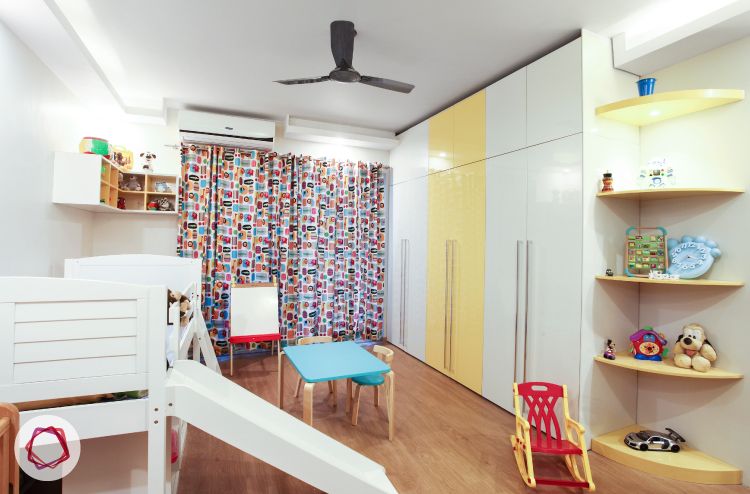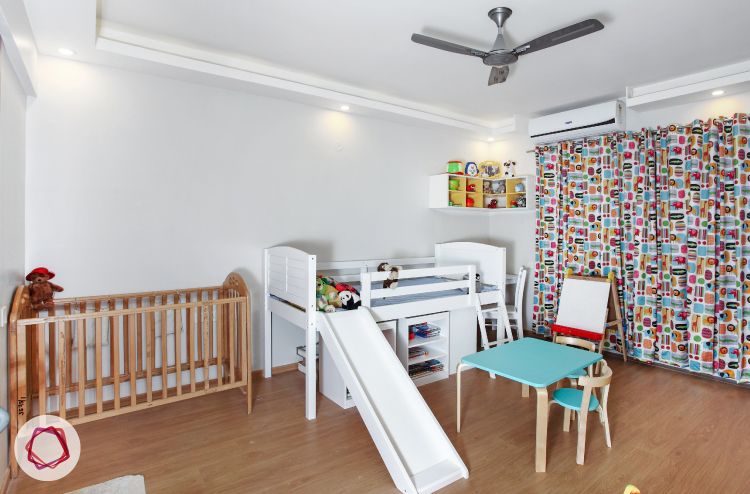 ---
Kabir's paradise. A fun toddler bed with a slide, a rocking chair and a tiny workstation will keep the two-year-old engaged.
---
For their toddler Kabir, his bedroom was infused with broad strokes of custard yellow and a shade of white that brims with freshness. Complementing the whimsical theme of the room are the animal-print curtains and the shelves to stack kabir's favourite toys.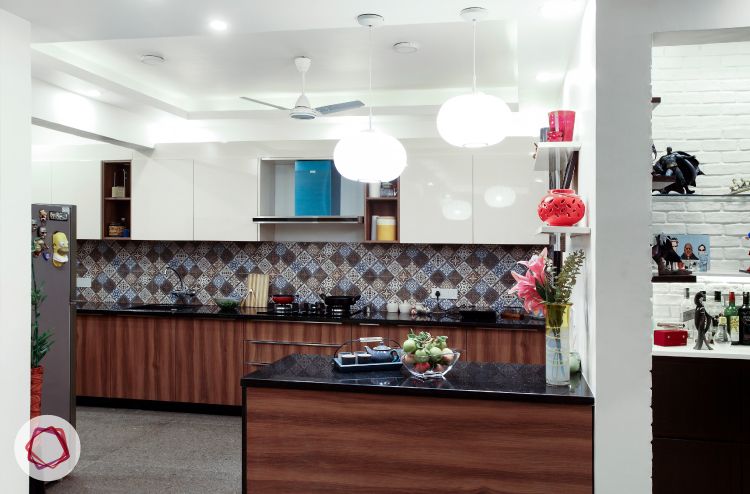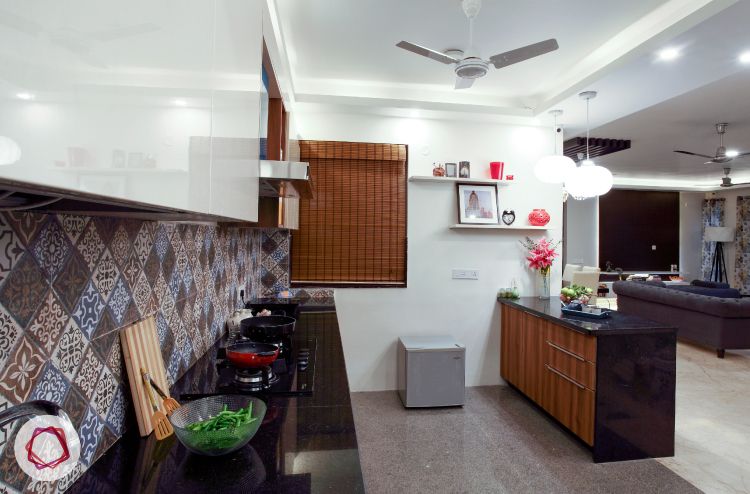 ---
The kitchen outfitted with modular fittings and a smart color palette has made cooking a delightful experience for the couple. With an overview of the living room, this open-plan space ensures conversations keep flowing.
---
Another well-executed and spacious corner that we couldn't get over is the kitchen. With a toddler around, the open kitchen makes life easier for the couple so they can keep an eye over Kabir as he plays when they are busy putting meals together. Swathed in brown and white with a Moroccan-styled ceramic backsplash, the kitchen is easy-to-maintain and comes with sufficient storage.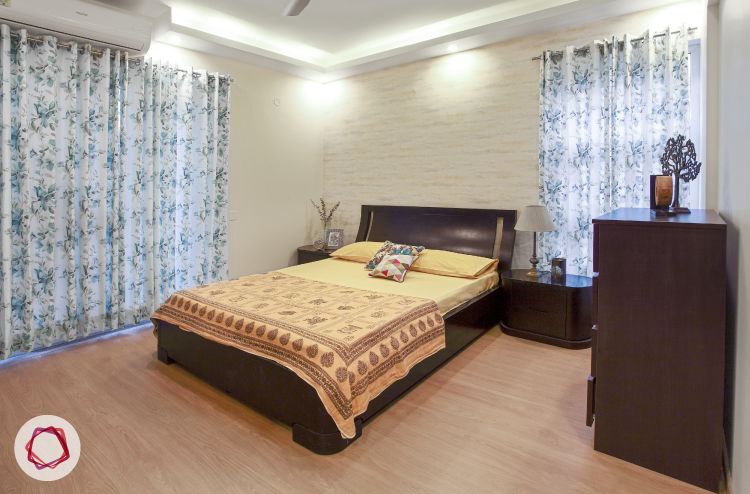 ---
The guest bedroom is light and airy. The floral-printed curtains lend the room a very cool vibe.
---
This impressively designed home is so well-lit that it accentuates every corner. Vidhi and Satish are over the roof and can't believe how Hamsa managed to help them tide over their design ambivalence. In fact, Satish has even gone to the trouble of persuading his brother who lives just across to get themselves a new Livspace home. We can't wait to see their journey unfold too!
---
"What drew me to the Baid-Khanna couple was that despite having very specific ideas for every room, they were open to listening and accepting my design intuition as well. With easy-going clients like this, work not only becomes easy but a whole lot of fun too."

-Hamsa Ganesan, Interior designer
---