Gloss and glam fill up this 3BHK flat!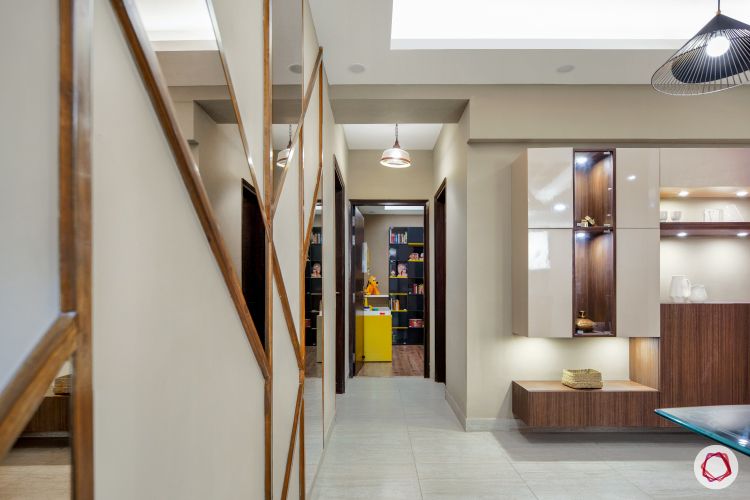 ---
Who livs here: Sunny Marwaha with his wife Kanika, their son Sanav
Location: Cleo County, Noida
Size of home: A 3BHK spanning 2,100 sq ft approx.
Design team: Interior Designer Amar Sidhu and Quality Manager Sandeep Jain
Livspace service: Full home design
Budget: ₹₹₹₹₹
---
There's something about this home that attracts us towards it. And, it is not just the gorgeous design. For Sunny and Kanika Marwaha, this is their second home and the first that they got designed by a professional interior designer. Like every homeowner, they were naturally overflowing with ideas for their home, but Amar Sidhu, their designer from Livspace, gave them such excellent designs that they ended up giving him complete ownership of designing their space.
Filled with natural wood and classic greys, this design is sure to send across good vibes. We love how straight lines carry over in every room that creates a continuous theme here. Sans any loud colours in major chunks, this 3BHK at Cleo County has something special about it. Read on to find out what.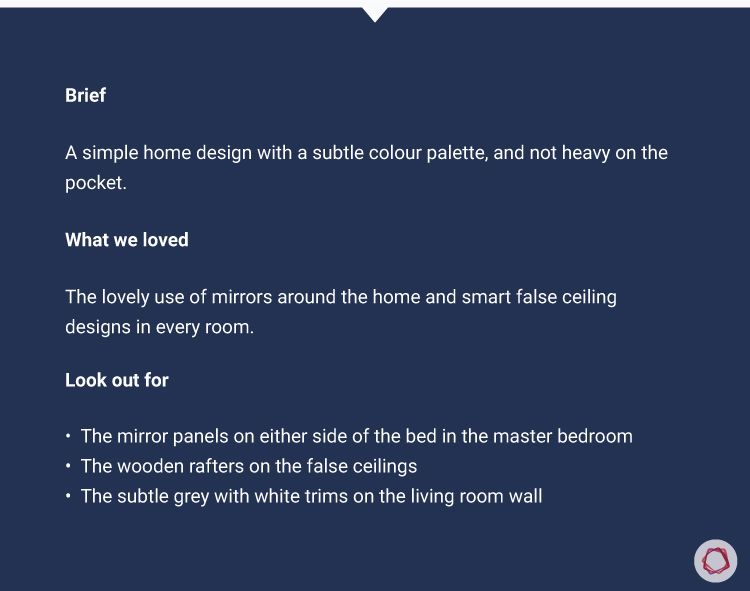 Complementary Living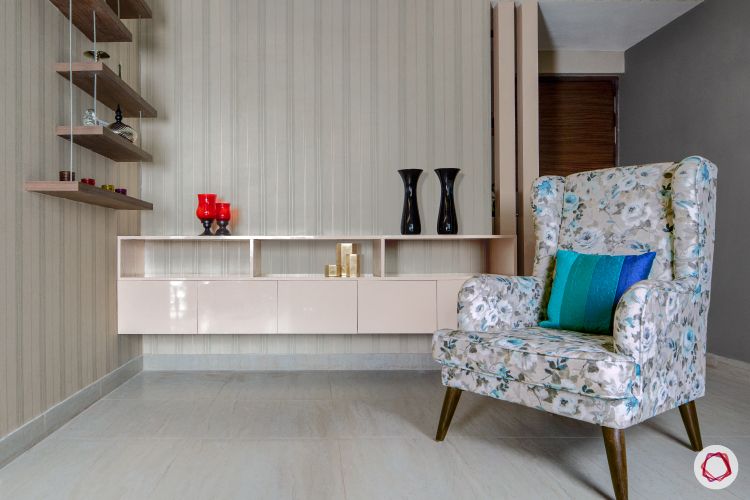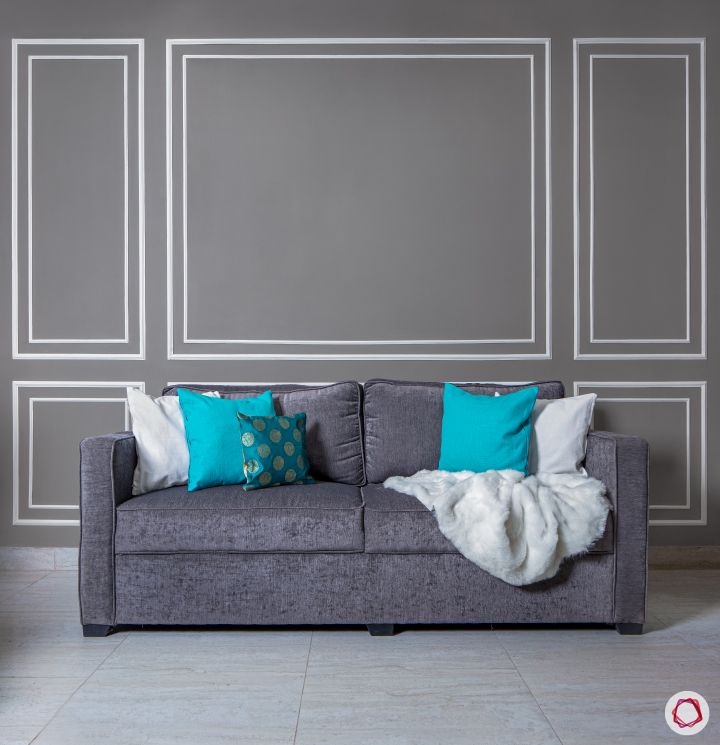 Your living room is most likely to make the first impression on anyone who enters your home, so make sure you make it stunning. When Amar, their designer, gave them options for the accent wall, they were completely sold on the idea of having subtle trims. Therefore, this living room is done up in muted greys and a very simple striped wallpaper on the walls. The seating is kept versatile, with sofas, ottomans and an accent chair put together strategically. Another designer twist is the twin rafters that form a part of the false ceiling. Also, do you notice the wooden ledges on next to the TV unit? The couple can use it to display the numerous curios that they've collected over time.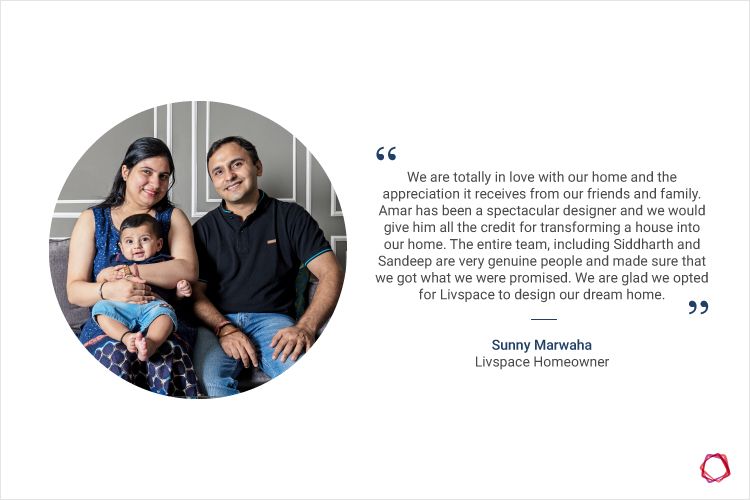 Warm with Wood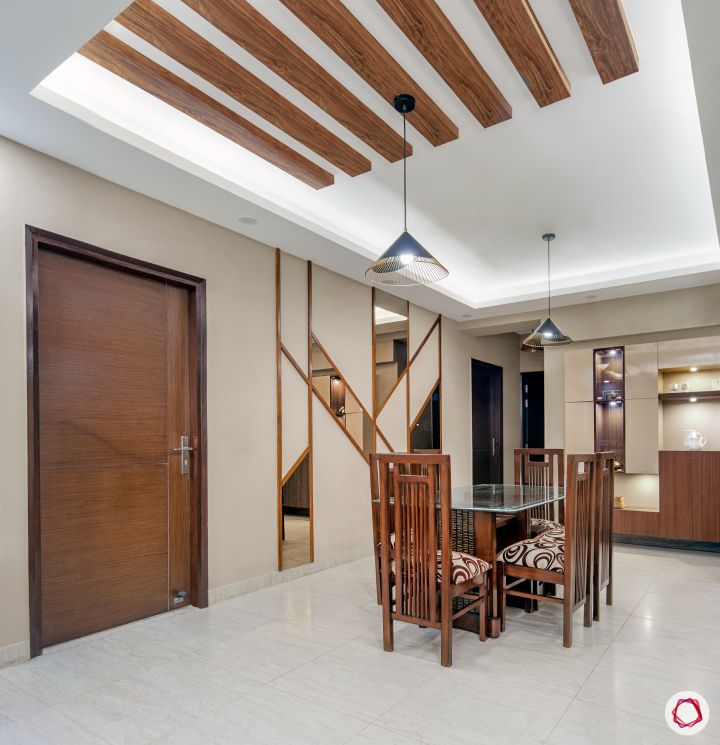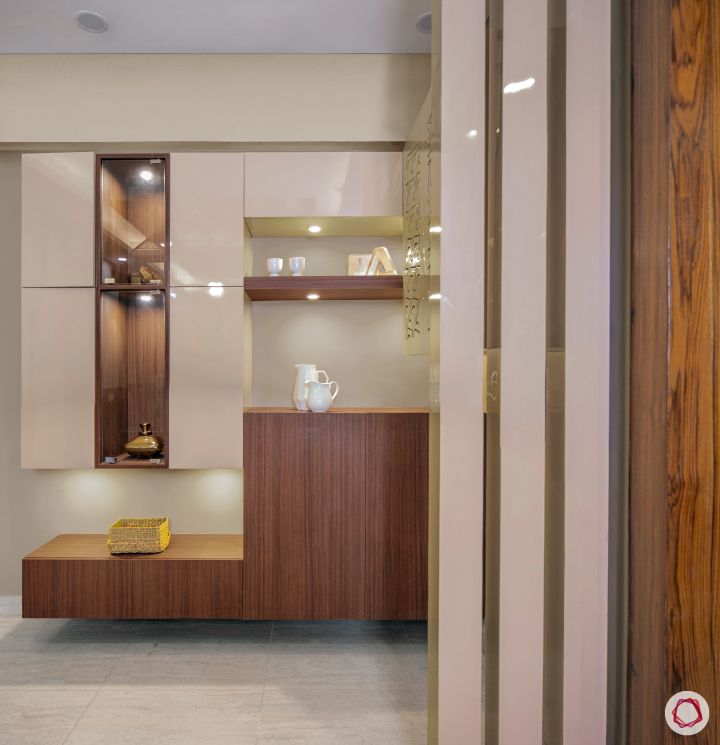 The dining room is decked up in glossy finishes and warm woods to tone things down. The result is stunning as you can see! The crockery unit is a masterpiece, with glossy acrylic finish cabinets in a delicious shade of cream. Wooden rafters on the ceiling play match with the glass top dining set that the family has retained.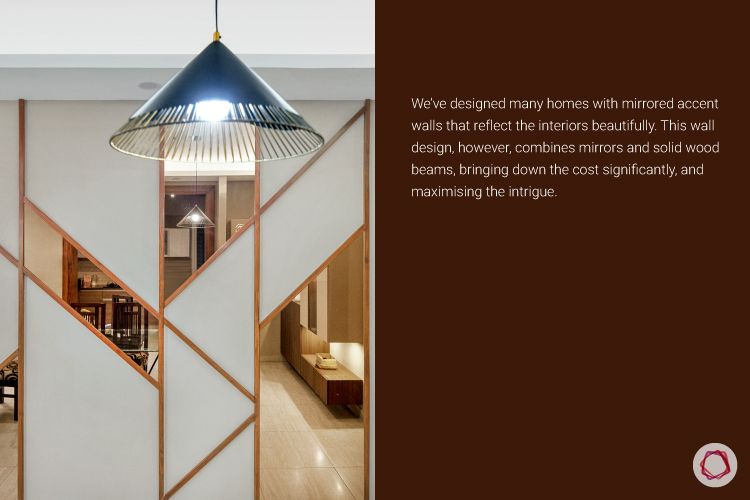 Balance is Key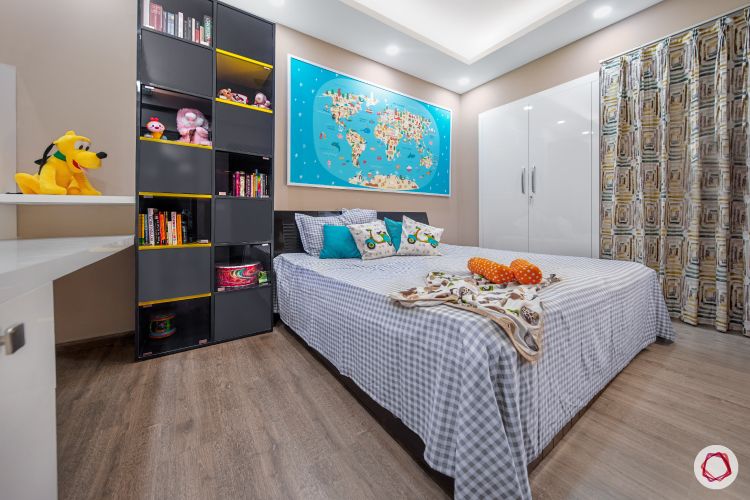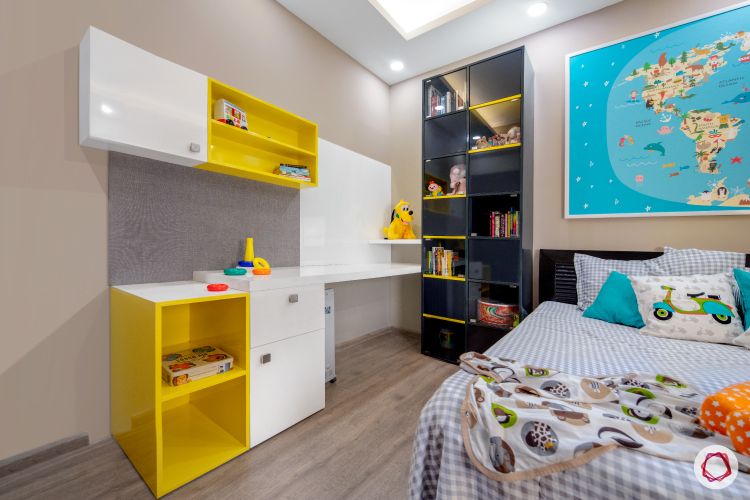 At first sight, you might feel that this is just a kid's room, but we beg to differ. Since the couples' son is very young, they wanted to design this room in such a way that it serves the dual purpose of being a kids-cum-study room. Keeping that in mind, Amar designed this room majorly in whites and greys, with a splash of sunshine yellow. Also, if you are not keen on getting a world map wallpaper, then get one on a canvas that fits on the headboard wall.
Grey and Glamorous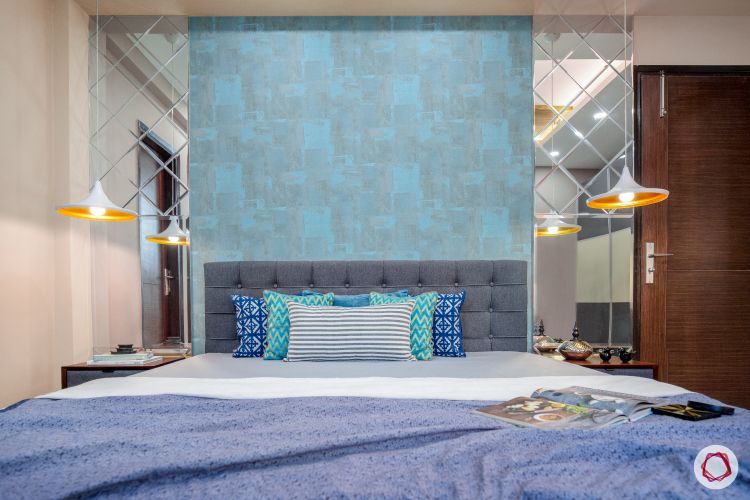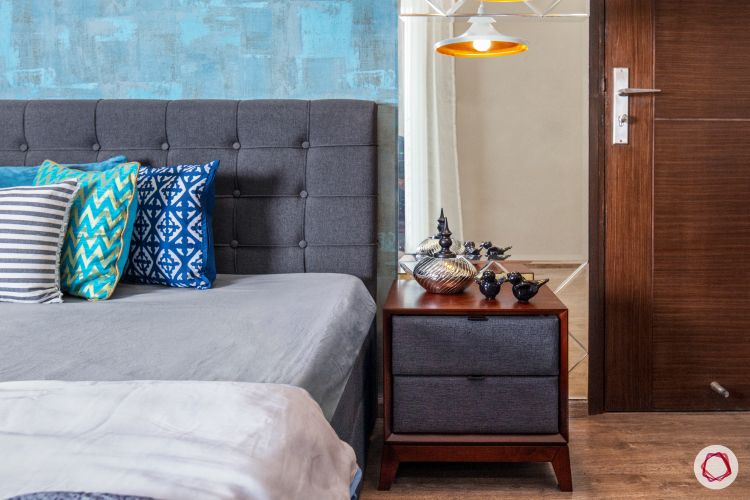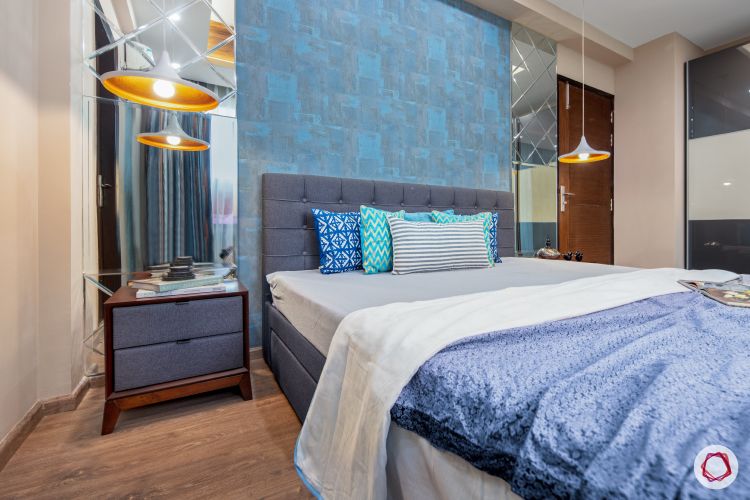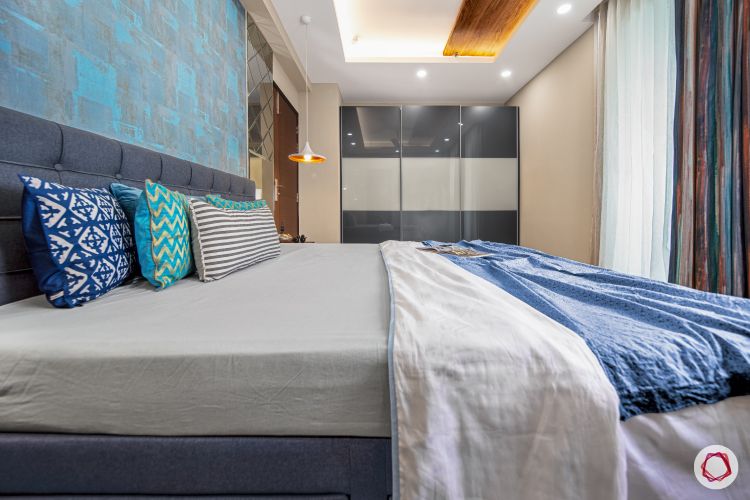 For the love of simple colours, the couple was adamant and very clear about having blue in their master bedroom. Amar decided to give them a classy textured wallpaper in a subtle shade of blue, for the headboard wall. To add some sheen to this room, he gave lovely mirror panels flanking the bed. Also, do not miss how he matched the glossy grey wardrobes with the fully upholstered bed in the same shade. This room looks so serene, yet so stylish and the clients love it!
"A very sweet and accommodating couple, Sunny and Kanika were more than willing to accept my design solutions with an open mind. It's always amazing to work with such humble people who are ready to experiment. I loved working with the Marwahas."

Amar Sidhu, Interior Designer, Livspace
If you are looking for more interior design inspiration then do take a look at this Two Living Rooms, Two Styles.
Send in your comments and suggestions.
Disclaimer: All contents of the story are specific to the time of publication. Mentions of costs, budget, materials, finishes, and products from the Livspace catalogue can vary with reference to current rates. Please get in touch with a designer for more details on pricing and availability.