Modern design for modular kitchen Hyderabad!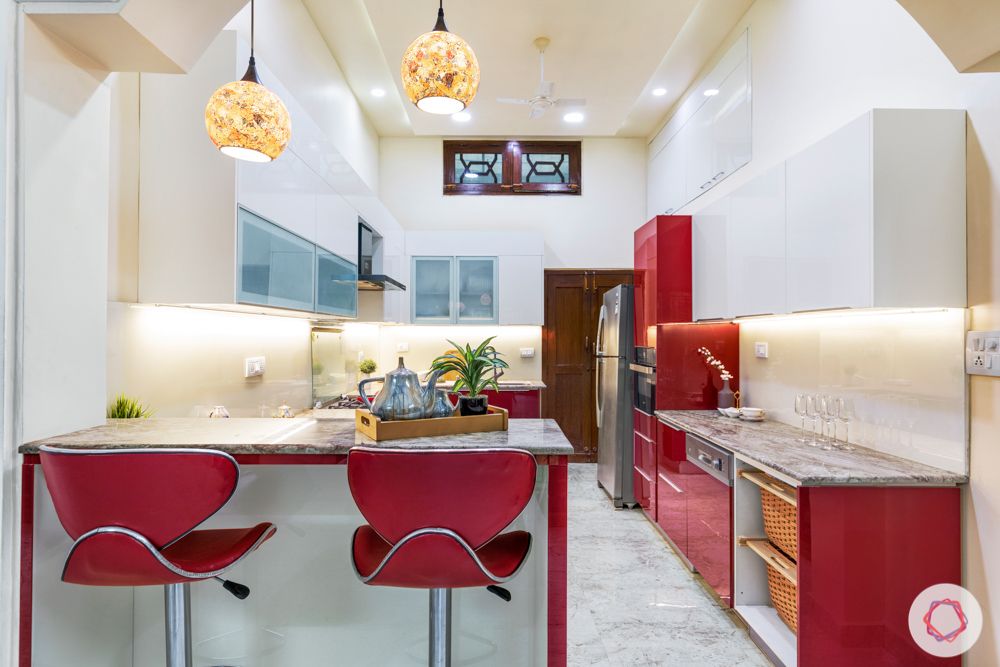 ---
Who livs here: Nausheer Ahmed Khan with his wife Qudsia Farhan Khan and their family
Location: Akbar Bagh, Malakpet, Hyderabad
Size of kitchen: 160 sq ft approx.
Design team: Interior Designer Madhuri Jaju and Project Manager Murali Yarragada
Livspace service: Modular kitchen design
Budget: ₹₹₹₹₹
---
"This is an Indian equivalent of an international standard kitchen," says Nausheer Ahmed Khan, the owner of this beautiful property at Malakpet. Years back when the family was renovating their home, they could not find the right place to get their kitchen renovated. Having lived in Doha and travelled across the continent, they had seen kitchens that were functional and pretty, and obviously wanted the same, filled with appliances to make their lives easier.
When Madhuri Jaju, their designer, took the clients to visit a couple of homes designed by Livspace, they knew they had found the right interior designers in Hyderabad. In conversation, Mr Nausheer also mentioned how helpful it was to see real homes as opposed to showrooms. He poured his heart out to the design team so that they could envision what he was looking for. Consequently, this kitchen is a result of that collaboration. Read on to see what this space is equipped with.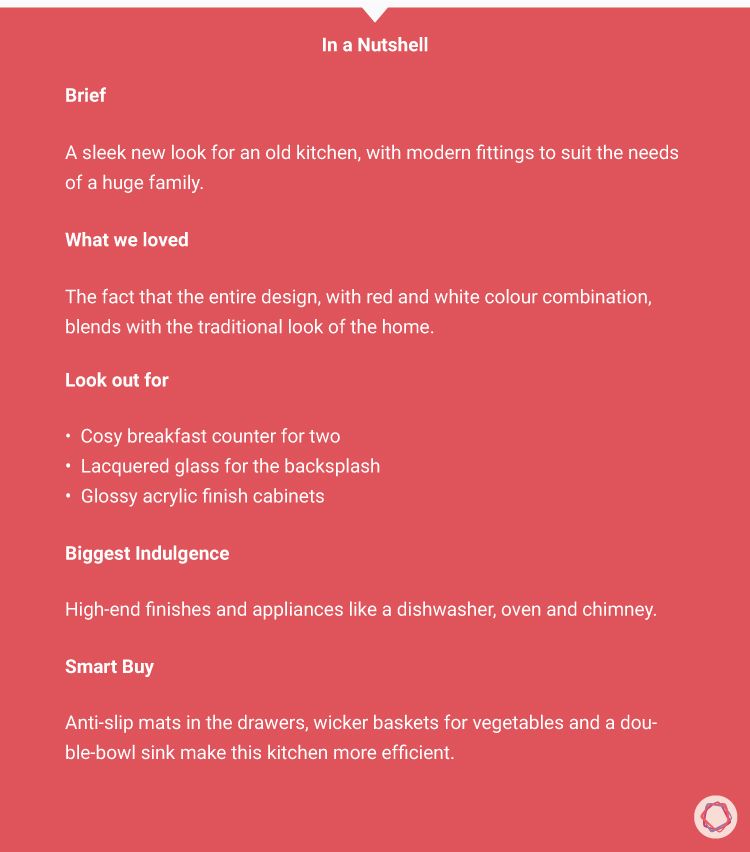 Modular Kitchen Hyderabad: Arched Entrance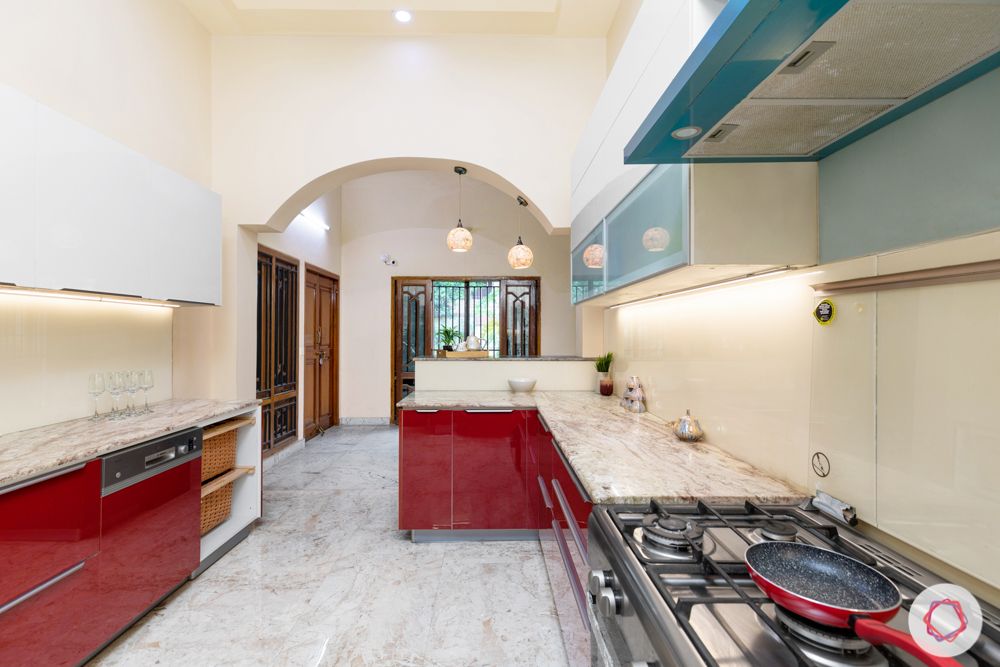 This home built in the year 1946, naturally it has lovely architecture that includes arches and mouldings on walls. Therefore, the moment you enter this home, this arched entrance welcomes you inside the kitchen. Simple walls and a striking red and white colour combination is what this kitchen flaunts.
---
"Having lived and travelled abroad extensively, I really wanted to redo the kitchen at my home in Hyderabad. After looking at a number of names in the market, I contacted Livspace and decided to go ahead. I believed that they could give me what I was looking for. Madhuri and Kalyaani were very good with their work and I absolutely love how the space looks now. It is a delight to come here on vacation and having a good family time."

– Nausheer Ahmed Khan, Livspace Homeowner
---
Modular Kitchen Hyderabad: Breakfast Counter for Two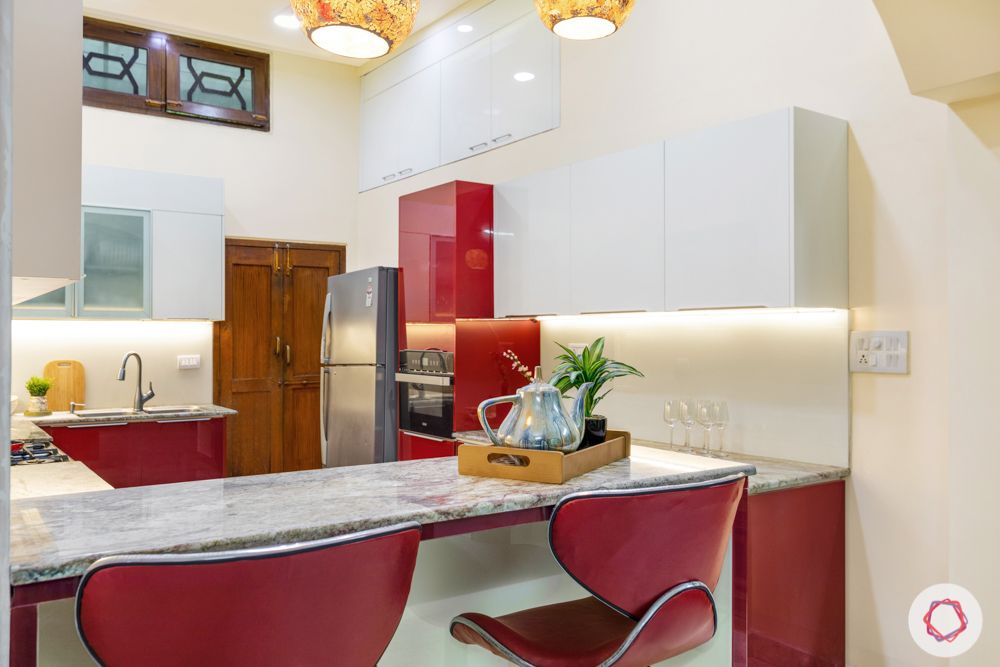 Originally a completely open kitchen layout, Madhuri decided that she should give some definition to this space. Therefore, she added this cosy breakfast counter for two and threw in a couple of pendant lights on the arch. This makes it a perfect spot for the members of the family to grab a quick meal on-the-go!
Modular Kitchen Hyderabad: Glossy Finishes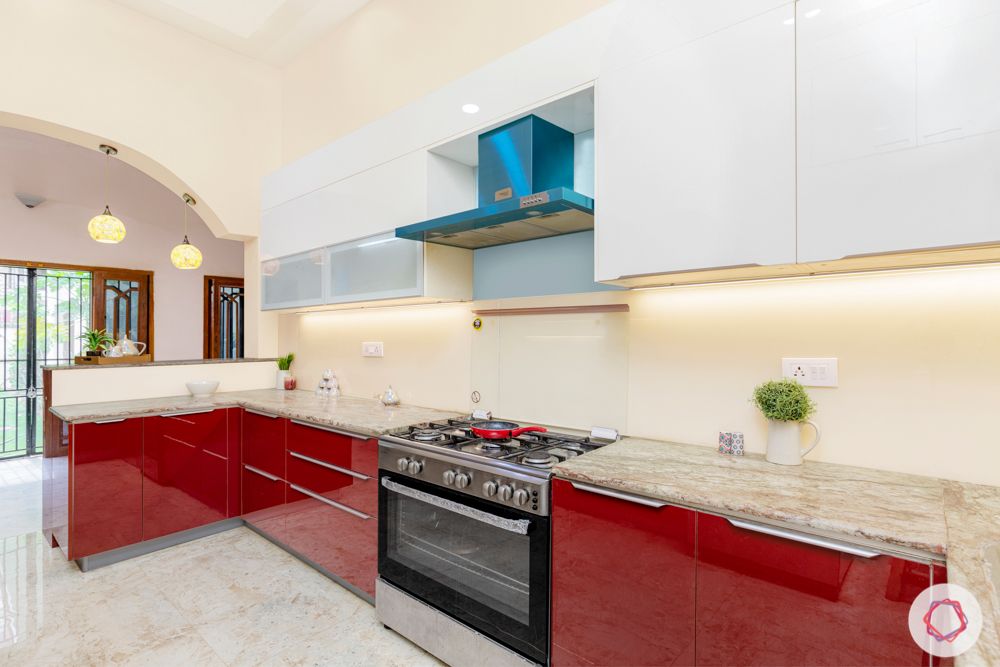 Though the rest of the home wears a traditional look, the kitchen flaunts glossy acrylic finish shutters. However, the red colour cabinets go very well with wood and that is why it was the chosen colour for this kitchen. Also, this kitchen features only closed storage, because the family comes and stays here only during vacations and it is easier to keep dust from settling. Similarly, the countertop is cut in granite stone which looks elegant and is easy to maintain.
Modular Kitchen Hyderabad: Filled with Appliances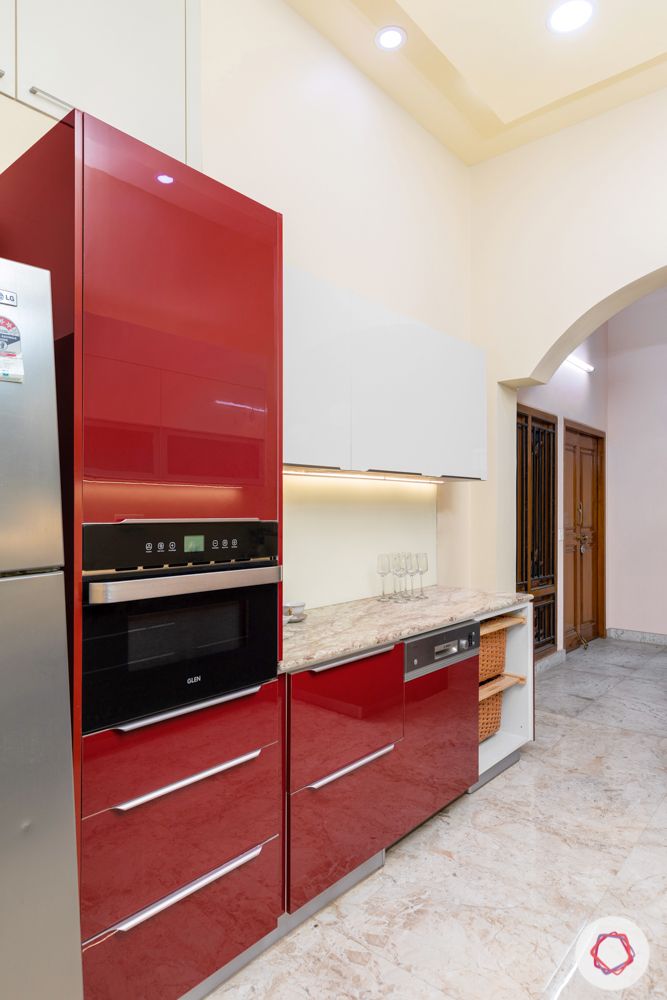 Coming to the functionality of this kitchen, there is every kind of appliance in here, that makes life easy. Be it the tall unit with in-built microwave or oven that makes baking fun, this kitchen is a dream for people who enjoy cooking. And, it also features a dishwasher that takes care of utensils and a double-bowl sink that Mrs Qudsia was particular about. The stainless steel hob unit and chimney are just the right ingredients that add a hint of modernity here.
---
"Since I was involved in the design process from day one, I have worked very closely with Madhuri, the designer and the clients. Mr. Nausheer and his entire family is a very warm bunch and very welcoming. They wanted to get a kitchen of international standards for their kitchen and we were given a clear brief regarding the same. It was very nice to work with them."

– Kalyaani A, Community Manager, Livspace
---
Is this your idea of a dream kitchen? We'll give you more reason to give your home a makeover. Check this out: Hyderabad's First Livspace Home Comes to Life.
Send in your comments and suggestions.
Disclaimer: All contents of the story are specific to the time of publication. Mentions of costs, budget, materials, finishes, and products from the Livspace catalogue can vary with reference to current rates. Please get in touch with a designer for more details on pricing and availability.