To enjoy your dream living room, it's not enough to just style the furniture. It is equally important to carefully style your floor as well. Which is why we're bringing you charming carpet designs for drawing room that you can fall in love with. Here is our list of top 9 modern rugs you can use to style your living room.
Carpet Designs #1: Colourful Stripes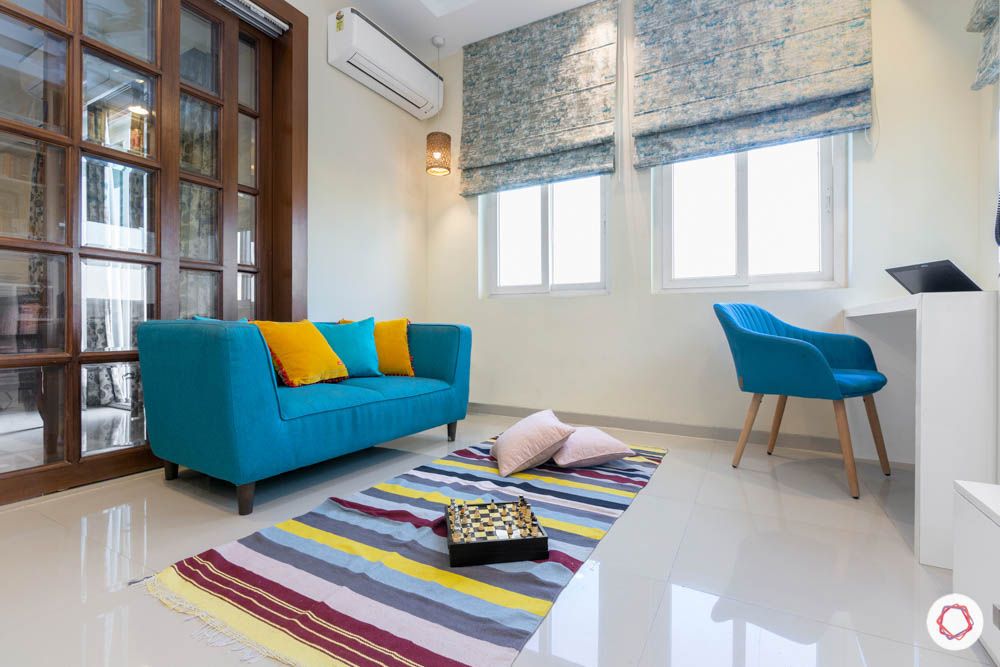 Tie in the different hues of the space with a colourful, striped runner. This one reflects the wood tones, teal blue, canary yellow and mint green from the furnishings as well as the window blinds.
Carpet Designs #2: Patterned Goodness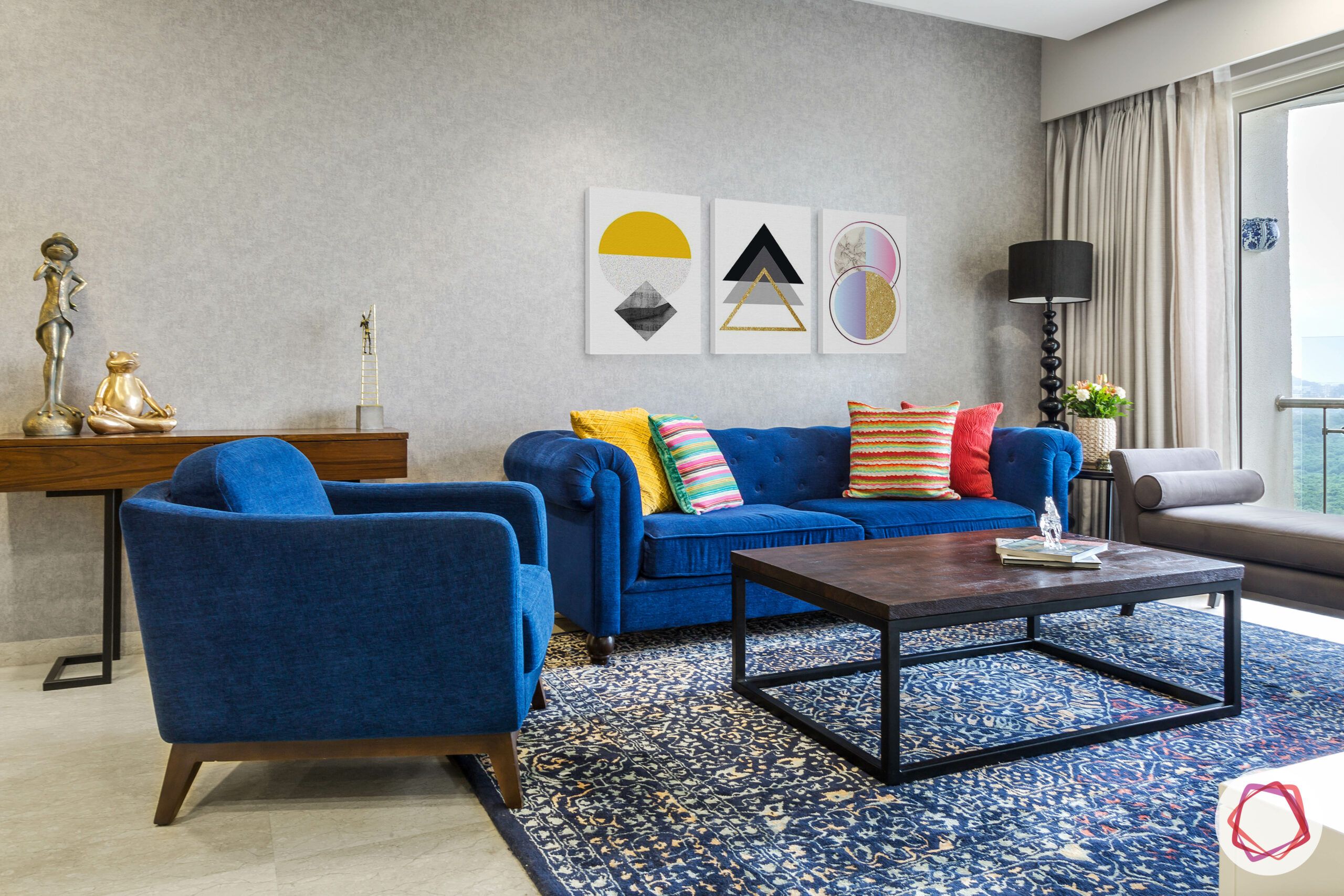 Incorporate patterns into your otherwise blocked colored interiors by simply adding an intricately detailed synthetic rug amongst neutral walls, polished surfaces and smooth upholstered furniture.
Carpet Designs #3: Abstract Beach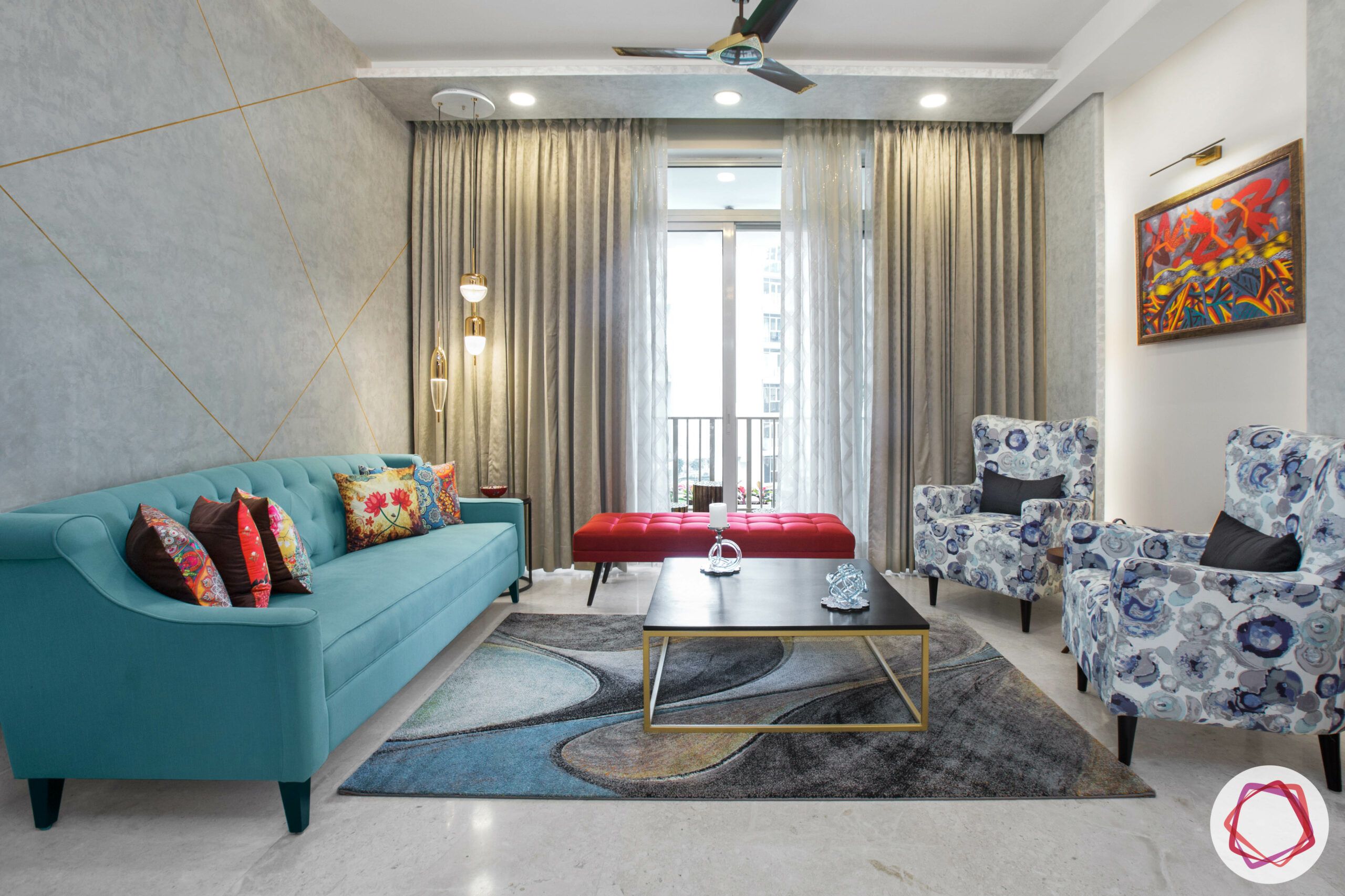 Some carpet designs for drawing room complete a story told by the other furnishings in the room…. One of sea and sand. The colours perfectly match the azure upholstered sofa and ocean grey chairs on either side.
Carpet Designs #4: Two's Better than One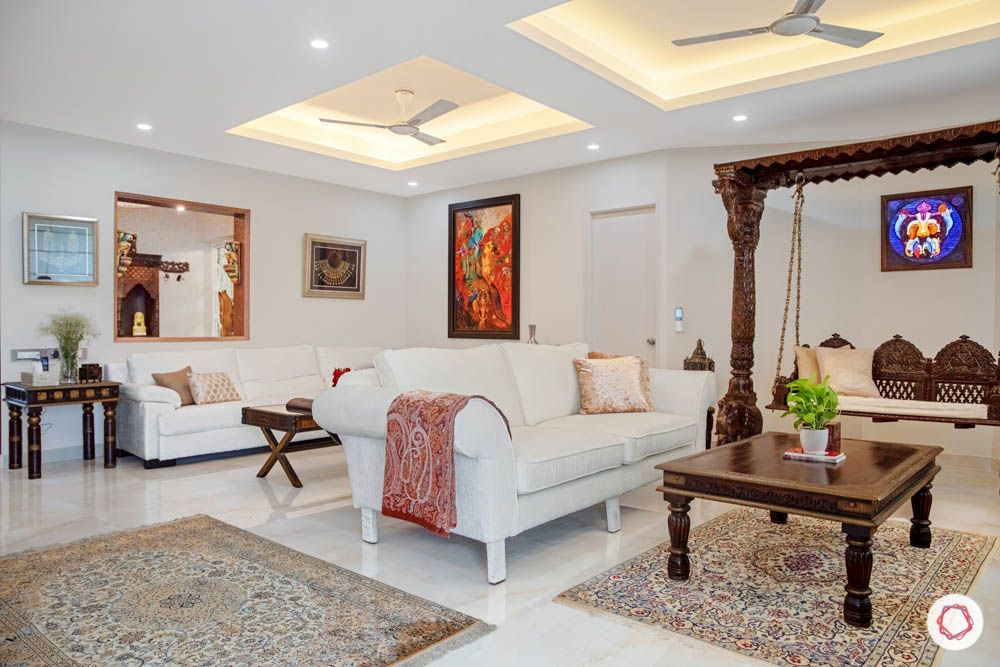 Even in a large living room, you don't need a ginormous rug. Here we've used two modern rugs with similar traditional patterns along the sides of the sofa for a distinguished conversation area.

Carpet Designs #5: A Study in Cream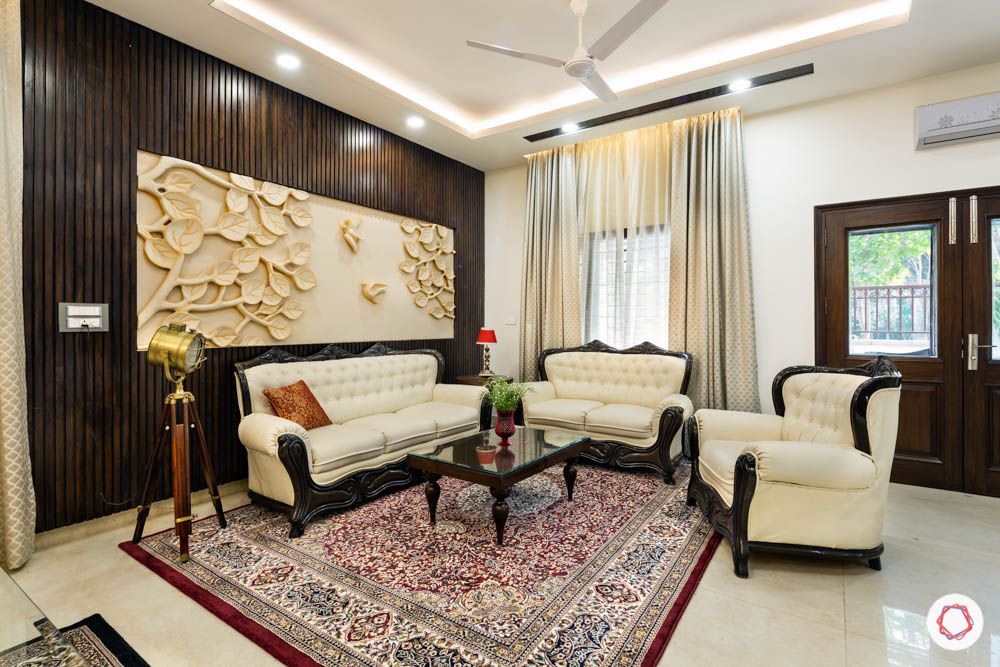 Do you have a cramped spaced or a skewed living room layout? Re-introduce symmetry into your design by placing a large woolen rug underneath your furniture pieces. This Persian rug mimics the cream shades in the room while still adding colour to the space.
Carpet Designs #6: Vintage Vogue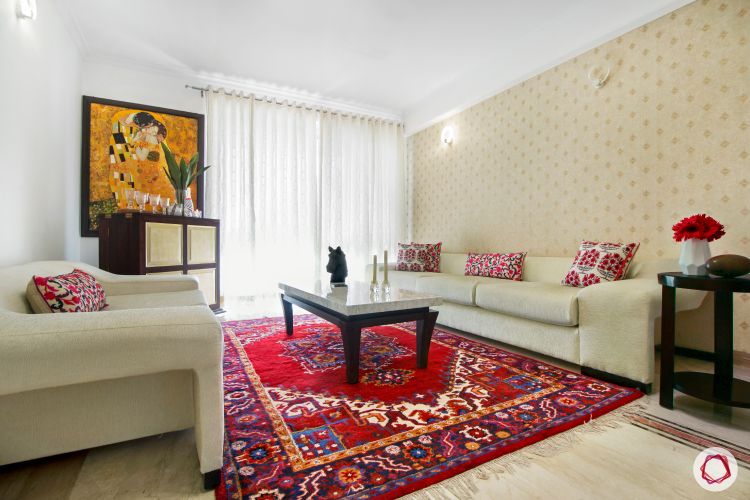 Carpet designs for drawing room with a striking, traditional pattern is the perfect stamp of your heritage in an otherwise contemporary space. It's bold, red hue also helps brighten up the demure beige room.
Carpet Designs #7: Chic Geometry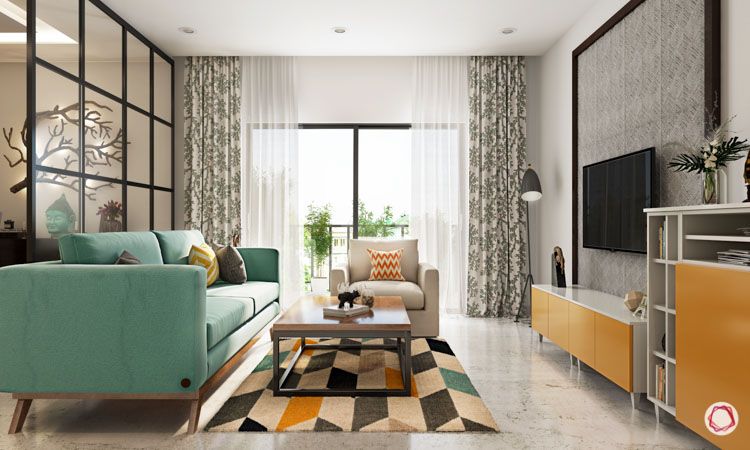 Geometric patterns on modern rugs give your living room a chic look, especially when they echo the colours of the furniture and fittings within the space. In this #LivspaceHome, the orange shelves and mint sofa are perfectly mirrored on the carpet.
Carpet Designs #8: Dramatic Shag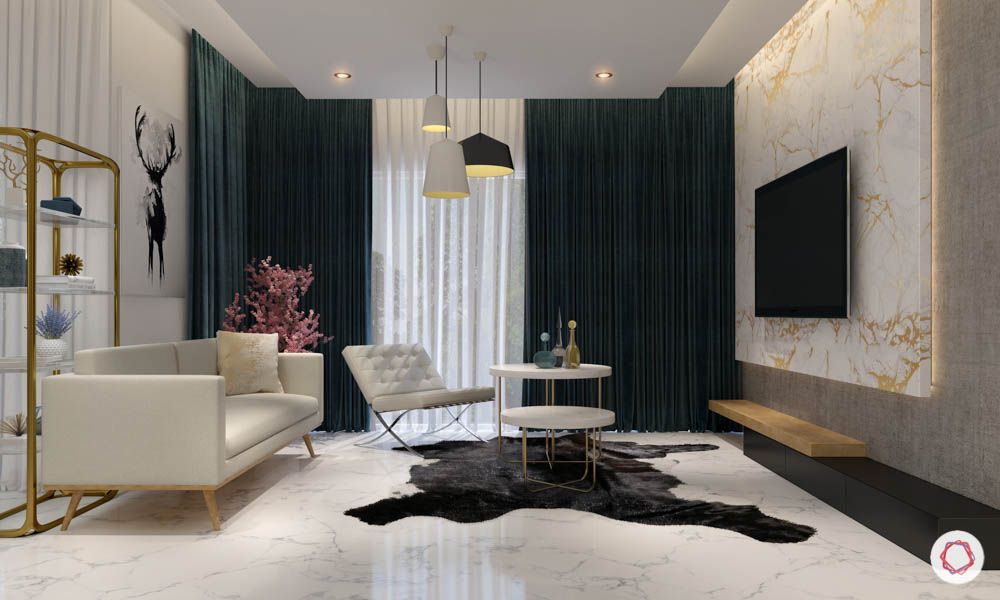 Carpet designs for drawing room don't need to be just oval or rectangular. This asymmetrical, velvet crush shag perfectly compliments the pristine marble flooring and furniture while adding a hint of drama to the space.
Carpet Designs #9: Muted Red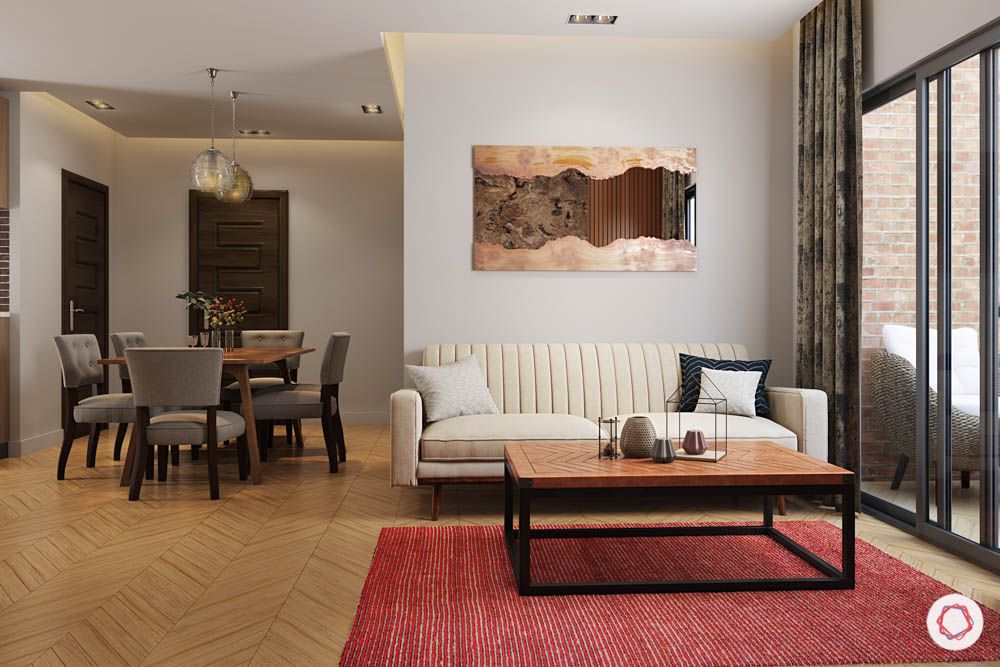 Rugs are almost a necessity in open plan homes. A simple, modern rug can help you demarcate space as well as introduce texture into the design. With large, muted red carpet designs for drawing room also keeps your feet warm enough to enjoy the gorgeous view even on cold nights.
Are you feeling inspired to tackle your own living room now? Let us know which one of these 9 modern rugs best suits your taste.
If you're looking for more insights before you settle on carpet designs for living room, check this out: Buying a Rug? Here's What You Need to Know.
Send in your comments and suggestions.