Indian house plans like this one bring together efficient space management with aesthetics!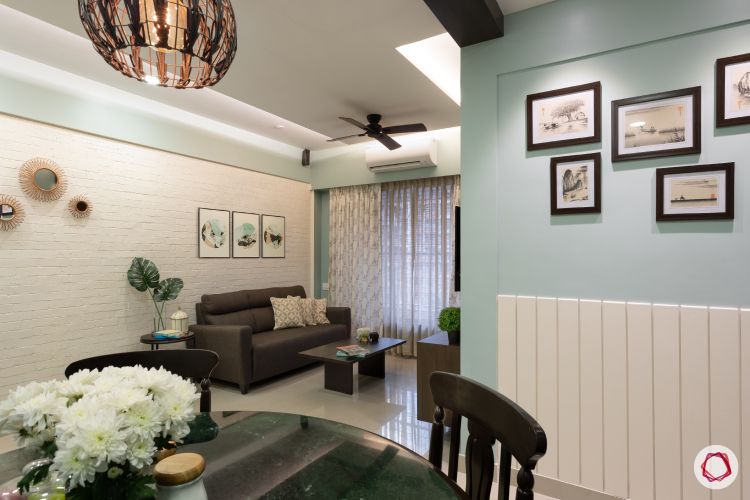 ---
Who livs here: Noel Sunil Dsa with his wife Tinaz and son Dylan
Location: Jupiter Upvan Co-op Society, Thane, Mumbai
Size of home: A 3BHK spanning 900 sq ft approx.
Design team: Interior Designer Ashwini Gokhale and Quality Managers Ashwini Gokhale and Jinesh Rathod
Livspace service: Full home design
Budget: ₹₹₹₹₹
---
Whether you're Team Modern or Team Classical, this home designed by Ashwini Gokhale will find favour with everyone! Soothing teal-coloured walls, exposed brick wall and patterned tiles have all been used to design this aesthetically pleasing home. Take a sneak peek inside this subtly designed 3BHK in Thane for a family that loves to keep it simple while giving classic bones a modern spin.
In a bustling city like Mumbai, it's always lovely to come back to a home that's warm and welcoming. The Dsa's always knew that moving from a 1BHK to a 3BHK would not change certain things. And, one of these are the subtle colours that the couple has always embraced. This home is an extension of their personality and it shows through Ashwini's design!
A Subdued Living Room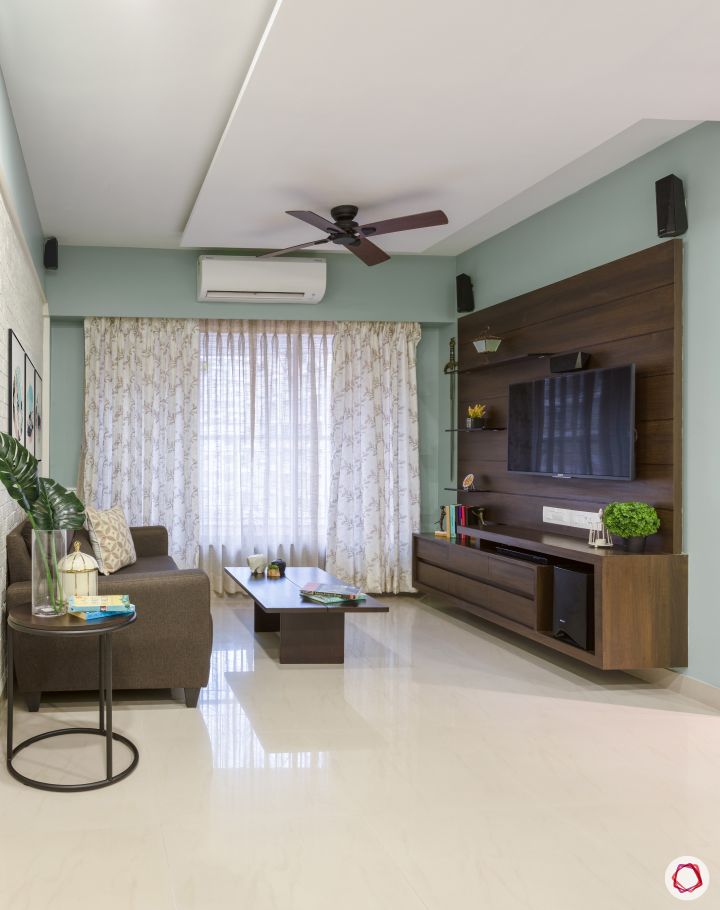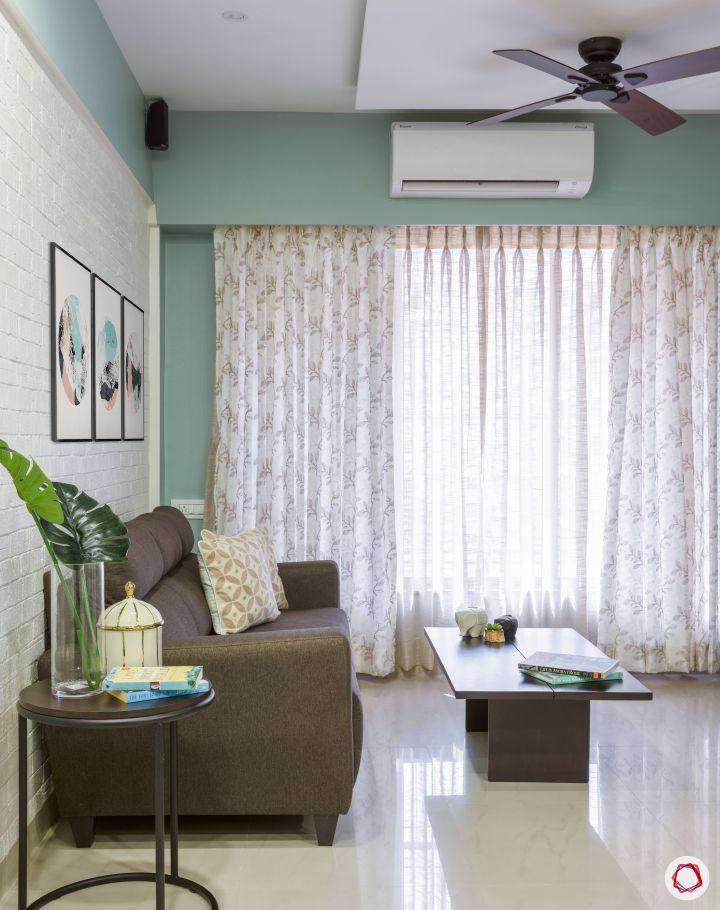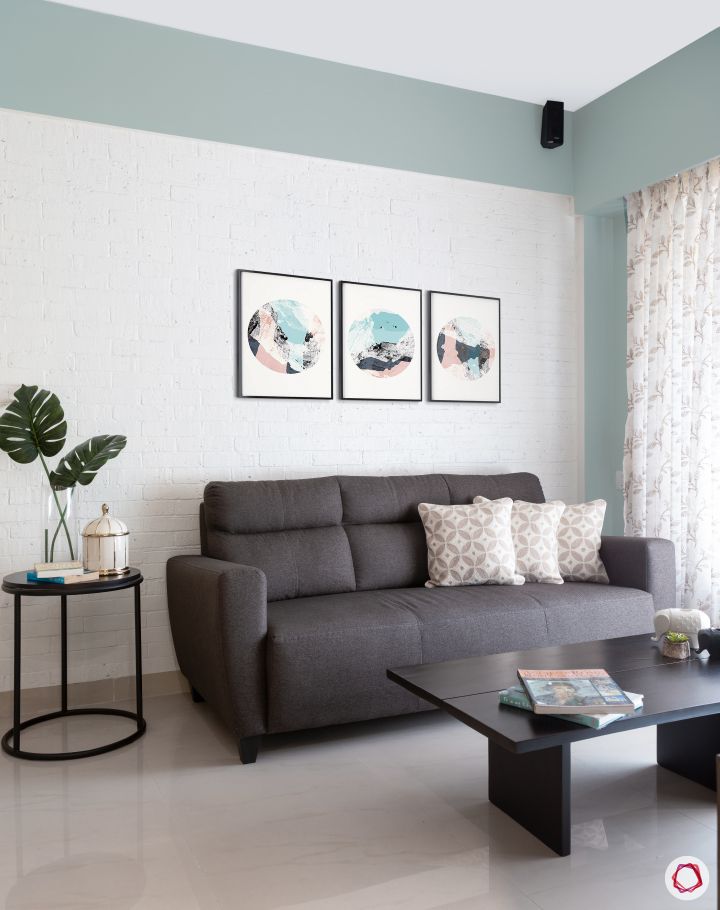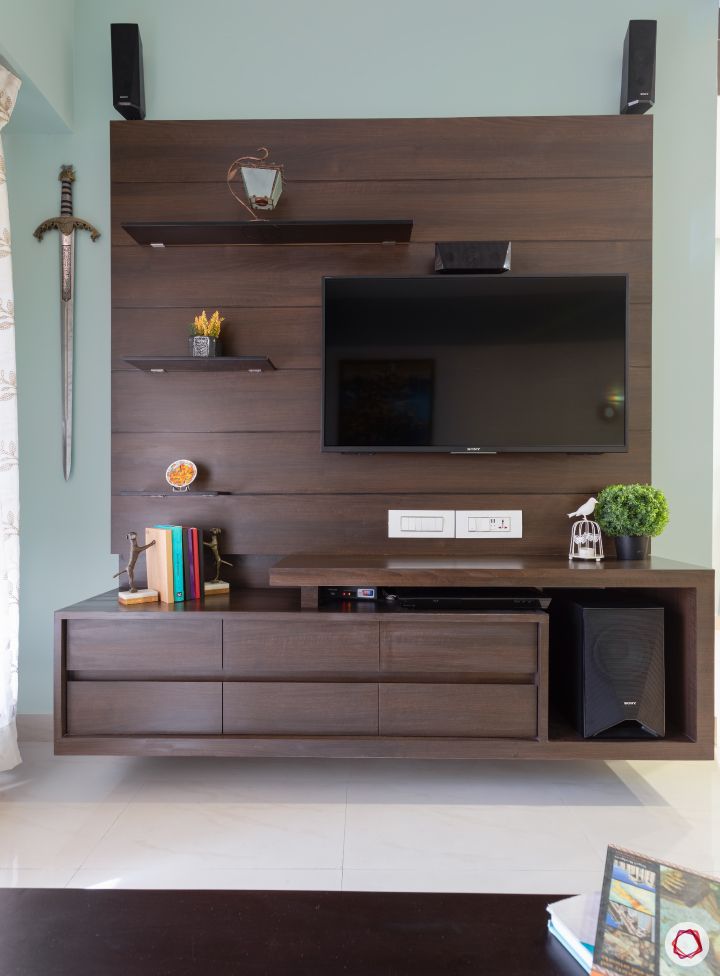 There's something so serene and welcoming about this living room. The real treat is the teal twist Ashwini has given. She pairs up this subtle colour with an exposed brick wall to mix industrial with modern design. The furniture is kept minimal, with just one sofa, a simple side table and a coffee table in place. The laminate finish TV unit is rather elaborate, with dedicated space for speakers and display racks for any artefacts they want to display.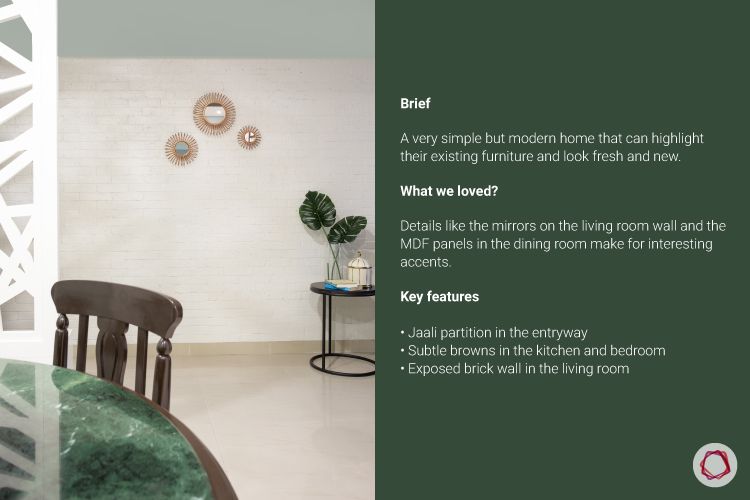 Dark Wood Wonder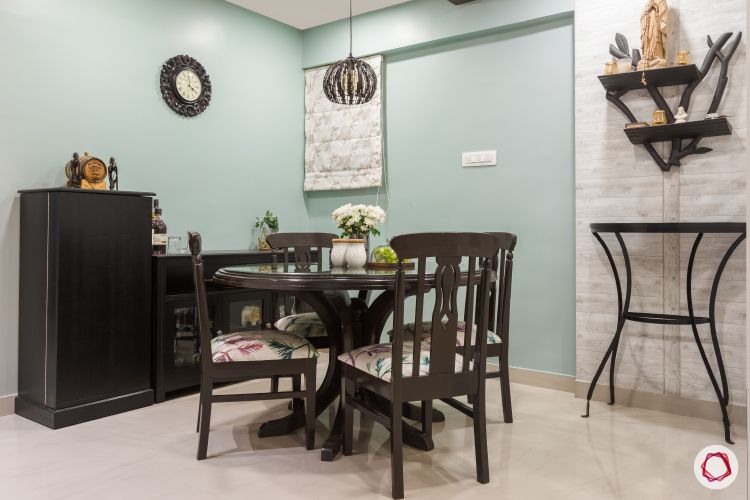 The dining table at this address is one of the many prized possessions of the Dsa's. They had clearly told Ashwini that they would like to retain this piece and let it do the talking in the dining area. Therefore, she refurbished the table and reupholstered the chairs to give it a fresh look.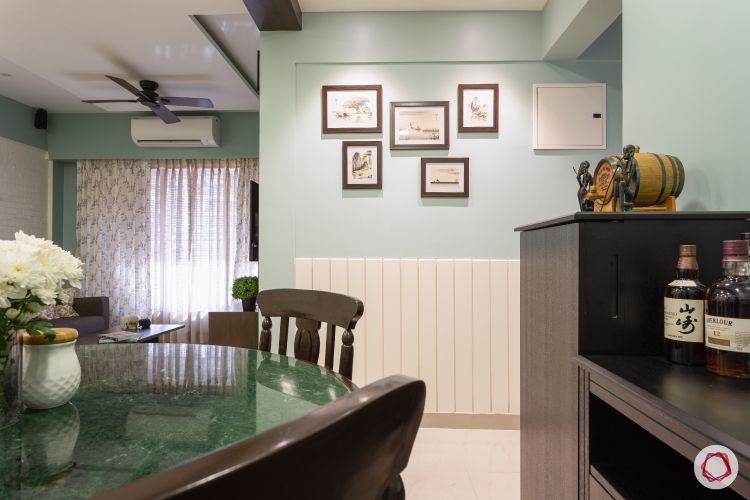 Another striking feature here is the white MDF panelling on the wall that jazzes up the plain surface. Also, do not miss the compact altar that the family always wanted. A console table with the branch-style altar and a wallpaper behind it makes this spot stand out from the rest of the room.
A Welcoming Parallel Kitchen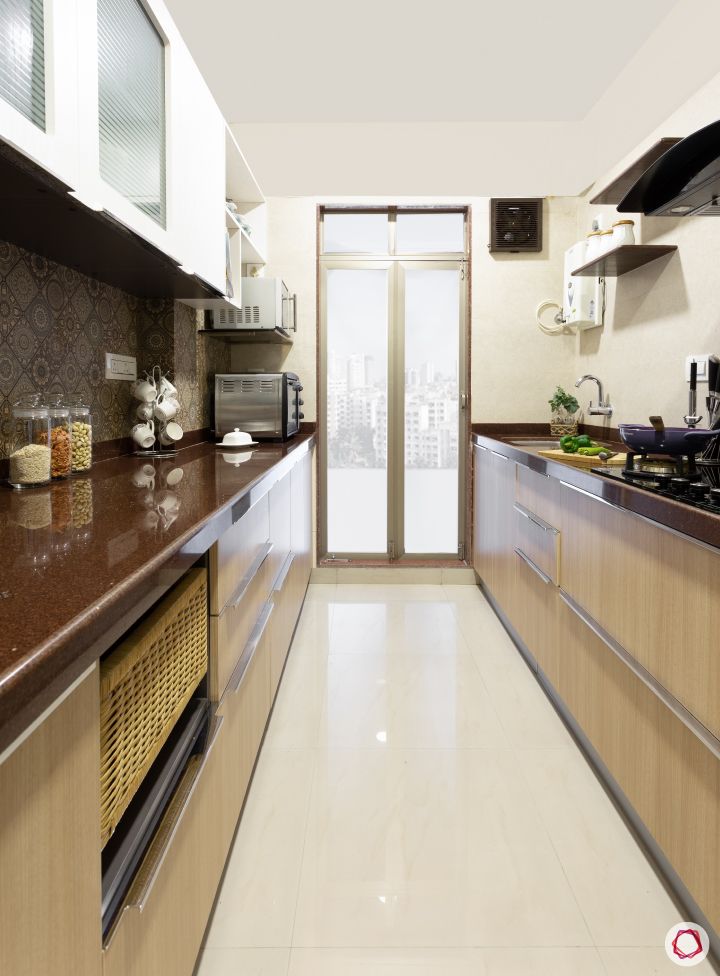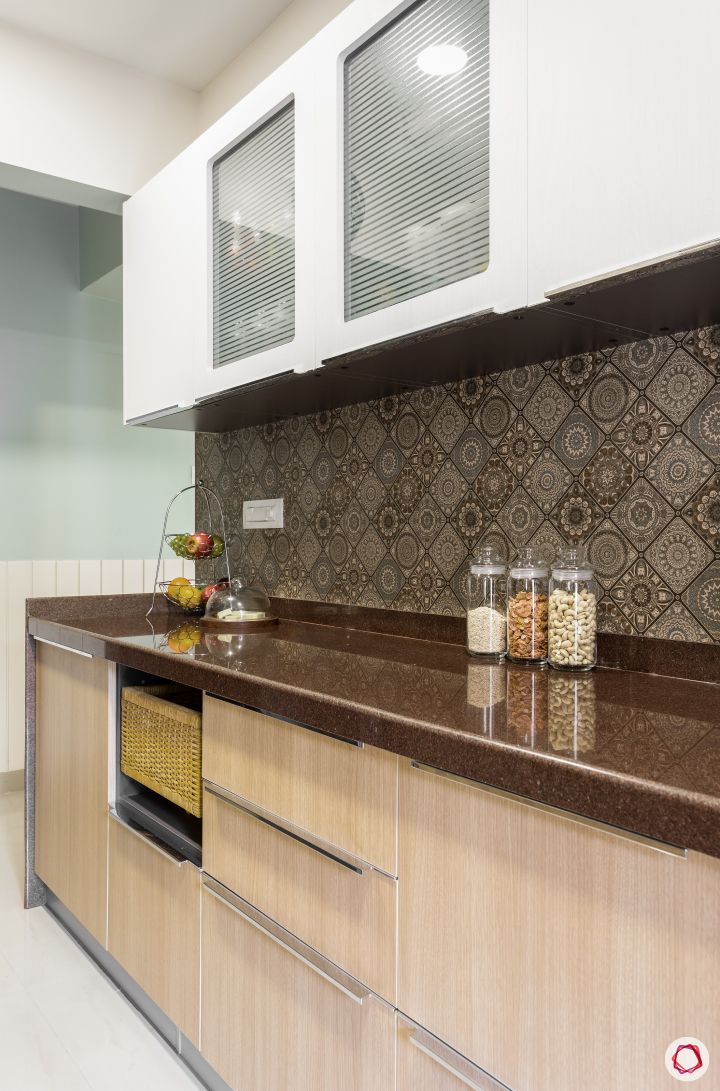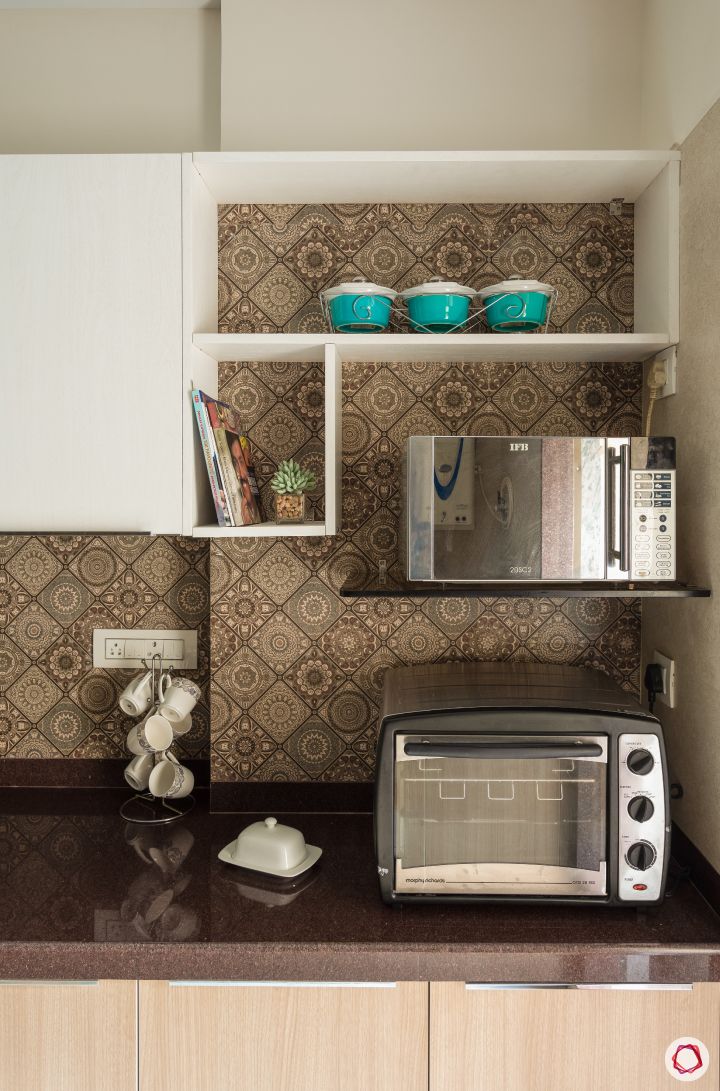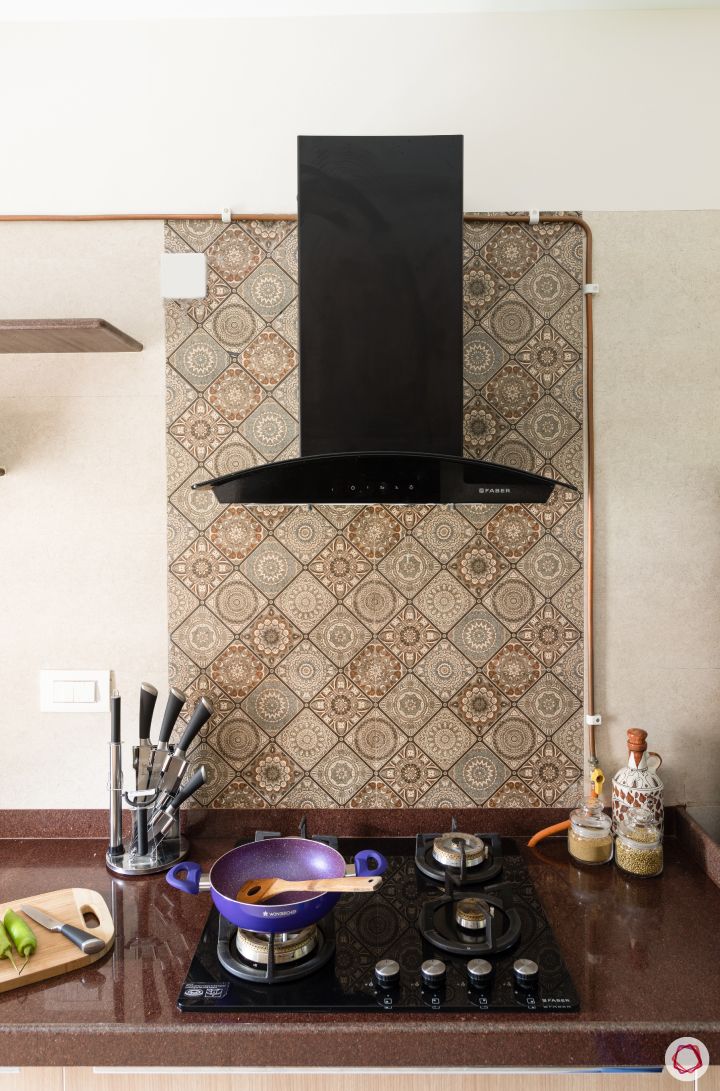 This kitchen wore a completely different look before the makeover. The couple wanted a spacious look in the kitchen and this prompted Ashwini to break down a part of the kitchen and give it a new layout. A parallel kitchen is what fit the bill here and going by the preferences of the family, she gave them a subtle brown and laminate version. The countertop is granite, while the backsplash wears pretty highlighter tiles. She also saved up on countertop space by giving an extra shelf for the appliances.
Dark Chocolate & Cappuccino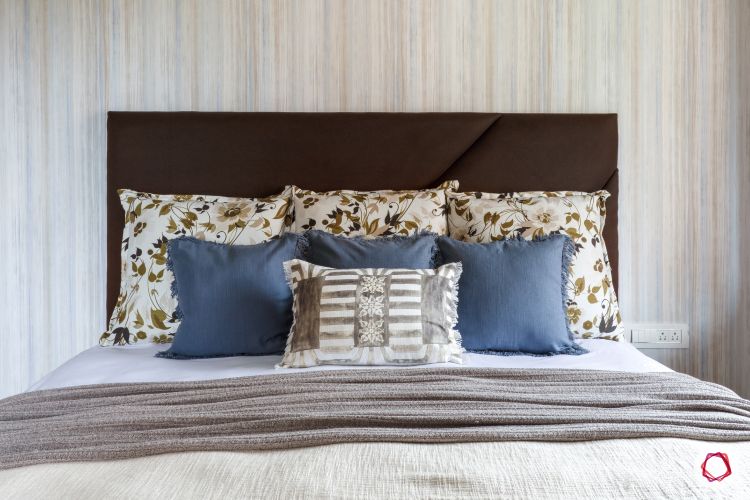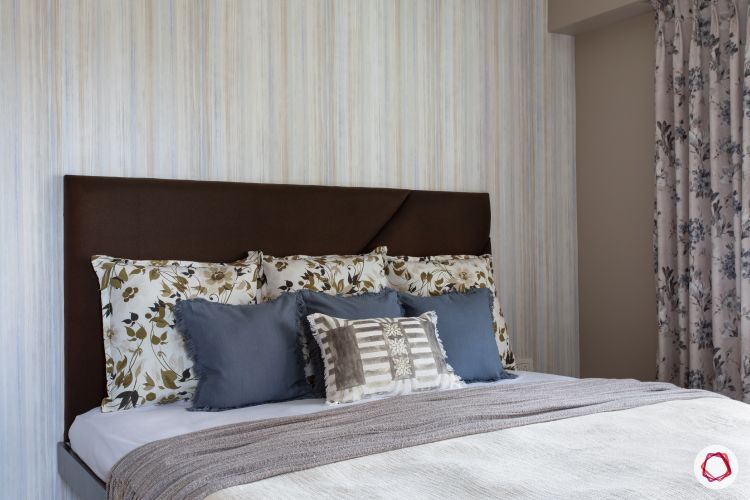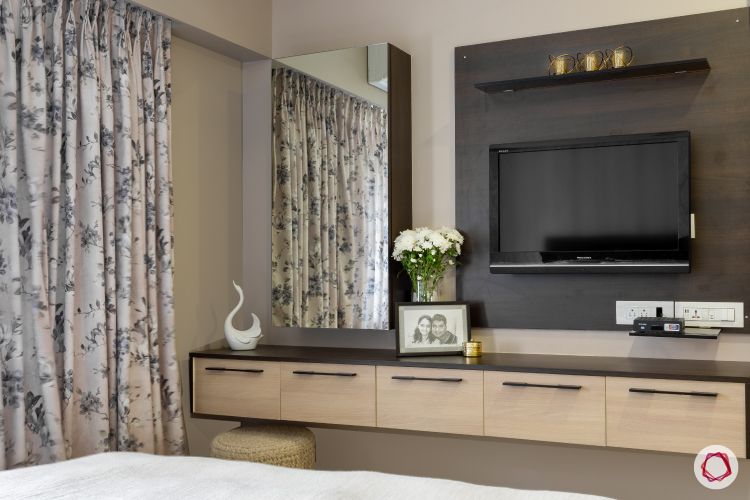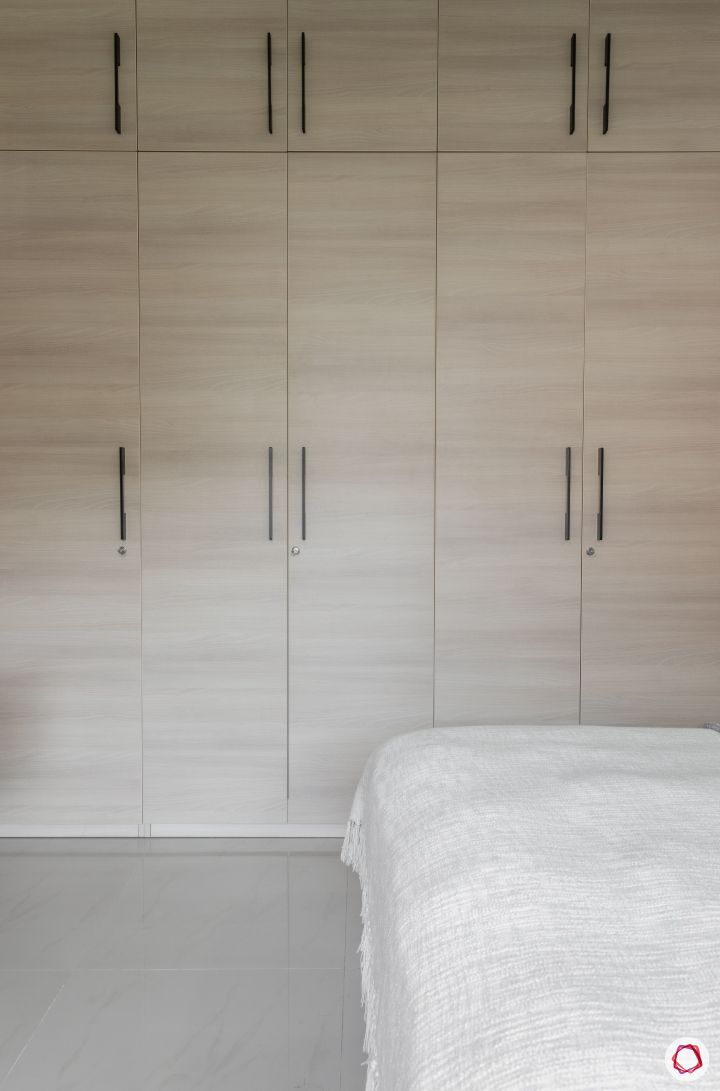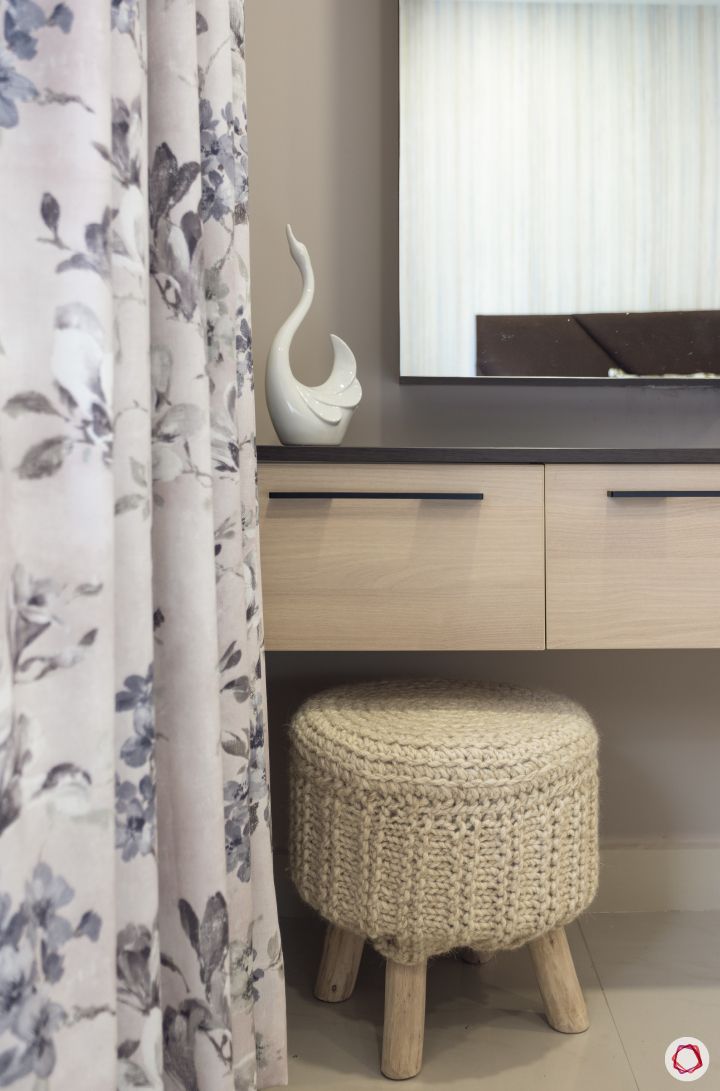 As neutral as it gets, the master bedroom is a rendition of the thoughts that the couple share. A beautiful chocolate brown headboard that plays match with the TV unit looks fetching in this space. The wardrobes wear a light laminate finish that come with lofts to sort out their storage woes. Another highlight of this room is the tiny dressing corner that is built alongside the TV unit with a cute little stool to go with it.
Apt for an Artistic Kid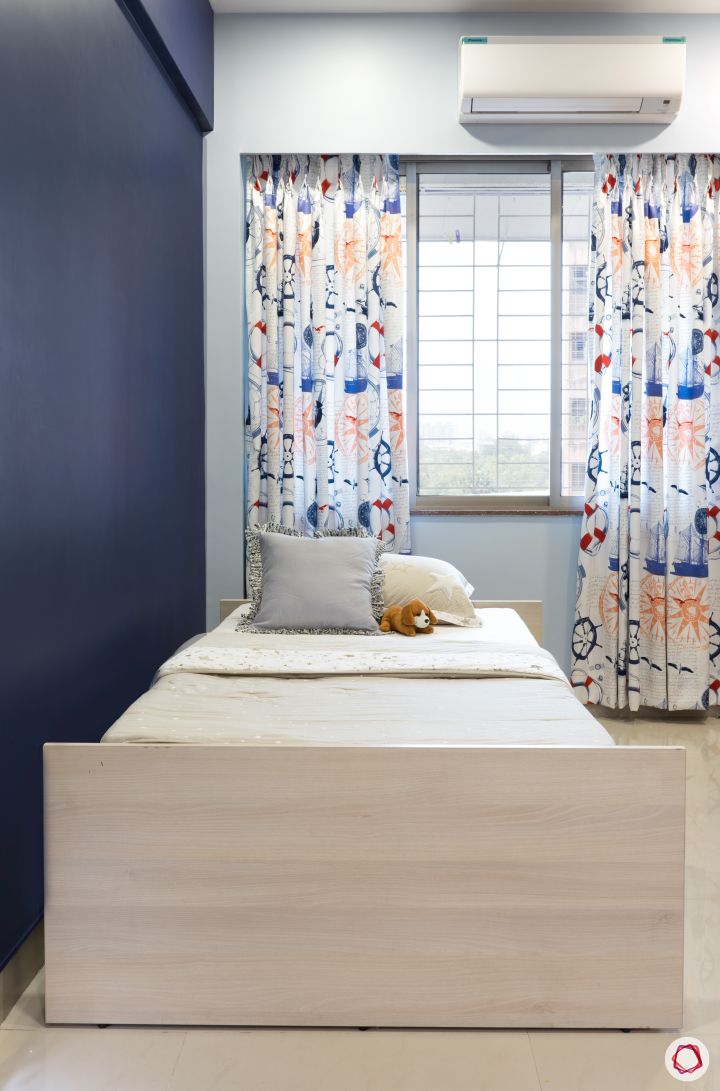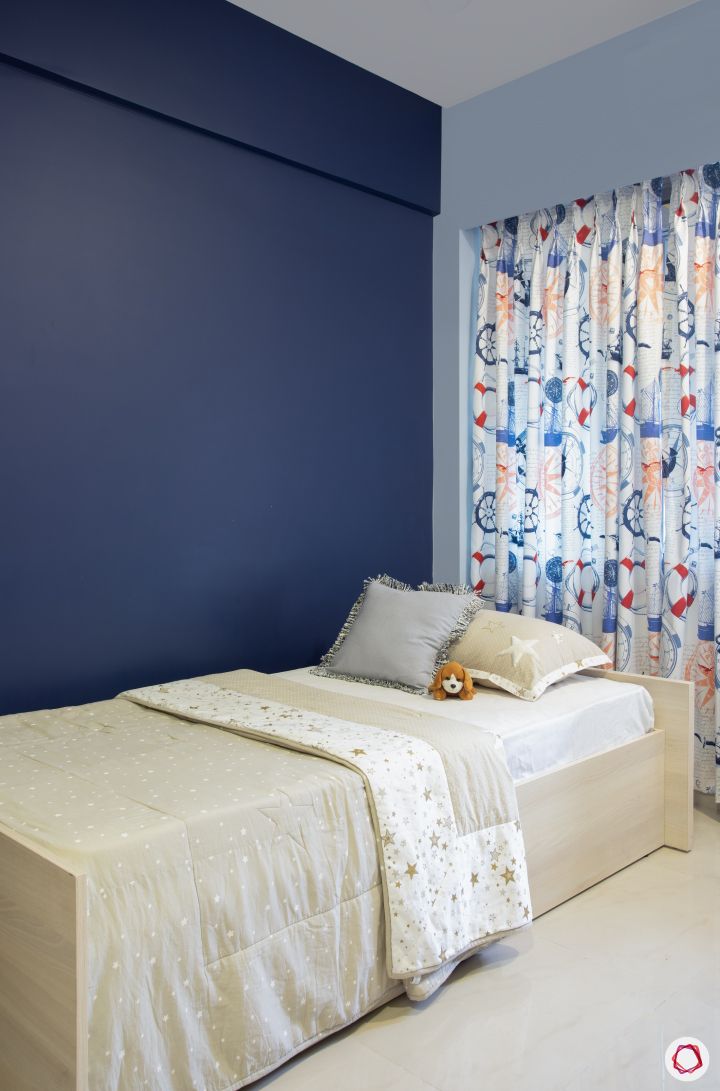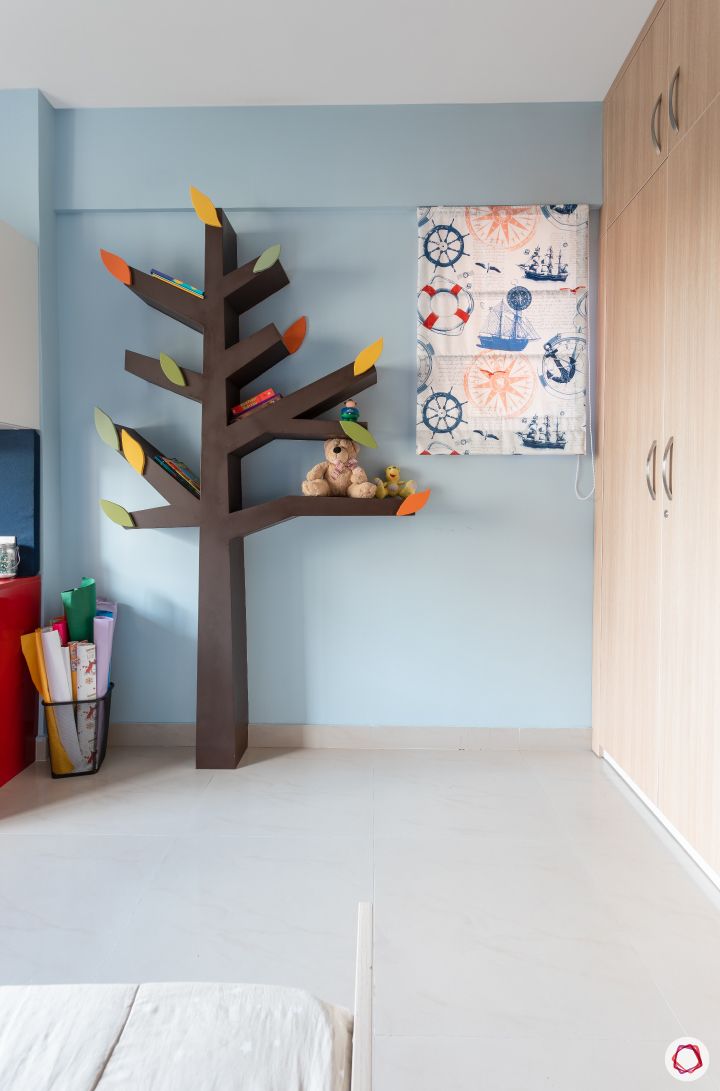 The kids room is such a simple yet fun space to be in! Dylan is a huge fan of football and loves all things sports. Therefore, blue had to be the dominant colour in his room, with the walls and drapes complementing each other. The bed and wardrobes sport the same finish which brings the look together. Also, do not miss the tree-shaped bookshelf that Ashwini got customised for them. It adds such a fun element to this room!
For Work & Leisure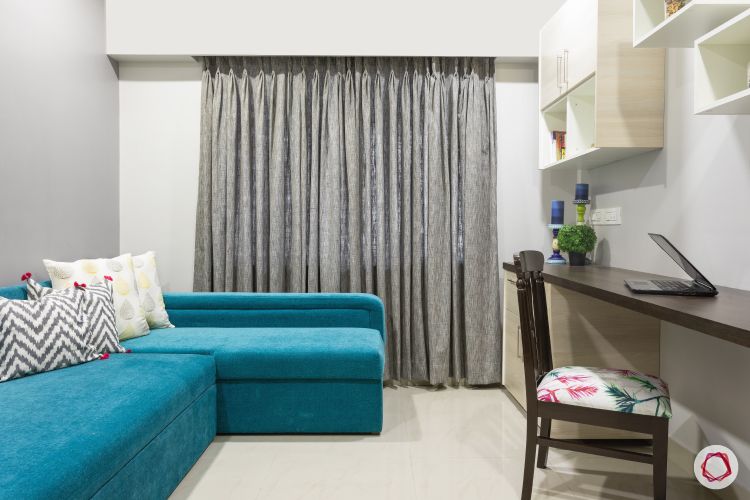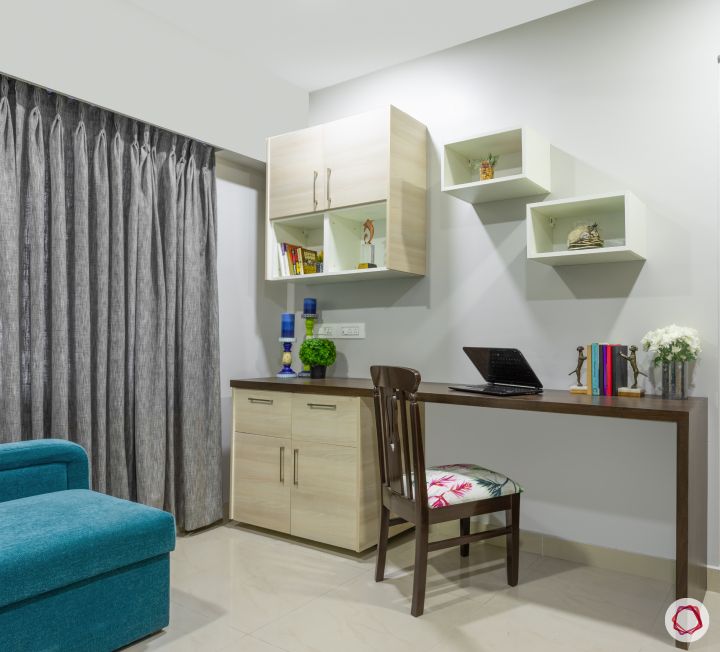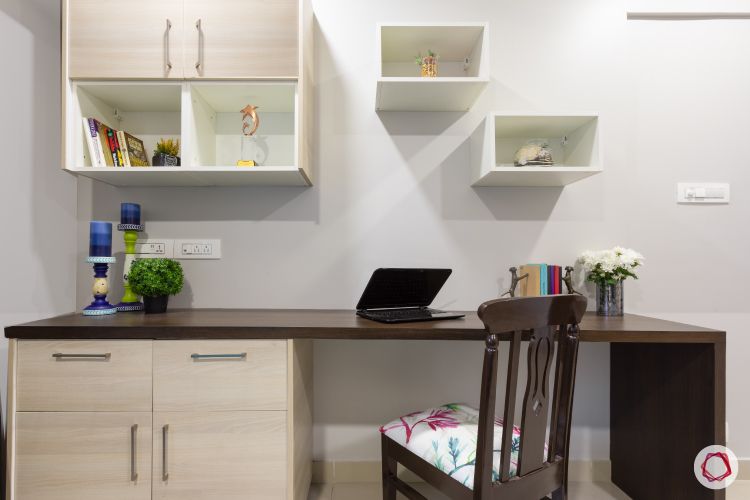 The third room in this 3BHK is a versatile spot that can be used as a study and a guest room! The elaborate study unit features cabinets and wall shelves that can accommodate files and other knick knacks. To add a splash of colour here, Ashwini reupholstered their existing sofa-cum-bed in a bright blue shade.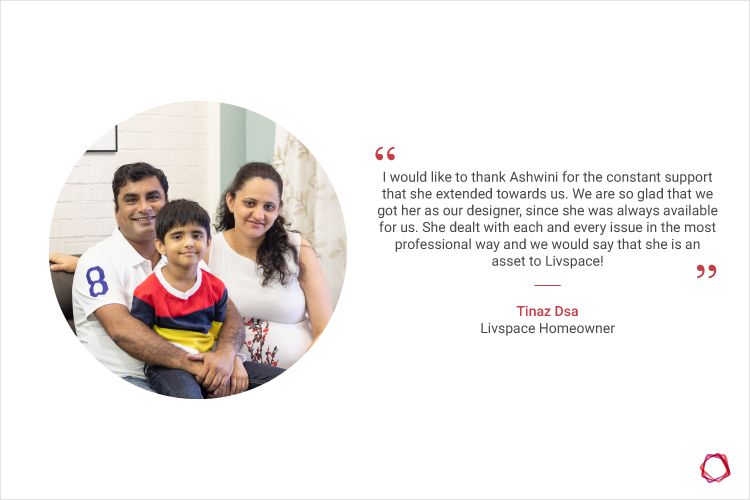 ---
"Noel and Tinaz were a very sweet and accommodating couple to work with. They made sure that I got my space and understood their requirements thoroughly. Despite some snags, they always kept their calm and trusted me. I gave attention to the smallest details for this project and I enjoyed it completely!"

– Ashwini Gokhale, Interior Designer, Livspace

---
Did you like what Livspace did for this family? We are you will like taking a tour Inside a Minimalist's Soft Luxurious Home in Wadala!
Send in your comments and suggestions.