This modern kitchen is a wonder in wood and white!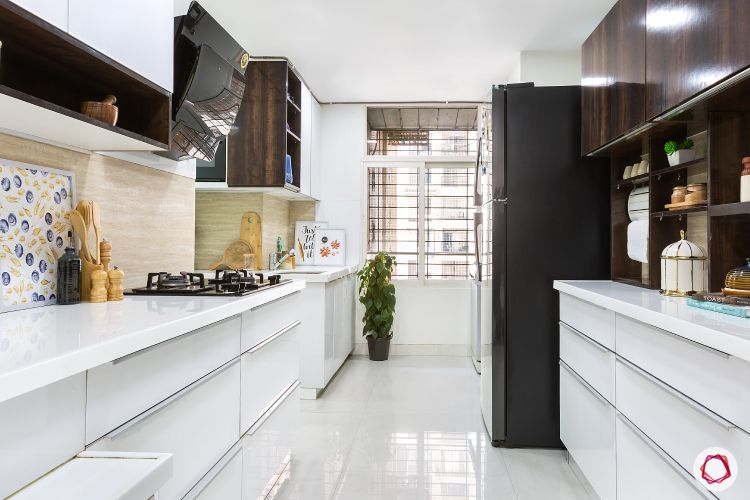 ---
Who livs here: Sanjay Dosi with Kavita Dosi and two kids
Location: Mahindra Eminente, Goregaon West, Mumbai
Size of kitchen: 200 sq ft approx.
Design team: Interior Designer Hansika Mota with Quality Manager Ramesh Parmar
Livspace service: Modular kitchen design
Budget: ₹₹₹₹₹
---
Oftentimes when designers take on the task of remodelling an old kitchen into a modern space, it becomes exceedingly important to give it a fresh look and make it equipped to handle the current needs of the family. When our clients, Sanjay Dosi and his wife Kavita, approached Livspace to redo their spacious kitchen in Mumbai, they had a definite design in mind. Coming from an artistic background, Kavita was very particular about having certain elements of design in her kitchen.
So, Hansika Mota, our designer, took over and what was the result, you ask? A truly original space that has the best of modern sensibilities and optimum storage. Scroll down to look at the kitchen design and learn more about thoughtful designs.
Before and After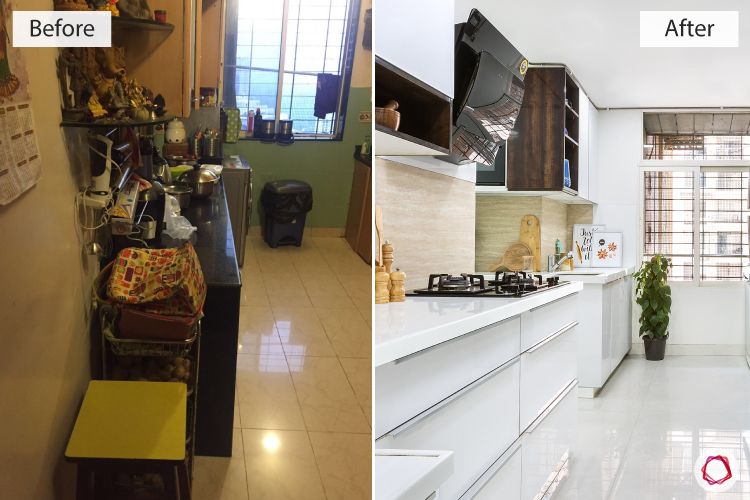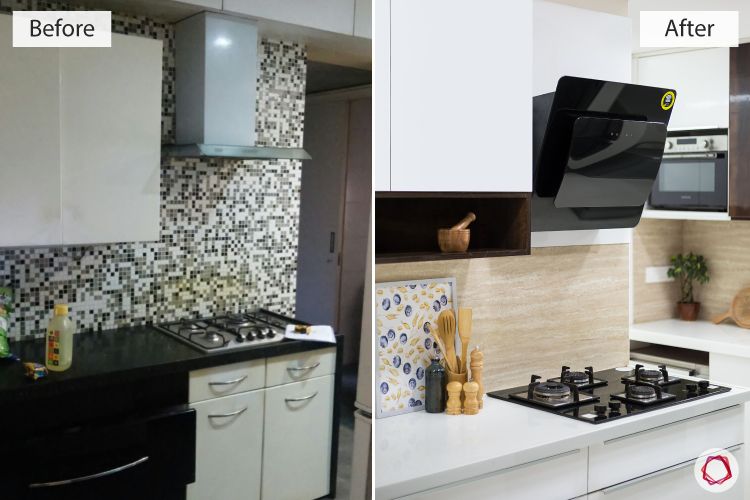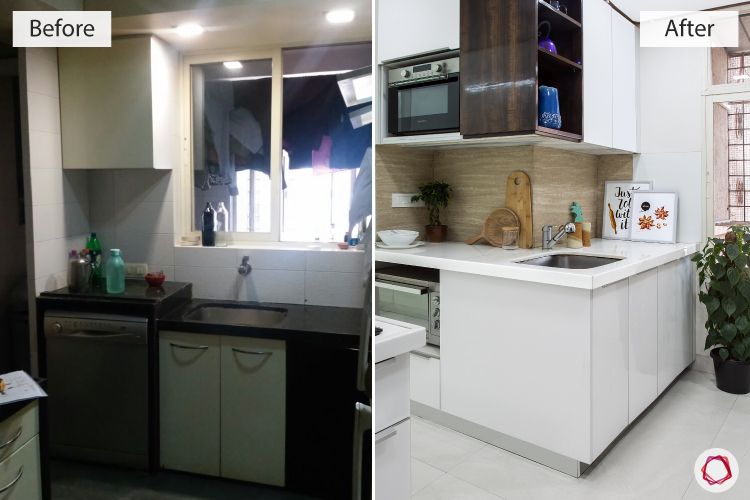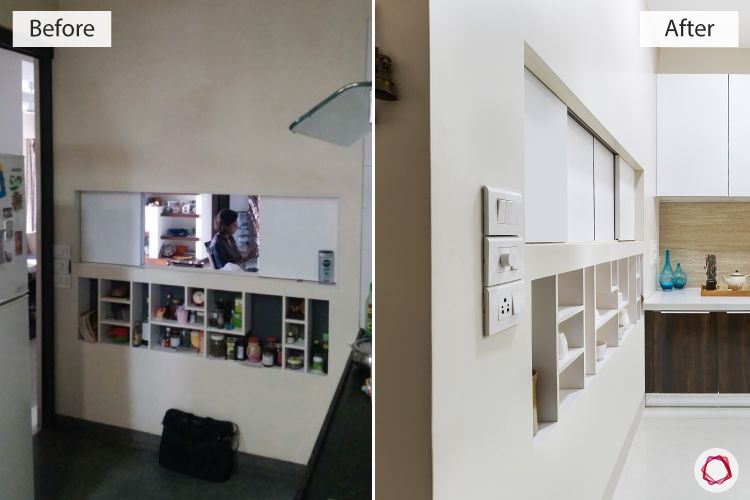 A Parallel Layout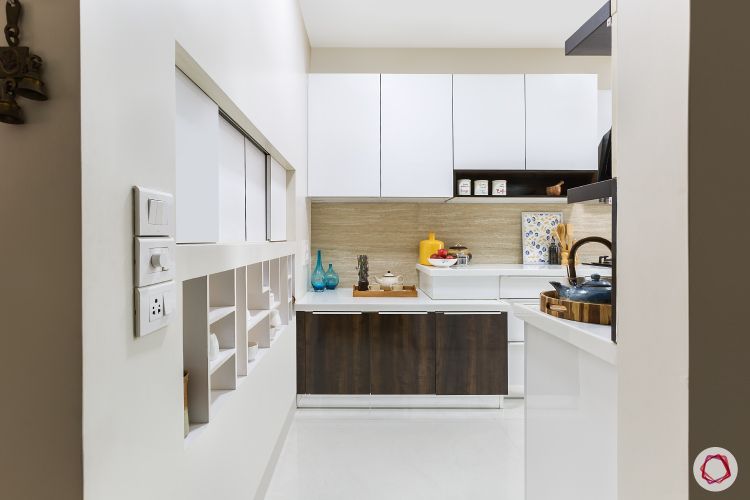 Let's take you through this masterpiece of a modern kitchen in Goregoan West, that was born as a result of careful consideration. A spacious parallel kitchen with an L-shaped wet area that leads to more storage space is what we are talking about.
Being just a simple parallel kitchen before the renovation, did not give our clients optimum working space. Hansika cleverly broke down the space and designed it in a way that looks stylish and ranks high on functionality as well.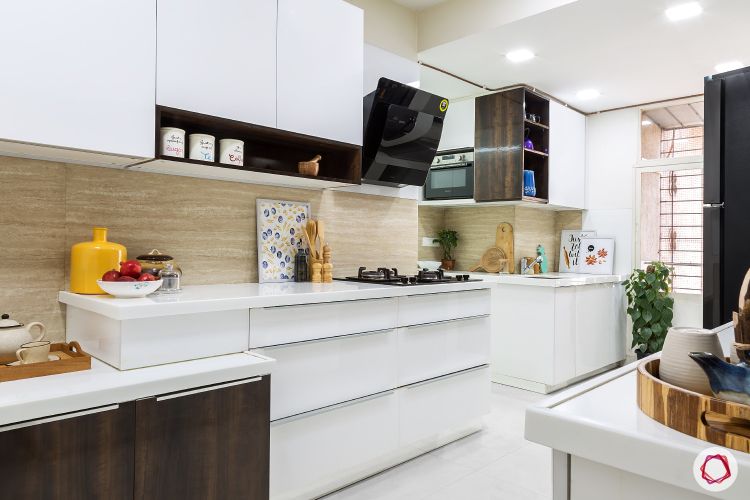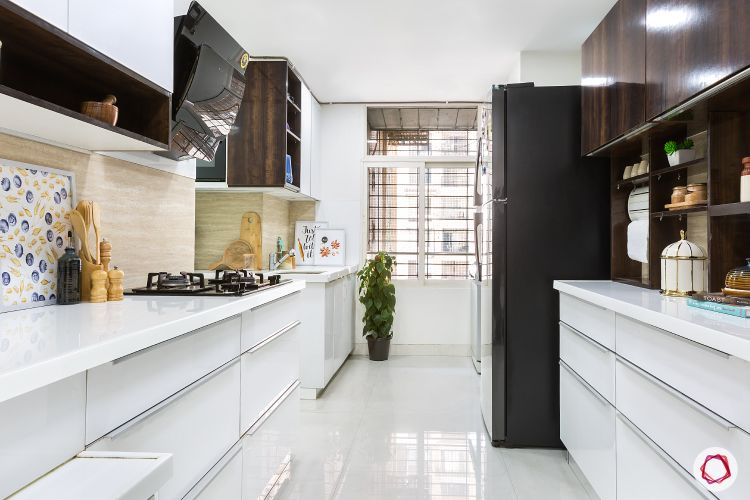 As soon as you enter this kitchen, you are bound to notice the step-like worktop in front of you. This was something unique that the client wanted for her kitchen and Hansika ensured she delivered the same. The hob area sports back-painted glass on the wall units and white acrylic finish on the base counterparts. The step-like design acts as an efficient prep zone, with big drawers and cabinets for storing utensils. An open shelf makes space for spices, tea, coffee and other items that need to be easily accessed.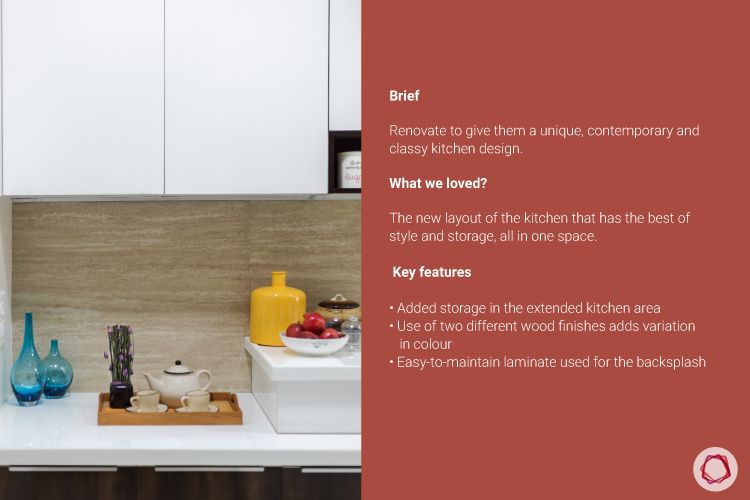 Storage and Corner Utilisation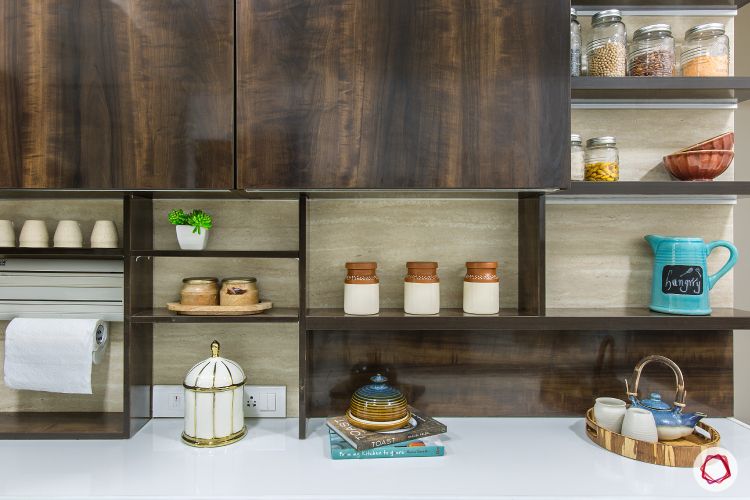 This open storage unit is another unique factor in this kitchen. Kavita wanted this particular style of display-cum-storage for her kitchen, where she could display all her pretty crockery and spices. Finished in dark laminate and sporting varied sizes of shelves with closed cabinets for crockery, this area stands out in the kitchen.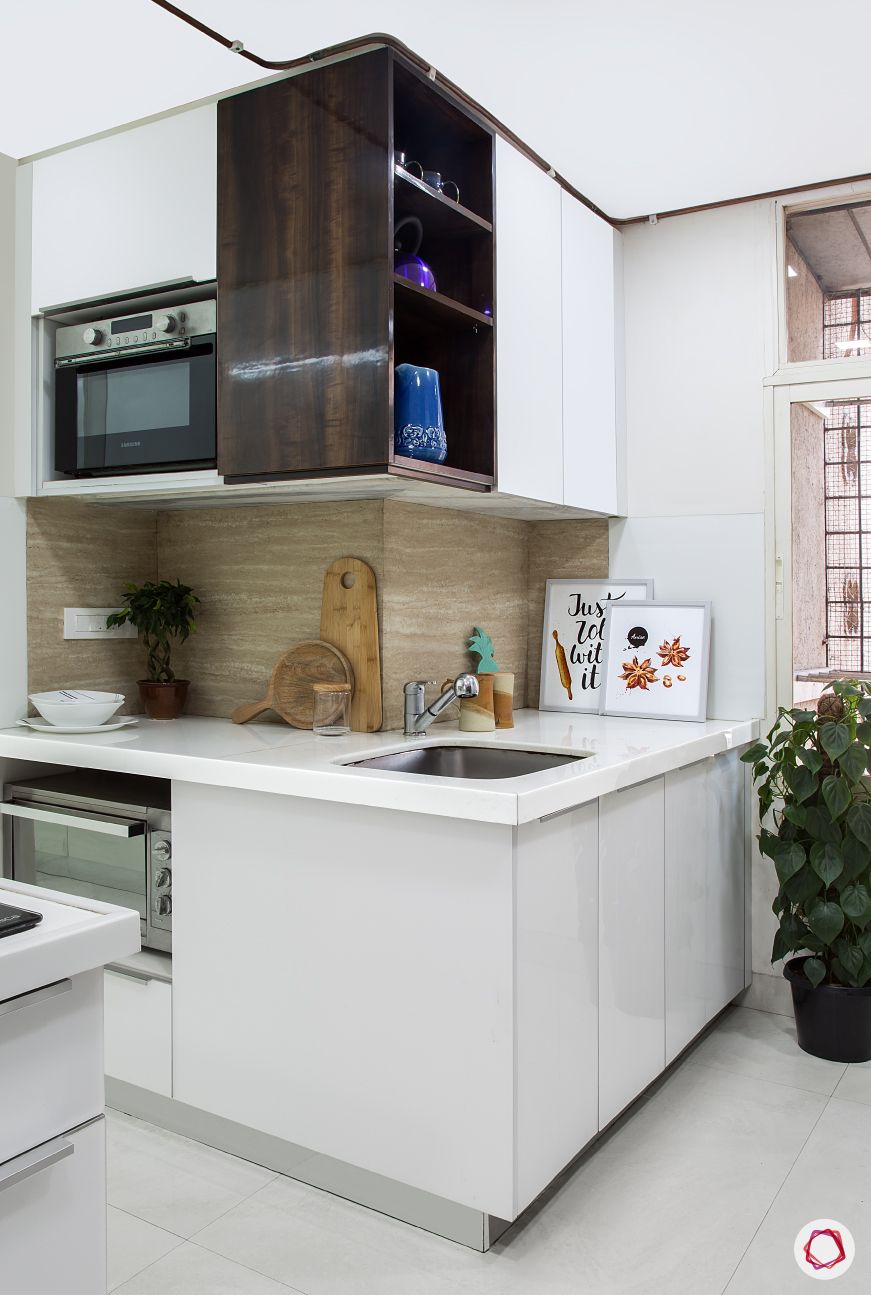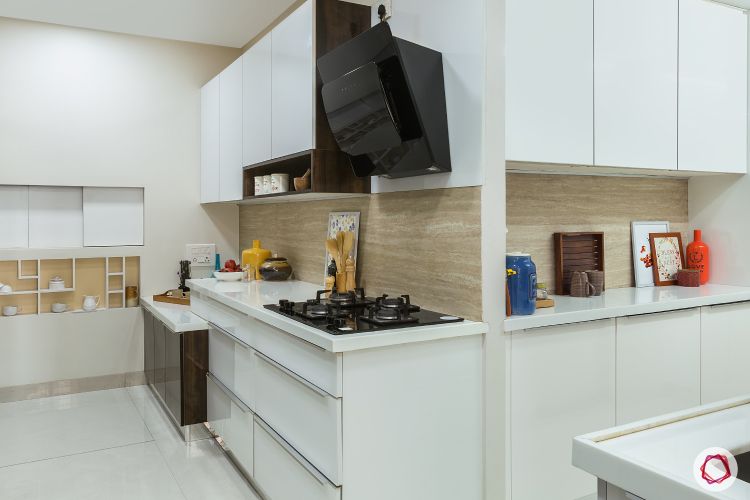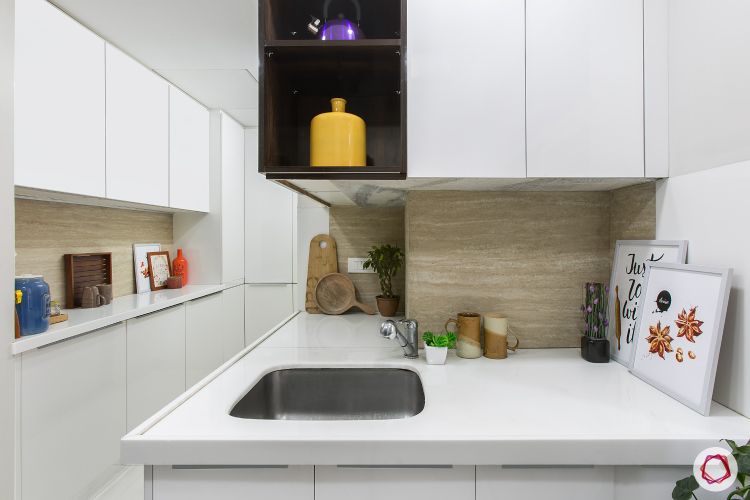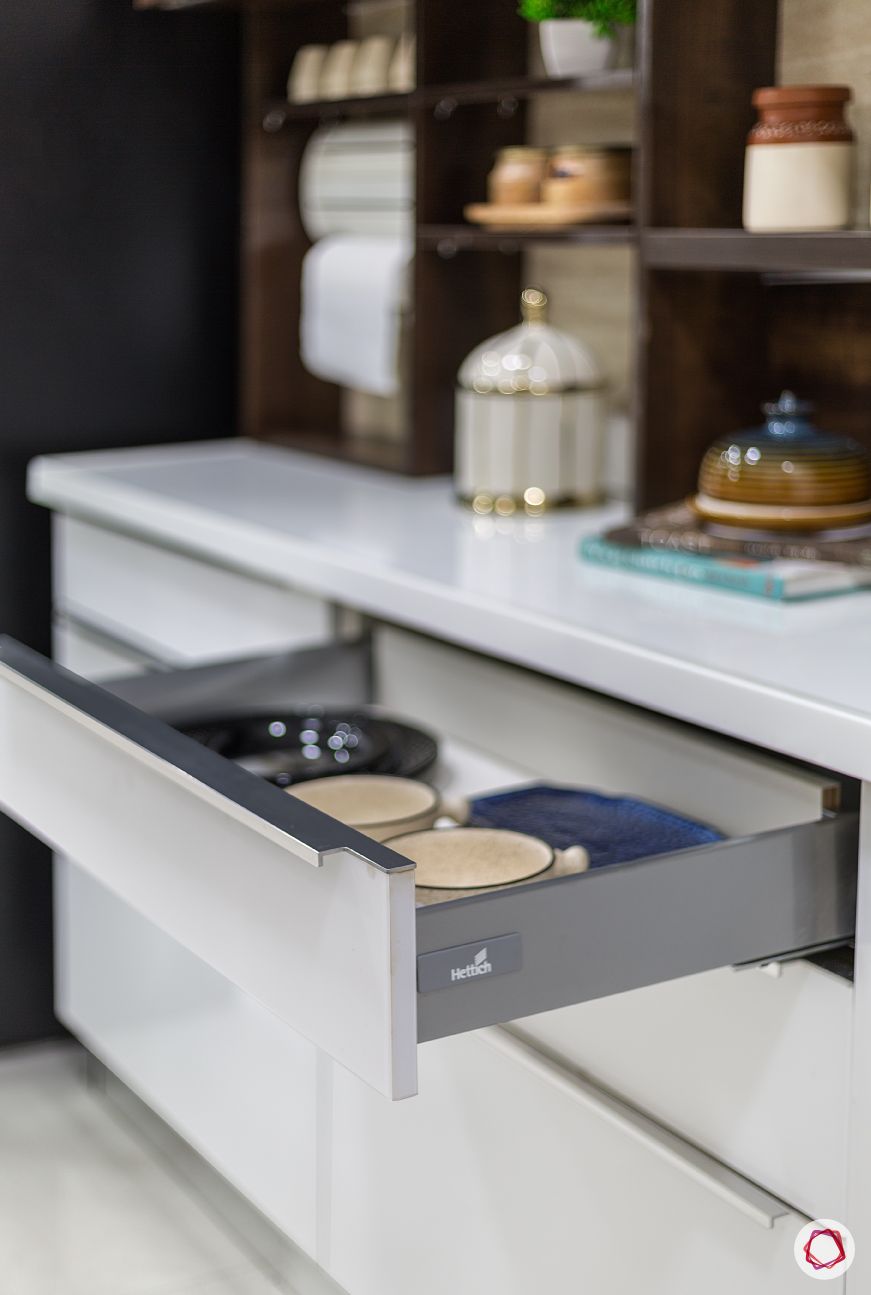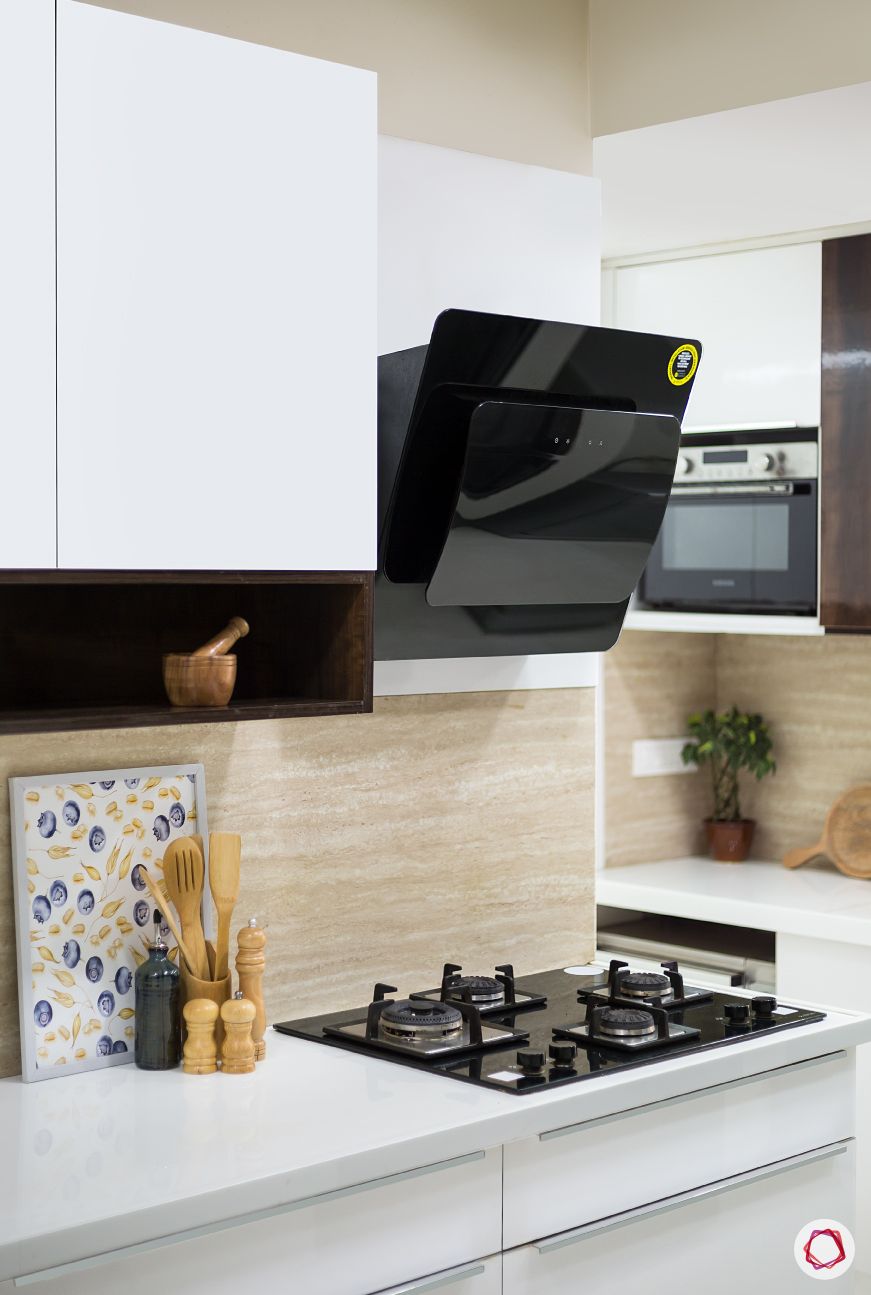 The wet area in this modern kitchen is something that the couple wanted to include in their new layout. So, Hansika decided to give them this L-shaped counter with the sink and a cabinet for the Aquaguard unit. This cabinet also houses their appliances like the microwave and oven. With seamless soft push cabinets, this kitchen is a dream to work in. This area leads to a passage with a lot of storage cabinets which Kavita uses to store most of her extra stuff that's lying around.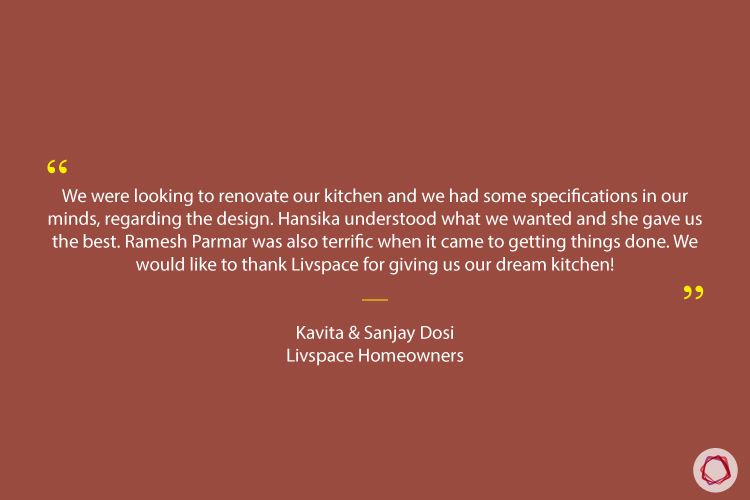 "Sanjay and Kavita had specific requirements and they were very clear about what they wanted in their kitchen. I just worked around those ideas and gave them what they wanted. It was a pleasure to design for this family!"

– Hansika Mota, Livspace interior designer
Check out another inspiring modular kitchen design in Mumbai.
Write to us at: