Your all-purpose, stylish modular kitchen, equipped with the latest oven and appliances, make cooking an easy and enjoyable affair. Since it's the busiest hub of your home, your kitchen is bound to accumulate dirt and grime over time.
Modular Kitchen Cleaning: What You Need to Do Daily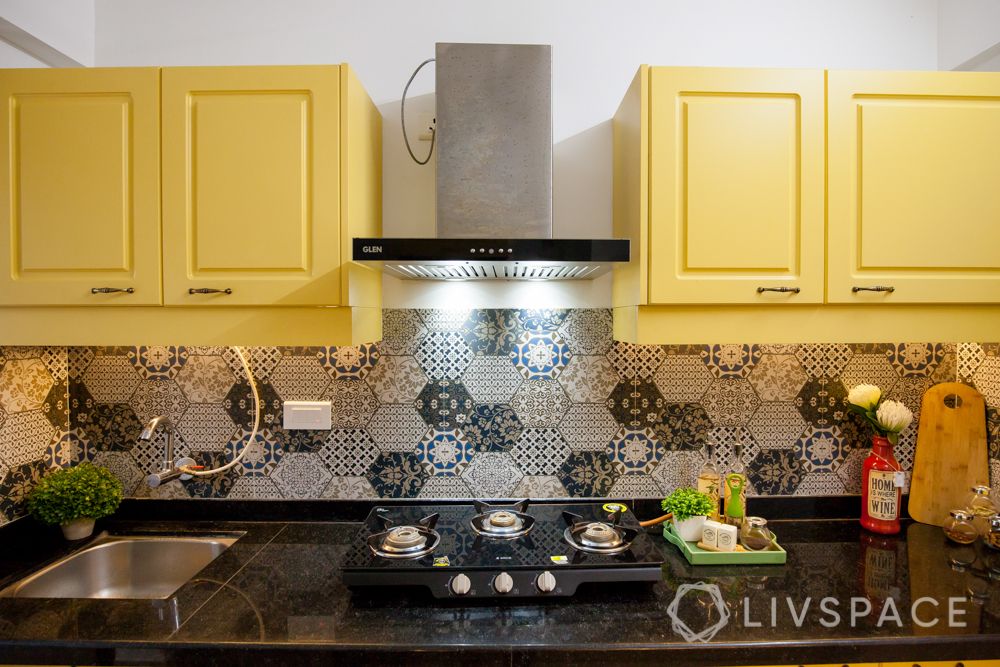 Your modular kitchen's daily cleaning schedule includes tips for a clean, hygienic space to cook in.
Sink: Firstly, ensure that the sink remains free of garbage and food scraps. This will help keep your plumbing smooth. While cleaning out the sink itself, use a mild soap for rinsing and avoid chlorine-based corrosive cleaning agents. If you have a steel sink, use only nylon scrubbing pads – harsher ones can cause scratches! Lastly, keep germs at bay by using a mixture of water and vinegar. What's more, it keeps the horrid smells at bay too!
Hob: Avoid crusty food on your hob by wiping spillage and cleaning up immediately after cooking. In case of oil stains on the backsplash, spray club soda or a solution of shaving cream to make cleaning up easier!
Countertop: Use organic cleaning agents to clean your countertops, as the use of harsh chemicals can make the surface dull and rough. Also, steer away from sharp objects that can damage the smooth finish. Wipe down the countertop with a disinfectant on a daily basis, and use warm water to get rid of tough stains and fingerprints.
Cabinets: While cooking, keep cabinets firmly closed to avoid sticky insides that need more frequent cleaning. Moreover, while putting freshly-washed utensils back inside the cabinet, wipe it dry to prevent the growth of bacteria.
Floor: End your day by sweeping the kitchen with a plastic broom or dab with mop for liquid spills. Do not flood with water as it can damage kitchen and cabinet doors.
Modular Kitchen Cleaning: Weekly Chores
Depending on the frequency of your modular kitchen use, follow this checklist to keep your kitchen as good as new.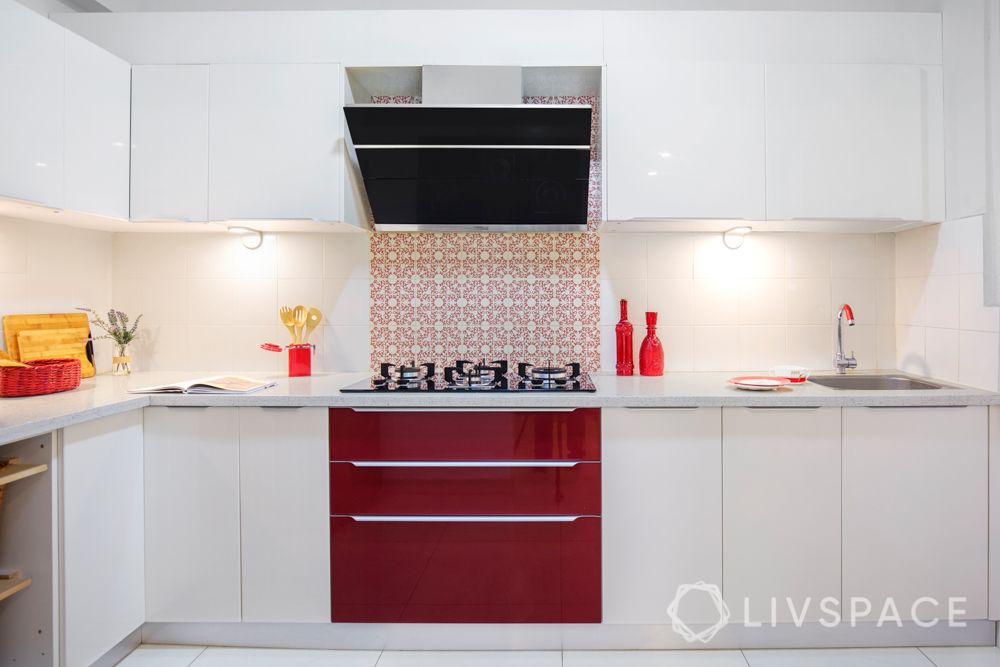 Tiles: Clean the surface with a solution of water and baking soda to preserve their shine. Struggling with coffee or juice stains? A solution of hydrogen peroxide and ammonia in water is your saviour. You can use a toothbrush to clean out those tricky stains from between tiles. And if you cannot reach the offending stain at all, turn to the trusty vacuum cleaner!
Garbage Can: Clean the garbage can with hot water, spray with a disinfectant and dry thoroughly to keep germs and bad smells at bay!
Cabinets: Empty your cabinets, dust them regularly or mop them as needed to get rid of cooking residue. You can use a mixture of equal parts of water and vinegar or club soda and lemon juice to clean your cabinets. Leave them open to air-dry before putting your items back.
Microwave: Clean the outside of the oven using a mixture of two tablespoons of lemon juice or vinegar and two cups of water. For stains on the inside, microwave a bowl of water with a few lemon slices for 3 minutes, let it rest for half hour and then wipe down.
Refrigerator: Before you restock the fridge each week, empty it and wipe the shelves clean with a soft cloth. Clean up any stains regularly – and use diluted vinegar or other organic cleaning agents for stubborn stains. To avoid foul smells inside your fridge, leave a box of baking soda or coffee beans open inside.
Towels: Wash your kitchen towels regularly, else they can become the breeding ground for harmful bacteria! Also, keep an extra set at hand for emergencies.

Modular Kitchen Cleaning: Check on These on a Monthly Basis
Use this monthly schedule to rid of deep stains and reach areas that generally go unnoticed.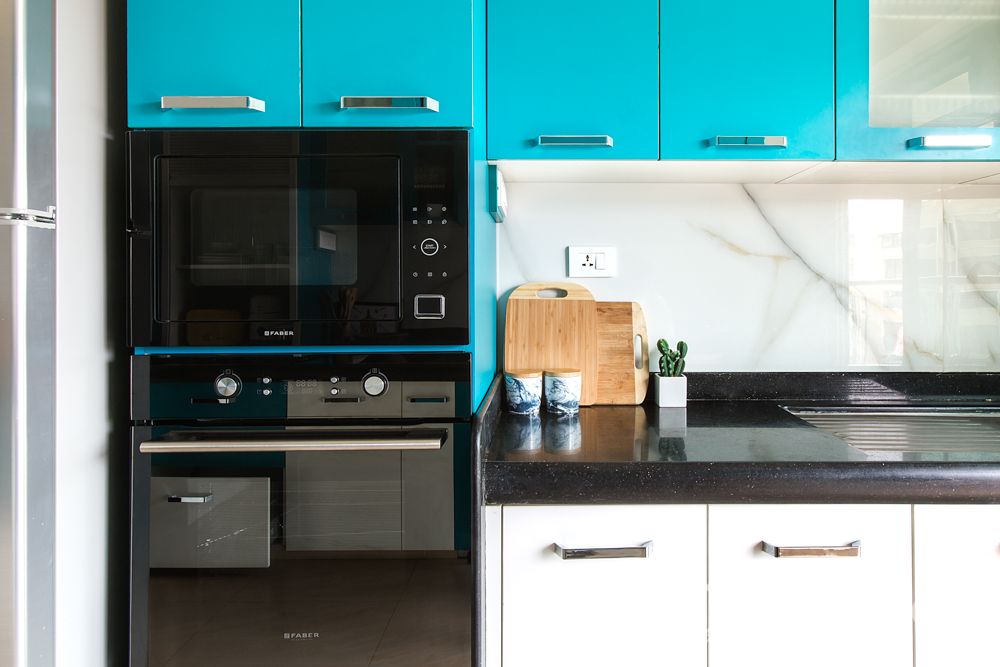 Cabinets: Cabinet hardware inevitably gathers grime, giving the kitchen a dull appearance. So we've collated this handy guide for you: How To Clean Cabinet Hardware.
Taps: You can retain the sparkle of your chrome or nickel taps by dabbing some vinegar on them.
Countertop: Gently scrape away grime with a plastic spoon before scrubbing the countertop with baking soda and vinegar to keep it in mint condition!
Appliances: Use cleaning liquids to keep tough stains at bay.
Modular Kitchen Cleaning: The Annual Cleaning Checklist
Do away with pocket-heavy expenses in the future through this annual spring cleaning checklist.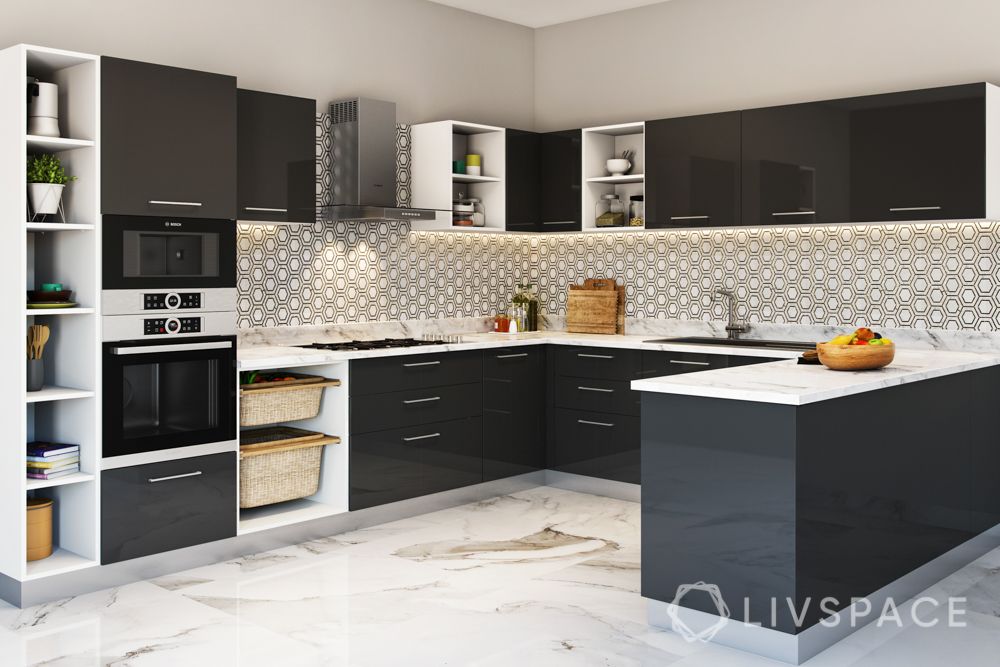 Chimney: Clean up the chimney with a heavy-duty vacuum cleaner and follow it up by cleansing with a glass cleaner or dish soap.
Cabinets: Ensure that all the hinges on racks, drawers and cabinets hold tight and do not make creaking noises. Tighten any loose screws at once!
Exhaust Fans and Vents: Get your exhaust fans, vents and dehumidifiers cleaned by professionals to keep them functioning optimally and ensure a longer life.
Plumbing: Use bleaching powder for periodic disinfection and to maintain a leak free plumbing!
Modular kitchens require constant care. Our easy-to-follow cleaning checklist will help you maintain a spotless kitchen for years to come.
If you enjoyed reading this article, also check out How to Clean Your Wooden Furniture?
Send us your thoughts and suggestions.