Our quick and easy tips help you pick the right reading chair, foot stool and storage to create an elder-friendly environment
Buying furniture for senior citizens is not simply about aesthetics. With age-related problems like aching backs, weak knees, joint and muscular ailments, a great deal of thought should go into choosing furniture that provides proper posture.
1. Comfy Reading Chair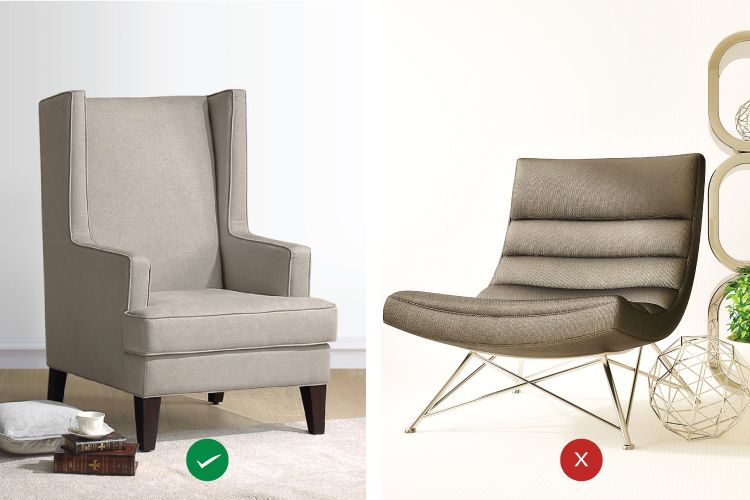 Bad: Low seat, no armrest, no backrest
Good: Sturdy, firm seat with armrest and high back
Opt for chairs with height so it's easy to get in and out of. Armchairs are great as they provide extra leverage to make up for reduced upper body strength. The cushion padding should be firm — not too hard, or too soft.
Go for a sturdy chair as lightweight frames run the risk of toppling. If you are eyeing sofas, loveseats are ideal since the arms are within easy reach.
For those suffering from severe joint pain, motorised recliner chairs are the best bet. They can elevate the legs to ensure better circulation. Just keep in mind to choose a chair with easy-to-navigate controls because newer technologies might be hard for the elderly to grasp.
2. Sleepy Haven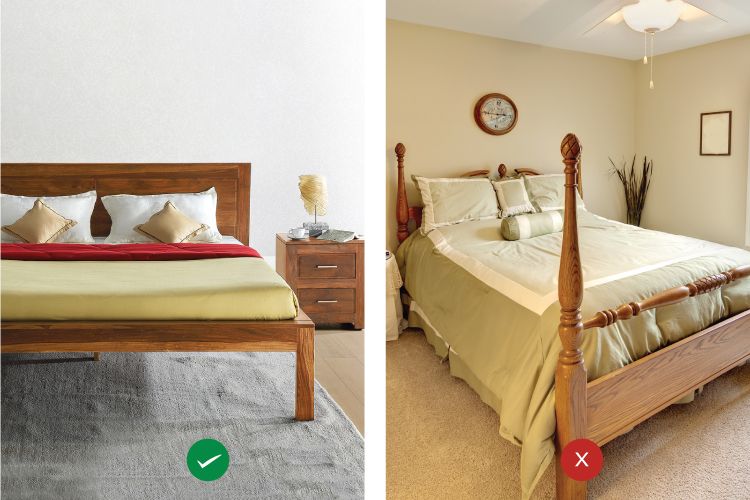 Bad: Jutting, carved woodwork that can cause accidents
Good: Streamlined bed with height and backrest
Look for a bed with height, so elders can get in and out of bed with ease. Avoid intricate, jutting woodwork as it might harm them.
Consider a headboard — upholstered ones preferably — so your elderly folks can sit comfortably. Infact, an adjustable bed allows you to adjust the angle of reclination and height.
Check out bedroom design ideas:
3. Comfort Dining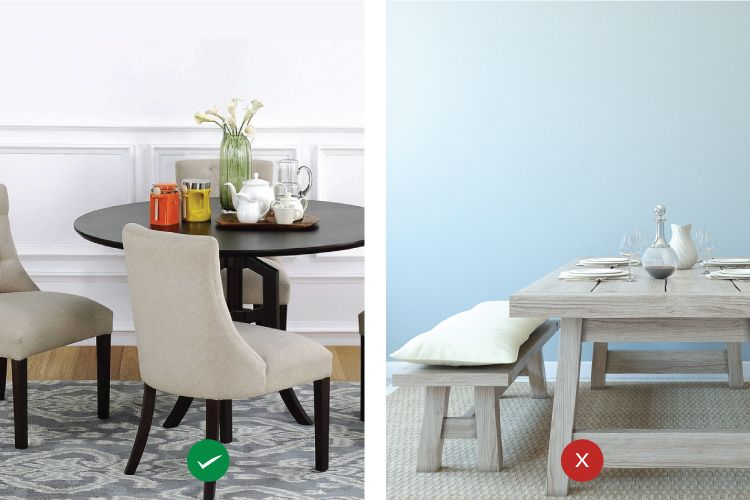 Bad: Backless dining benches, sharp edges
Good: High back, sturdy chairs, rounded edges
A round table is preferred. If your existing chairs aren't elder-proof, then swap one or two for high back ones with arms. The backrest should provide lumbar support and extend all the way to the neck cradling the back in its natural position.
A tall person would require a deep seat, while someone small would prefer a shallow one and not have their feet dangling, which could give them pins and needles in their lower back.
4. Foot Companion
Bad: Colors that blend in
Good: Bright shades that are easily discernible
Easily unnoticed because of its small proportion, the footstool is an extremely handy piece because elders need to prop their legs for better circulation.
Pick footstools doused in vivid hues such as blue, red or green. With fading eyesight, they could get confused with objects on the ground. Avoid black, browns or light colors that blend with the flooring and surroundings.
Also, it should be easy to maneuver and store, preferably under the reading chair. Opt for stools that slope downwards, have a concave top or are height-adjustable so as to alleviate pressure.
5. Storage Solutions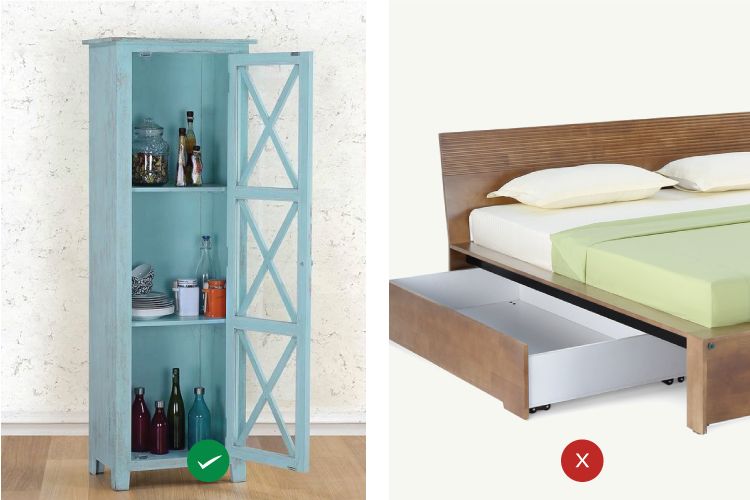 Bad: Storage below the bed
Good: Storage in the form of shelves or a dresser
Storage should be at an accessible height. Avoid under-the-bed or out-of-reach cabinets that will require stretching or bending.
Drawers should have a good grip and slide out easily. Drawer handles should be in complementing, bright colors.
Tall bookshelves or sideboards should have a sturdy base so that they do not tip over. See-through doors are preferred since your elderly parents would spend less time searching through items.
As they say old is gold, so invest in solid woods like teak and oak. The big takeaway is: pay attention to smart ergonomics. In fact, your elderly parents are the best judge, get them to go shopping with you, you won't go wrong then!