They say good things come in small packages; you'll know exactly why once you experience the snug but sonorous city-state of Goa. You can smell the sea in the air here. And everything around you looks quaint while your ears are buzzing to the tune of ya ya maya yo. Add to this the chaotic beauty of a goa villa and we have the perfect setting for paradise.
Are you wondering why we used 'chaotic' as an adjective for a Goa villa? Well, it's because the real trademark of Goan homes lies in their imperfections. It's a racy concoction of elaborate pilasters from the Portuguese style of architecture and native Indian motifs and colours. This heady mix has elements of Islamic buildings, too.
A brief history of Goan architecture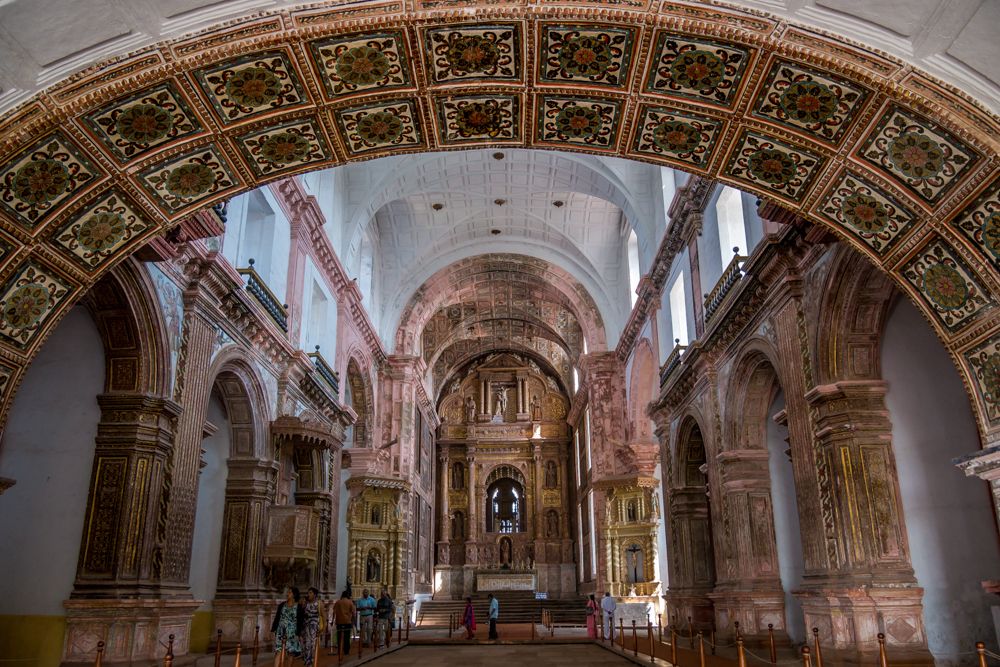 If we want to appreciate the creative chaos of a Goa villa or any Goan building for that matter, we must delve deeper into the origin of this mixed-bag style. The churches in Goa, particularly the ones dating back to the 1600 (when the Portuguese started building in Goa) are the most significant architecturally. For instance, this groin vaulted ceiling (European style) in the Basilica of Bom Jesus, Panjim, is decorated with local Indian motifs. In fact, a mundane portrait hanging on the walls of this very cathedral sums up the Goan style for us. The painter, being a native, visualised Jesus in his own image, thereby bringing together different cultures in the crucible of art.
On closer scrutiny, the quintessential Goa villa does the same. It is a meeting place for myriad styles in an organically eclectic manner. Let's dive straight into what such villas look like and how you can use these design elements to give your home an easy-breezy coastal vibe.

Indoors
#1: Furniture: Cane and solid wood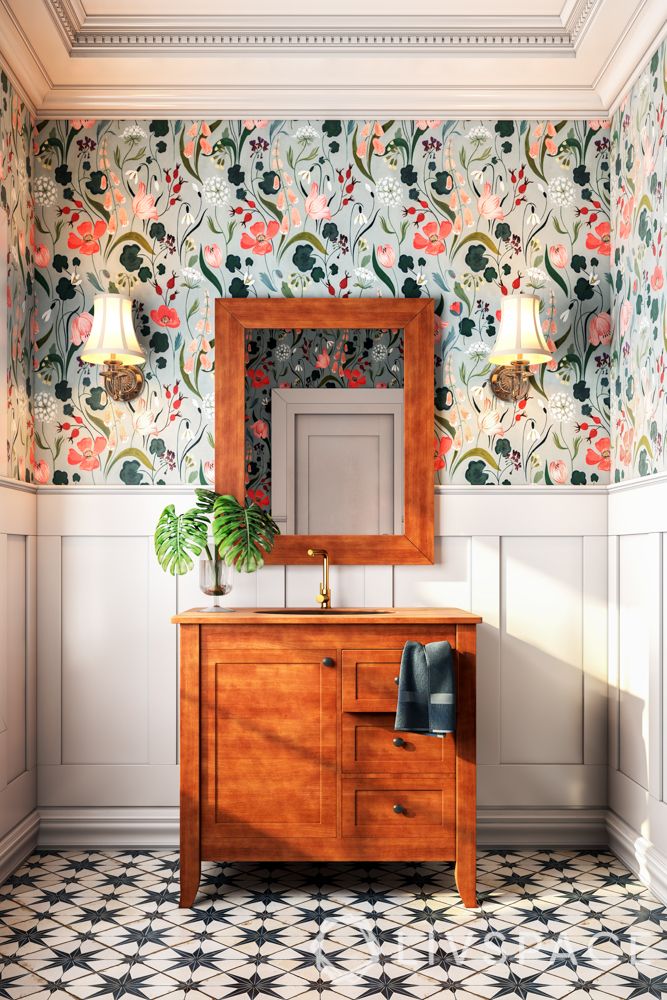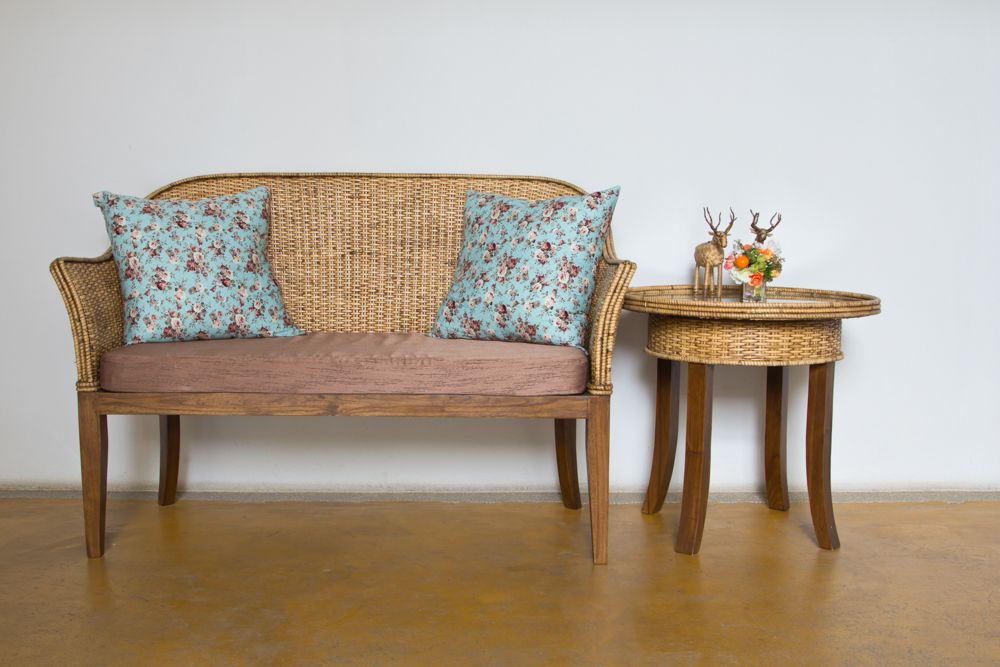 The style of a Goa villa is typically very colonial and thus, we can spot plenty of antique solid wood furniture with rattan cane details in them. While the colour forms the kitsch element of design, furniture in Goan homes is very traditional and dated.
So..
#2: Wood: Polished wood-panelled ceilings and staircases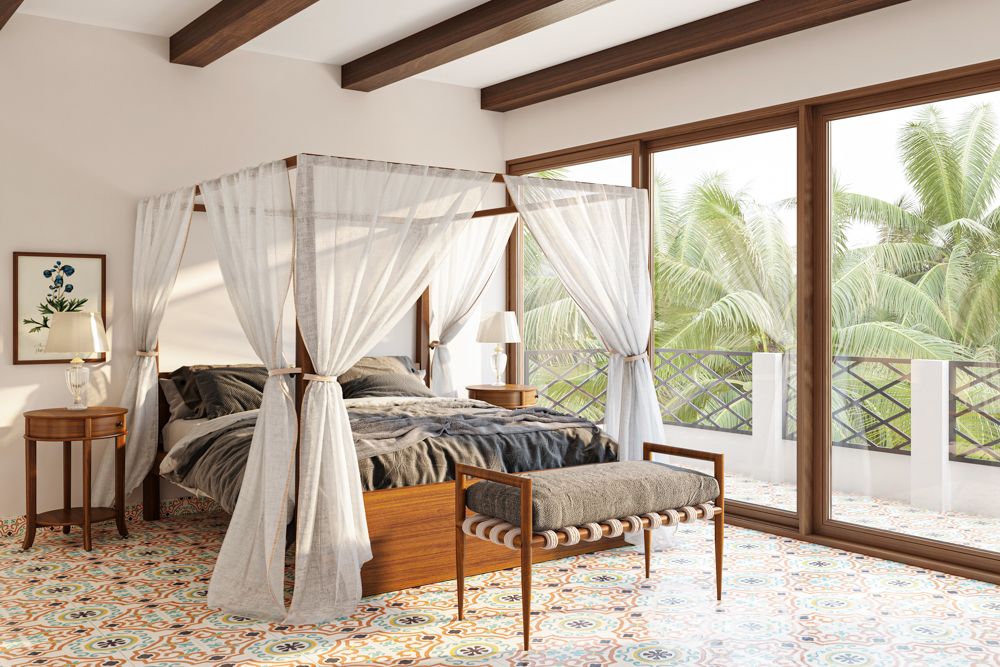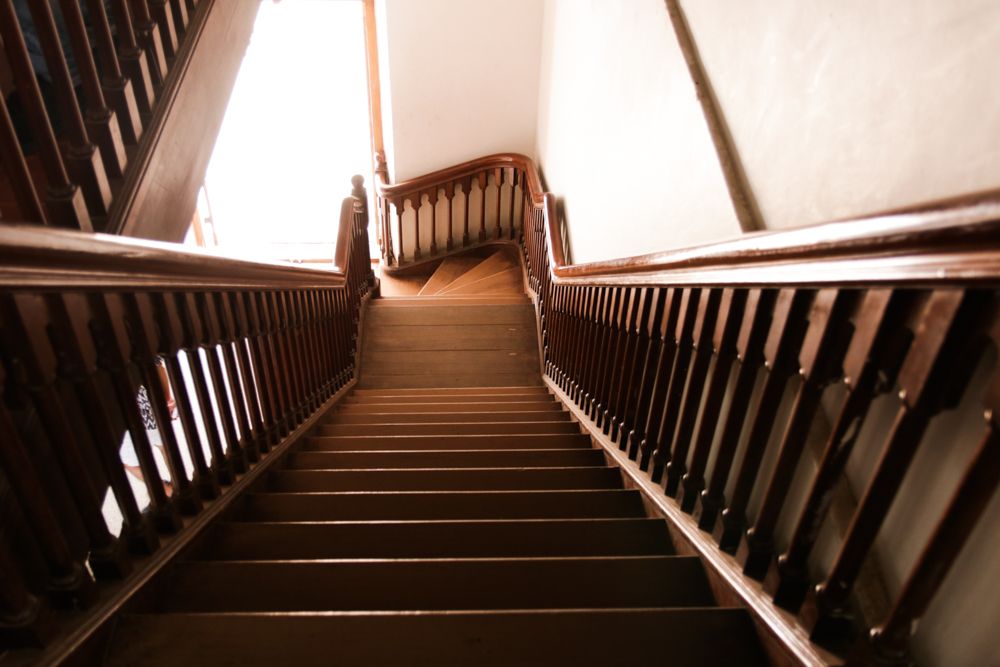 Apart from furniture, wooden features make appearances as ceiling rafters and winding staircases. It is worth noting that the kind of wood used in Goan villas is a polished lacquer wood that is fed with resins. In essence, polished wood has glaze that adds glamour of the interiors of Goan villas.
What do we learn…
#3: Flooring: Azulejos tiles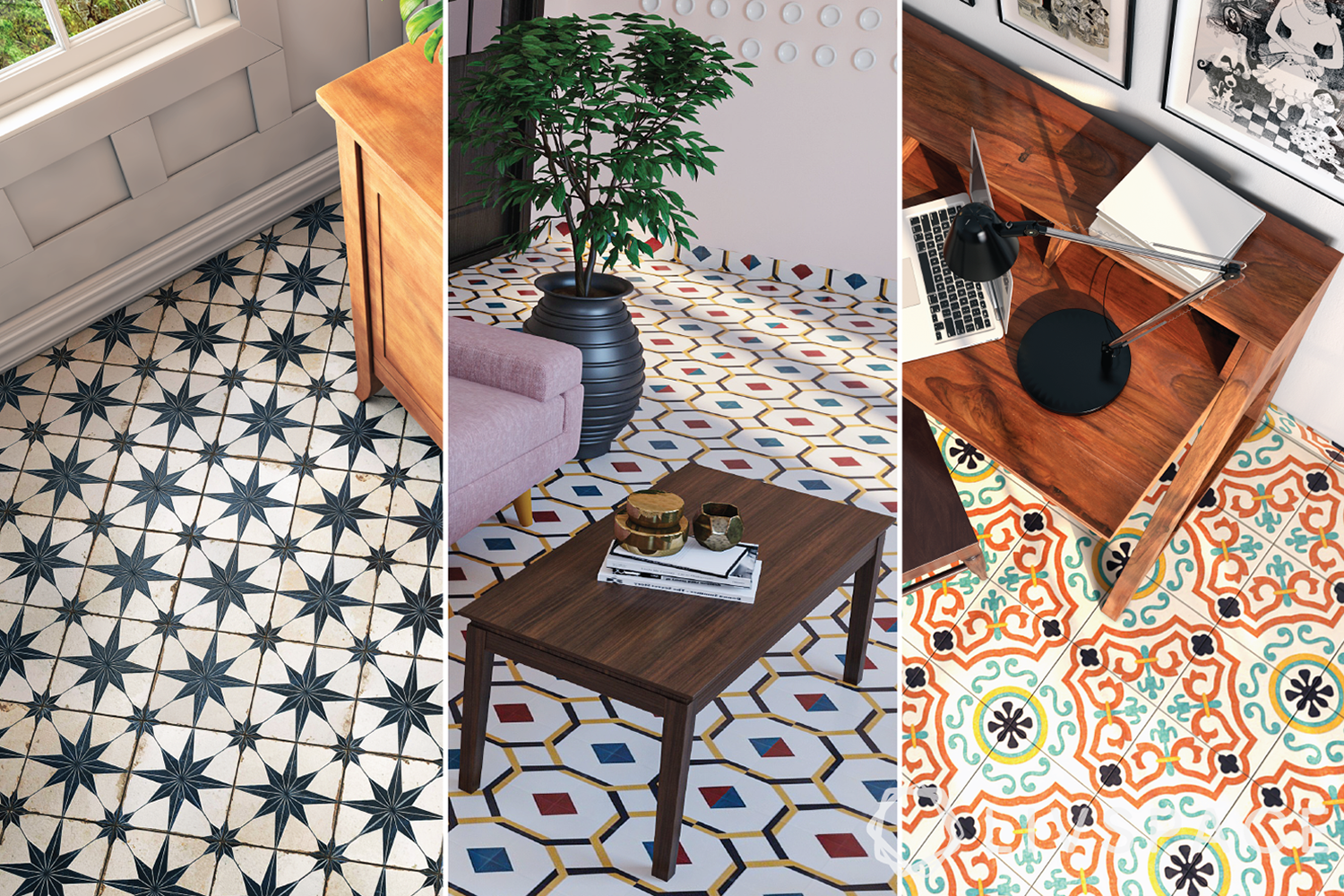 Handpainted Azulejo tiles are quite symbolic to any Goa villa. These are tin-glazed ceramic tiles that you will find predominantly in shades of blue. However, you can customise them in all possible ways. Some people even etch their names into this tile. The patterns naturally add plenty of texture to the spaces.
And now you can…
#4: Eclectic accessories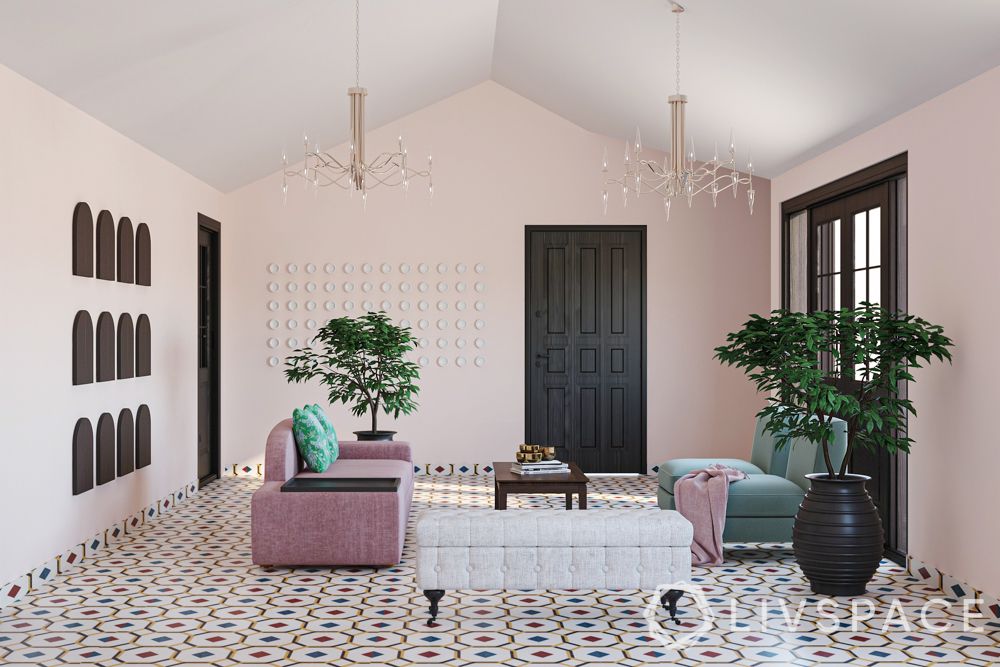 As we have mentioned before, kitsch is a fundamental aspect of the Goan style of decor. So you are not limited in your choice of accessories when decorating. You can pick anything, from tall potted plants to heavy chandeliers. But you must err on the side of heavy and ornate accessories because that is just how a true Goan would do it!
#5: Wall colours – Rust, turmeric and indigo blue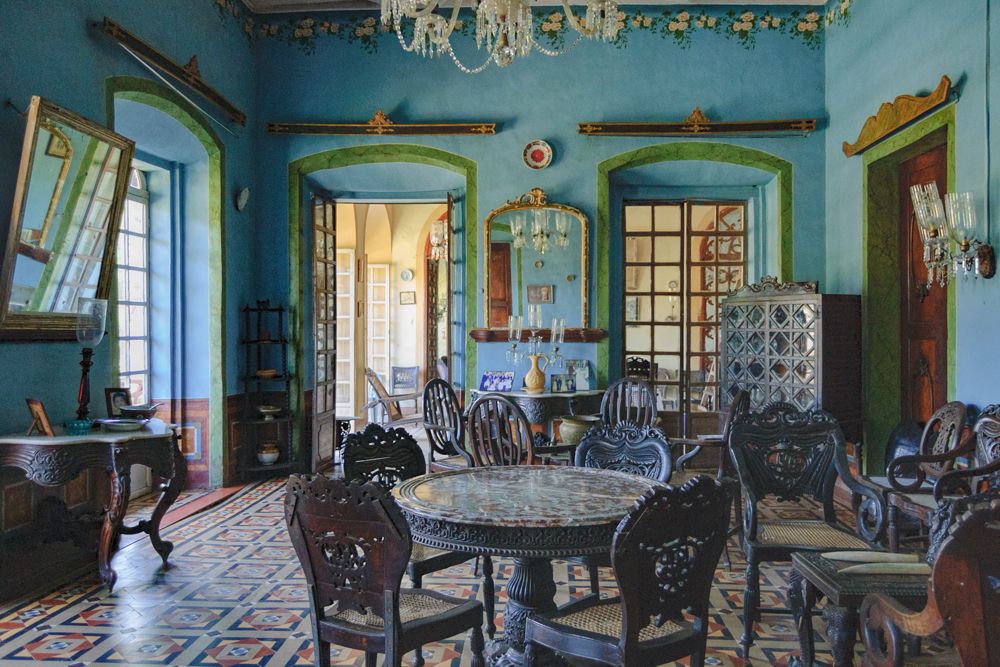 You just need to spend a day in town to figure out that Goans, at their core, are colourful people. It is only natural that this penchant for colour extends to their interiors as well. A typical Goa villa will have walls painted in indigo blue or a mustard yellow. These vibrant shades emphasize a sense of fun and also match the vivid flooring we so often see in Goan homes.
Our two cents on this..
#6: The great Goan kitchen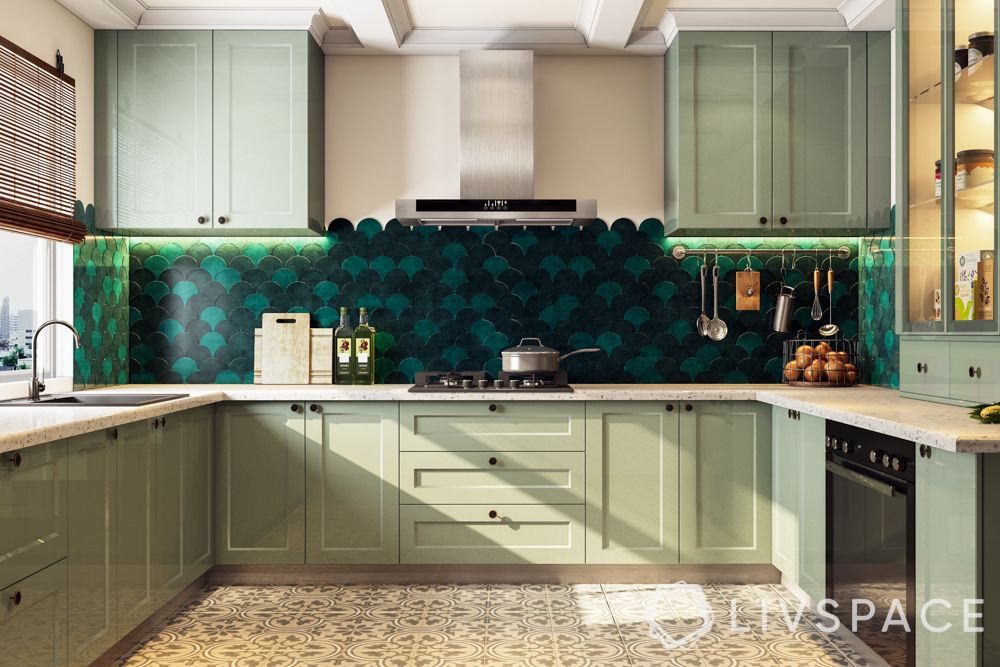 The typical Goan kitchen is vibrant in beach-friendly colours. The shades of green you see in this kitchen are perfect for they represent the thick vegetation in Goa. Also, you will see legacy elements like grooves on cabinets, artsy handles and an earthen hearth for making special dishes. However, for the sake of efficiency, these design elements are integrated into a modular setup.
Outdoors
#1: Mix of Konkan & Western styles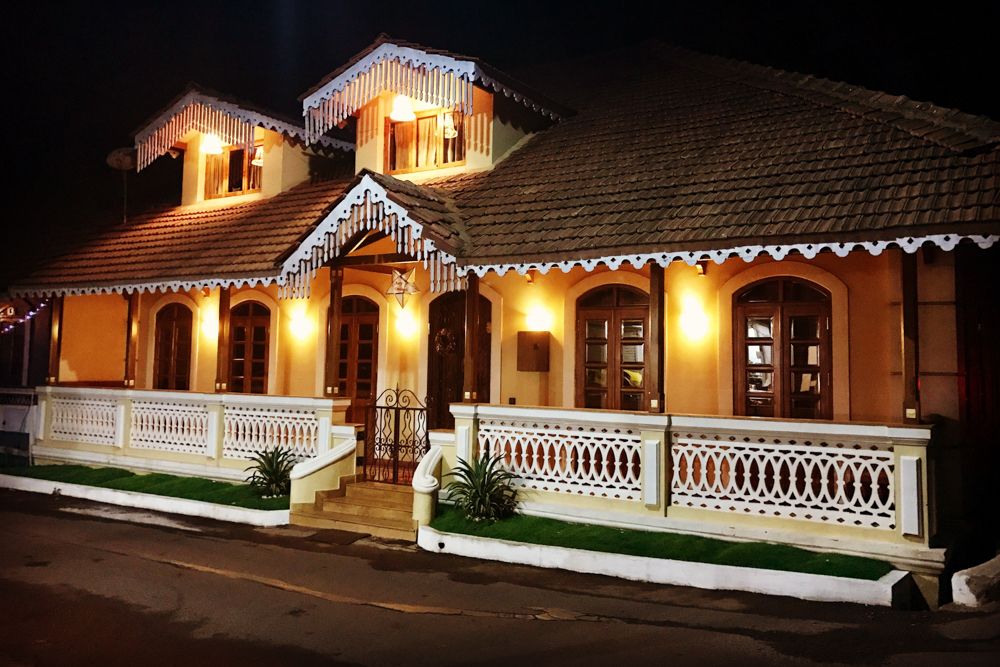 What is the overarching feeling you get on seeing this real Goa villa? For us, it's the unique sense of symmetry that is very (Greek) classical in nature. But what we also feel is relatability. The sloping tiled roof brings in that feeling of warmth and familiarity. Moreover, considering the heavy rainfall Goa receives annually, sloping roofs have more than just a decorative purpose.
The learning here..
#2: The Balcao: Open patios for shade from rain and sunlight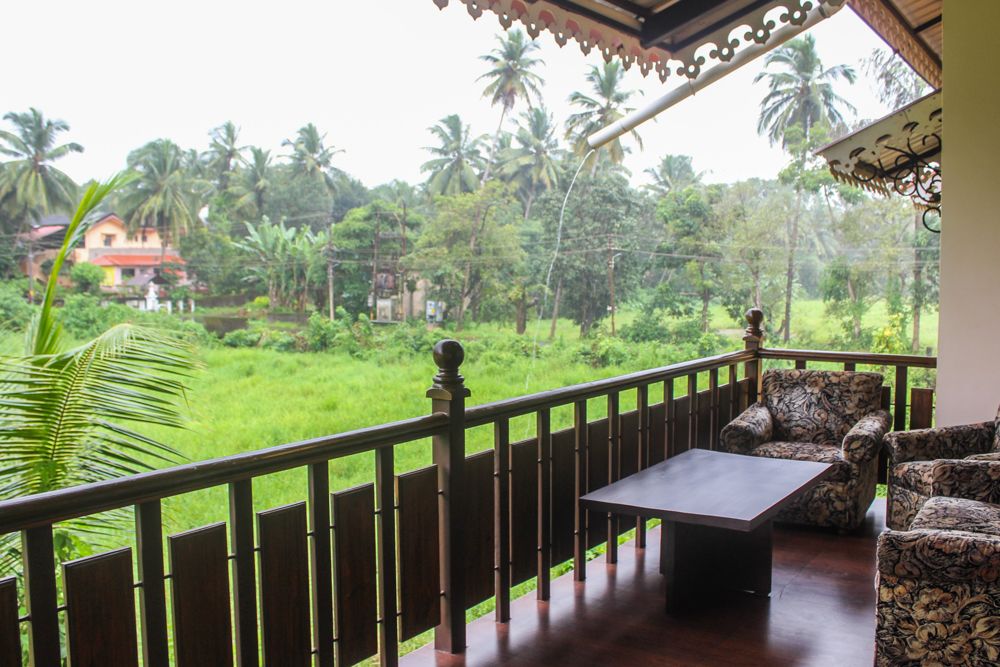 Literally, every Goa villa has a front porch that is called the balcao. It is traditional to have an open area at the entrance of your home. This is where Goans spend laid back mornings, picking up tidbits of conversation with their neighbours and passersby. The number of steps that lead up to and from a balcao is symbolic of a family's social status.
And the design takeaway is…
#3: Bright paint and window dressing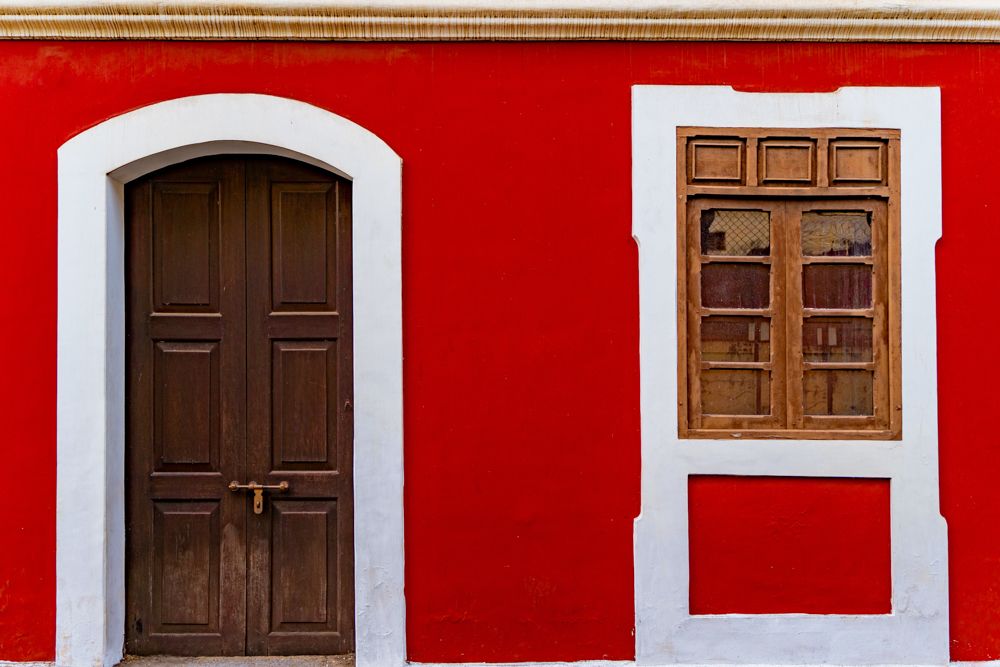 Another typical aspect of a Goa villa is a blaze of colourful paint often muttered with white mouldings. In essence, doors and windows are a form of ornamentation in Goan homes apart from being essential to beat the tropical heat!.
Thus…
#4: Laterite, a locally sourced building material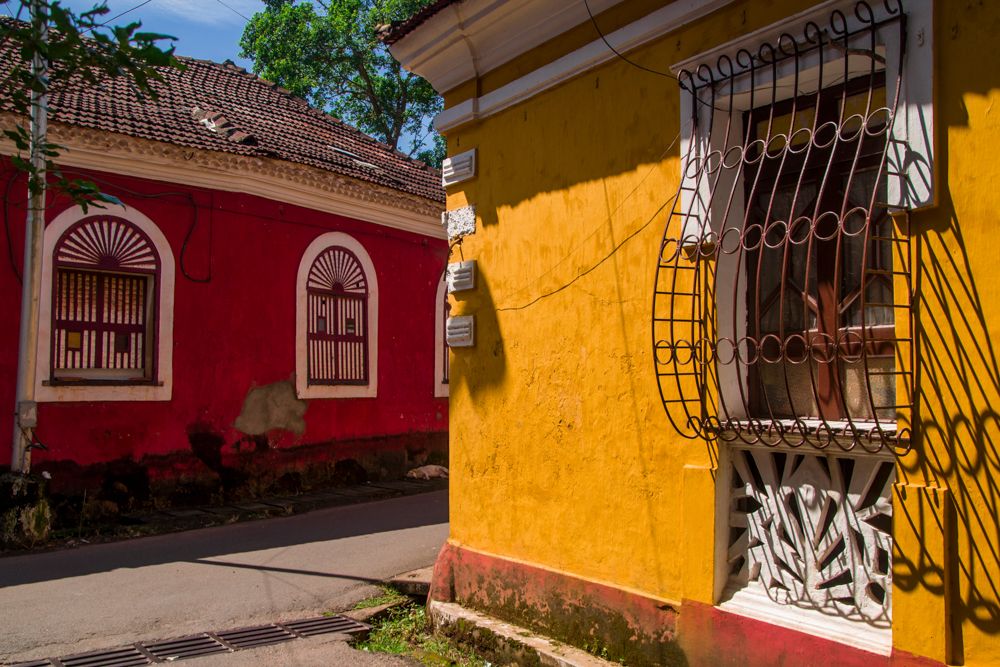 These days, we hear a lot of talk about sustainable architecture. However, Goan homes have traditionally followed the tenets of sustainability. The use of locally sourced laterite, a form iron-enriched soil that solidifies into rocks, is a remarkable example of such inherent sustainability.
The learning here is…
If you found our tips on how to decorate a Goan villa interesting, also explore our study on Chettinad homes.
We love to hear from you! Write to us with your comments and suggestions at editor@livspace.com