Weddings in India are a grand affair. However, during the pandemic, quarantine weddings became the norm and led to a lot of families working in some home wedding decor for that special day. When it comes to house decoration for weddings, contrary to popular belief, it is possible to be simple and quite economical while still creating celebratory decor.Thus, we have come up with a list of wedding decoration ideas at home that pack quite a punch without being heavy on your pockets. Plus, you get to bond with all your relatives and friends over chai and DIYing solutions for marriage decoration at home.
#1: Make a Low-Cost, Simple Haldi Decoration at Home With Flowers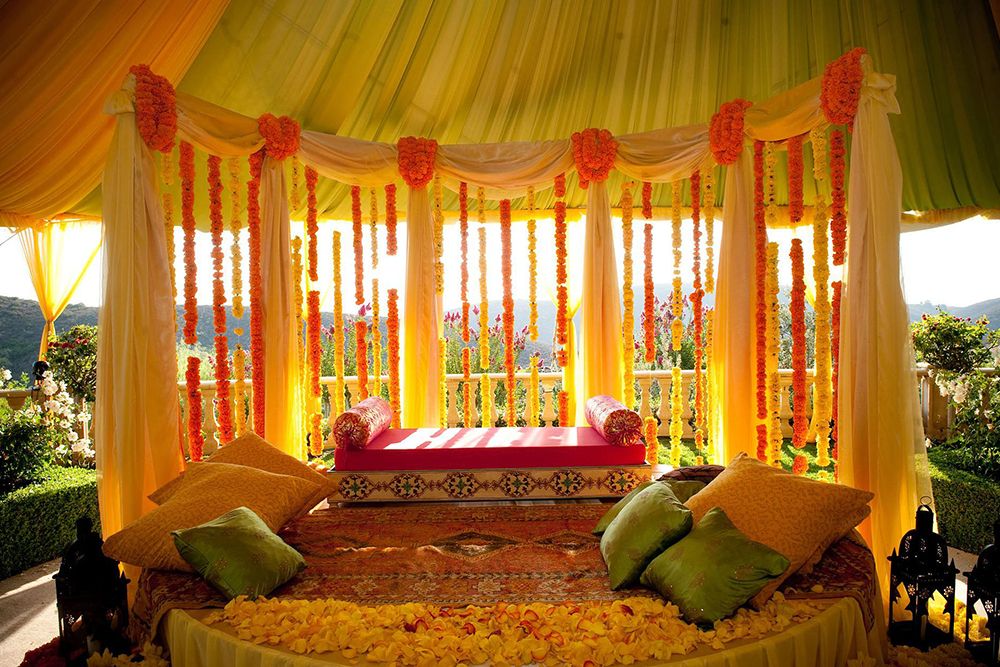 Don't want too much pomp at your haldi? Use your favourite flowers to create that perfect backdrop. Get your family members together to make simple flower strings and hang them in a pattern to make a simple yet beautiful backdrop for the function.
#2: Welcome Guests With a Rangoli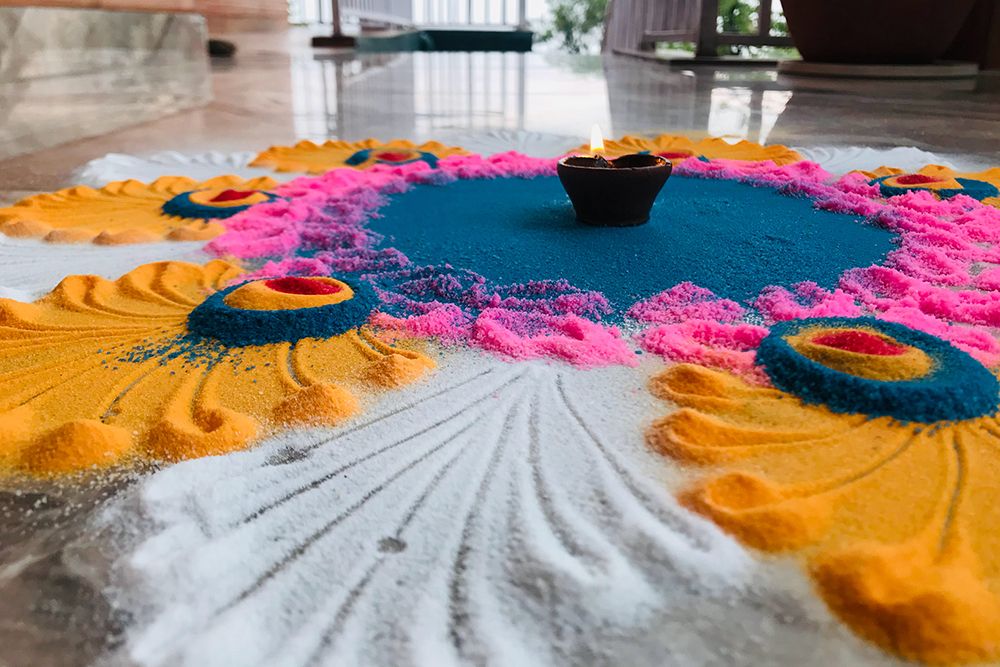 Give your hallway wedding decor an instant boost with a rangoli. You can Google a quick rangoli design and make one with the available colours. With the help of a few people, you can get a quick design that will perfect your home wedding decor.
#3: Fashion Old Mud Pots Into Home Wedding Decor during Your Mehendi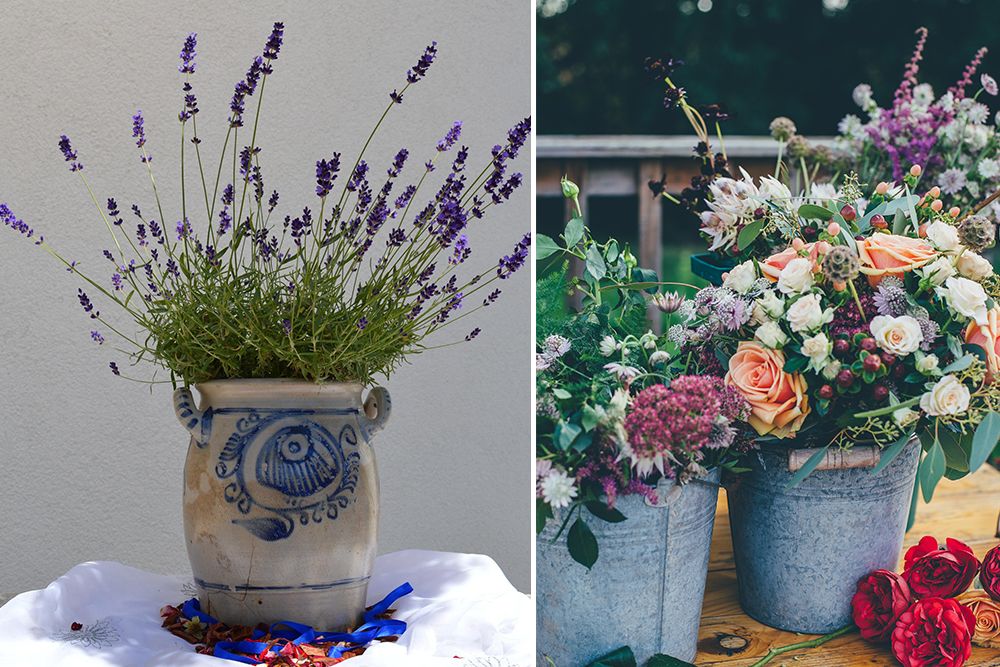 There are loads of steel, bronze mud pots and mason jars that you can collect and stick leftover flowers or plastic decoratives in them to create a beautiful decoration. You can also hand over paint brushes to little kids in the wedding and let them unleash their creativity on mud pots.
#4: Use Old Saris as Drapes for a Dreamy Backdrop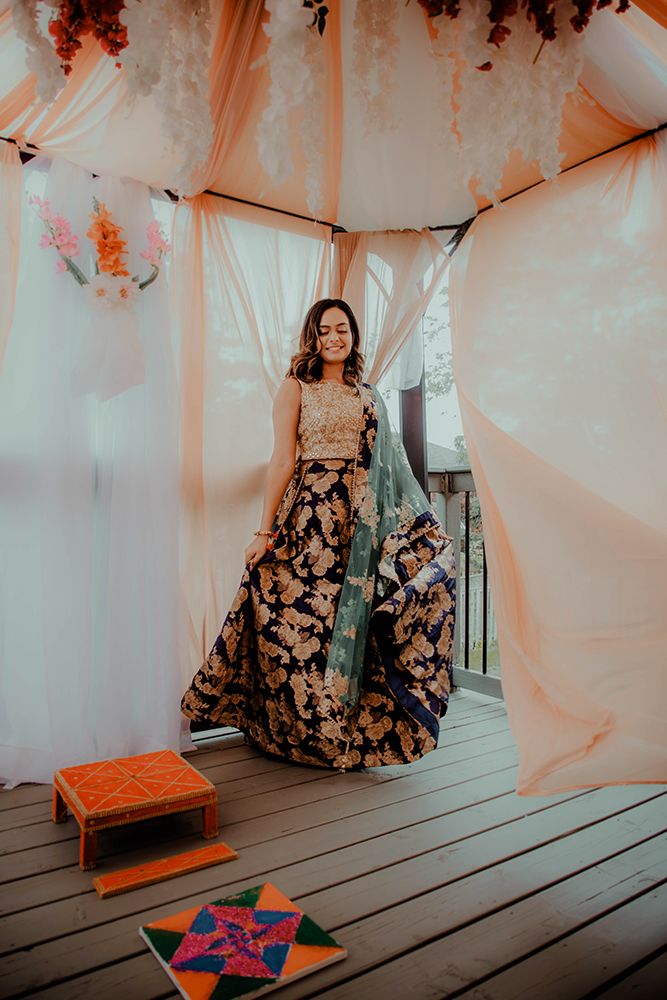 Is there an old sari mom doesn't use anymore? Or do you have discarded curtains from your hostel days? Use these drapes in your home wedding decor. You can sew them together or simply tie them up to make laid-back canopy tents.
#5: Fall Back on the Magic of Diwali Lights for Your Sangeet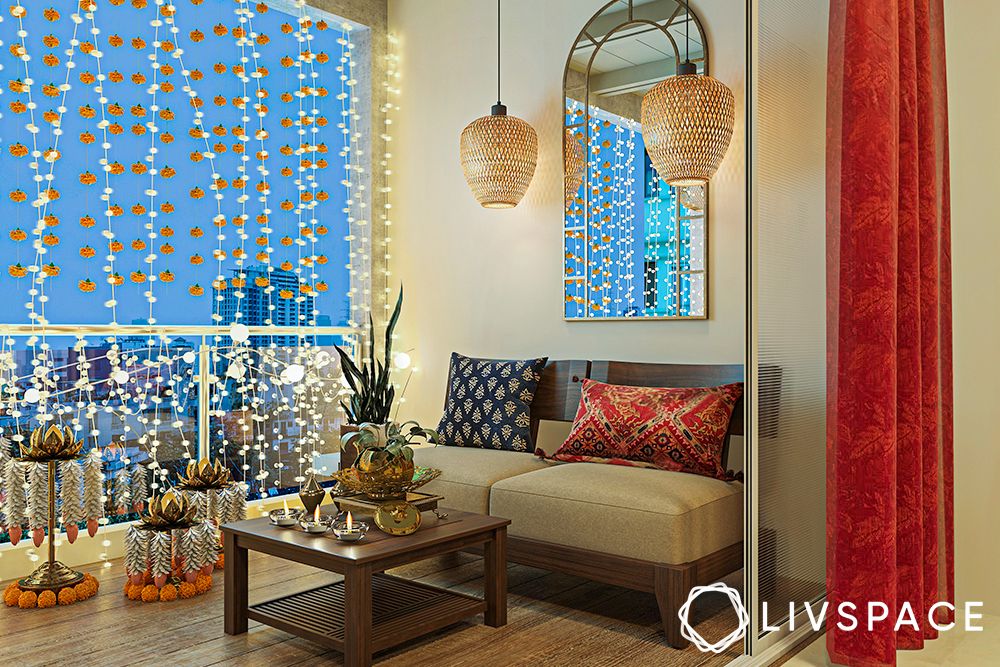 Cheap Indian wedding decorations at home are all about repurposing. Bring out the lights you hang out for Diwali and use it. You can light up your corners with it or even use it on the roof. You can also use fairy lights or LED lights available in the market for the same.
#6: Pitch in to Dress Up Carts, Old Scooter or Vintage Cars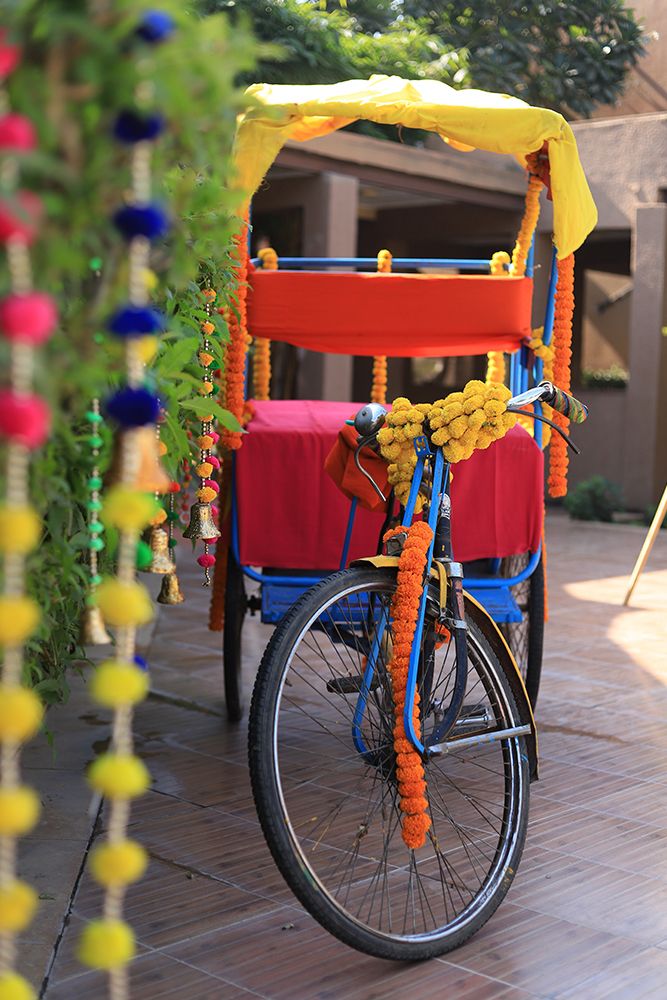 So you have decided on a grand wedding, eh? Fret not! There are still ways to save money. Get an old scooter or rickshaw and decorate it with drapes, colours and flowers. This can serve as a great wedding decor. You can also have the carts at your wedding painted a certain way. Make sure to colour coordinate them all for a cohesive look!
#7: Hang Up Fancy Tea Lights for Your Home Wedding Decor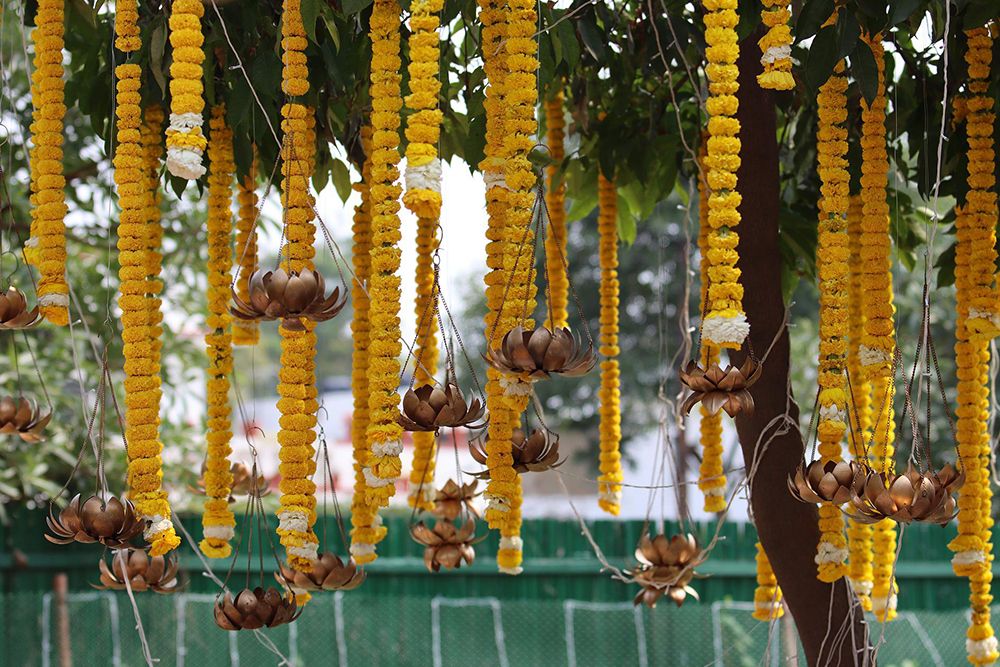 Tea lights are an easy buy. You can also fashion tea lights out of old diyas and fruit shells. If not, they are available by the bulk on local stores as well as online. Hang them up with the help of garlands or hooks and enjoy ambient lighting. Make sure to protect these lights on windy nights to avoid running and lighting them everytime.
#8: Customise a Wind Chime for Your Home Wedding Decor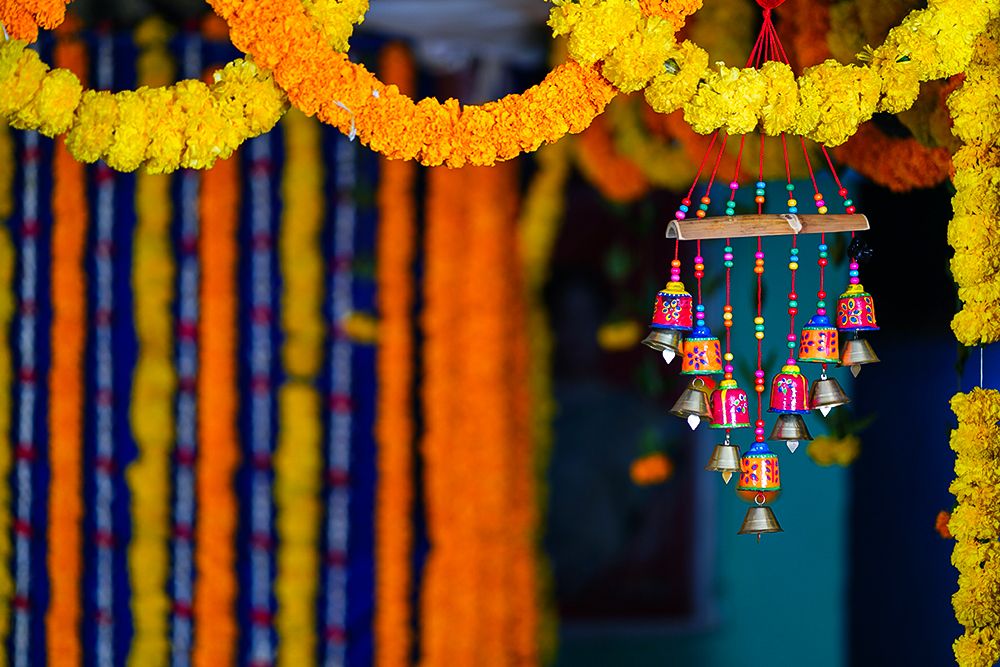 Indian weddings are all about songs and music, so adding wind chimes to your wedding decoration is a great way to get a musical element to your celebration. You can get a couple of wind chimes from the local market and paint them before hanging. For example, we bet the wind chime in the image above has come to your notice in local markets.
#9: Set Up the House Decoration for the Wedding With a Photo Wall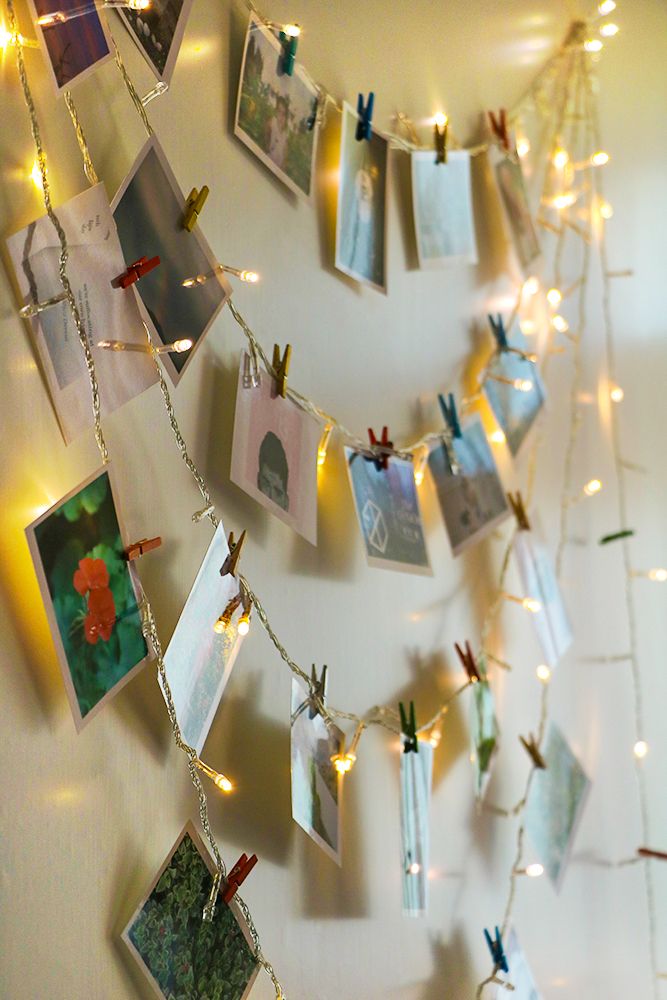 Weddings are all about making new memories and nothing helps to remember an unforgettable experience like a photo wall. Make a photo wall at the entrance or in a common guest area. Another one of the more fun and popular  wedding decoration ideas at home is to set up a photo booth. However, that may require the assistance of your wedding planner.
#10: Set the Theme with Unique Cushion Covers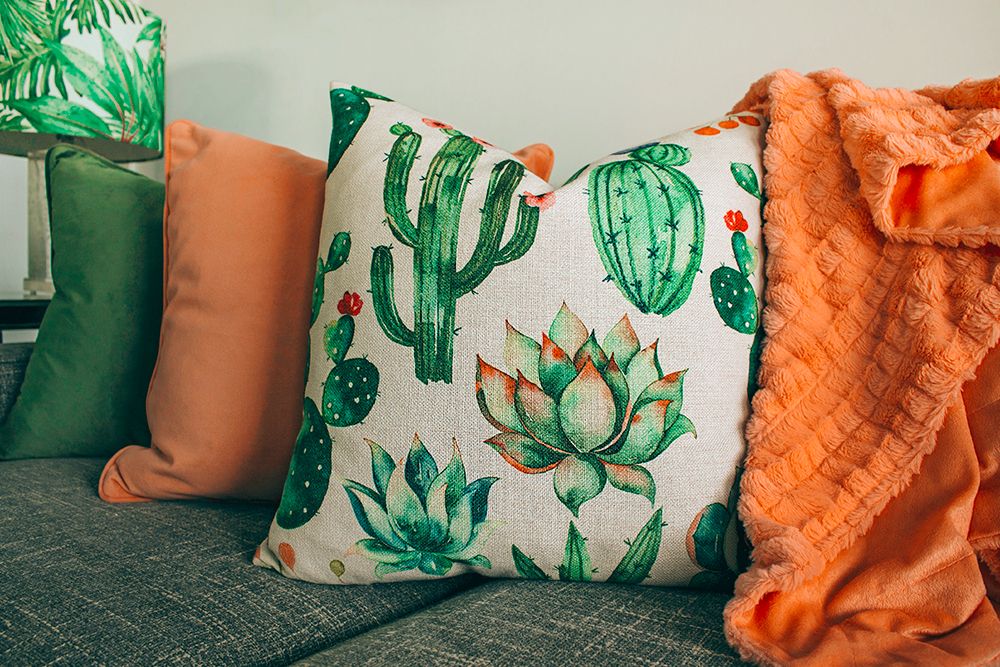 Seating arrangements in a wedding house need to be taken care of. Which is where seating cushions can play an important role. You can always use old drapes to make cushions out of them too. If you do not have the time to make cushions, you can also ask a local weaver to fashion old scraps into a seating mat.
#11: Embellish the Mandap with Decorative Mirrors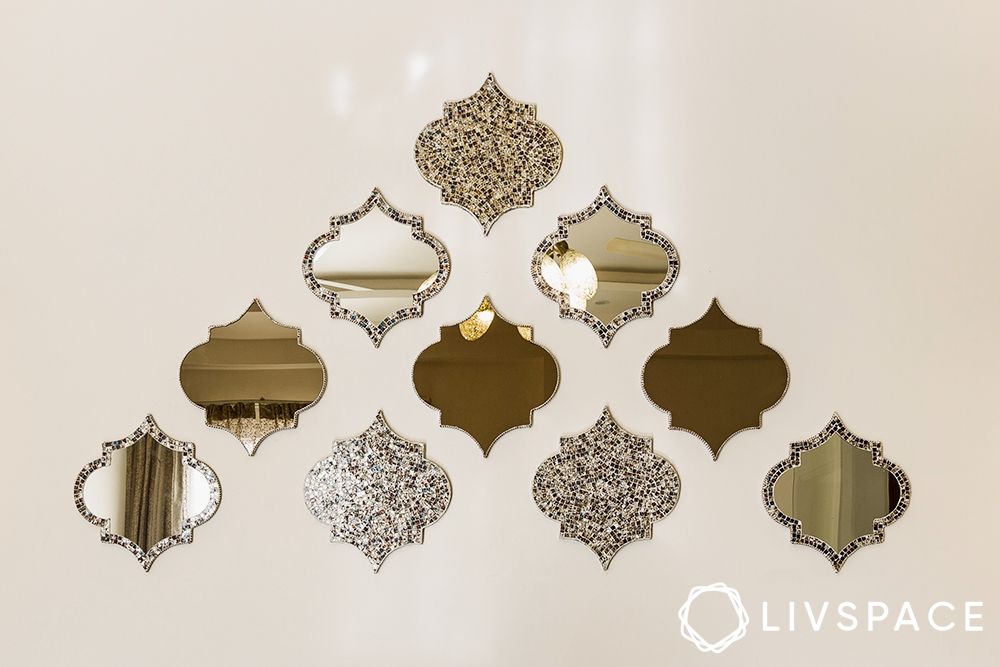 Mirrors are a great way to amp up your home. They can count as hallway wedding decor, mandap decoration or any other place you wish to. You can buy soft mirror stickers to reproduce the effects of a mirror. They can also be cut in any size of your liking. If you need mirrors to be done up a certain way, you'd need to get in touch with a local artisan.
#12: Add Wicker Baskets Under the Mandap for Practicality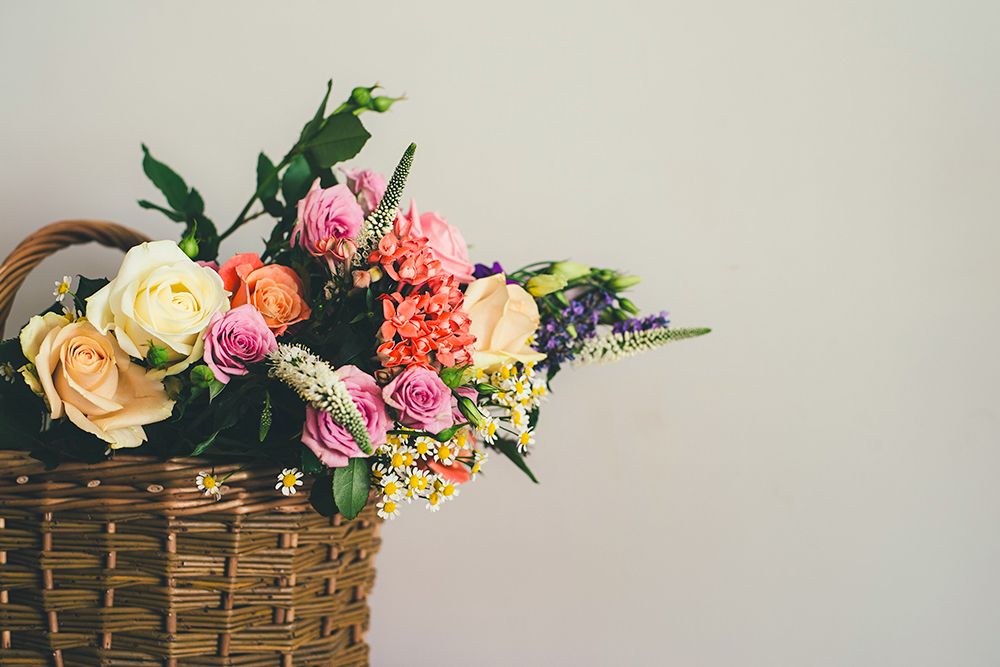 Wicker baskets serve as a sustainable and practical idea when it comes to marriage decoration at home. Wicker baskets can be used to carry food, flowers and other pooja ingredients to the mandap. They are lightweight and easy to carry. Indian weddings are no stranger to them either, and they can be painted and used as one of the Indian wedding decorations at home.
#13: Amp Up Your Intimate Wedding with Scented Candles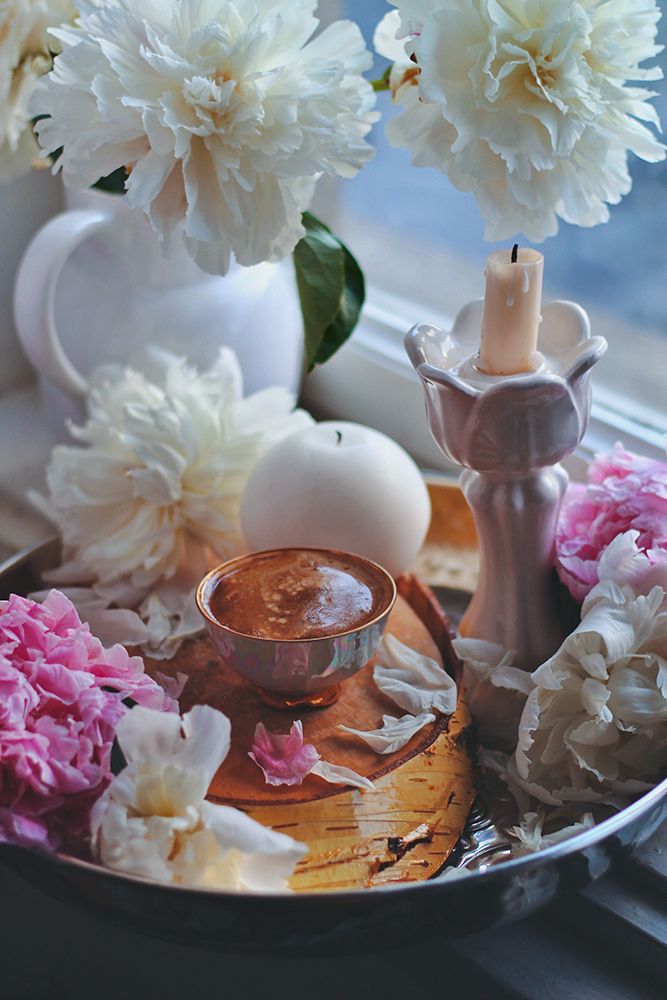 Scented candles can be very versatile. They can be low-cost simple haldi decoration at home or serve as an intimate home wedding decor. Either way, they come in shapes and sizes of any preference. They can also be handmade to be a perfect form of house decoration for weddings. 
#14: Paint Tyres for More Wedding Decoration Ideas at Home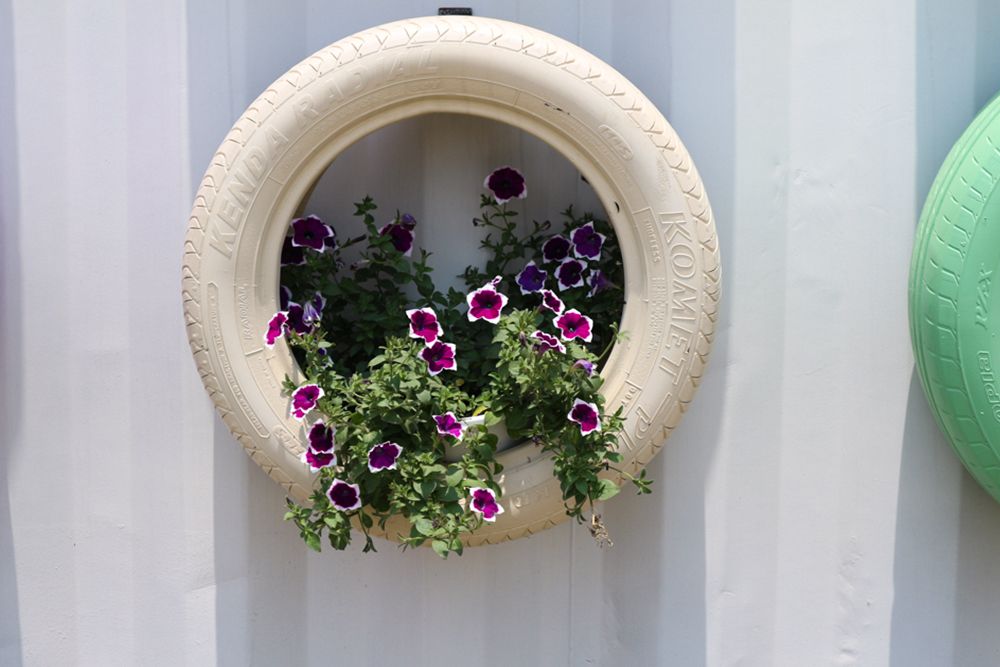 As unbelievable as this may sound, tyres are a great wedding decor idea! Go to the local garage and arrange some tyres. Now, paint these tyres to make yourself a makeshift home wedding decor. These can now be used as plant pots, table stands or even used for seating. If you don't have enough floor space, use vertical space and hang them on the wall. This makes for a good hallway wedding decor.
#15: Bring in Colours with Paper Fans and Pinwheels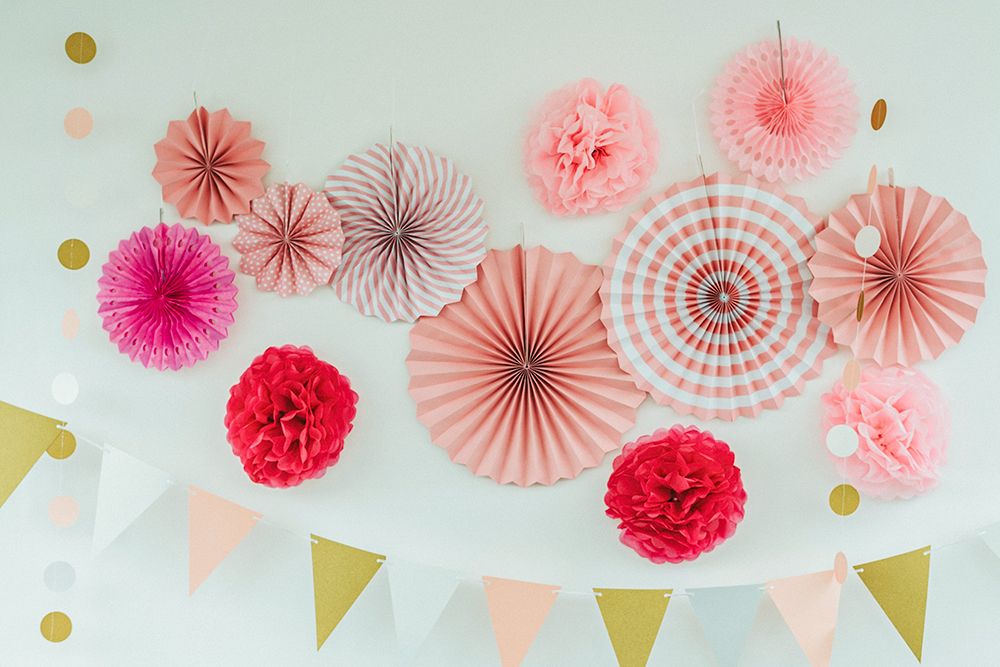 Entertaining, colourful and fun, pinwheels and paper fans are a hit when it comes to marriage decoration at home. They are easy to make and economical. Plus, the children can also be involved in this one. Really makes a good one for a bonding session.
#16: Reuse Paper to Make Origami Designs for Your Destination Wedding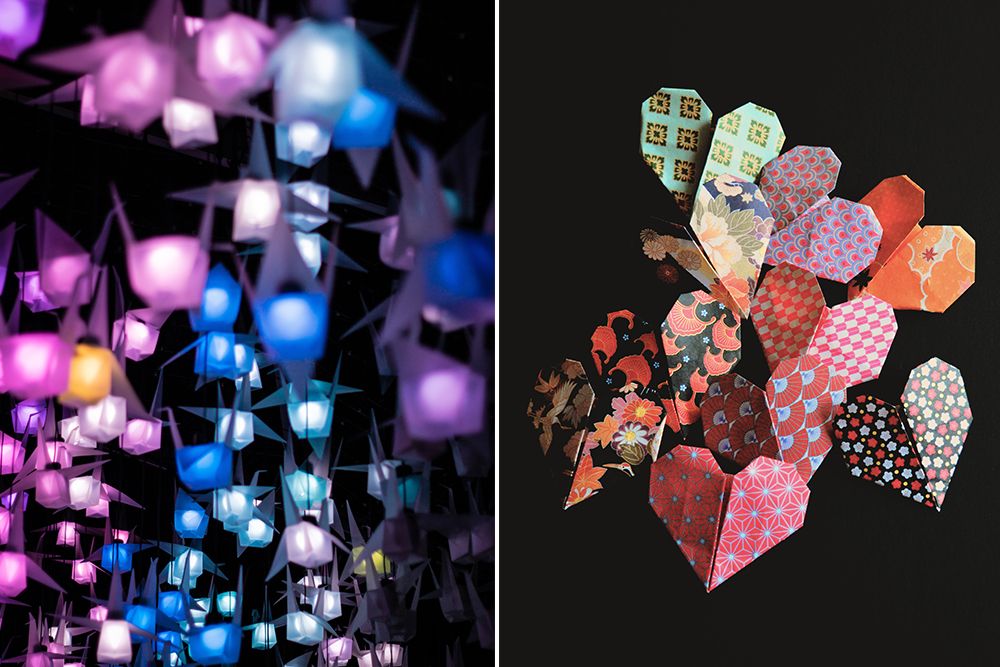 With themes of sustainability entering the wedding market, origami-related decor is a great option. When it comes to wedding decoration ideas at home, origami is an easy way to creatively reuse old paper. Origami strings can then be used to decorate backdrops, photo walls or strung together on the roof.
#17: Curate Genda Phool Garlands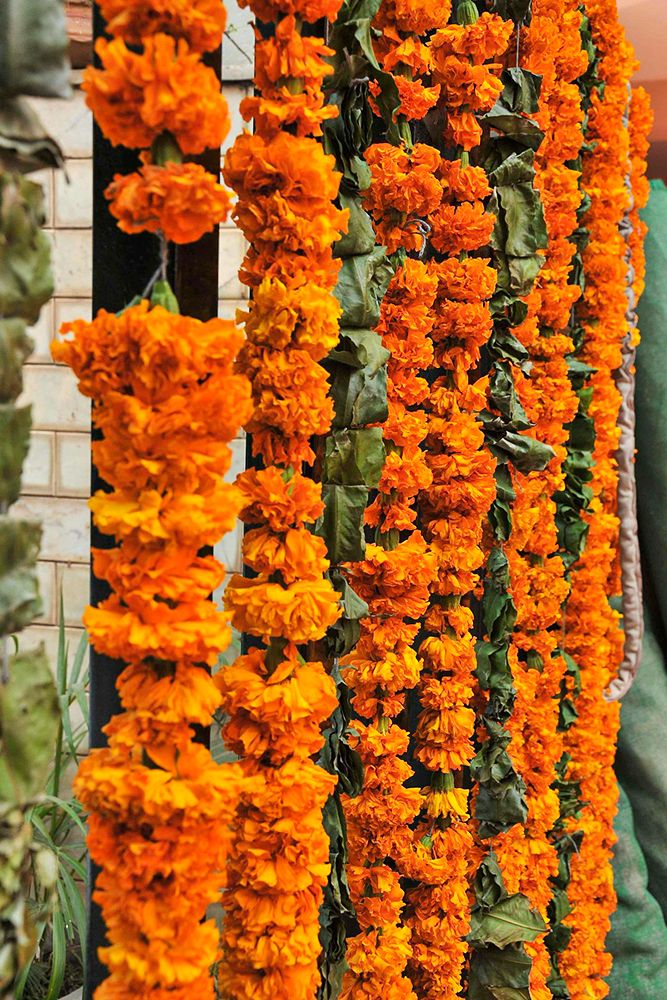 A classic ol' home wedding decor, genda or marigold flowers can be used in multiple ways. The easiest, however, is the genda phool garland. It is quick to make and can be hung anywhere. This is why they are preferred for hallway wedding decor and mandap decor.
#18: Participate in Chalkboard Art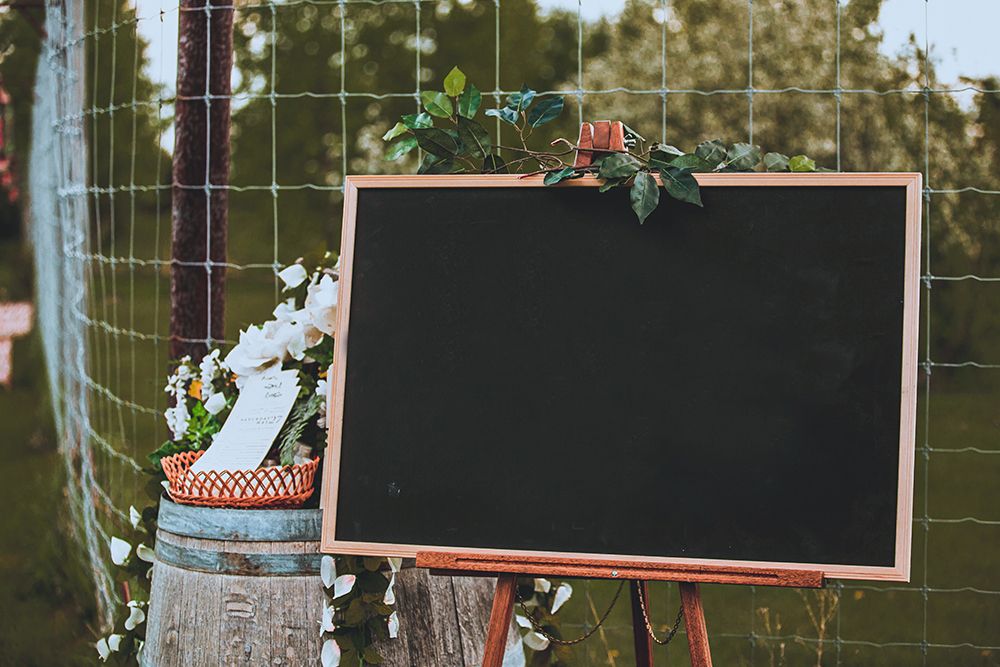 Chalkboards are a quirky house decoration for weddings. How? You can use them to draw or write your and your partner's name on them. They can also be used later to play fun indoor games.
#19: Make Streamers for Some Quirky Marriage Decoration at Home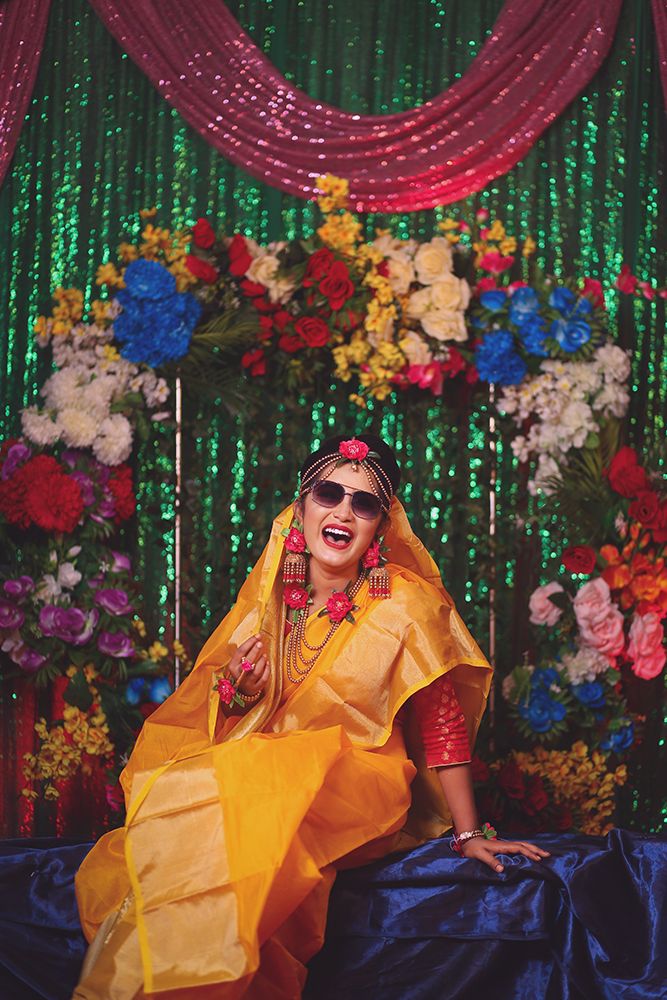 Open wedding venues can use streamers easily to add some colour. Streamers are available usually at any local stationary shop. If you want to DIY streamers, you can pull out the engagement gift wrappers and use them.
#20: Use Vintage Embroidered Umbrellas for Your Grand Wedding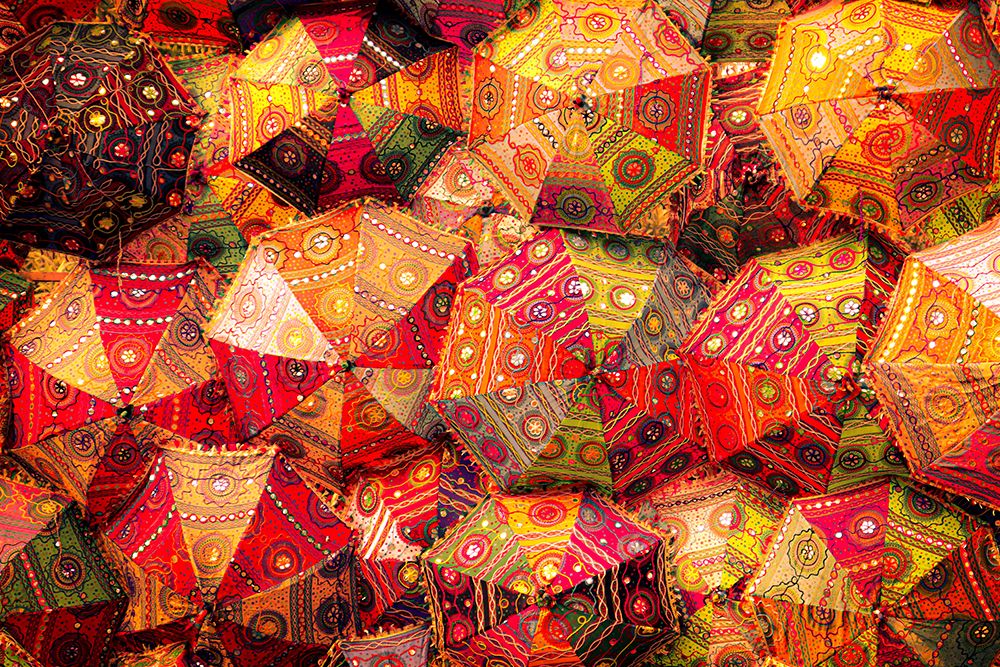 If you love royal aesthetics, this wedding decor idea will please you. Use vintage umbrellas as your home wedding decor. Available almost anywhere, these umbrellas leave the place looking colourful. They reflect the traditional art of India. Thus, if you are looking at vintage Indian wedding decorations at home, this should be on the list.
#21: Go Full Vintage on Home Wedding Decor With Rajasthani Kathputli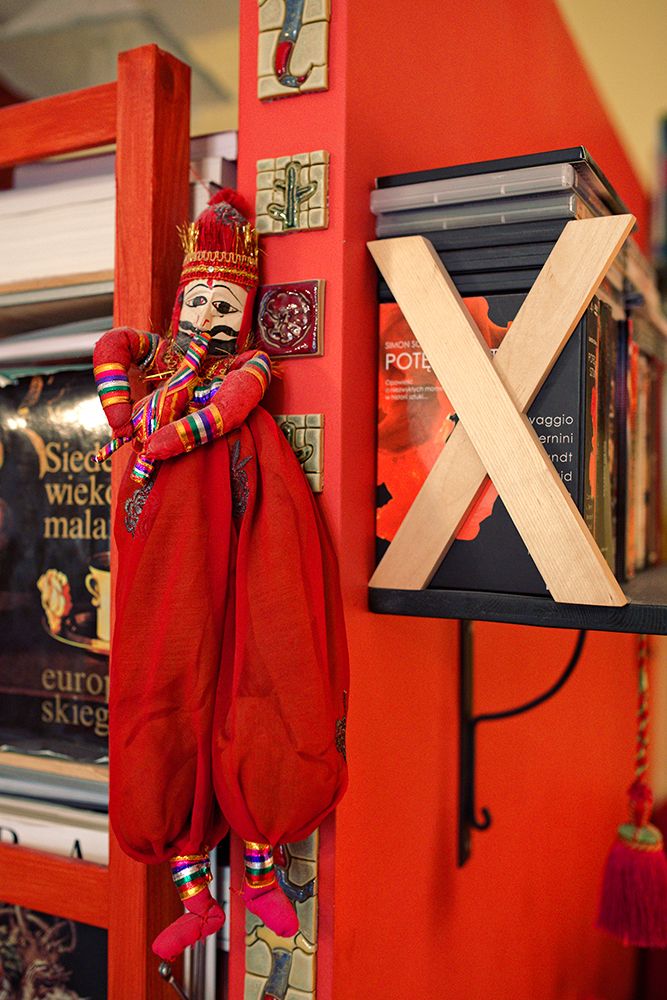 If you have decided on an Indian vintage theme, consider getting Rajasthani kathputlis  for your wedding. You can get pairs at any local market or order off one from an online vendor. These are an unconventional pick and will definitely make for eye-catching decoration.
#22: Hang Old Bangle Backdrops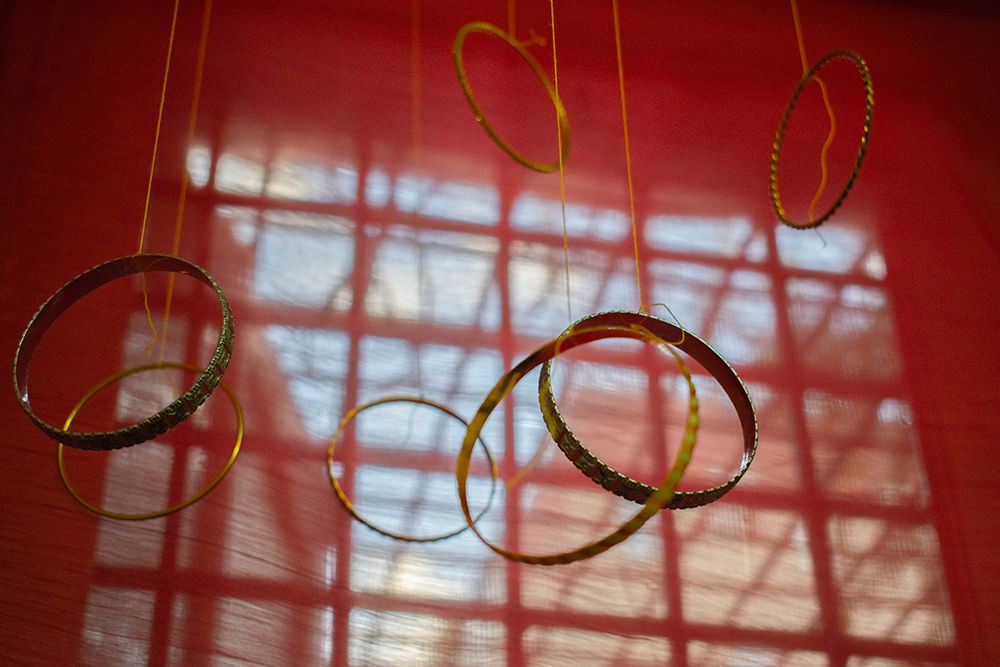 String up some old wedding bangles and hang them and voila! You've got one more on the list of wedding decoration ideas at home. This idea will make sure you use up old discarded bangles. However, do avoid using glass bangles as they aren't very child-friendly.
#23: Go Boho With Dreamcatchers for a Unique Theme Wedding
Are you looking to pick a trendy wedding theme? Bohemian-themed weddings can be fun as it is quirky and colourful. You can also get experimental with the plans you have for  marriage decoration at home. Decorate with dreamcatchers, crystals and tie-dye drapes to recreate the theme easily.
Bonus: Make an Instagrammable Corner for Your Guests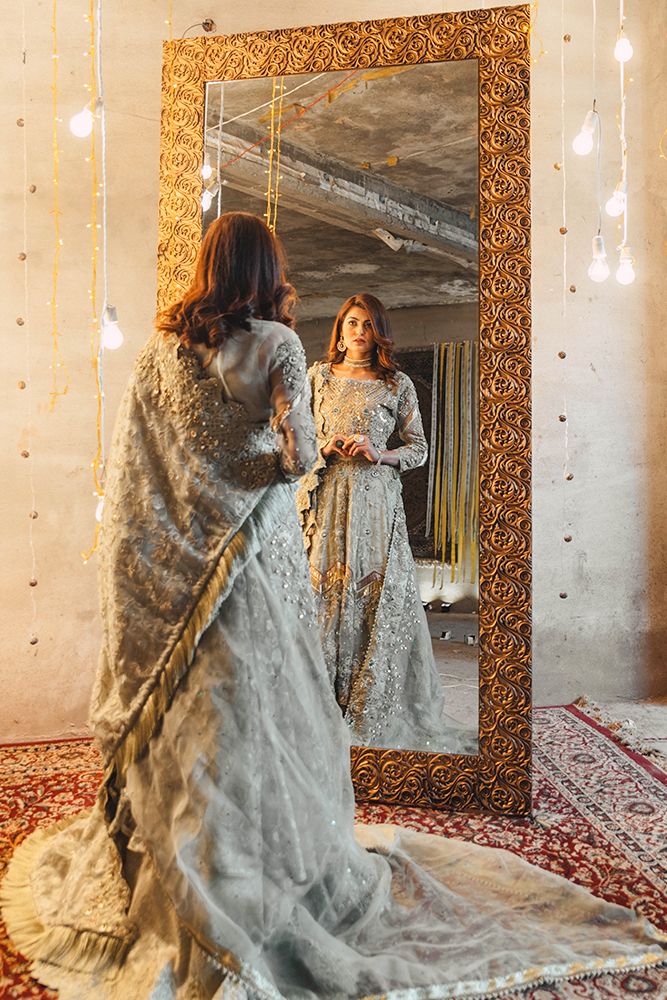 We all love to click pictures at weddings, and why not? They are the best excuse to dress up! Second, we do live to look like we are #blessed on Instagram. So, it makes sense to add a good spot where your guests can flaunt their bestie's wedding!
So if you are planning a wedding and want to do so in a cost-efficient way, these ideas will hopefully set you up to create the perfect decor for your big celebration! But most importantly,  we hope you have a good time. Don't forget to click loads of pictures too! Also check out our 10 Brilliant Janmashtami Decoration Ideas to Try at Home This August. Check out #LivspaceHomes and to get interiors done by us, click here. 
How Can Livspace Help You? 
We hope you found our ideas useful! If you want beautiful interiors for your home, then look no further. Book an online consultation with Livspace today. Have any thoughts or suggestions you'd like to share with us? We'd love to hear you out. Write to us at editor@livspace.com.