Anyone with a pooja room in their house will tell you how important the back panel is. Getting the backdrop just right can really enhance the design and look of your pooja room. In this article, we've compiled a list of some easy-to-implement ideas involving back panels that are affordable, durable and aesthetic! Pick any one that appeals to you and you can be assured of a wonderfully transformed pooja room.
#1: Wall Paint
To save you time, here are some vastu-friendly colour ideas for the wall of your pooja unit. Choose one that works well with the existing colour scheme in your house.
Red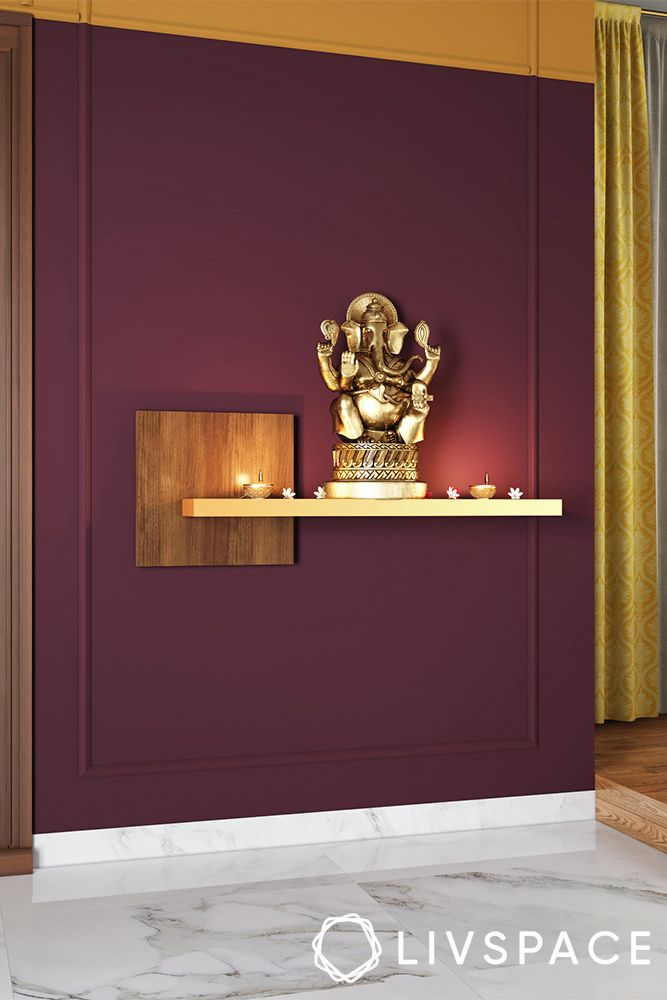 Pro Tip: Since a deeper red like maroon is a great fit for an accent wall, you can paint the entire wall with this colour. What's more, you can also use brass accessories and idols to enhance the overall look of your pooja unit.
Peach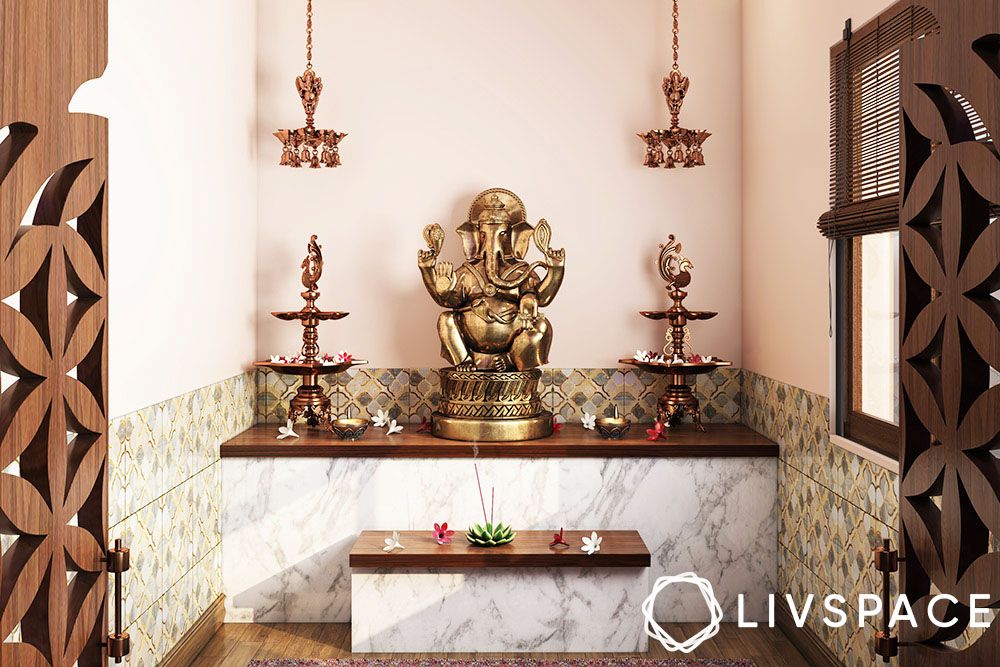 Pro Tip: Peach is a light colour that can be used to paint all the walls in a room. Additionally, this colour won't compete with other accent wall colours in your room and as long as its pink tone matches the rest of your home interiors, it is a safe option.
Orange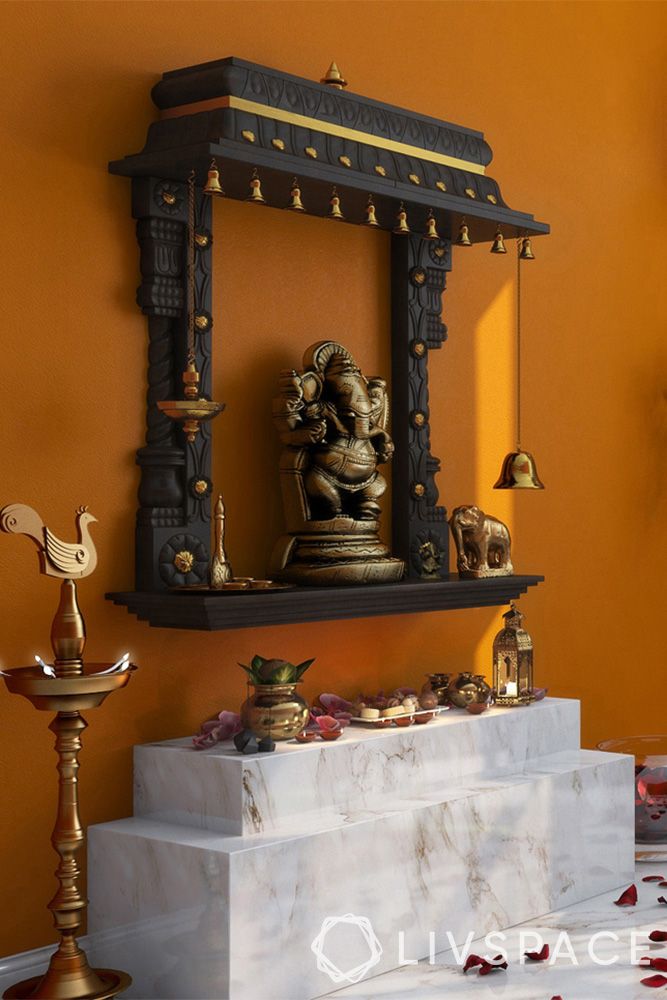 Pro Tip: Orange is another flexible option to use. You can either paint the entire wall in this colour or just the section behind the pooja unit. Additionally, use darker elements with it to make the colour look elegant, or use bright elements to make it look bold and striking.
Yellow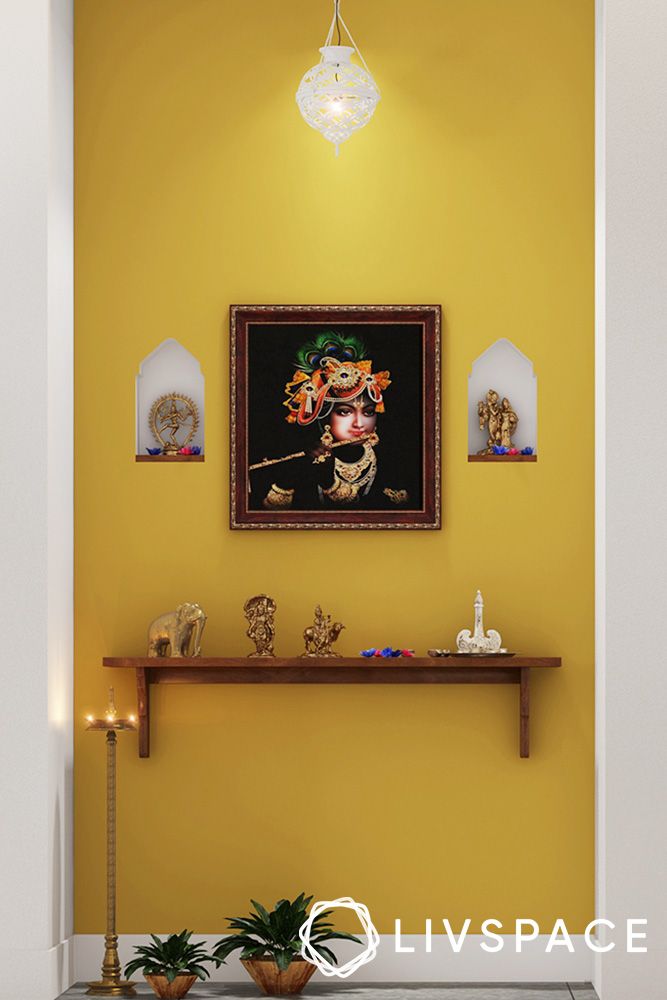 Pro Tip: Using a bright colour like yellow is relatively easy in all-white or off-white interiors. Moreover, it looks great with wooden interiors and helps in creating a cheery vibe.
#2: Wallpapers
Wallpapers cost a little more than paint but they are still easier to apply and need less processing time as well. Here are four convenient ways to categorise and choose them for your pooja room makeover.
Traditional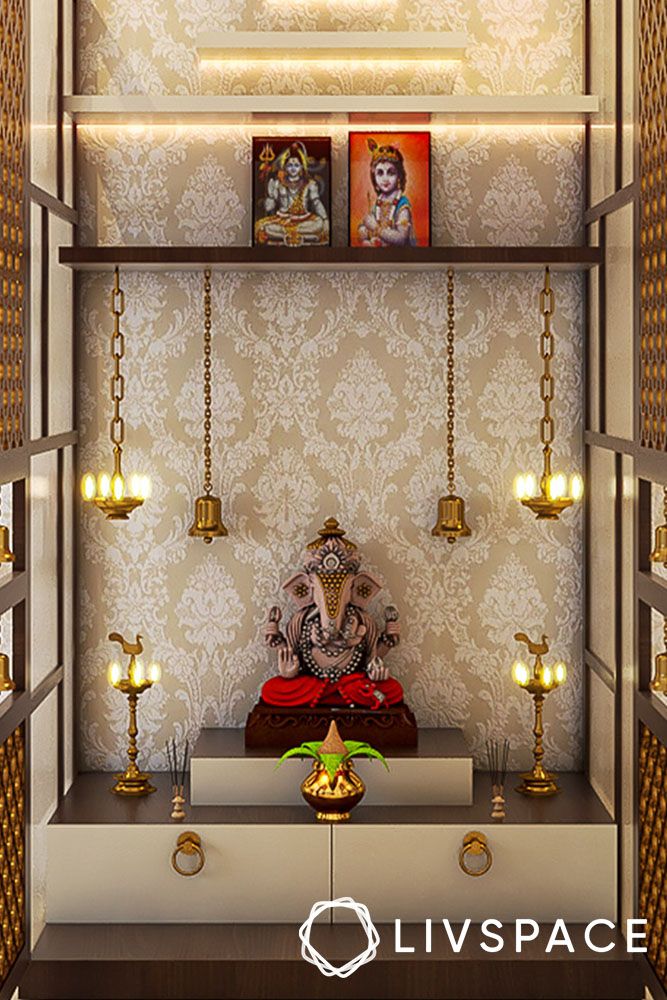 Pro Tip: As far as trends go, using traditional elements to contrast with your modern or contemporary interiors is still rather popular. But we recommend that you be mindful about the colour scheme when picking a traditional-looking wallpaper that can work well with your interiors.
Tropical or Floral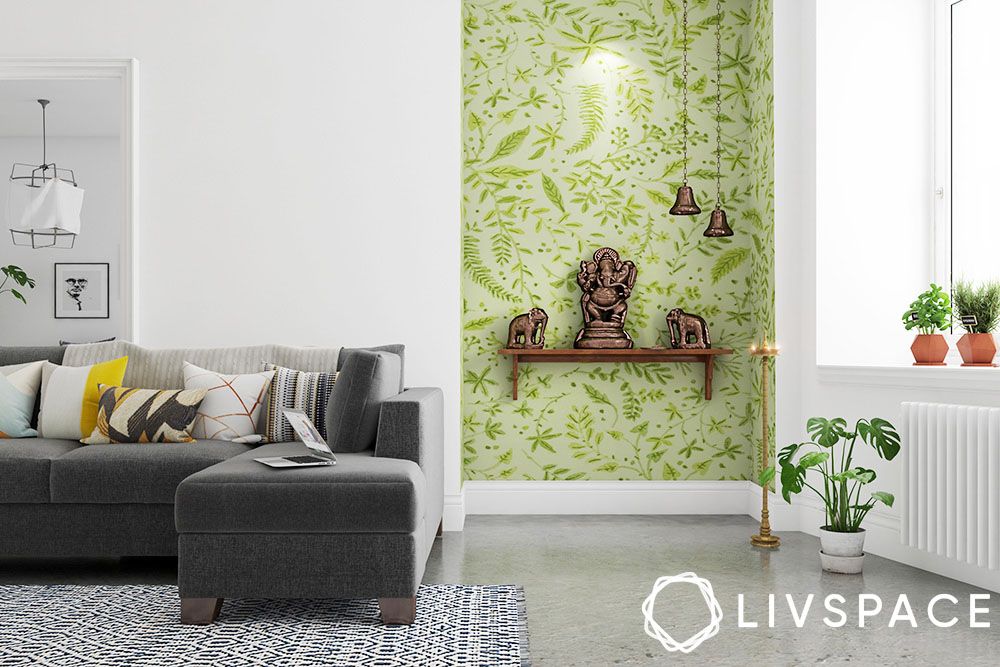 Pro Tip: These printed wallpapers have a more powerful effect when you use them over a larger area as opposed to a smaller portion. So make sure you have enough wall space to spare around your small mandir unit.
Rustic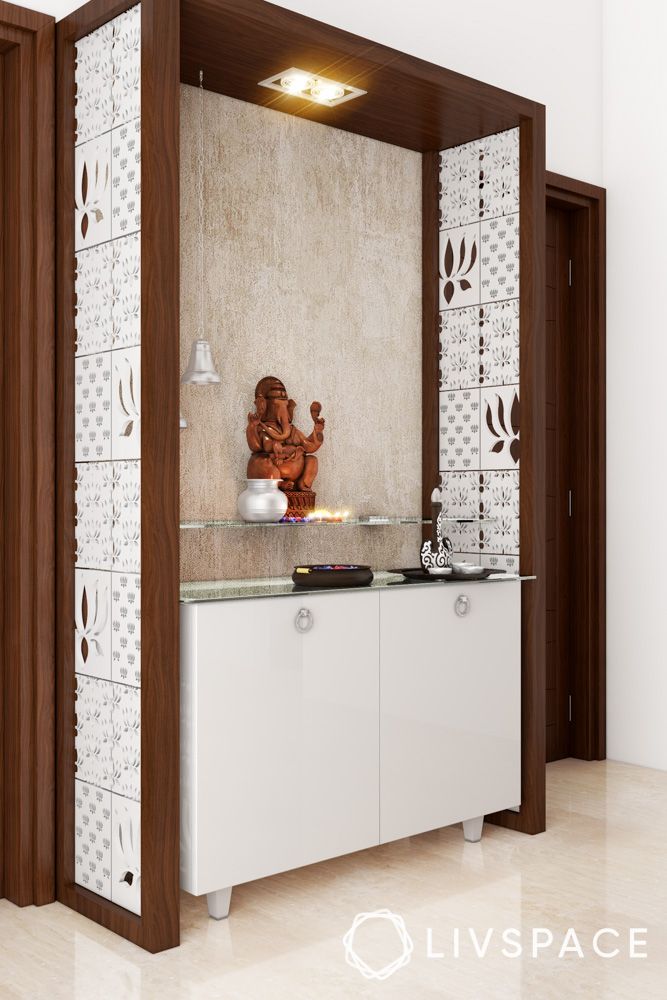 Pro Tip: Rustic wallpapers are a go-to option because they complement almost any kind of interior style. The variety available in colours is an added advantage, and you'll never be disappointed by the results.
PVC
Pro Tip: PVC wallpapers give the same effect as tiles and cladding but they are more convenient to install. You can explore designs such as bricks, stones, and tiles to suit your existing home interior design.
#3: MDF Jaali
Ready-made MDF jaali panels in the market come in traditional as well as contemporary designs. What's more, you can also customise these panels for a more personalised look.
Ready-Made Designs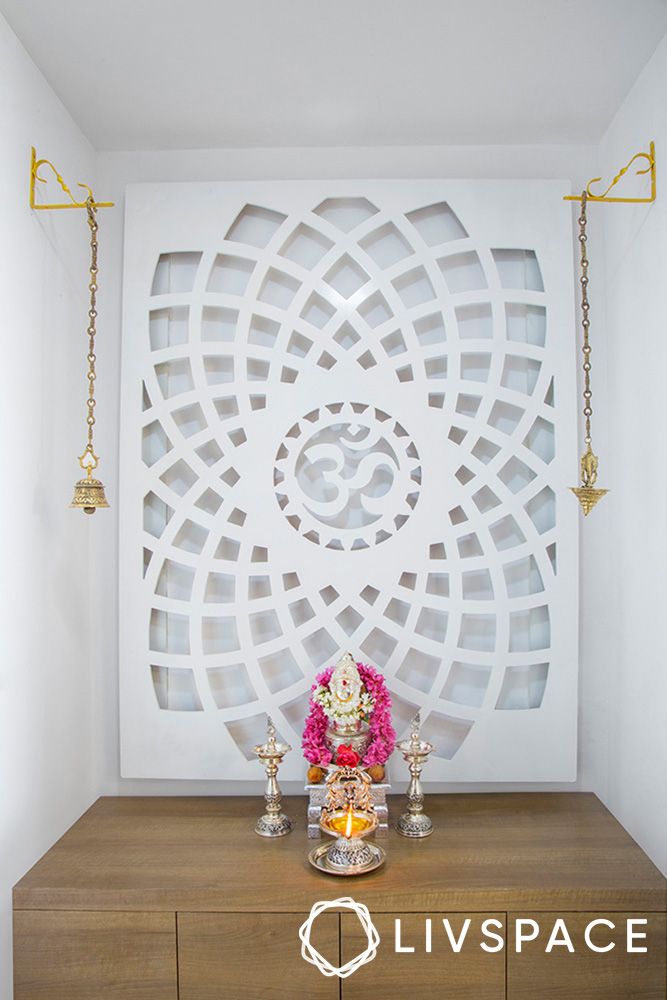 Pro Tip: Ready-made jaali panels are often available in many preset standard sizes. Make sure you know the dimensions of your space before you go shopping for one.
Custom Designs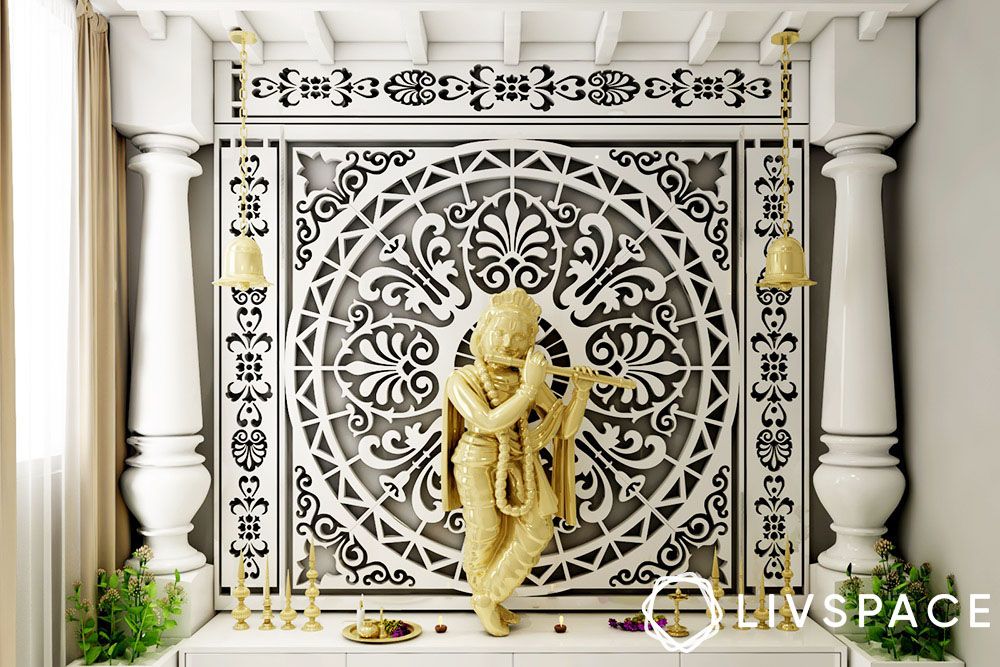 Pro Tip: While custom designs are an effective way to enhance your pooja room, they usually cost more. If you do go ahead with one, then white panels (like the one above) will look striking especially if you have all-white interiors. Keep green plants near the panels to further enhance your pooja room decor.
#4: Wooden Panelling
It is common to use wooden panelling in India in small and big homes alike, especially for mandirs. Here are some clever ways to use wood for your pooja unit's back panel.
Veneer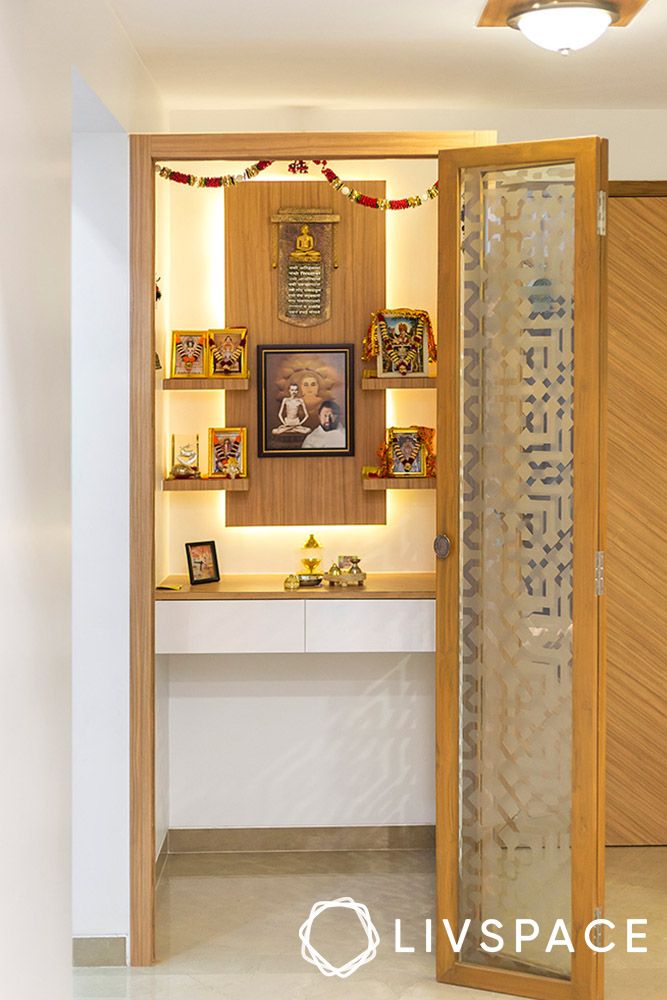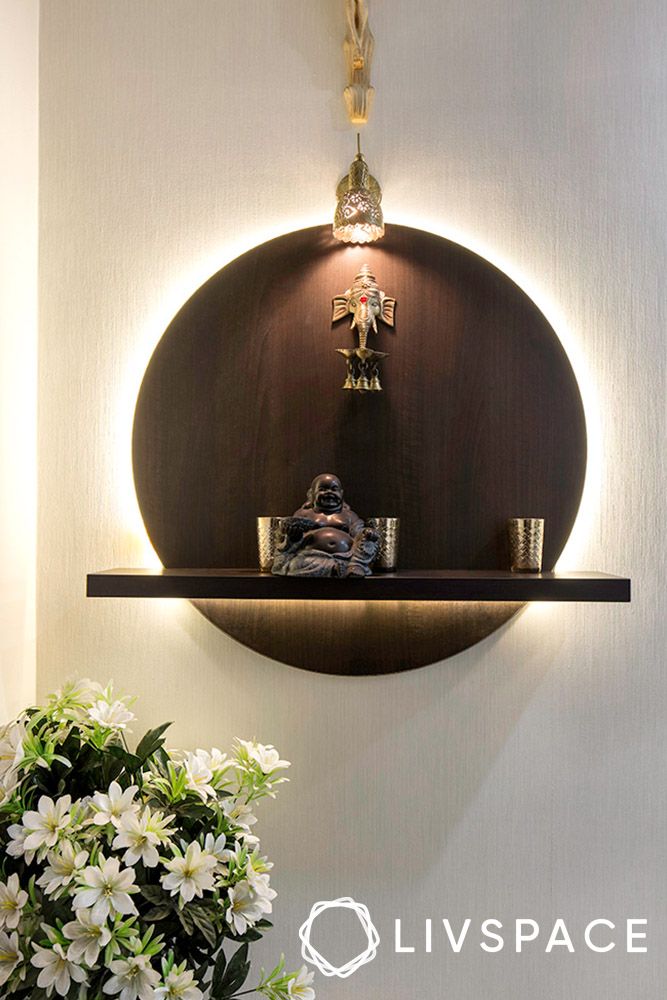 Pro Tip: Wooden textures generally go well with all kinds of interiors and colours. What you need to keep in mind is the tint of the wood. Lighter tints work well with cool-toned colours whereas darker shades of wood look best with warm tones. And white works with everything!
Laminate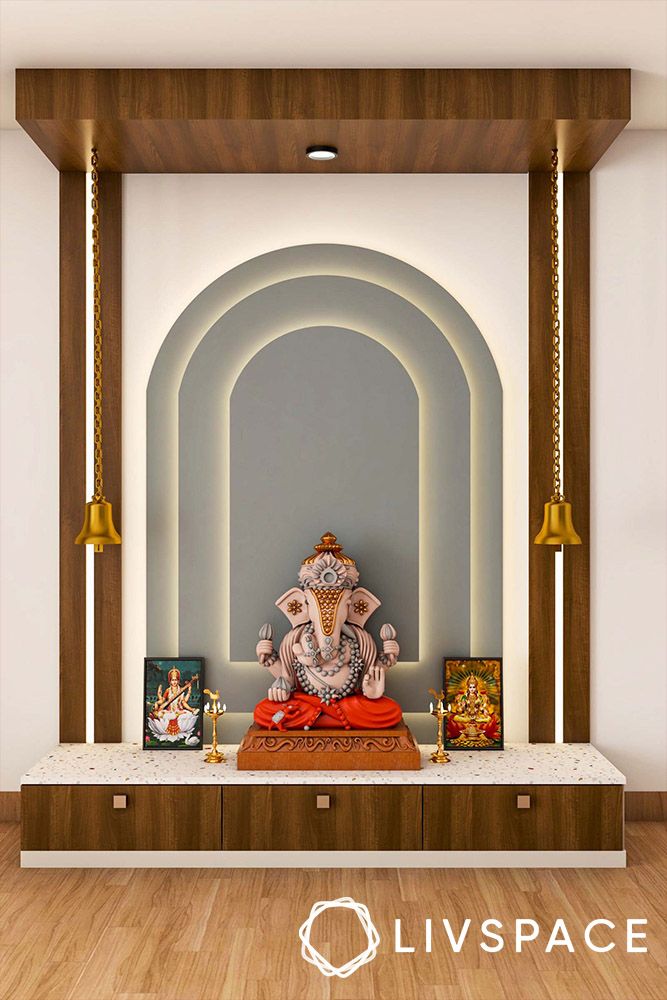 Pro Tip: If you have used laminates for your furniture, using the same material to finish your pooja room as well is a good idea. This way, your pooja room decor will seamlessly blend with the rest of your home interior design while also giving it a contemporary look.
Coloured Wooden Pattis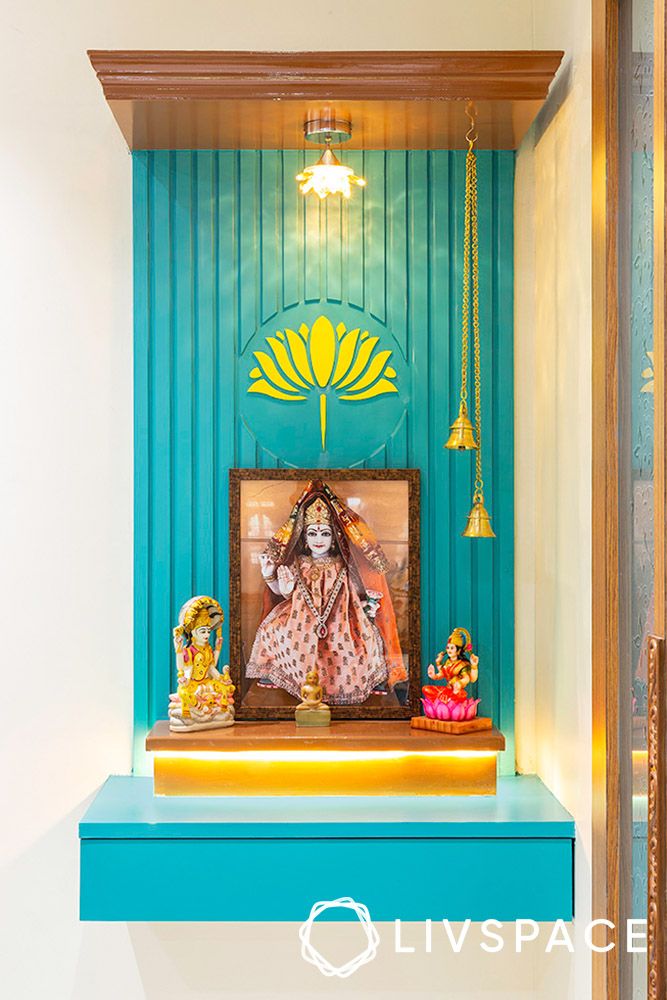 Pro Tip: If you have used colour around the house, then a colourful modular pooja unit with a little texture will fit right in. Painted wooden pattis not only add a touch of brightness, they also offer interesting texture to the space, making the whole setup visually appealing.
#5: Stone
Stones add unmistakable natural beauty to home interiors and here the two most common ways to use them in pooja rooms:
Stone Cladding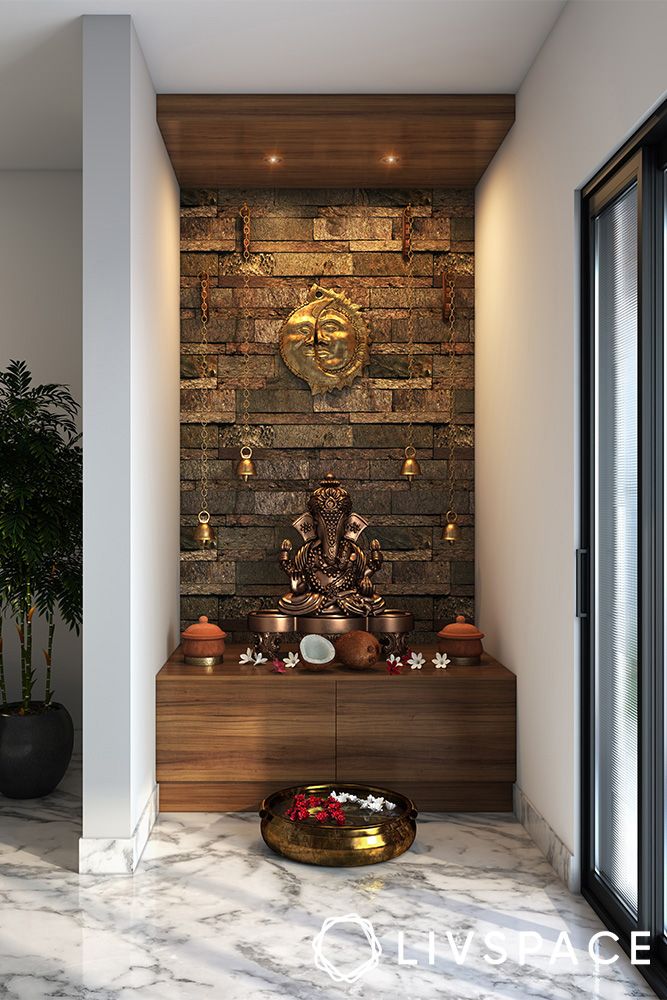 Pro Tip: Style your stone-clad pooja room with wooden, metallic and earthy elements to stay consistent with the natural look of the space. You can also add green potted plants if you have space.
Marble Panelling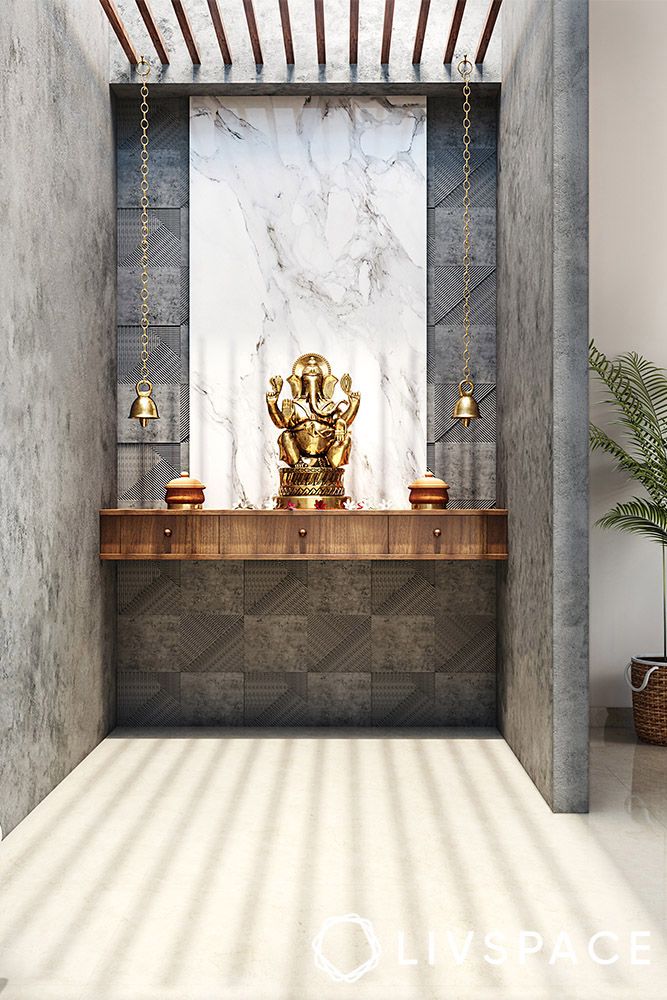 Pro Tip: Marble comes in various colours and shades, so choose one that best suits your interior design. Additionally, keep in mind that larger slabs of marble look better than smaller tiles.
#6: Backlit Panelling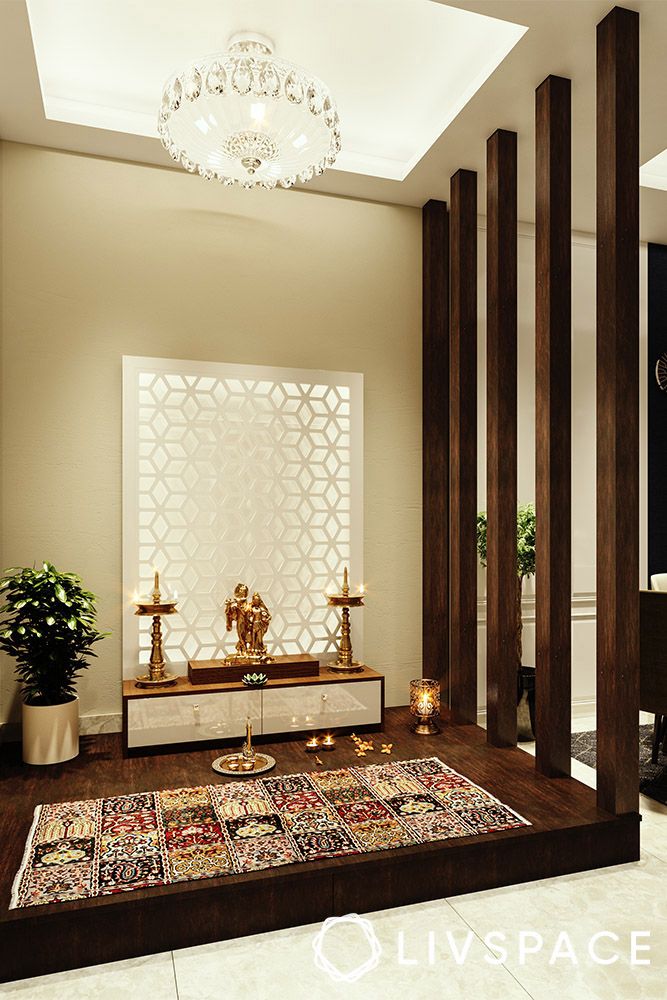 Pro Tip: Backlit panels are easier to install and are also readily available in the market. For the back panel of a pooja room or a mandir, it is always best to choose white or warm lighting.
#7: Glass Panelling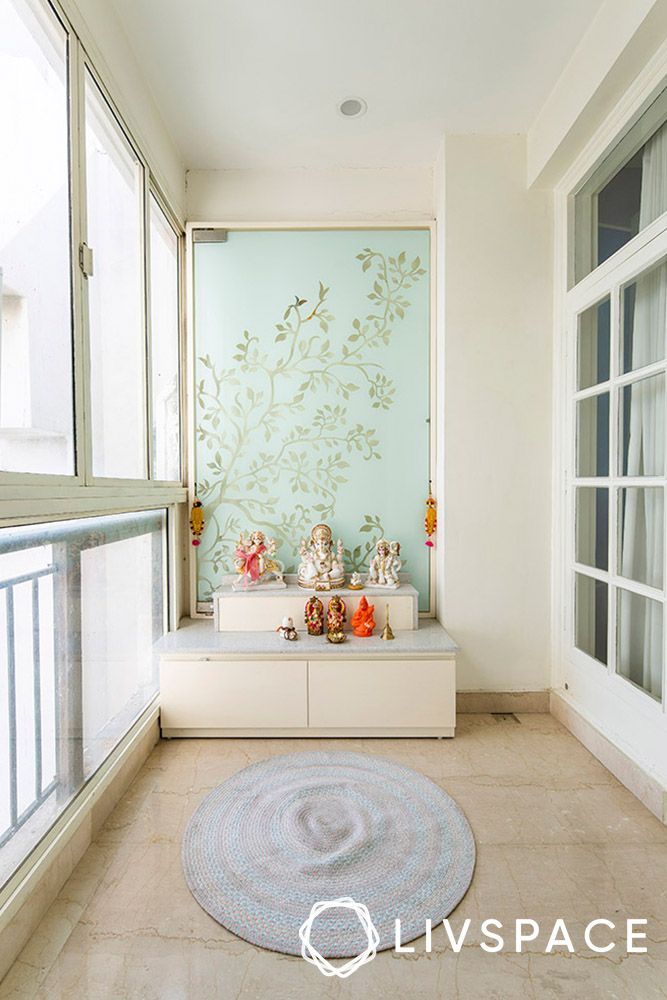 Pro Tip: In all-white interiors, glass looks classier than white laminate or MDF panels. Moreover, if you don't want to keep things all-white, and you are looking to add a pop of colour instead, then opt for a glass panel in the colour of your choice.
#8: Stucco Concrete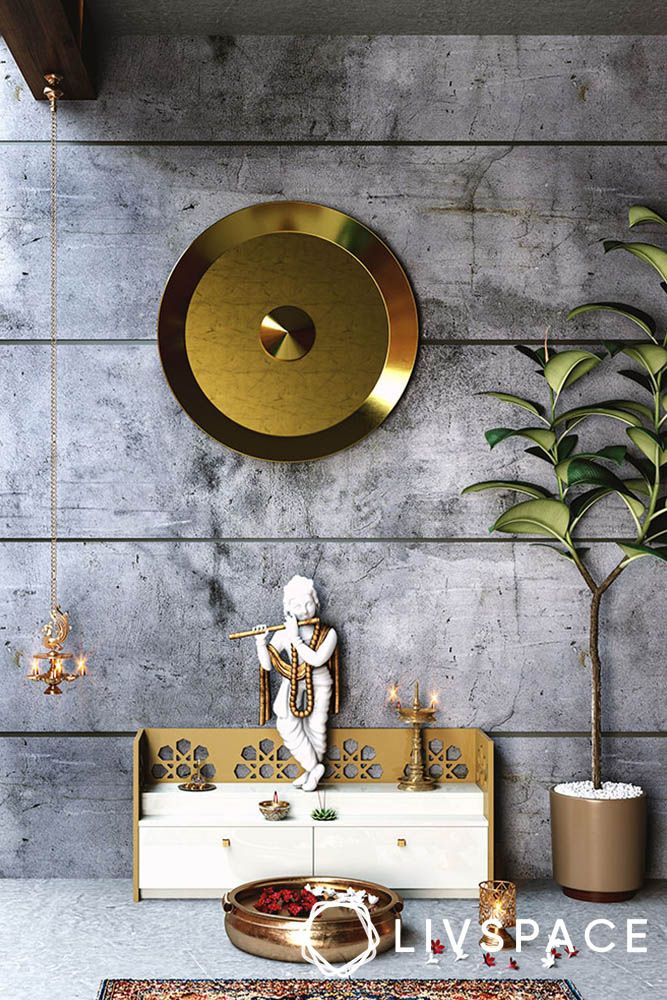 Pro Tip: You don't have to apply stucco to the entire wall, only the portion of wall behind your pooja unit. Additionally, you can use metallic T-profiles to add a hint of luxury to the back panel.
#9: POP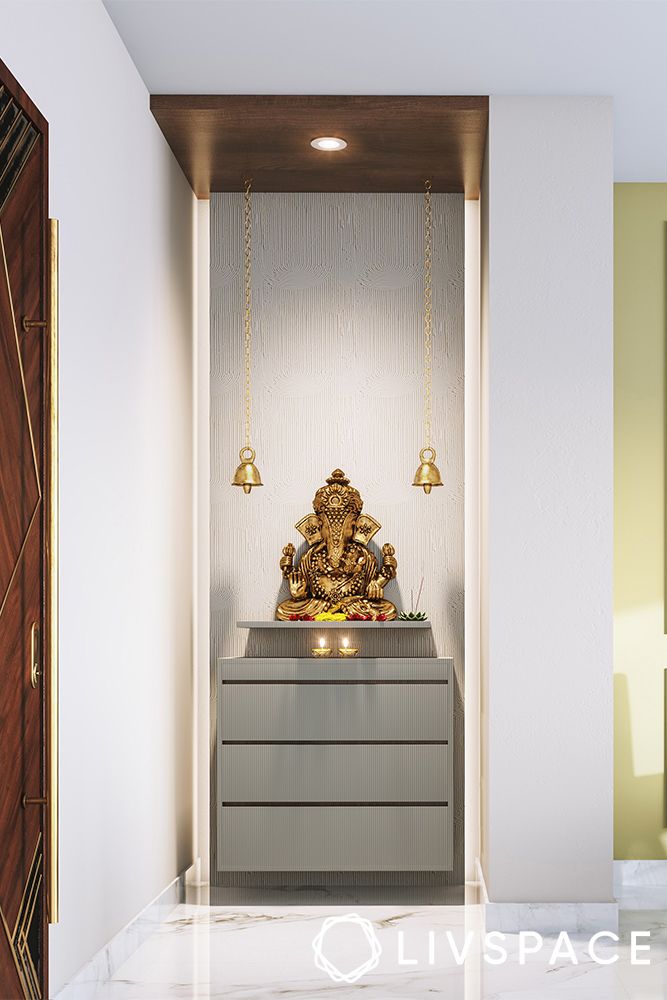 Pro Tip: Since POP is mouldable, you can choose an intricate, subtle pattern for the accent wall. Use lighting effectively to create a play of shadows and enhance the look.
#10: Fabric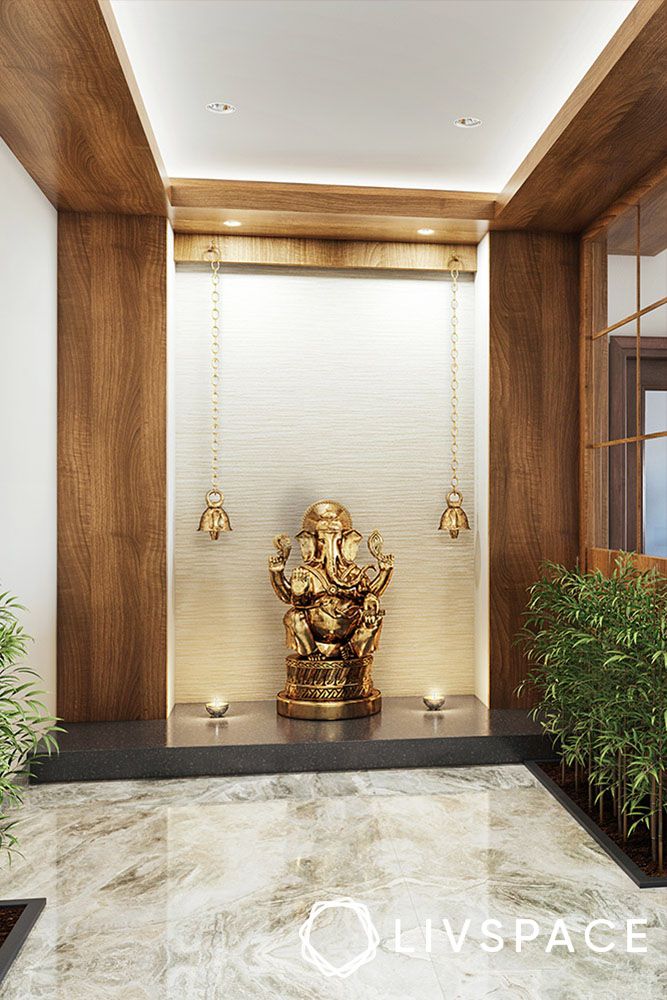 Pro Tip: Using a fabric or a curtain has a great advantage – you can change them whenever you like. Use materials like bamboo to add a natural texture; it is also a fitting option for a pooja room.
#11: Tiles
Pro Tip: It is common to use light-coloured tiles in pooja rooms as it's easier to keep them stain-free when compared to white walls. There are different types of tiles available specifically for pooja rooms, with auspicious colours and symbols printed on them.
When it comes to inspiration for pooja rooms, the ideas are limitless. And we hope you found this gallery particularly useful. Back panels are truly an important part of the pooja room makeover process and can play a significant role in giving you a pooja room design that's perfect for your space.
If you're looking to buy a modular pooja unit, then read about these 8 creative new pooja room designs that will be popular in 2023.
How Can Livspace Help You?
If you want your home to be just as beautiful, then look no further. Book an online consultation with Livspace today.
We love hearing from you! Write to us with your comments and suggestions at editor@livspace.com
Disclaimer: All contents of the story are specific to the time of publication. Mentions of costs, budget, materials, finishes, and products from the Livspace catalogue can vary with reference to current rates. Talk to our designer for more details on pricing and availability.