Decorating your child's room can be so much fun for the whole family, given the myriad options available and the little beautiful traits of each child you can take into account. From cartoon-inspired spaces to fun play zones, from sober teen rooms to lively nurseries, Livspace has some beautiful kids room designs to suit you. Take a look at these 50+ fascinating ideas!
#1: Jungle-themed Kids Room Designs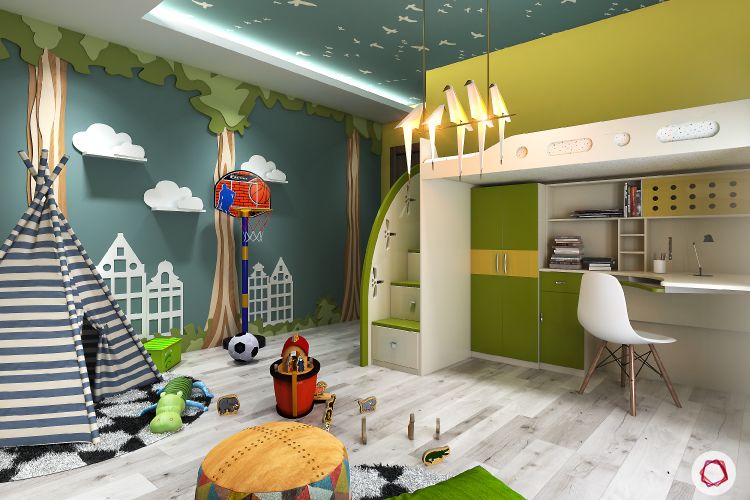 Talk about creating a dreamy and playful ambience for your kid! We love how the room has been segregated into separate play + study zones!
#2: Kids Room Designs That Will Make you Step Into Dreamland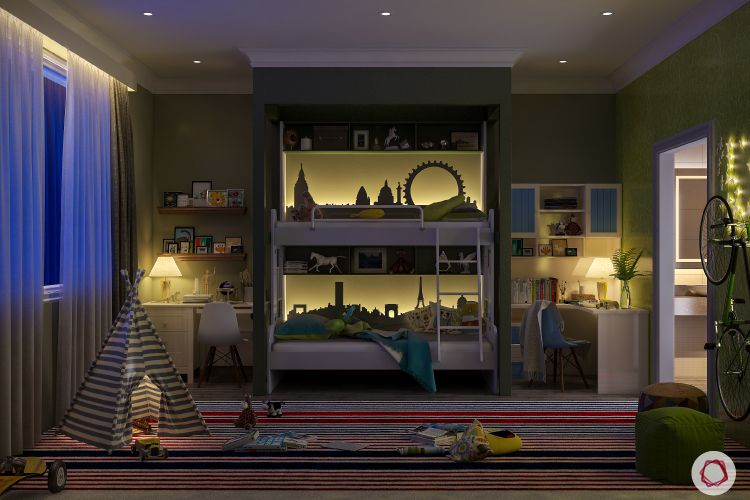 A cityscape themed backlit wall for your kids' bed will take them to a dreamland in a snap! Keeping the study units on either side of the bed also helps in optimising the space.
#3: Kids Room Designs With Fresh Shades of Green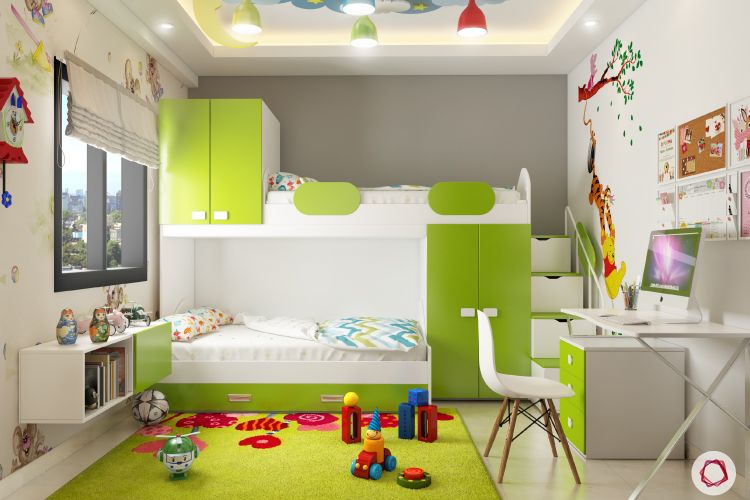 Happy colours and fun zones make for great childhood memories! We particularly love how the room has so much storage — perfect for growing children.
#4: Contemporary and Classy Kids Room Designs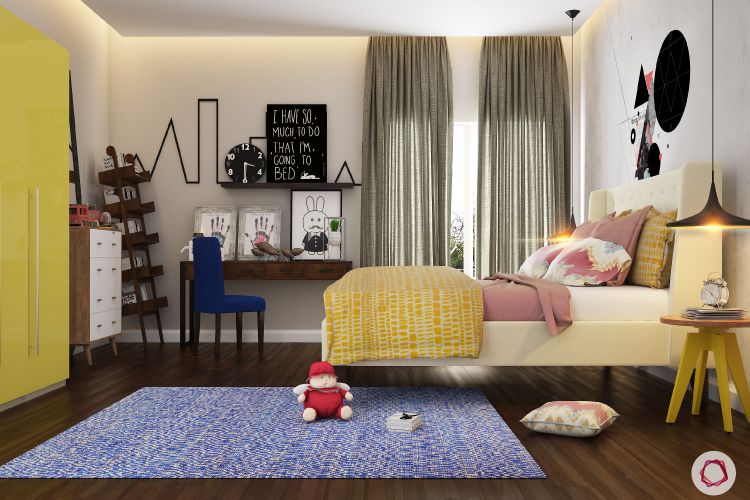 For the growing kid at home, you need a balanced room like this. Quirky wall art adds that fun element to this room.
#5: Simple yet Beautiful Kids Room Designs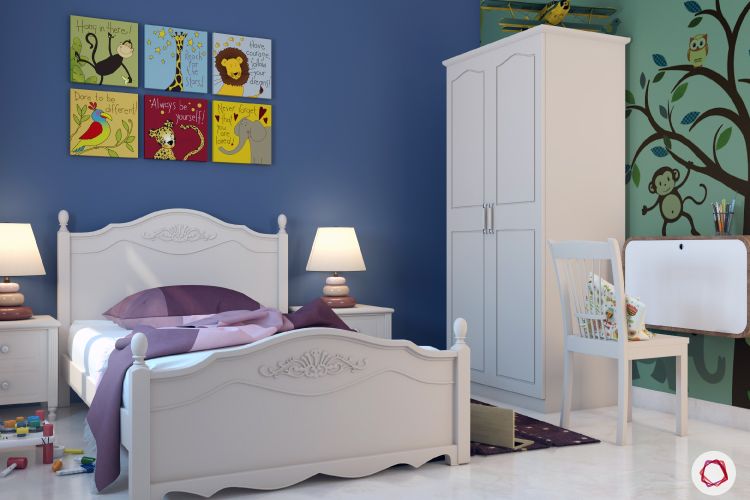 A cobalt blue accent wall works perfectly well for kids of all ages. In this room, the furniture has been kept simple and minimal so that all the focus remains on the stunning walls.
#6: Happy Room Designs for a Happy Child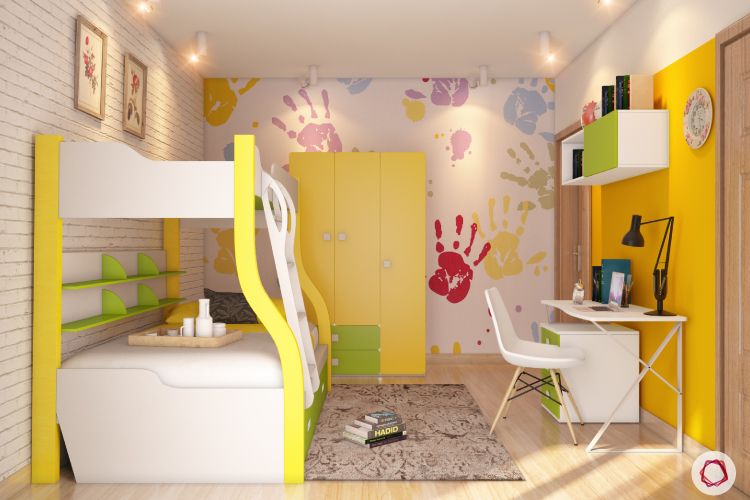 Let your child's room shine bright with canary yellow and accent walls. We love the wall with handprints! Instead of getting it done professionally, you can also do it yourself along with your baby as a fun bonding activity.
#7: Kids Room Designs That are a Timeless Beauty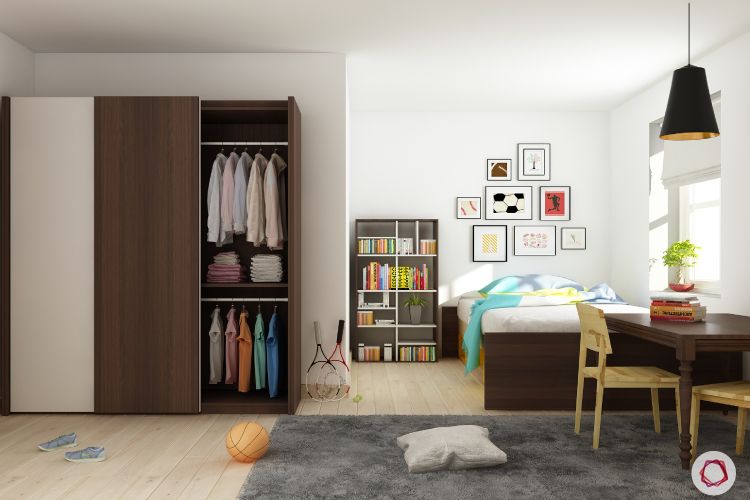 Love all things wood and neutral? This is one for the ages. Wooden designs not only make a room look cosy, they are also timeless and will be loved by your child even after they grow up.
#8: Love Ice-Cream Shades!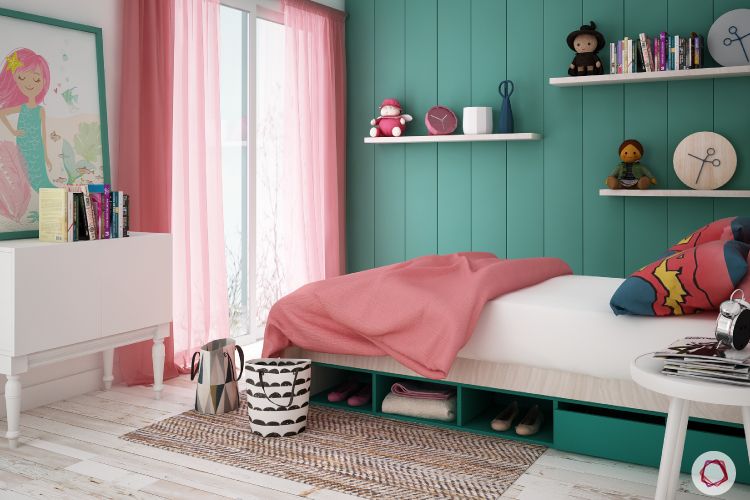 This playful space is all about slipping into a fairytale. The mint green walls go so perfectly with the pastel pink furnishings. Don't miss the storage under the bed!
#9: Room Designs With Blazing Hues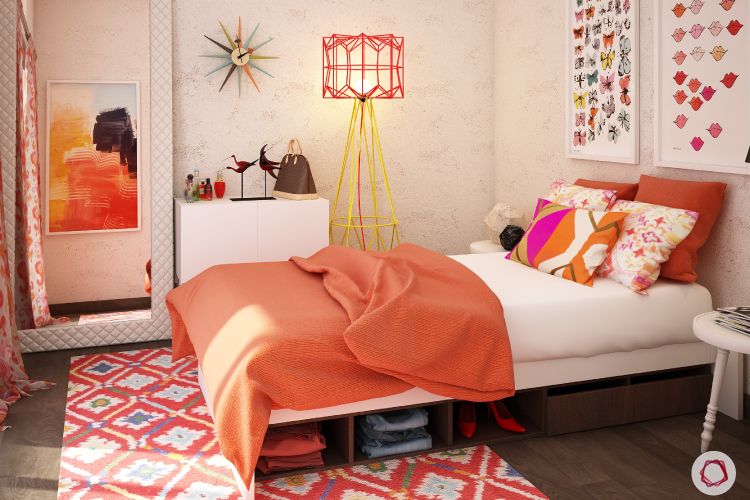 When in doubt, warm colours for the kids are always a good option. By keeping the walls bare, you can choose to change the theme of the room whenever you want.

#10: Magical and Modern Kids Room Designs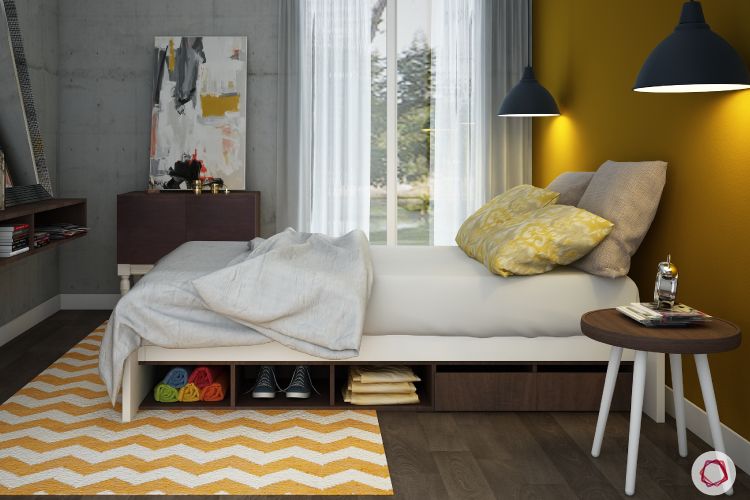 Who said grey is boring?
If you are looking for a neutral and timeless theme, go with grey. To add the quirk factor, use some bright colour, like yellow as an accent wall.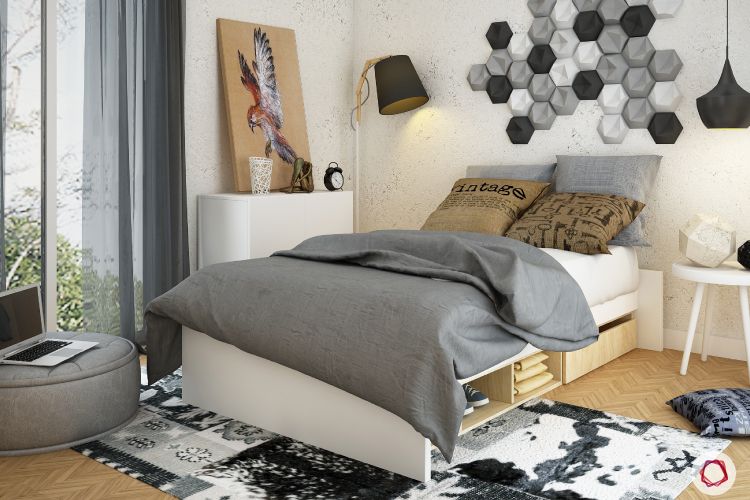 This room shows how grey can be warm
It's all about greys and whites for this elegant kids' room. Despite having a cool colour palette, the warm textures make the room cosy. The wooden flooring and wooden under bed storage also add to the warmth.
#12: Geometric Love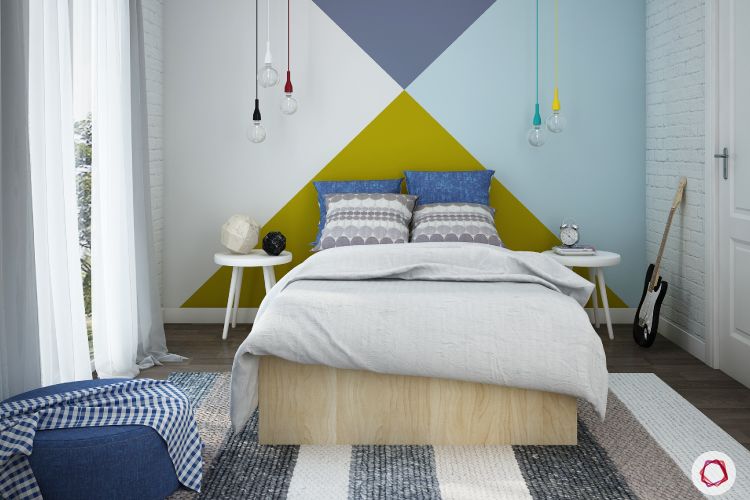 Check out the trendy hanging lights!
Get trendy and go geometric for your kid's room! It's very easy to get this look with the help of an accent wall.
#13: A Maximalist Kids Room Design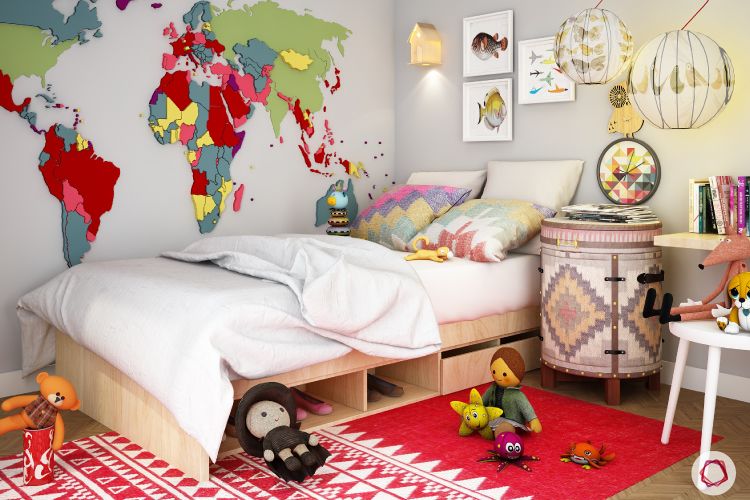 A colourful world map as wall art? What a quirky and intelligent idea. Although the room is packed with wall art, lighting and furniture, it looks so cute!
#14: Dance Away Your Worries!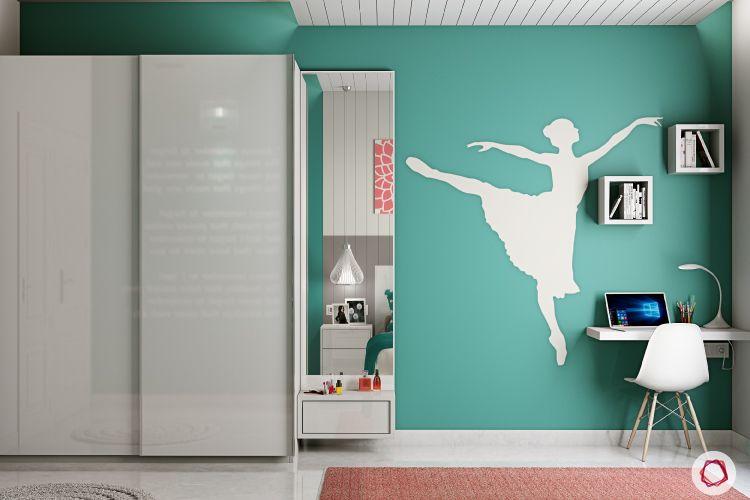 Love the wall art!
A glossy sliding kids room wardrobe and a cute study corner completes this kids' room design. The room is equipped with all the necessities a growing child needs.
#15: Floral Wonderland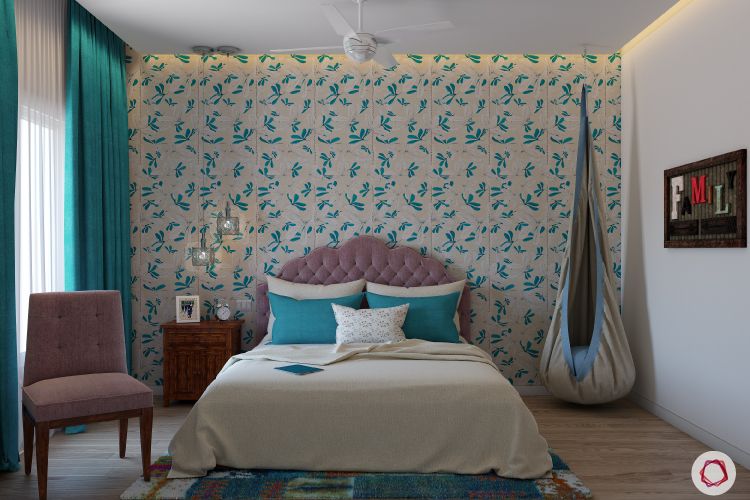 A floral wallpaper and salmon-hued headboard. Perfect design for the calm and creative child! We also love the unique swing in the corner!
#16: Earthy Shades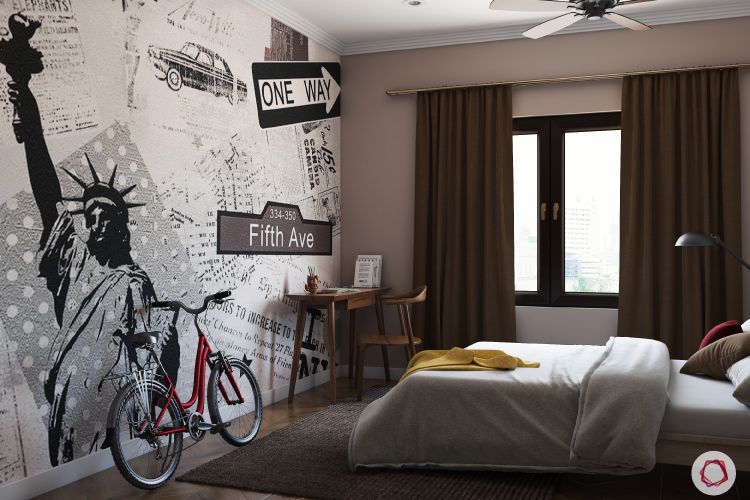 Teach the children to dream big and stay focused! The accent wall is easy to achieve with the help of a wall sticker.
#17: Dainty and Pleasant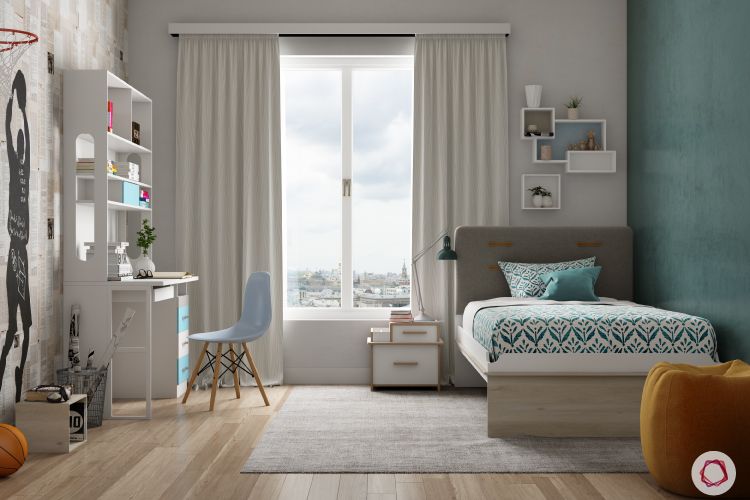 Keeping it simple but very functional, this room is made fun with the basketball hoop and peppy colours. A smaller bed increases the floor space in this kids bedroom design.
#18: Starry Nights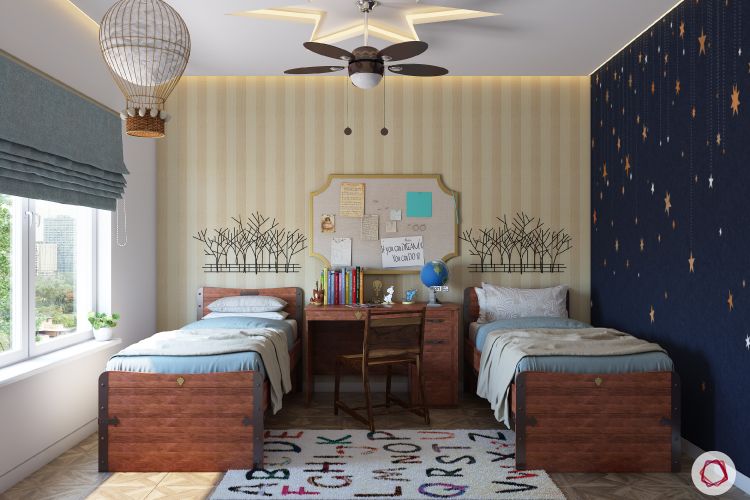 This is the stuff sweet dreams are made of. Twin beds make it perfect for siblings. We love the combination of the window that lets sunlight in and the accent wall that depicts the night sky.
#19: Who Doesn't Love Minions?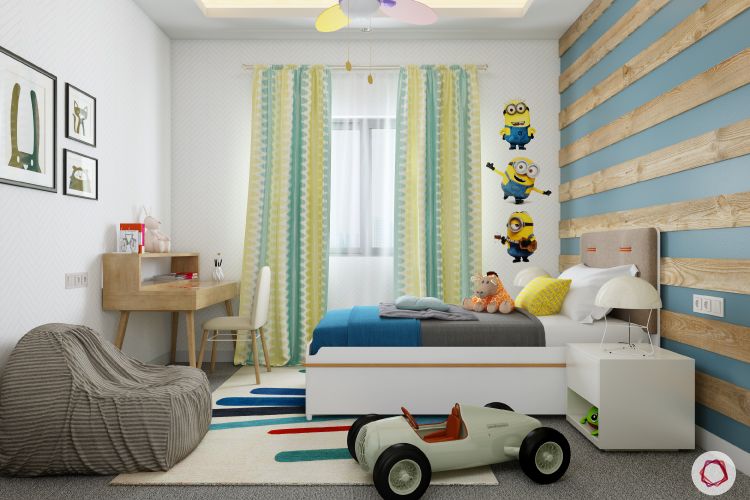 Get soothing textures for the playful minds. The wooden pattis on the wall adds a touch of warmth.
#20: Traditional Charm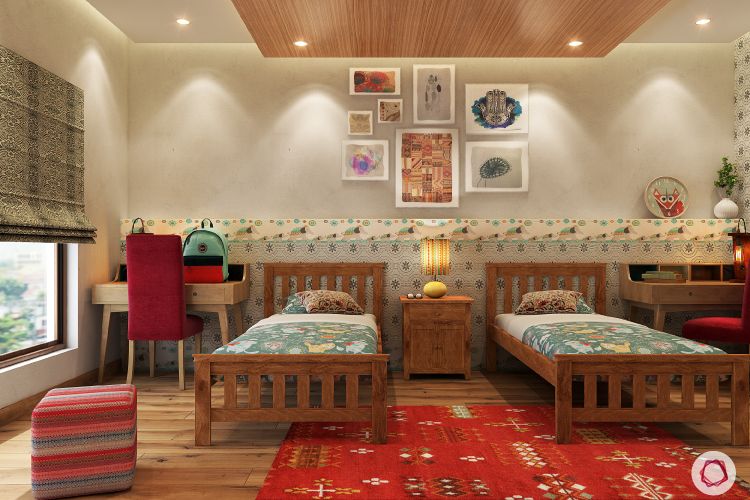 Keeping it balanced and homey, both your kids will enjoy this space equally. Using refurbished, wooden furniture can give your kids bedroom design an old-school look.
#21: When Space is Small…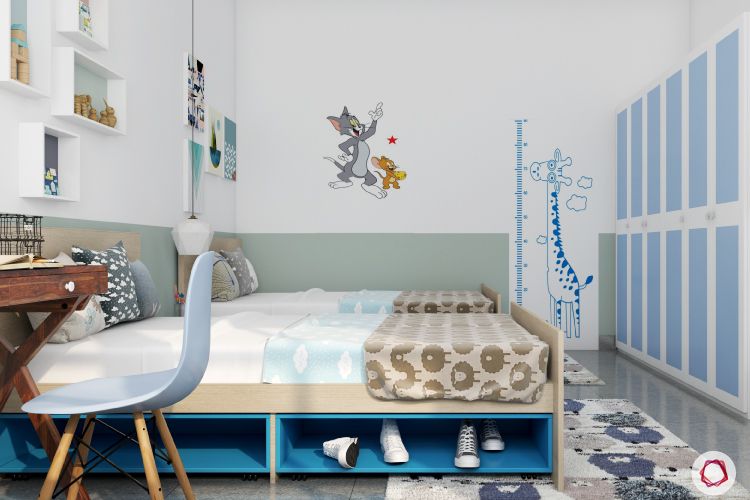 Go with white! Light colours like white open up the space. Kids room designs daubed in breezy blues give them an airy and gender-neutral vibe.
#22: A Kids Bedroom Must be Child-proofed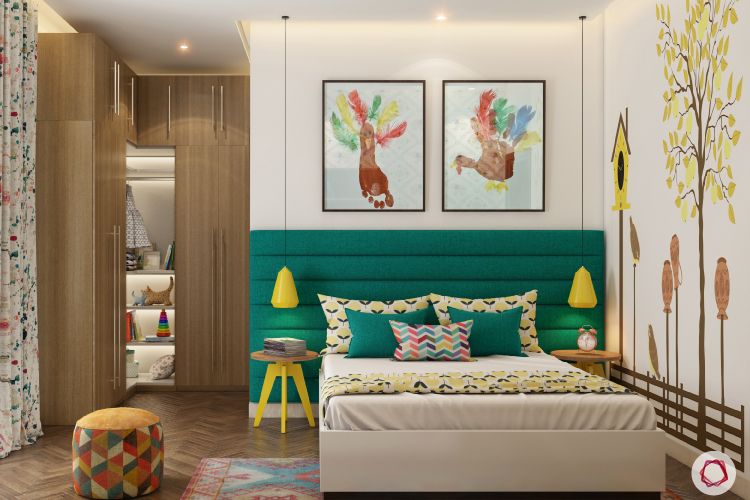 We love the wall-to-wall upholstered headboard. It adds to the look of the room while ensuring the safety of your little one. Playing with colours inspires creativity in the young ones.
#23: Every Child Wants a Window in the Corner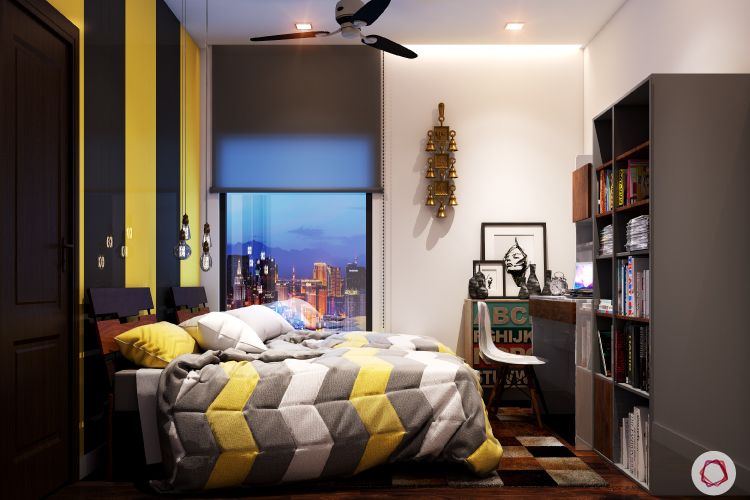 A warm and comfy cocoon to study and relax in. The yellow and black theme looks elegant and quirky.
#24: All the Colours in the Rainbow!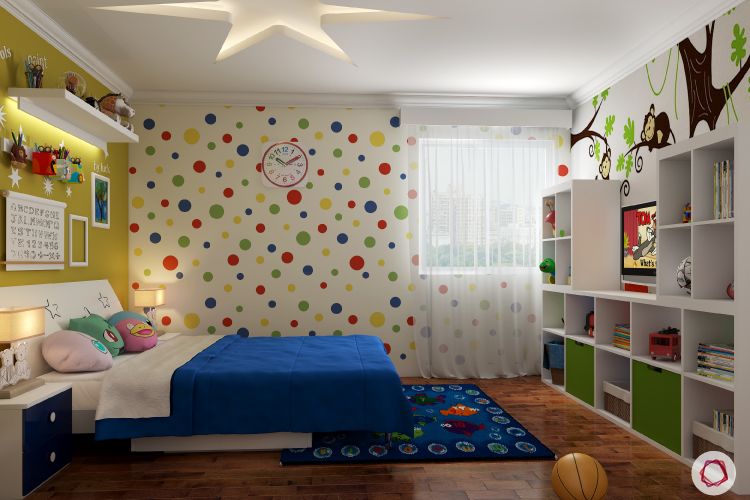 Making memories comes easy with a funky theme. Don't forget to add storage.
#25: Pretty in Pink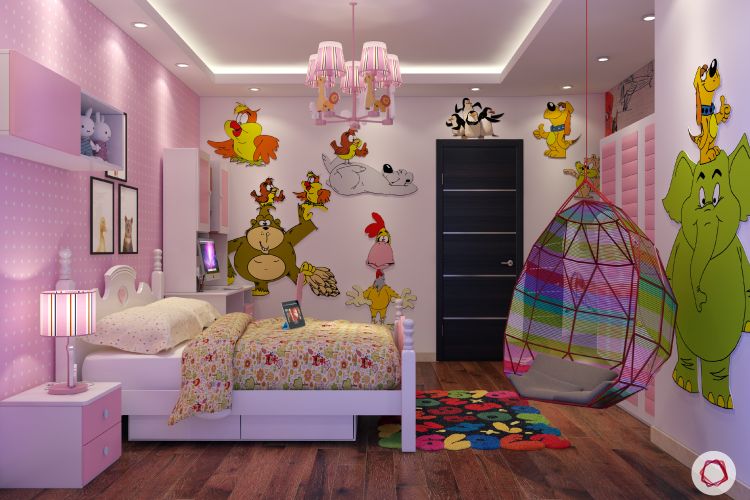 A room that looks like a fairy-tale can be a special gift for your little one. Cartoon motifs are a favourite amongst kids and a swing is a must-have!
#26: Stick to the Minimum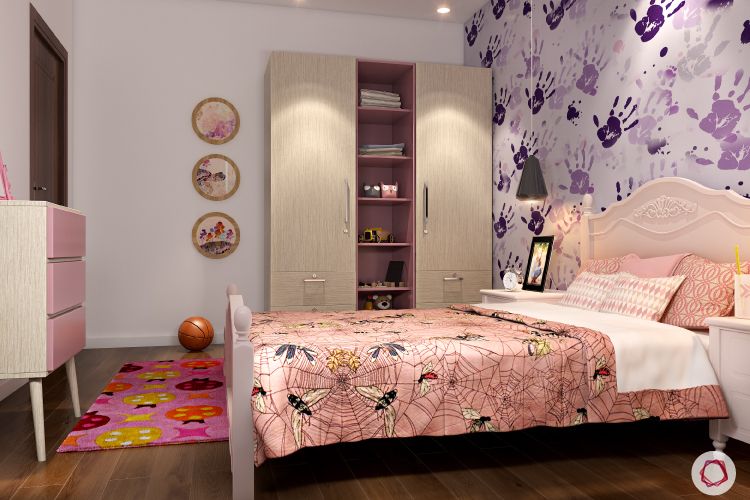 When space is scarce, stick to the bare minimum. A bed, wardrobe and storage unit is more than enough for your child. Let your child get creative by adding personal touches with artwork and painting.
#27: For the Nature Lovers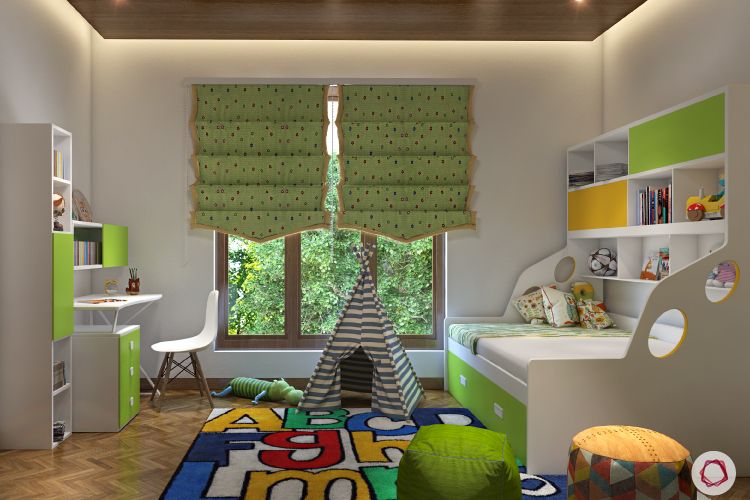 The perfect balance of playtime, study and sleep for the enthusiastic child. The window blinds are so unique! We also love the multifunctional bed-cum-storage unit.
#28: For the Artistic Child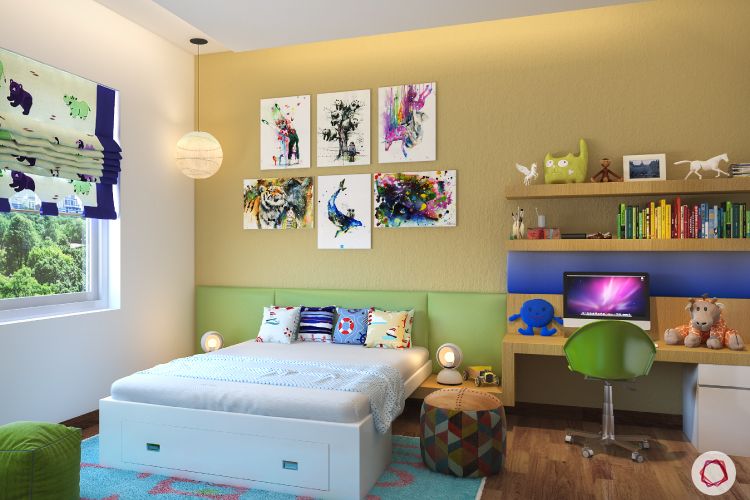 Spark interest with a lot of motifs and textures in this super comfortable room. Abstract artwork on the wall elevates the look.
#29: Abstract and Modern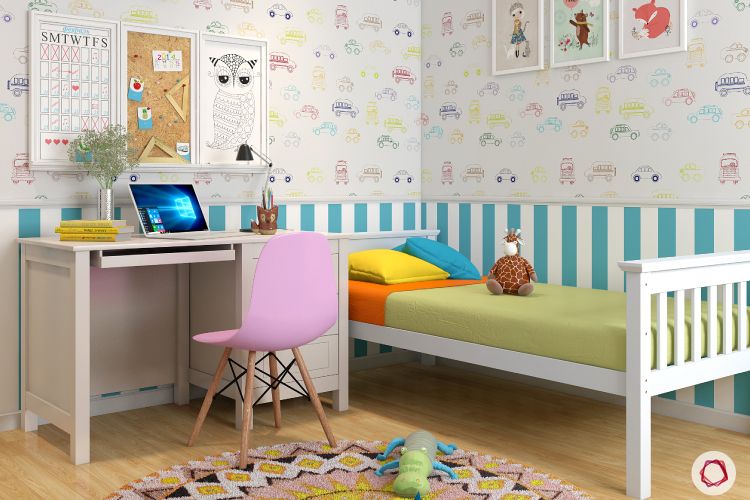 Simple yet intriguing patterns can make a dull room instantly appealing. Kids room designs are incomplete without a study unit.
#30: Multifunctional Units for Your Kids Bedroom Design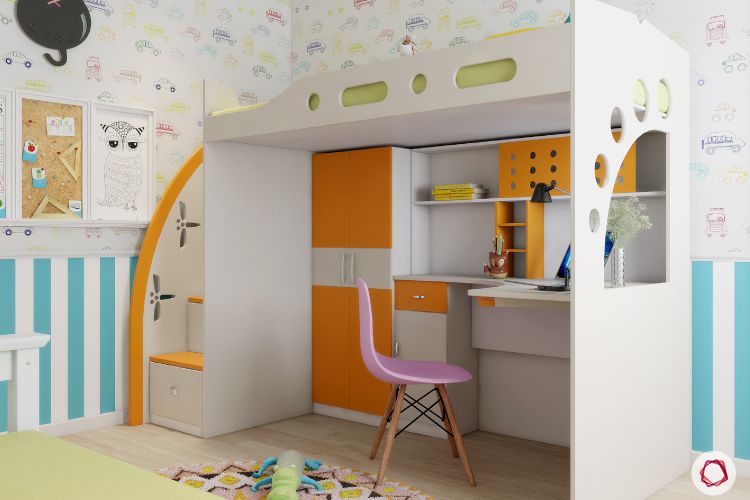 A bed-cum-storage-cum study unit — it does not get more functional than that! This fool-proof design is space-saving with ample storage options. Also, it's fun for kids!
#31: For Your Little Butterfly!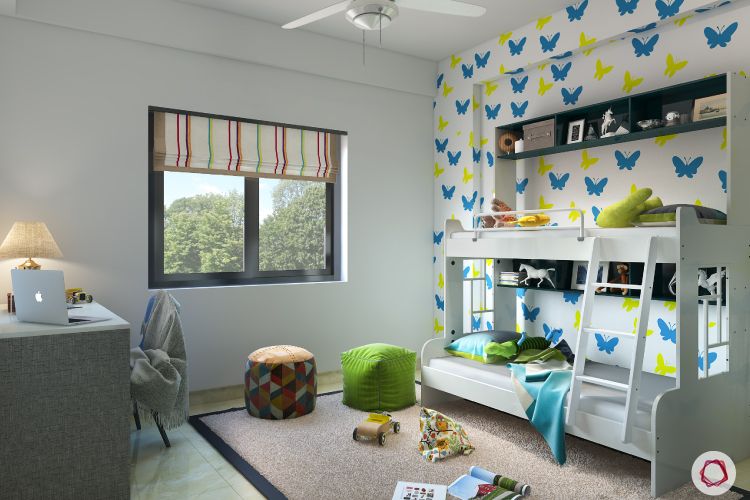 A neutral room accentuated with two-toned butterfly motifs. It's elegant and fun!
#32: Kids Bedroom Ideas With Storage Fitted Into Walls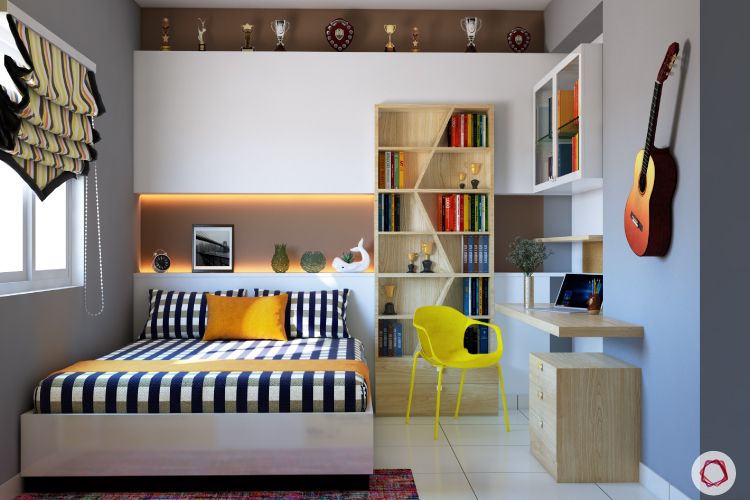 An achiever, a collector, a brainiac – an imaginative kid cannot run out of storage here. Profile lighting also ensures that your child can read their favourite books at night.
#33: Keeping it Spacious!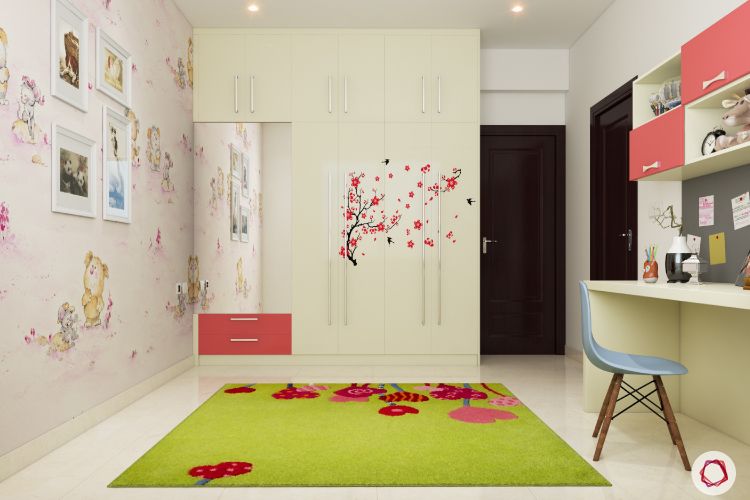 Infusing nature-inspired prints can make it light and energetic. We love this kids room wardrobe with the pretty floral decal. Instead of wasting space on a bed, you can opt for floor bedding.
#34: Minimal Kids Bedroom Design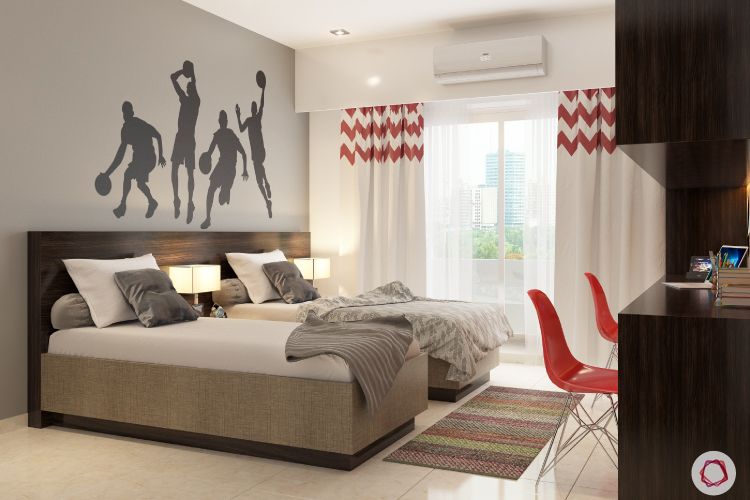 A perfect decal for the sports enthusiast is the icing on this elegant room design. The use of neutral colours makes the space look large while the red chairs add a pop.
#35: The Kids Room Design With Bay Seating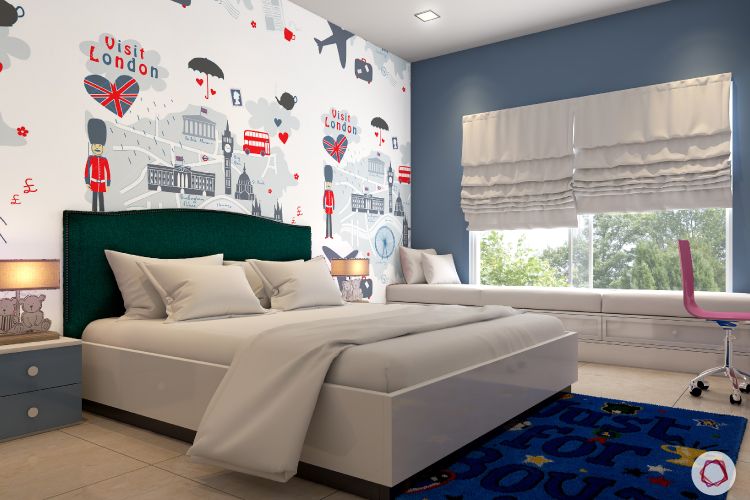 Spacious, airy and innovative, spark the wanderlust in your child at an early age. We especially love the bay seating — perfect for your child to sit and enjoy their favourite book on a rainy day.
#36: Quotes on Wall for an Inspirational Design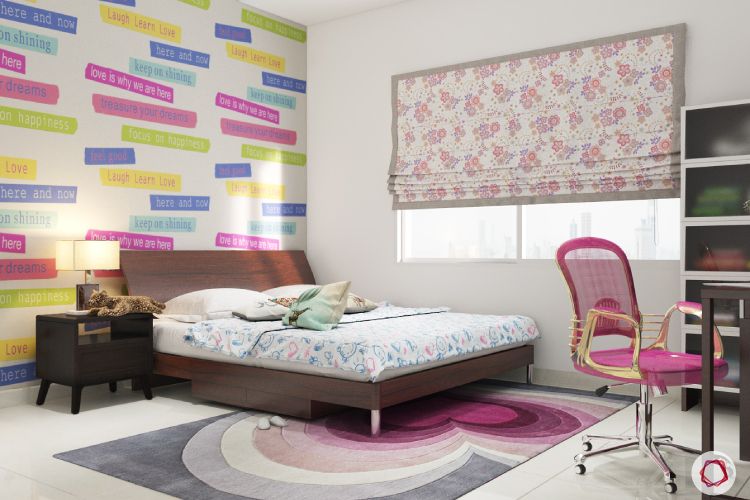 For the dreamer, the secret diary-keeper and Enid Blyton fan, this room is the perfect abode!
#37: Kids Room Designs With Bay Seating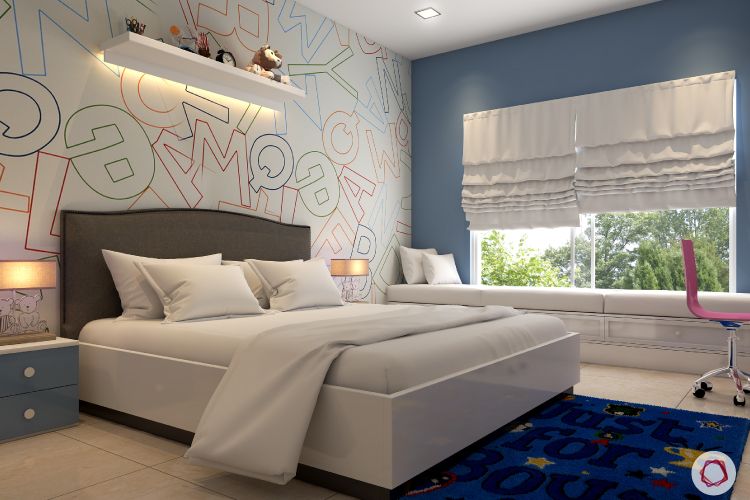 Make learning and lounging at home fun with a beautiful design like this. And the room comes with multiple sources of light like side lamps, spotlights, profile lights and oodles of natural light flowing in from the bay window!
#38: When the Wall is the Showstopper!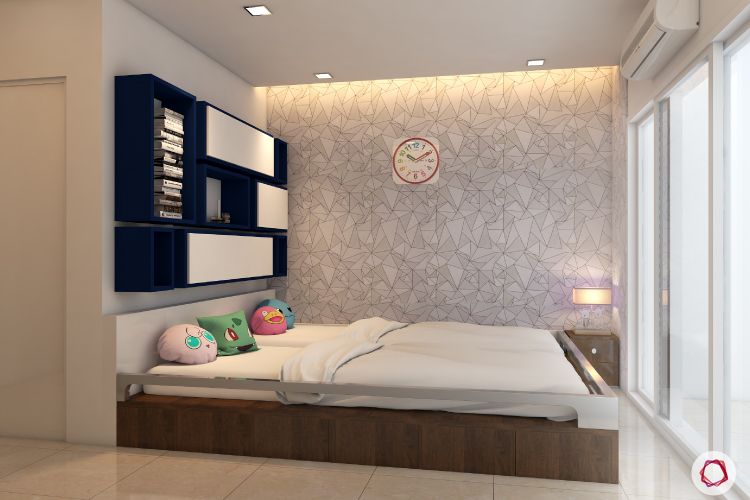 Simple and basic, it's ideal for the teenager at home. Let them personalise it in their unique ways.
#39: A Playful Kids Bedroom Design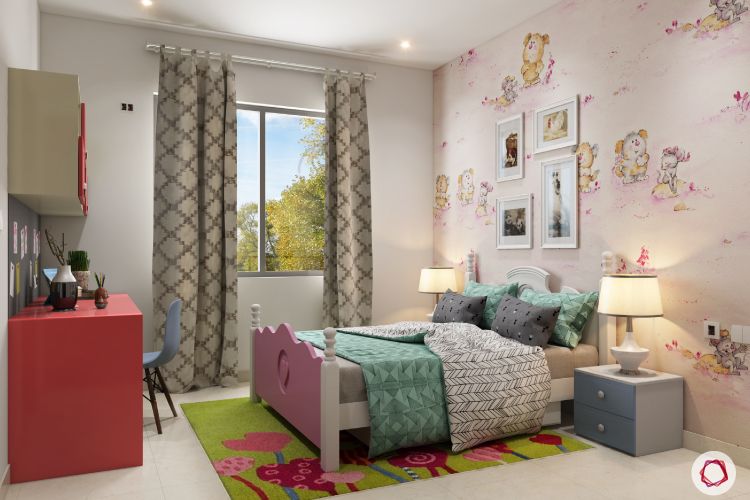 Let them drift off to dreamland in a room that keeps them comfy cosy always. The use of multiple colours makes the room look vibrant.
#40: Refined and Classy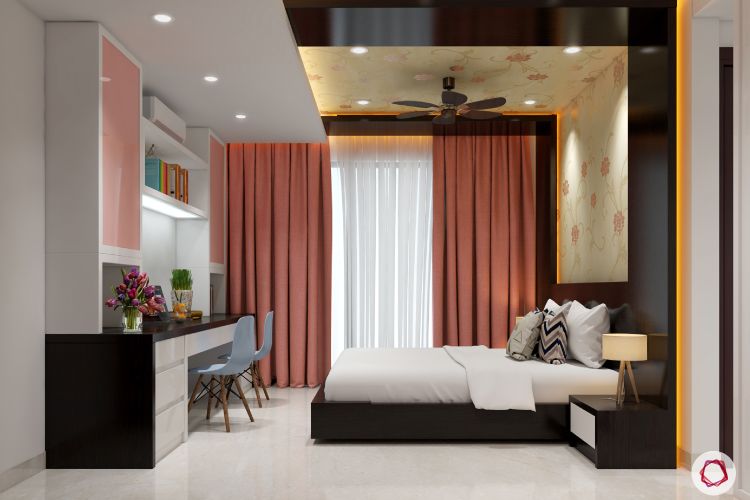 Perfect for a teenager with more refined taste and serious goals. Everything in this room screams subtle and classy. Spotlights ensure that your child has ample lighting.
#41: Dreamy Wonder!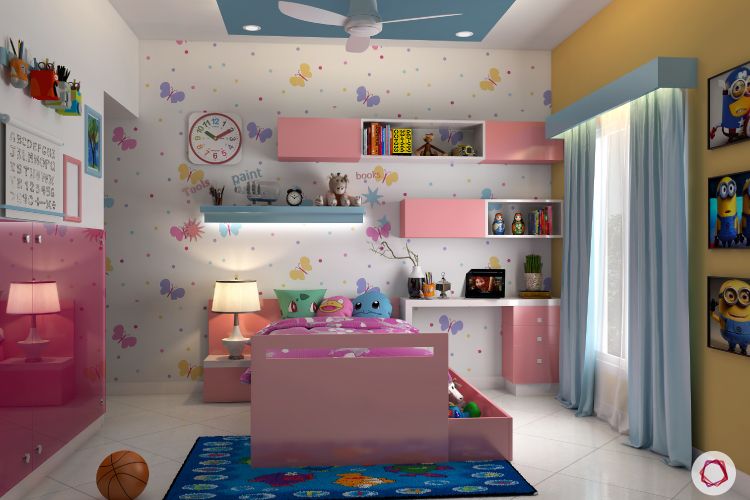 Pretty in pink and cute from start to finish, this is a dream come true for many kids. The room comes with ample storage space in the form of a wardrobe, under bed storage and wall shelves.
#42: Warm Wooden Undertones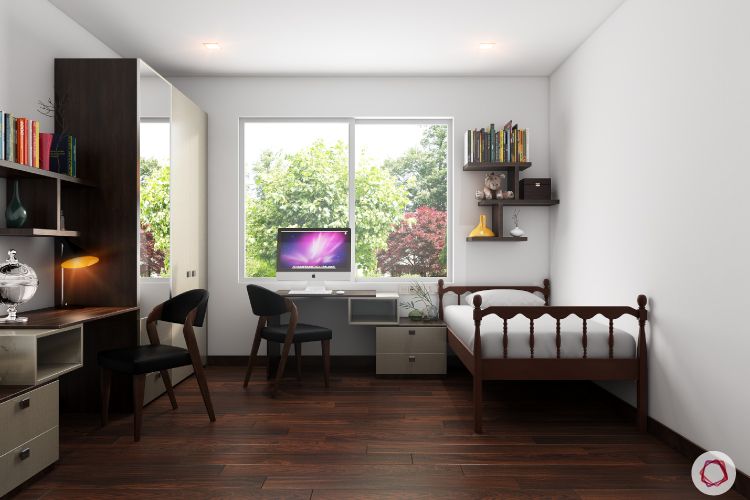 Airy, light and basic, for those who don't like clutter or loud colours. The room features two study units which is perfect when your child wants separate areas for gaming and studying.
#43: Graceful Greens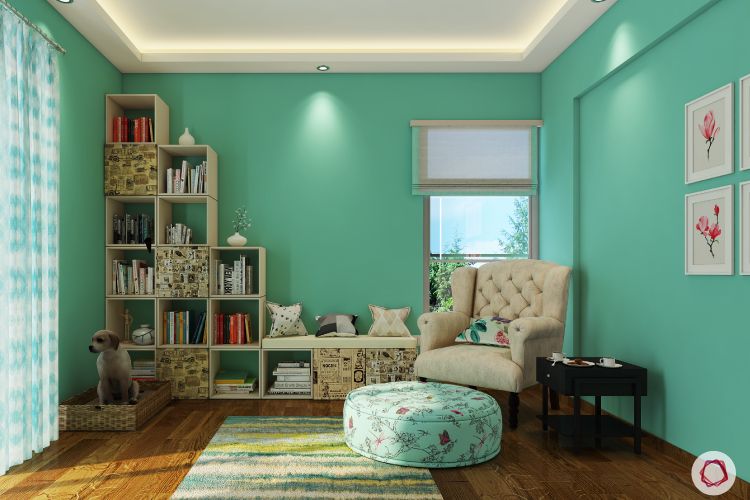 A beautiful reading corner to delve into those gripping thrillers and heartwarming dramas. This particular shade of pastel green is trending for kids room designs.
#44: For the Child With Refined Tastes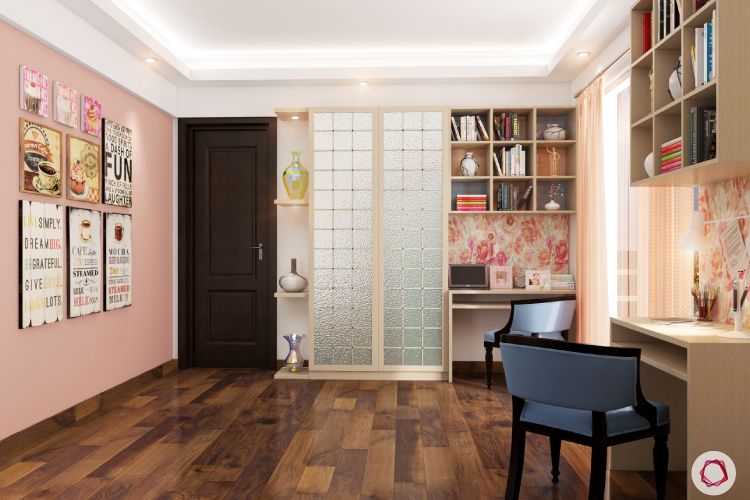 Two can study in peace without getting in each other's way. The kids bedroom design is very elegant and perfect for teenage girls.
#45: Kids Room Designs in Blue Will Always Remain a Favourite!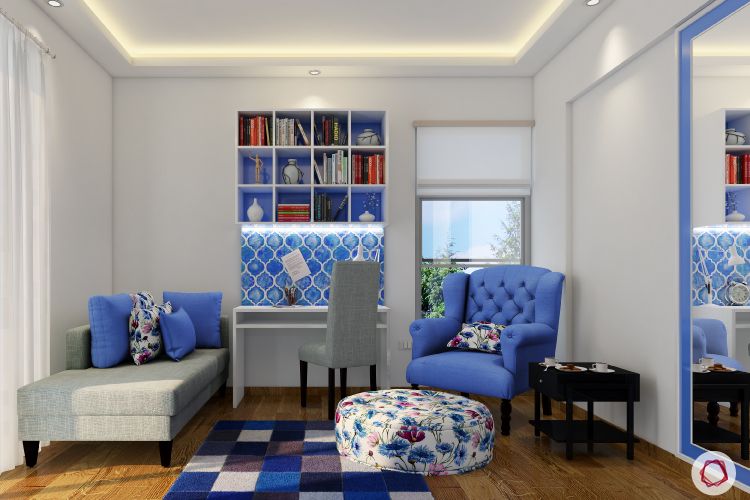 A casual but stunning setup for the style-conscious. If you are looking for stunning kids bedroom ideas, opt for a blue-themed room. The best part of this room is the tons of seating it offers.
#46: Functional Designs FTW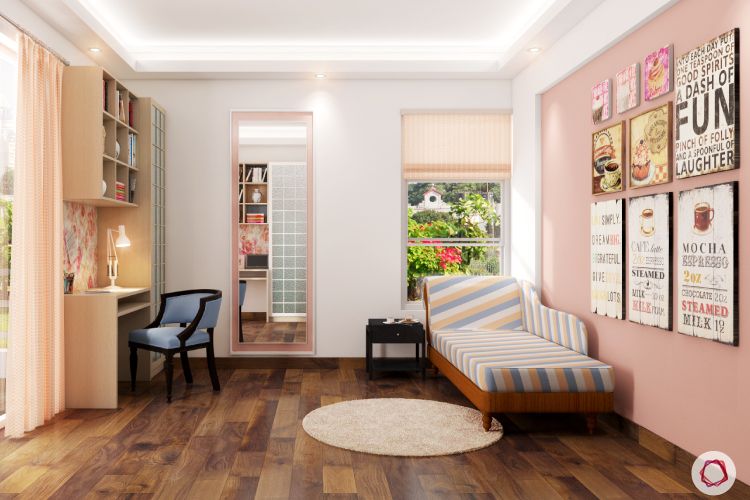 Keeping it light and down to essentials, with some personalised artwork. Every piece of furniture in this room is sleek to fit into a nook.
#47: The Perfect Room for two!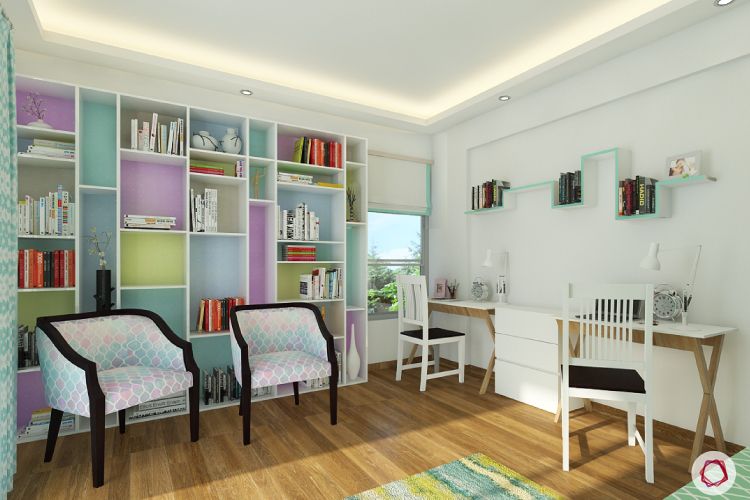 Ice cream colours are all the rage now and this design is fit for two! The open display shelves in different sizes and shapes add an abstract vibe to the room.
#48: For the Spongebob Squarepants Lover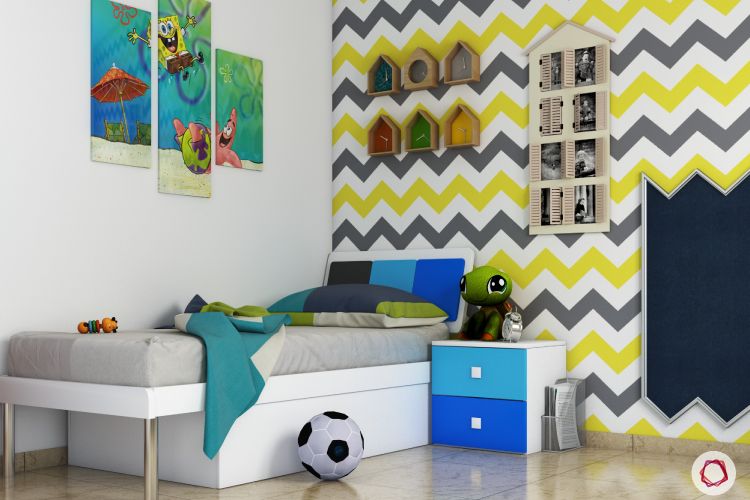 Nothing like a perky wallpaper to pick up the mood of the room! The bed is extended to form extra seating space — perfect for parents who need to help their child get ready for bed at night.
#49: A Unique Kids Bedroom Design for Your Princess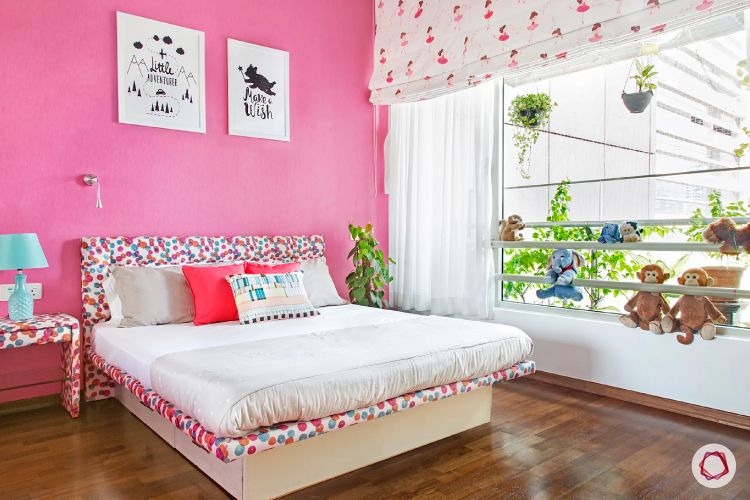 Pink and white, and all that's nice! We love how the massive window has been customised with toys and planters for a dose of greenery.
#50: A Room That is Perfect for Both Toddler and Parents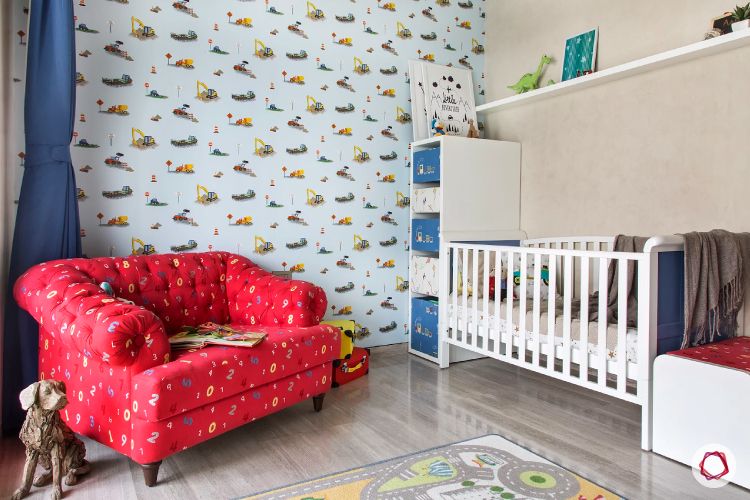 Designed for babies and toddlers, this room is complete with an armchair for parents for bedtime storytelling.
#51: For the Child who Dreams of the Moon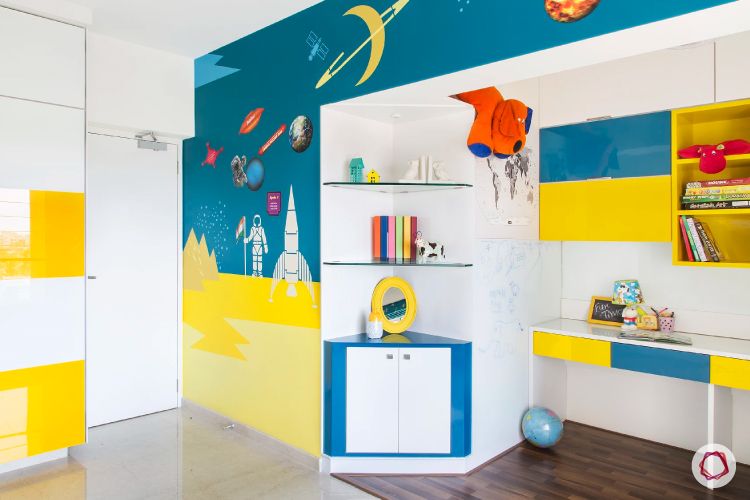 Encourage the scientist in your little one with a design like this! We particularly like how storage and display has been fitted into a niche.
#52: Customised Kids Room Designs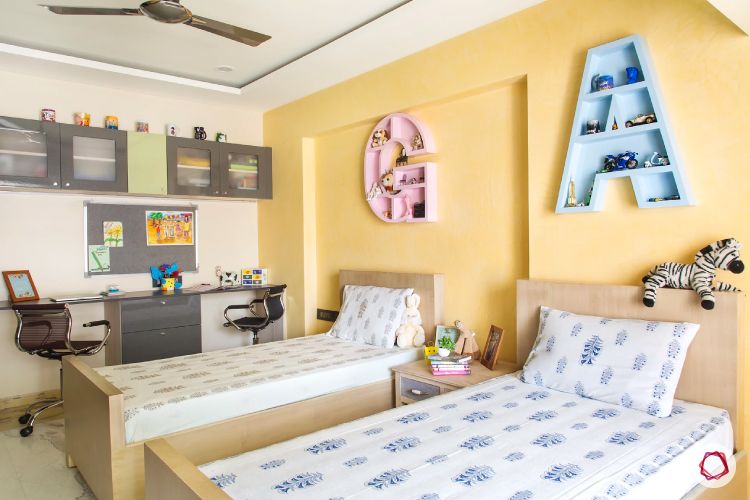 Initialled shelves are a great way to personalise a room shared by two!
Now that you're armed with these fabulous room designs, let us know which one you want to make yours!
For more inspiring room designs, go here!