One of the best interior designers in Bangalore, Livspace has another feather to add to their cap!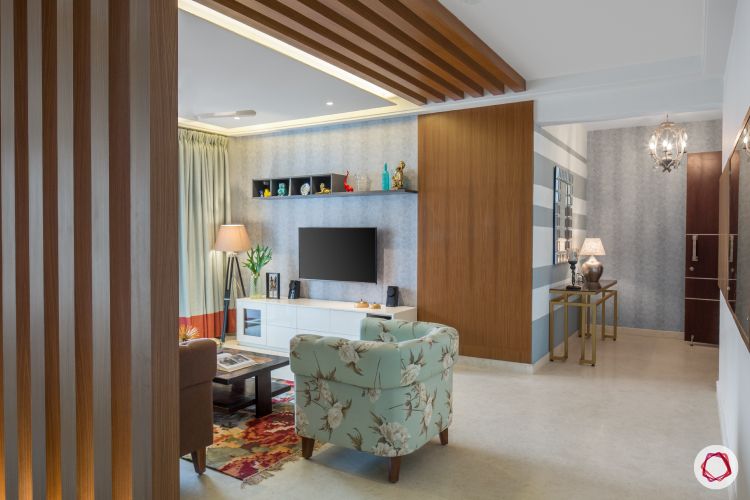 ---
Who Livs here: Vinit Agarwal with his wife Amita and their son Aarav
Location: Brigade Cosmopolis, Whitefield, Bengaluru
Size of home: A 4BHK spanning 2,500 sq. ft. approx.
Design team: Interior Designer Iesha Parekh and Quality Manager Saravanan T
Livspace service: Full home design
Budget: ₹₹₹₹₹
---
The great urban dream is to always move from a rented apartment to your own home. There's something magical about that feeling, and the Agarwals resonated the same. Moving from Hebbal to Whitefield was a conscious decision for the couple since there are a lot of international schools and other amenities in and around this area. Being their first home, they wanted it to look stunning! In stepped Livspace, and the rest, as they say, is history!
When Iesha Parekh, their designer, met them, they only told her that they wanted their home to look good and have an elaborate pooja room. A fully functional kitchen was another thing on their list. Apart from this, they gave her complete freedom to design the home according to her design aesthetics. Take a tour and find out what's special about this one!
#1: Making an entrance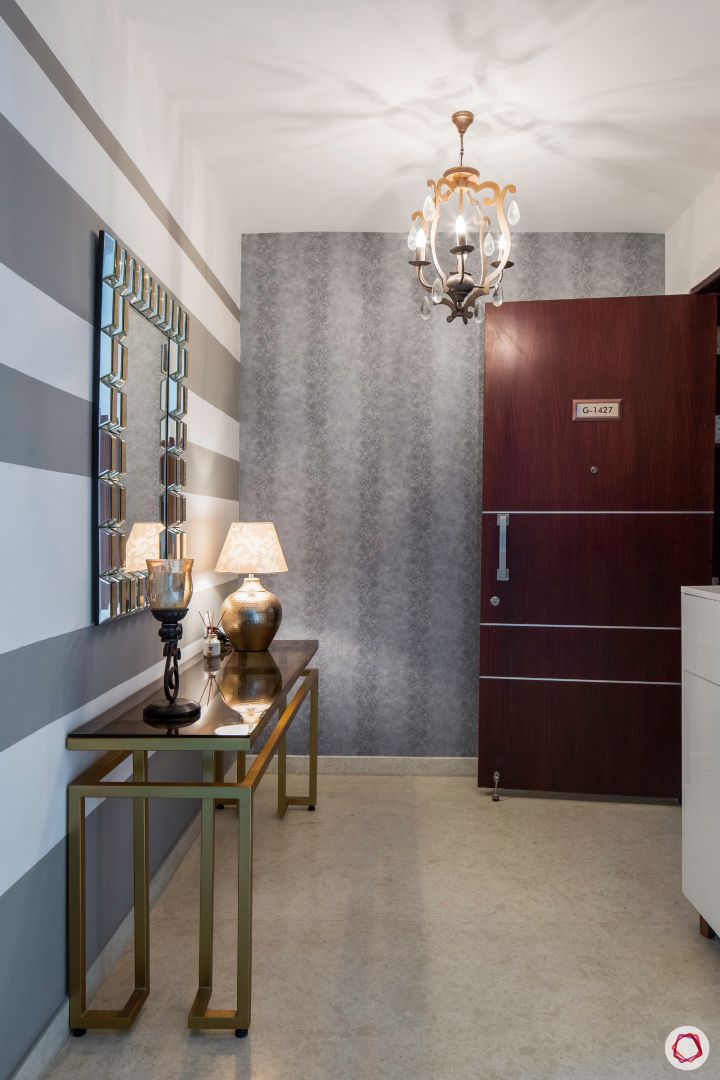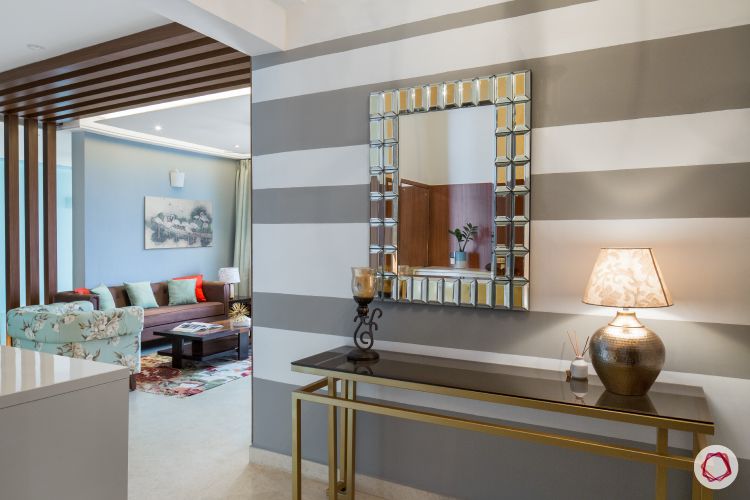 The foyer, as they say, should be the most welcoming part of the house since it's the first thing anyone notices about your home. Every corner in this home has been carefully curated by Iesha to give our clients the best. The foyer sports a lovely interplay of grey and white stripes on the wall through wall paint and textured wallpaper. The striking mirror and console table, set against this wall play a match to create a brilliant first impression.
#2: Breezy blues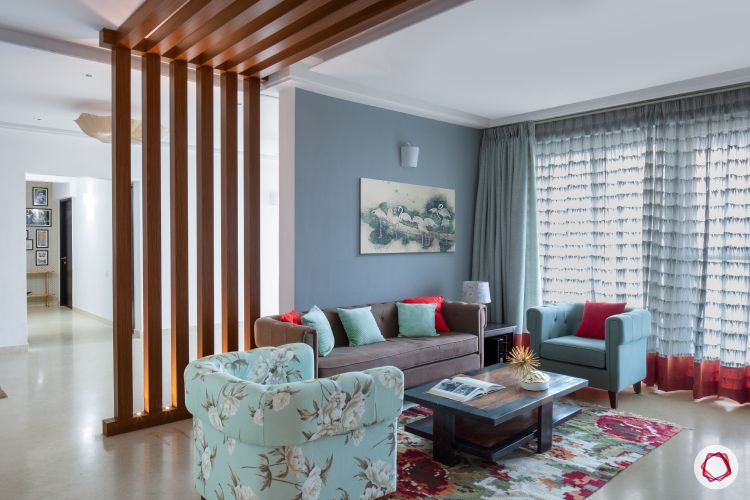 The living room in this home has details that one cannot miss. Both Vinit and Amita wanted matching sofas, but Iesha convinced the couple to get an assortment. As a result, you see the wonderful marriage between solids and patterns in the Chesterfield sofa and the accent chairs. The drapes and the cushion covers play match with a hint of flaming red in both, to add an element of surprise. The wall behind the TV unit sports the same texture as one of the walls in foyer, to maintain visual symmetry.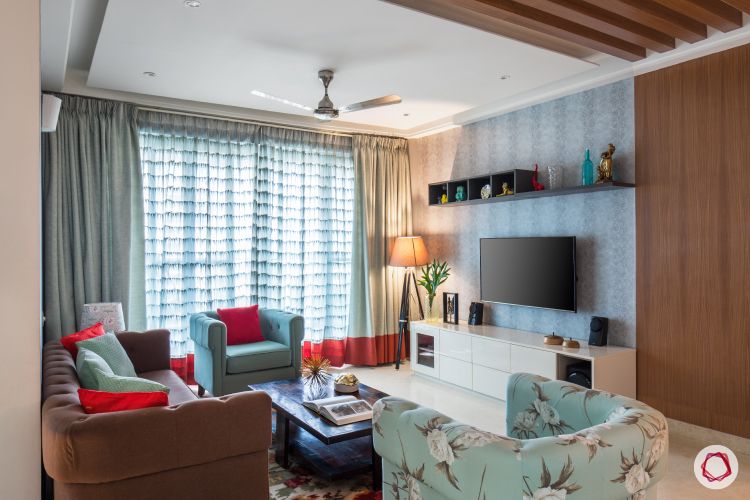 Another striking feature of this living room is the veneer panel next to the television, which extends to the slats on the ceiling and down. We love how lines and patterns are perfectly in sync here!
#3: Floral impressions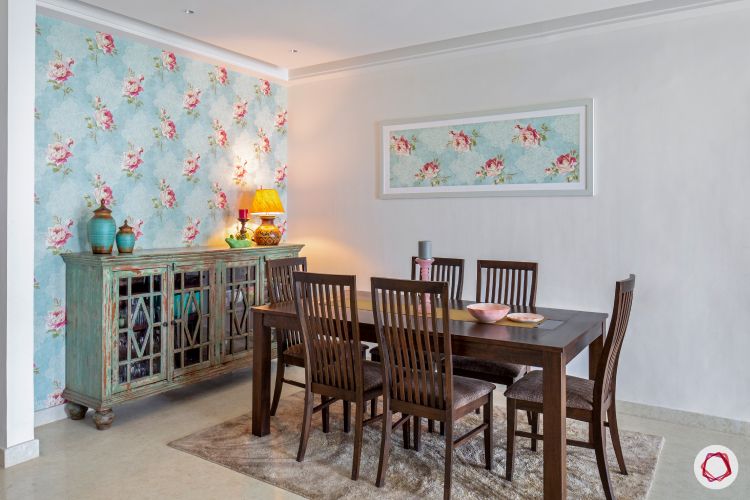 The dining room in this new home interior project is a pure visual pleasure! One of Amita's favourite corners, this space is interestingly designed with florals and rustic elements. A six-seater solid wood dining table is set against a lovely floral wall and a rustic crockery unit. Just the perfect setting for intimate dinners with the family.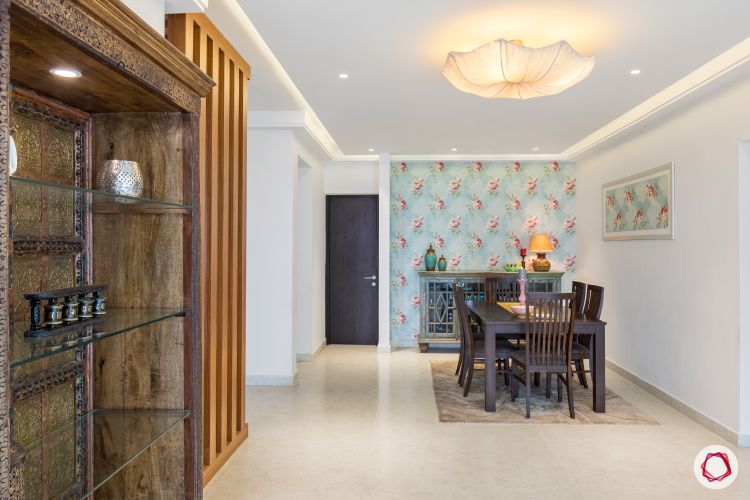 The couple wanted their dining room to have an old-world charm and Iesha gave them exactly what they wanted. The display unit on the other side is an extension of the distressed piece of furniture, added to maintain harmony.
Also Read: Dine in Style: Stylish Designs to Inspire You
#4: An elaborate pooja room
One of the most coveted areas for the couple, the pooja room design is Vaastu-compliant. After a lot of iterations, Iesha came up with the idea to have a marble unit atop a veneer storage unit. A lovely lotus motif jaali panel stands tall behind the pooja unit. It makes the room all the more appealing to the eyes. Borrowing colours from the marble unit, the blinds sport the same motifs in magenta, in the form of smaller flowers. This is, indeed, a well thought-out design.
#5: Ruled by Geometry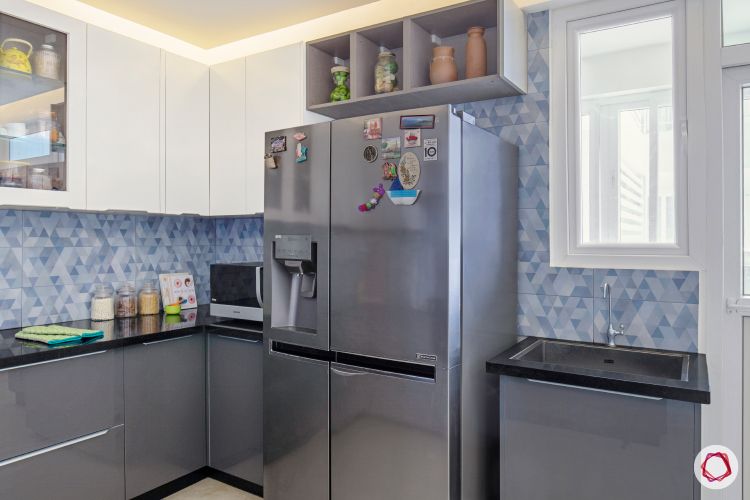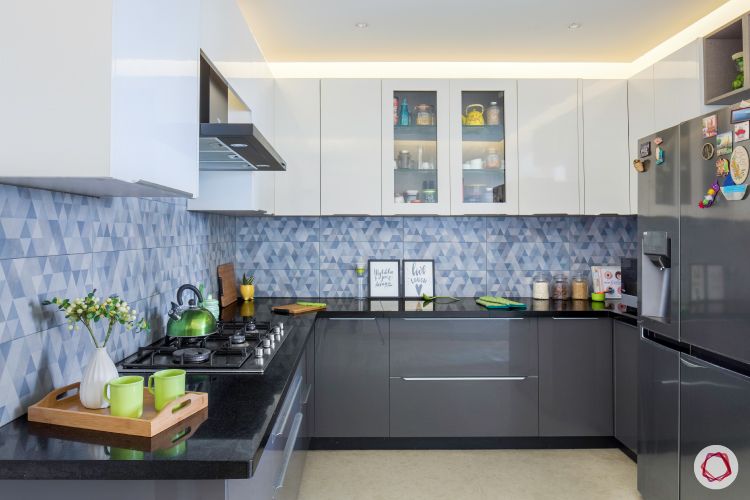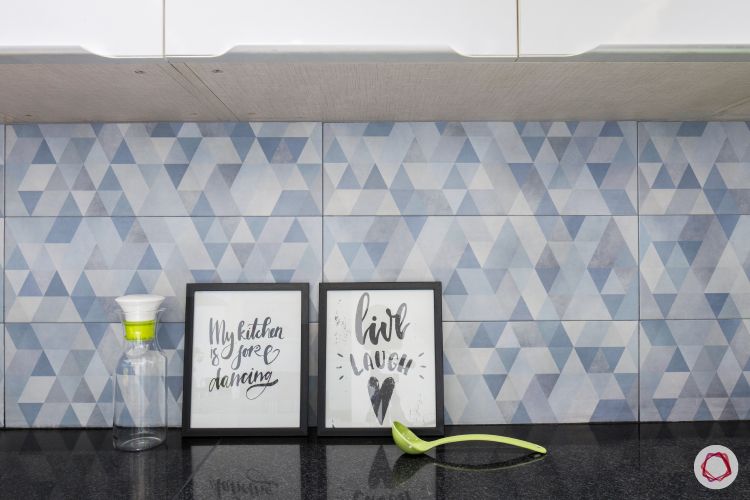 The layout of the kitchen is entirely vastu-compliant, with the fridge sitting opposite the hob. Since the kitchen was compact, Iesha decided to paint it in light colours like cream and grey. Special attention has been given to the dado tiles on the backsplash, which follow a geometric pattern. With bottle pull-outs, cutlery units, shutters, base units and more, this kitchen is a complete modular solution for their culinary needs!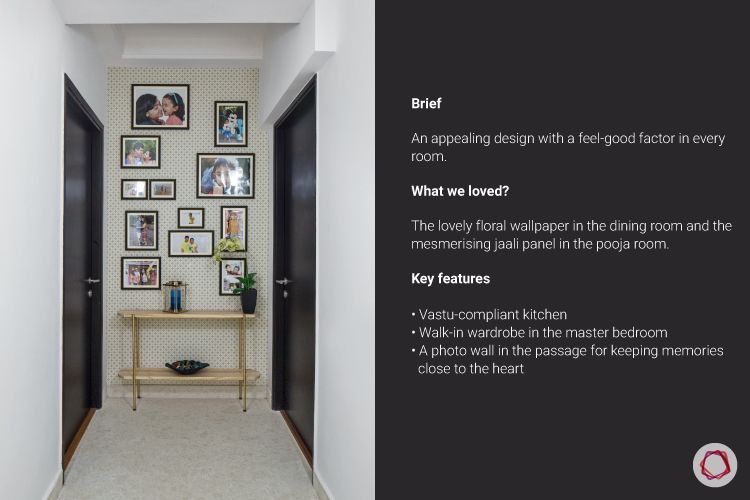 #6: Work & play zone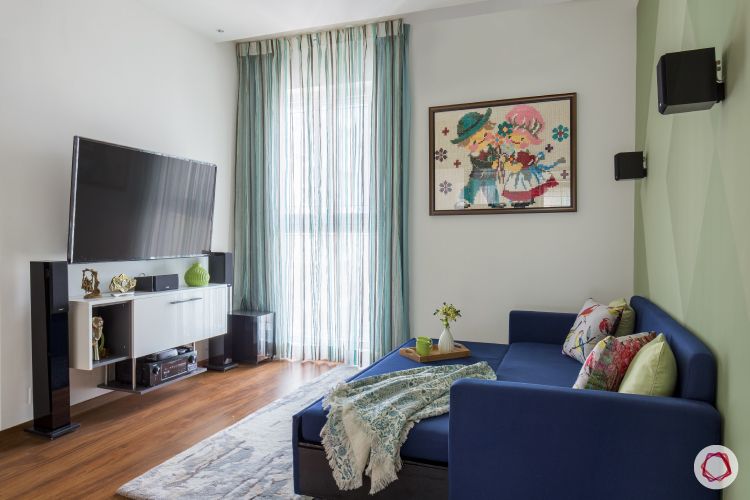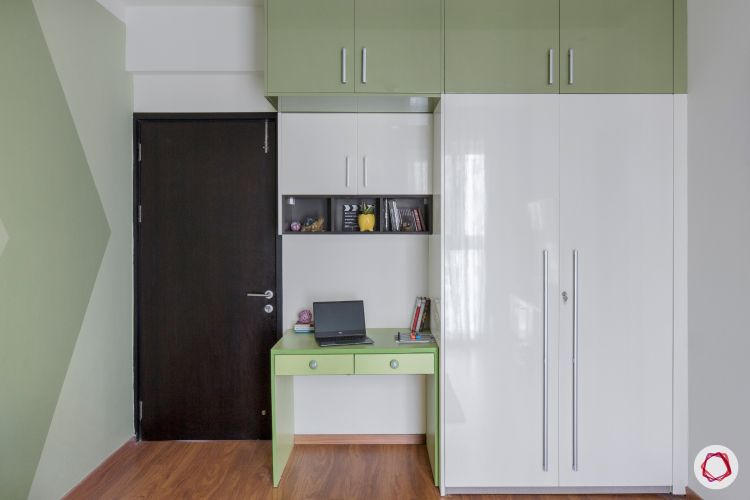 Vinit and Amita wanted to combine the guest, entertainment and study room in one, thus Iesha converted it into a multi-purpose room. She added pastel shades and functional pieces of furniture. With a home theatre system and sofa-cum-bed in place, this room forms the perfect entertainment zone. Wardrobes with lofts provide extra and convenient storage for the family and guests.
#7: Happy young vibes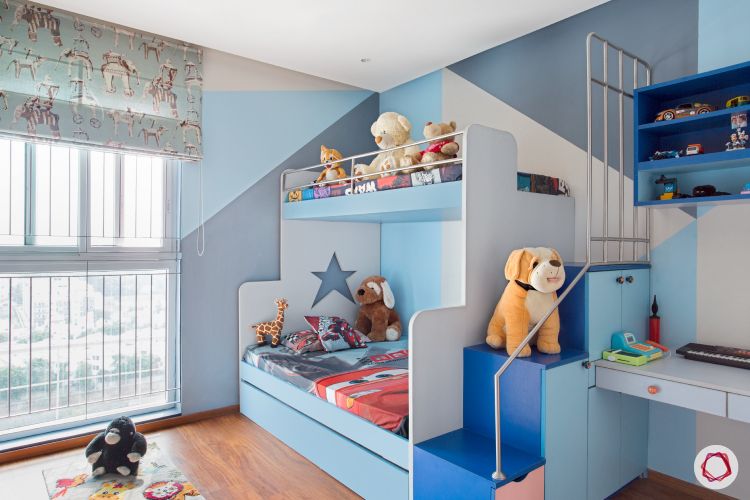 Aarav's room is a reflection of this chirpy and naughty nature. Awash in bright and cheerful colours, the kid's room is a delight. While Aarav is a single child, he was hell-bent on having a bunk bed in his room and Iesha worked around the layout for this one.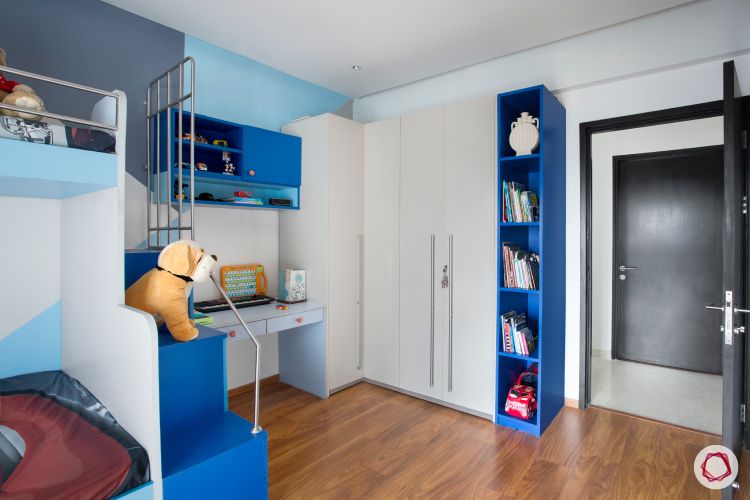 To make the maximum use of available space, she designed the room in such a way that the study, bed and wardrobes fall on one side, allowing free space for Aarav to play on the other.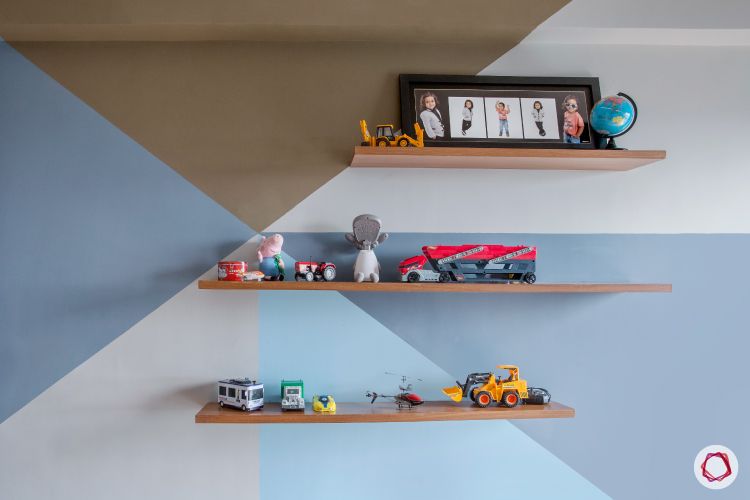 The wardrobe has open shelves where he can keep his story books and ledges on the wall where he can display his favourite toys.
#8: A serene space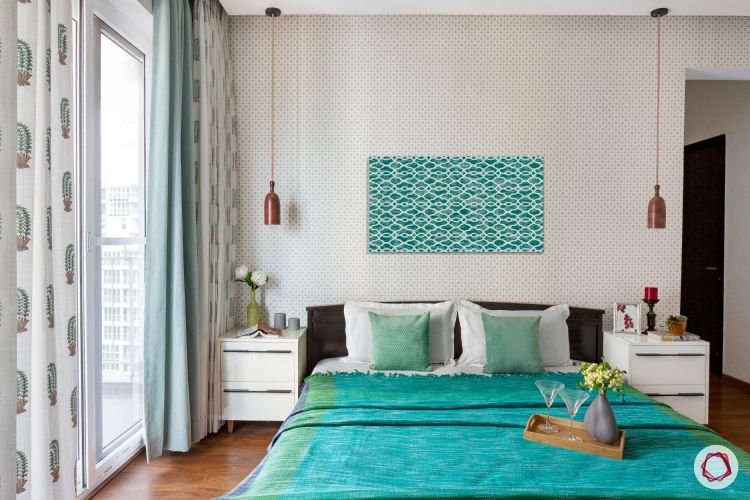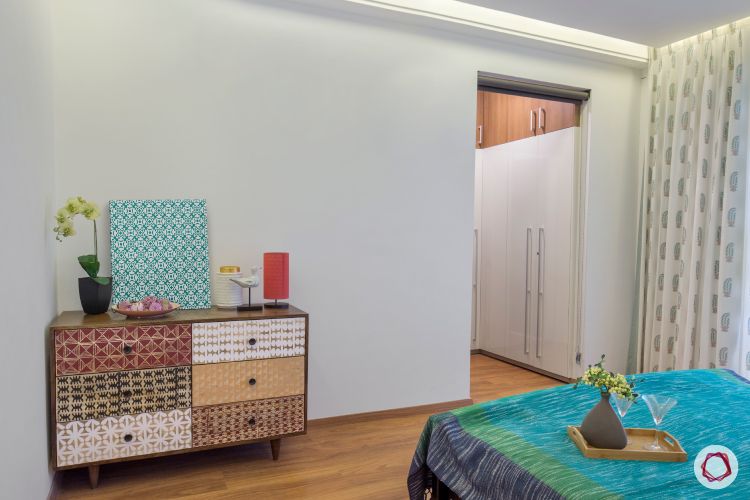 While designing the parents' room, there was a small challenge. The bed in this room was an existing one and Iesha had to design around it. To make things interesting, she decided not to match the dark wood bed with the side tables, but in an ivory alternative. Also, since they wanted to keep the vibe of this room calm and serene, she gave them light sea green-themed drapes and self-design wallpaper. The wooden pendant lights on either side of the bed look fetching and minimalist.
#9: Mustard dreams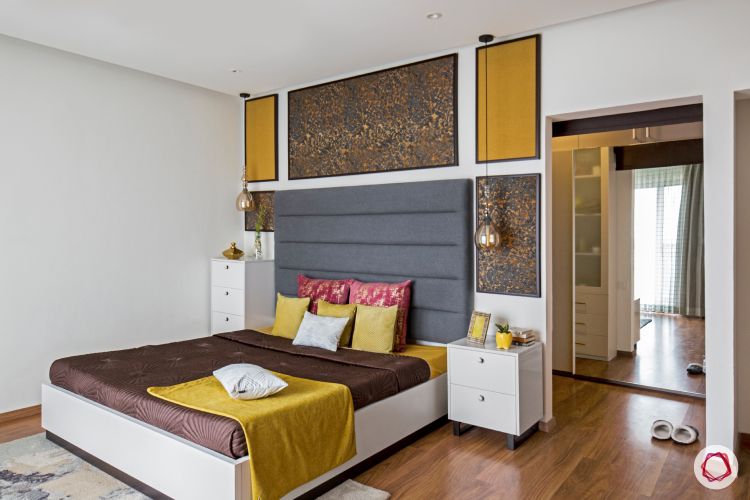 Both Vinit and Amita believe that the bedroom should be one space at home where they feel relaxed. Hence, loud colours or bold patterns were not an option for them. Therefore, Iesha suggested a combination of grey and mustard for their bedroom, paired with plain white walls.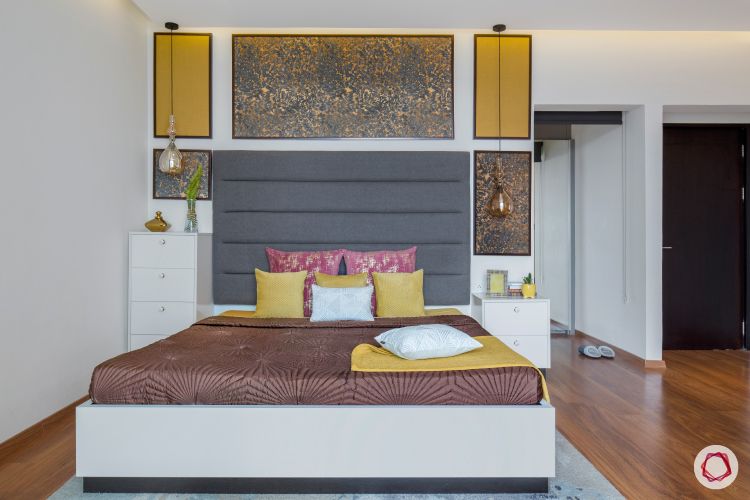 If you look at the headboard wall carefully, you'll see how these beautifully framed fabric pieces come together to create an interesting pattern. Also, since Amita has a lot of stuff to store, Iesha has given a taller side table on her side if the bed. Overall, the feel of the room is kept minimal and cozy.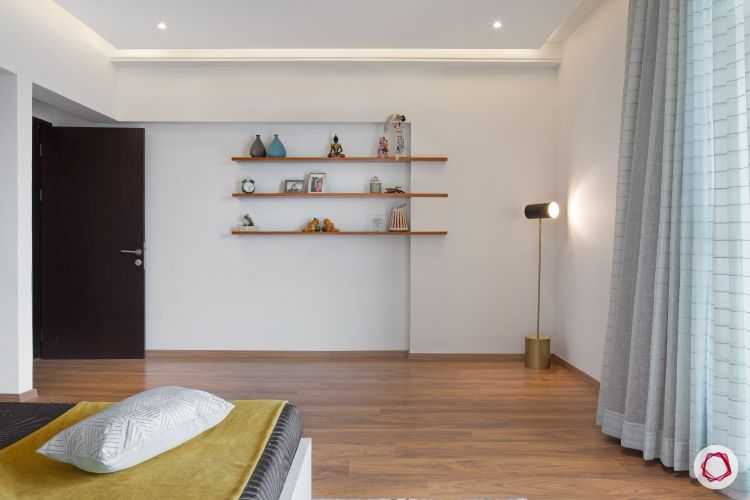 Since Amita loves displaying curios, wooden ledges make their way into this room. This doesn't impose on the room design and keeps things light and lovely!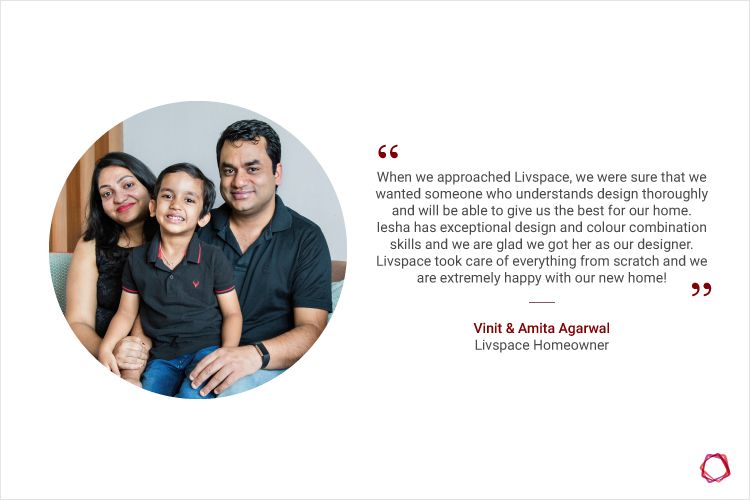 ---
"Both Vinit and Amita are really sweet people and the best part of this project was that I was given so much freedom to experiment. They trusted my designing abilities and were very open to new ideas. It was a pleasure to design for this wonderful couple."

– Iesha Parekh, Interior Designer, Livspace
If you want some more design inspiration, then take a look at the Minimalist Interiors at Sprawling Legacy Estilo Apartment.
How can Livspace help you?
With Livspace, you have access to a team of experienced and talented designers. They can work with you to create a customized and personalized design plan that meets your unique style, preferences, and budget. The platform offers a range of services, including design consultations, 3D rendering, project management, and installation. You can also find the perfect pieces for your home by browsing through products on the platform's online store.
Additionally, Livspace's technology-driven approach allows for efficient communication and collaboration. Thereby, ensuring that your design vision is brought to life with precision and care. Whether you're looking to renovate your existing home or design a new one, Livspace can help you create a beautiful and functional space that meets your needs and exceeds your expectations.
Book an online consultation with Livspace today. To know how our customers feel about working with us, check out these Livspace reviews for more details!
Disclaimer: All contents of the story are specific to the time of publication. Mentions of costs, budget, materials, finishes, and products from the Livspace catalogue can vary regarding current rates. Talk to our designer for more details on pricing and availability.