Whether your home just so happens to be on the smaller side, or you've wholeheartedly embraced small homes, there are some tricky spots that make your design gears may grind to a halt. One such space for Indian homeowners is the pooja room or the mandir. These mandir design in wall plans will help you meet both form and function without breaking the bank.
Mandir Design in Wall Idea #1: Patterned Wallpaper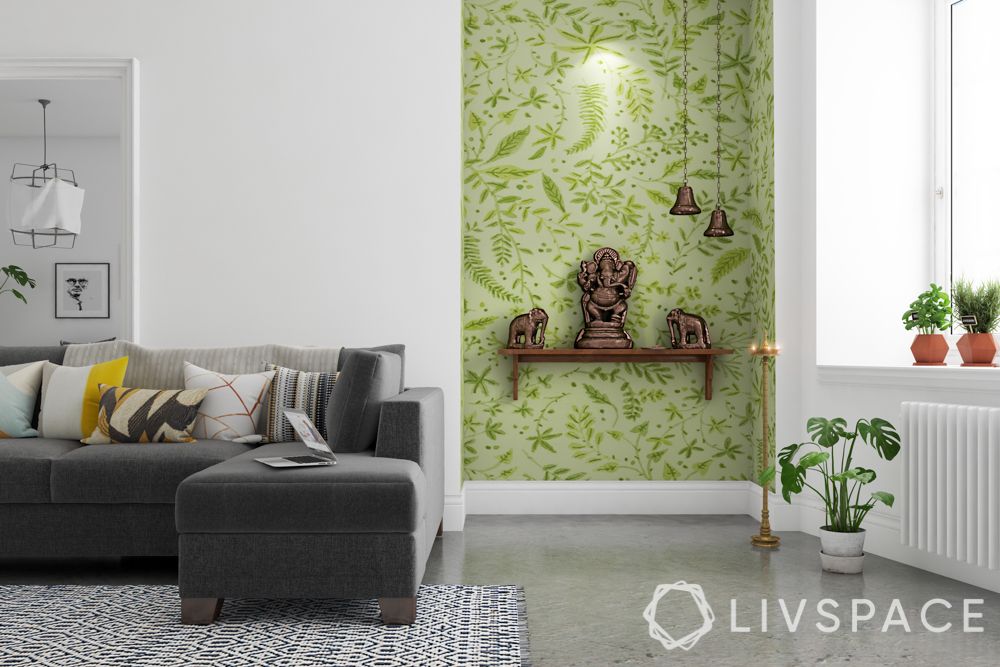 For homeowners looking to marry modern silhouettes and traditional comforts in a small space, simple wall-mounted bronze idols flanked by bright patterned wallpaper will do the trick. In this mandir design, two traditional bells have been hung from the ceiling for a more authentic feel that's balanced by the tropical wallpaper.
Mandir Design in Wall Idea #2: Mosaic Panel Designs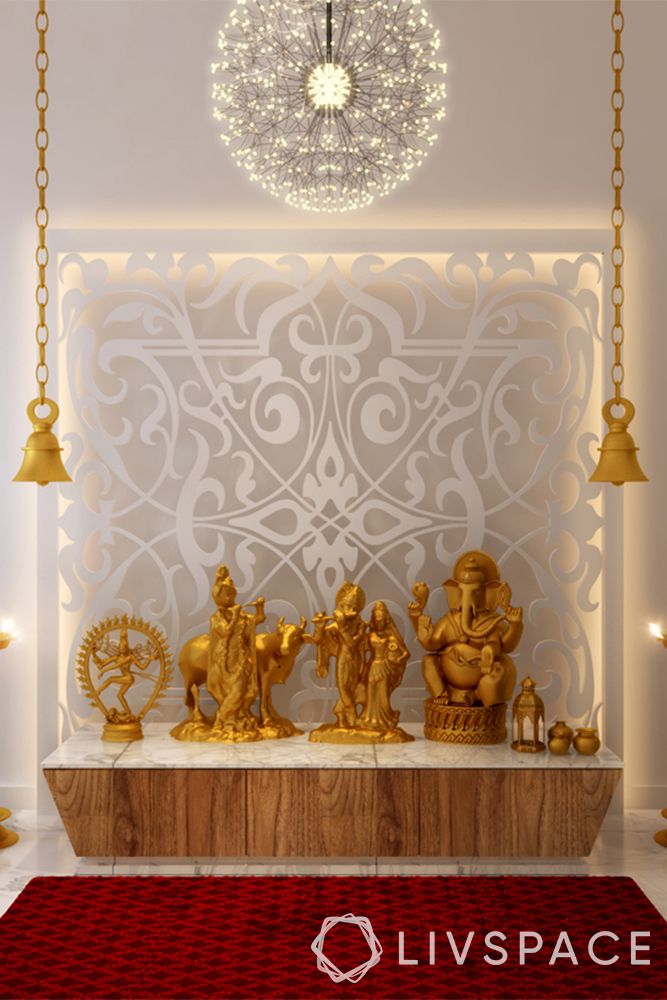 This mandir is backed by a stunning mosaic panel, which complements the bronze idols. The open design of this mandir is what gives it contemporary appeal, despite its purpose being decidedly traditional. Backlighting adds extra drama while the use of wood against bronze creates cohesiveness in design.
Mandir Design in Wall Idea #3: Painted Niches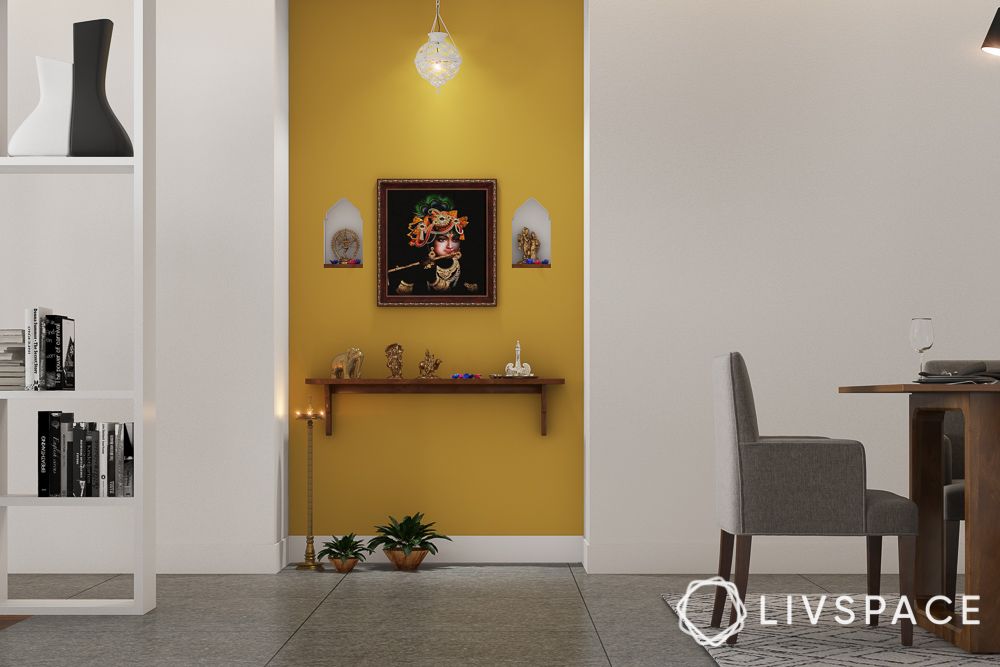 If your home comes with a designated niche for a mandir or pooja room, you're in luck! Despite being a compact space, it can be spruced up with wall-mounted shelves neatly displaying idols as in this home. The two niches serve to put more on display while successfully breaking the monotony of the yellow. By choosing a bright colour for the wall, this mandir is neatly offset from the rest of the space.
Mandir Design in Wall Idea #4: Lattice in Corner Walls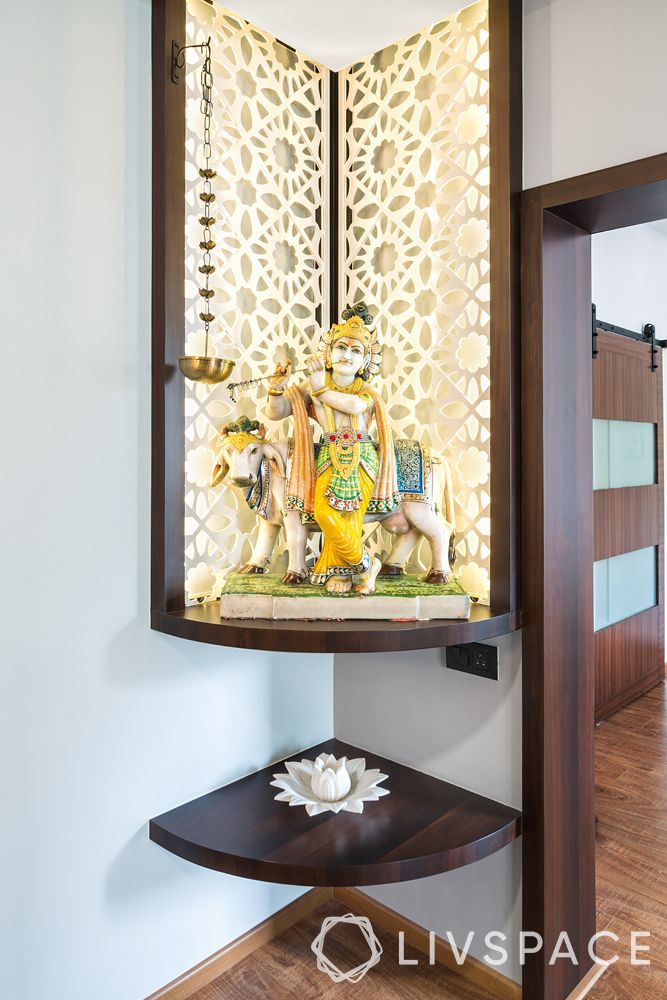 Have a dead corner that you don't quite know what to do with? Make it a site for a mandir on a wall plan and voila! This design is a great space-saver and space-user because it doesn't need a dedicated wall or niche and makes use of empty space rather cleverly. Dress it up with latticework as done in this home, and add an additional floating shelf for prayer essentials.
Mandir Design in Wall Idea #5: Floating Shelves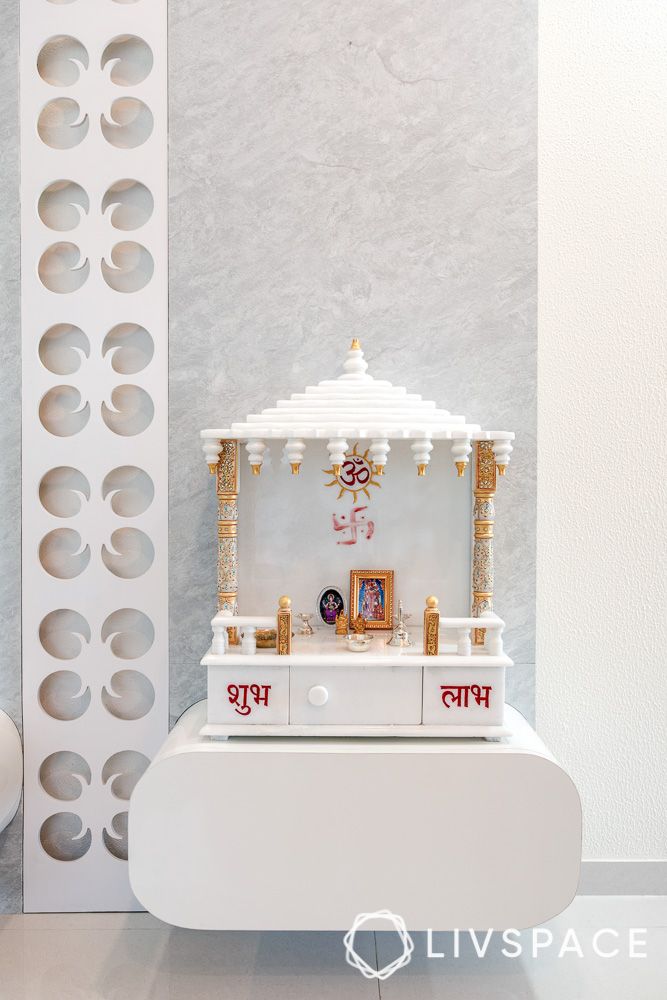 In this pure mandir design, a floating geometric shelf forms the base to an intricately crafted mandir, complete with typographic and saffron details. It's offset by a grey marble wall which breaks the monotony invariably created. Furthermore, a patterned panel to the side adds contemporary appeal. Naturally, this mandir on the wall idea is also a joy to maintain, given the open space all around it.
Introducing a mandir into a modern, compact home might seem like quite the mission, but it's not impossible. All it takes is thought, planning and a little bit of creative flair. Moreover, setting up and arranging your mandir doesn't need to be an arduous process– with such mandir plans, you can easily make use of available space, save on precious square footage and still have a peaceful spot in the home for spiritual reflections
If you enjoyed reading this article, take a look at: Unique Prayer Room Door Options
Check out pooja room designs:
Send in your comments and suggestions.