Our reader's corner section features questions from our readers and provides insights on all topics related to home design, homekeeping and interiors.
This edition's question:
---
I want to include water features in my home. I need some fresh ideas on how I can do this. What type of spaces and rooms are ideal for these?
-Naima Shah, Hyderabad
---
Incorporating indoor water features in your home can help bring in a zen-like vibe, with an atmosphere of peace and tranquility. Indoor water features also add to the ambiance of a space, creating dramatic effects.
Different types of water features you can get for your home
Depending on the type of space that you have, there are different types of indoor water features that you can opt for:
Water streams : A water stream running through the floor can give your space a sophisticated edge. Moving water will have a calming effect too. This kind of water feature will require some space so that it does not obstruct movement.
Indoor ponds : With an indoor pond, you can create a great spot to relax and de-stress. These can be placed next to a zen garden, by your balcony or any other central area of your house.
Fountains : Indoor fountains add a stylish flair to your interiors in a flawless manner. Available in a variety of sizes and styles, they can be used as focal points or placed to side as accents.
Indoor waterfalls: Indoor waterfalls are also a great way of transforming an ordinary space into a beautiful and elegant setting. These are best placed against accent walls which receive a certain amount of natural light.
Free-standing water features: Even in the smallest of spaces, a gorgeous water feature can be installed in the form of a wall mounted or table-top fixture. There are many commercially available options that can be set up in no time.
Best places to install a water feature
Indoor water features can be used to add elegance to your living room, bedroom, hallway, kitchen or even bathroom. Streams, ponds and waterfalls are ideal for the living room, where many people can see them. A waterfall can also be installed under the staircase of your home. For a free standing water feature, choose a focal position so that the water feature can take the center stage.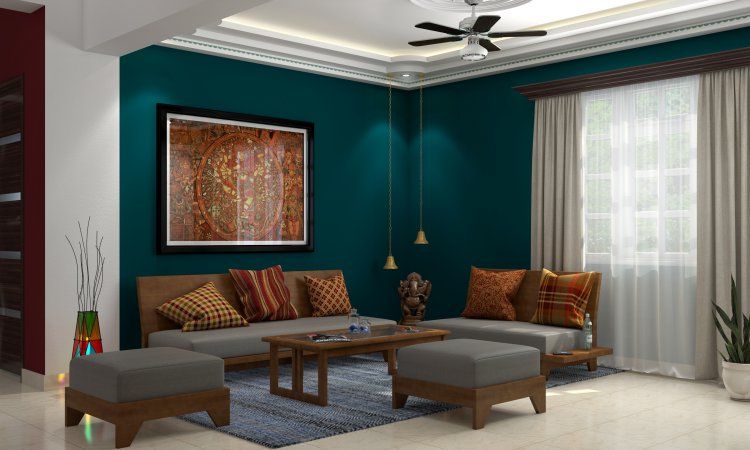 In a living room arrangement like the one above above, the corner space is the perfect place to add in a fountain or a similar water feature.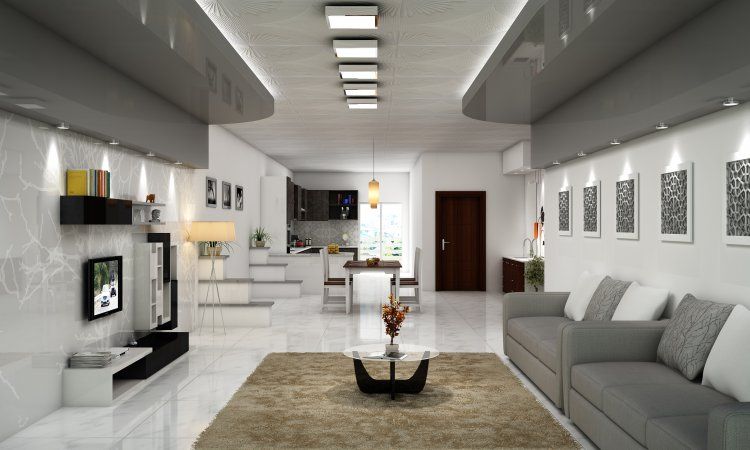 A spacious living area like this can easily incorporate flowing water features like streams or ponds. You can even set up fountains along the stairs.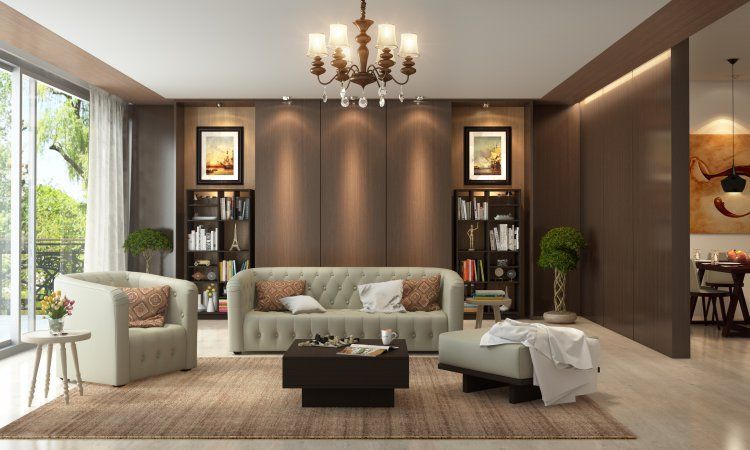 The living room above can flaunt a wall mounted water feature or even a roof to floor waterfall along its window facing wall.
Have a question on interior design, decor or home keeping? Write to us at askanexpert@livspace.com