Relaxing and pleasing—these are the two main things that pop into your head when you hear the sound of trickling water on a bed of rocks. It's no wonder spas use indoor water fountain ideas to promote a soothing and calming environment.
Benefits of Indoor Water Fountains According to Feng Shui
According to Feng Shui experts, flowing water symbolises prosperity and wealth. So, not only does an indoor water fountain offer a focal point in your decor, it also promotes good fortune!
Below we hash out the different types of indoor water fountain designs and where you can place them.
3 Basic Types of Indoor Fountain Ideas for Home
Indoor water feature ideas are categorised into 3 basic types by the way they are installed—wall-mounted, floor-mounted and tabletop fountains. Here are a few big and small indoor water fountains.
#1: Wall-Mounted Indoor Fountains Ideas for Home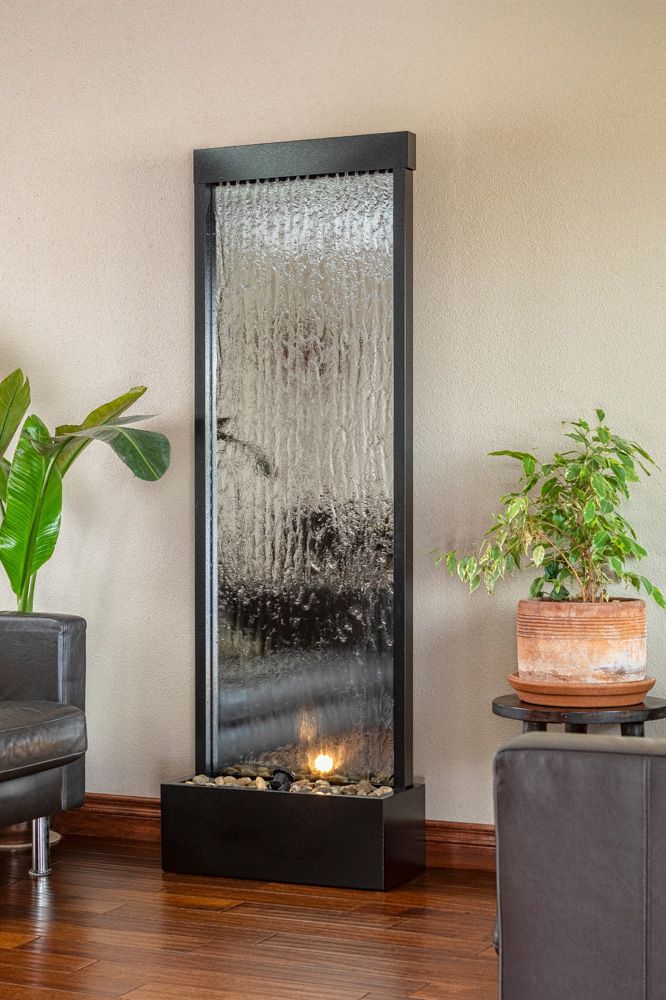 Wall-mounted indoor water fountain ideas for home are a more contemporary concept in terms of their design. These are usually installed in hotel lobbies and public spaces to add dimension to high-traffic areas. If you have a compact apartment, don't let that deter you. You can still install your very own wall-mounted water body, like the one pictured above. The use of the mirror lends to the feeling of spaciousness in a small space. The flowing water in such sleek indoor water fountain designs will liven up your home.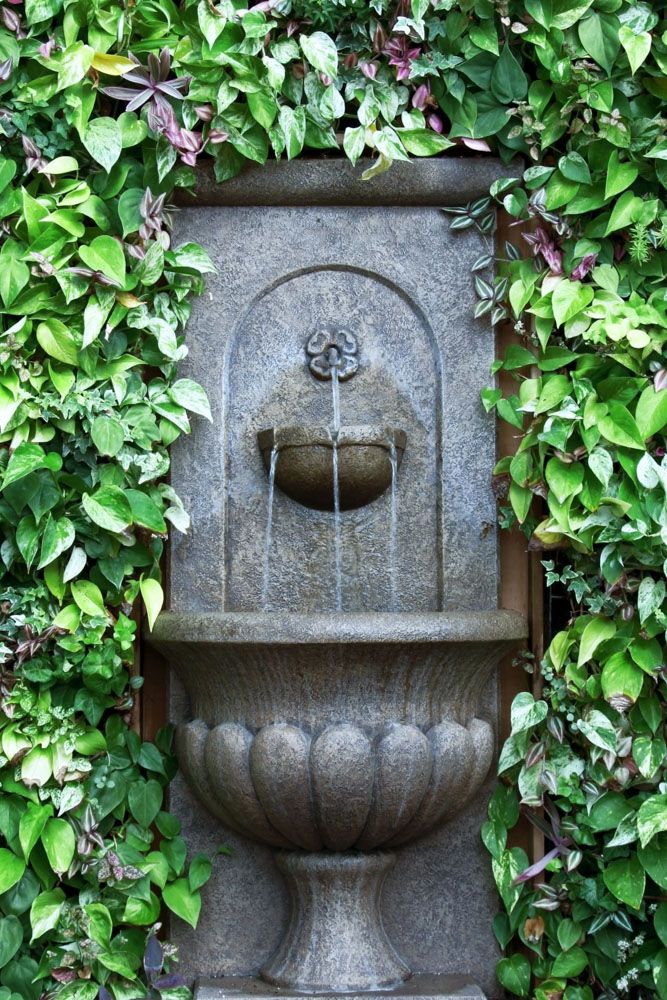 If you are lucky enough to have some open space, then one of the wall-hung indoor water fountain design ideas made of stone or concrete will look great. We love this indoor water fountain idea that makes calming sounds of falling water.
#2: A Floor-Mounted Indoor Water Fountain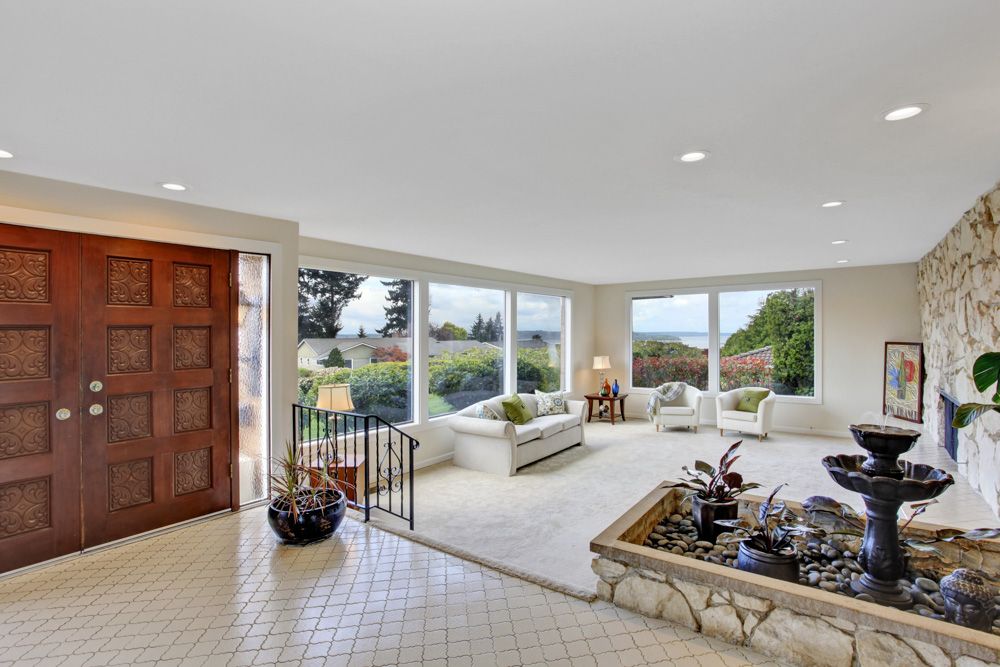 Floor-mounted indoor water fountain ideas typically embody a very traditional and earthy spirit. They are carved from stone or made from terracotta and can be installed indoors. Pick a spot that not only grabs eyeballs but also doesn't get in people's way. You don't want your guests to have to walk around your water paradise every time they get up for bathroom breaks.
The glamourous indoor water fountain design idea pictured above is ideal for large living spaces in muted palettes. You don't want your furniture to compete for attention with your fountain!
#3: A Tabletop Water Fountain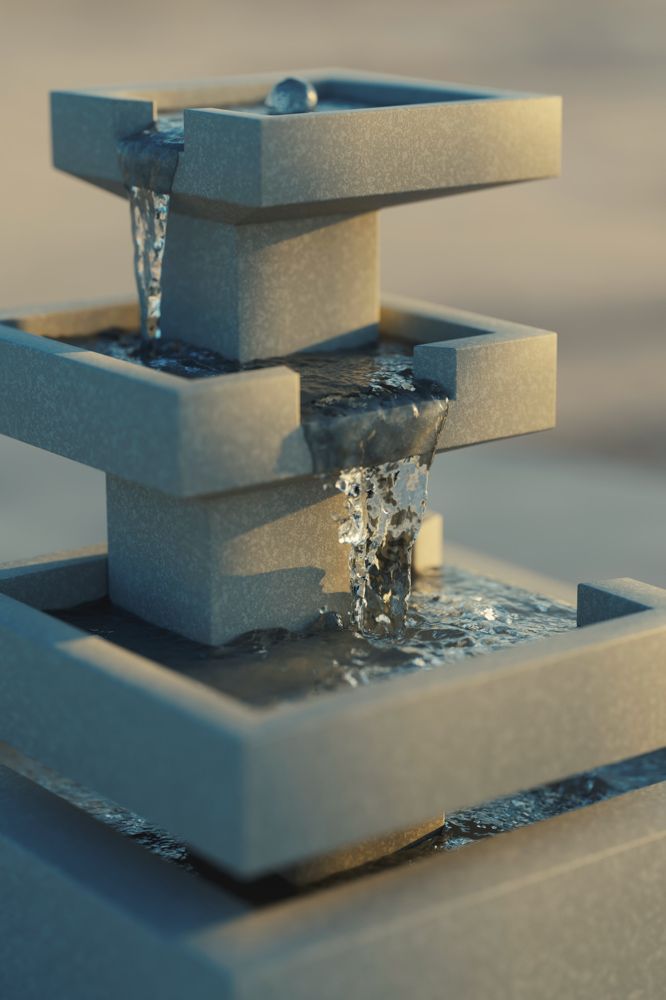 If the above indoor fountain ideas for homes seem too permanent, and you'd like to just dip your toes into the idea, then tabletop water fountains are what you're looking for.
The stone cascade indoor water fountain seen in the image looks great on a console in your entryway or even by a picture window. If you do have a balcony, even if it's a tiny space, this tabletop piece would work well there.
Design-Wise Indoor Fountain Ideas for Home
Indoor water fountains can also be defined by their designs and here are some common ones that you will find.
#1: Japanese Bamboo Fountains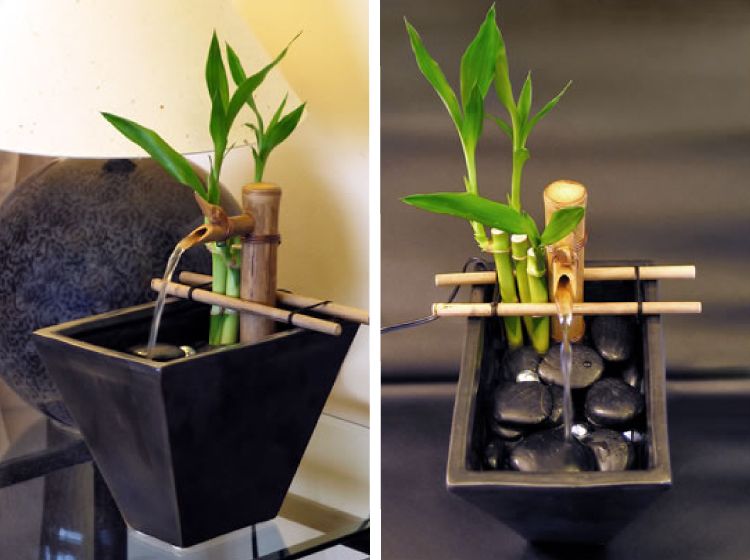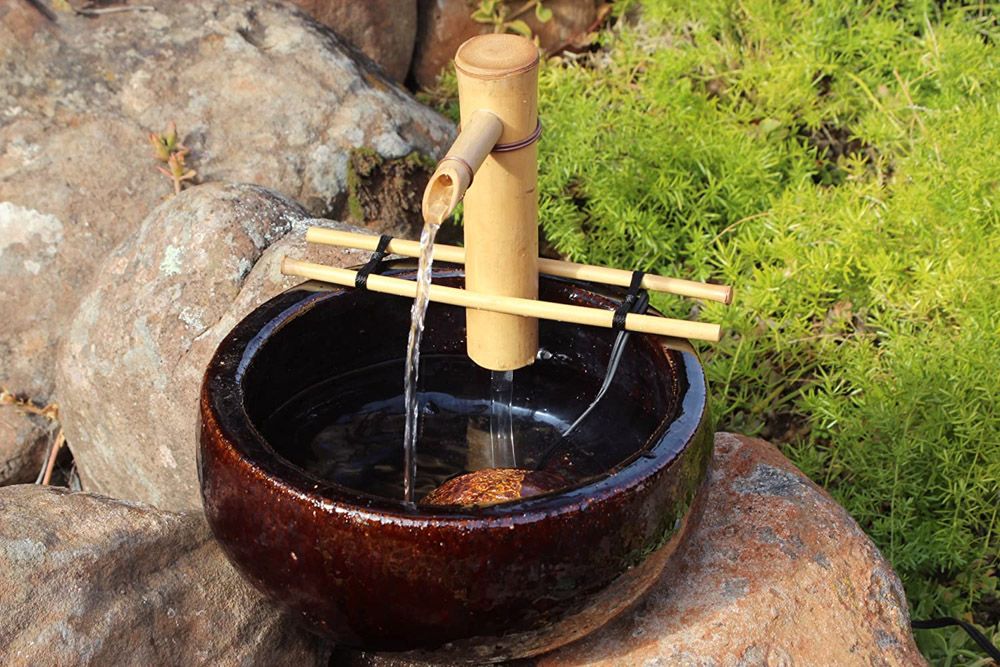 If you fancy something more organic and natural, then bamboo indoor fountain ideas for homes will do the job. The best part? You don't have to buy it. You can try your hand at this simple DIY. All you need is a few rocks, a vessel for the water to circulate in, a pump and a spout for the water to flow through. Head here for instructions.
#2: A Cascading Indoor Water Fountain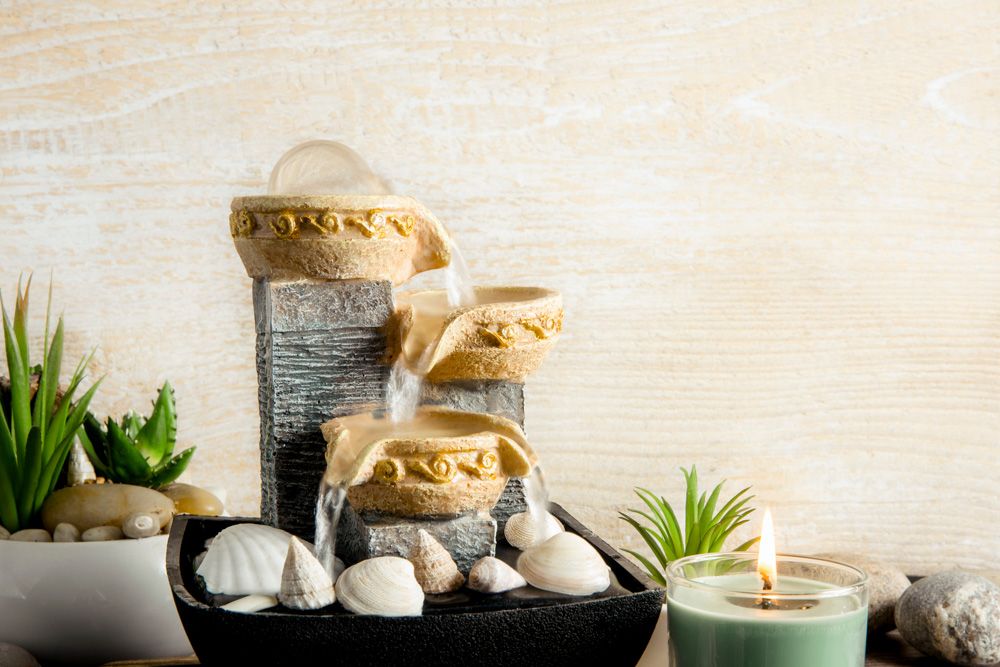 Compact and earthy, this tabletop indoor fountain idea for the home will instantly lift any corner in your living room. If extraordinary is what you're going for, prop it on a side table and allow its energy to flow through your seating area.
#3: A Tiered Fountain Design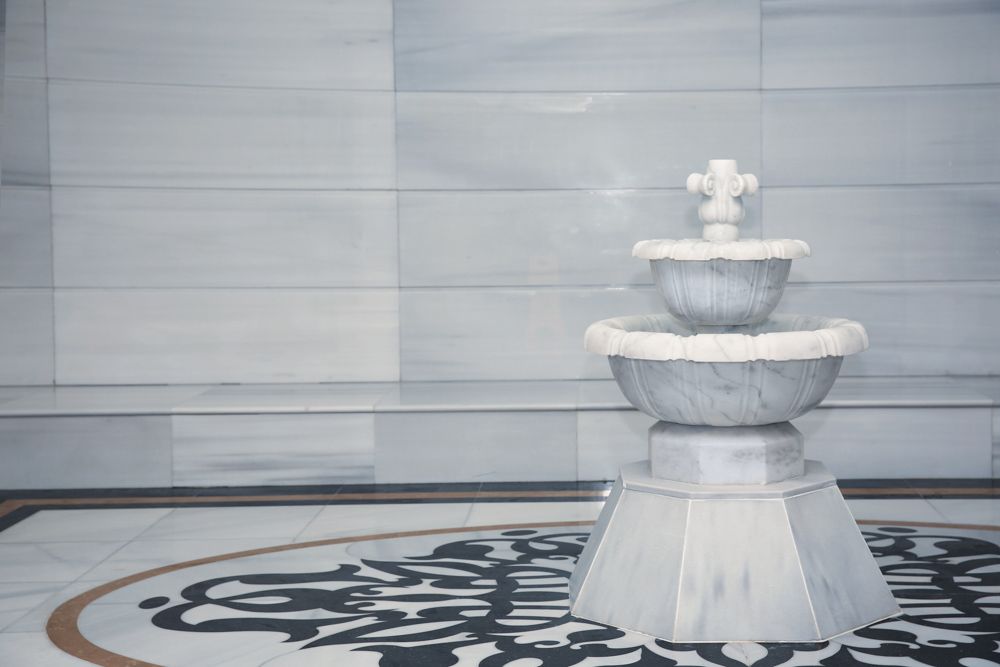 If you can't have anything simple and need that fancy energy to rule your home, a tiered indoor fountain idea for home will be the best for you. Nothing says welcome like these white stone, 3-tiered fountains in foyers. That is why you see them at the entrance to most worshipping places.
#4: Zen Indoor Fountain Ideas for Home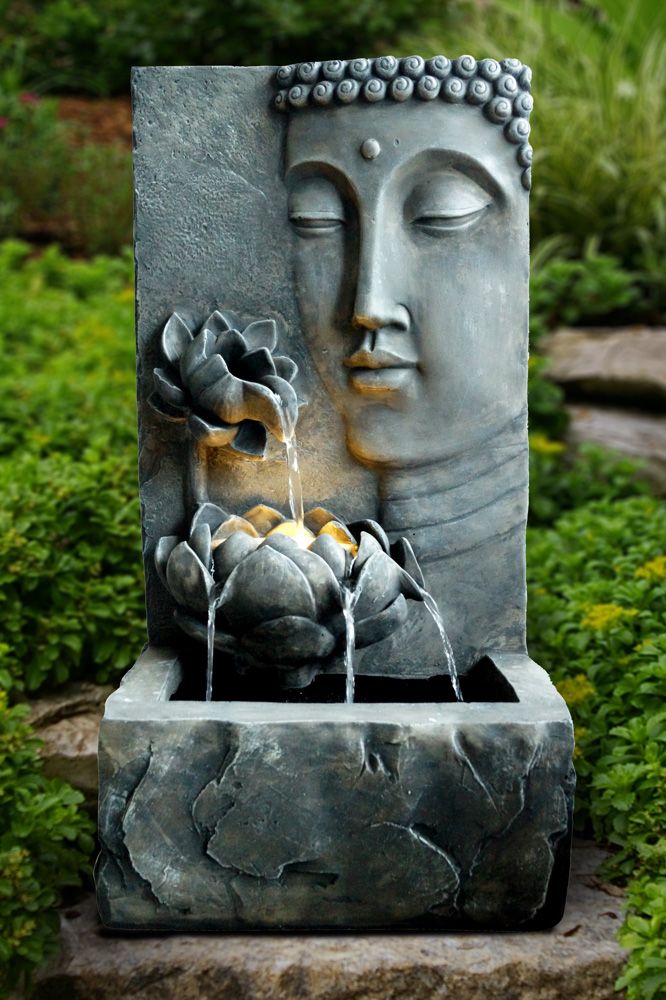 The Buddha statue is another Feng Shui element that you want to keep around your house. Combining the power of flowing water and Buddha will create a zen environment in your home. But remember to not place it in any private areas. A balcony or foyer area is more appropriate.
Where to Install these Indoor Fountain Ideas for Homes
Undoubtedly, the best place to install your water fountain is your garden, portico or even at your entrance. Unfortunately, not many of us are blessed with the luxury of open space or even a grand entrance. Therefore, to reap the most benefits, Feng Shui experts suggest placing your indoor water feature in the wealth corners of your home—south-east, south-west and north.
The Dos and Don'ts When It Comes to Indoor Water Fountain Designs
Dos:
Water fountain indoor Vastu and Feng Shui rules recommend that you place your fountain at the entrance so it can deflect negative energies but capture the right ones.
Clean your fountain as frequently as you can. Any kind of stagnation or impurity affects the energy of your home. Remember the magic is in the flowing water of your indoor fountain.
Don'ts
Don't place the fountain at the centre of your home, as it impacts the potential of your flowing-water feature in the house.
Also avoid putting these fountains in your bedrooms and bathrooms as it can cause troubles in your personal life.
How Can Livspace Help You?
We hope you found our ideas useful! If you want beautiful interiors for your home, then look no further. Book an online consultation with Livspace today.
Send in your comments and suggestions to editor@livspace.com