The bathroom — it might seem like an insignificant room at home, but is essence, it is one space where great ideas are sometimes born. So, are you stuck with a 90's bathroom design that is crying out for a remodel? A bathroom remodel will most probably burn a hole in your pocket, but if you tread carefully, you can give it a new look with just a few changes here and there. While you're home with your family or all by yourself, this can be the perfect weekend project that helps you bond over decor ideas, paint and other knick-knacks. Read on to find out what you can do to infuse freshness into a dull bathroom.
Bathroom Remodel Idea #1: Spruce up the walls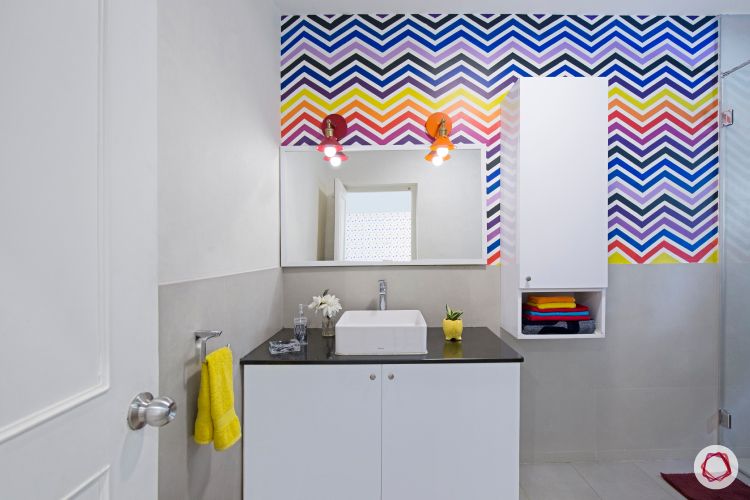 What is the first thing that you see when you enter any room? The walls, right? While most bathrooms have tiles on the walls, when you're thinking about bathroom remodel, it is best to start with jazzing up the walls. Think geometric patterns, decals, colourful wallpapers, Tileskin (easy to apply and remove) or just a fresh coat of paint. This will instantly change the way your bathroom looks.
Bathroom Remodel Idea #2: Add that WOW factor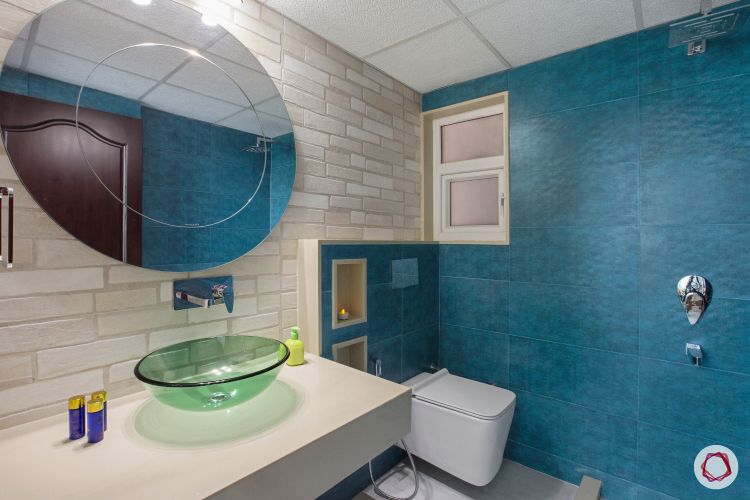 Are you still looking at your reflection in a rusty or old mirror in your bathroom? Well, it's time to add that glam factor with a statement piece in place of that. Find a great deal on that accent mirror that you've had your eyes set on. A simple thing like replacing your old mirror with a pretty new one can be a huge step towards your bathroom remodel. Look out for quirky round ones or stick to the conventional rectangle shape.
Bathroom Remodel Idea #3: How about artwork or quirky posters?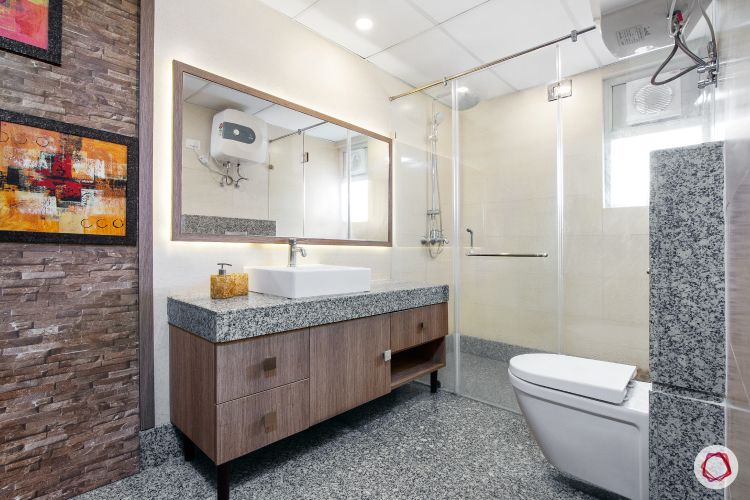 You do not need super expensive or exclusive paintings for this one. If you have some nice posters or hangings from flea markets or travels, this is the time to show them off for your bathroom remodel. Add a dash of colour to plain walls with bright artwork and see how the face of your bathroom changes. Just make sure you keep it away from the shower area to save them from splashes of water and wear and tear.
Bathroom Remodel Idea #4: Stylish wrought iron shelves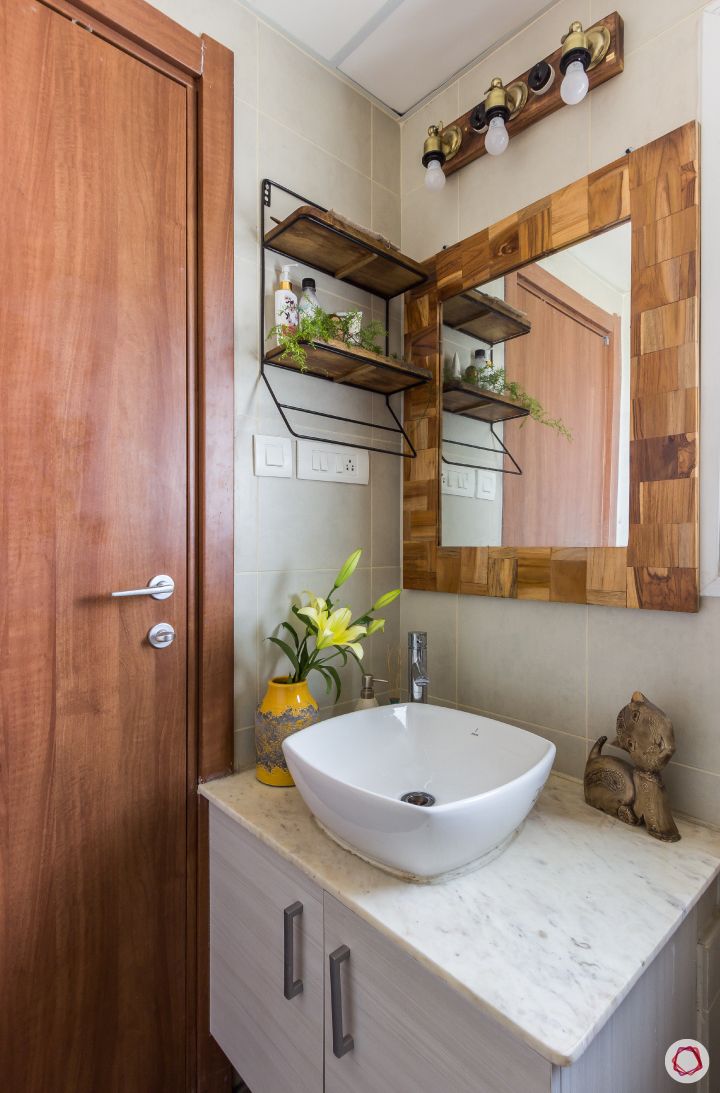 Trick your bathroom into having more storage while making it look sleek and stylish. Wrought iron shelves are amazing because they blend with almost any design style. Another advantage of these shelves is that you can install them in any corner — next to the sink, in the shower cubicle or above your bathtub. Versatile and chic, these are sure to give your bathroom a makeover.
Bathroom Remodel Idea #5: Let greenery take over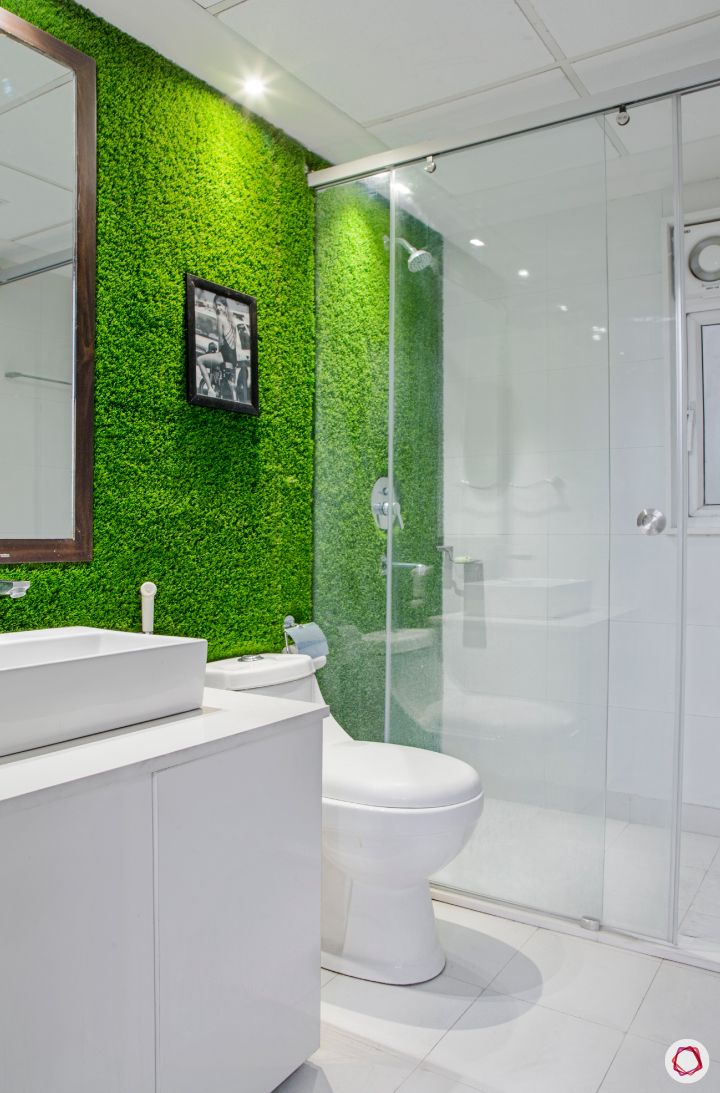 Plants and flowers do not belong only to your balcony or garden. Get them indoors and witness the freshness they can infuse into your interiors. Your bathroom is an ideal spot to place tiny pots of plants because they add to the aesthetics and are super easy to water. You can also go that extra mile and put up an artificial grass wall. Get creative and place colourful planters or just DIY some to aid in your bathroom remodel.
Bathroom Remodel Idea #6: Install a shower curtain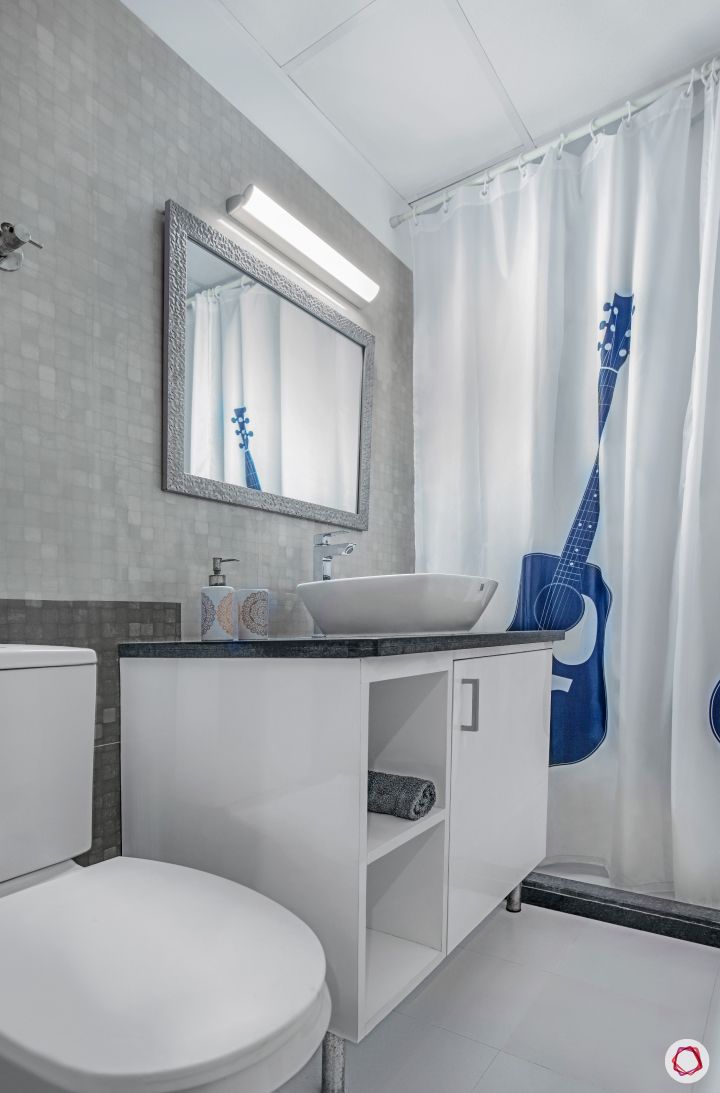 Jazz up a boring bathroom by adding patterns and prints in the form of fabric. If you still haven't created a partition between your shower cubicle and the rest of the space, then you might want to consider this tip. Install a shower curtain with your favourite colour or print and you will feel the difference from the moment you step in.
Bathroom Remodel Idea #7: Get a statement light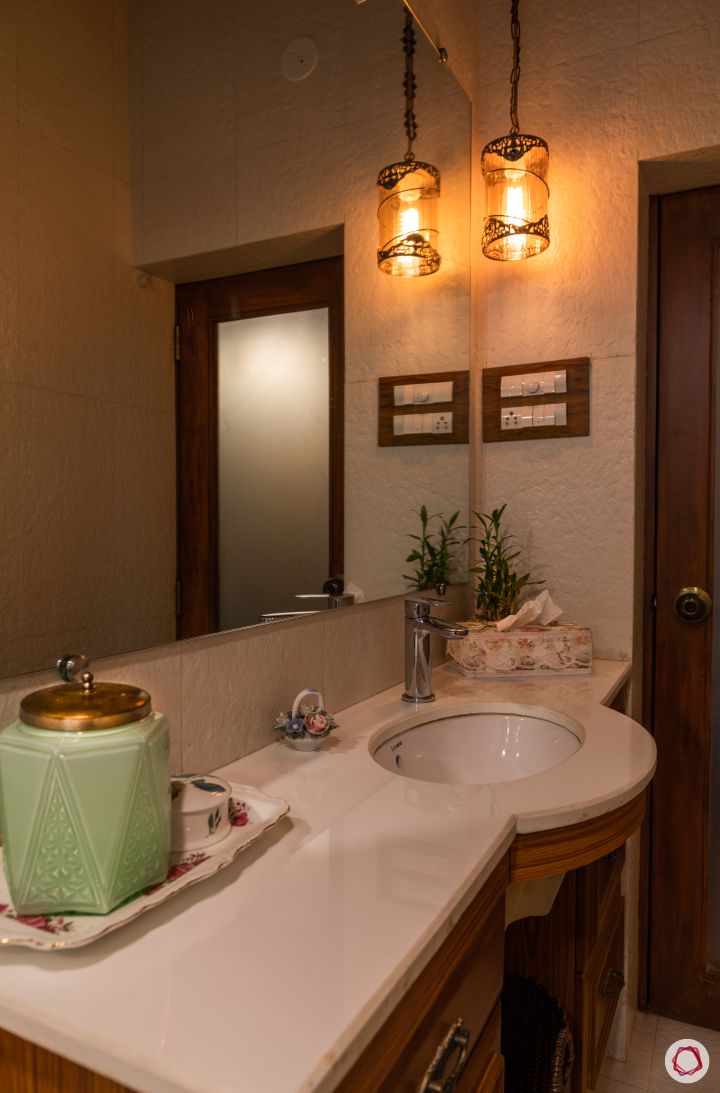 This trick does not require a lot of effort if you just have an electric point in the right place. Lay your hands on an elegant and sleek pendant light and hang it in the vanity zone. It not only lights up the area but also makes the area look decorated. Choose from crystal, metallic or just simple glass pendants for this tip to shine through your bathroom remodel project.
Bathroom Remodel Idea #8: Decorative accessory sets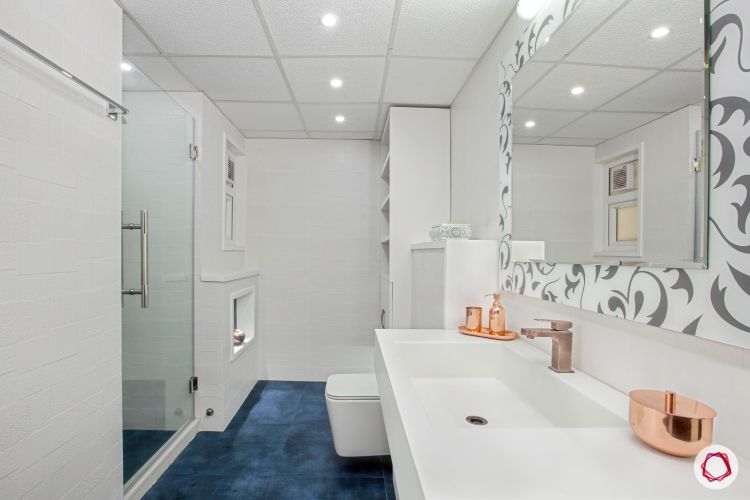 It does not take a lot of effort to beautify the interiors of any room, if you have a passion for it. Our clients love everything rose gold and wanted to add elements of it in their bathroom. We love the hints of metallic finish on the soap sets in this bathroom. If you're not the glam type, then you can get some earthy sets from the nearby store to decorate the vanity area in your bathroom remodel.
Bathroom Remodel Idea #9: For that spa-like feel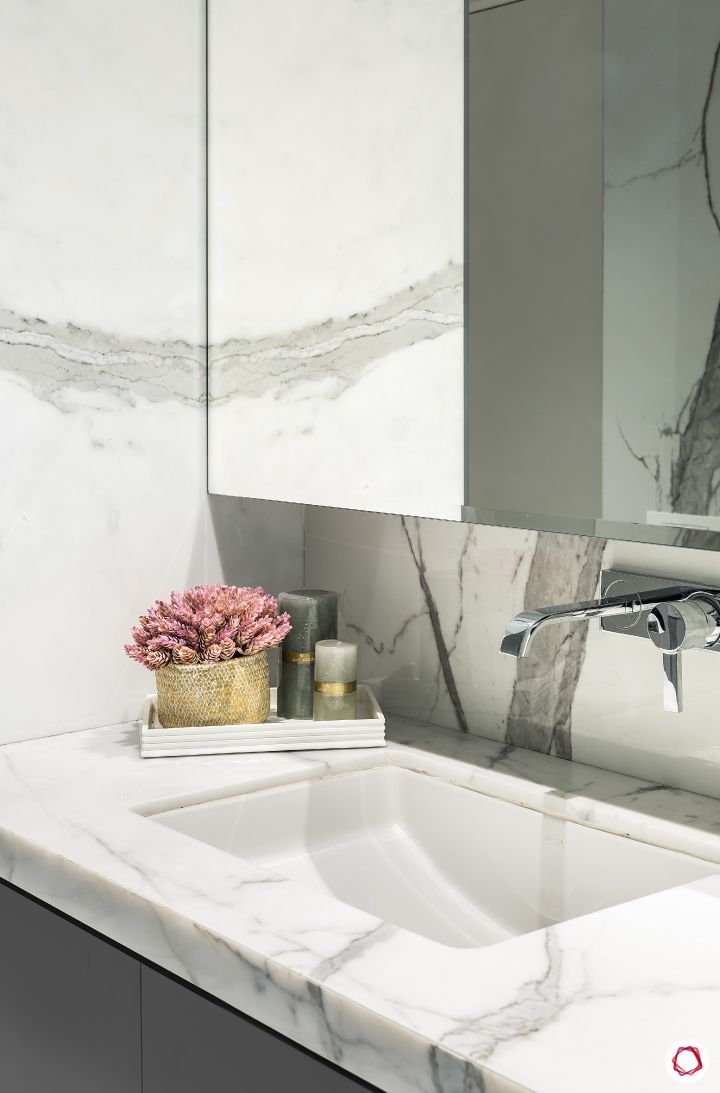 Scented candles and potpourri for bathroom remodel anyone? Well, no matter how dull your bathroom looks, if you do not have time for carrying out any of the above ideas then this one's for you. Place a tray full of gorgeous candles and decorative potpourri to liven it up. This has to be the easiest tip out here.
Are you weekend-ready now? Bathroom remodel should be a great activity for the weekend if you do not have any other plans lined up. Also, if you want to go a notch higher, read this: How to Turn the Smallest Bathroom into a Spa.
Send in your comments and suggestions.