The living room is a portal to your contemporary aesthetic. With the TV being a central focal point in most homes, the right wall mounted TV unit is crucial to create a stylish, modern vista in your home. Here are 10 ways to make a statement with your TV wall design.
TV Wall Design #1: Stone Veneer Wall
Stone veneers introduce a bold, striking texture into design. In this home, it acts as a feature wall behind the wall mounted TV unit, visually separating the living room from the adjacent breakfast bar/counter space, and adds a much needed pop of colour into this otherwise monochromatic space.
TV Wall Design #2: Wooden Veneer Wall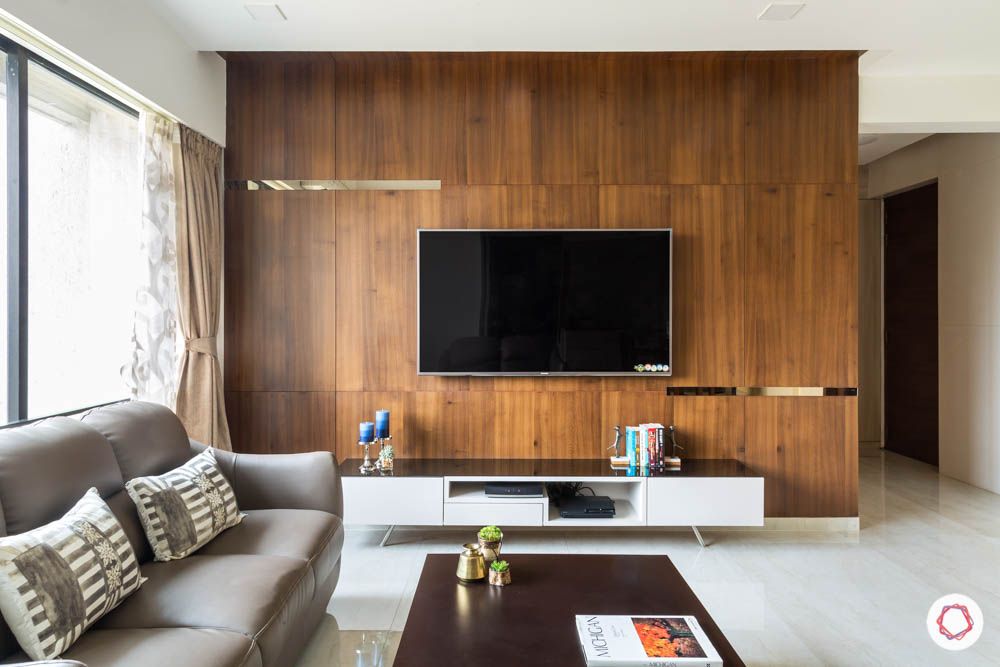 Wooden veneer and a wall mounted TV unit with mid-century style furnishing can quickly transform your space into an idyllic cabin. Use pristine marble flooring, light-coloured sofas, sheer curtains and gold embellishments to brighten up the space and add a touch of luxury.
TV Wall Design #3: TV Unit Partition
Partition walls with a TV unit are a great space-saving tip for smaller, contemporary homes. In this home, the striking, geometric pattern brings attention to the TV. You can also try echoing the colours across the room for a cohesive design. We used yellow pillows and patterned bedspread, and contrasting teal upholstery.
TV Wall Design #4: Textured Tiles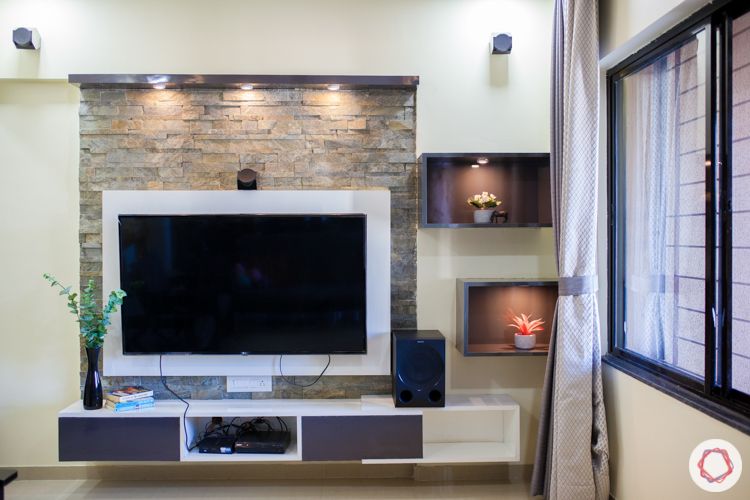 Textured tiles can help you add depth to your TV unit. We took it one step further by incorporating a faux brick wall, floating bookshelves and plenty of potted plants to amp up the rustic, zen vibe in the space.
TV Wall Design #5: Wooden Panelling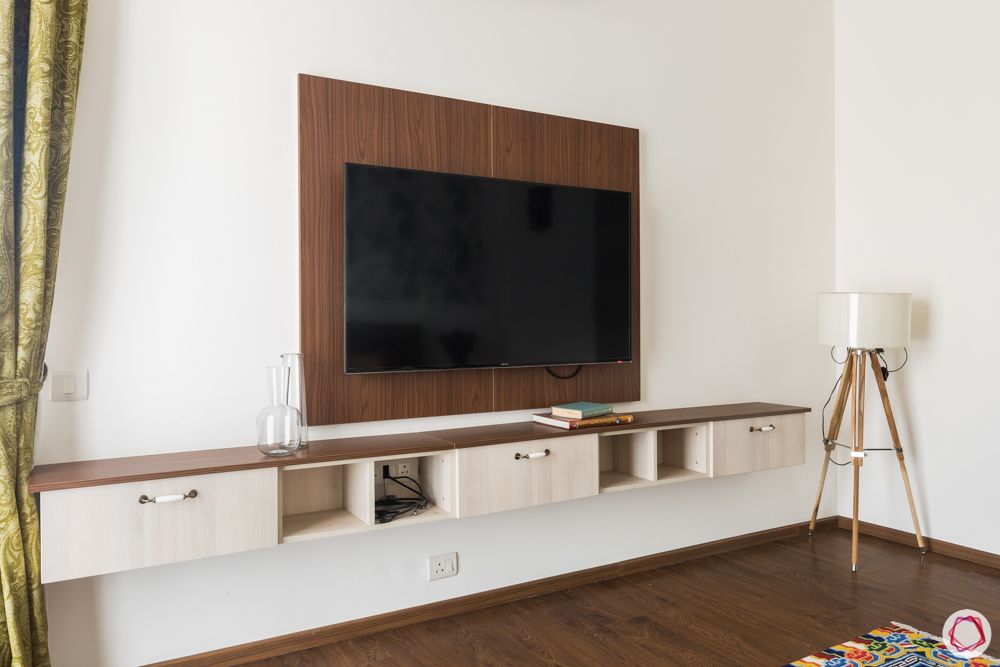 A complete wooden wall may not appeal to your style and the weather conditions of your city. Hence, you can opt for a minimally designed wooden panel for a rustic and sleek design. Here, there's a mix of light wood and dark wood in the unit, giving it a warm yet neat look.

TV Wall Design #6: Textured Wallpaper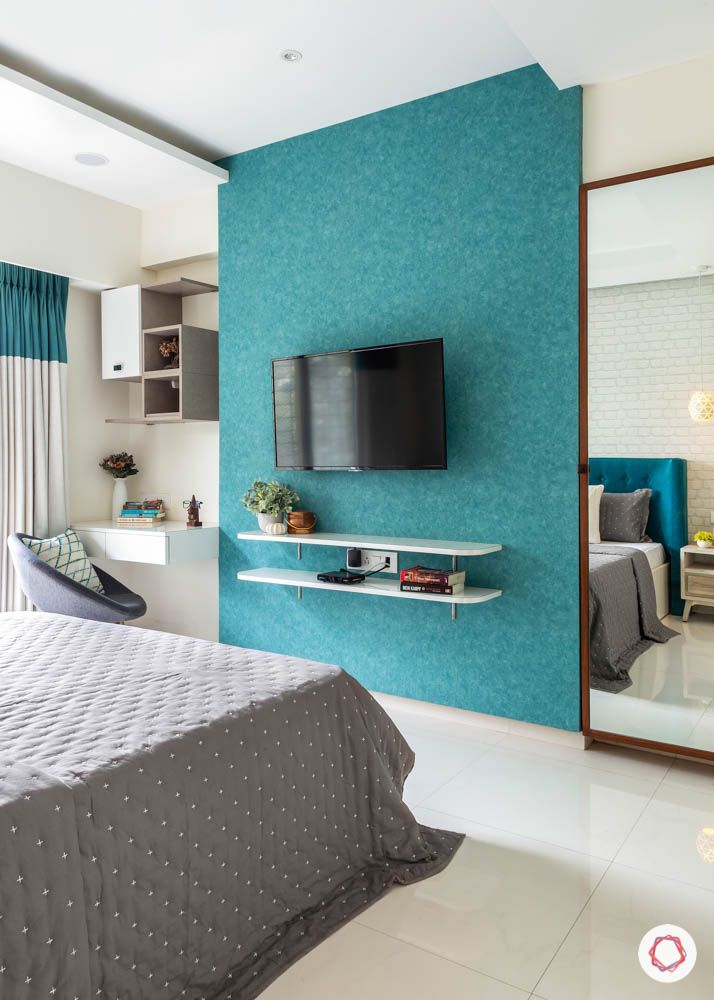 A textured wallpaper can change the look of your TV unit. This teal one reminds us of a serene Mediterranean beach… especially when paired with clean, white shelves, neutral grey furnishings and full length mirror.
TV Wall Design #7: PU Wall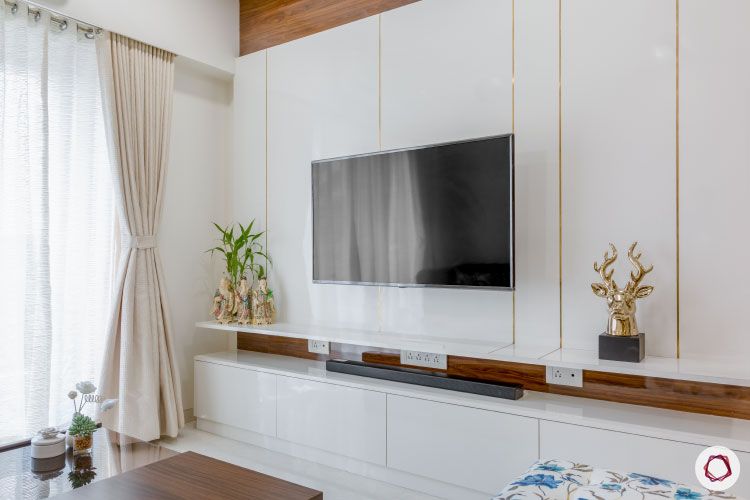 This kind of shiny polyurethane wall finish with gold detailing, and the end-to-end white floor cabinets add quirky glam to your wall mounted TV unit. We even went the extra mile with layered beige curtains, wooden furnishings, some potted plants and a golden deer statuette.
TV Wall Design #8: Painted With Trims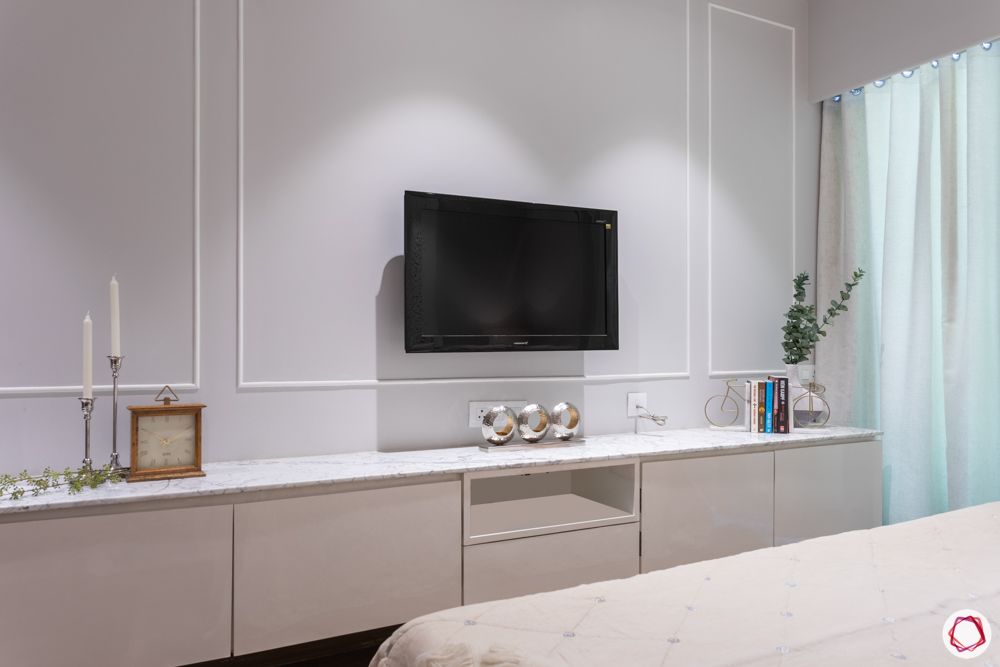 White moulding and mauve paint come together to create this royal yet relaxing bedroom. The blush pink floor cabinets with a marble countertop provide plenty of storage while the tufted mattress adds a touch of sophistication. We used an antique clock, metal spheres and brass candlesticks for a stately yet modern look to the space.
TV Wall Design #9: Marble Wall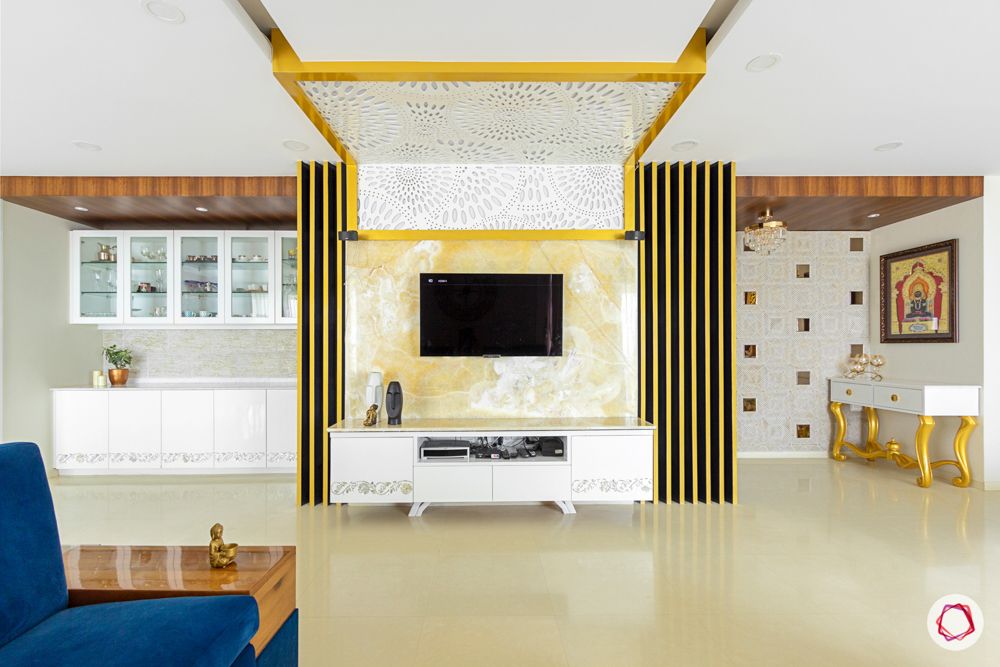 Marble can transform your wall mounted TV unit into elegant artwork. Aside from being eye-catching, this blonde marble and intricate jaali ceiling centers the unit within the asymmetrical room. Off white flooring and pristine white console table complement this bold design.
TV Wall Design #10: Onyx Wall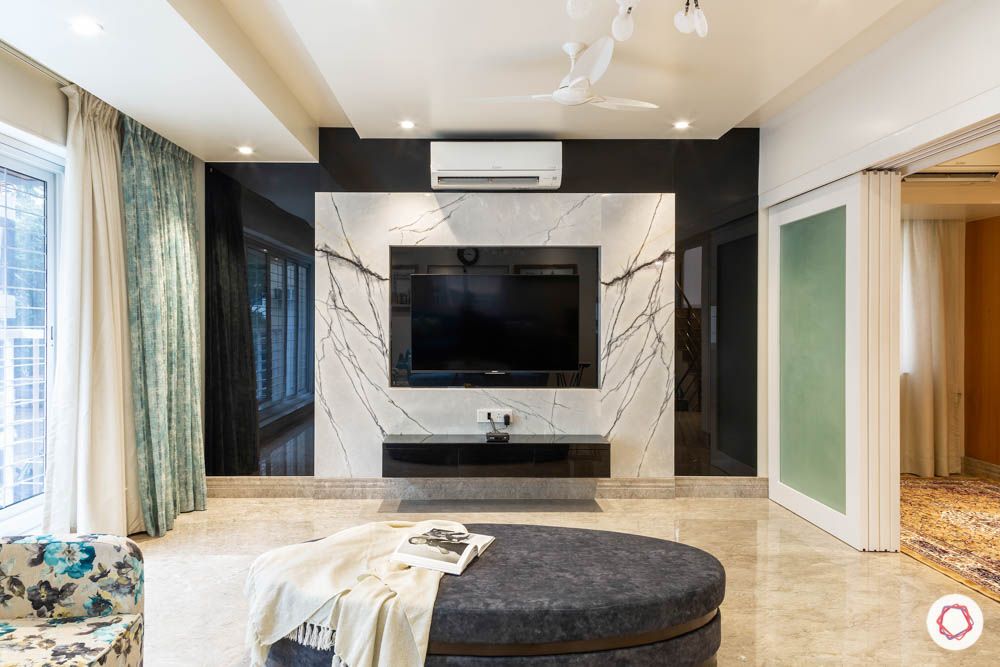 Onyx tiles add a sophisticated look to your TV unit, especially when framed with glossy, black tiles and a sleek floating console. We paired this with a suspended ceiling design, hidden LED light fixtures, a gorgeous marble flooring along with a pop of mint green to create a timelessly elegant design.
If you enjoyed reading this article, take a look at: Turn Bare Walls Into Accent Walls
Send in your comments and suggestions.