Your college days are going to be some of the best days of your life – these colorful, fun-filled days make for bittersweet memories. However, the same cannot be said about college hostels; austere interiors mixed with a gamut of rules and restrictions are the antithesis of fun.
So, let's get straight to it. Are you bored of looking at the same whitewashed walls and have you been looking for ways to make your hostel room truly your own? Then we have just the right budget-friendly DIY tips you need to transform your room into a unique space:
1. Polka dot walls
Gather leftover paper from the last assignment that you submitted, or the last gift you wrapped. Alternatively, buy some craft paper in your preferred colors. Use a jar lid to trace out circles and start cutting. Use scotch tape to install your handiwork on the walls. Evenly spaced dots in a single color on your walls will transform your room into polka dot heaven, but you could also try a smattering of multi-hued dots on a single wall to create an unforgettable confetti-style accent wall.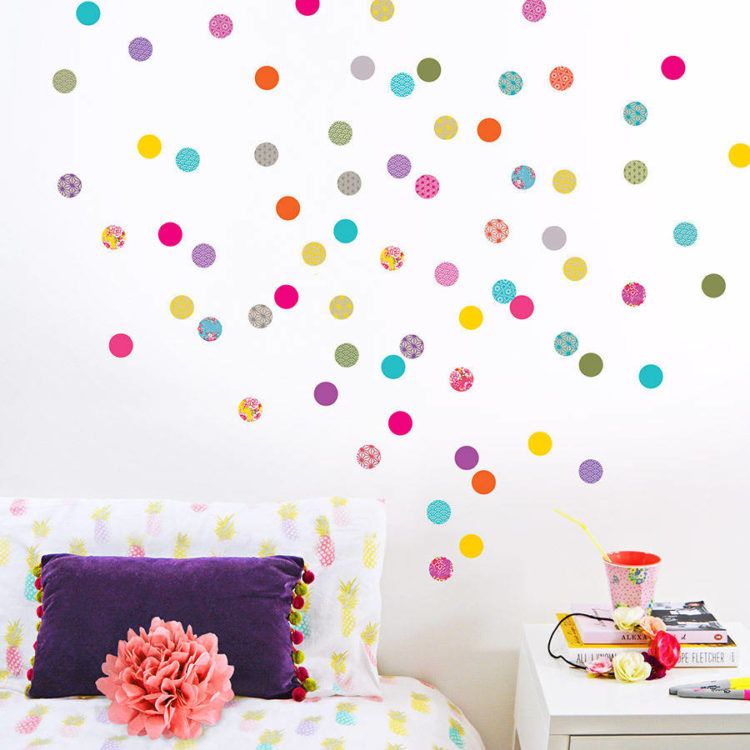 Source
2. Tape frames
Hanging frames on your walls can be tricky if drilling holes and hammering nails into the walls are against hostel rules. Try using coloured tapes or washi tapes instead. Choose the inspiring pictures and quotes that you want to look at every day. Stick it on your wall and frame it with tape. You can get creative with the type of frame that you want too. Check this image below for inspiration and get started on your inspiration wall.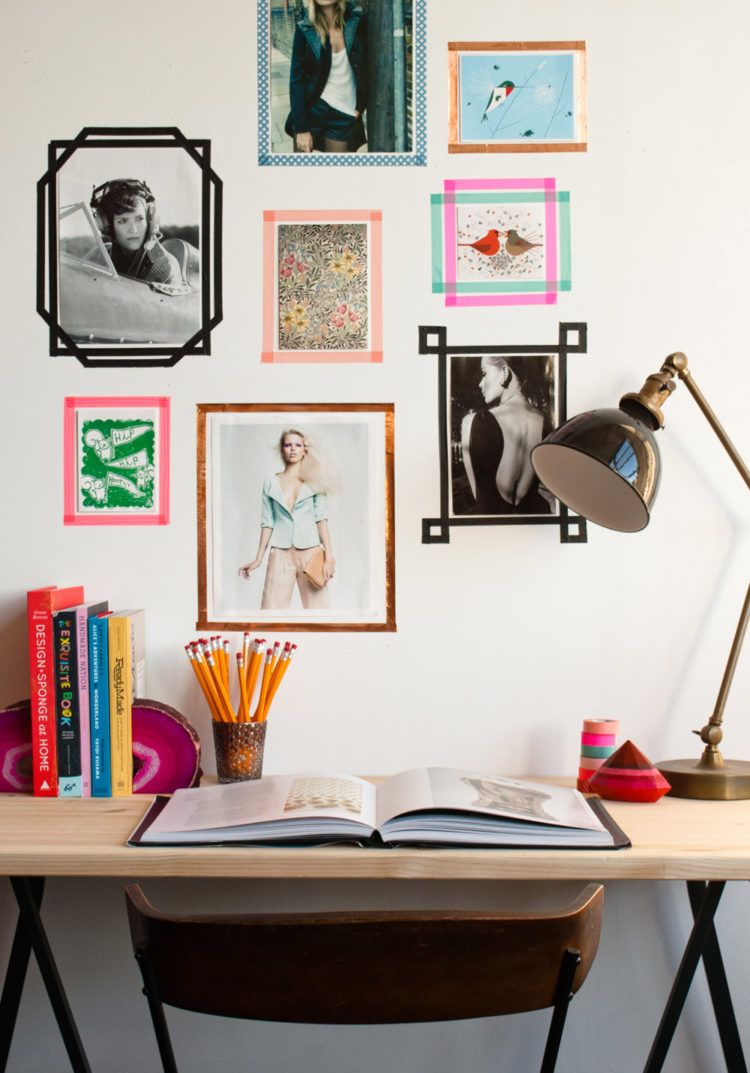 Source
3. Polaroid garlands
Social butterfly and proud of it? Why should you limit the fun moments on your Instagram just to the digital world? Make a Polaroid garland by choosing your favourite Polaroid prints and hanging them on your walls using wall hooks, some string and cloth pegs. String it alongside glowing fairy lights to create an eye-catching "gallery" when the sun goes down.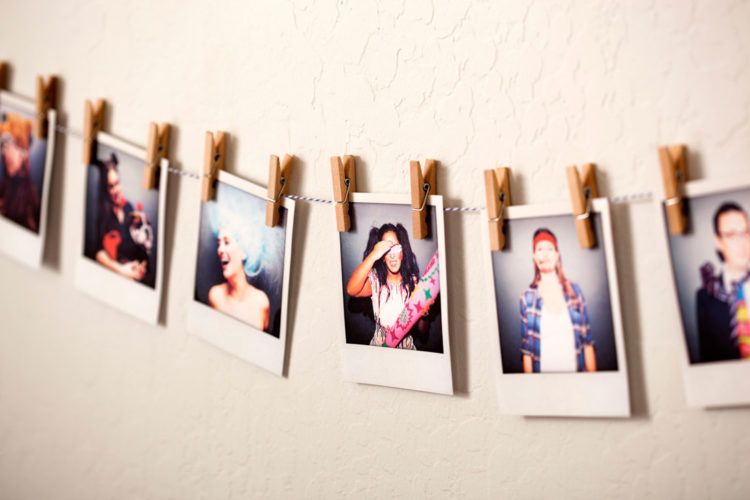 Source
4. DIY bed canopy
Who says you can't sleep like a princess just because you're in the hostel? Create a dreamy canopy over your bed using a suspended hoop. Decorate with netting and add fairy lights to illuminate it at night. With the help of colorful cushions and throws – you are all set for a movie night with your BFF.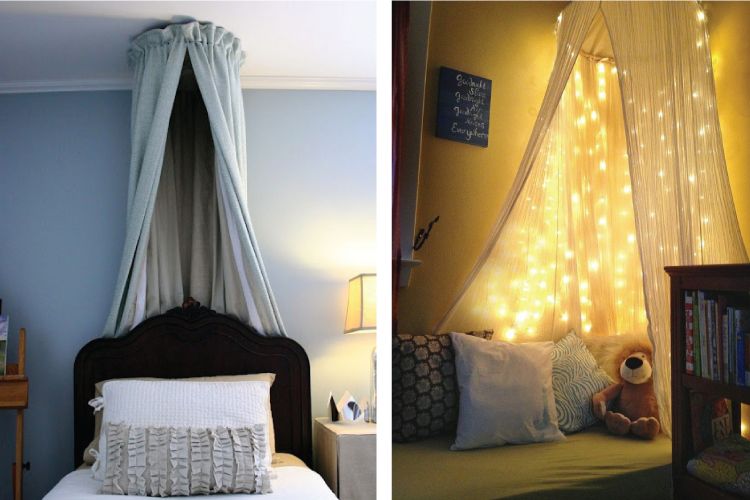 Source 1, Source 2
5. A welcoming door
Give your hostel room door an easy makeover using post-it notes or heart shapes cut from old books. You could even use the polka dot idea we mentioned above on your doors.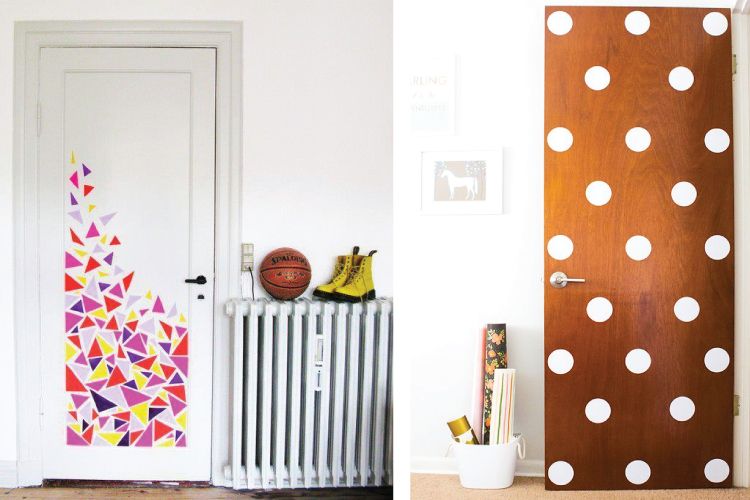 Source 1, Source 2
Now that you have all these tips, this is your chance to decorate your room with things other than the grab things other than the predictable posters and photographs. Go on, get creative and make some memories!