Don't we all just love decorating our homes? But why must home decor be so expensive? If you also face this dilemma, Anjari from ThatYellowTrunk is here with a solution for you – DIY home decor by upcycling any old household item that you can find lying around.
Upcycling encourages creativity and, of course, saves money! Above all, upcycling helps in conserving the environment. So whenever possible, do your bit to save the environment by fixing and upcycling an old piece of furniture and reuse it.
Here are a few small projects that Anjari tried out and would love to share with you!
About Anjari Ganguly in Her Own Words
An architect by profession, I have always believed in Einstein's saying "Creativity is intelligence having fun", so 'designing' for me is like a fun-filled puzzle that I keep attempting until it is solved to my liking.
My decor style is contemporary with the extensive use of colours, patterns and indoor greens. I believe in reusing and repurposing home decor. I like to use eco-friendly materials like terracotta and bamboo in my decor. Also, I believe small budgets and small efforts can create smart corners in your home.
I love to up-cycle a lot and constantly try to create decor pieces using old finds from flea markets. My love for everything creative made me start my page "That Yellow Trunk by Anjari" on Instagram and create content around home decor. Today, "That Yellow Trunk" is a community of 60k+ and has been featured in many leading publications.
DIY Home Decor Upcycle Idea #1: An old wooden plank into a gorgeous side table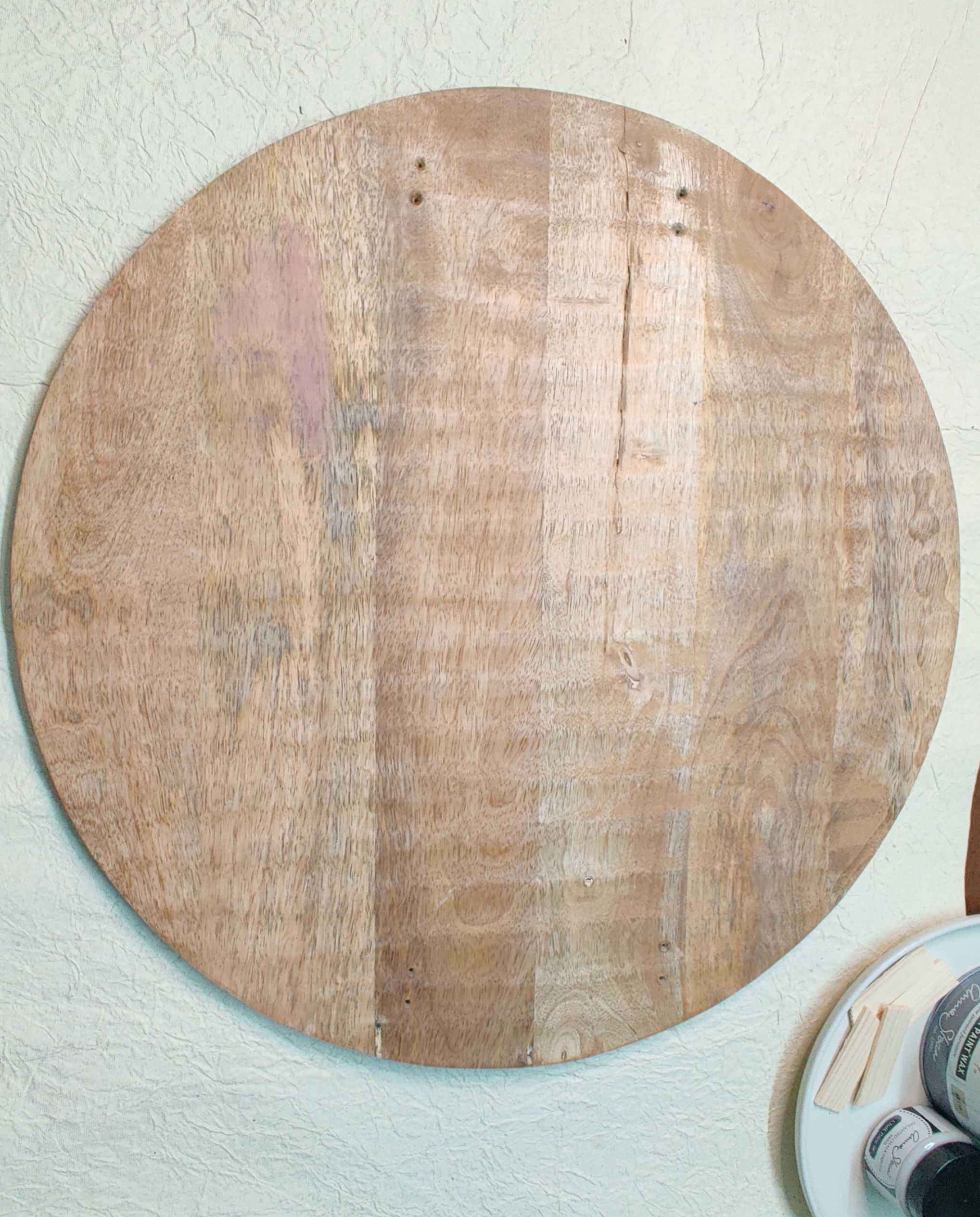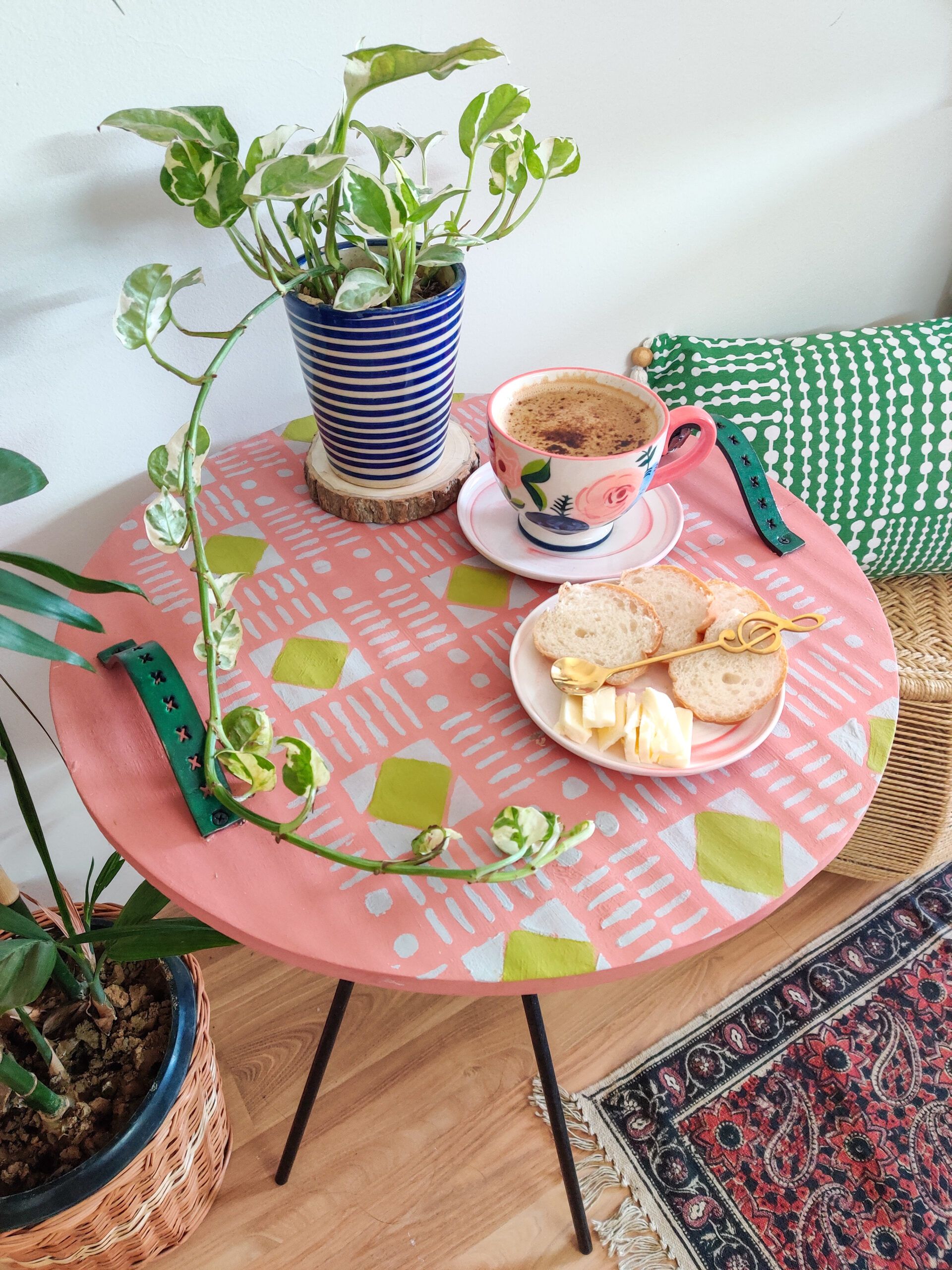 When we say DIY home decor, it doesn't have to be something complicated and time-consuming! The easiest thing to upcycle is a wooden plank into a usable household item. All you need is some vibrant paint and a set of table legs!
This round wooden plank was found lying in a corner of a used furniture store. Anjari converted it into a lovely side table by just applying a fresh coat of paint along with a fun geometric pattern stencilled over it.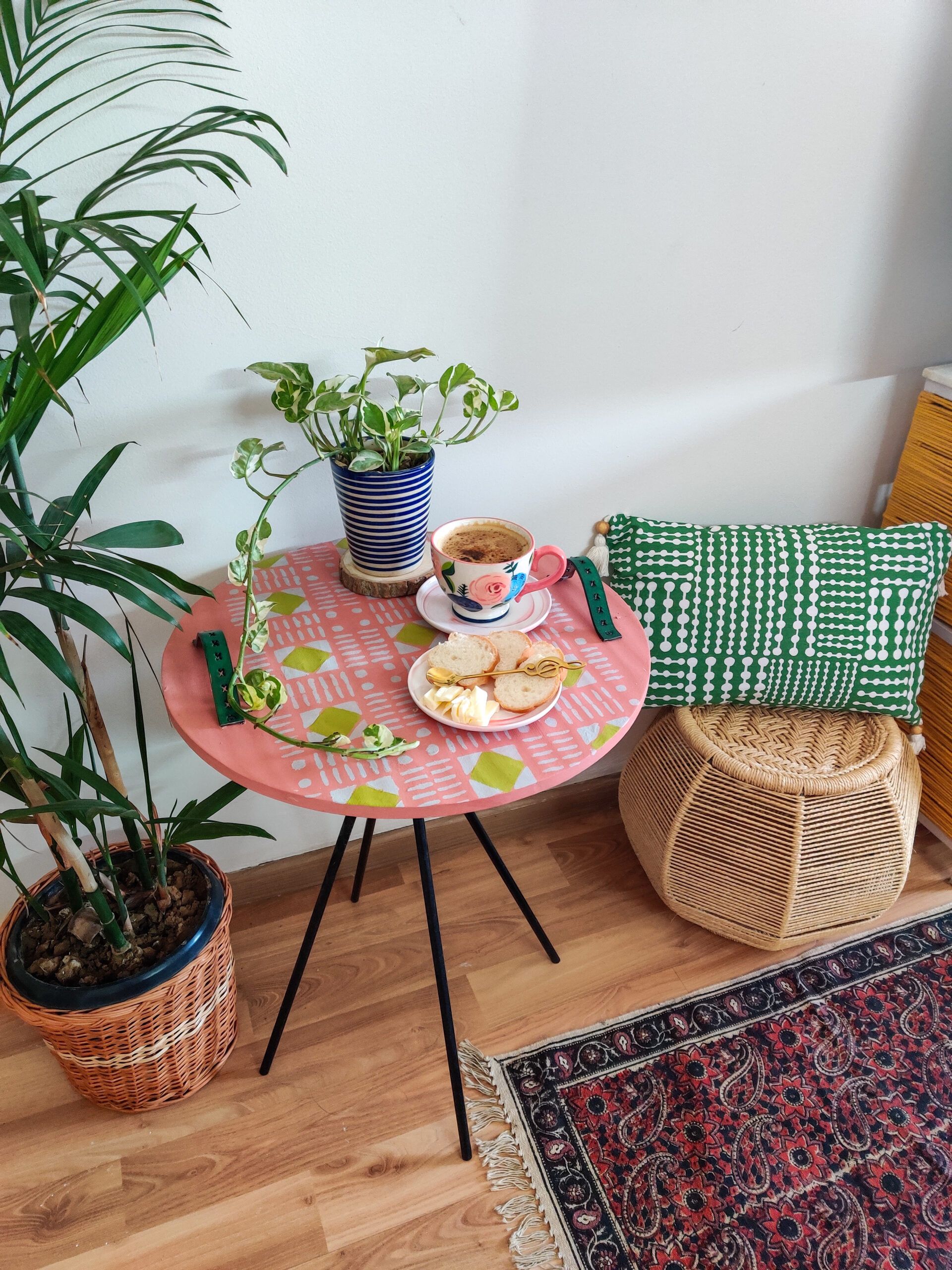 Links of supplies used:
https://www.instagram.com/artsy_nest/
DIY Home Decor Upcycle Idea #2: A quirky facelift to an old bed breakfast table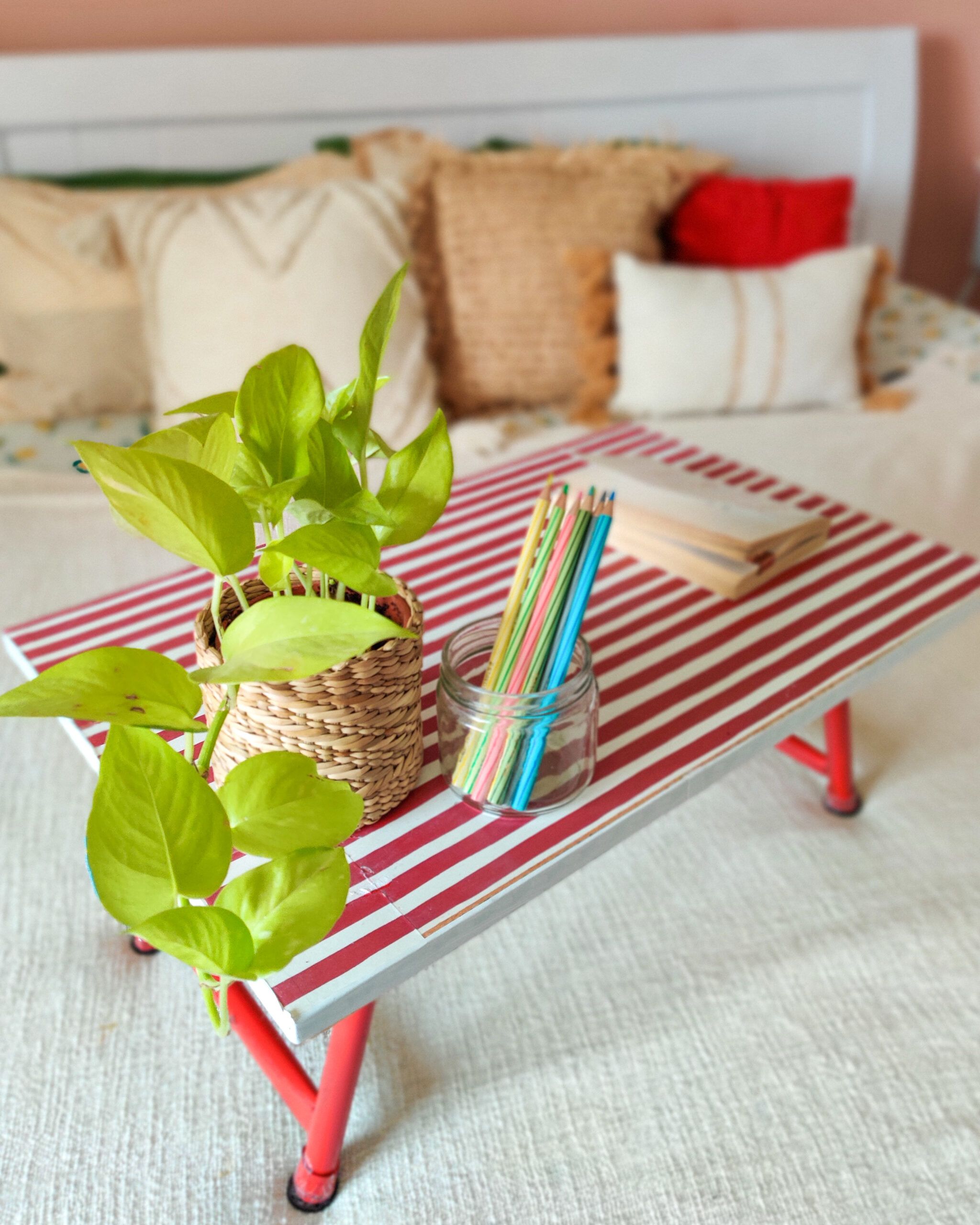 We all have a bed breakfast table that we'd love to use but hate how it looks! A quick way to give such small pieces a modern DIY home decor facelift is by using the decoupage technique. Decoupage is nothing but glueing pieces of coloured paper on something to form different patterns. This easy technique can transform the look of any furniture in a jiffy! Just select a gift wrapping paper that matches your room aesthetics and use it to change the way the table looks.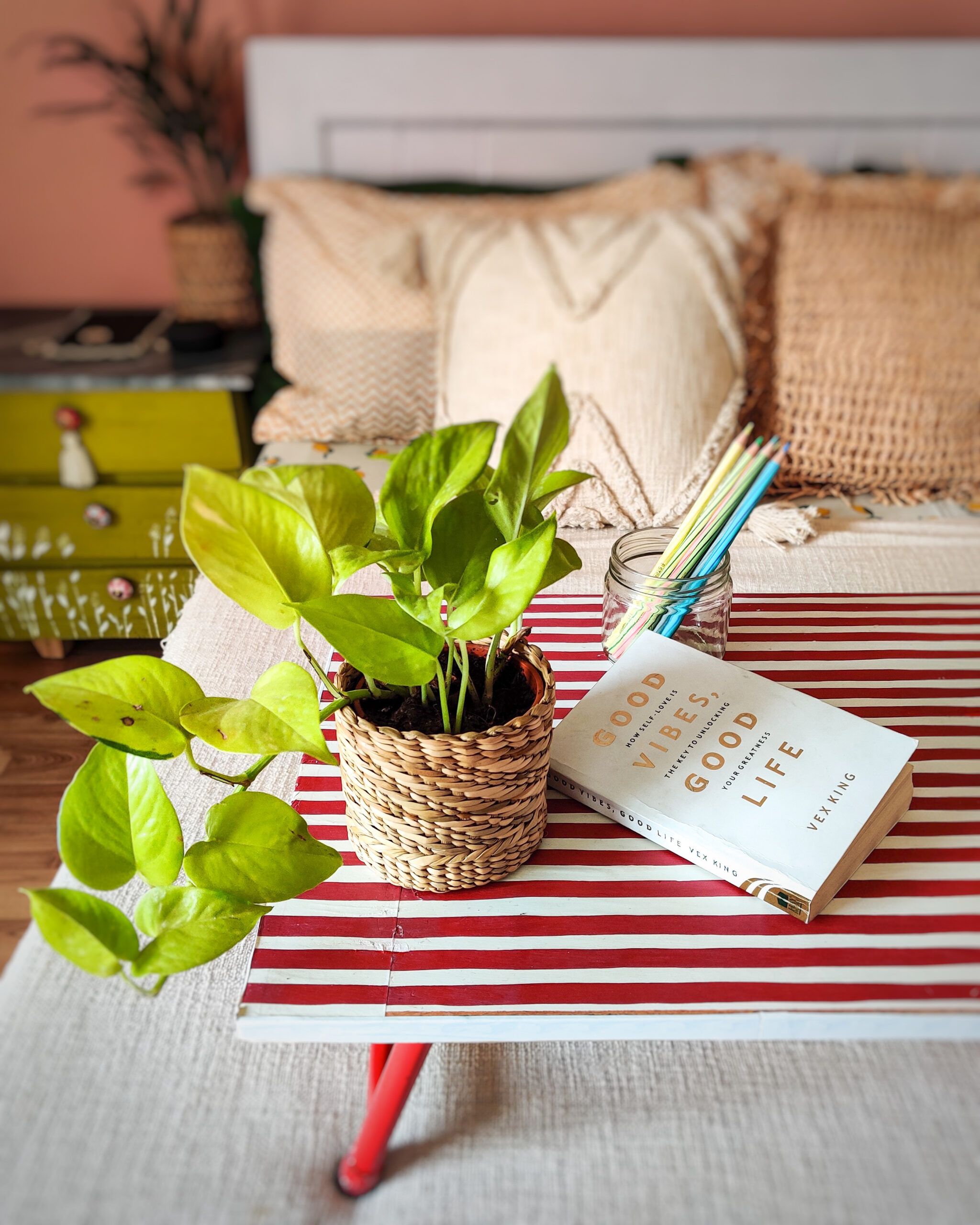 Links of supplies used:
https://www.instagram.com/itsybitsycraftstore/
DIY Home Decor Upcycle Idea #3 – Turning a worn-out chest of drawers into a useful bed nightstand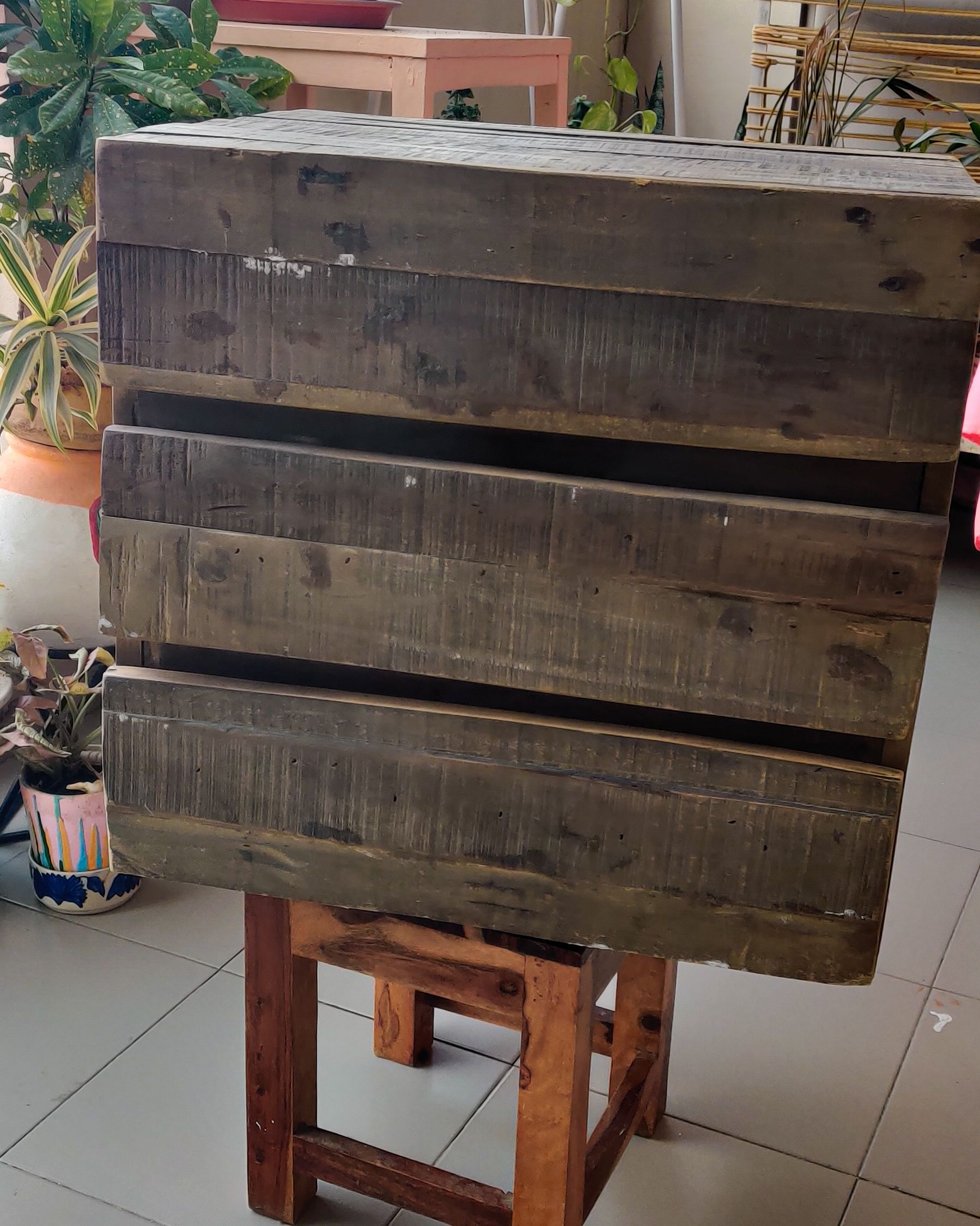 Don't throw out the useful household items that you inherit from your parents! These are the perfect opportunities to explore your creative side and be the proud owners of something timeless.
If you have an old chest of drawers lying around (or any old household item), upcycle it by giving it a fresh coat of paint and draw some patterns to give it a fun vibe. Also, don't forget to paint the drawer knobs!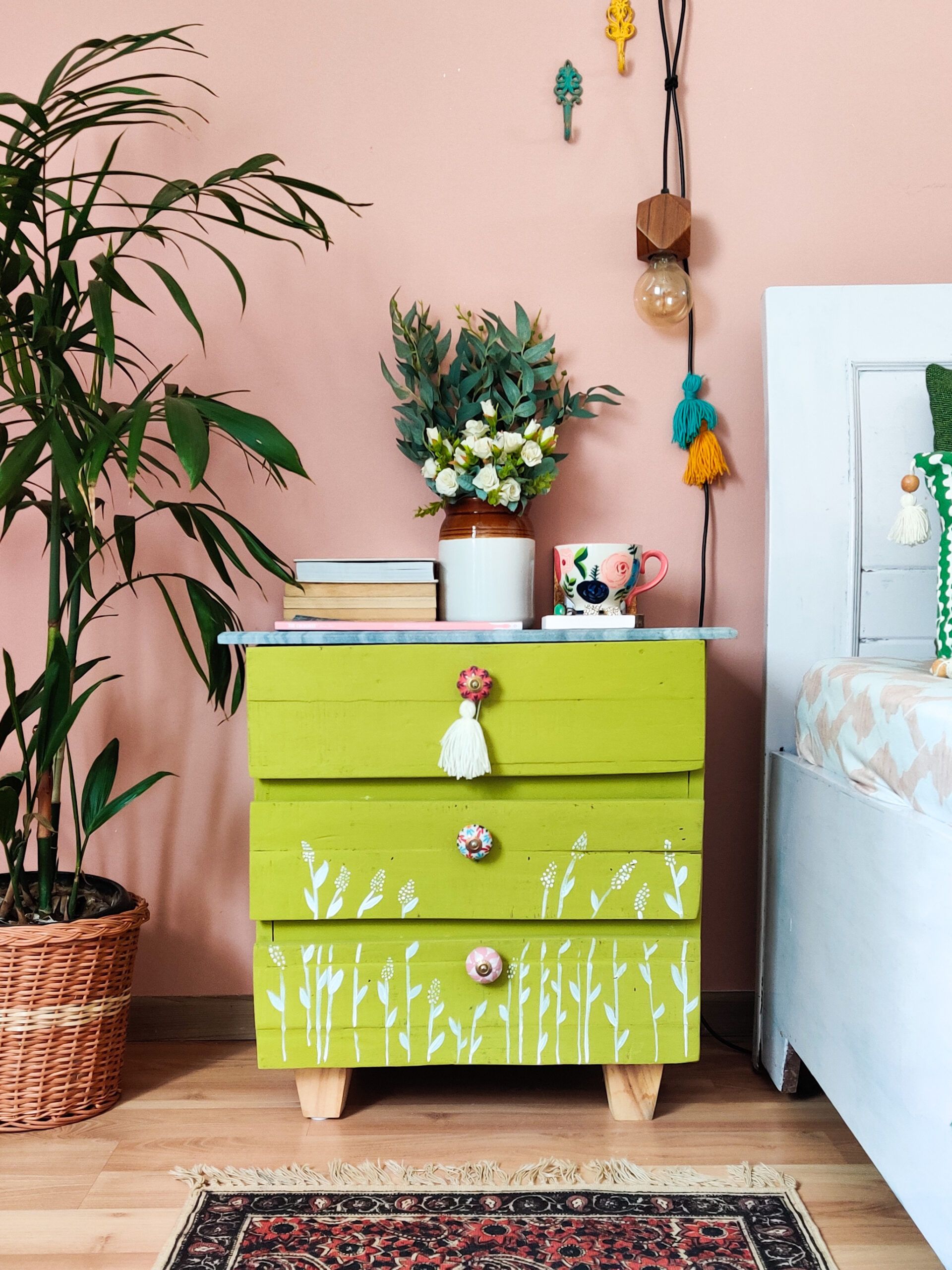 Links of supplies used:
DIY Home Decor Upcycle Idea #4: Upcycling chipped ceramic ware into colourful vases
Well, upcycling is not only limited to furniture! Old and chipped ceramic ware is the perfect choice if you are looking for an easy DIY home decor project! There are numerous ways you can reuse old ceramic ware. One of them is to simply paint and use them as vases. Mixing paint with baking soda is one of the most popular trends on social media for quite some time now. This technique is an easy way to create beautiful concrete textures.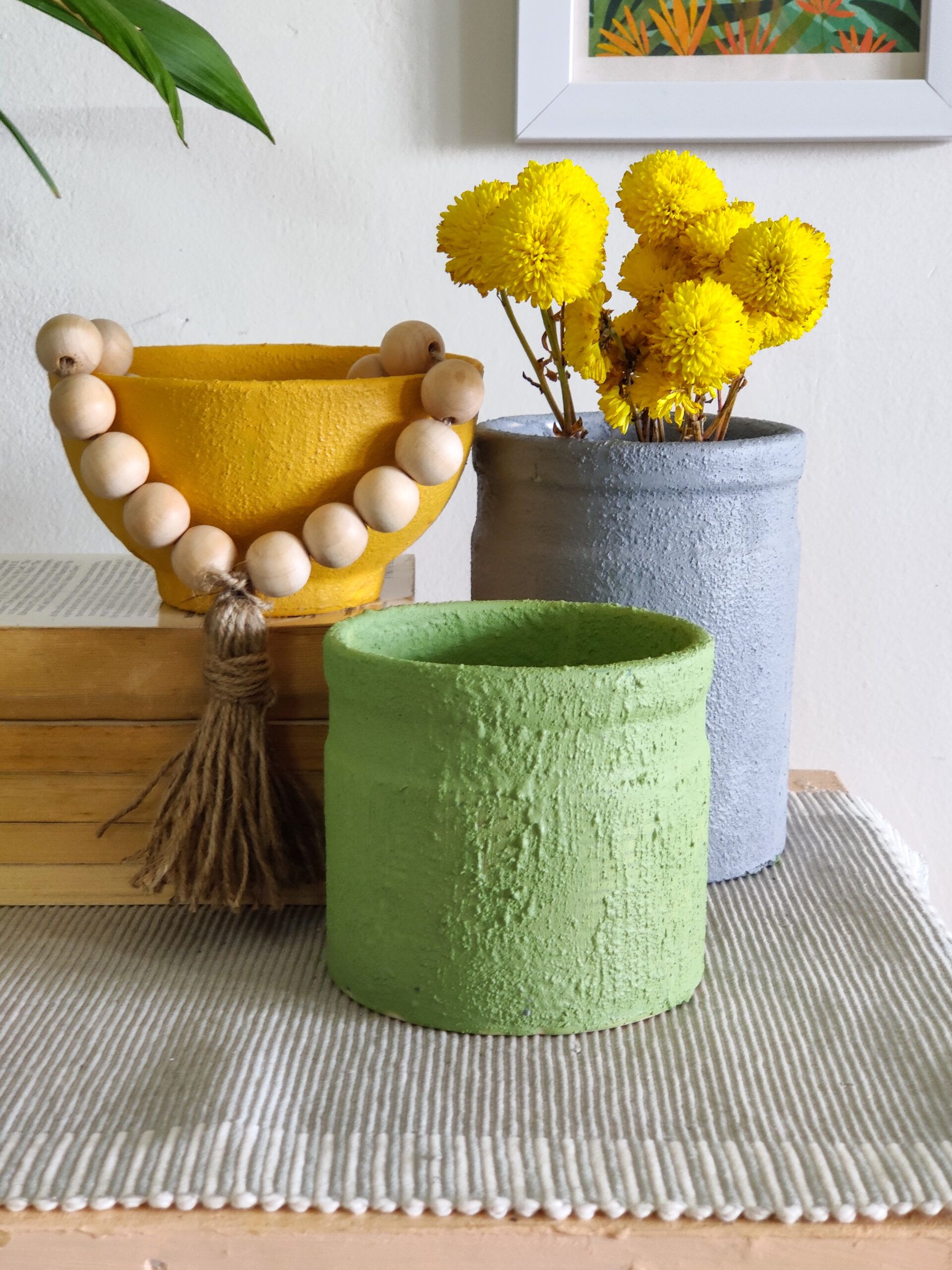 DIY Home Decor Upcycle Idea #5 – Upcycling terracotta items into a Terrazzo-themed centrepiece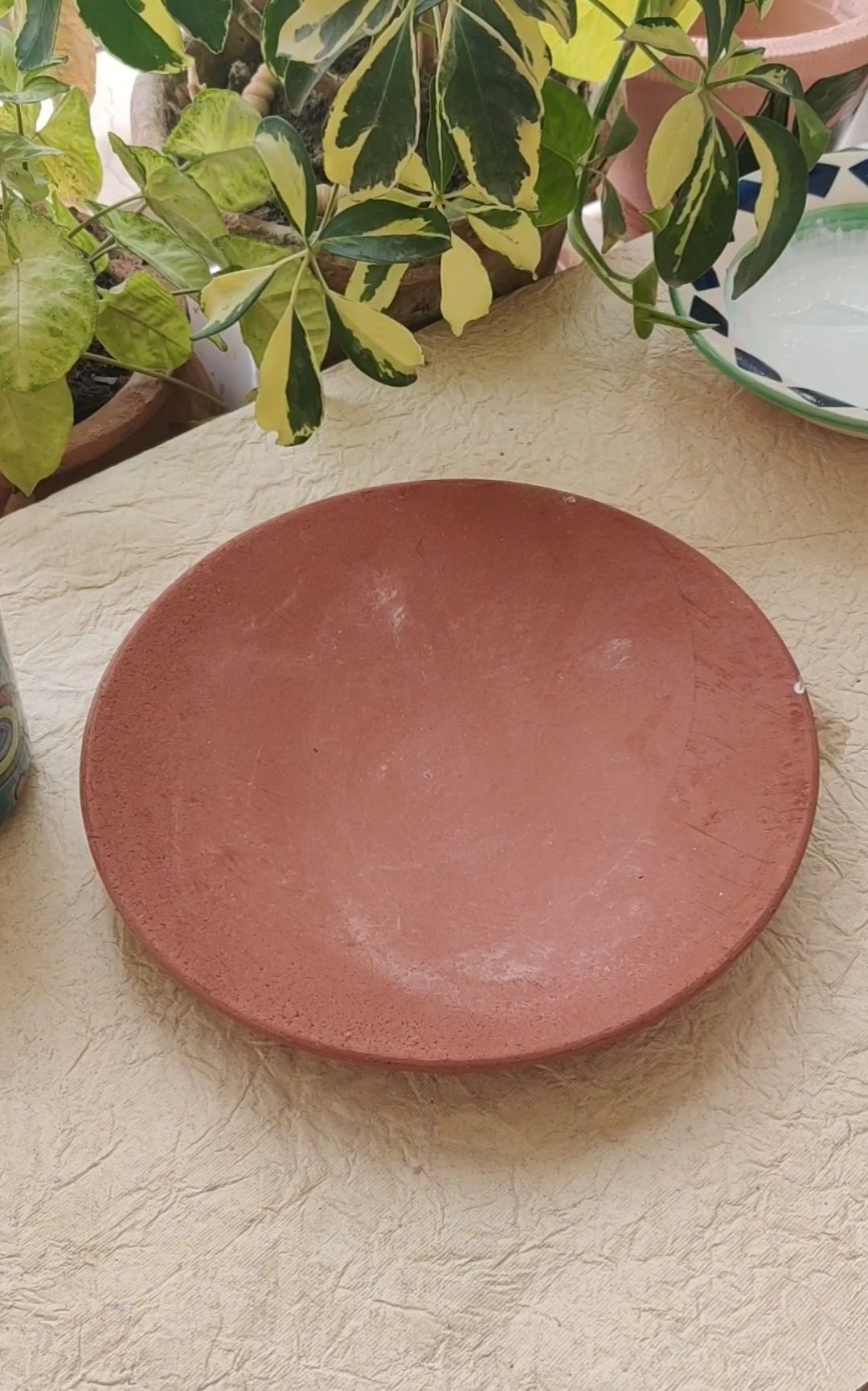 Terrazzo is all the rage in the home decor market right now! But how do you add terrazzo pieces to your home without going broke? Simple, just DIY! Got any leftover diyas from last Diwali and other earthenware? Create some magnificent centrepieces out of them by simply painting a terrazzo pattern. The terrazzo pattern is so easy that even the most novice of painters can succeed at it!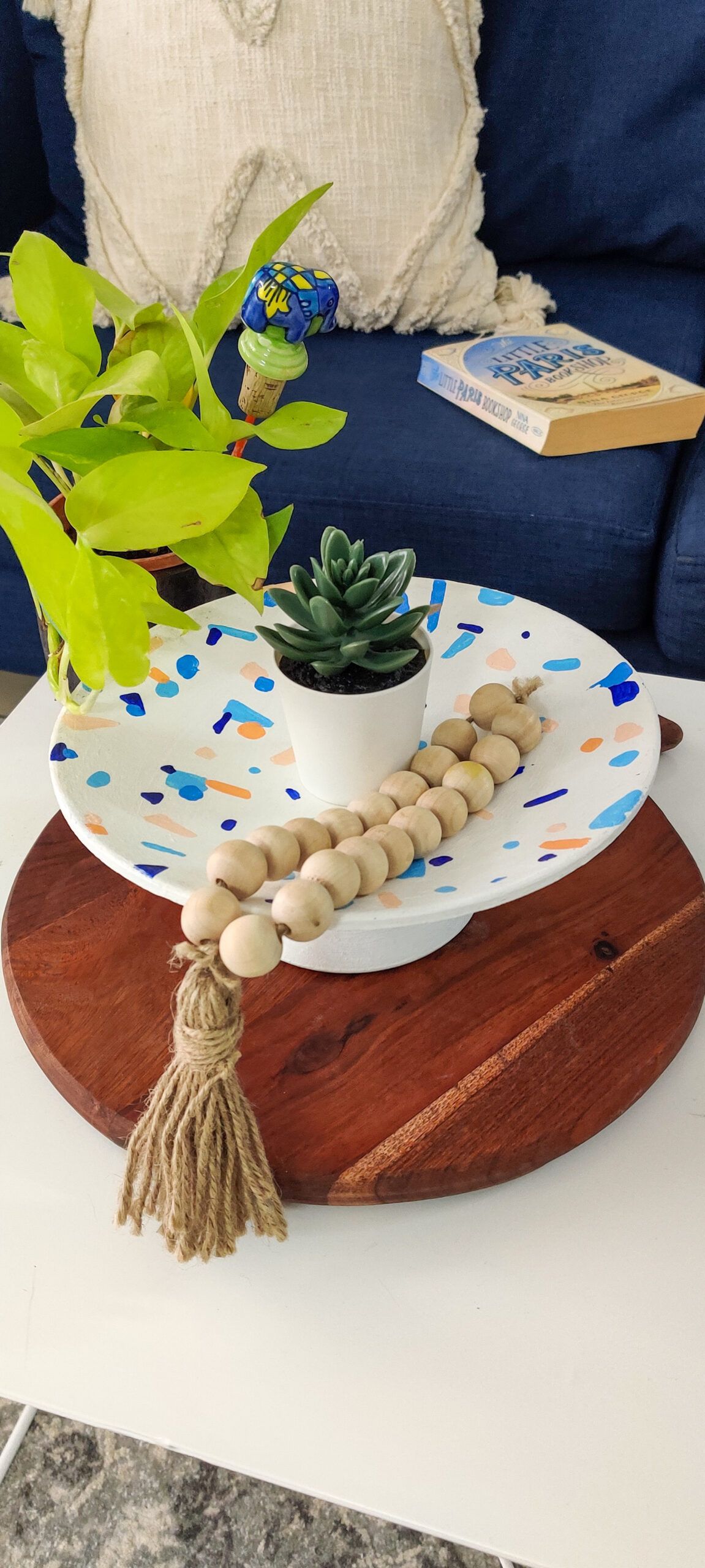 These DIY home decor ideas will surely keep you busy this weekend! Looking for more such easy ideas to try at home? Check this out.
We love hearing from you! Write to us with your comments and suggestions at editor@livspace.com