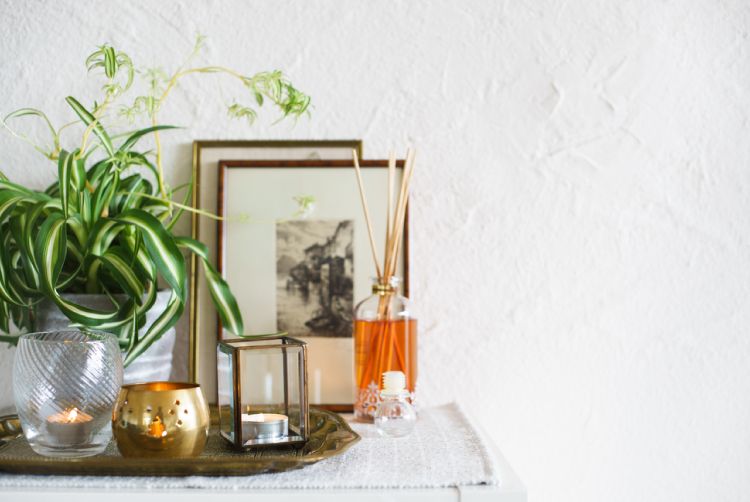 Coming back to a good smelling home is always relaxing. With hectic lifestyles and endless meetings, a fragrant home can be therapeutic for a tired mind.
Ever wondered how to recreate a luxurious fragrant hotel-feel within the comfort of your home? Most of us either don't have the time or the knowledge to go about it. A fresh smelling home, however, adds character and makes you want to head home at the end of every single day.
Listed below are few easy peasy tips to get you a fragrant home in no time.
Fragrant home tip #1: Incense sticks
Our favourite agarbatti or incense sticks can never go wrong! Used traditionally in our pooja rooms, incense sticks are finding their way into other home spaces mainly because they are calming and create a sense of peace. With an array of fragrances at your disposal, there is an aroma for everyone. Light a bunch on a corner table so that they don't prove hazardous for people walking around.
A word of caution: they can get a bit messy as they burn fast. Use a covered holder so that the ash doesn't spread.
Fragrant home tip #2: Reed diffuser
These are smoke-free, wax free, mess free, and flame free! A simple, safe and easy option for a good smelling home. The simple elegance of it enhances the aesthetics of any space. It can be placed in any room be it the living, bedroom or study and bathrooms too! The fragrance is mild and not too overpowering. Whether you are entertaining your guests, finishing your work or having a long relaxing bath, reed diffusers are sure to transport you to a 5-star hotel environment!
Fragrant home tip #3: Air freshener
For a fresh smelling home in a jiffy, air fresheners are super handy. Your guests are at the door, and your little one just made a big poop. No worries, you can camouflage the stench with a freshener!
They are available in the form of deodorizers, sprays and dispensers almost everywhere. We recommend using them liberally in washrooms.
Fragrant home tip #4: Scented candles
There is nothing more beautiful than a candle. More so, a fragrant one. Candles are multi-purpose since they can be used in different parts of your home. If you want to slip into a cosy mood every time you hit the bed, place some scented candles in your bedroom.
Want to unwind after a long and tiring day? Scented candles in your bathroom will surely give you a spa-like experience. Combine with a regular bathroom freshener and naphthalene balls to keep the space odour free.
Fragrant home tip #5: Potpourri, fresh flowers and plants
For a more naturally good smelling home, using aromatic herbs like eucalyptus, lemongrass, chamomile, mint etc. These are great because they can be homegrown easily.
Herb sachets are also a great idea. Get a small cotton or muslin bag and fill them with your favourite dried herbs, flowers and spices! Place it in drawers, wardrobes or kitchen cabinets and enjoy the aromatic whiff each time you open and shut them. You could scatter a combination of cinnamon and vanilla beans or dried citrus fruits in tiny bowls and place them around your home.
Potted plants are another great organic option. They are natural air purifiers. Palm trees, orchids and peace lilies are what I'd go with.
Fragrant home tip #6: Baking!
If you are a gourmand, baking is an excellent choice. Not only would it make you happy but it would also get your kitchen smelling great! Sure, baked goods don't necessarily go hand in hand with a luxurious spa experience, but they remind people of home and a fuzzy, warm place. Working with flour may not be everyone's thing, but if you do, pop a few cookies or brownies in the oven and let the baked aroma waft around your home.
Check out top indoor plants: