This Jal Vayu Vihar home is spacious and breezy!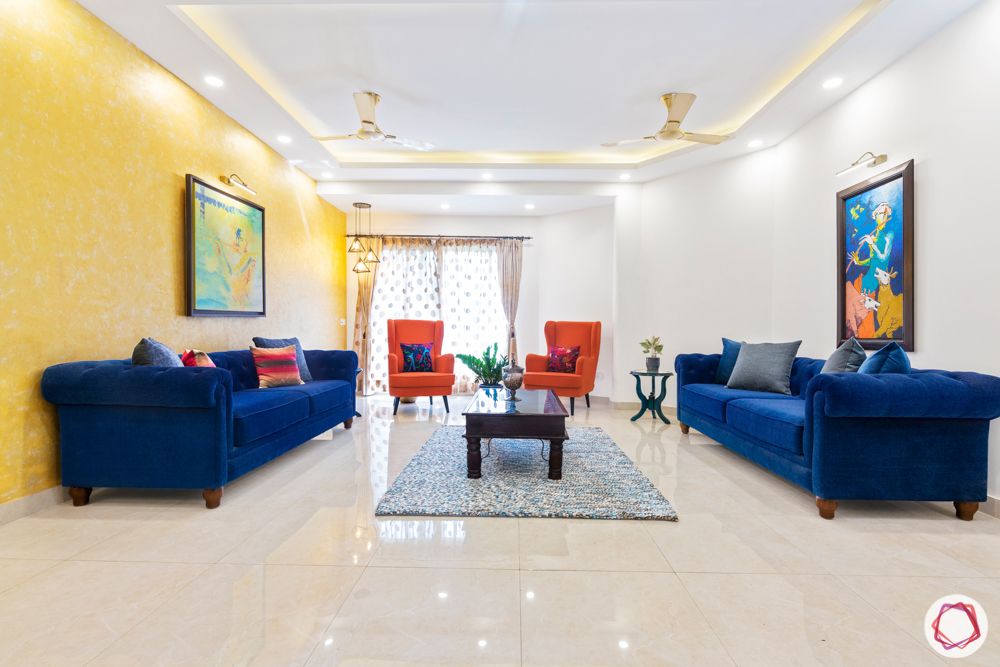 ---
Who livs here: Ashutosh Upadhyay with his wife Kakul and their two daughters
Location: Jal Vayu Vihar, Noida
Size of home: 1,700 sq ft approx.
Design team: Interior Designer Bhanu Mittal and Project Manager Vishul Chandra Saxena
Livspace service: Full home design
Budget: ₹₹₹₹₹
---
Raise your hand if you love a well-ventilated and bright home. You will be pleased to know this home tour is all things bright and summery. This colourful home belongs to Ashutosh and Kakul, a working couple with two daughters. They wanted a home design with their stamp on it without spending exorbitantly. Livspace designer Bhanu Mittal has creatively done just that!
Bhanu started off with a perfectly blank canvas of an outdated home and transformed it into a warm and contemporary home for a close-knit family. Moreover, after breaking down walls, installing new windows and flooring, and a lot of civil work, this home has truly become a masterpiece. Read on to find out how this home came to life.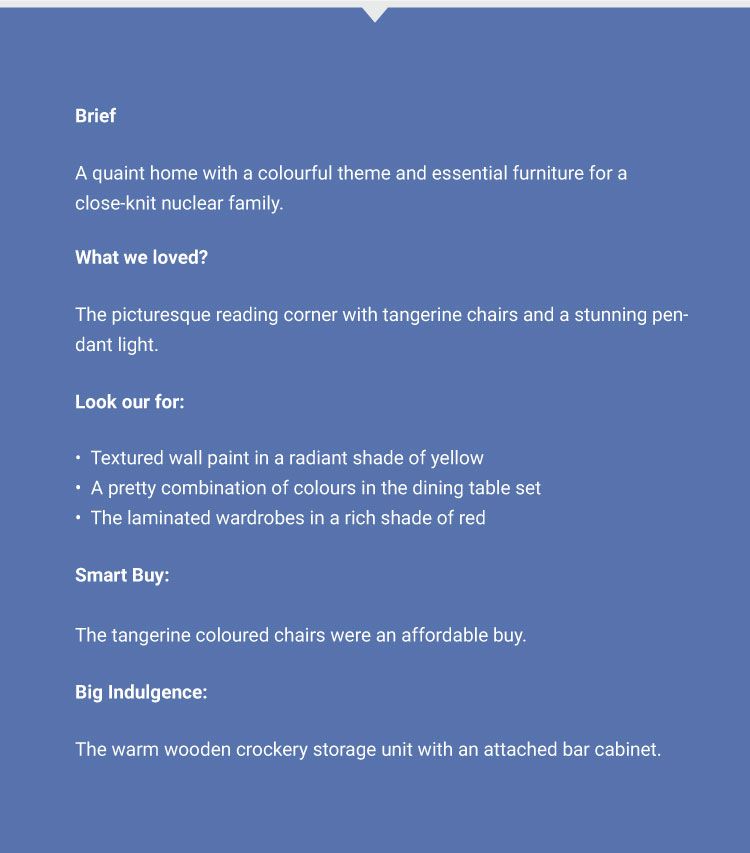 A Jal Vayu Vihar Lively Living Room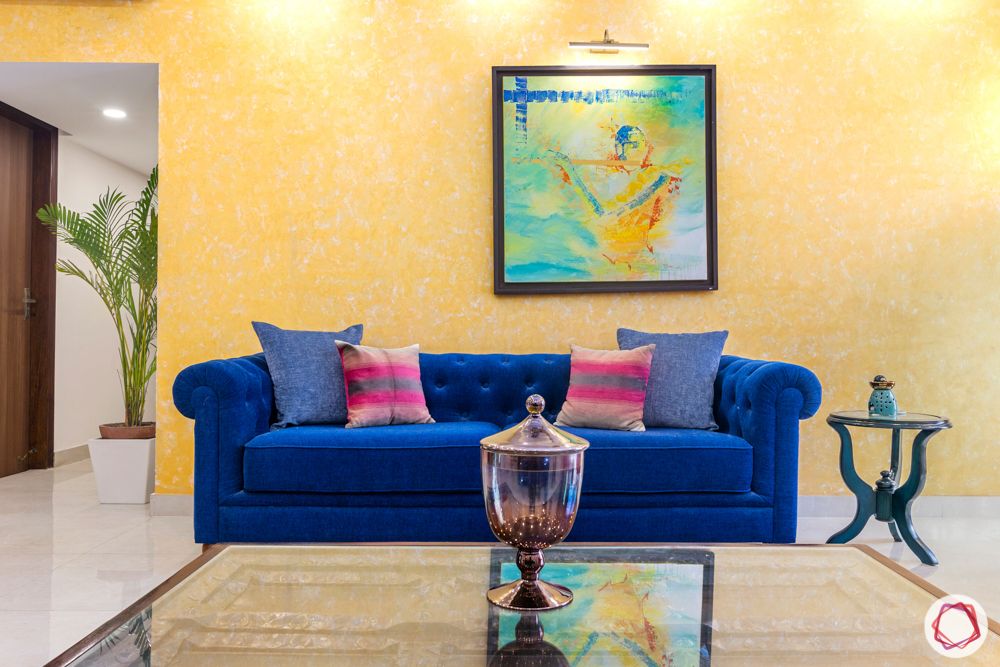 As you enter the home, you witness a spectrum of colours that will instantly lift your spirits. Consequently, with textured wall paint in a radiant shade of yellow, this room is sure to grab your attention. Complementing this accent wall are walls in classic white that reflect sunlight, making the room bright and beautiful.
The vibrancy comes from furniture like the rich blue sofas and tangerine winged chairs picked out from the Livspace catalogue. Bhanu made the most of an empty corner and added a three layered pendant light, making it the perfect spot to cosy up with a book.
A Jal Vayu Vihar Delightful Dining Room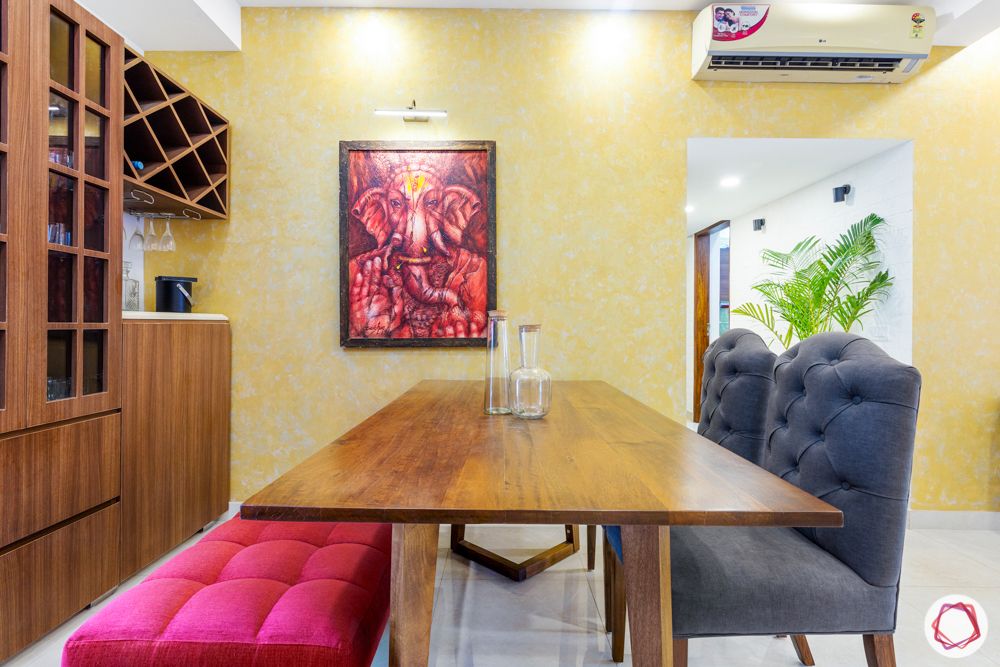 In a snug corner of the living room is a stunning dining table. As a working couple, Ashutosh and Kakul treasure dinner time with their daughters. Hence, they were certain that the dining room should be cheerful and homely. Keeping this in mind, Bhanu designed this space with plenty of comfortable seating and an elegant wooden table.
Besides, adding a touch a sass is the pink bench. Adjacent to the dining table is a custom-made wooden crockery-cum-storage unit with an attached bar unit adding to the warmth of the space.

A Jal Vayu Vihar Blissful Bedroom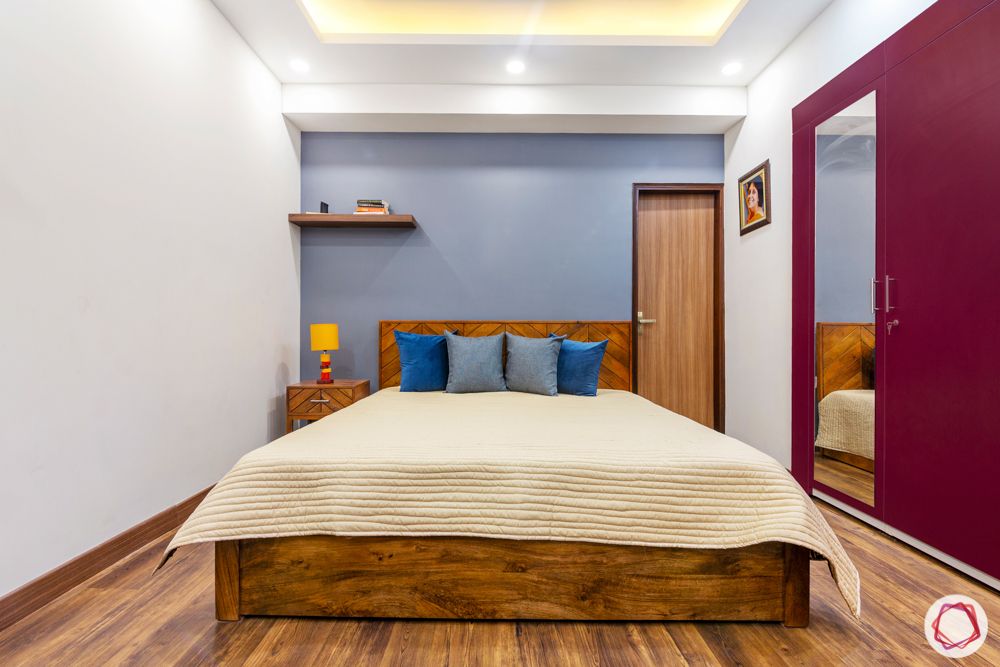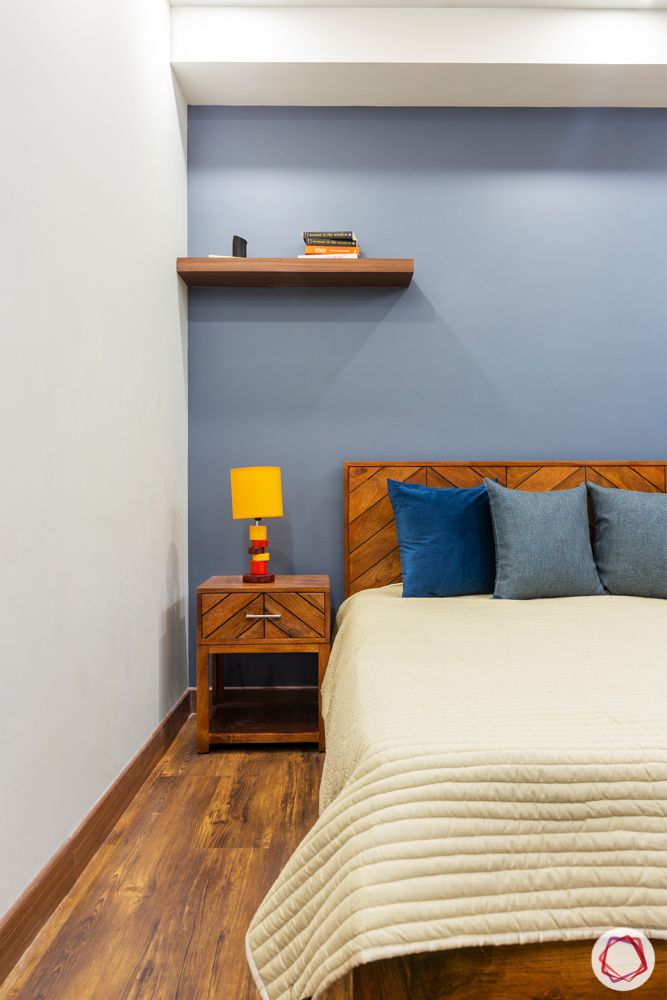 This master bedroom has been done up in a serene shade of greyish blue, thereby making this room ideal for a restful night's sleep. Adding warmth is the abundant use of oak wood in the flooring and bed. In addition, the icing on the cake is perhaps the pre-laminated wardrobes in a rich shade of cherry red, adding just the right amount of pop.
A Jal Vayu Vihar Gleeful Kid's Room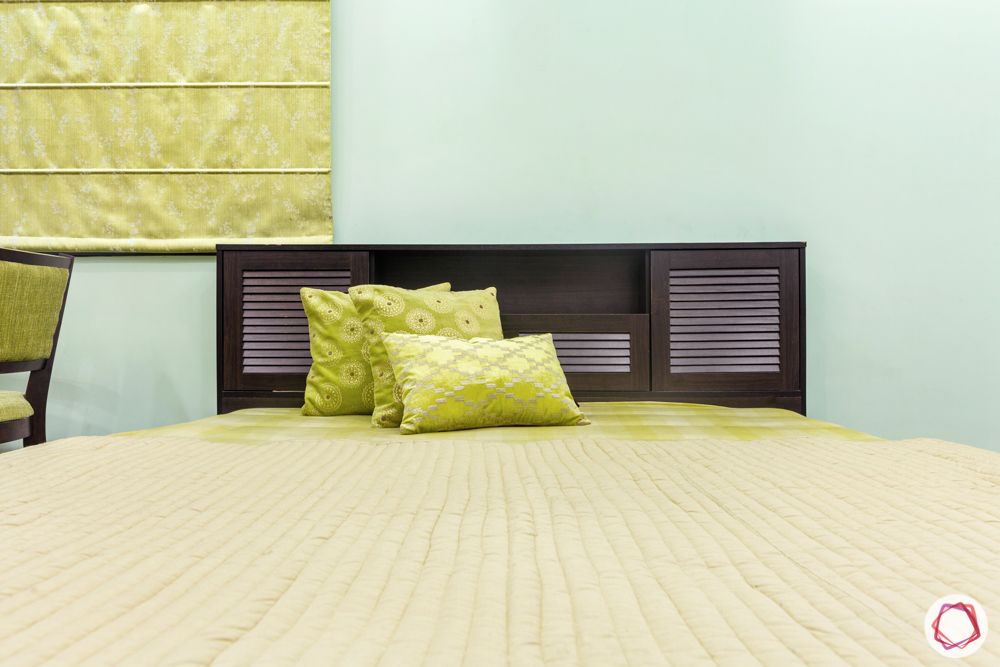 Their daughters' bedroom has been designed in a soothing shade of green, as you can see. Bhanu and her team have redone the flooring in wooden laminate to give this room a complete overhaul. As is the case in most homes, the girls required ample lighting and a quiet space to study. Therefore, two study tables and a false ceiling with plenty of lights were installed. In addition to this, floating shelves were placed on the walls for their books. Added to the milieu are pre-laminated wardrobes in a tasteful grey, giving this room a substantial amount of storage.
"Ashutosh and Kakul were hands-on throughout the process of designing their home. Their insights and clear vision were of great help. To top it off, they were accommodating of all my ideas and let me experiment with many colours".
—Bhanu Mittal, Interior Designer, Livspace
If you enjoyed reading this then you will definitely love Style on a Budget: 3BHK Home.
Send in your comments and suggestions.