If you love travelling or cartography or are simply looking for a unique way to spruce up your walls, then these world map decor ideas are just what you need.
There are diverse ways to have the world outlined on the walls of your home. Get inspired with our handpicked collection:
World map wall decor idea #1: Classic Contours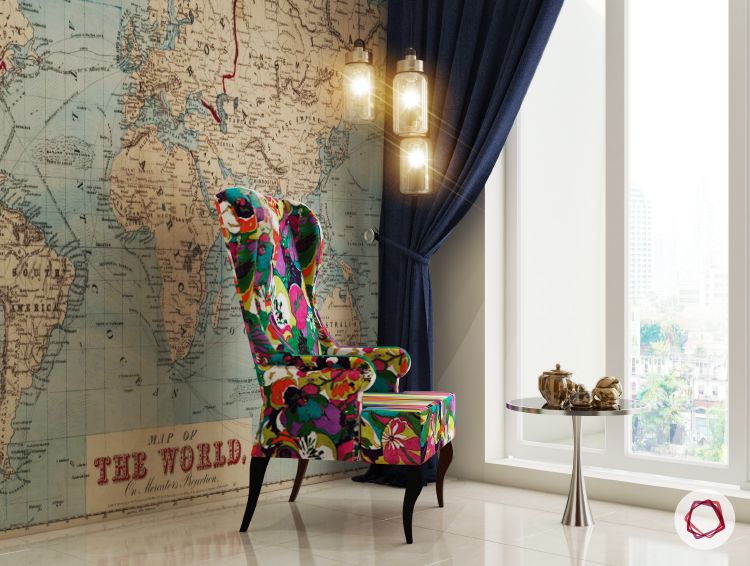 For those who love leafing through atlases and absorbing every intricate detail – this is for you. Mimicking minutest elements, this accent wall literally looks like a page right out of a geography book.
This world map decor idea makes a classic statement and easily lends a sense of nostalgia and history to your home.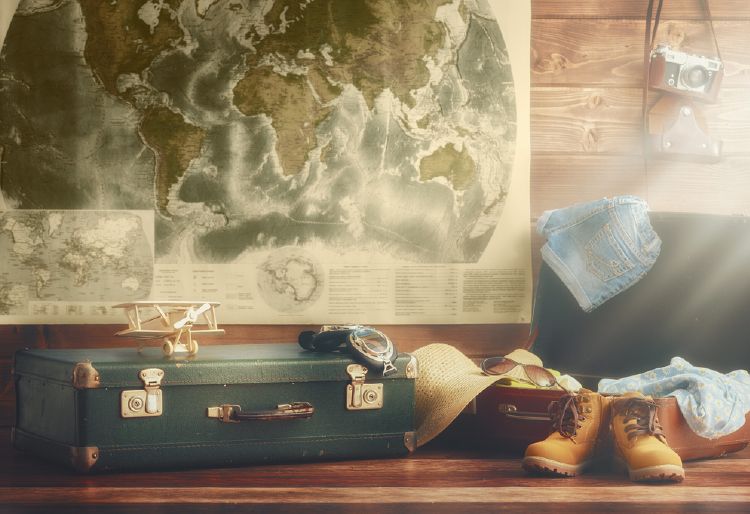 If you don't want the full-blown effect, you can always go for smaller maps overlooking a table or sideboard. Make a collage of multiple smaller maps for a stylish impact.
World map wall decor idea #2: Wooden Worlds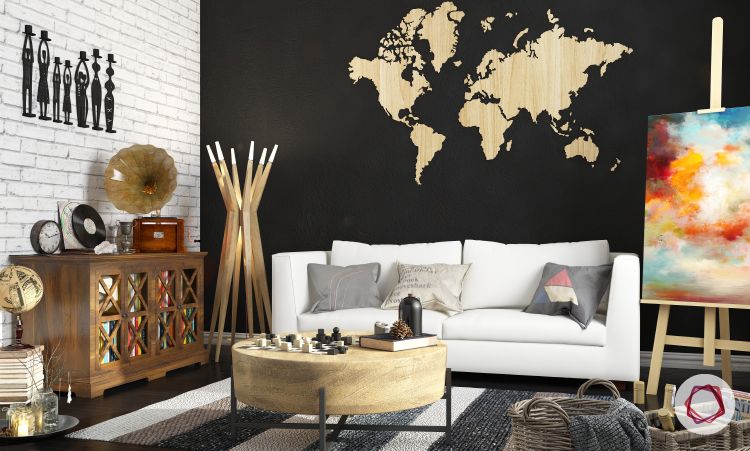 Wooden furniture is an integral part of Indian homes. They exude warmth and an organic vibe to interiors. This world map, cut out of wood, does exactly the same in this delectable black and white living room.
Solid black used in the backdrop works as a beautiful contrast to the sophisticated wooden texture.
World map wall decor idea #3: Muted Sophistication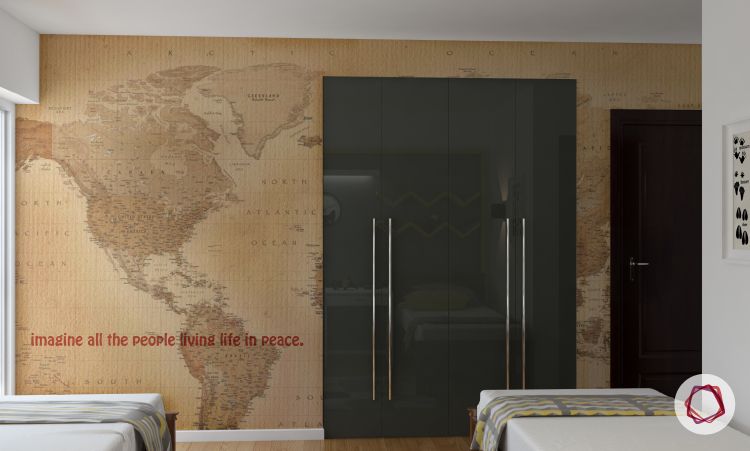 Muted hues are a great way to introduce style without overpowering the space. This floor-to-ceiling world map styled in two-toned browns, is just as alluring as its classic counterpart. It also works as the perfect background for multi-colored furniture and furnishings.
World map wall decor idea #4: Color Chaos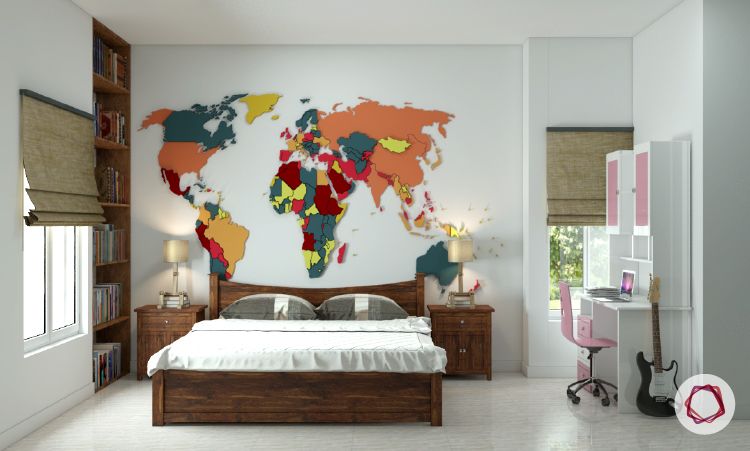 For spacious rooms or rooms styled entirely in neutrals, this world map decor idea is the best bet. This easy-to-apply decal introduces a happy splash of colors and brilliantly stands out from its surroundings.
World map wall decor idea #5: Minimalist Beauty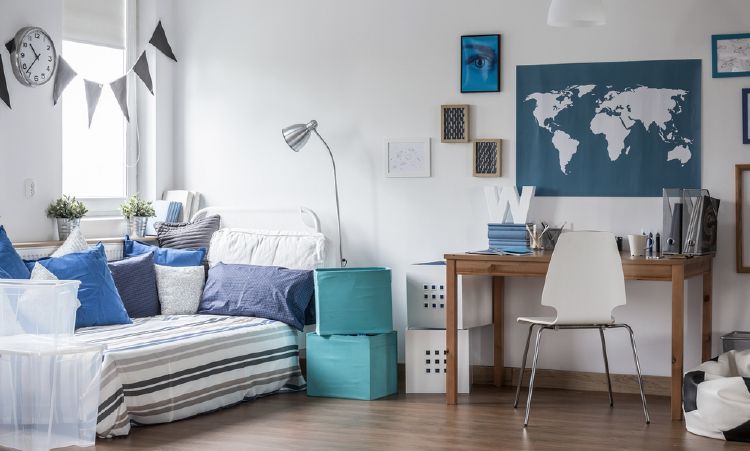 Not all map designs have to be bold. Some look beautiful when themed with the general aesthetics of the room. Use the same colors from your surroundings and give a small but noticeable space for your map design. It will enhance the existing ambience of the space.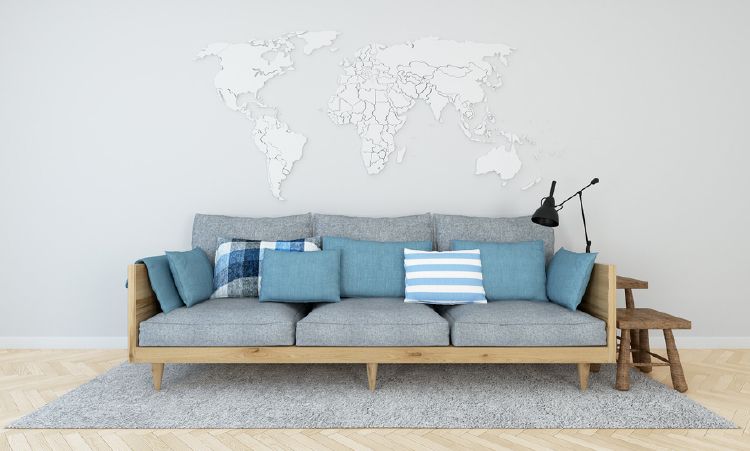 This classic white-on-white world map decor idea enhances the minimal appeal of this setting while gently introducing texture.
World map wall decor idea #6: Embossed Elegance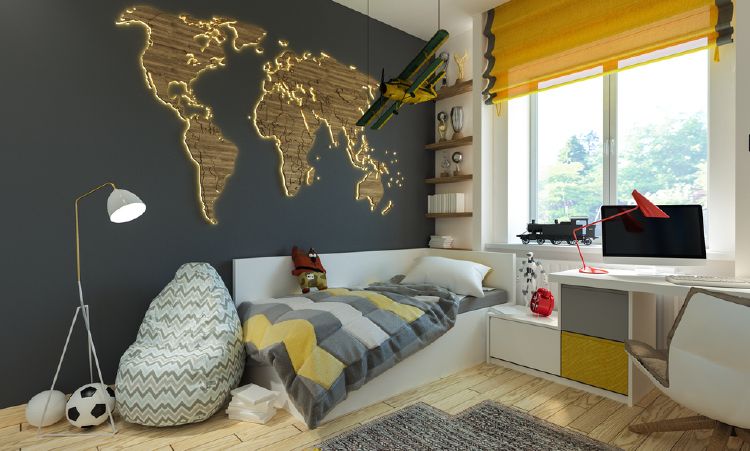 A fantastic way to create a map design is to have it embossed on the wall so that it gives a 3D effect. It will make the world come alive in your room.
This world map, styled with lights, easily takes center stage in this kid's room.
World map wall decor idea #7: DIY Delight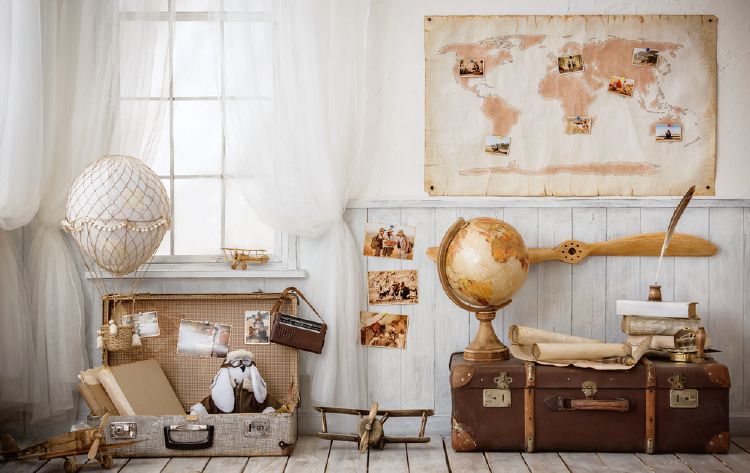 Lastly, a cost effective method for a world map decor idea would be to make it on your own. Use acrylic paints on cloth or ivory sheets to design your map. Use it to pin places you have visited or want to visit for a personal touch.
Decorating the walls of your room with maps is a sure way to grab eyeballs. So go on and choose from our ideas that best matches your taste and personality!