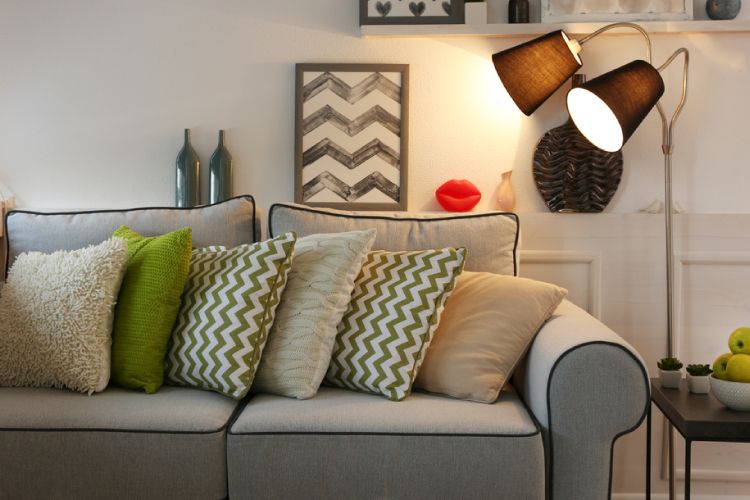 Your good-old, comfy, trusty sofa is usually the life of your living room and central to the decor of the room. It defines how the furniture of the living room is arranged. While a lot of thought goes into the placement of the couch, no one really spares a thought about the awkward empty space behind it.
Small but significant, this space often ends up looking a bit drab. Don't rack your brain, that's why we're here. Below, we've put a little thought into ways you can jazz up this tiny gap, and add yet another aesthetic dimension to your living room.
When your couch is centrally located in the living room:
1. Trendy tables
While a lot of people put basic console tables behind their sofas, you can up the ante by opting for a modish but useful table that can also be used for storage. You can put books, plants and lamps to dress it up. This will beautifully cover the dull back of your sofa.
2. Dining as decor
Yes, you read right. Your dining table can be cleverly used to mask the odd space behind your sofa, especially if it's small. This also gives a sense of continuity to the furniture.
When the back of the couch is lined along a wall:
3. Chic shelves
A fabulous and functional way to use this seemingly infinitesimal space between the wall and the back of your sofa is to incorporate shelves.
a. A smart and sleek standing shelf behind the sofa is a great choice. Give it an artistic accompaniment like a floor lamp or a guitar leaning against the wall and make the ambience edgy but beautiful.
b. Regular shelves on the wall or even built-in shelves can never go wrong. Keep the design minimalistic so that it does not consume the grandeur of the couch but adds to it. Decorate it with photo frames and souvenirs to rein in some charm.
c. Another efficient way to use the space behind your couch is to go all out and make a bookshelf. If you're a bookworm, then this is the least intrusive space to show off your collection.
4. Mirror magic
Don't be afraid to be different. Place a large mirror behind your sofa and watch how it brightens up the living room, especially if the facing walls have windows. If your living room is small, then you've killed two birds with one stone — because the mirror will help make the room seem larger.
5. Artsy allure
The oldest trick in the book. Display a piece of art or a painting behind your sofa. You don't have to nail it to the wall, if it's a huge piece, simply allow it to rest against the wall. Empty frames are also brilliant. Simply line up a bunch of victorian bare frames behind your couch.
So what are you waiting for? Don't wait for dust to collect behind your sofa, use our nifty tricks and bring some sassy spark into your living room.
Check out living room design ideas: