Did you know that a single piece of furniture could transform your living room from drab to fab and make your interiors pop? We are talking about the trending yellow sofa that many home owners are now opting for. They are in, and how! It's also available in fabric, leatherette and other materials, for your choosing.
If you're worried about what this pairs well with, if it suits your design style and if you can style this right, we're here to help! Turns out, this is a versatile piece of furniture that can be styled in many ways. Here's some amazing inspiration on how you can incorporate the yellow sofa in your living room.
Yellow sofa look #1: Make it pop in a neutral setting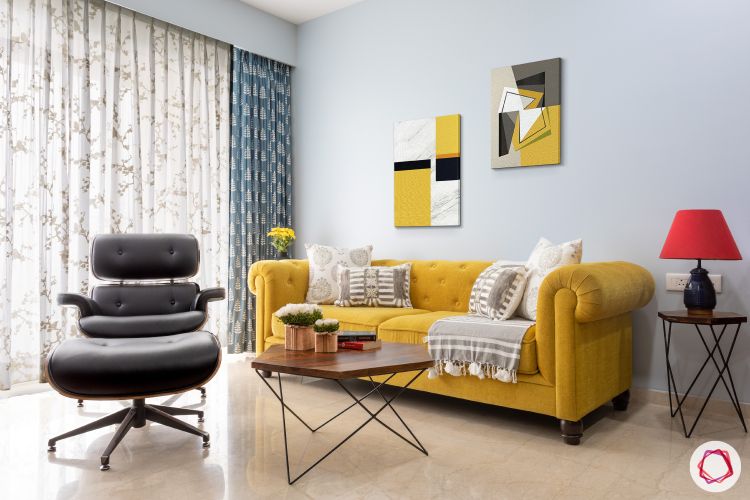 If your living room has mostly neutral colours, great! It would make for a perfect combination of pop and subtle elements. For instance, this rolled-back Chesterfield sofa in a cheery shade of yellow is the only pop of colour you can see here. The rest of the look is balanced out with sleek, industrial-looking tables and a comfy chair. We love how the curtains are a completely different colours but does not interfere with the vibe of this space.
Design takeaway: Place some cushions and throws to create a cosy look.
Yellow sofa look #2: Pair it with other popping colours if you dare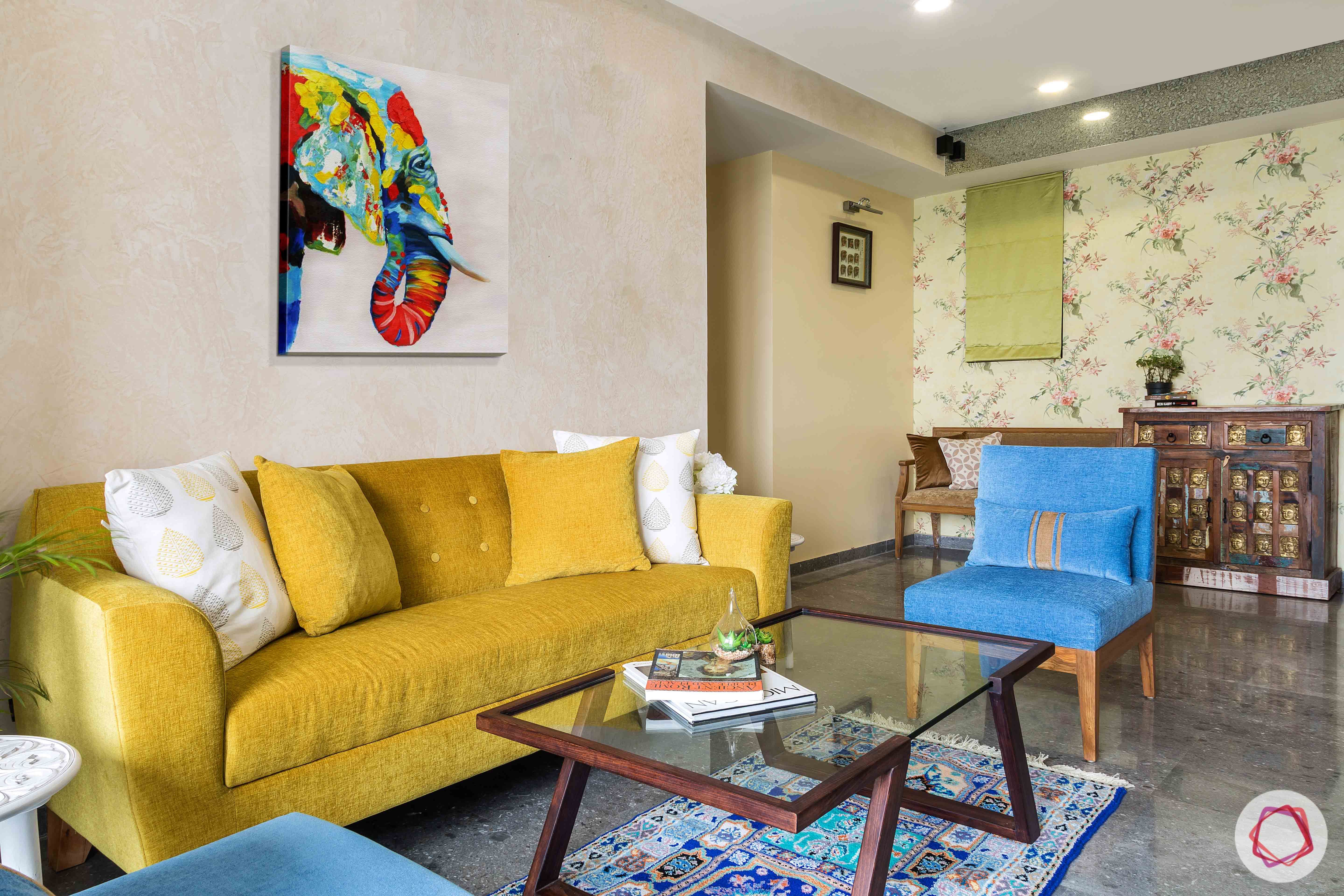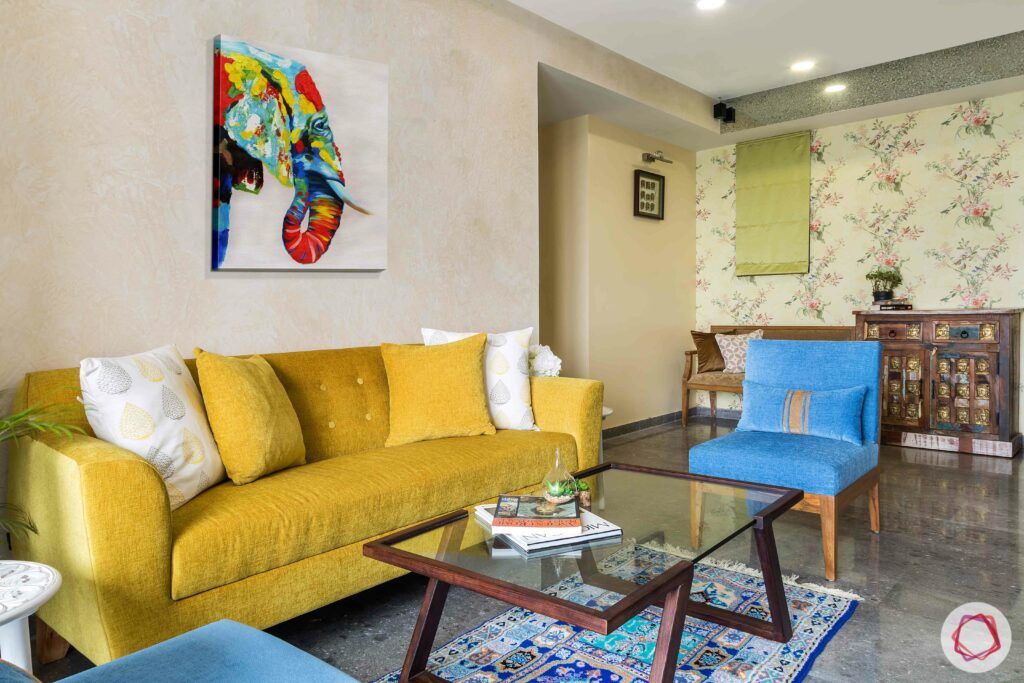 If you notice carefully, this space has a lot of colours, each playing their own part. The floral wallpaper in the background and the colourful elements like the rug and the wall art make this space look so interesting. But what is that one thing that really sets it apart? The yellow couch, of course! The vibrancy it adds to this living room is just unparalleled. The chairs also steal their colour from the wall art and it brings the look together.
Design takeaway: Try to balance out the look if you have many colours in one space.
Yellow sofa look #3: Create a contrast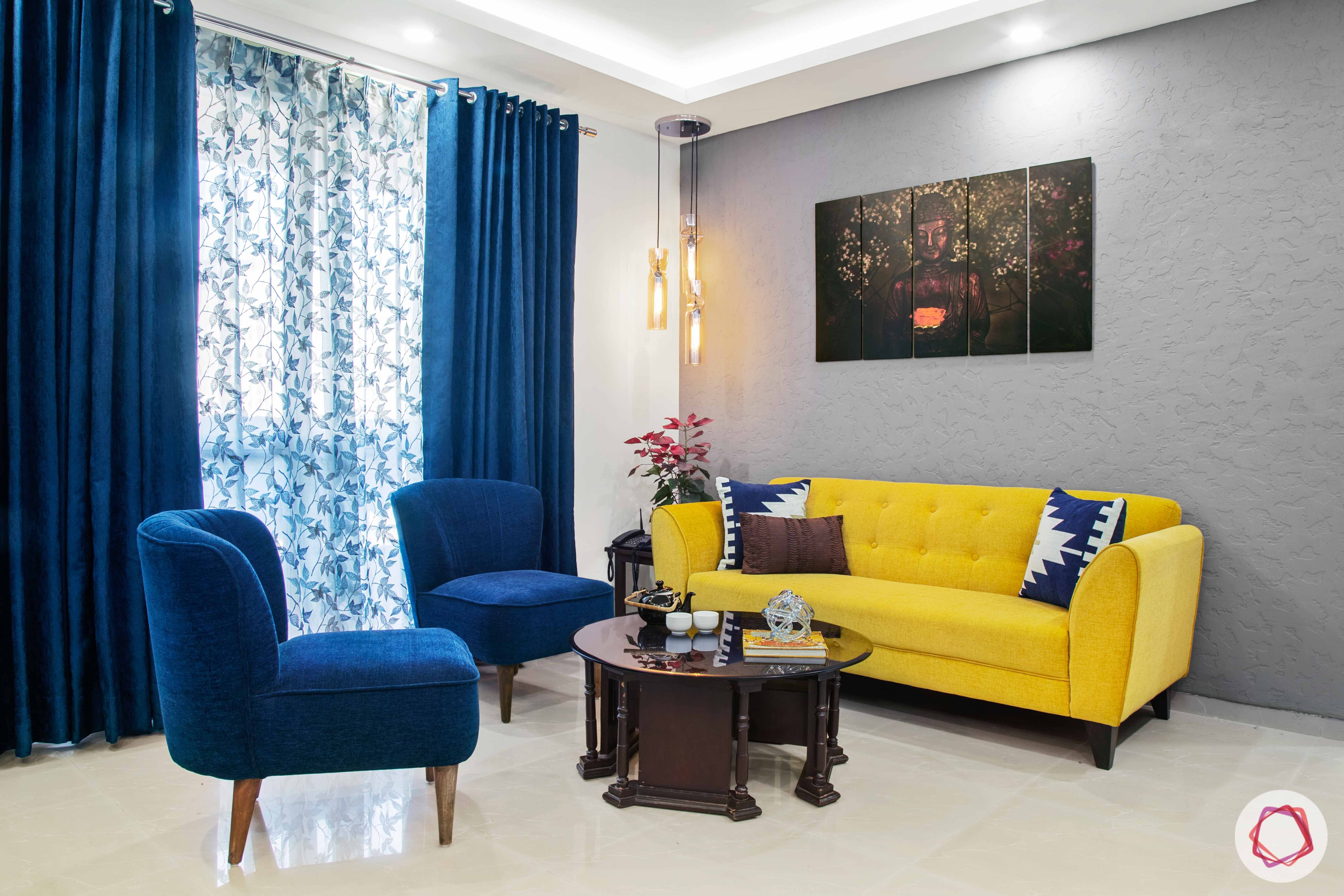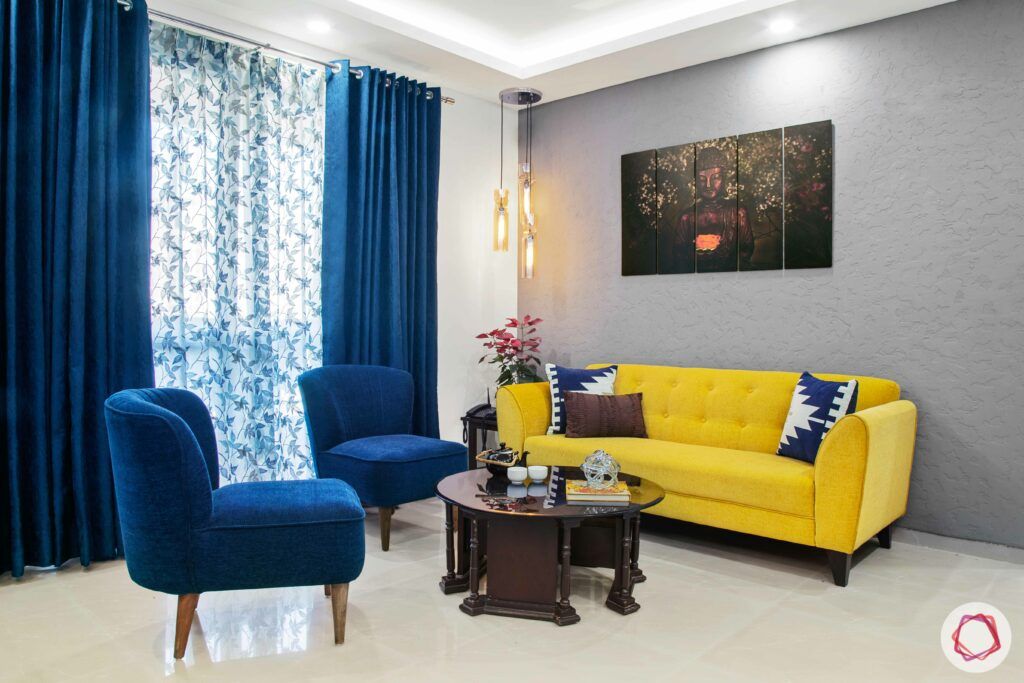 If you are someone who loves the brightest shade in every colour palette, then why leave yellow behind? You are going to love your living room after you add a dash of brightness with this blazing yellow sofa. Complementing it are two navy blue accent chairs and matching drapes. A corner pendant light seals the deal.
Design takeaway: Contrasting shades like yellow and blue can give your room the rich, lavish look it needs!
Yellow sofa look #4: For that boho feel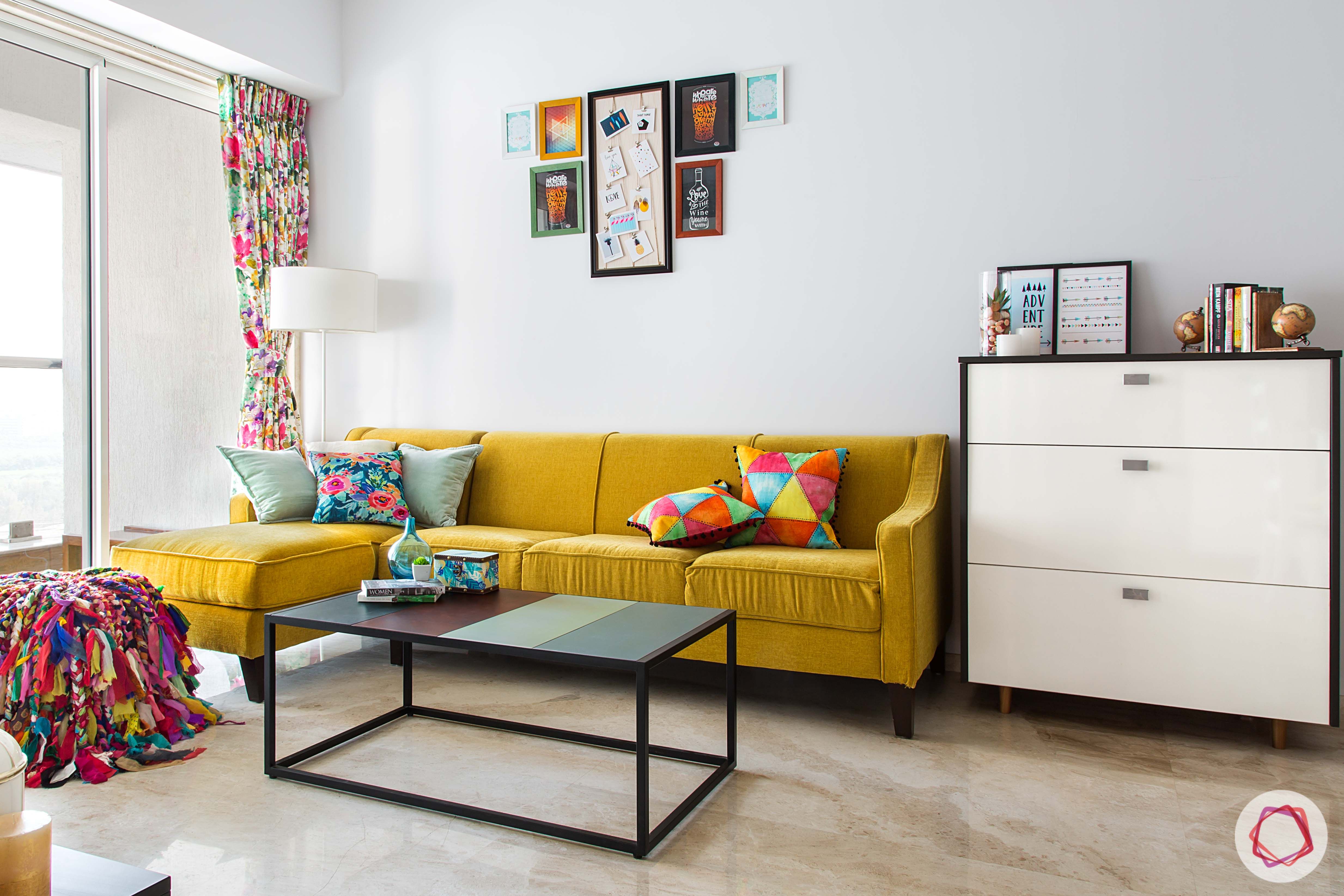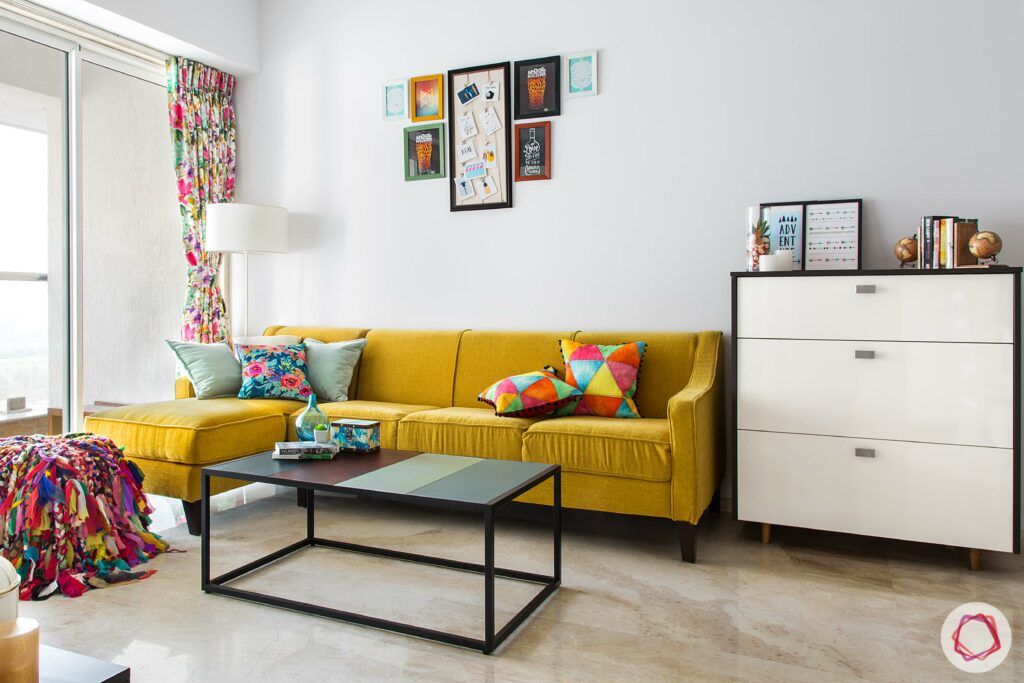 Love having a relaxed vibe at home? Then opt for an L-shaped sofa in a subtle mustard colour from the yellow family. To jazz things up, add cushions in all the colours of the rainbow and do not forget the curtains. They can really make or break a look. We love how the homeowners here have added a fun seat next to the sofa. It looks so unfinished, yet so quirky.
Design takeaway: Deck up the wall with quirky frames to complete the look.
Yellow sofa look #5: Add to the drama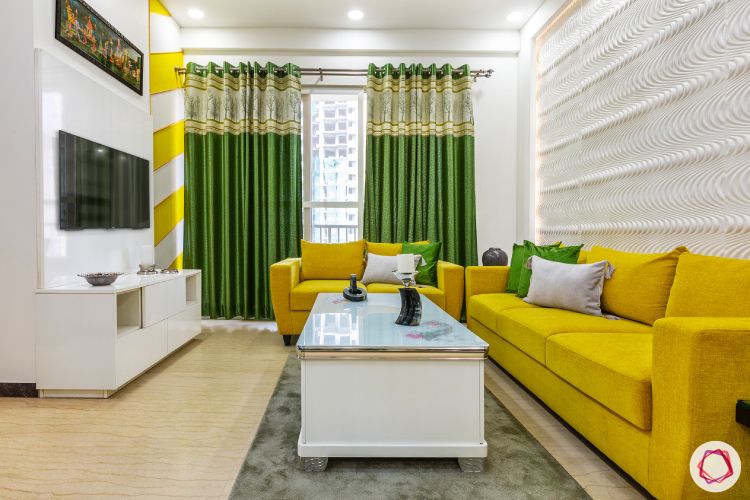 How much yellow is too much yellow? No one knows the answer to this. But what we do know, is that if you love this sunshine colour, then there's nothing like too much. Take a cue from this living room here, where the entire sofa set is upholstered in this bright hue. Toning it down are the white walls and light wooden flooring.
Design takeaway: Add a dash of yellow to one of the walls to maintain visual harmony.
Yellow sofa look #6: For a touch of luxury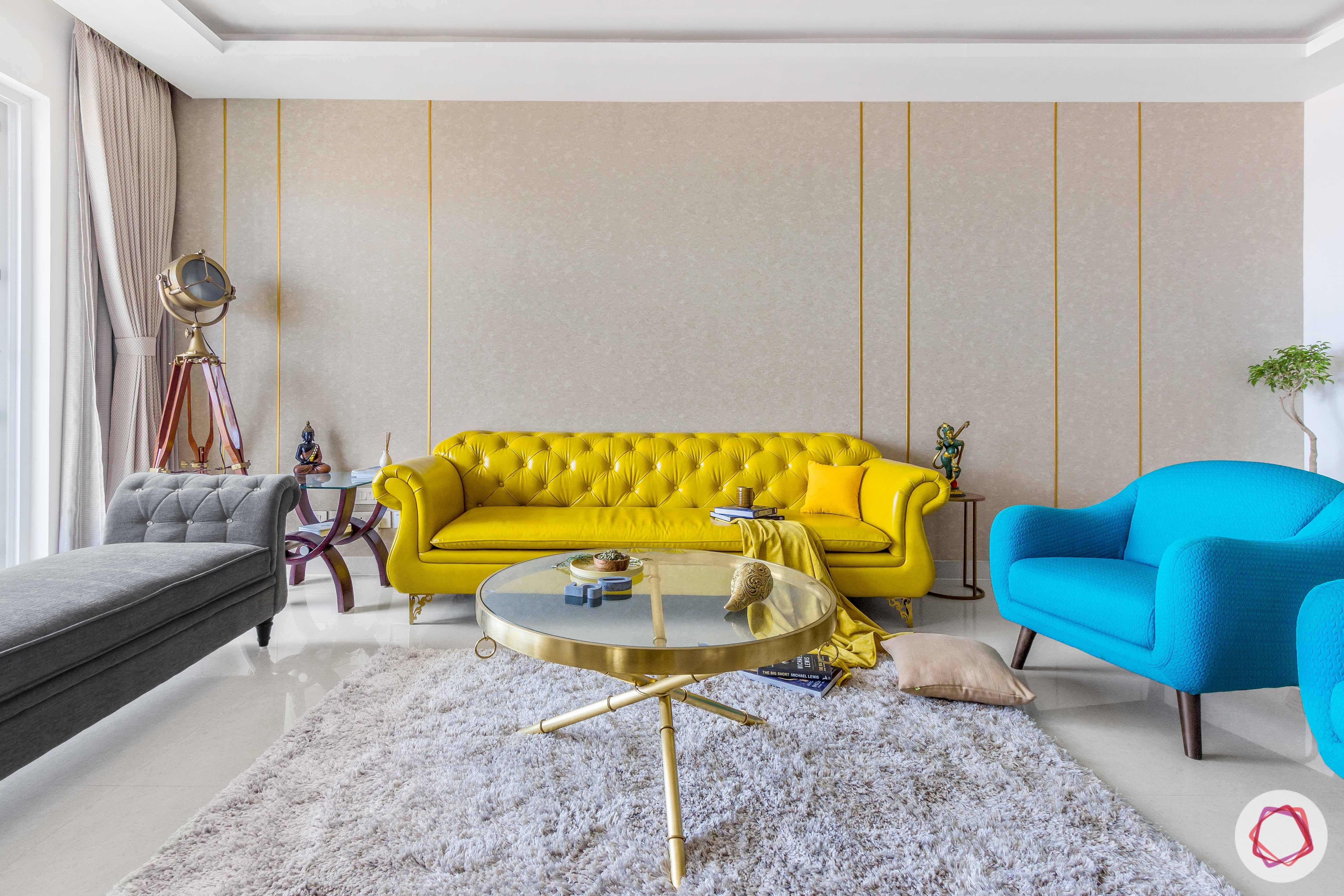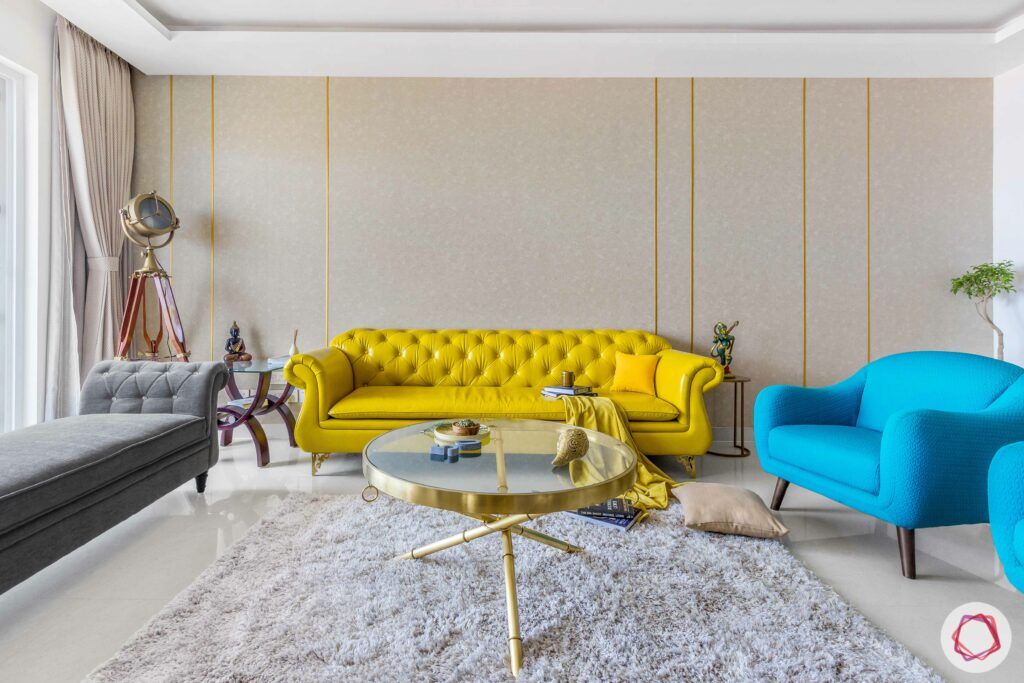 Now this is one living room that we absolutely love. This spacious layout allows for a lot of interplay of colours, textures and styles. There is so much happening in this space, like the golden centre table, blue chairs, grey daybed, furry rug and so on. But what catches the eyes? The yellow sofa. Upholstered in plush leatherette and button-tufted to perfection, this piece is a marvel.
Design takeaway: Opt for leatherette if you want a plush look in your living room.
Yellow sofa look #7: Minimal matters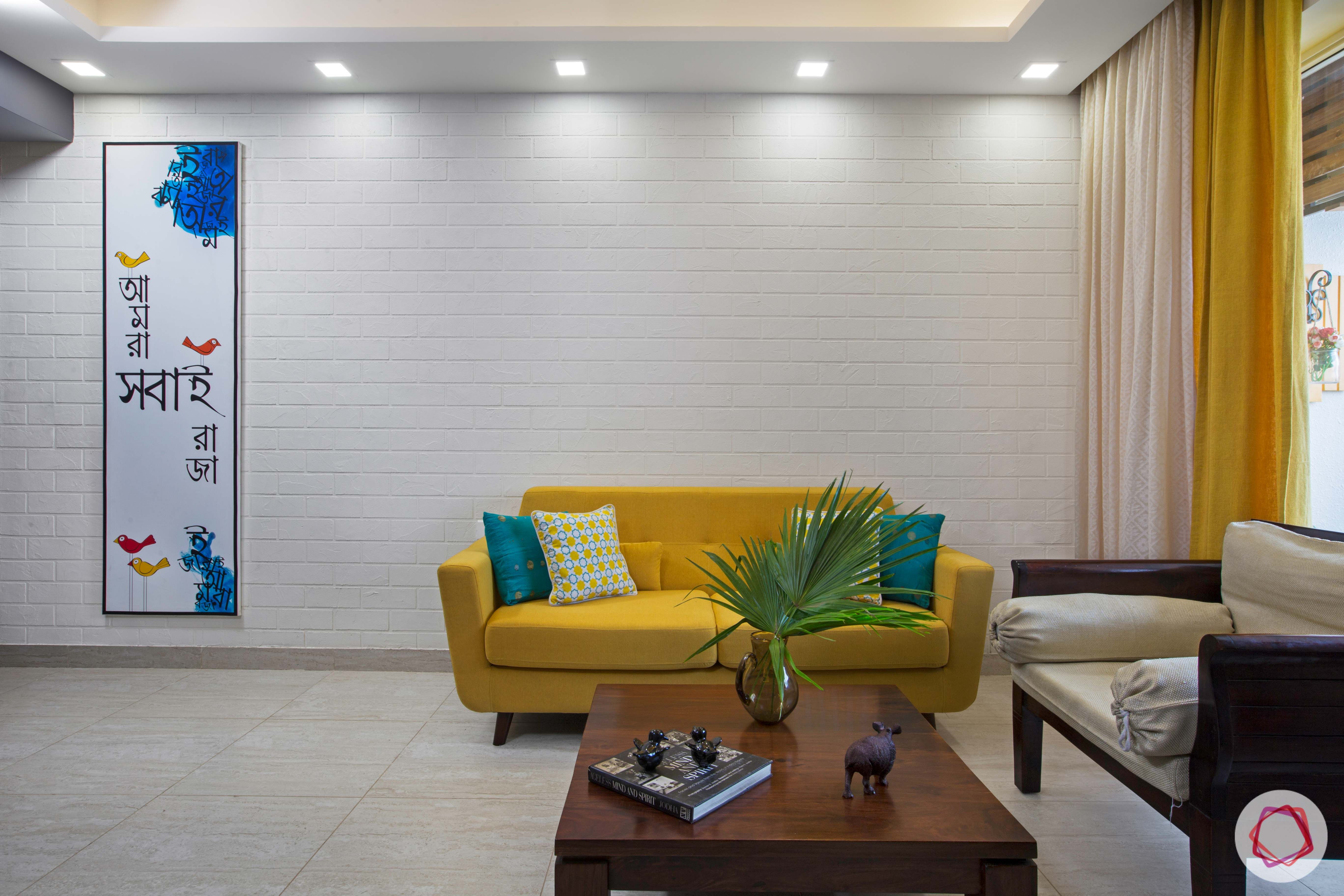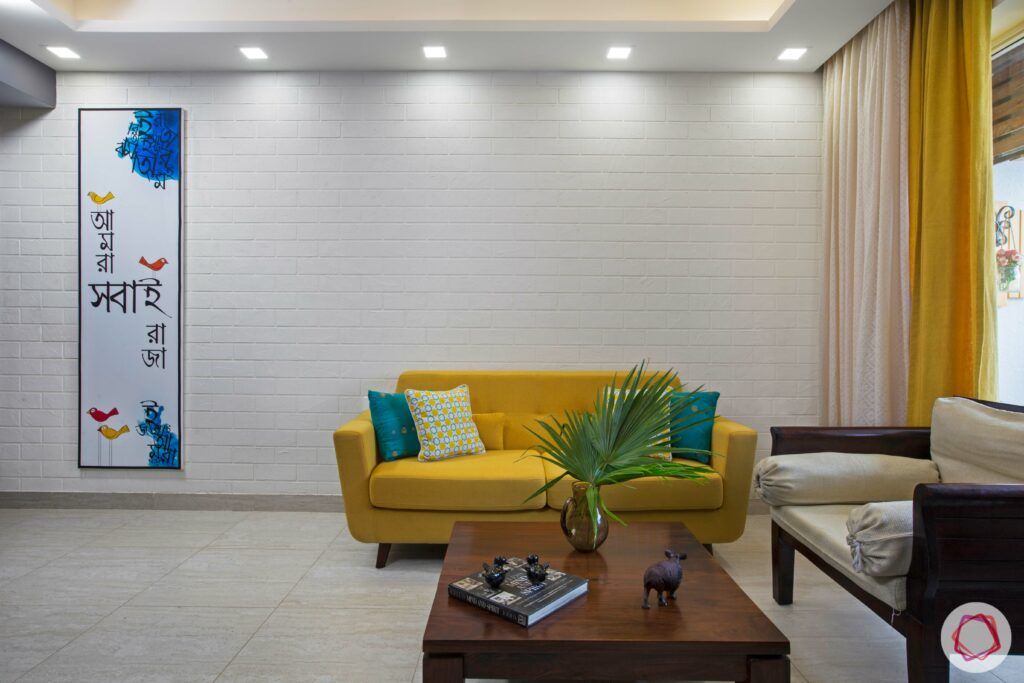 Minimalism is the key in this living room. A yellow loveseat is what the homeowners opted for to add a splash of colour to their living room. Exposed brick wall with spotlights on top create the right focus here. Don't miss the pretty painting and yellow curtains matching with the couch.
Design takeaway: Solid wood furniture and flooring looks surprisingly great with yellow sofas.
Want to know more about living room furniture options? Take a look at this: Think Beyond the Sofa: 11 Modern Seating Options.
Send in your comments and suggestions.