A classic Scandinavian bedroom design!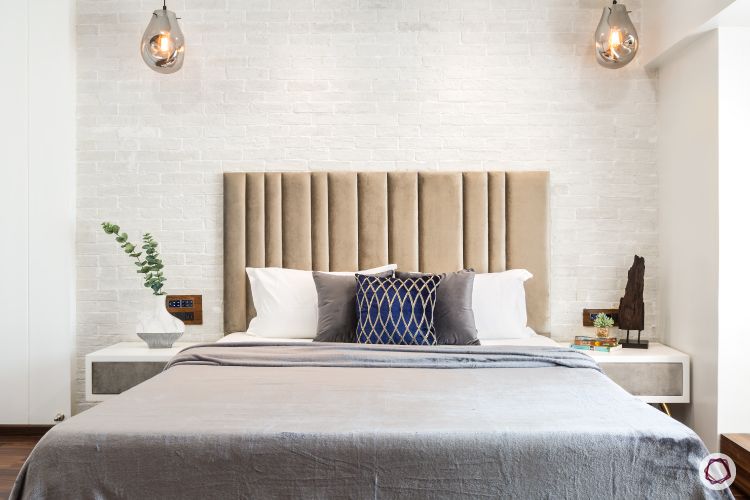 ---
Who livs here: Sunil Shah with his wife Smita and their son Akash
Location: Lakhini Tower, Mumbai
Size of home: A 4BHK spanning 1,200 sq ft approx.
Design team: Interior Designer Tejal Shah and Design Manager Avneet Kaur
Livspace service: Bedroom & Bathroom design
Budget: ₹₹₹₹₹
---
If you are a sucker for warm neutrals and perfectly edited closets with a dash of colour for company, then this bedroom will be your dream come true. Looking for interior design services for re-doing their bedroom, this family came across Livspace and met Tejal.
Under her expert direction, this space transforms into 225 sq ft of awesomeness. Perfect for a to-be married couple that have a lot of stuff to keep and still like keeping things in place. With some excellent design solutions like storage on the window ledge, bronze mirror door and metallic strips on a wall, Tejal has struck all the right chords!
A Superior Design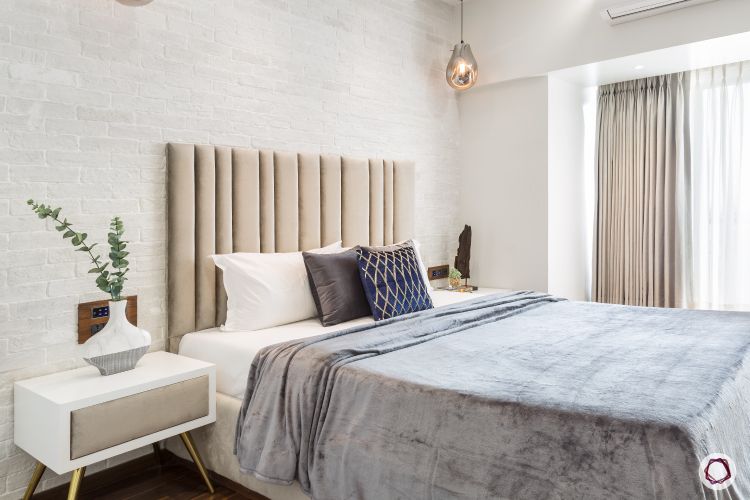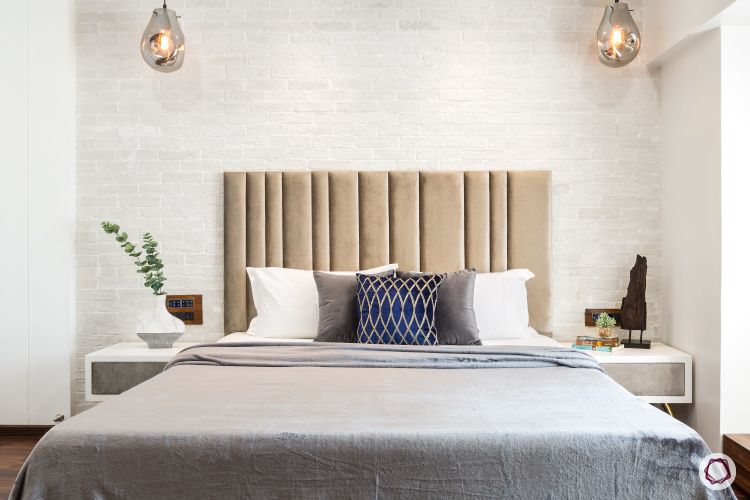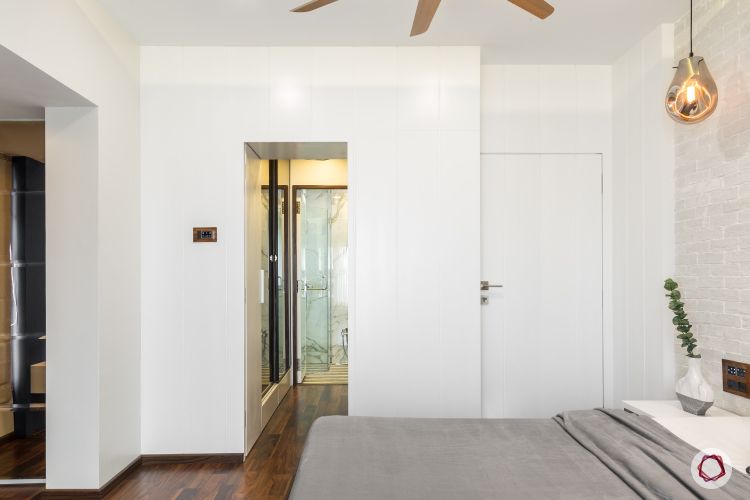 For the Shahs, what initially drew them to getting a fully equipped bedroom was the impending wedding at home, that would bring the newly-weds to this space. But after they met Tejal and gave her all their requirements, it took off on a great design journey from there.
A very neutral and Scandinavian room is what the couple wanted. They were clear about having designated storage spaces for every little thing that they would bring in. Yet, the room had to look minimal and not cluttered at all. Tejal handled this very professionally and started churning out designs that would suit all their needs. Minute details like concealed storage for shoes on the window ledge and separate space for handbags are also present. Talking about the design, you can spot a lovely exposed brick wall on the bedside and pristine white walls all around the room. She also broke down the flooring and gave them a lovely wooden version that goes so well with the theme of the room.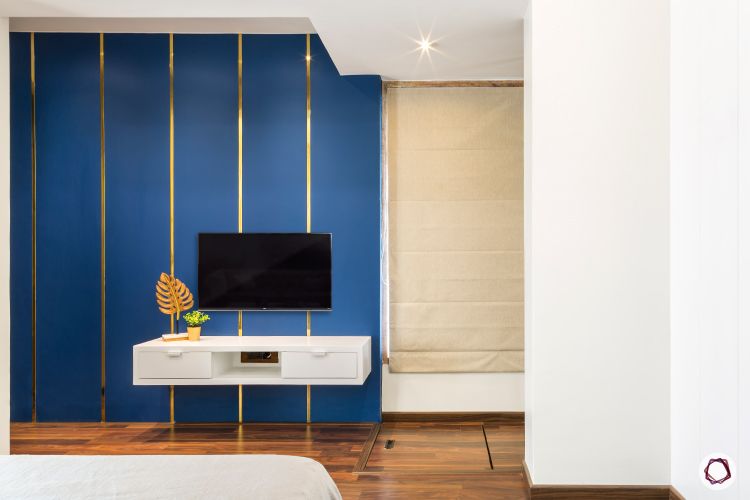 A very striking feature in this room is the blue wall behind the TV unit. The only splash of colour that you'll see in here! But do you know what is even more appealing? Yes, it is the vertical bronze strips that run down. Akash, Sunil's son, who is slated to get married around the end of December, wanted hints of copper in their room, but somehow it wasn't blending with the design. So, they settled with bronze, which is also an amazing choice to add that bit of shimmer and glam to any space.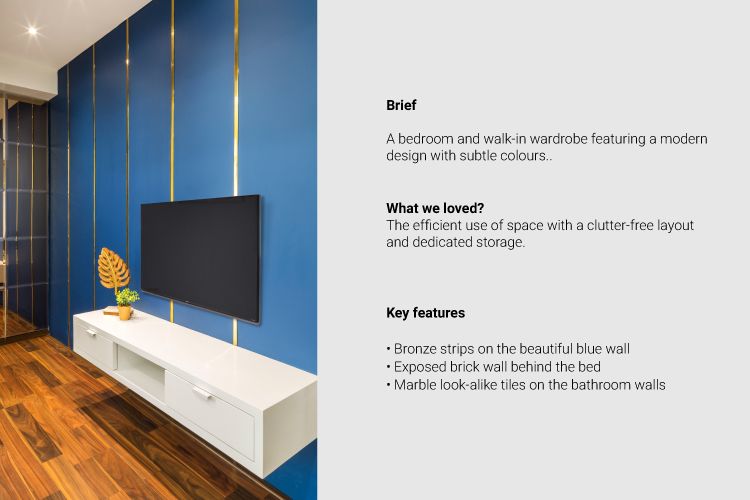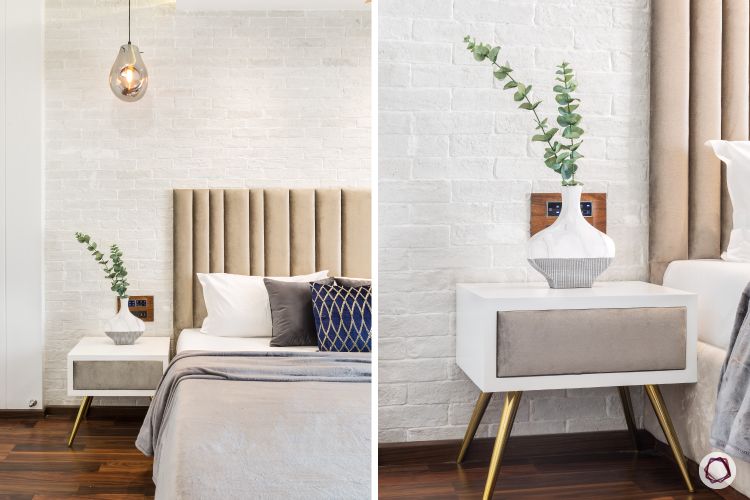 A classy room like this one definitely deserves a bed that is unique and stylish. Thus, Tejal gives them a fully upholstered version with a panelled headboard for company. A subtle beige fabric that be easily rubbed clean with the help of a brush. It pairs with matching side tables that have lovely bronze legs to keep up with the trend.
A Style Statement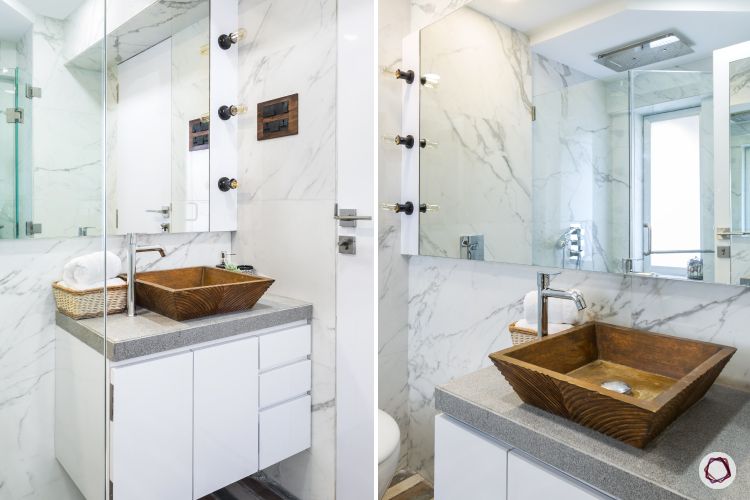 For the bathroom, they wanted something very minimal and Scandinavian. The walls have wonderful veins just like marble does. But to keep things simple, Tejal gave them statuario tiles, which look exactly like marble. Colour takes over on the floor with multi coloured grey, white, brown colourful strips with a subtle hint of blue. The basin is a ceramic one with wooden finish that acts as the cherry on the cake!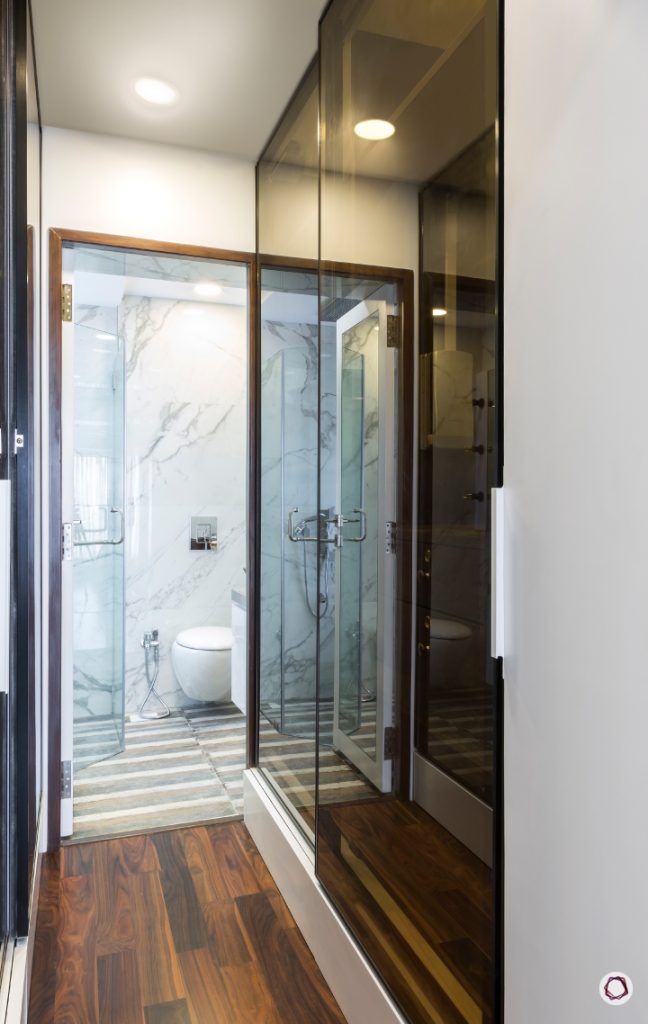 This room also features an elaborate walk-in wardrobe with sliding glass doors that open up to a fully organised space. Complete with sections that accommodate everything from a pin to an aeroplane, this is great for people who like to keep everything in its place.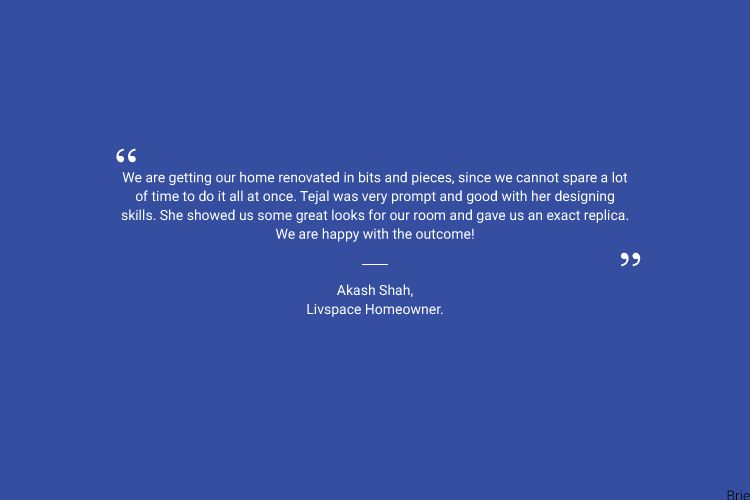 "I was told that this room has to be designed in a way that everything has its own place. They also wanted a lot of storage here without making the room feel cluttered. I worked around these requirements and gave them designs that please their taste and look good. I enjoyed working on this makeover!"

– Tejal Shah, Interior Designer, Livspace

Also, check out A Bedroom Makeover in Mumbai That Will Amaze You.
Send in your comments and suggestions.
— editor@livspace.com