Cleo County gets a colourful and lively home!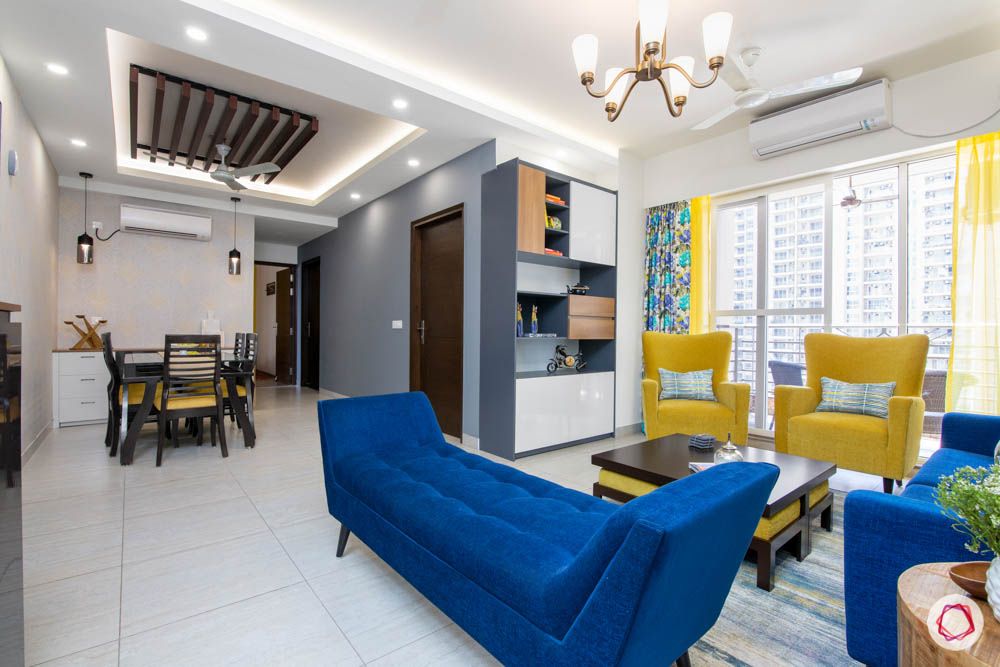 ---
Who livs here: Chandan Goyal with his wife Dolly
Location: Cleo County, Sec 121, Noida
Size of home: A 3BHK spanning 1,800 sq ft approx.
Design team: Interior Designer Shivangi Bawa and Project Manager Sandeep Jain
Livspace service: Full home design (kitchen not included)
Budget: ₹₹₹₹₹
---
Noida is a popular choice for many Delhiites, but for Chandan and Dolly it was purely for comfort reasons. This couple bought their dream home at Cleo County, Noida and wanted to fill it up with colours. A lively and happy-go-lucky couple, they wanted their home to mirror their personalities. Therefore you will notice a riot of colours in this 3BHK and you will not complain.
When they contacted Shivangi, their designer to get started on their project, little did they know that it could be so easy to get a home interiored. Shivangi listened to their requirements very patiently and therefore, it was very easy to finalise the designs in a short span of time. The couple knew that they wanted splashes of blue and yellow in their home so that they feel happy when they come in after a long day at work. Shivangi used these colours intelligently and gave them exactly what they were looking for, in a given span of time. Read on to find out how a home full of colours should look.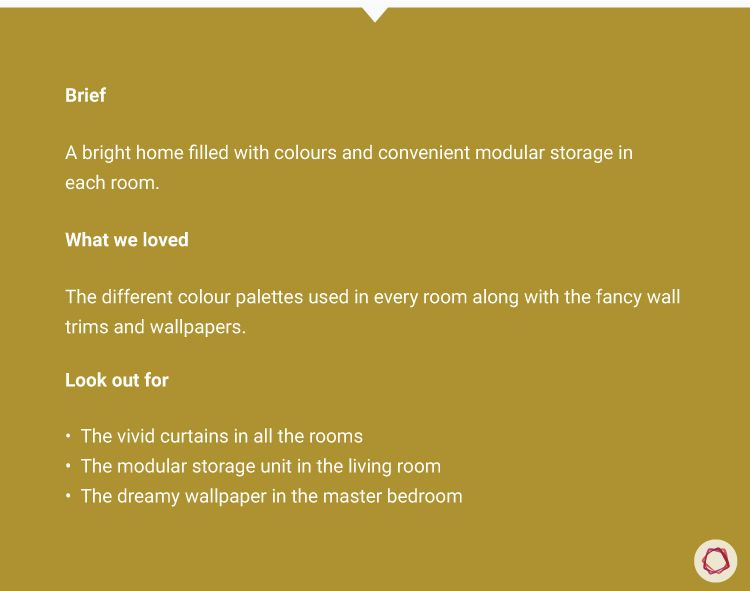 Cleo County: Riot of Colours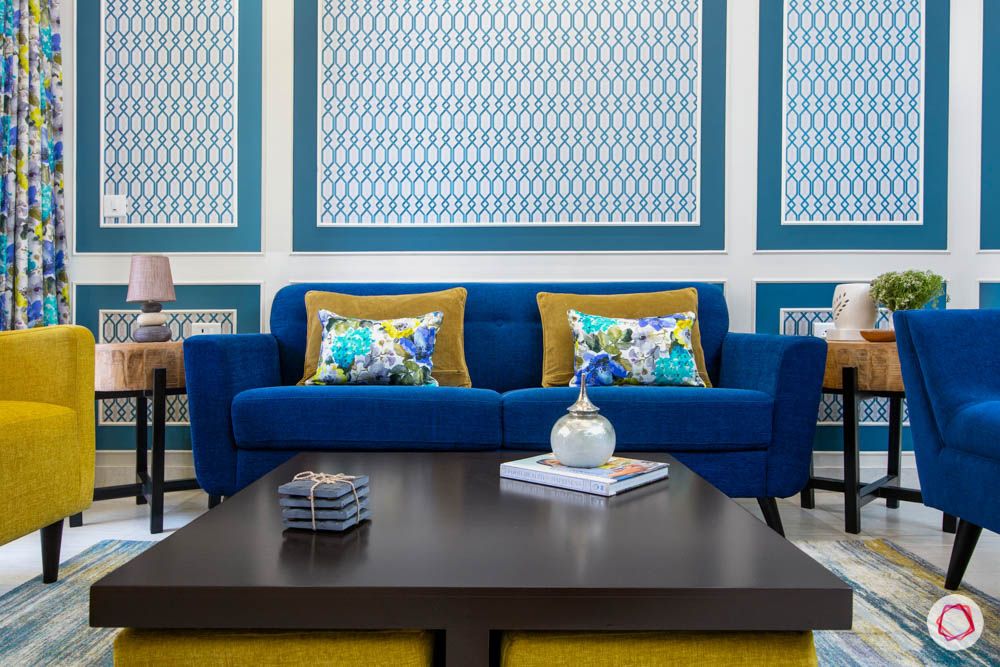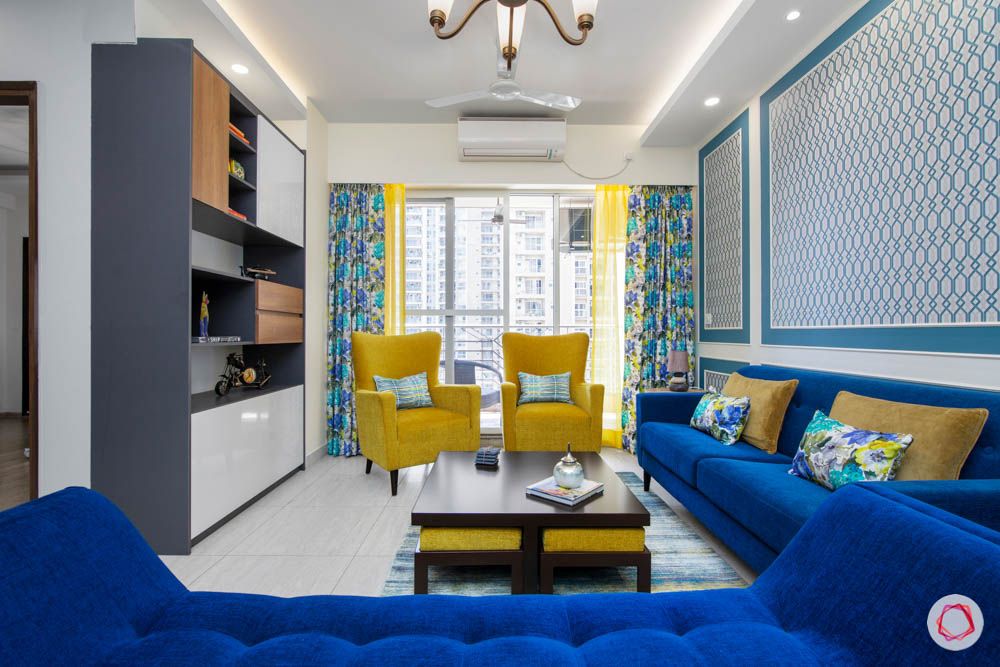 The living room at this Cleo County apartment is medley of bright colours. Chandan and Dolly wanted to fill their home with colours and Shivangi obliged by using a lovely combination for the living room. The sunshine yellow accent chairs pair up perfectly with the royal blue sofas. She has added extra seating with ottomans that slide under the centre table and a daybed that can be used from either side.
Shivangi has also added a splash of pattern on the wall along with trims that make quite a statement here. Also, instead of the usual TV unit, they opted for this display-cum-storage unit that they can use to put their collection on display. The living room is the ideal space for this, we feel. We also love the hint of sunlight coming in through colourful curtains.
Cleo County: Simple & Subtle Dining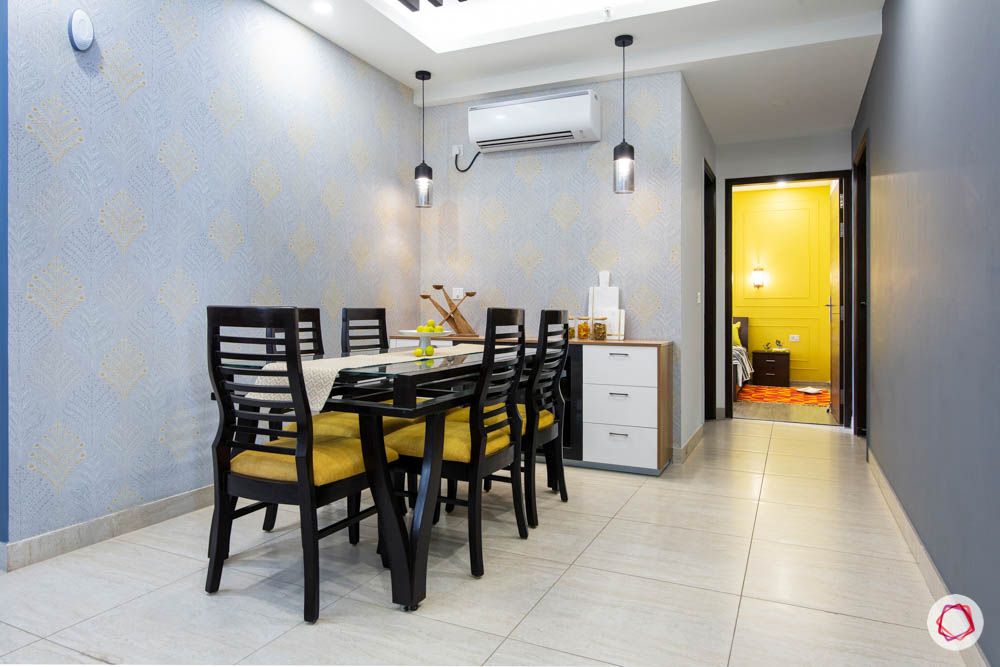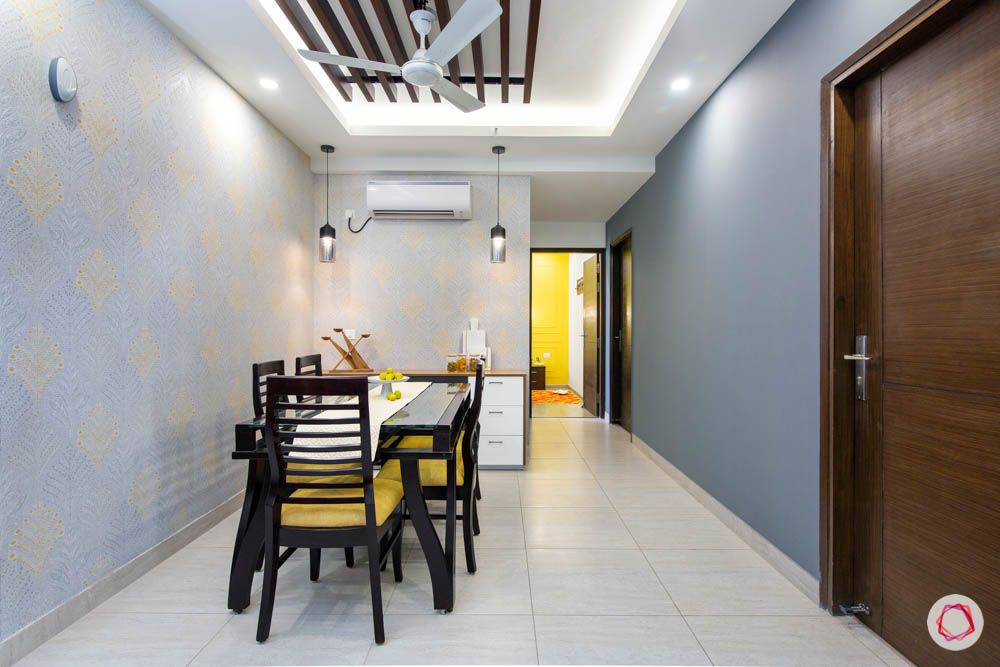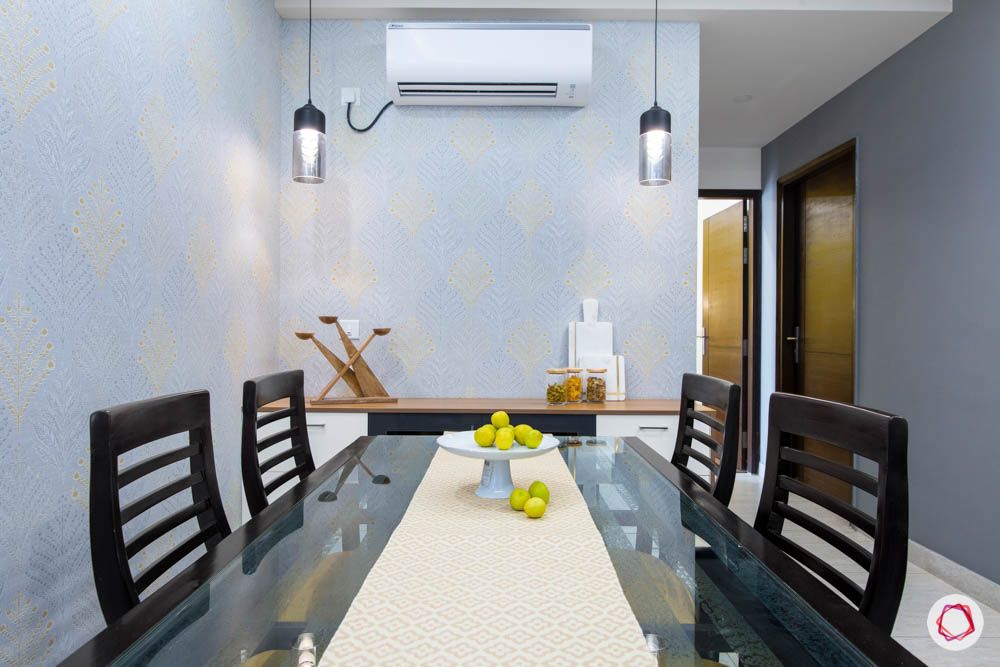 This Cleo County home boasts of a compact and cosy dining room that Shivangi has designed carefully. She has given them a printed wallpaper on both walls and highlighted this space with pendant lights. You can also spot wooden rafters on the ceiling that which give this space a sort of definition. Yellow again plays hero here, with yellow upholstered dining chairs that pair with a glass-top dining table beautifully. Shivangi has also given them a sideboard complete with drawers, that makes this room every bit functional.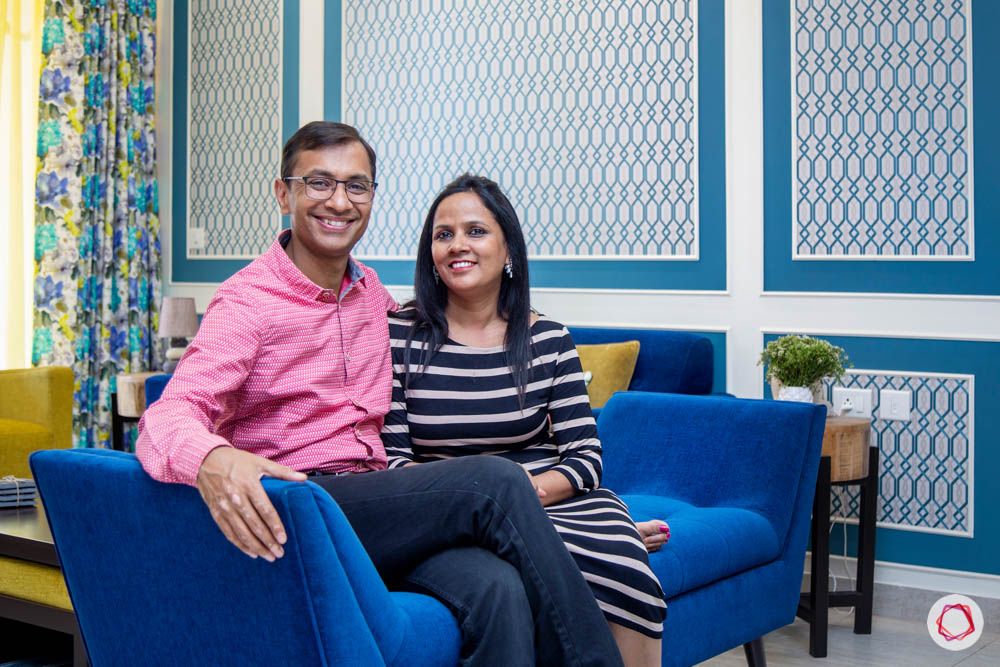 "We are so glad that we engaged Livspace to design our home. This home is like our dream come true .Shivangi is an amazing designer, she helped us through the entire process. The entire team has been very helpful and our home was designed exactly the way we wanted. We will gladly recommend Livspace to our family and friends."

-Chandan & Dolly Goyal

Cleo County: Tiled Balcony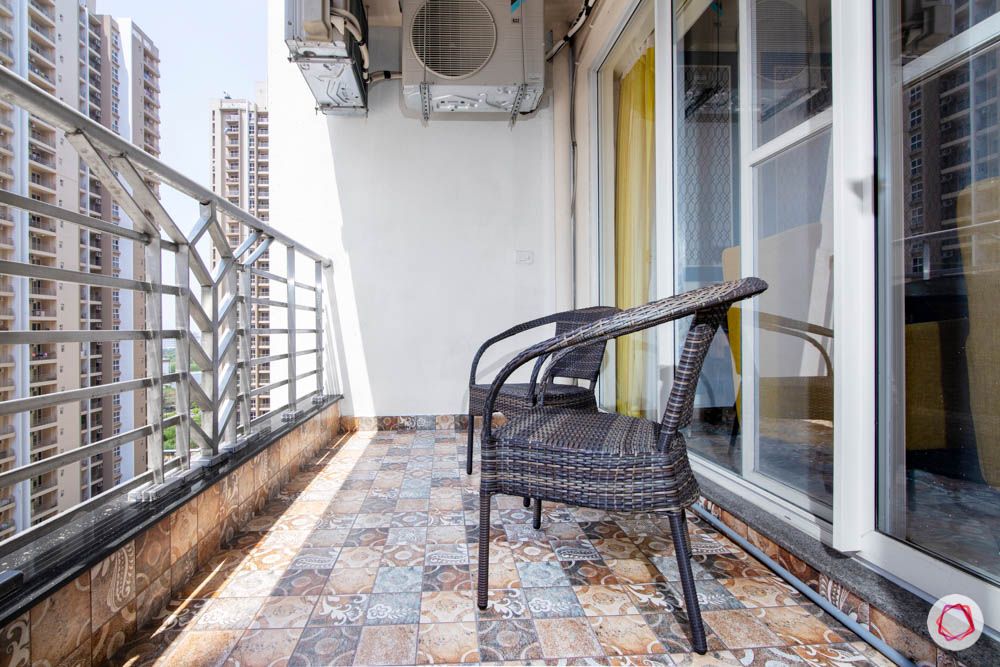 The main balcony at this Cleo County home is where the couple sits and enjoys their mornings or evenings with a cup of tea. Shivangi beautified it with moroccan-style floor tiles that elevate the aesthetics of this spot.
Cleo County: Dreamy Master Bedroom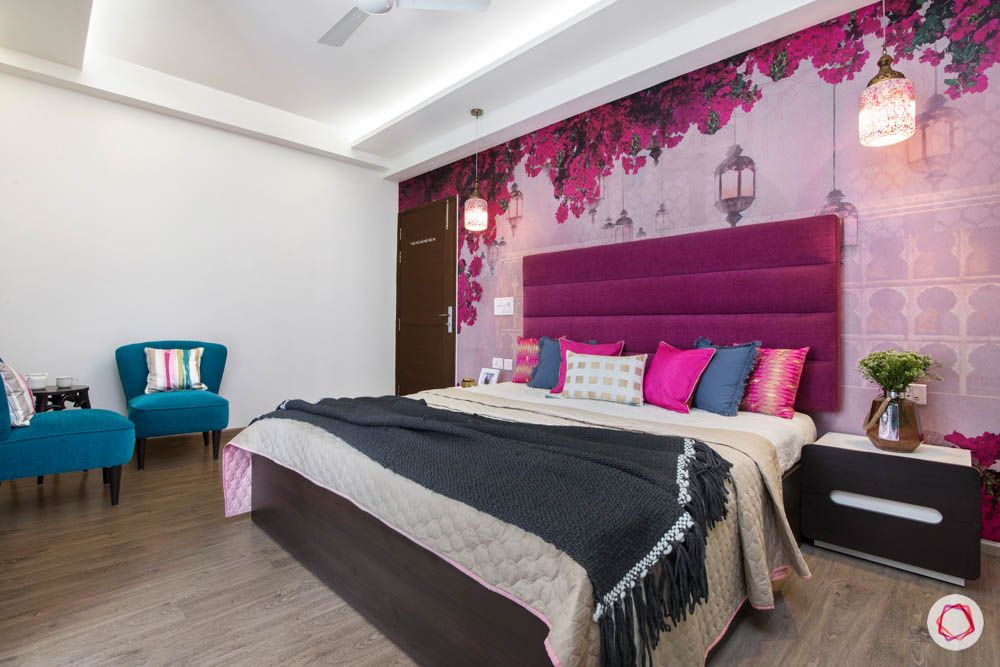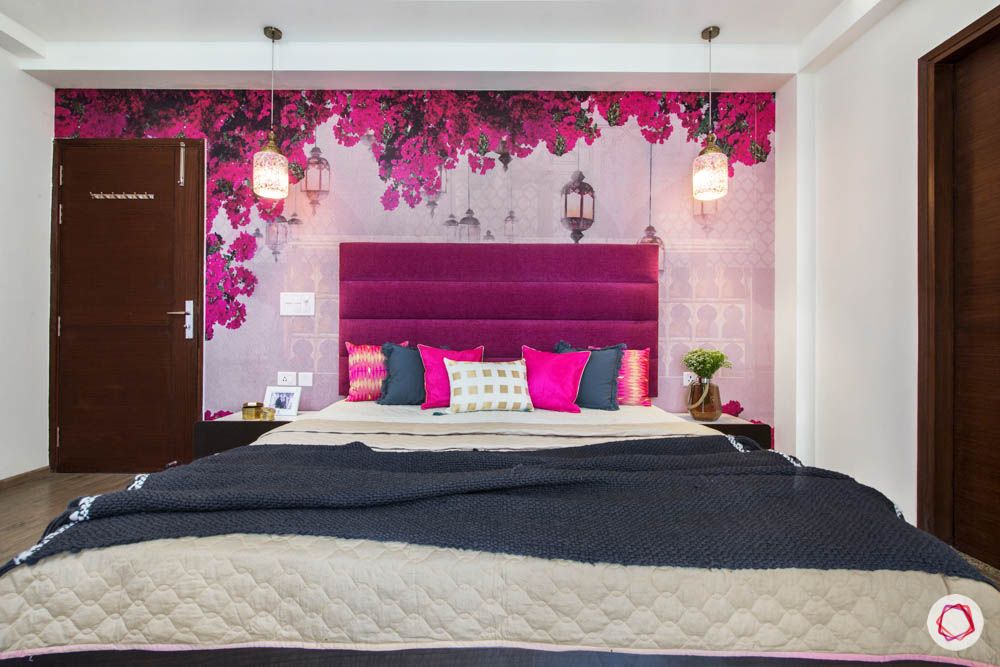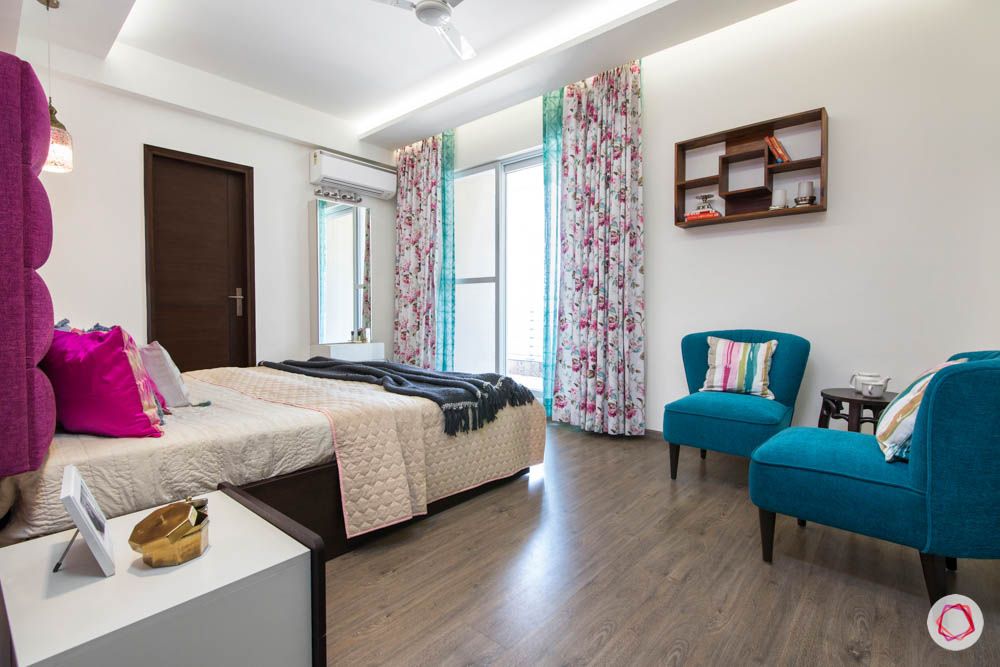 Chandan and Dolly wanted something very dreamy for their master bedroom and Shivangi had to really rack her brains for this. She came up with this brilliant idea of adding a pretty floral wallpaper with magenta flowers and matched up the headboard with it. We love how the stunning pendant lights cast a spell here. A standalone dresser makes way into one corner and a cute ottoman sits in front of it.
There is also a conversation corner created specially for this couple in their bedroom. You can spot two comfortable accent chairs and a coffee table in between. We are totally imagining a deep conversation happening here, over a cuppa, of course.
Cleo County: Sunshine Guest Bedroom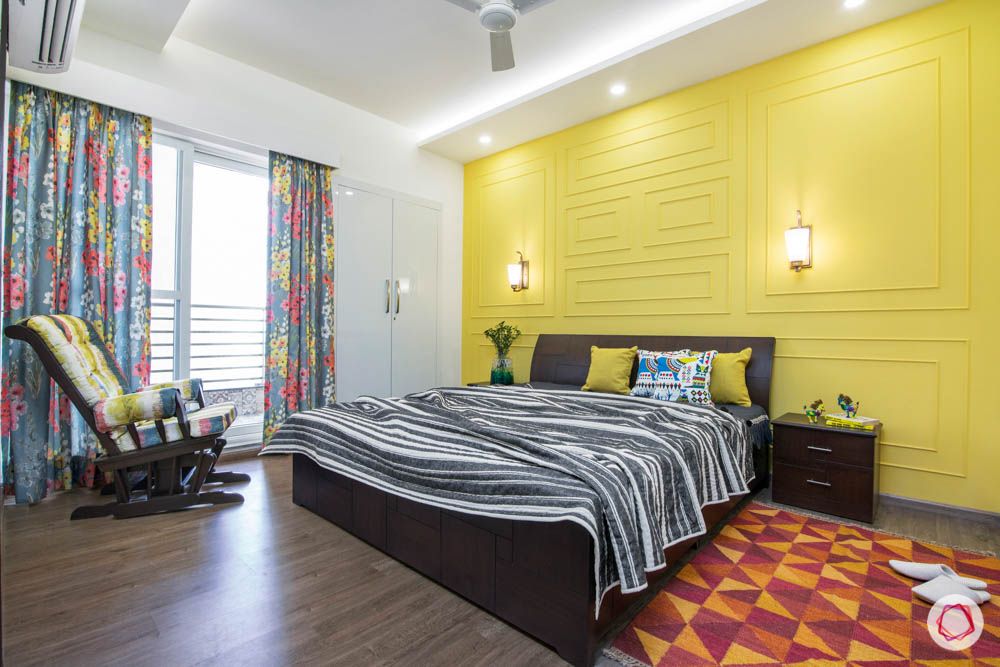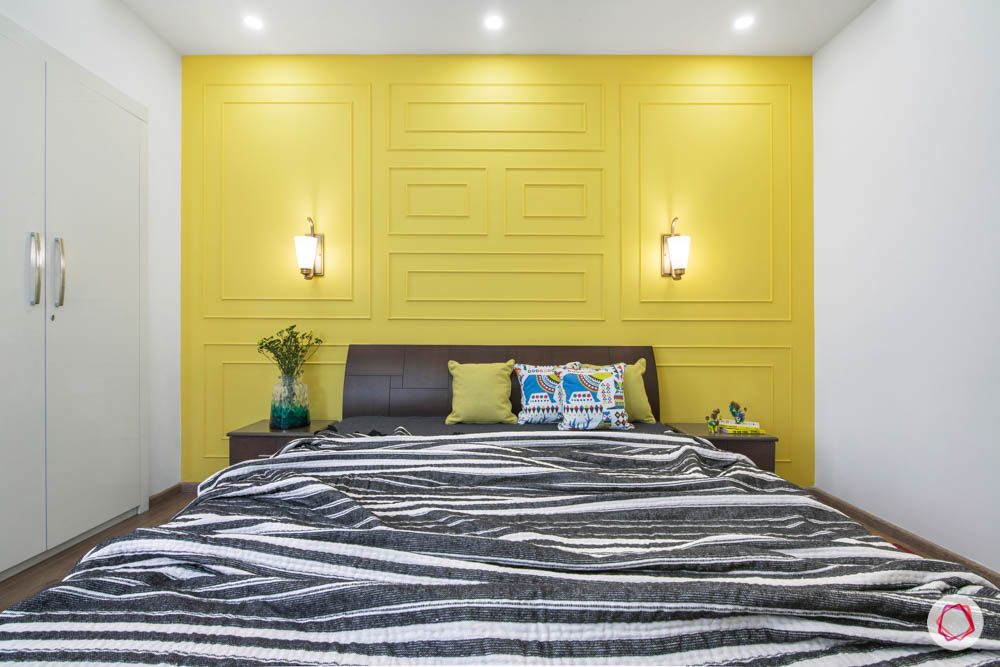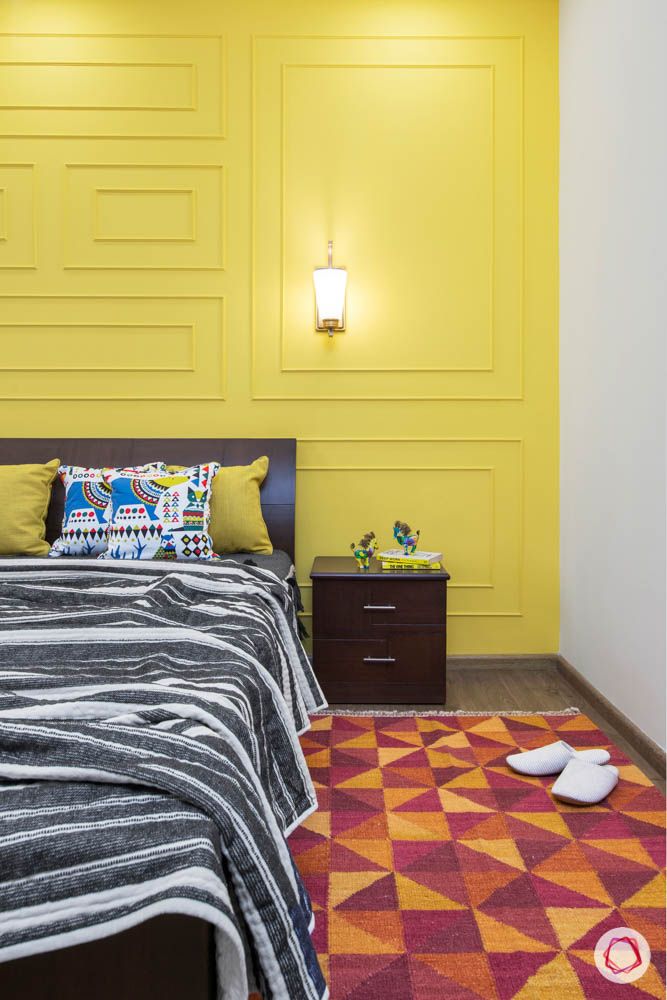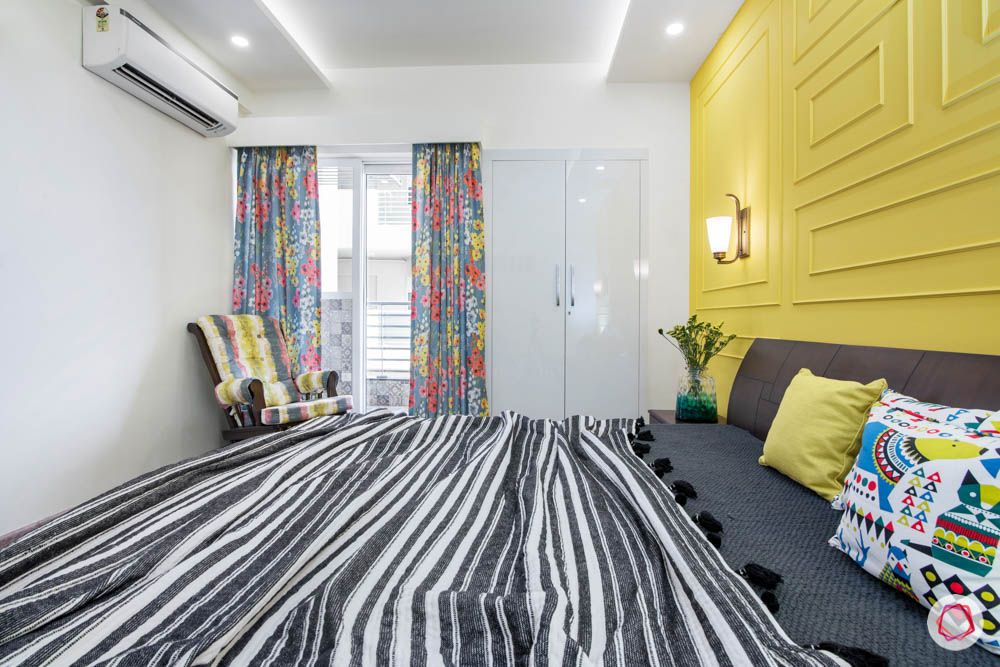 Doesn't this bedroom fill you up with happiness? The moment you step into the guest bedroom at this Cleo County home, you are welcomed by a sunshine yellow wall with lovely trims on it. Wall sconces reduce bedside clutter and bounce light off the yellow wall brilliantly. Do not miss the play of colours in the area rug, the curtains and the lounge chair!
Cleo County: Of Work and Leisure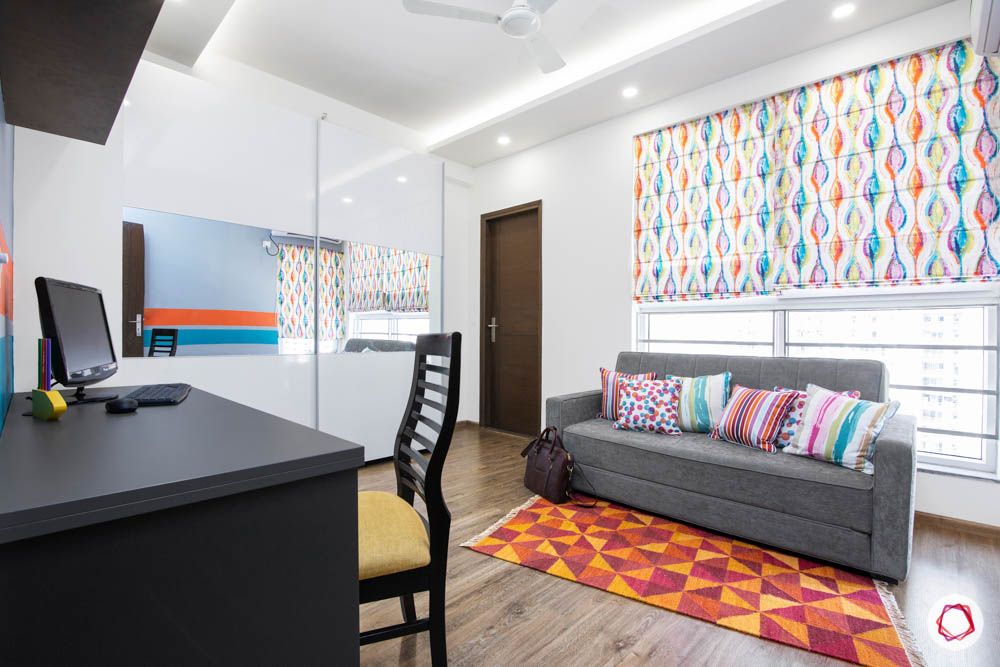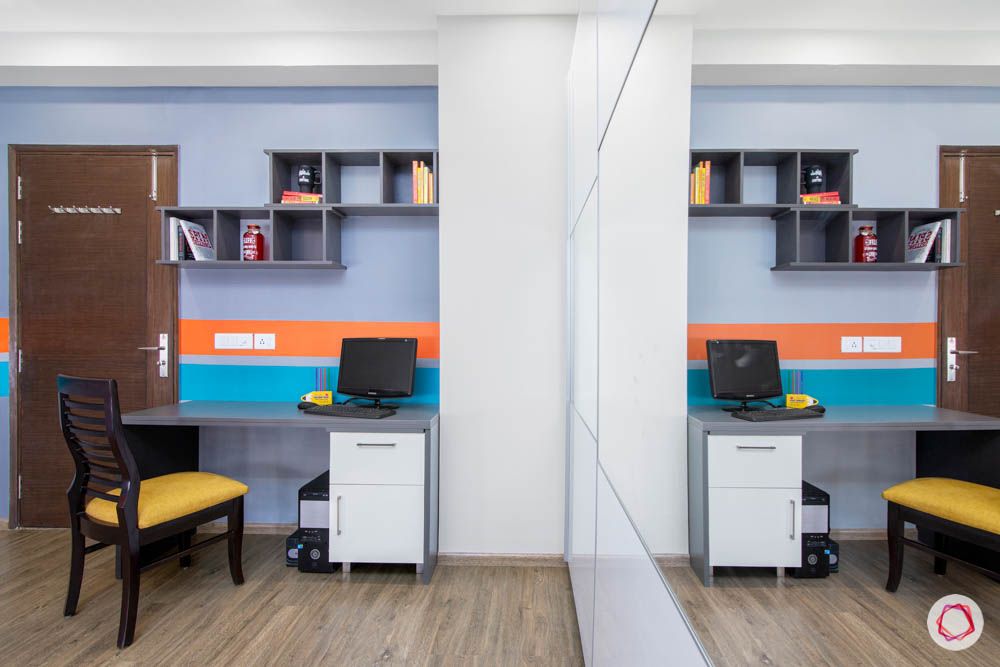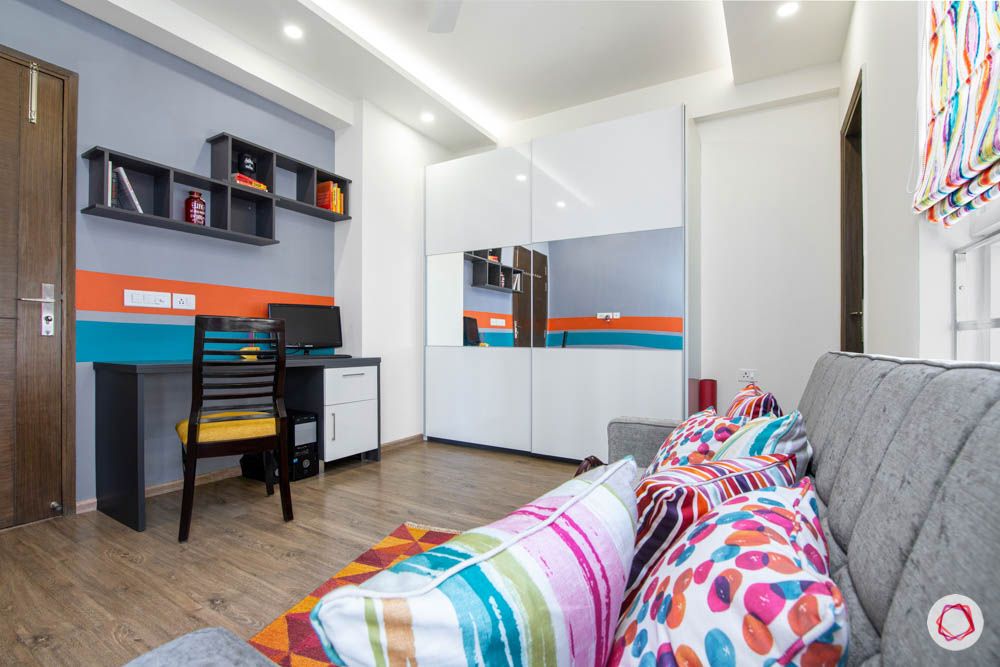 This one's for the work from home days. Both Chandan and Dolly wanted a space where they can work in peace at home. This bedroom is dedicated to that. Shivangi has given them a study table in grey and white, sitting against a wall with colourful stripes. A sofa-cum-bed is a functional addition, while the sliding wardrobe with mirror panelling in the centre takes care of storage.
"The clients were very easy to work with and I had a great time designing their home. They came with a crystal-clear mind and already knew the colours that they wanted in their home. I had to give them designs around it and in the end they were very happy with the outcome."

-Shivangi Bawa, Interior Designer, Livspace
If you enjoyed reading this, we are sure you will love this, too: Sun-soaked 4BHK for a Colourist.
Send in your comments and suggestions.