This home has an assortment of our favourite elegant interiors!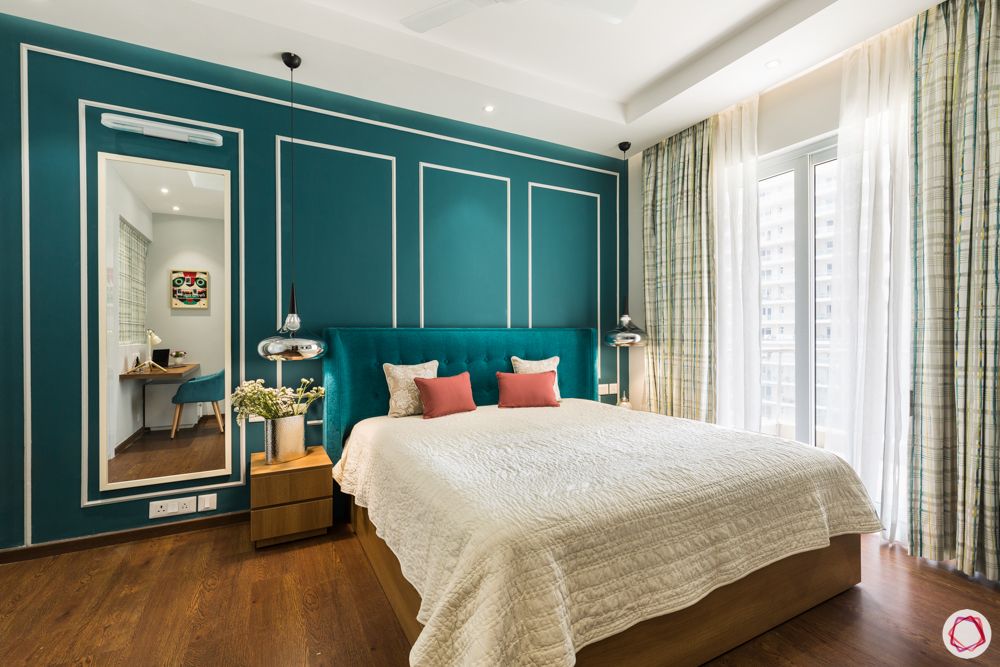 Who livs here: Vivek Vaibhav and his wife Juhi
Location: Paras Irene, Gurgaon
Size of home: 3BHK spanning 2,150 sq ft
Design team: Interior designer Trisha Gupta & Project Manager Tarun Suri
Livspace service: Full Home Design
Budget: ₹₹₹₹₹
For some, owning a house and turning it into a warm and welcoming home is the ultimate dream. Vivek and Juhi, a young couple and doctors by profession, got to do just that to their Paras Irene home. They had specific ideas for their new home with their heart set on a modern design. Coming back home to bland colours and minimal interiors was a major concern for the millennial duo. Hence, they were certain that they wanted a home that was full to the brim with bright colours and elegant patterns.
At the prime of their life, this lively couple got to design their dream home with Livspace's designer, Trisha Gupta. With an innovative brief in mind, Trisha and team set out to design this masterpiece.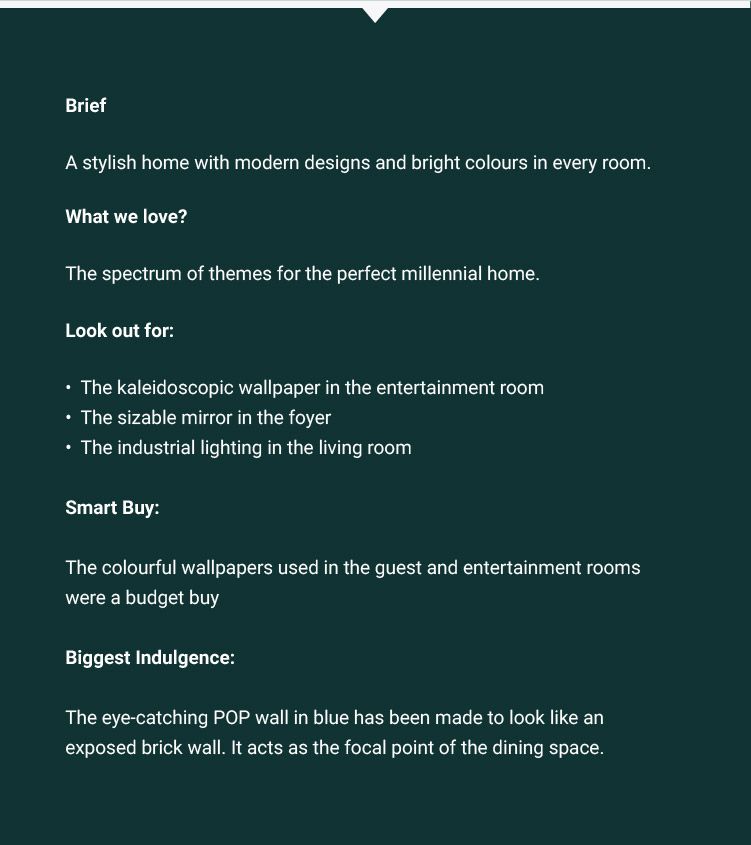 A Stylish Paras Irene Welcome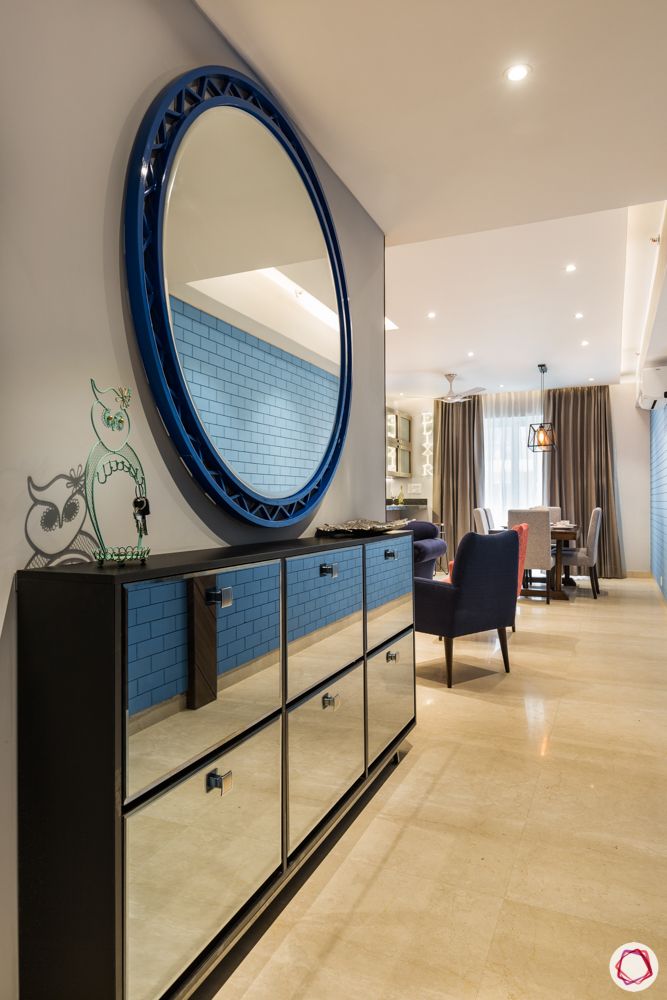 Entering the foyer, you can tell the apartment interior design starts with a bang! It has a grand custom-made mirror which gives us a glimpse of the interior design used all through the house. Paired with this mirror is a custom made shoe cabinet with a grey tinted mirror finish. To maintain the seamless look silver knobs were used on the cabinet.
Modern Luxury at Paras Irene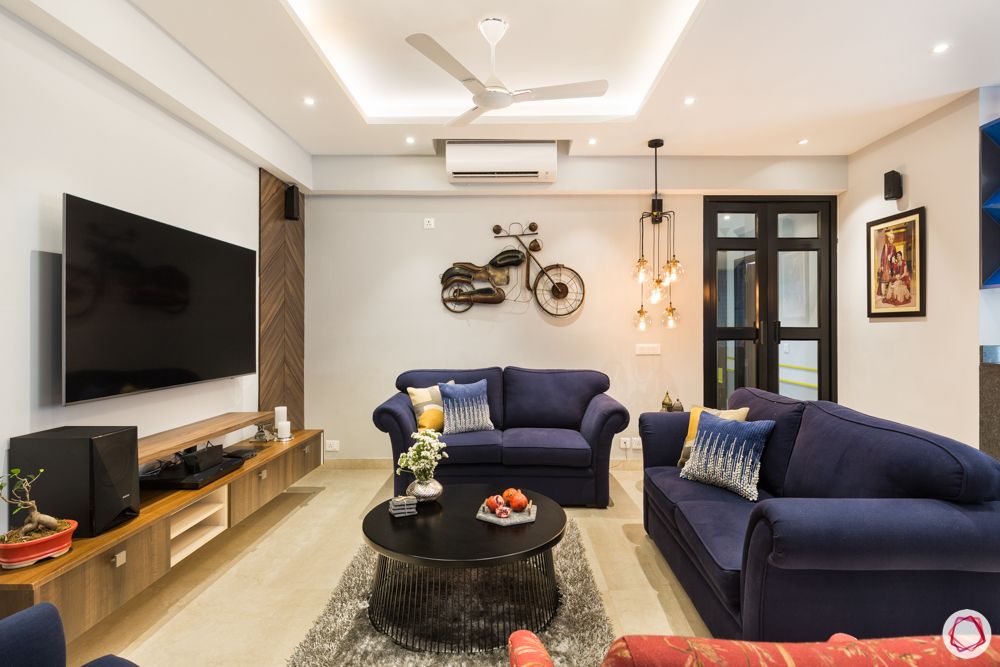 Leading out of the foyer, you can see the overview of a luxurious living room illuminated with plenty of light. With an abundant use of colour, textures, metals and wood, this room is ideal for those inspired by modern and industrial interior designs.
Similarly, the plush midnight blue sofa set with a hint of colour coming from the orange accent chair is what makes this design modern. Whereas, the wooden panelling, multi layered pendant lights, coffee table and vintage wall mount is giving us major industrial design inspiration. You can find this unique coffee table and the warm wooden TV cabinet in the extensive Livspace catalogue.
One of a Kind Dining Experience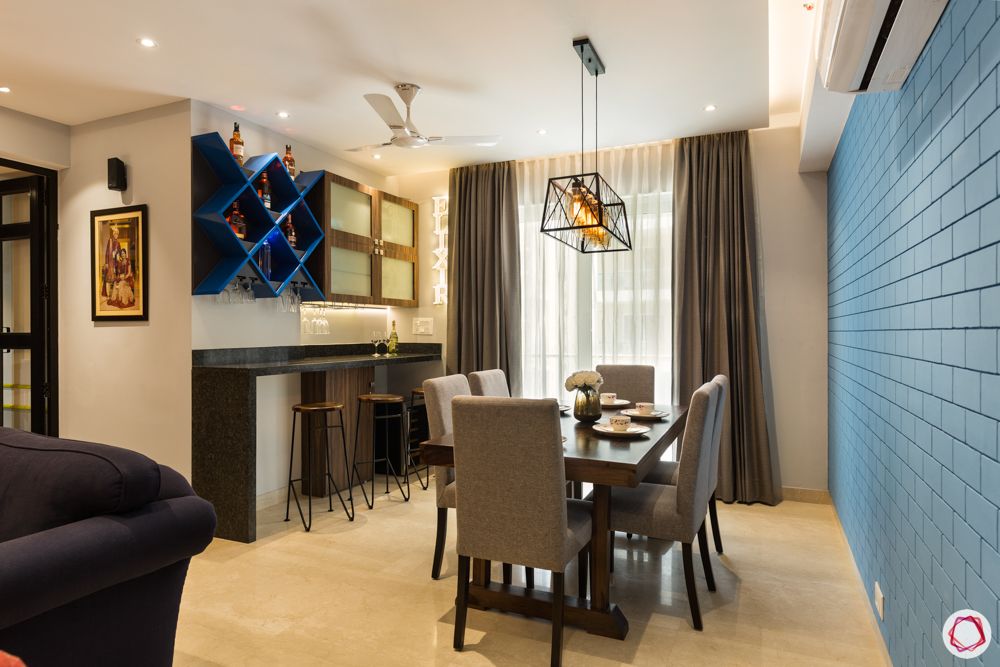 Adjacent to the modish living room is a stunning contemporary-themed dining room with an eye-catching elements. Orthopedic surgeon, Vivek was keen on getting an exposed brick wall somewhere in the house. This cool blue wall, made of POP is the epitome of skilled craftsmanship. As a result, the unconventional brick wall was made to represent the theme of the house as well as the couple's ultra modern taste. It goes hand in hand with the neutral tones of the dining table and the industrial themed pendant light.
Due to busy schedules and long working hours, Vivek and Juhi like to unwind with family and friends on a regular basis. Therefore, attached to the dining room is an innovative mini-bar. For easy access and aesthetic reasons, there is an open display case. Matching the midnight blue used all through the house, this unit is no ordinary display unit. Each shelf is individually lit up at the base making it a breathtaking feature in the house.
Making Meals and Memories in Paras Irene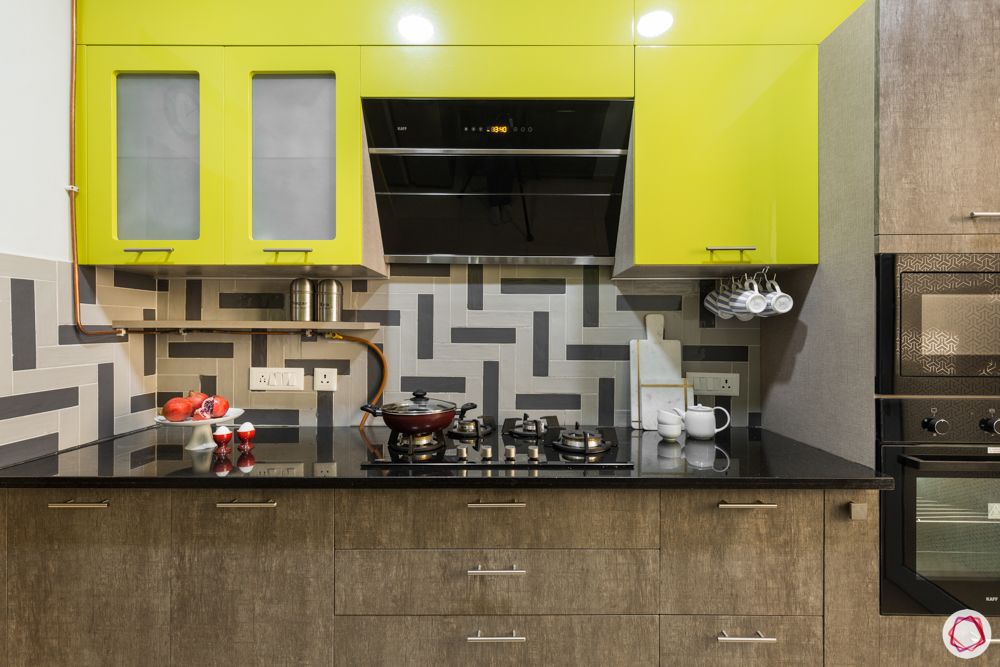 Every room in the home has a design that is dominated by a bright colour and the kitchen is no exception. Believed to make people hungry, this greenish-yellow shade is used as the pop of colour in the kitchen.
With all cabinets being closed, the wall cabinets are in a beautiful glossy membrane, whereas the base cabinets are in matte membrane. A simple backsplash in grey and black patterned tiles and a durable granite counter top blends in with the rest of the design.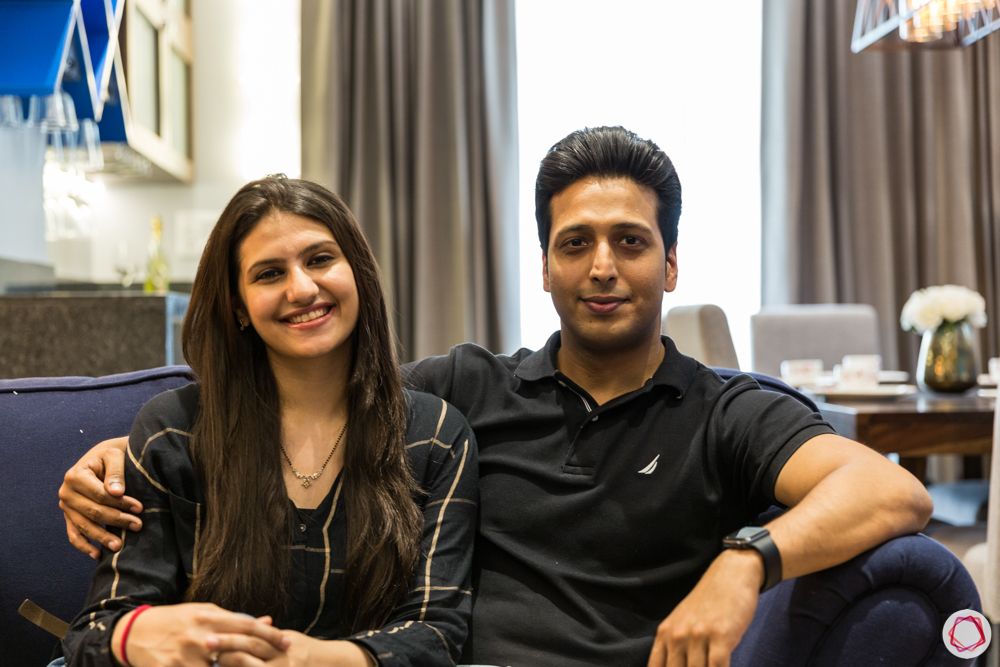 " We were given an extremely creative and hard-working team of people. Trisha worked around our busy schedule and was always there to help us out – day or night. Making every wish of ours come true, Trisha and team have done an amazing job."
– Juhi, Livspace Homeowner

Classy Rooms in Paras Irene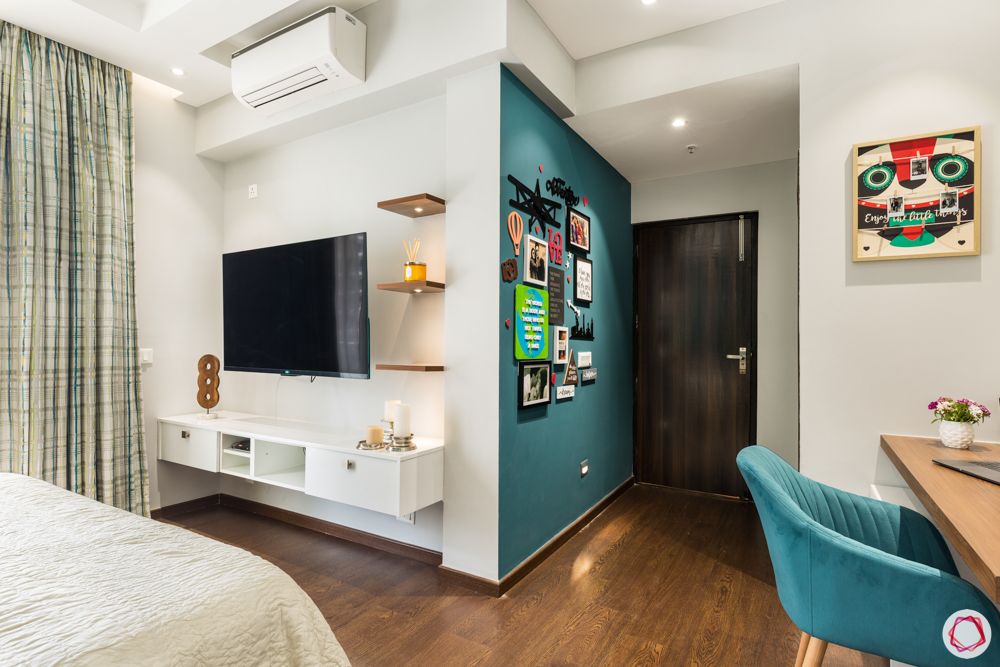 Stepping into the master bedroom, you can't help but admire every element of the room. Above all, the bed and walls are in a dark shade of teal. However, on either side of the bed there are reflective metal pendant lights which adds an elegant touch to the room. Consequently, the perfect accompaniment to this unique colour are the white walls, membrane finish wardrobes and wall trims. The membrane finish TV unit is beaming against the dark colours of the room. Three floating shelves were custom made and added to this corner.
Besides, it was essential for Vivek and Juhi to have a convenient and comfortable study area. Hence, Trisha designed a Pinterest-inspired corner for the couple to catch up on their studies. Consequently, giving this room a toasty feel is the dark wooden flooring.
Plush Bathrooms in Paras Irene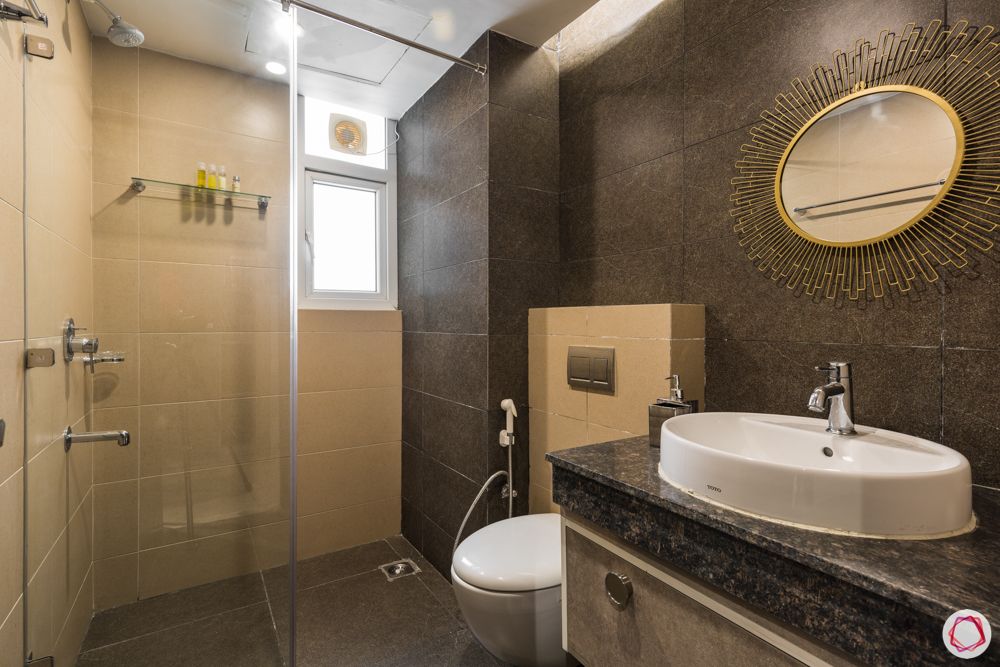 The colours used in the bathroom goes well with the dark colours used in the house. However, adding a hint of luxury to the design is a sizable golden mirror.
Elegant Guest Bedroom in Paras Irene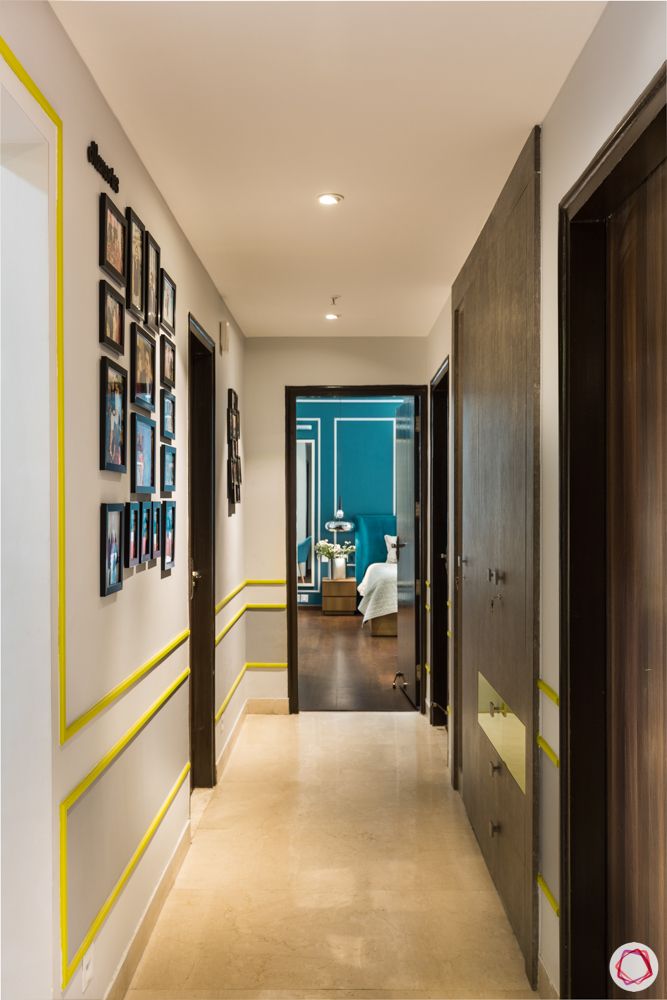 Connected to the living space is a neat hallway leading to the bedrooms. Embellished with plenty of picture frames and yellow wall trims, the hallway is a walk down memory lane.
Furthermore, the second bedroom is designed keeping Vivek and Juhi's parents in mind. Subsequently, this colourful bedroom has a highlighted wall with artisan wallpaper in a contemporary pattern. Matching it perfectly is a catalogue bed with a mustard yellow headboard.
Moreover, Trisha has assigned a small space next to the laminate wardrobes for a pooja area. A yellow jaali is used as a background making it a calm yet bright space.
Perfect for Entertaining in Paras Irene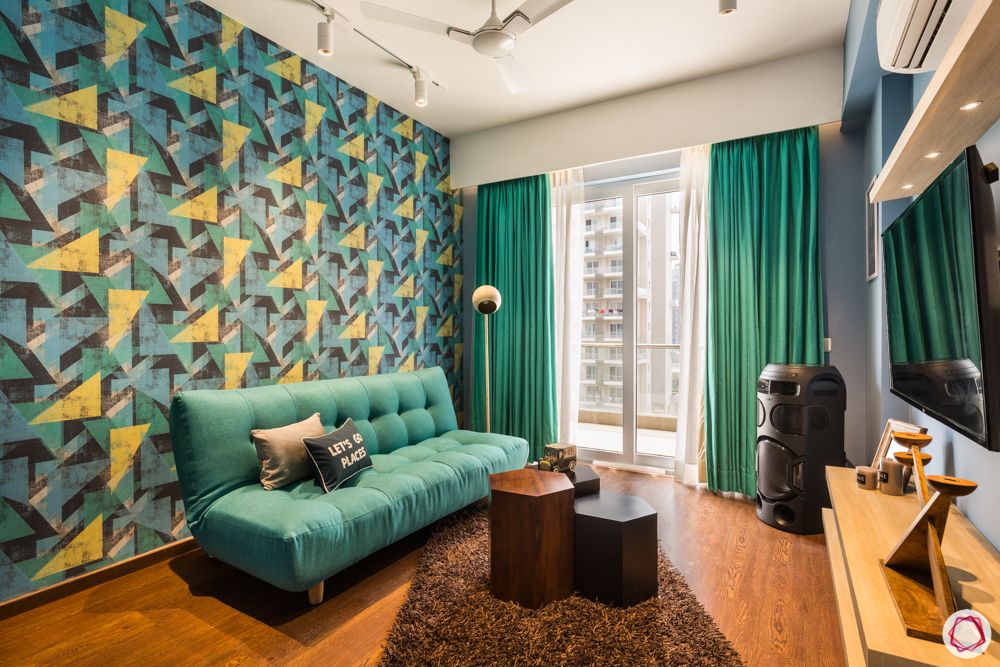 Additionally, it was important for Vivek and Juhi to have a TV room as they enjoy movie nights on a regular basis. As a result, Trisha suggested converting the third bedroom into a cosy space for binge watching their favourite TV shows and movies. In order to experiment with dark colours, a kaleidoscopic patterned wallpaper and a matching teal coloured sofa-cum-bed makes this the ideal entertainment room.
"Designing a young couple's home was a very creatively enriching experience. Vivek and Juhi let me experiment with modern designs and play around with unique colours all the while actively taking part in the entire process."
– Trisha Gupta, Interior Designer, Livspace
If you enjoyed reading about this home, check out Chic & Classy Victorian-styled 3BHK
Send in your comments and suggestions