Livspace transforms small house plans with intelligent design.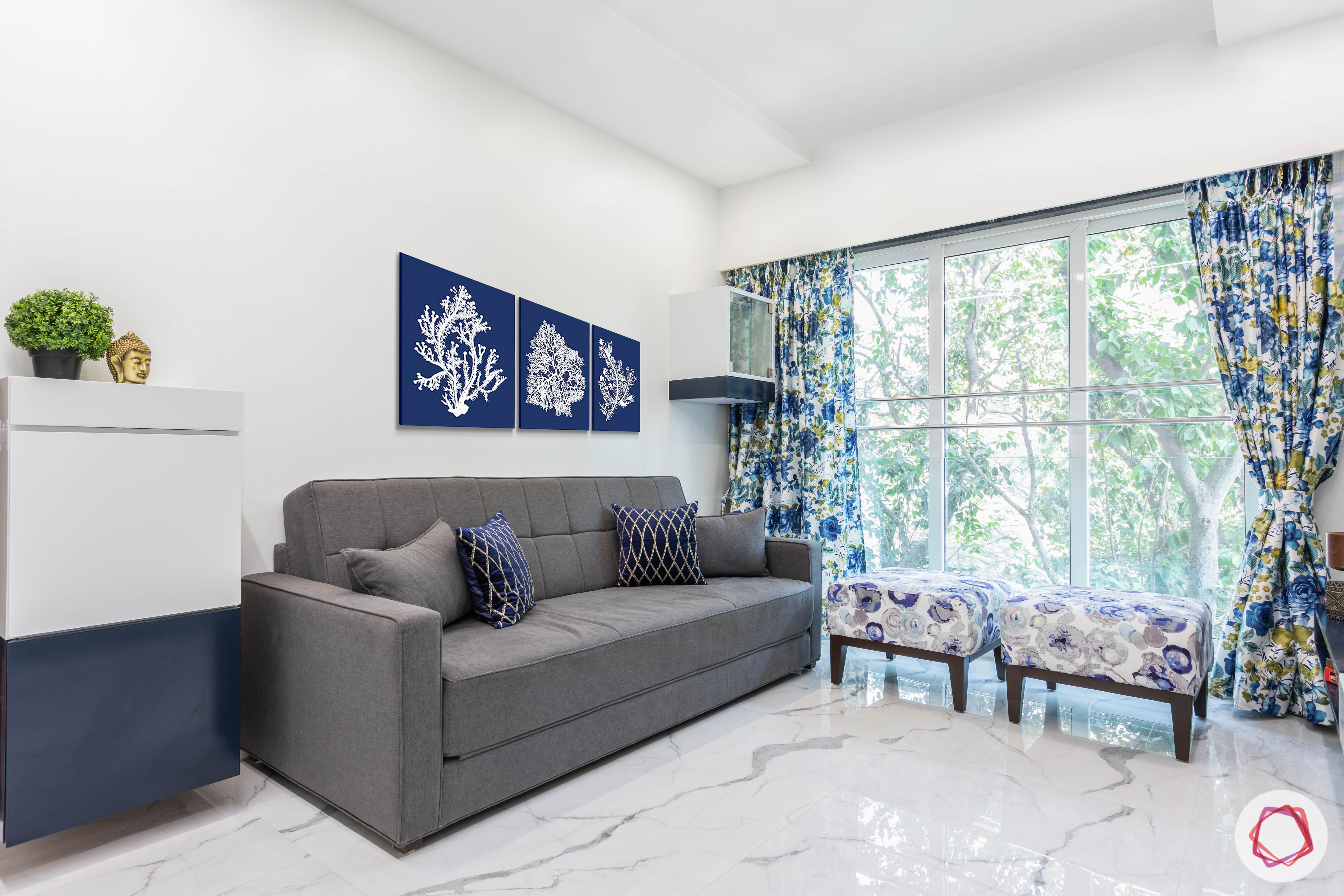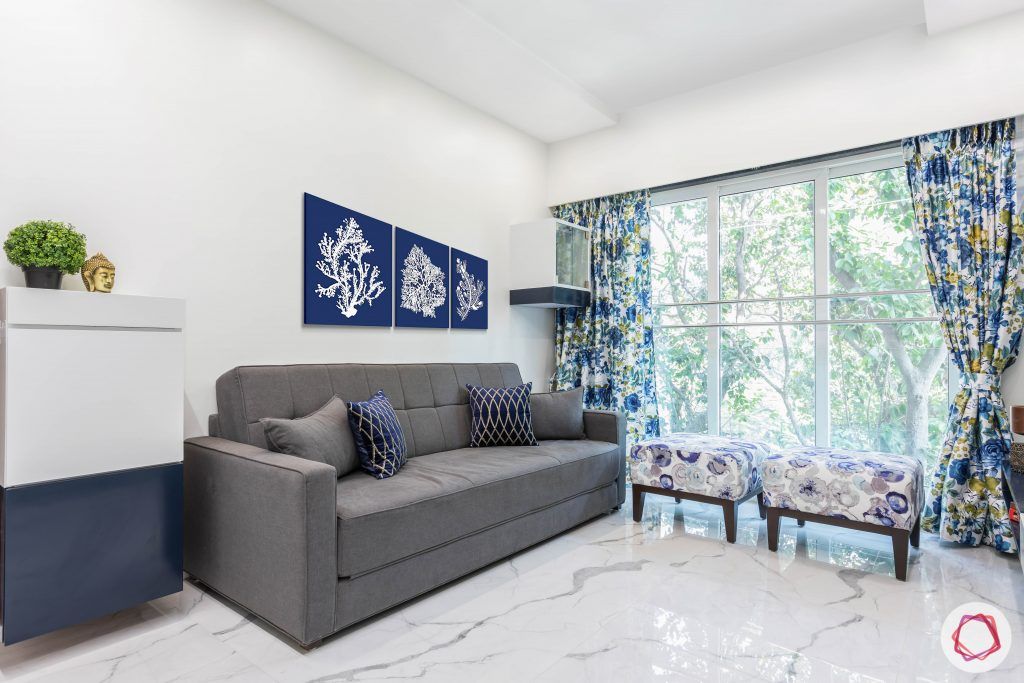 ---
Who livs here: Chetain Jain, his wife Seema and their two daughters
Location: White House, Chinchpokli, Mumbai
Size of home: 1BHK spanning 475 sq ft
Design team: Interior designers Sanya Gupta & Trishala Konnure
Livspace service: Full home design
Budget: ₹₹₹₹₹
---
Mumbai homes are infamous for their compact sizes. But it is possible to get your dream interiors even with small house plans. All you need is a skilled designer! When Seema Jain and her husband Chetan bought a brand new 1BHK at White House, Mumbai they were keen on maximising the potential of their space. But they were also particular about something else.
They wanted their 465 sq ft home to look spacious and light. Enter our designer Sanya Gupta, who knows a thing or two about space-saving hacks and tricks. In addition, the couple and their two daughters wanted a lot of storage options. So Sanya got right to the task and crafted a home that's perfectly tailored for this family of four.
Since making the flat look spacious was a priority, Sanya kept white as a base colour for the entire home. "White interiors will always make your home spacious and light," she says. Let's walk right into this all-white wonder!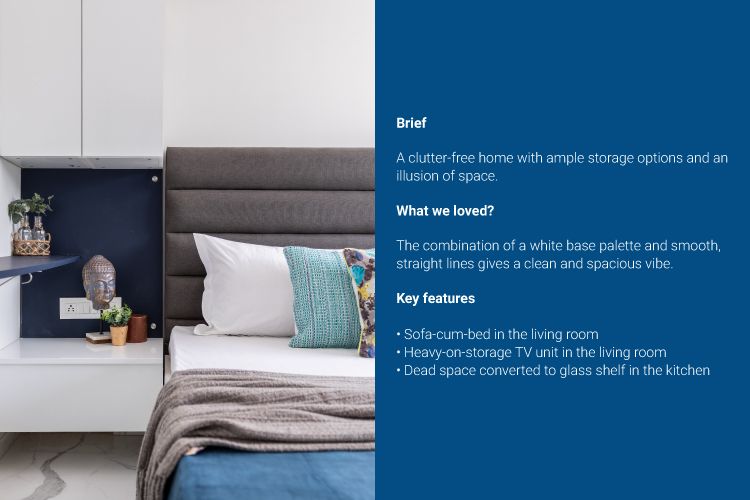 Small House Plans: A Storage-Heavy Yet Subtle Living Room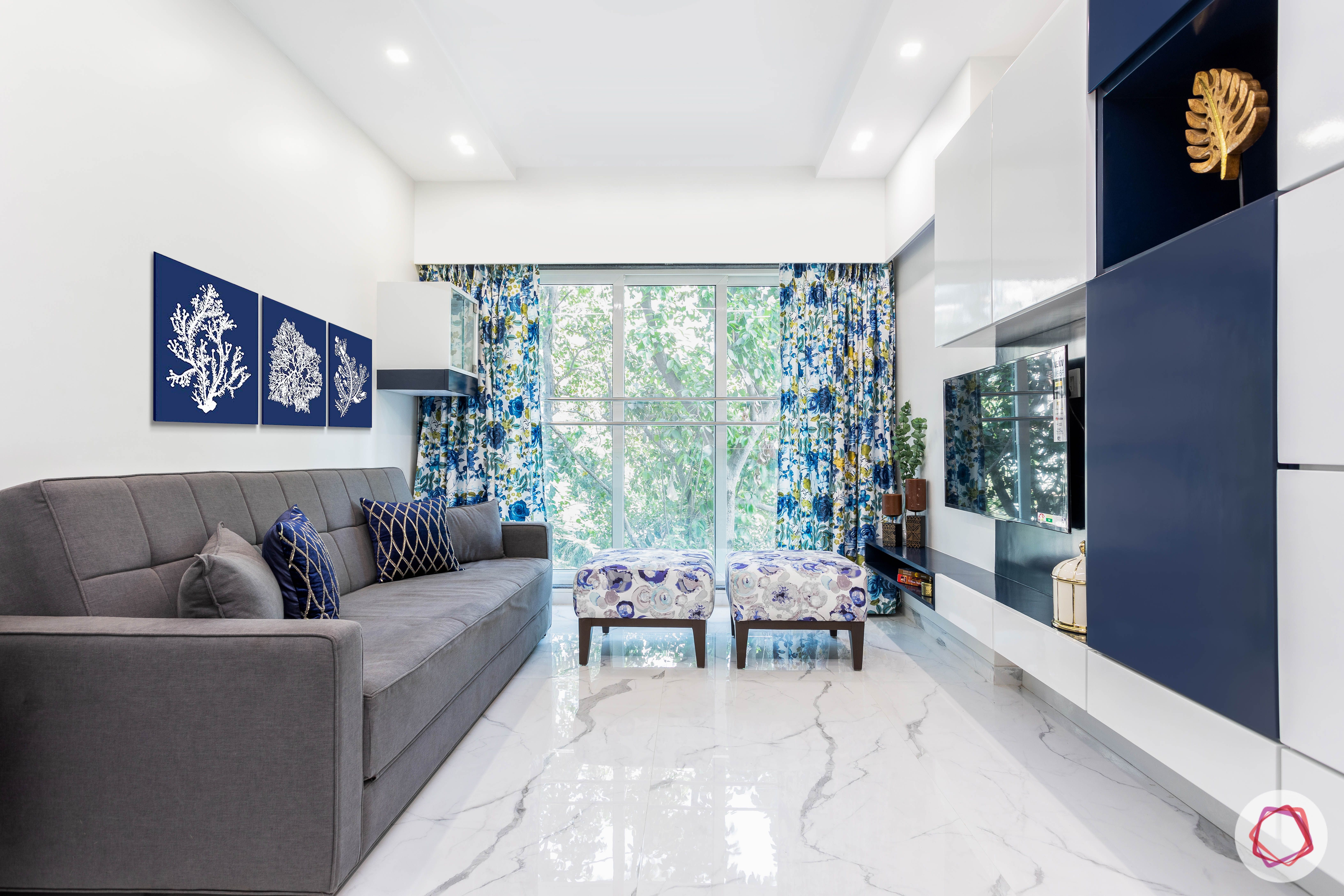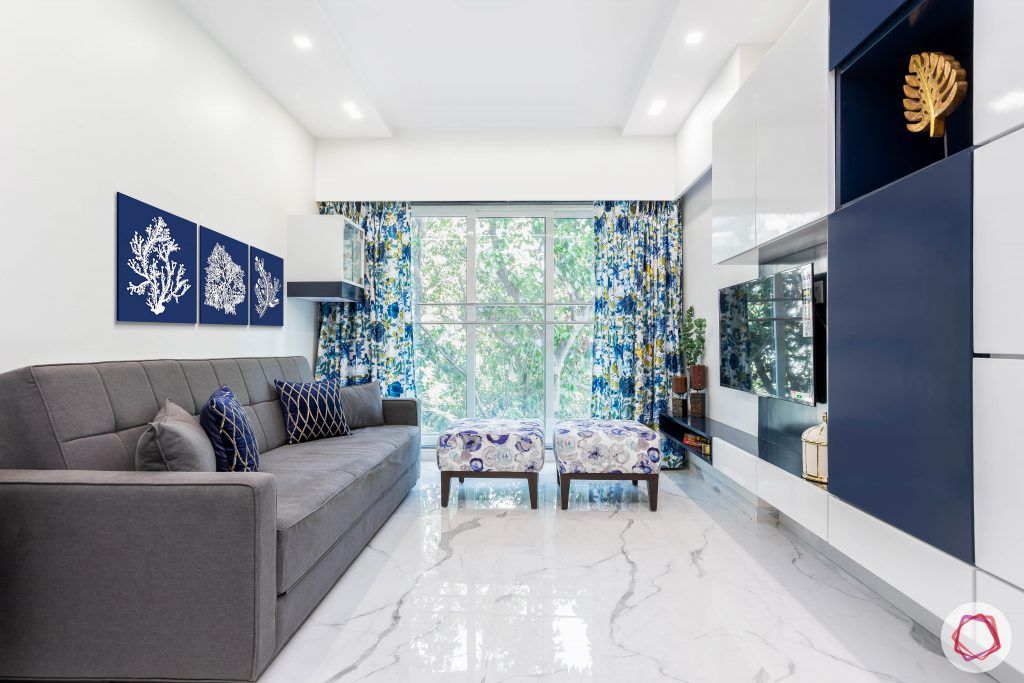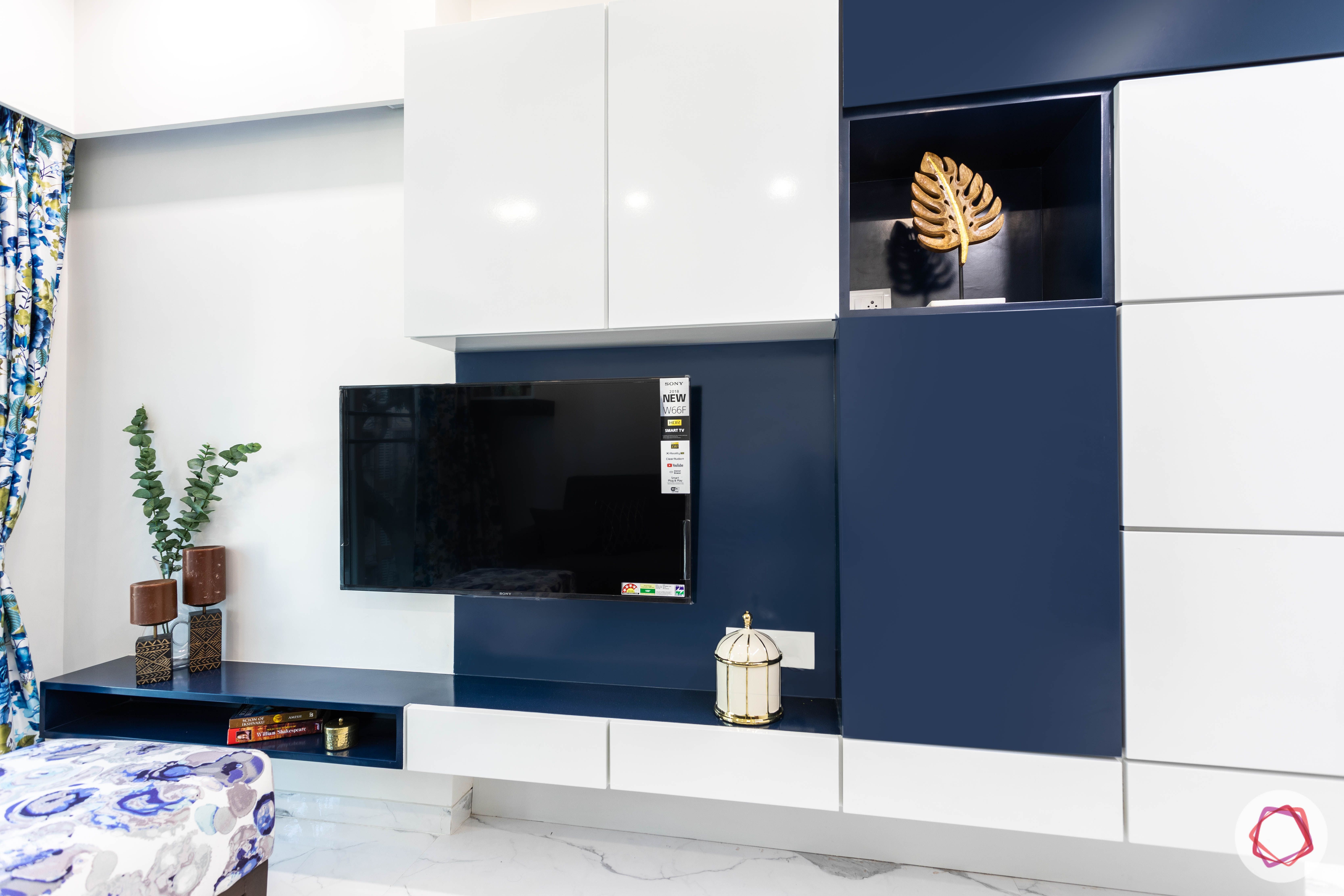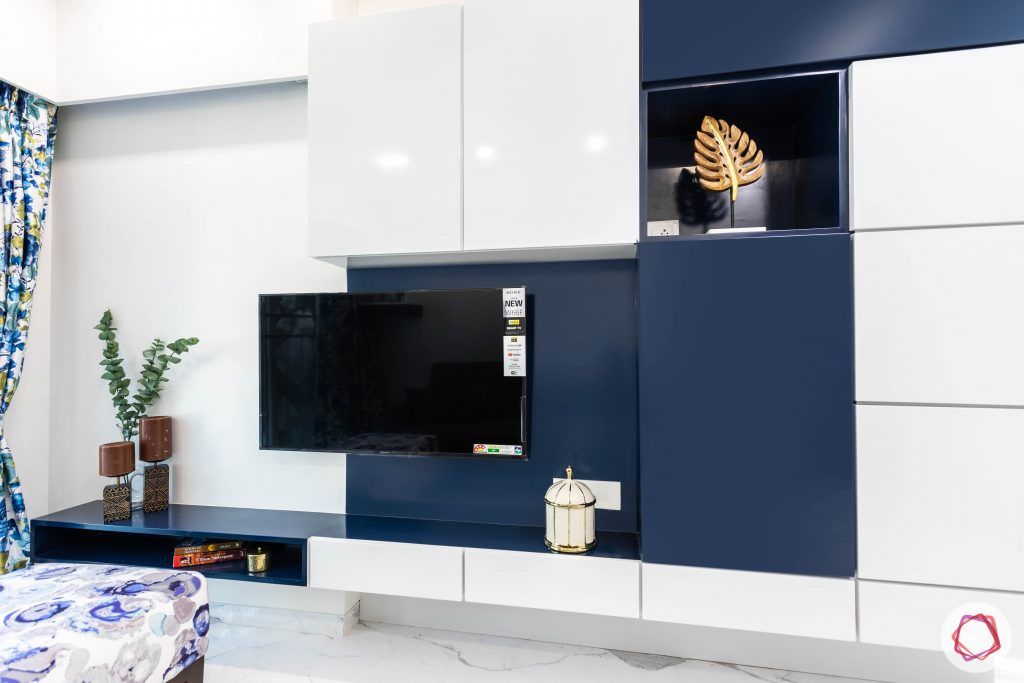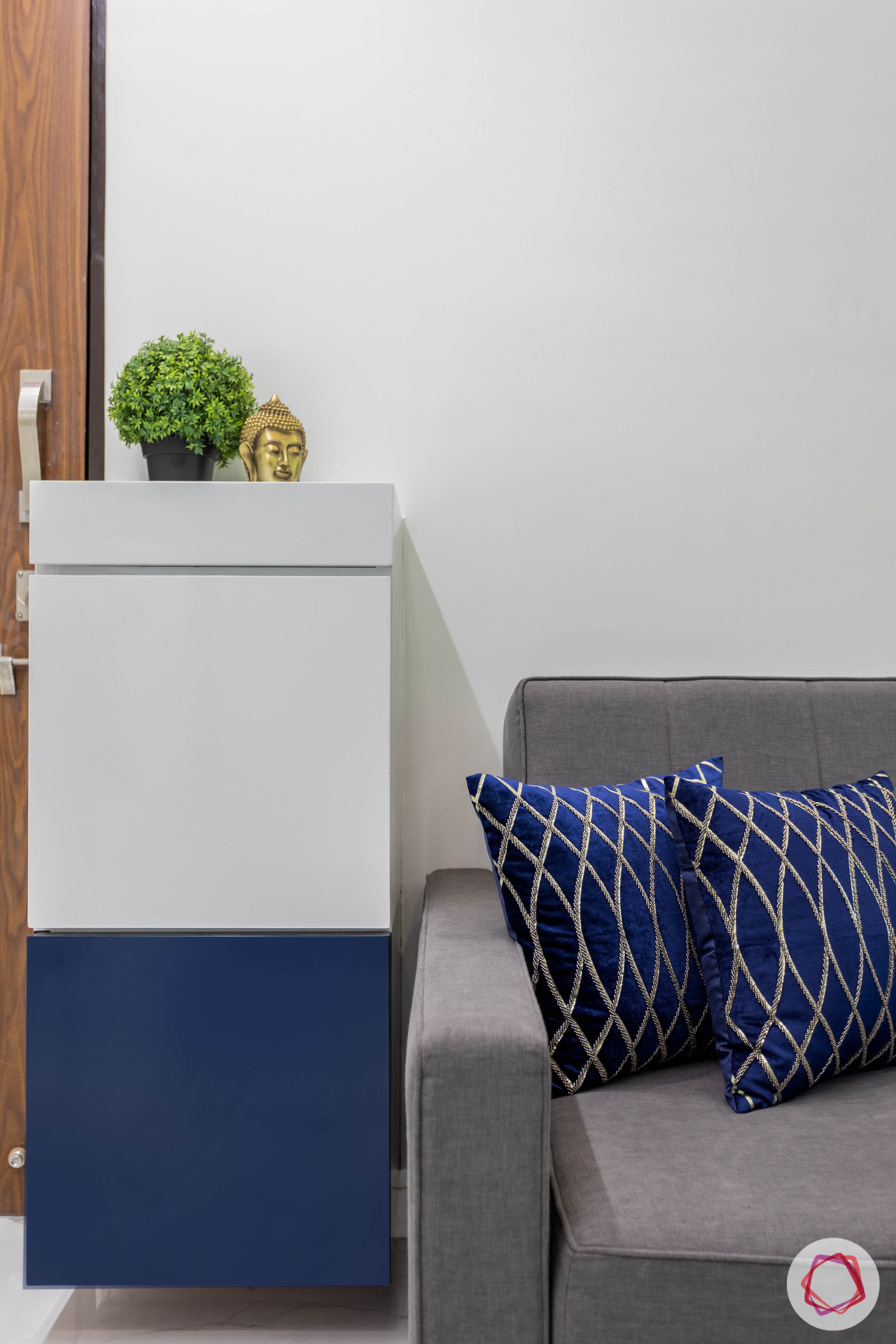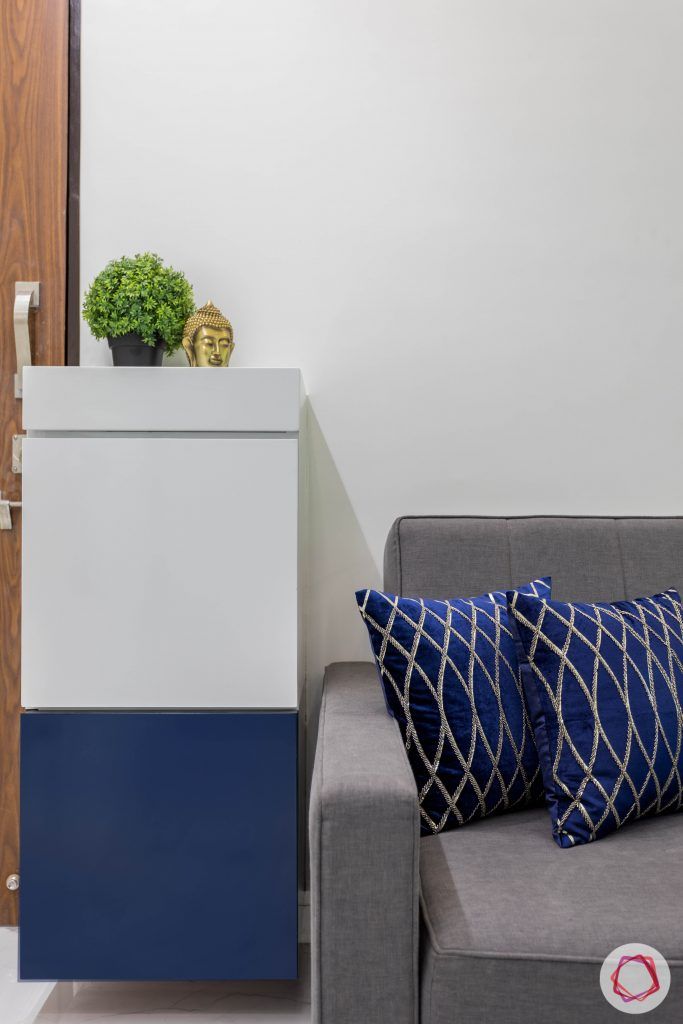 There's a lot you can do in the living room, even if it's part of a small house plan. This living room is proof. The beautiful combination of pearl white and Persian blue lends a refreshing vibe to this space. "The family wanted an elegant and mature shade of blue, so we zeroed in on a beautiful dark Persian blue for the interiors", Sanya explains.
While the TV unit in white and Persian blue is massive, it doesn't overwhelm the room. Alongwith the usual knick-knacks, the unit houses both the daughters' books and even a cabinet for clothes. Take a moment to admire the smooth surface of the TV unit. It's also been topped off with a PU finish and fitted with grooves to give it seamless appearance. The room also features a grey sofa-cum-bed and two floral ottomans for seating.
Notice the mounted cabinet beside the bayside window? This beautifully crafted pooja unit lies next to a window in keeping with Vastu. It definitely garners another look. Because Vastu also recommends not to keep shoes in the bedroom, Sanya crafted a compact shoe cabinet that's been mounted onto the wall next to the sofa.
All in all, we love how all the elements, from the classy false ceiling to the white satvario-esque flooring, merge together and elevate the space.

Small House Plans: A Sparkly White Kitchen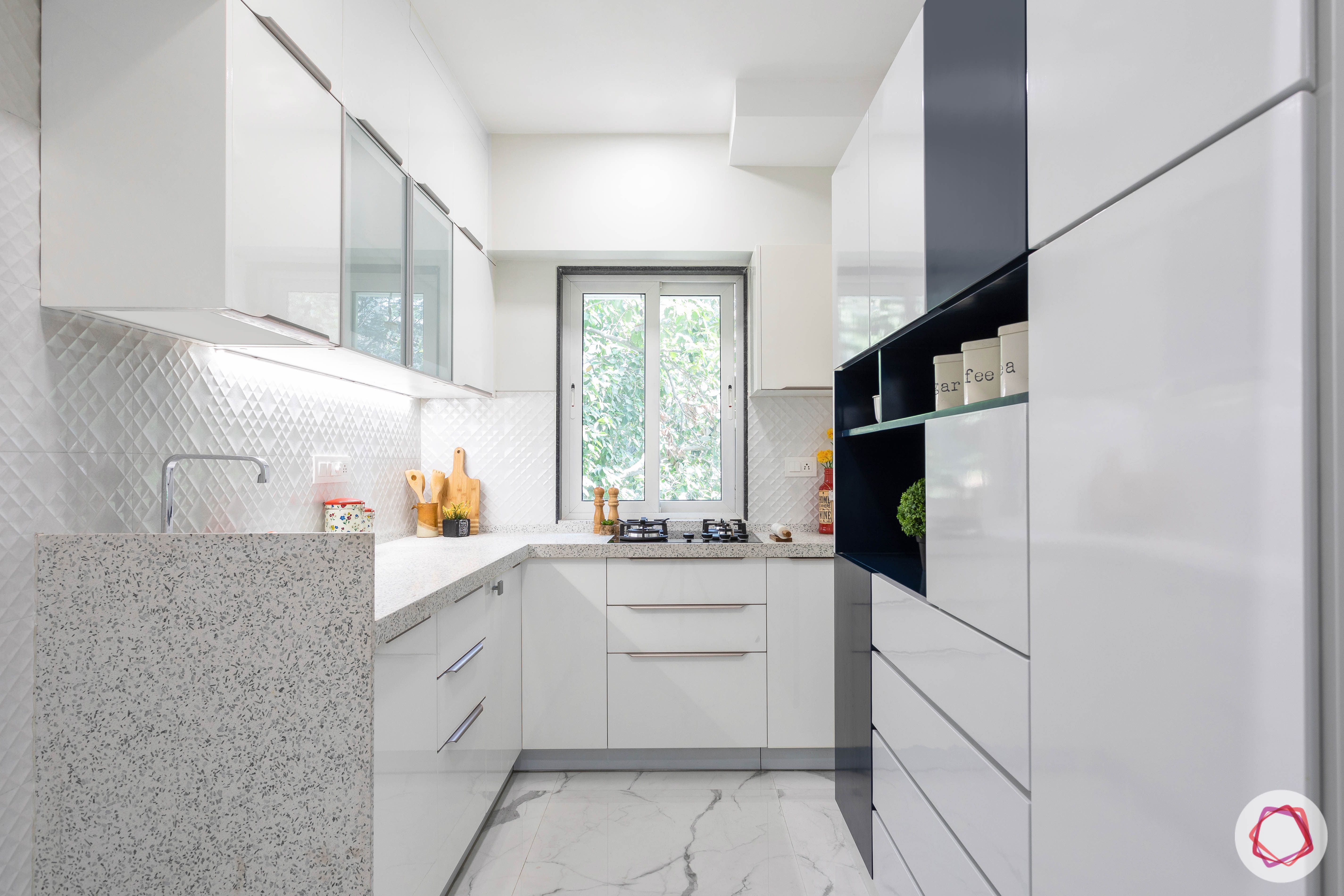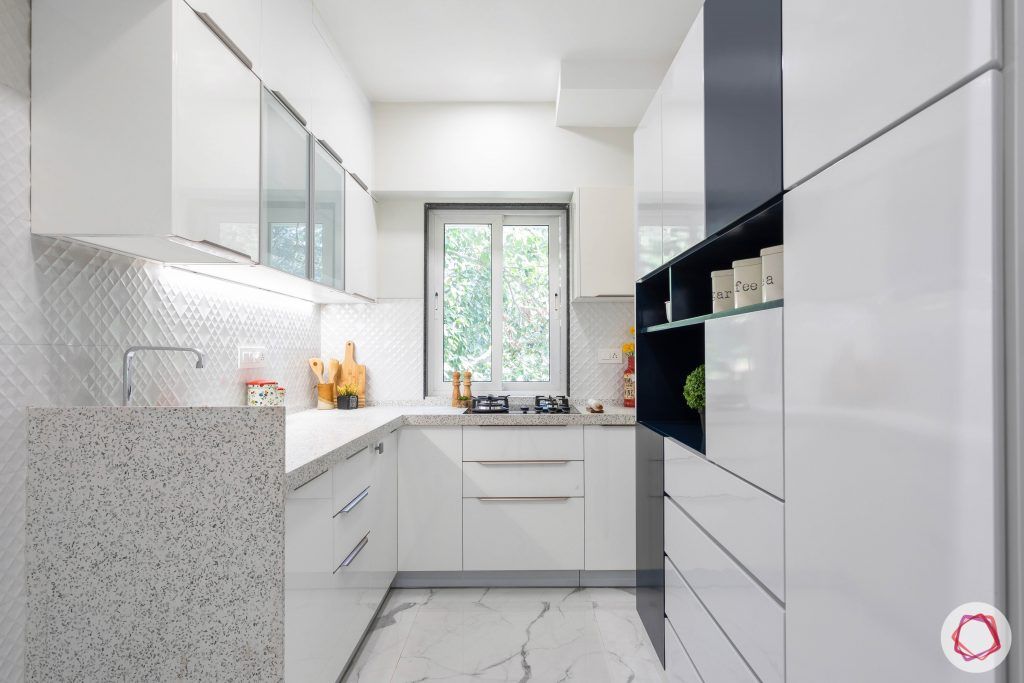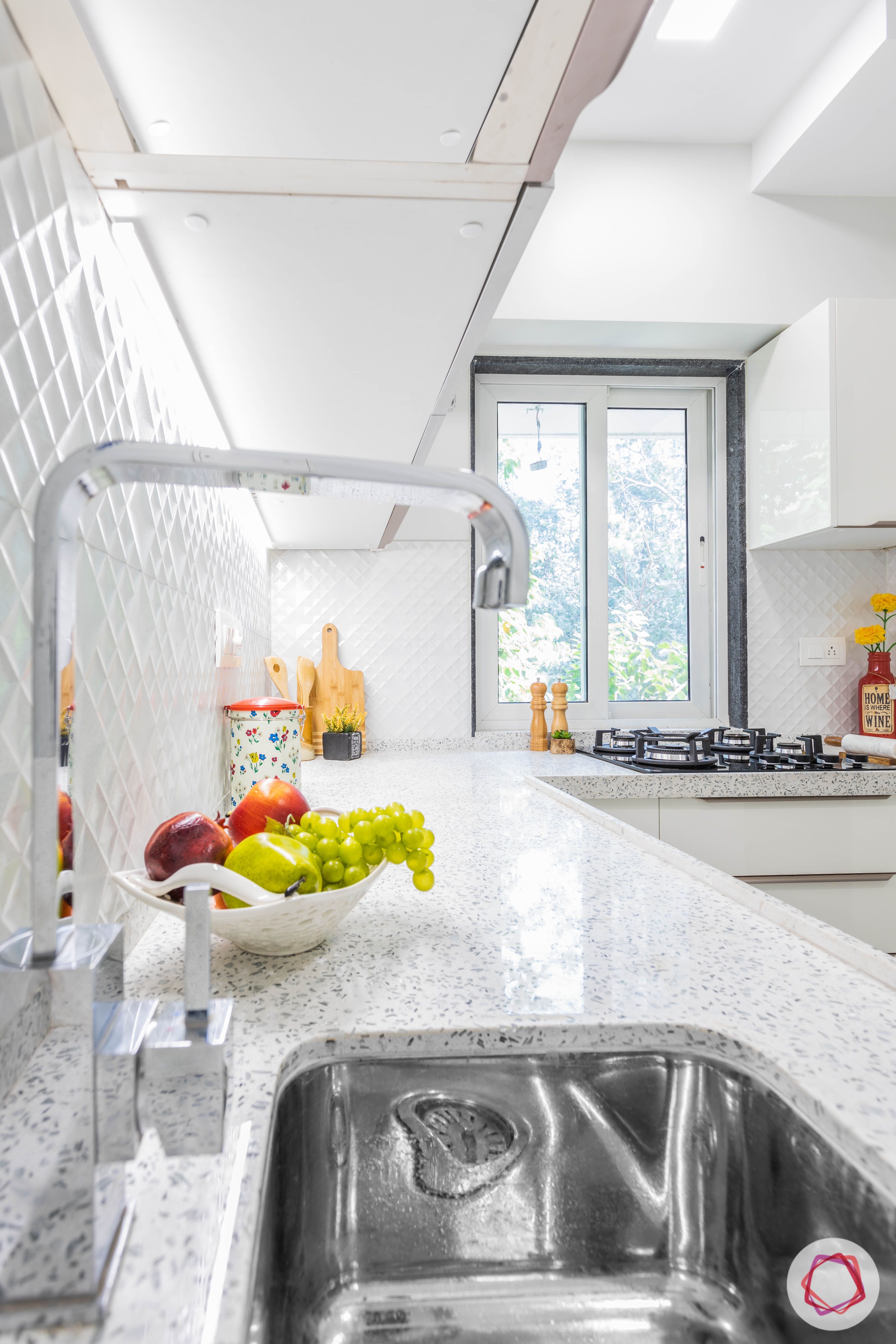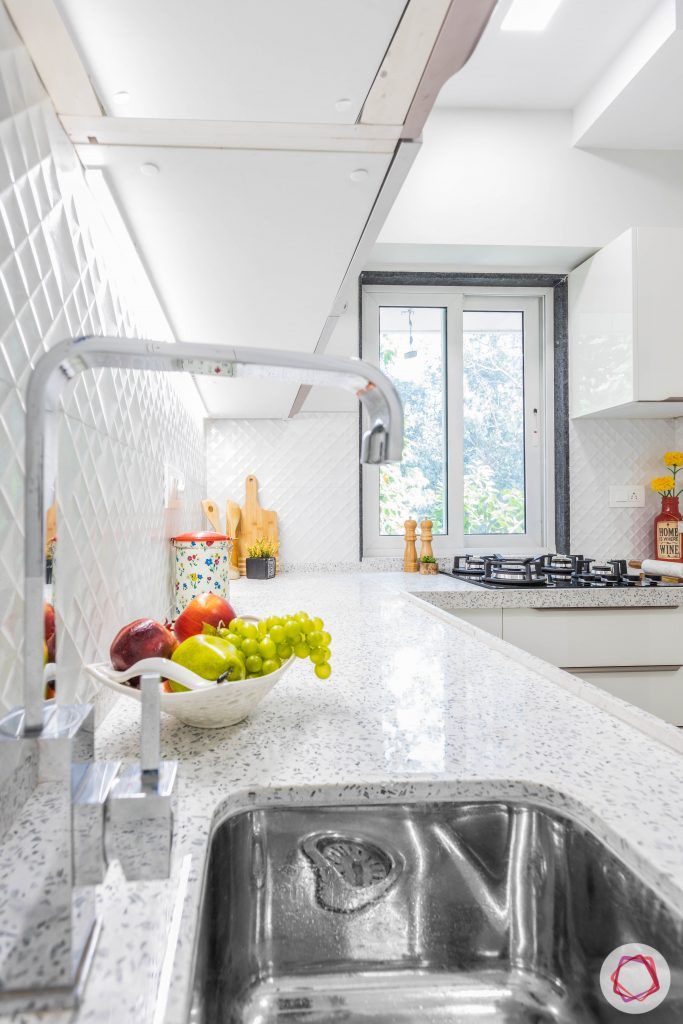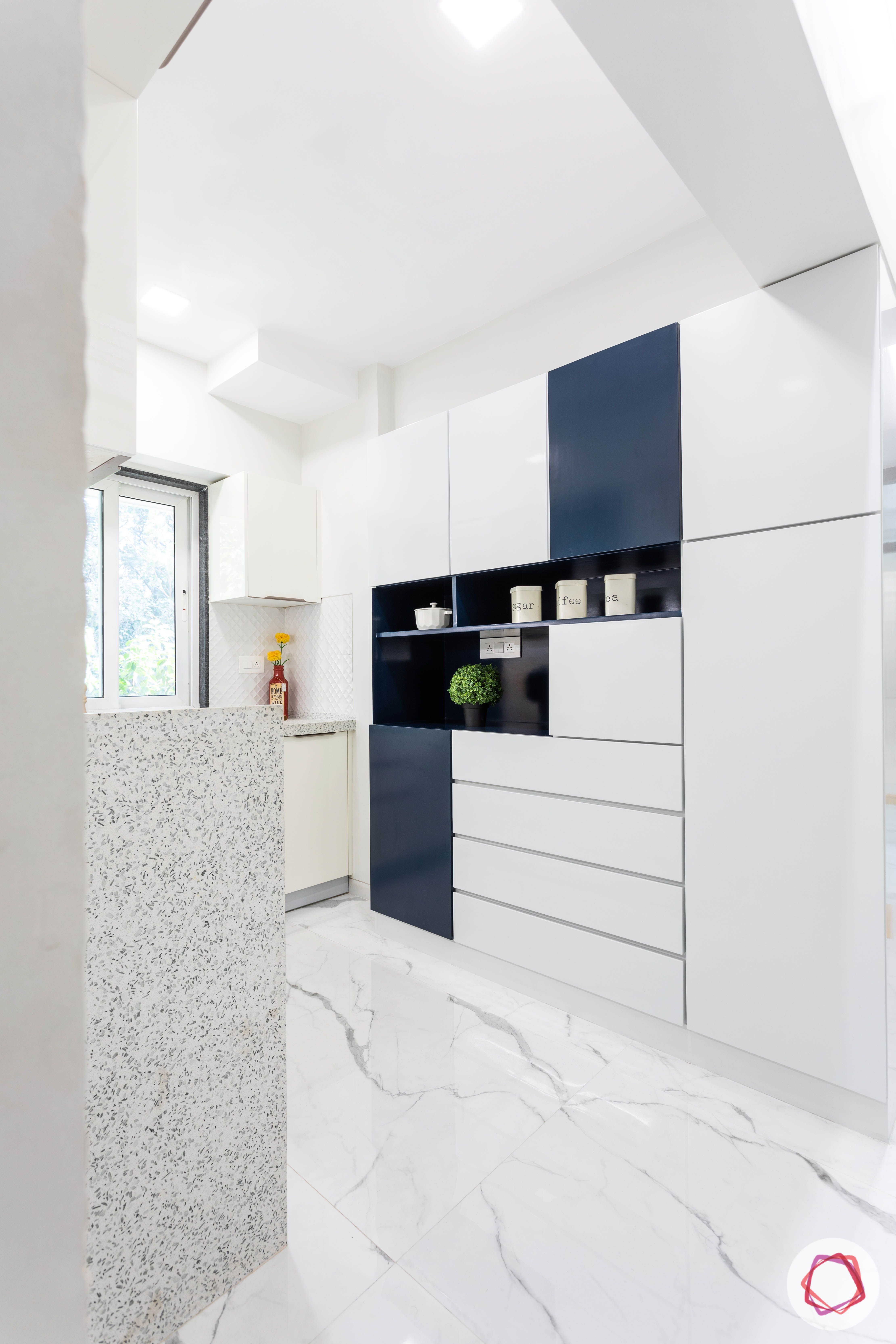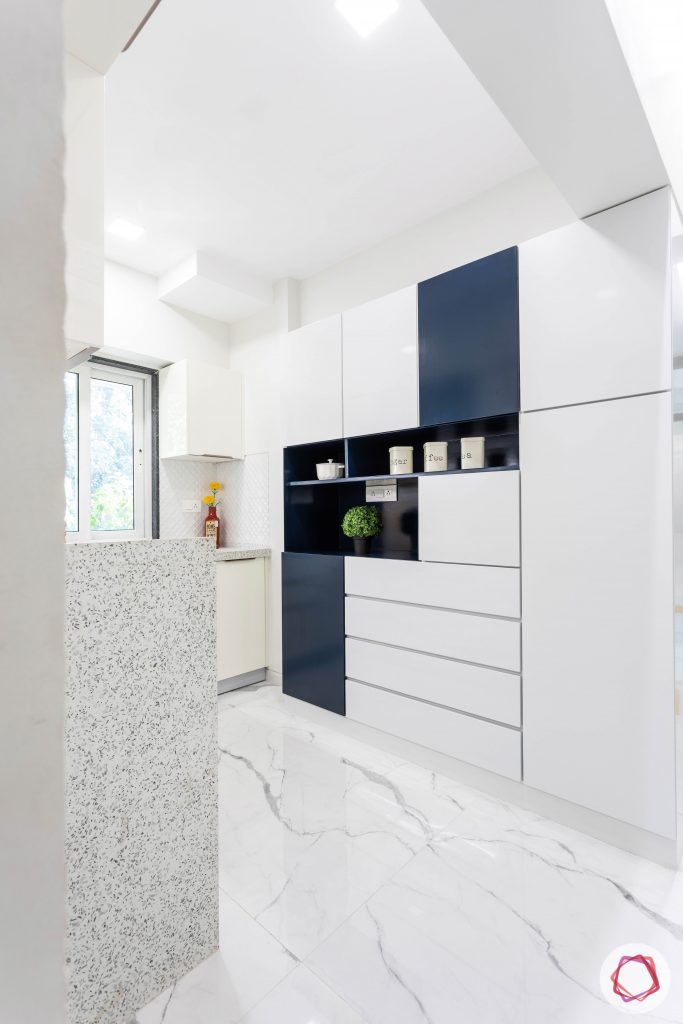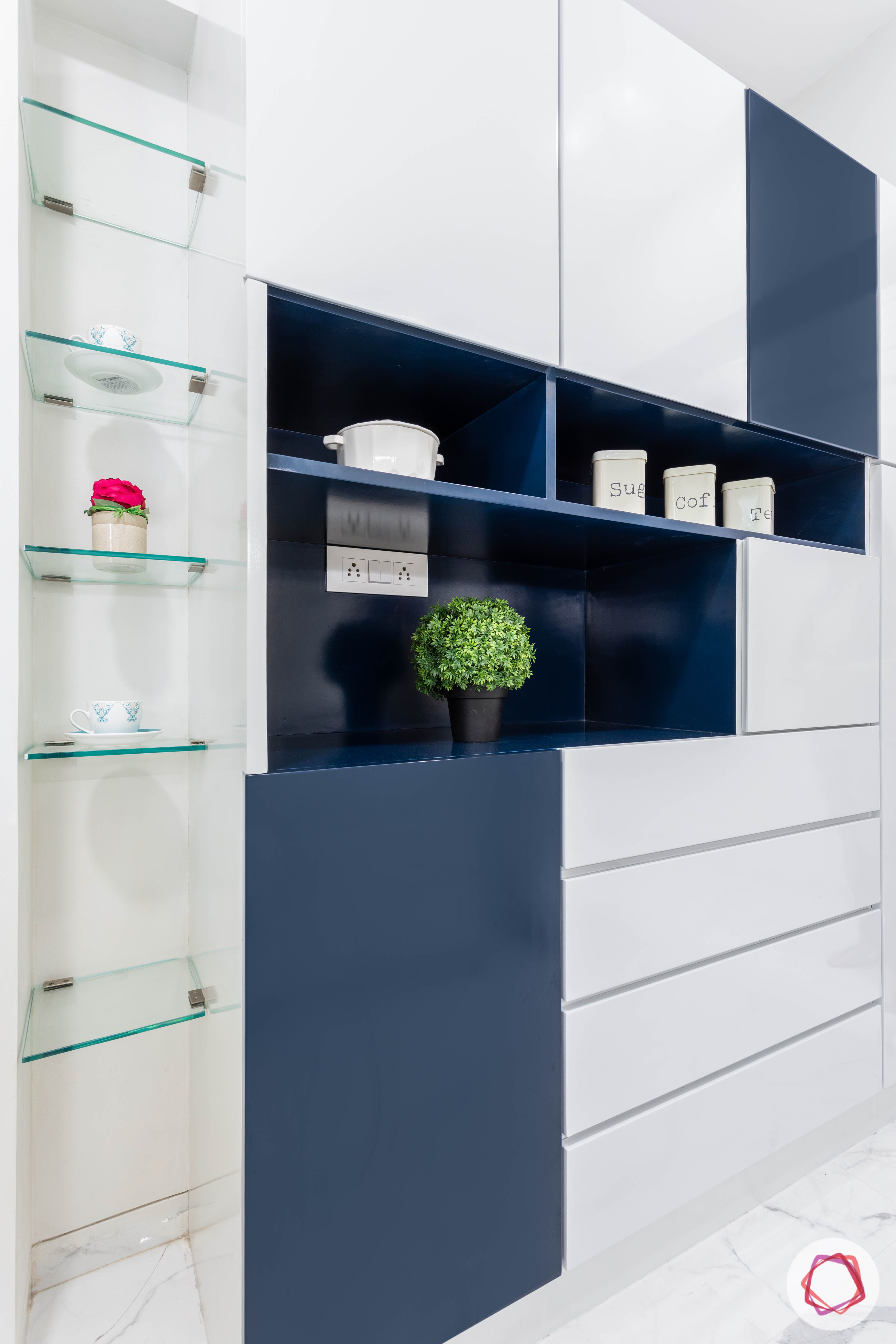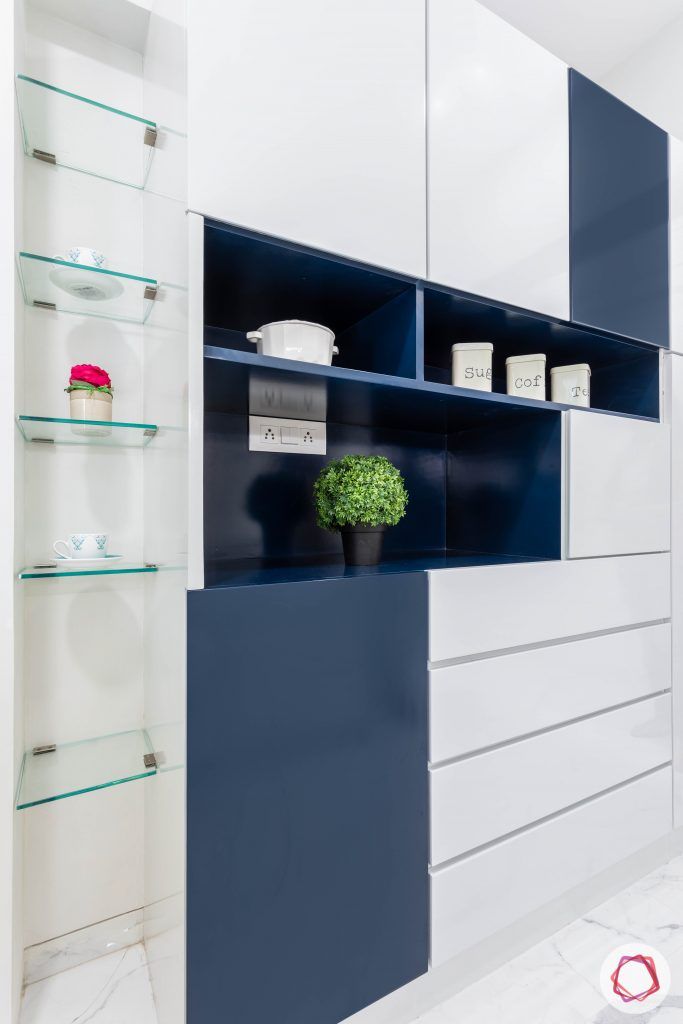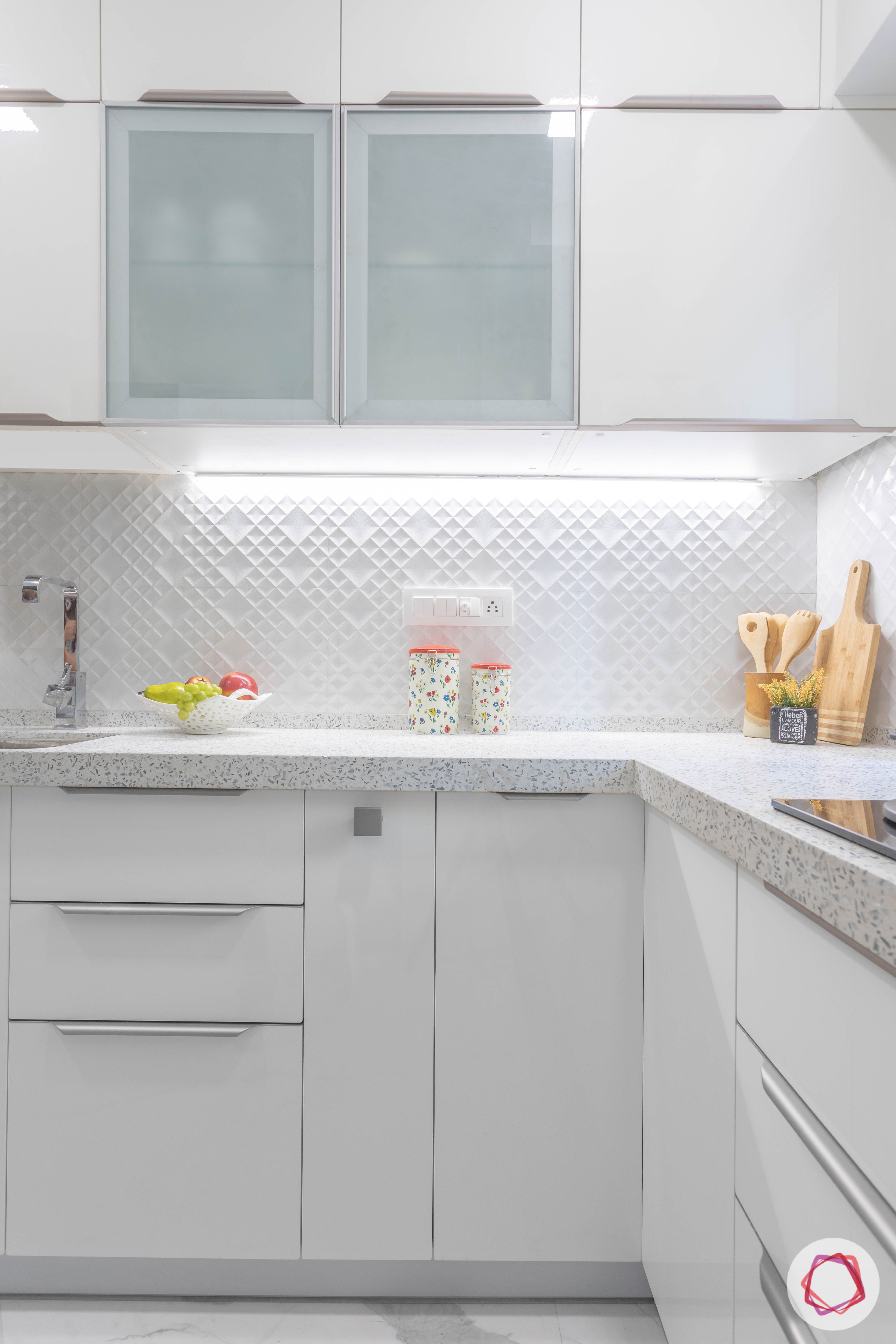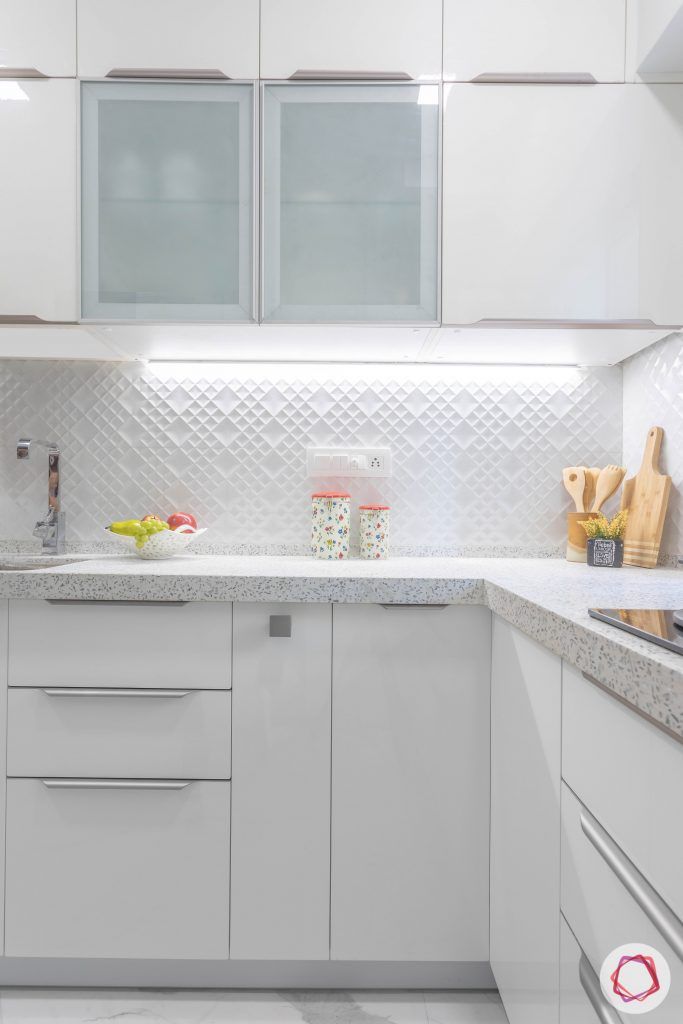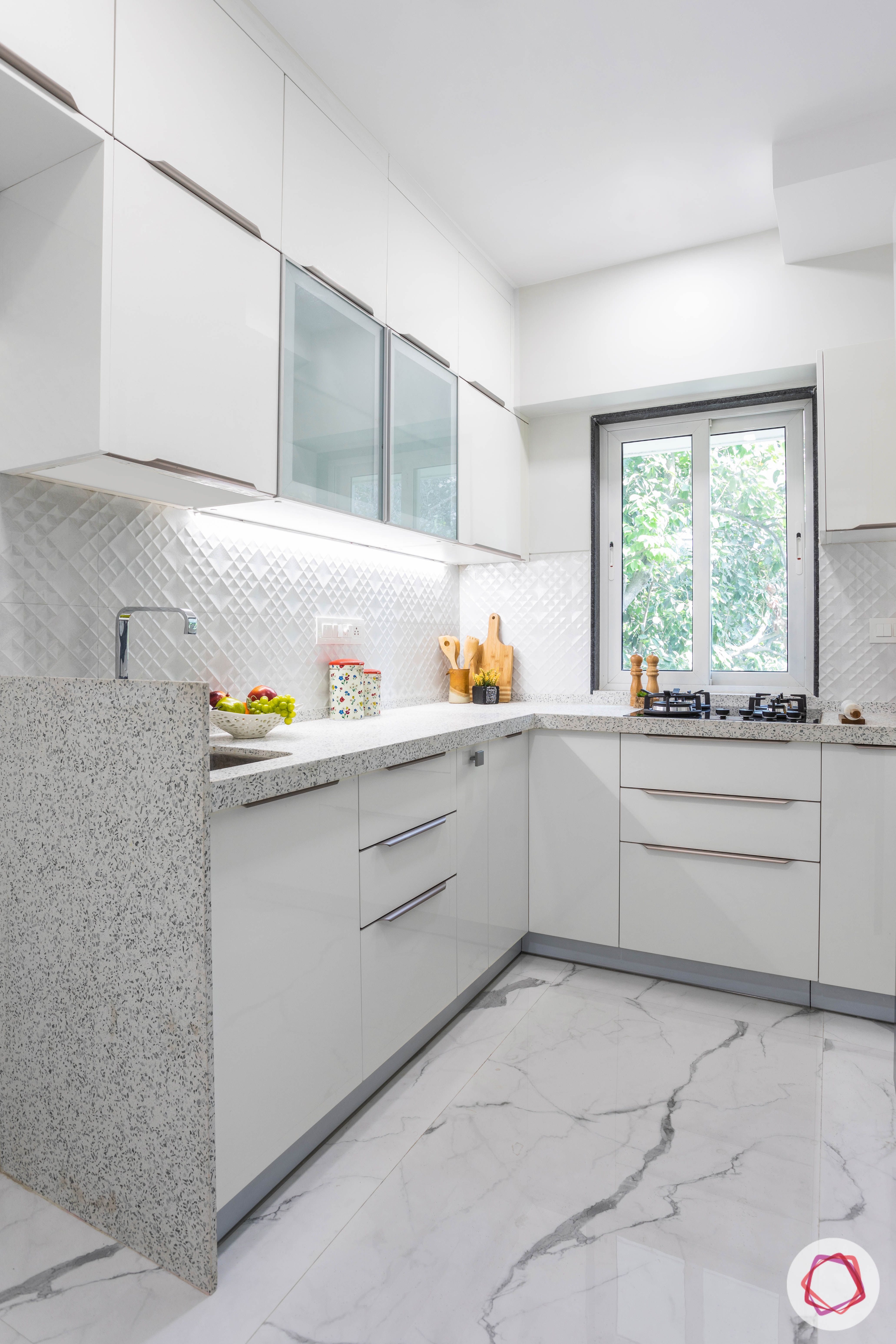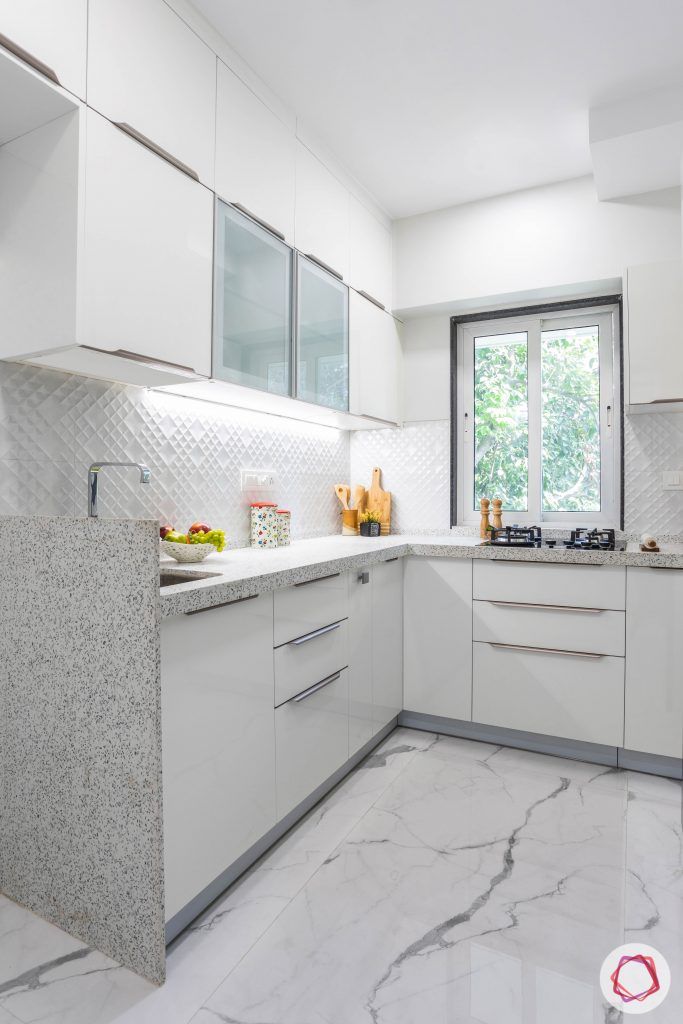 The kitchen looks uber modern with all-white features. The earlier kitchen featured a parallel layout that just wasn't cutting it out for Seema in terms of use. As a result, Sanya redesigned the layout and converted into an efficient L-shaped layout.
Since storage was a priority, Sanya crafted a specially tailored unit that houses both open and closed shelves and added lofts as well. We love the elegant pop of Persian blue for the cabinets. Moreover, all the cabinets in the kitchen have been coated with PU finish. Take a moment to admire the open shelf with glass ledges that's been cleverly crafted to utilise negative space. We love the efficient use of space!
Natural light isn't an issue in this kitchen, thanks to the window in the centre. But Sanya took it up a notch by adding profile lights under the overhead cabinets. While the modular cabinets are fitted with contour profile handles, the customised unit features a seamless handle-less fitting. "We wanted a sleek and clean look for all the cabinets. By adding more details, you clutter the space," Sanya explains.
The beautiful white quartz countertop and matching ceramic tiles for the backsplash complete the look. Sanya also designed a vertical slab from the same quartz to prevent water spills from the sink to the space assigned for the refrigerator.
Small House Plans: A Cozy Bedroom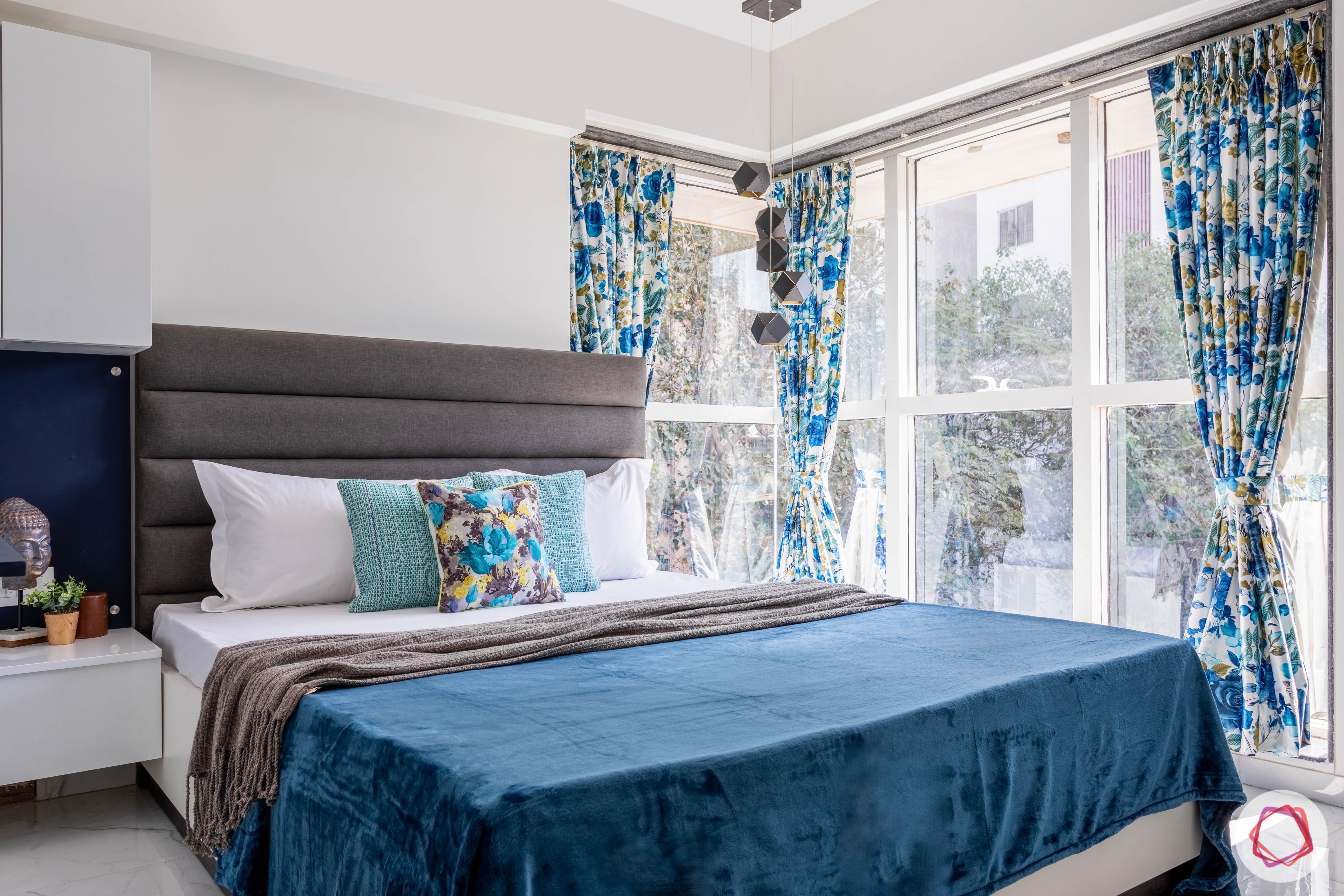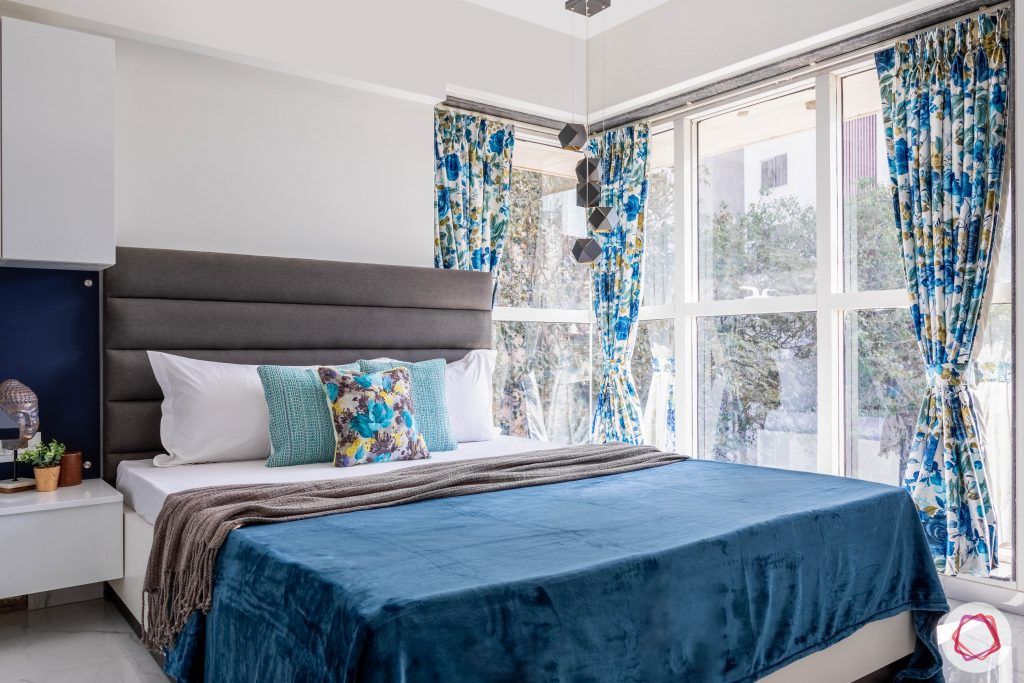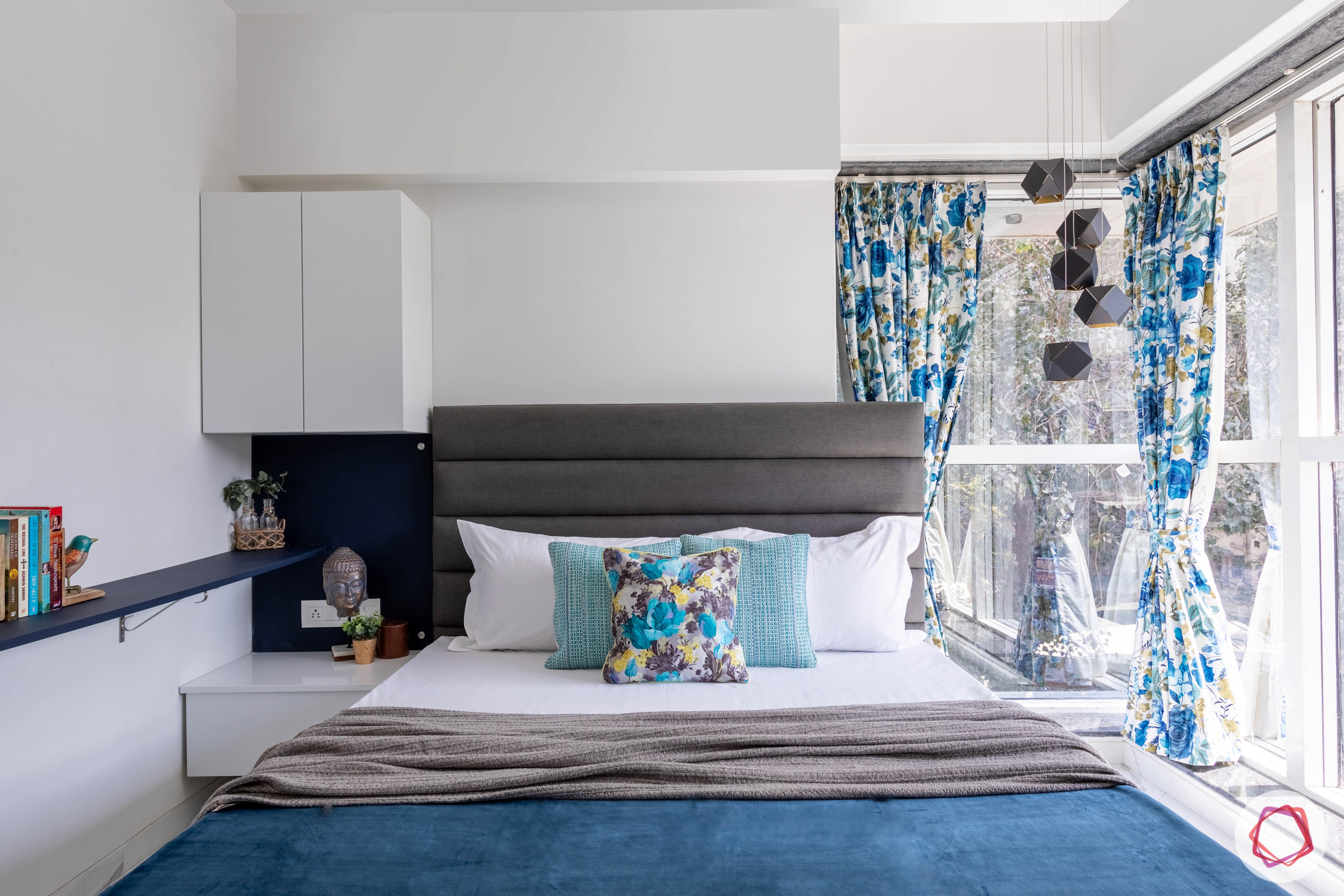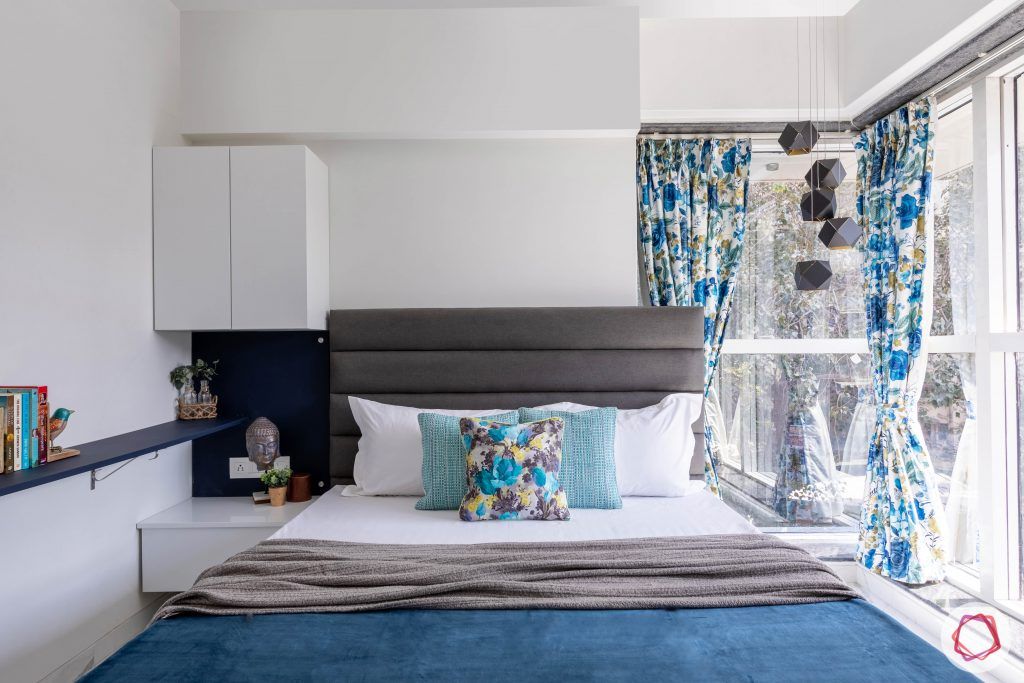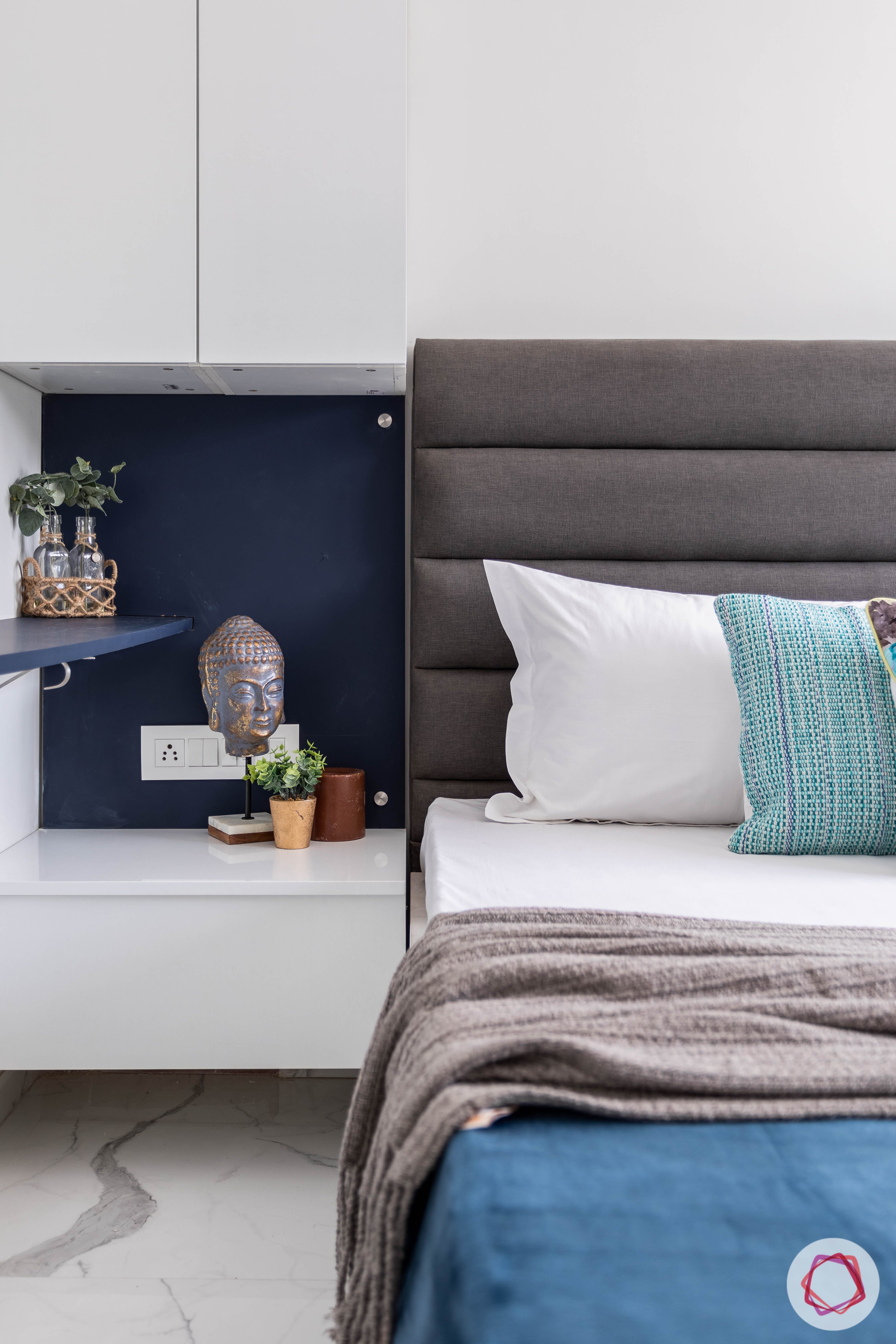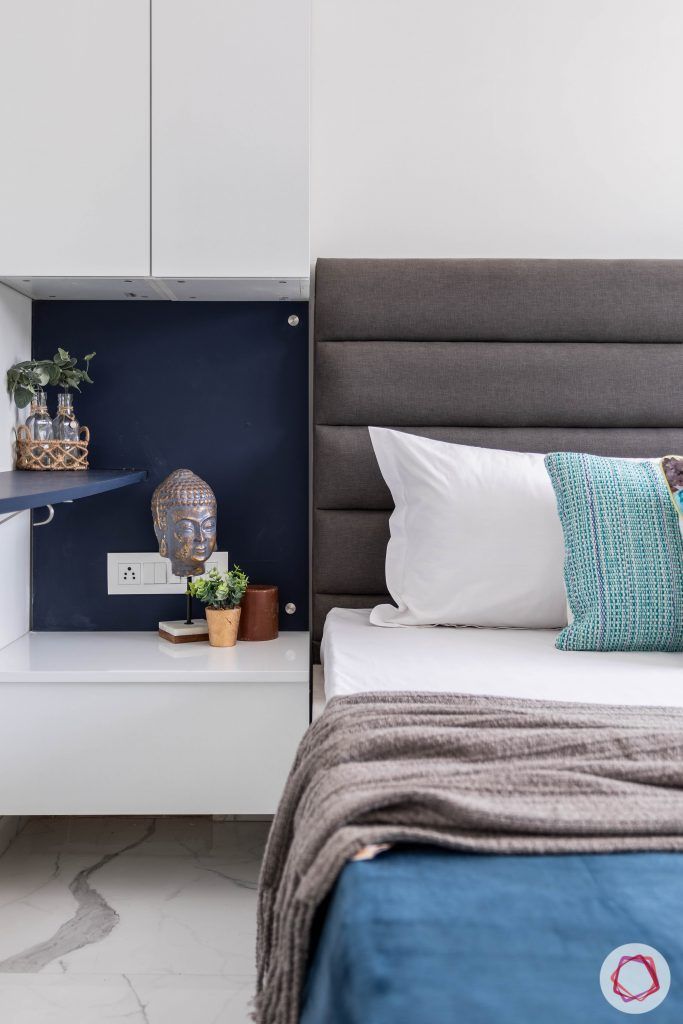 Just like the rest of the house, the master bedroom too is a mix of white and Persian blue. And packed with storage too! The bed with a grey fabric headboard also comes with hydraulic storage. So, you can lift it up and stash in your essentials.
The family loves to watch television in the bedroom. As a result, Sanya put in minimal ledge to keep their set top box beside the bed. Notice how it extends to the wall between the overhead cabinet and side table? This gives a sense of interlock. The sliding door wardrobe is finished with PU paint, just like all the storage cabinets for the rest of the home. Finally, the bedroom features a lovely L-shaped bayside window where . Who wouldn't want to unwind in this bedroom?
"This is a completely customised and articulated nest for a simple and sweet family of four. Seema and Chetan's only worry was that their house was very small and they wanted a lot of storage and space. While it was a challenge, it was also a lot of fun designing their home. We created a space that looks light, free, welcoming and trendy. We added elements that transform with time and requirements, making the space flexibile."

– Sanya Gupta, Interior Designer, Livspace
If you liked this beautiful white home, take a look at 15-Year-Old Home Gets a Chic Makeover
Send in your comments and suggestions.