A house renovation true to Mumbai's spirit!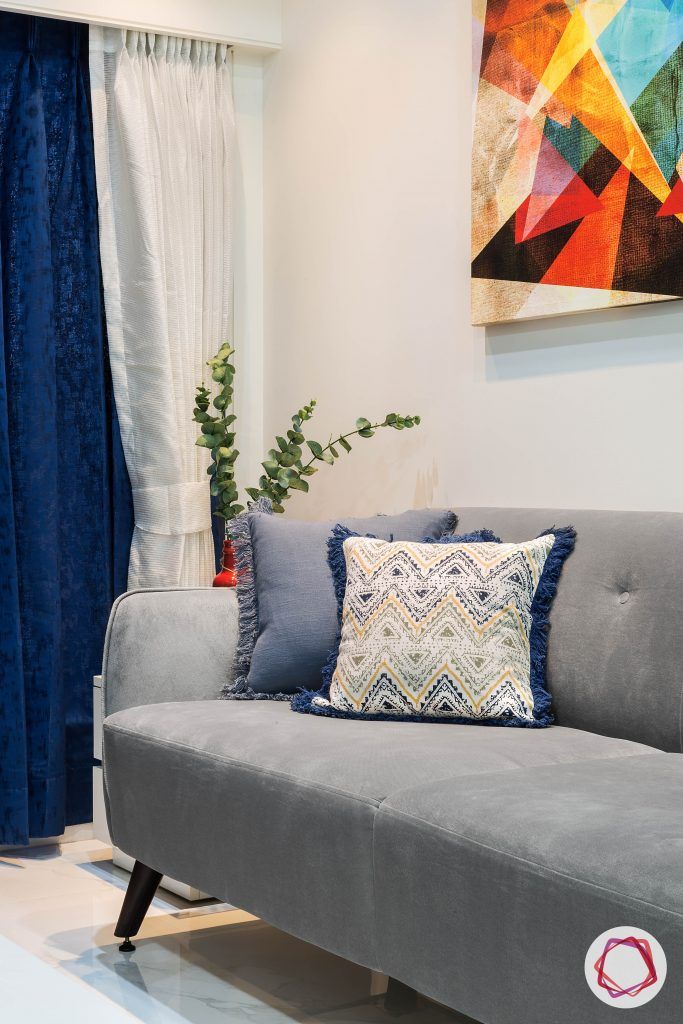 ---
Who livs here: Atul Shah, his wife Heena, and their two sons Jimit and Pranay
Location: Raheja Township, Malad East, Mumbai
Size of home: 2BHK spanning 750 sq ft
Design team: Interior designer Anusha K and Project Managers Mahesh Yadav and Ritesh Ramesh Wagela
Livspace service: Full home design
Budget: ₹₹₹₹₹
---
How do you fit all the interiors you love in an uber compact home? If you ask our designer, Anusha K, she would excitedly say, "There's always a way!" When Jimit Shah and his family approached us with a desire to completely revamp their 750 sq ft 2BHK in Malad East, Mumbai, Anusha readily obliged. While Jimit, his younger brother Pranay and their parents have been living here for 12 years, their home wasn't a reflection of their personal taste. This time around they wanted a contemporary look with plush interiors.

Moreover, their kitchen's layout and organisation wasn't working for them. So, with a deft hand, Anusha renovated their home from scratch into a sleek space doused in a refreshing palette of white, grey and blue. We bet no one can tell this home is in fact 12 years old! Let's walk right in.

House Renovation: A Well-lit Foyer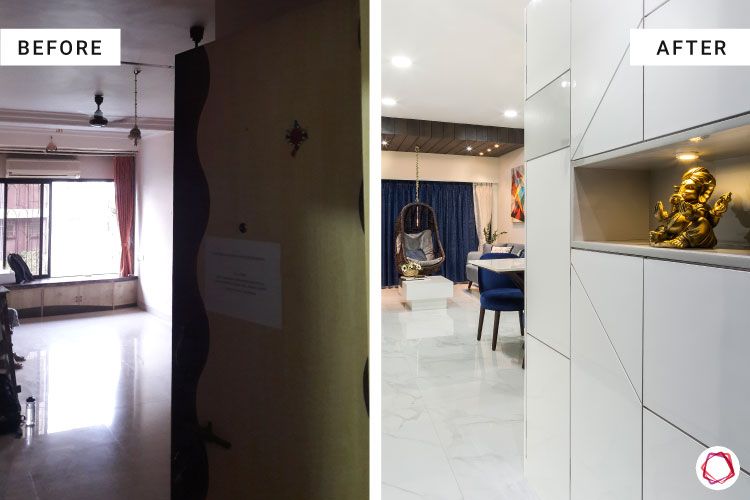 Even with the curtains wide open, the entrance appeared dark and dull. But now it stands bright and well-lit, thanks to the swanky marble tile flooring, elegant false ceiling, and a pearly white laminate shoe cabinet as soon as you enter. We love how the cabinet features a display element and doesn't look like a typical shoe rack with bulky storage. Aren't the diagonal lines a good detail?

House Renovation: Cosy Living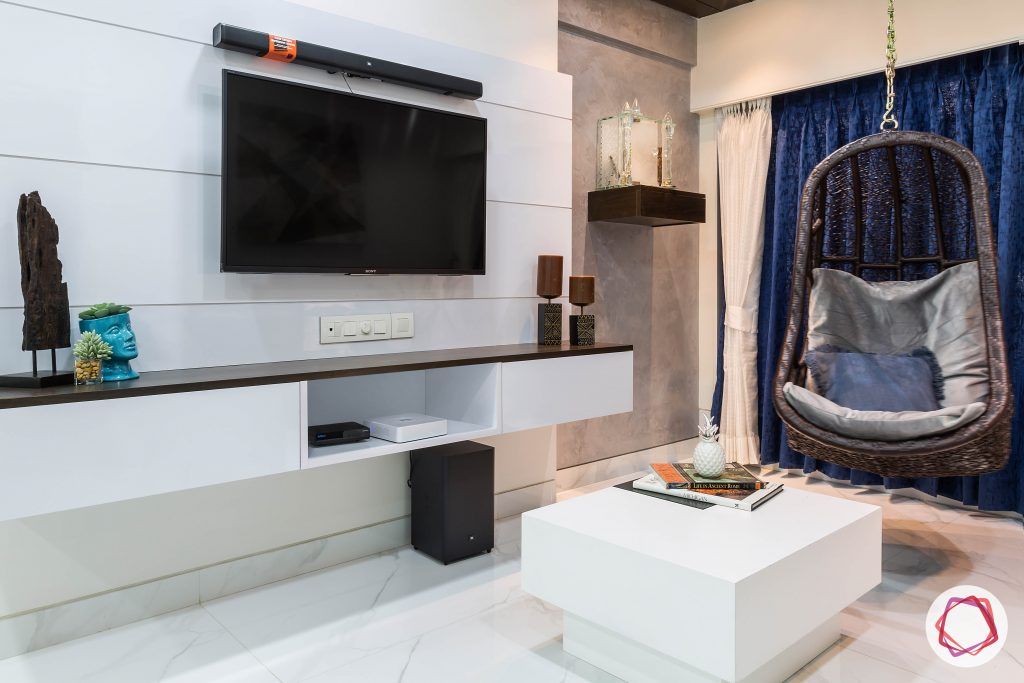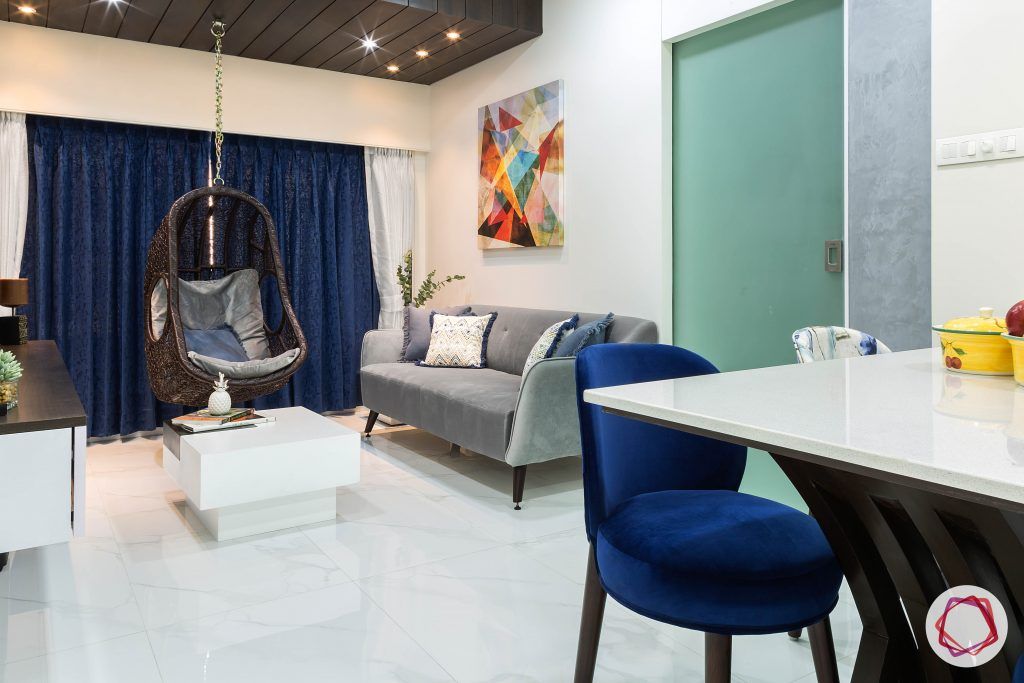 The living room is a splash of beautiful elements. Whether it's the comfy grey two seater sofa, the jhoola that hangs from wooden rafters dressed in spotlights, or the square coffee table, the room scores a perfect ten for style.

Anusha added a TV panel in pristine white laminate and a minimal with groove design to give it a seamless look. Notice the lines on the panel? "We wanted to give a continuity to the space, starting from the lines on the shoe cabinet to the TV panel and then to the rafters," Anusha explains.

If you look at the space beside the TV panel, you would notice the wall here is in a subtle textured grey paint. A minimal pooja unit has been mounted here.

We love the pop of royal blue for the curtains that acts as the perfect backdrop for a neutral-toned setting. In addition, Anusha also put in a glass sliding door to separate the passage to the bedrooms from the living room. As a result, you have a lot more privacy!
"We wanted a home that was modern and up-to-date. And Livspace delivered! The design was perfect and so was the execution. Overall, a good experience!"


Jimit Shah, Livspace Homeowner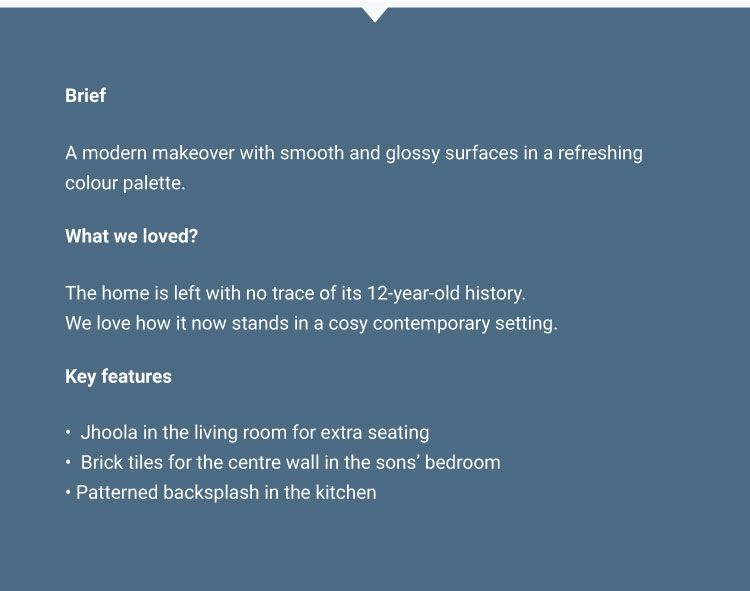 House Renovation: Statement Dining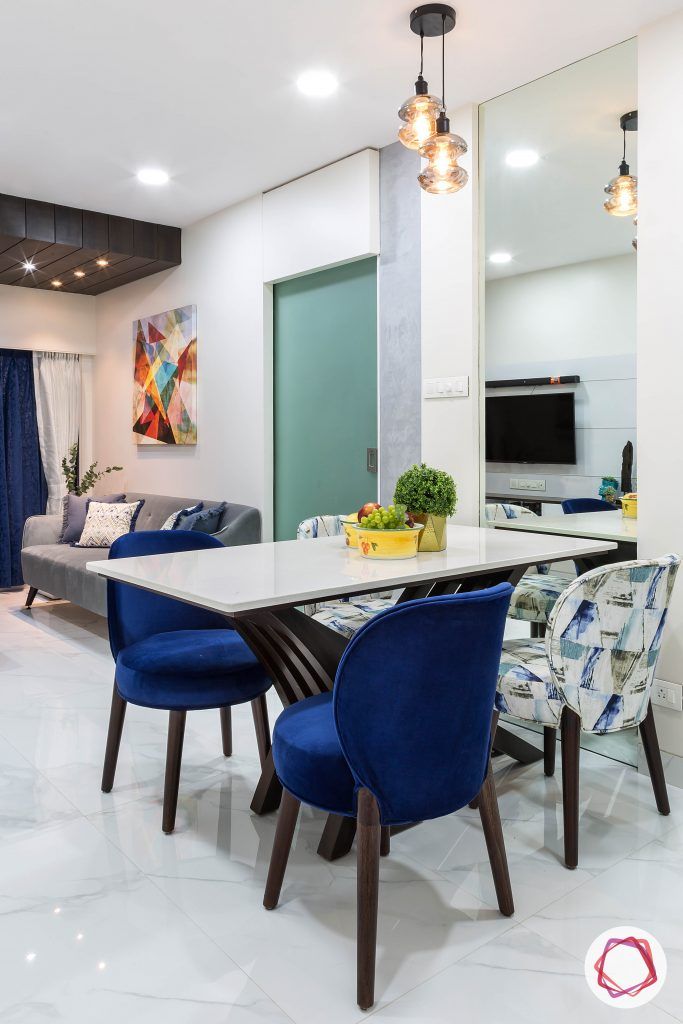 The dining nook is a glitzy affair. Featuring a kalinga table top, contrast upholstered chairs and hanging lights, the dining is all about making a statement. A full-length mirror stands beside the dining table with white panels and textured paint on either side.

House Renovation: A Tranquil Kitchen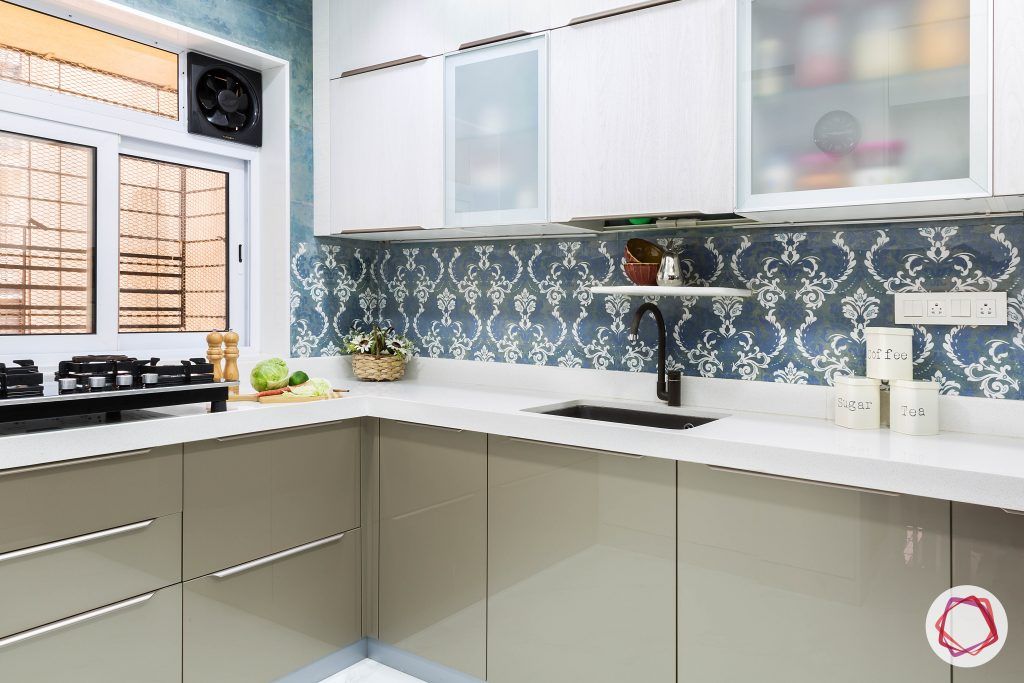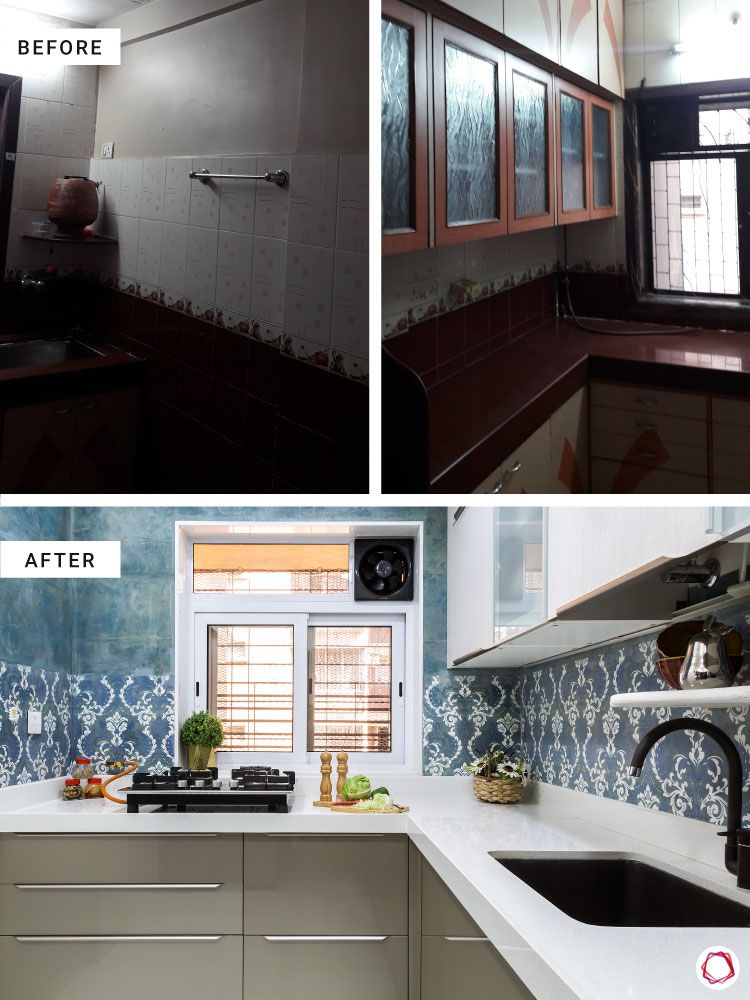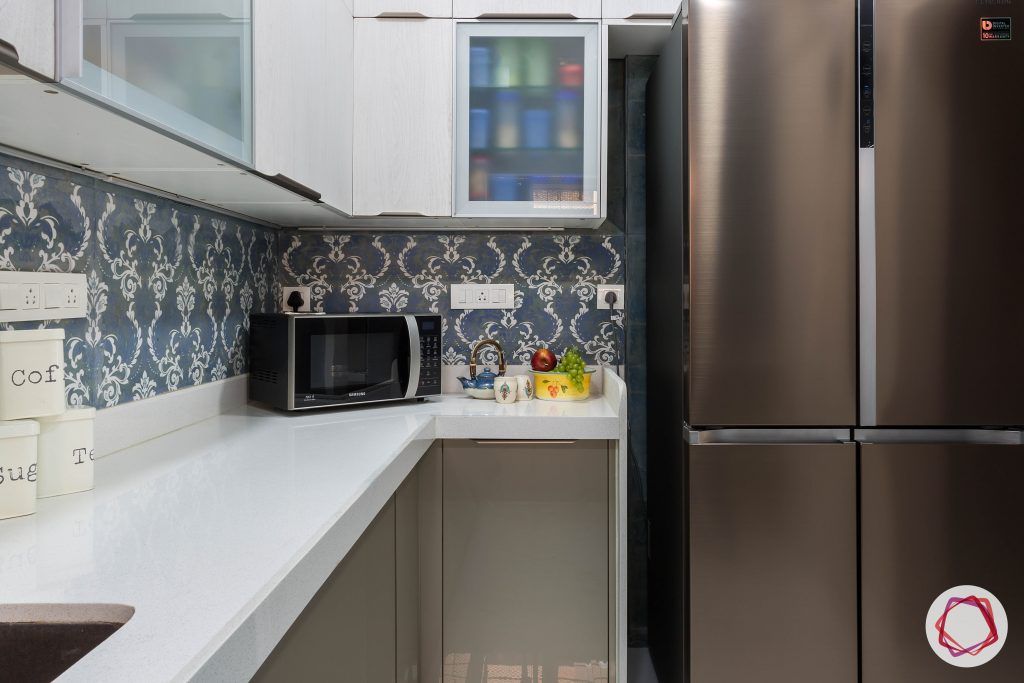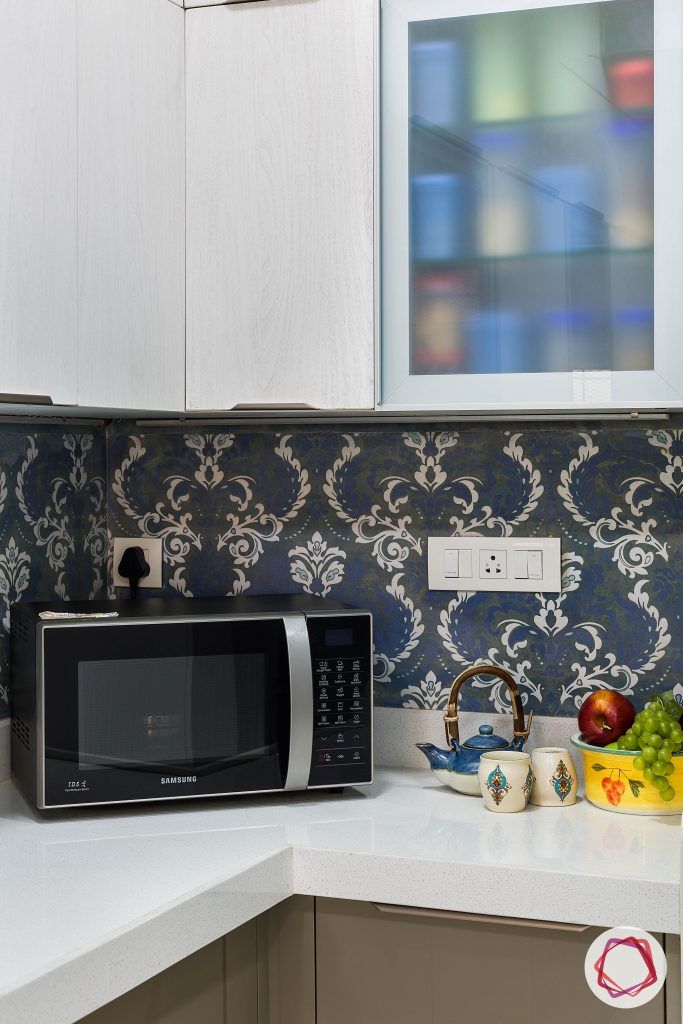 Since their original kitchen was an L-shaped layout that didn't work from them, Anusha revamped it into an uber efficient U-shaped space. The family wanted soothing colours for their kitchen. As a result, Anusha chose pristine white for the overhead units and lofts, both in a membrane finish, and beige for the lower cabinets in acrylic. All of them have been fitted with profile handles for a seamless look.

Of course, the highlight of the kitchen is the patterned blue backsplash. While the backsplash features patterns, the rest of the walls are coated in textured blue paint. The kalinga stone countertop completes the look.

A lone ledge has been fitted above the sink to hold water bottles and matkas since the water filter has been added to the cabinet above. Nifty, isn't it?

House Renovation: A Soft-hued Bedroom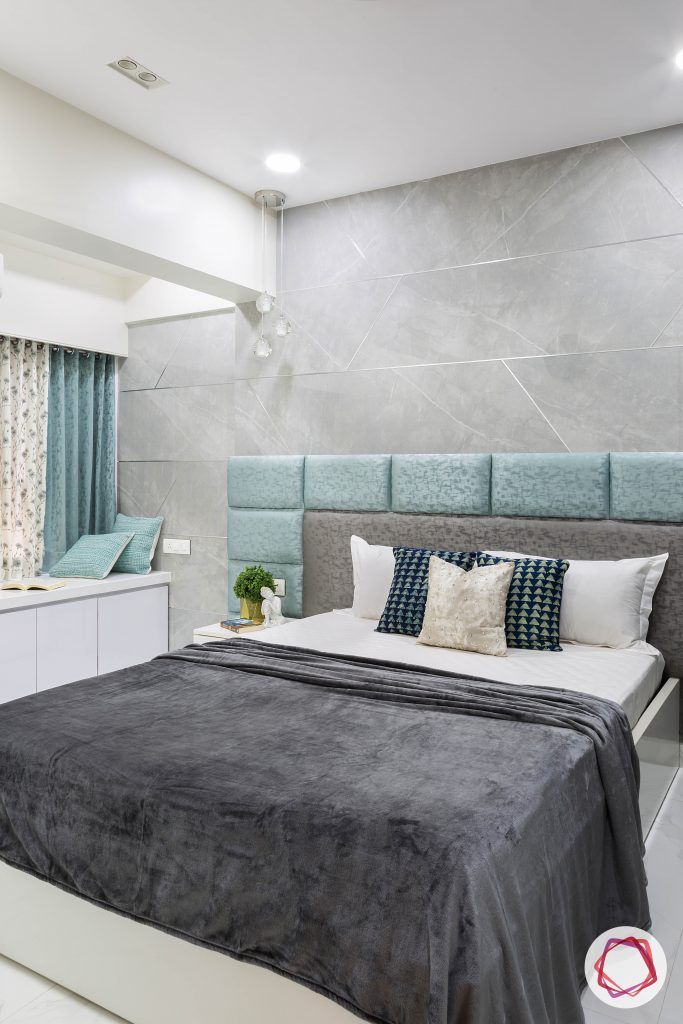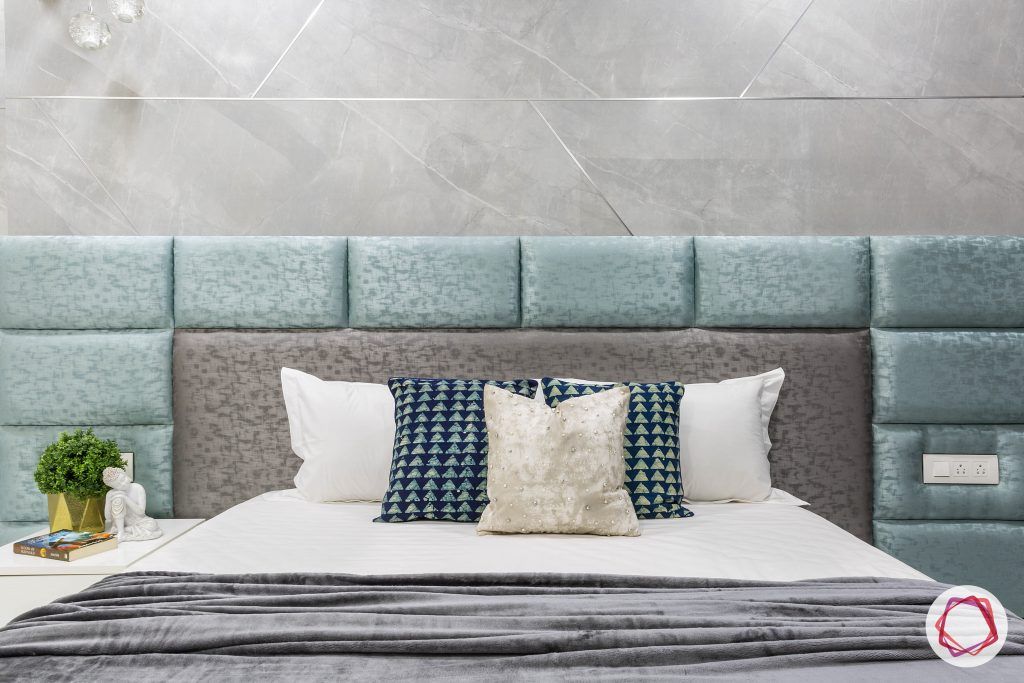 The master bedroom is the very definition of elegance. We love the soft hues that create a dainty vibe here. Notice the grey centre wall? Since their building has been around for some time, the family was worried they would have a seepage problem through the centre wall. As a result, Anusha put in stone tiles for the wall to prevent any seepage. It's been polished with a marble look. It pairs perfectly with the dual-toned headboard in blue and grey. The bed comes with a hydraulic storage option.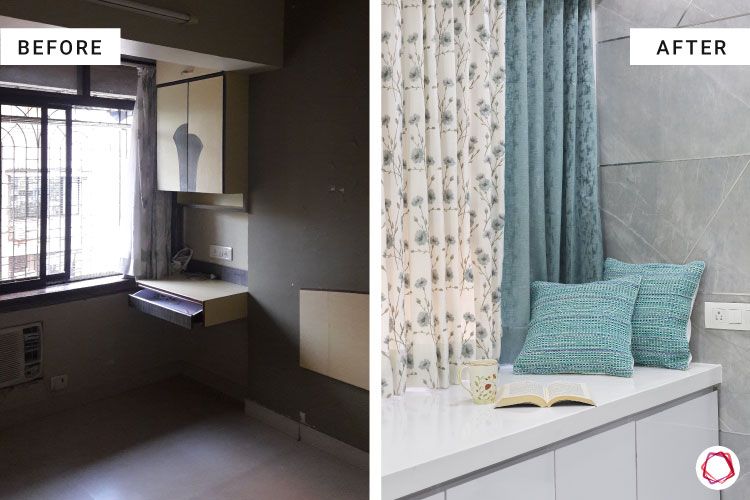 Mumbaikers love their window seats. So, Anusha broke down the cabinet beside the window and put in a sleek white laminate seating unit with storage below. The top has been done up in kalinga stone and the cabinets feature groove handles.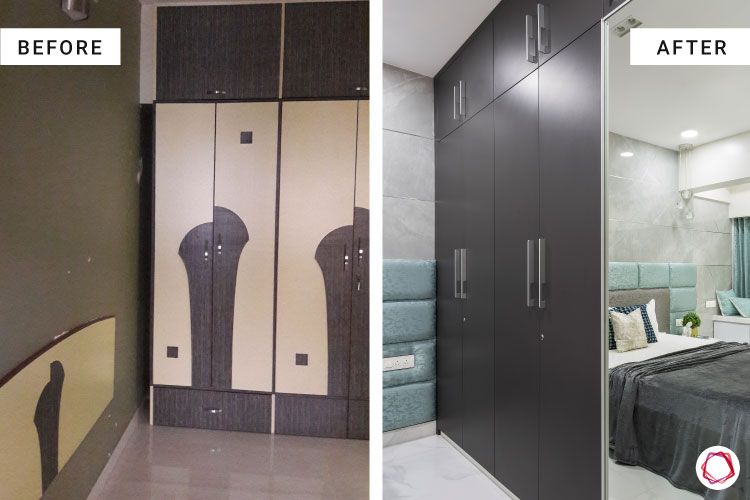 While their earlier wardrobe was definitely spacious, it didn't look appealing. So, Anusha put in a trendy wardrobe that stands out in grey matte laminate with an attached full-length mirror. In addition, it flaunts a compact storage option to neatly tuck in a ladder as well.

House Renovation: A Light Bedroom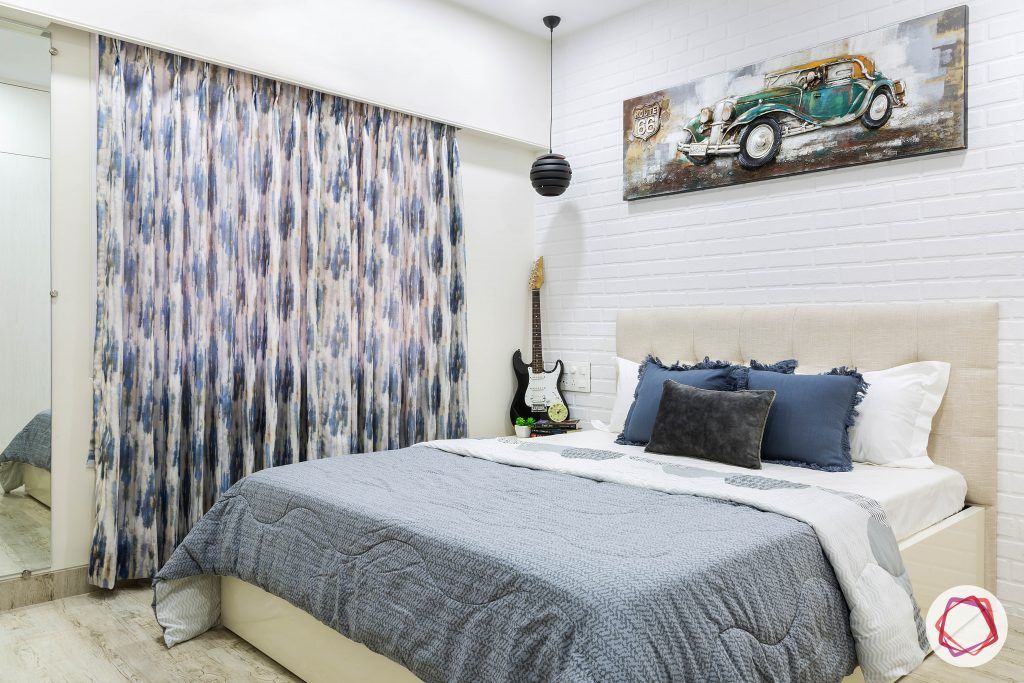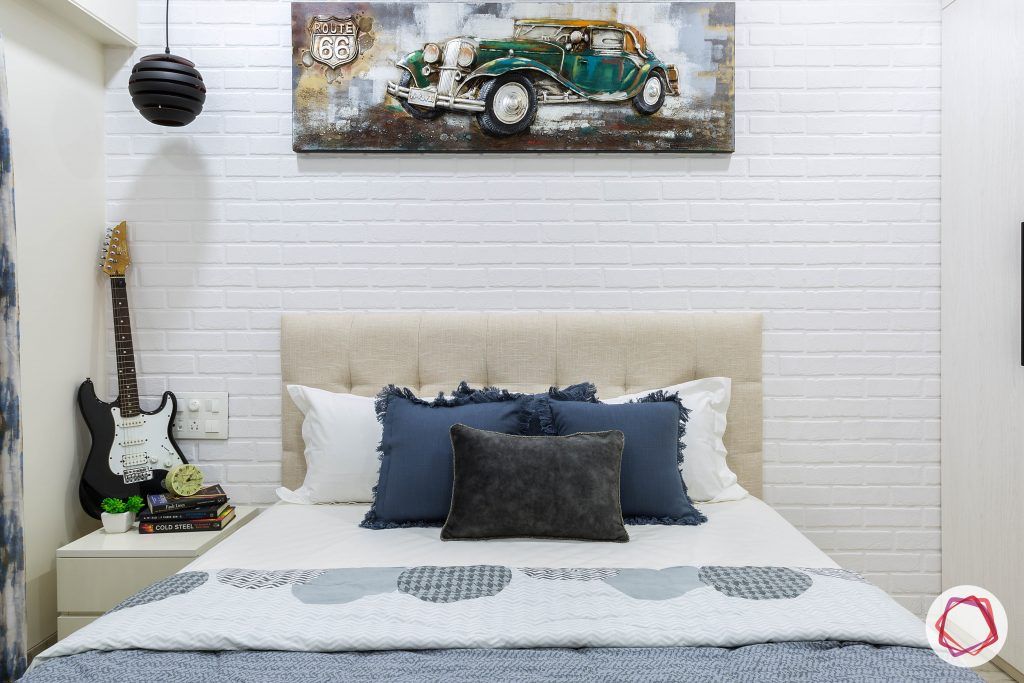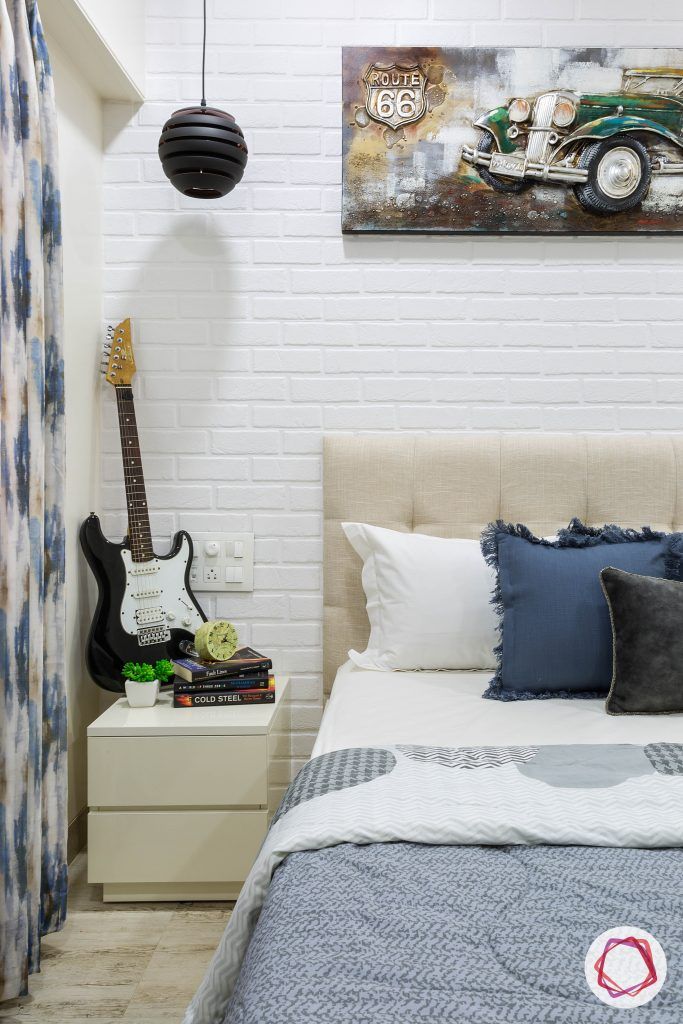 In conversation with us, Jimit reveals his bedroom that he shares with his brother is his favourite part of the house. Whether it's the brick accent wall, beige headboard or wooden flooring, the room definitely catches your attention. The wardrobe features white and beige doors in membrane.
"This was my first renovation project. It was a great yet challenging experience to meet the family's requirements and all the technicalities involved. I thoroughly enjoyed working for the Shahs."


Anusha K, Interior Designer, Livspace
If you loved this house renovation story, take a look at Our Favourite Mumbai Budget #LivspaceHomes Under ₹10 Lakhs which features two unbelievable makeovers as well.

Send in your comments and suggestions.