Buying a new home is always exciting, so why does the thought of getting interiors done dampen your spirits? We know the process can be confusing and exhausting with a million carpenters and interior decorators in the market. Since we've been helping new homeowners get their dream interiors for years, we've tried answering most of the questions you will have during the process. Here's what you need to know before you hire an interior designer.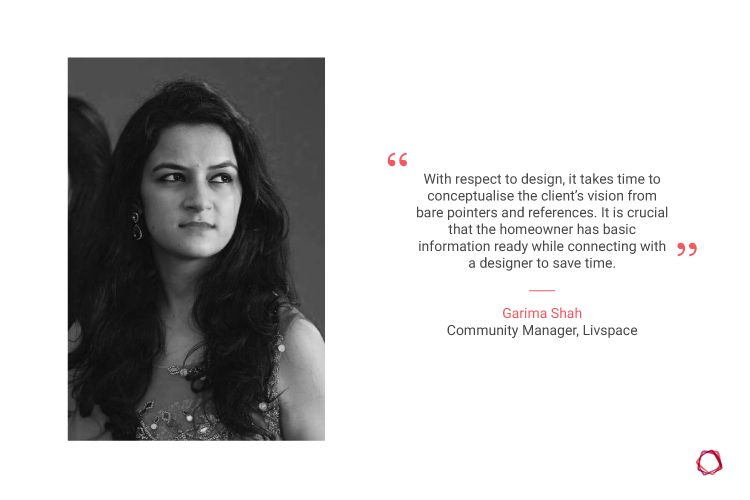 Knowledge from the builder:
Let's start with the builder since updates on the structure are necessary even for a designer to start work. Know these details before you approach a designer:
When do you get the possession of your flat/villa? (Some builders allow interior work to begin before the possession too, so you can check with your builder)
Are there any restrictions from the builder in terms of moving electric points, pipelines, etc?
Will the builder allow any civil work in terms of demolishing a wall or changing the layout?
Is the builder providing any interior work? (modular kitchen, kitchen countertop, sanitary fittings)
Will there be any finishing work done after interiors? (like a coat of paint or electrical). If yes, what about the warranty for any damage to interiors?
Why is it better to hire a designer?
No time to spare: Scouring the market for products may seem thrilling, but the amount of time and money you have to invest will certainly give you a headache. At Livspace, we have a huge catalogue of furniture, decor, modular kitchens, wardrobes and storage options to easily choose from.
Stunning designs: Designing is not everyone's cup of tea. Even if you genuinely enjoy designing, there are some decisions which will need expert help. Eg: Furniture placement, where the chimney has to be installed, how to cover up ugly power outlets or wiring, and more!
Market knowledge: Designers are well-versed with the market and know what is better in terms of materials and price. Rather than hopping from one store to another, Livspace spares you the brunt of having to choose from unreliable options.
Accountability: While hiring a carpenter may cost you less, there is lack of leadership and lack of accountability in terms of budget and timelines. In case of any glitches and delays, the blame-game starts where no one ever wants to acknowledge their mistake. With a designer and installation team in place, you can count on reliable service. Also, warranty counts! At Livspace, we offer up to 10 years warranty for kitchens and five years for wardrobes and storage.
If you don't reside in India: If you have trouble travelling to India frequently to get the interiors done yourself, hire a designer to get the work done for you. Livspace usually works over emails and video calls to finalise the design before proceeding to the installation phase.
When to contact?
Apartment: We recommend you contact Livspace 3-4 months before possession. This leaves enough time for design and execution. Contacting anytime earlier might be a problem due to fluctuating market rates and availability of products. Any delay in contacting will delay overall progress and handover, making it difficult to move in on time.
Independent Home: The timeline on completing home interiors varies from project to project. For an independent home, it can take an average of 3-4 months to finish interiors. So the best time to approach a designer is when the structure is ready and you are nearing the plastering stage.
Scope of Interiors: Here's what you need to ask yourself
Is it for rent?
Are you looking for minimal interiors?
Do you have furniture?
How much money have you set aside for interiors?
The scope of work varies based on your responses to these questions, for starters. If you are looking for essential interiors only, kitchen, wardrobes and an entertainment unit are what you might need. Whereas full home interiors include furniture, decor and basic furnishings. Tiling, false ceiling, painting are all added services to finish the look. These essentials should prepare you for your first meeting with a designer.
Stay tuned to our Interiors 101 series for more on how to navigate the interiors space and get the interiors you've always dreamed of for your home.