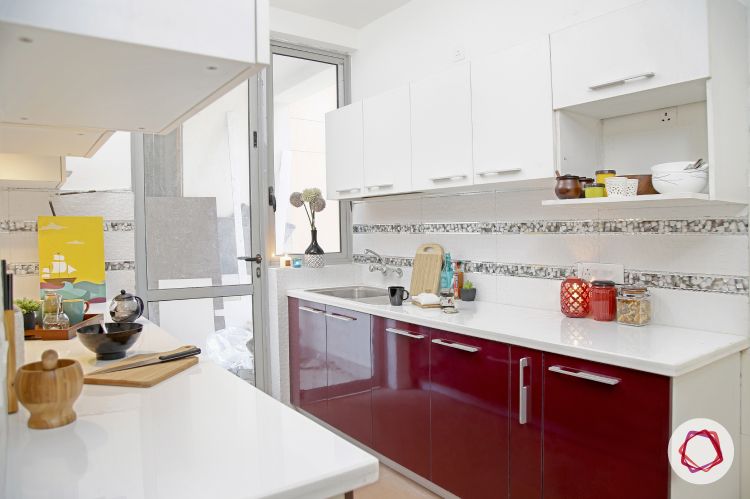 ---
Kitchen type and size: Parallel kitchen spanning 85 sqft
Location: Gurgaon
Design team: Interior designer Palak Jolly and project manager Amandeep Saluja
Budget: ₹₹₹₹₹
---
Bright notes and intelligent space planning govern this stylish, parallel Gurgaon kitchen. Designed for two young professionals sharing a home, Livspace interior designer Palak Jolly carved a serene, crisp white and sangria kitchen that evokes interest.
Since aesthetics typically define most design projects, in this compact Gurgaon kitchen, Palak wanted to strike a healthy balance between the functional aspects and visual appeal.
The project came with space constraints. This automatically meant Palak envisioned a parallel kitchen to ensure it's roomy enough for two active cooks. She was wowed by the sunlight streaming in and decided that the kitchen had to enjoy a crisp white dominance, therefore giving the tight space an opportunity to seem fuller.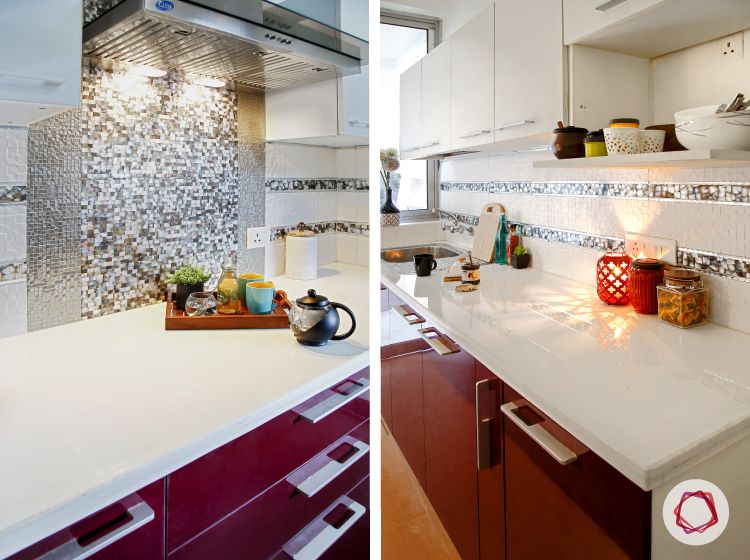 ---
Bands of shimmering silver mosaic tiles run through the white backsplash creating a lustrous visual effect.
---

We love how Palak has revived an interest in all shades sangria. She splashed the lower half of the kitchen with this delicious, invigorating hue to ensure the space brims with energy.
Pearly-white quartz countertops complete the scheme. We know what you're thinking, the horror of maintaining white! Well, most tough stains come off quartz countertops with just a little soap or vinegar solution.
To further intensify the charm of the kitchen, Palak added bands of shimmering white and silver mosaic tiles. This gorgeous backsplash lends a deeper design detail to the kitchen, while also shielding the walls from grimy stains.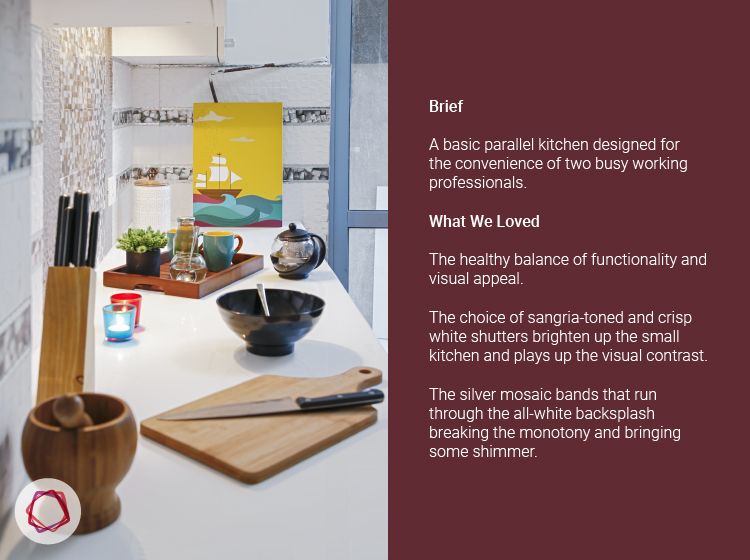 ---
"Functional aspects and space planning were the focal points in this Gurgaon kitchen. We played up the aesthetics by creating a visual contrast in the color scheme. Overall, we designed this for a smooth cooking experience."

– Palak Jolly, Livspace interior designer
---
The modular cabinets are crafted from engineered wood and finished in glossy laminate. A multitude of closed and open cabinets ensure no scope for complaints.
Fuss-free stainless steel handles make accessing kitchen essentials a breeze and ensure fingerprints don't smudge the lustrous finish of the shutters.
The end result? An ideal kitchen that is high on both aesthetics and sensible design.