---
Who livs here: Bhojraj Rohilla with his wife, Renu Rohilla, father and two kids
Location: Faridabad
Home type and size: A 3BHK apartment spanning over 1,100 sqft
Design team: Interior designer Nehaa Rakyan with design manager Varun Chopra and project manager Harmeet Singh
Livspace service: A full-home design
Budget: ₹₹₹₹₹
---
Sweet simplicity and practical design are what comes to mind when you stroll through Bhojraj and Renu Rohilla's three bedroom apartment. When posed with the conundrum of expanding the space to comfortably fit the family of five, interior designer Nehaa Rakyan immediately fell back on soothing hues, and space-savvy furniture to open up the space.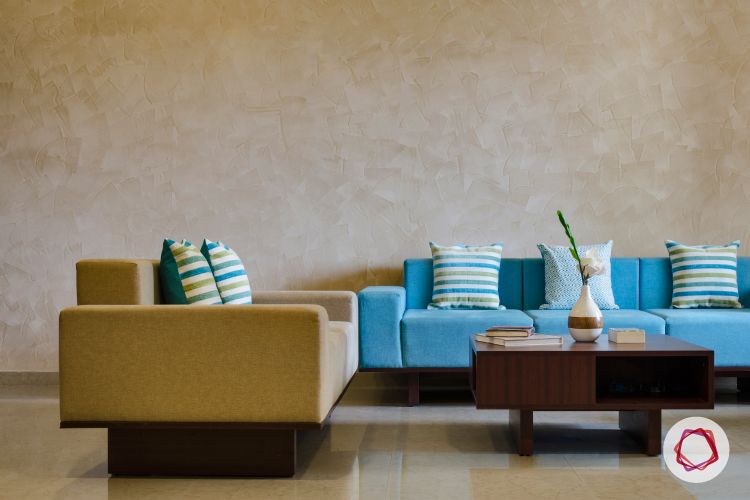 The muted colour palette in the living room is enhanced by the carefully picked beige and blue sofas with textured wall paint as a backdrop to enrich the space. We love how the choice of colour has been accentuated by the sunlight streaming in through the large windows framing the living area.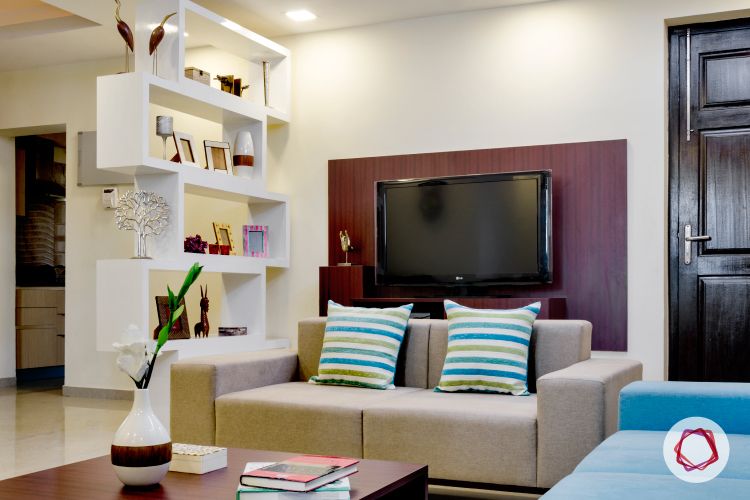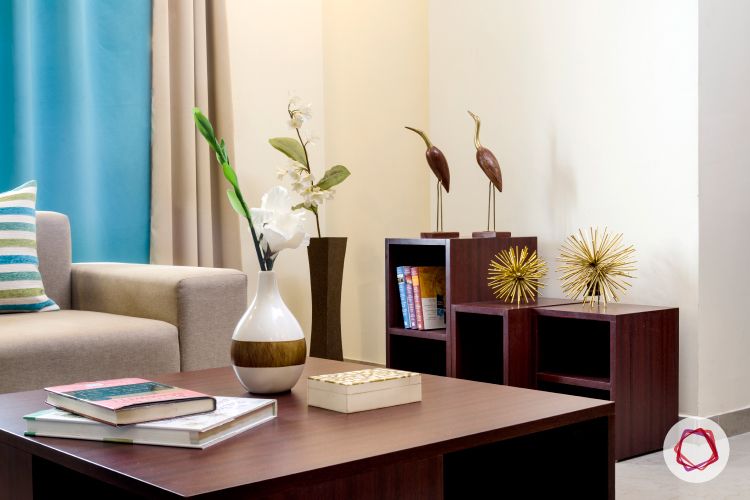 This urban home is filled with tasteful contemporary furnishings and accent pieces. From the cuboidal coffee table with wedge legs to the matching little side tables with open shelves to the stylish see-through room divider — the Rohilla's home has a modish edge.
A huge favourite with guests and the family, alike, is the all-white divider that instantaneously carves out a separate dining and living space, affording the family with some privacy. This element was quite a far cry from the traditional display units that the Rohilla's were used too, however, it was met with enthusiasm and fulfilled one of the biggest requirements of the family — storage.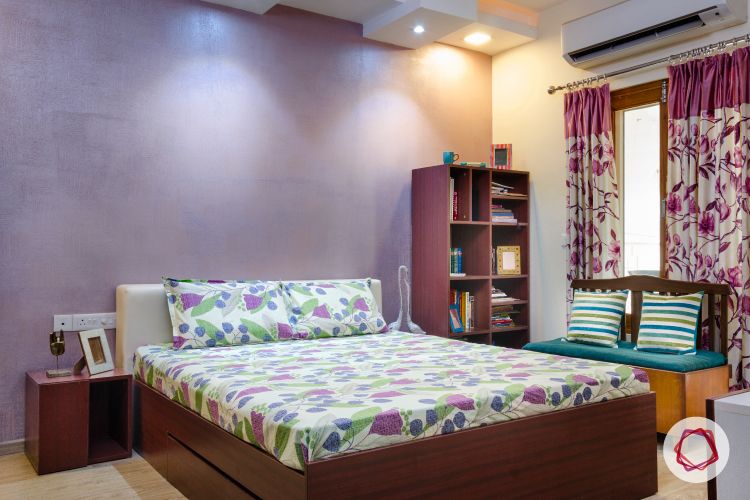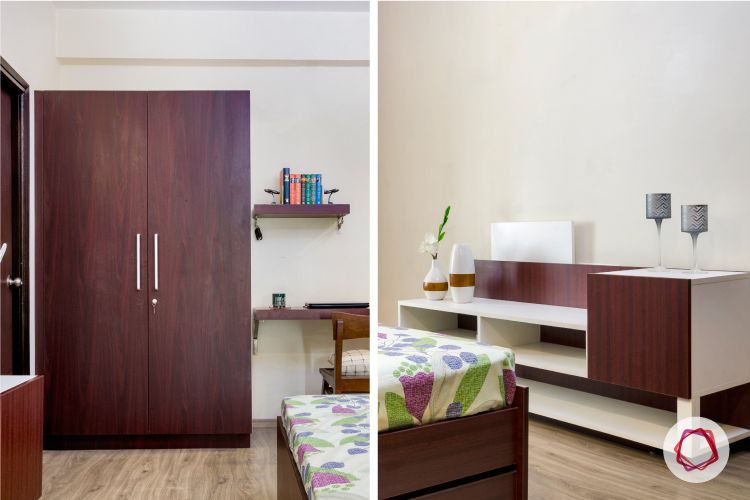 ---
"As I worked with Bhojraj and Renu, I realized one of their biggest pain points has always been storage. So I ensured in each space, I tackled their storage requirements before moving onto the aesthetics. Despite, the limited space, we managed to put together a fabulous-looking, modern home. "
– Nehaa Rakyan, Interior Designer
---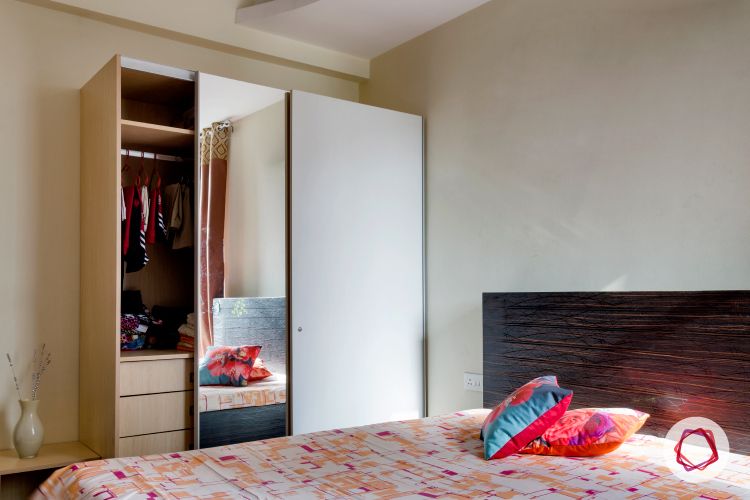 The Rohilla's were very specific in terms of how they wanted their storage to be slotted. The family was very clear they required designated areas for work and entertainment.
Bearing their clear-cut storage requirements, Nehaa divided the master bedroom into dedicated work, play and sleep areas. While their queen size bed anchors the space, the media unit, bookshelf, and work desk with open shelves and the double wardrobe filled out the contours of the bedroom. With all their needs met, Nehaa even managed to squeeze in a love seat for Bhojraj and Renu to unwind in. She spotlighted the soothing lavender wall by picking out its hues through the matching drapery and bed linen.
Nehaa employed the same rules in the kid's bedroom. But gave the two boys a mirrored wardrobe to capture all the extra light, and allow the reflection to make their bedroom seem larger.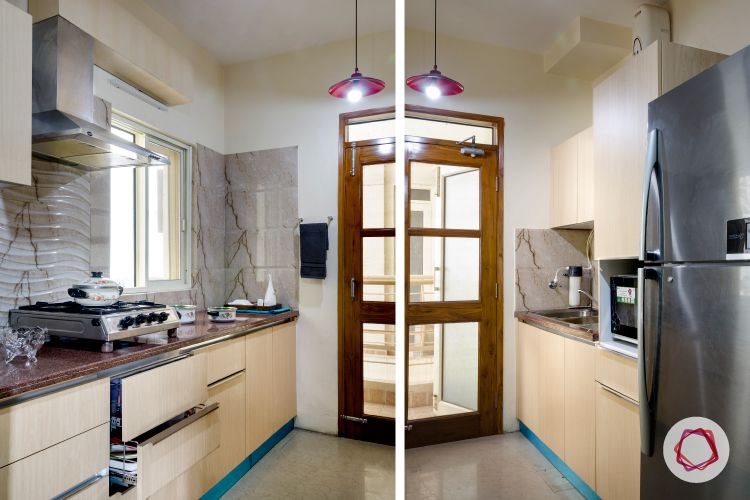 The parallel kitchen was by far the smallest space in the apartment and lacked good lighting. To open up space, Nehaa paired a glossy backsplash with neutral papaya colored wooden cabinets, and finished it off with bright blue trimming. Several modular baskets and modules were installing to stock their groceries, cooking ingredients, monthly supplies and utensils.