A combination of striking accent walls and bold colours in each room makes this home stand out!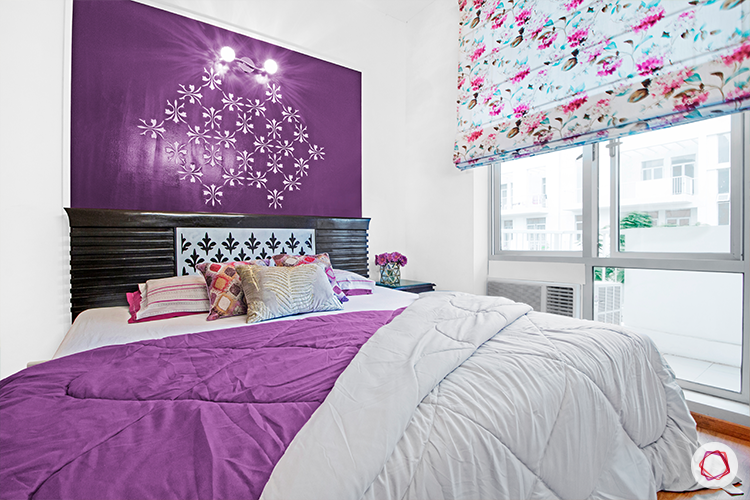 ---
Who livs here: Neha Malik with her husband Vikas Malik, 6-yr-old daughter Avika Malik and 2-yr-old son Ashvik Malik
Location: Vatika India Next, Sector 82, Gurgaon
Size: A 3BHK home spanning 1800 sq.ft.
Design team: Interior designer Chandni Aggarwal with project manager Maninder Singh Khanuja
Livspace service: Full Home Design
Budget: ₹₹₹₹₹
---
Designing a first home is exciting, but also comes with its share of apprehensions. When the Maliks decided to get interiors done, one of their friends suggested Livspace. Once they met Chandni Aggarwal, their Livspace designer, all their doubts and anxieties were put to rest.
Neha Malik wanted her home to be unique and fresh — cheerful colours and durable furniture that's easy to maintain. She was enthusiastic about getting a new look and different form, so she encouraged Chandni to come up with something special for their family home.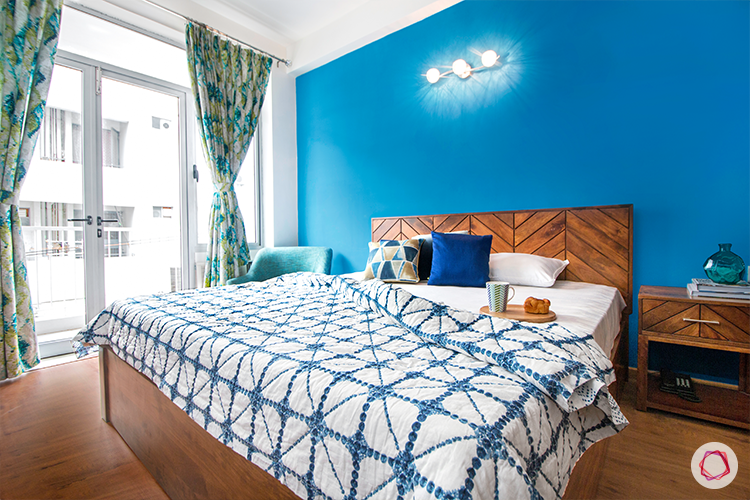 Chandni immediately knew that a distinct colour scheme for each room would certainly uplift the mood of the house and match Neha's exuberance. The master bedroom is dressed in a rich peacock blue. Adding to this lush experience, warm wooden furniture with chevron patterns were chosen.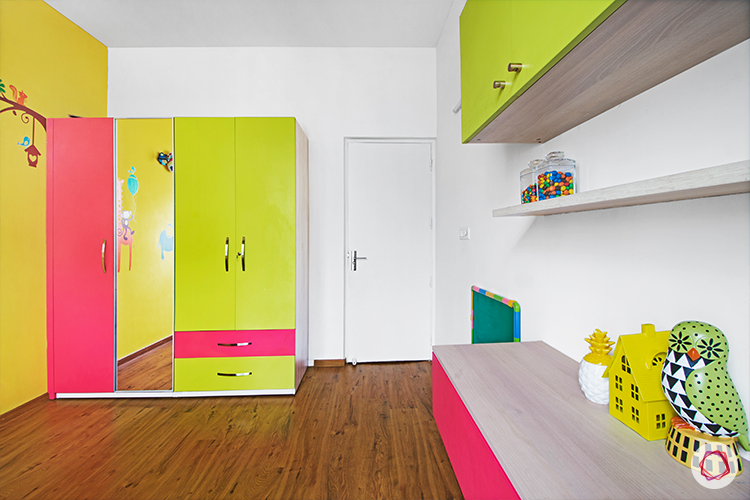 Striving to give a gender neutral room for both her kids, the room was daubed with poppy and lime green colours. However, Neha's daughter loves pink and Chandni couldn't resist the little one's request!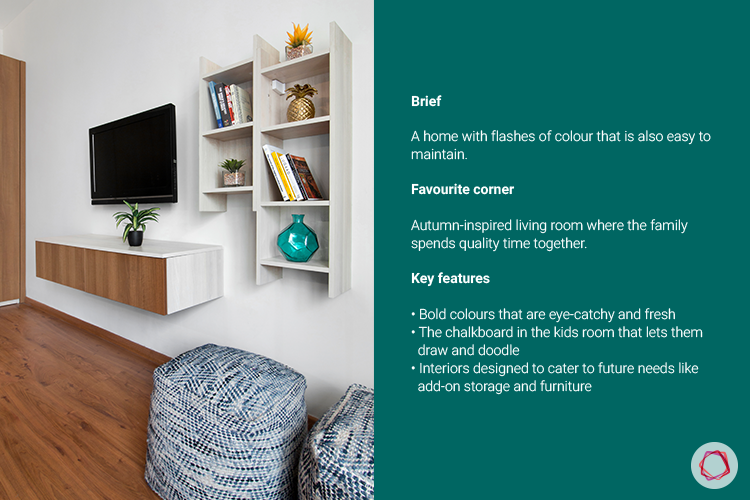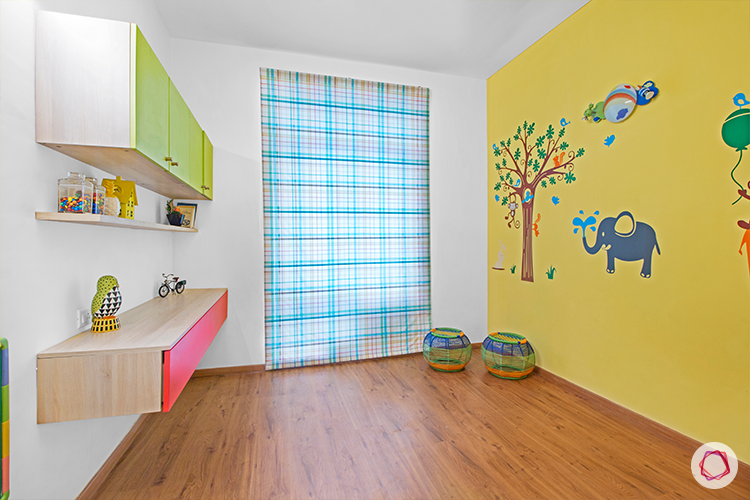 The room serves as a playroom currently as the children are young. However, Chandni has made provisions for a furniture upgrade in the future. The accent wall is filled with cute decals to add life to the kids' fun zone.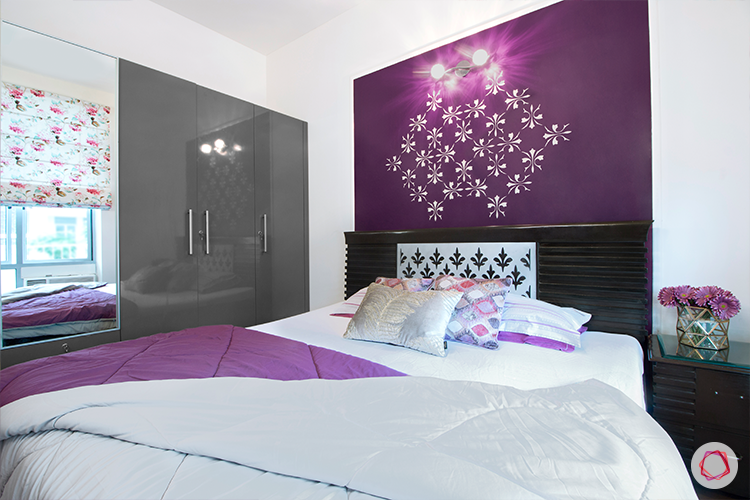 The purple hues and stylish stencil work lend a glamorous feel to the master bedroom. The glossy wardrobe finish makes the room look and feel airy. Topped with floral curtains, it feels like you're sinking into luxury.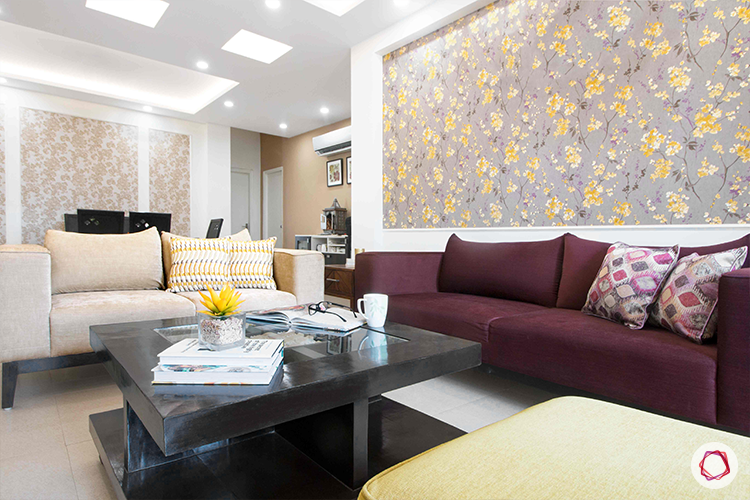 Neha's personal favourite is the drawing room. Filled with florals and coffee colors, this room is fresh and inviting. Knowing they'd be entertaining a lot, they wanted to turn this room into the centre stage.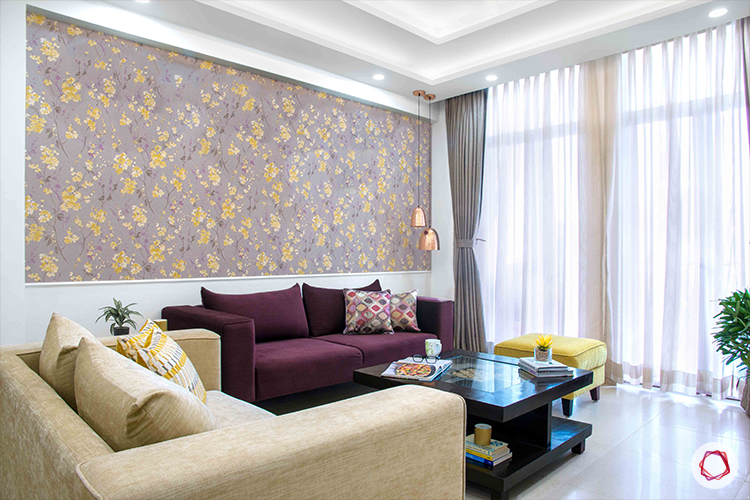 The couple just couldn't get the floral wallpaper out of their mind. So they decided to design the room around it. Taking inspiration from this, Chandni chose other elements to complement the wallpaper — beige and purple sofas and curtains. The combination of sheer curtains with heavily lined drapes gives them the option to let in ample light and close it for movie nights.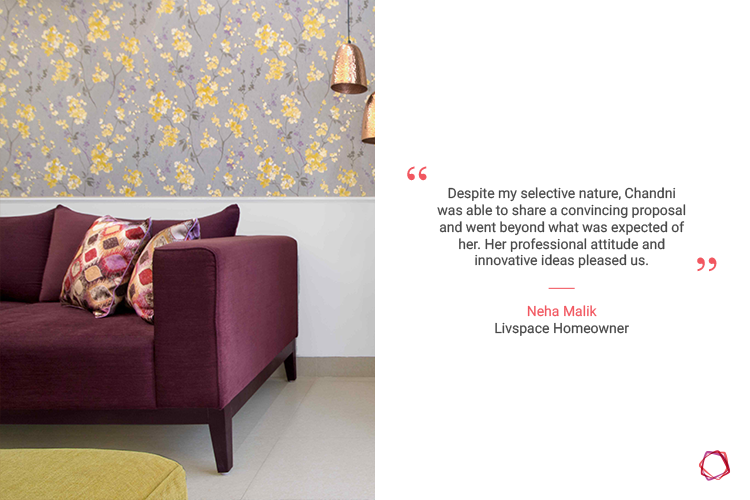 As a working couple, the duo were quick at making decisions and finalising designs. The home has a bright look to it and it was a fun experience working for this project.

—Chandni Aggarwal, Livspace Designer