Take in all the natural light and subtle colours!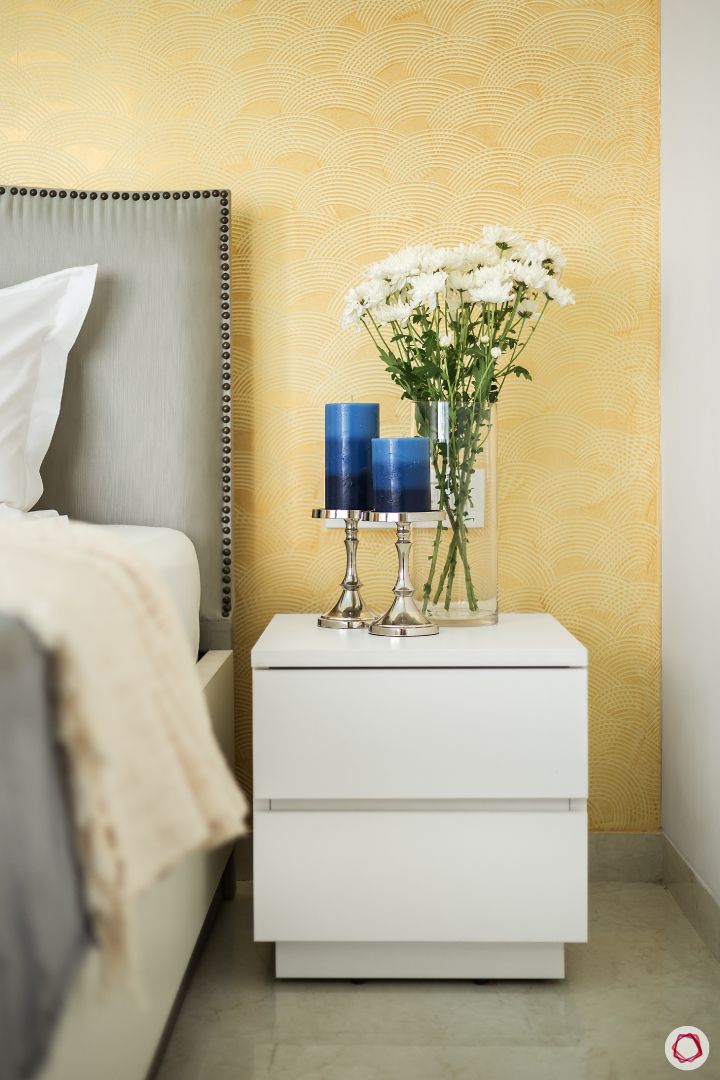 ---
Who livs here: Shridhar Iyer, his wife Roopa, his parents and their 8-year-old son
Location: Mahendra Splendor Towers, Bhandup West
Size of home: 3BHK spanning 1,150 sq ft
Design team: Interior designer Afreen Ansari, Design Manager Rahul Jain and Design Associate Ravi Rajput
Livspace service: Full home design
Budget: ₹₹₹₹₹
---
Shridhar and Roopa Iyer always wanted a warm, minimal home with lots of floor space for their home of five. Located in Bhandup West, the 3BHK they moved into had plenty of space and natural light pouring in. They wanted interiors that not only wouldn't compromise on these features but also enhance them.
After a quick online search, they met with our Livspace team and were introduced to designer Afreen Ansari. Four months later, they couldn't be happier with their choice! Here's a tour of their lovely home.
Let there be light!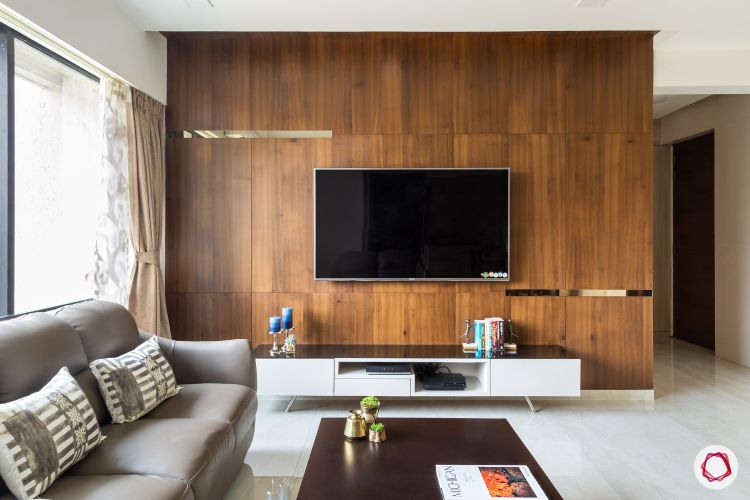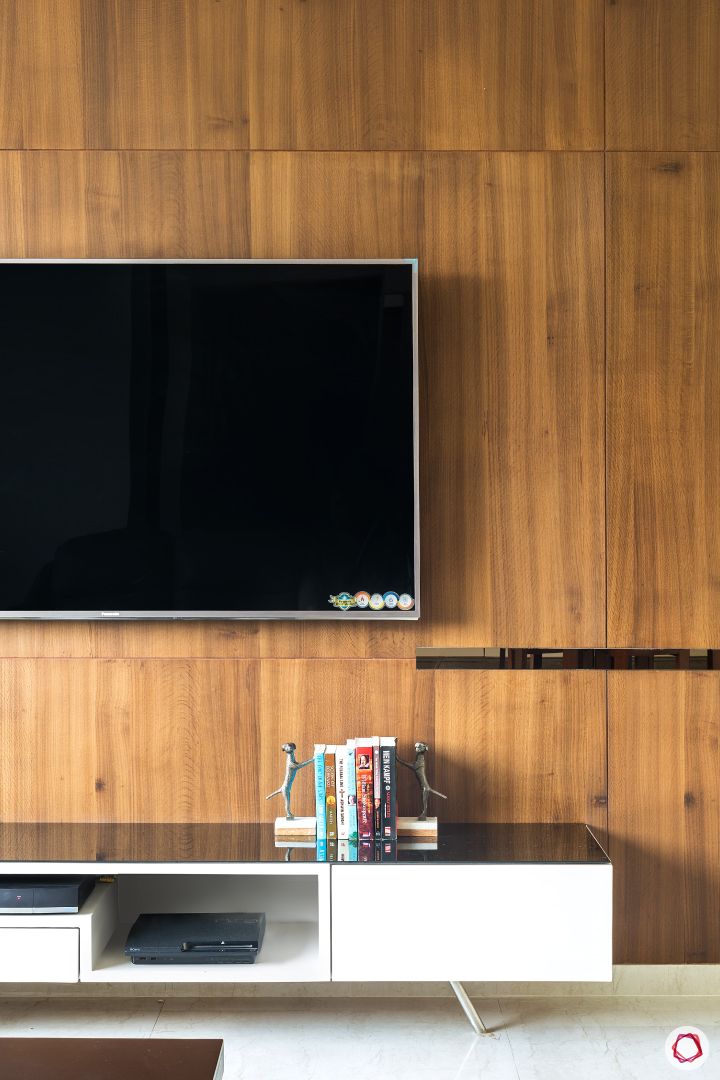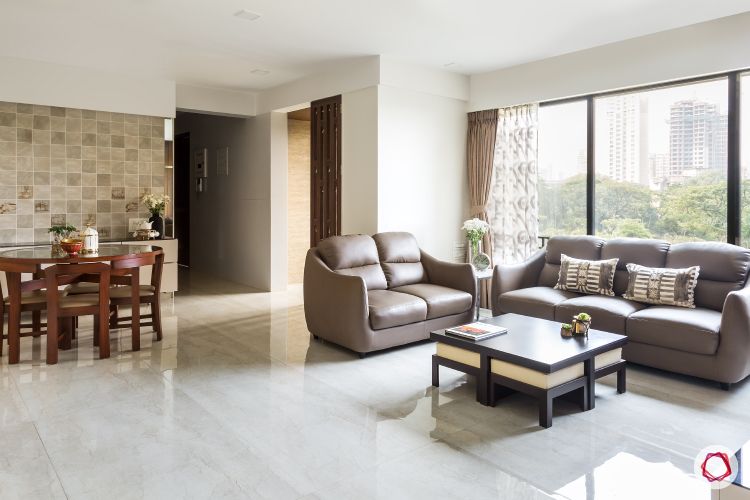 Classy, spacious and full of neutral tones define this comfy living abode. Thanks to its wide balcony doors, the room is doused in natural light that spills over all the elements. With grey leatherettes and a sleek coffee table that conceals four cushioned chairs, this room certainly looks inviting! But the highlight of this bright room is the veneer wall with two slits of mirror that complements everything in its afterglow.
---
We thought Afreen did a good job with our house, especially with the living room and the bedrooms. We wanted interiors that were both elegant and functional and she did that quite well.
– Shridhar & Roopa Iyer, Livspace Owner
---
Niche Corners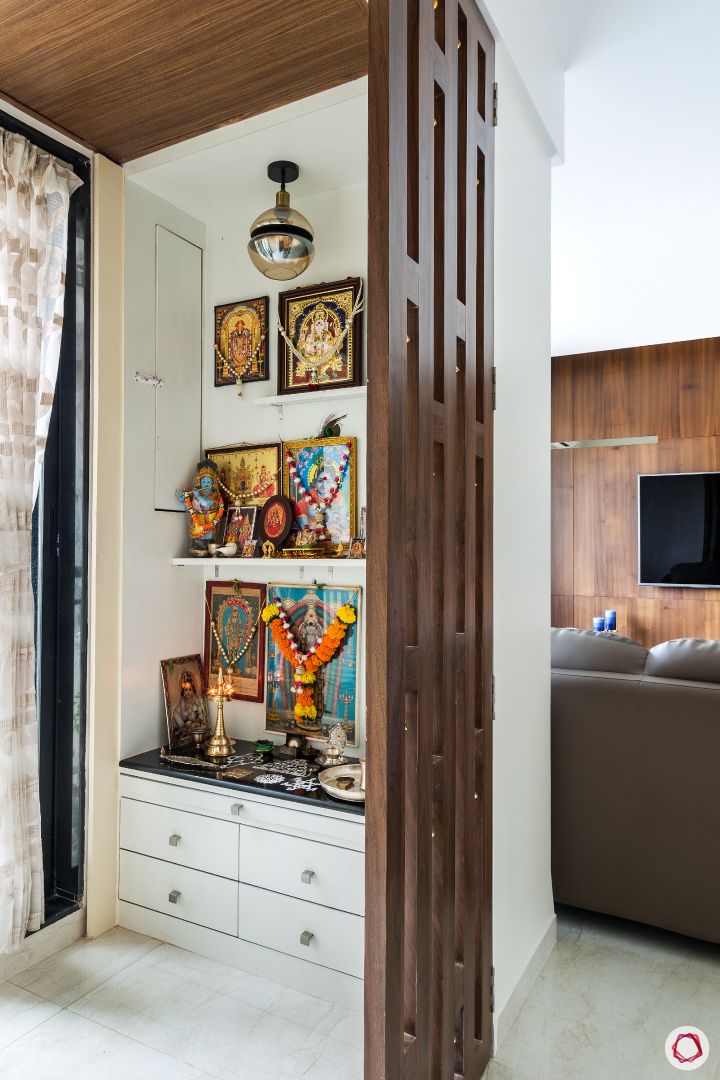 For their pooja room, Afreen broke down a section of the balcony to create a simple and functional prayer space. It is separated from the rest of the living room by a beautiful wooden jali.
Casual Dining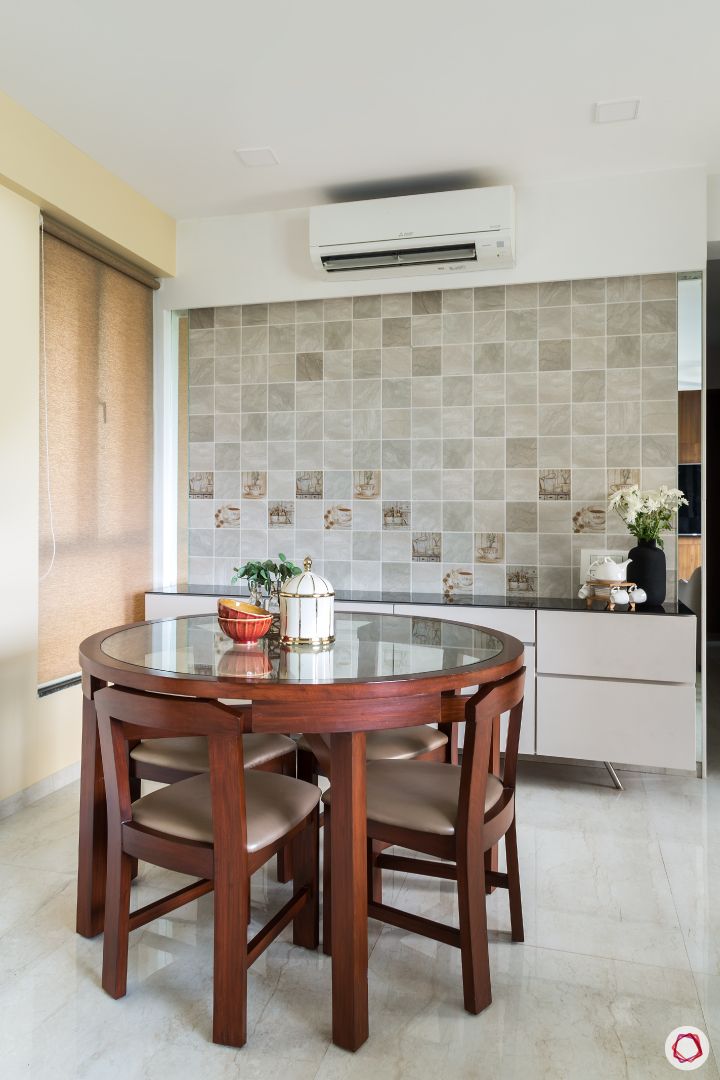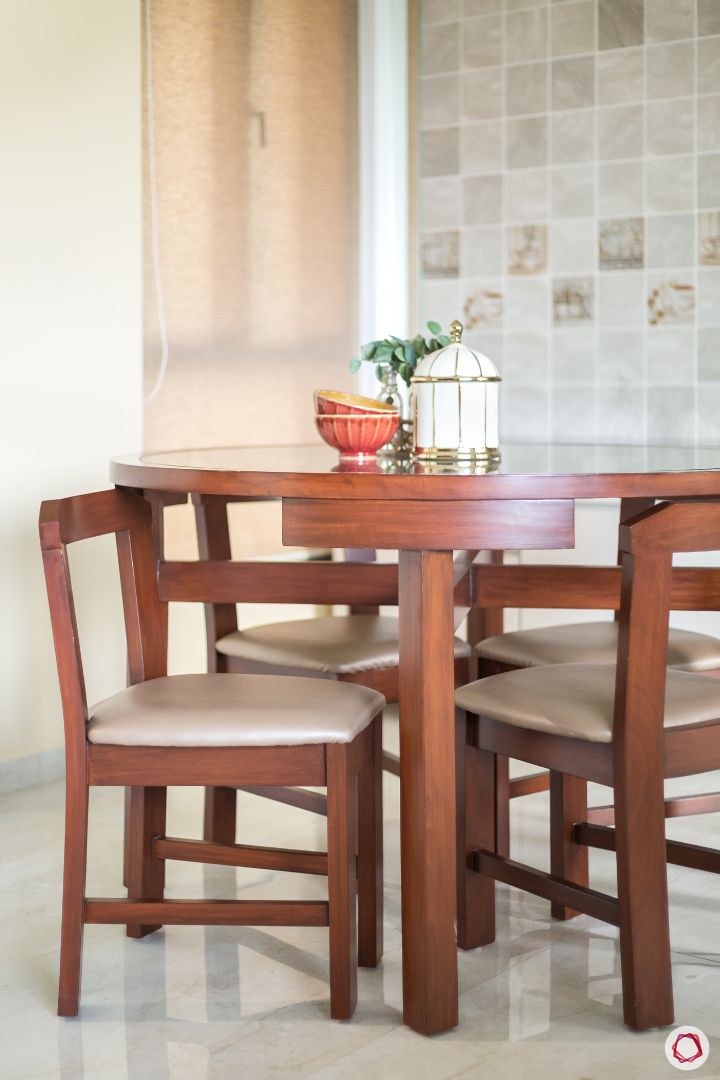 The Iyers wanted a minimal dining set. Afreen put in a 4 seater wooden dining set that would perfectly match with the veneer wall on the other end of the room. She also placed a glossy side table with lots of drawers for their knick-knacks and sheer blinds to add a bit of warmth to the room. The look is complete with artisan tiles that enhance this elegant dining space.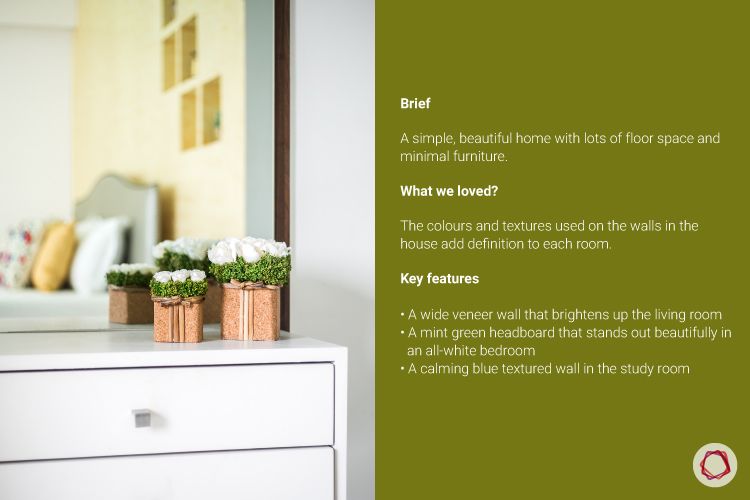 Good things come in red!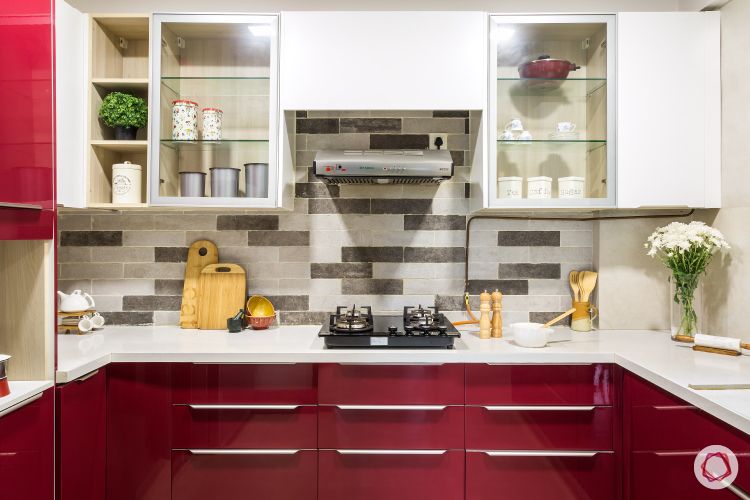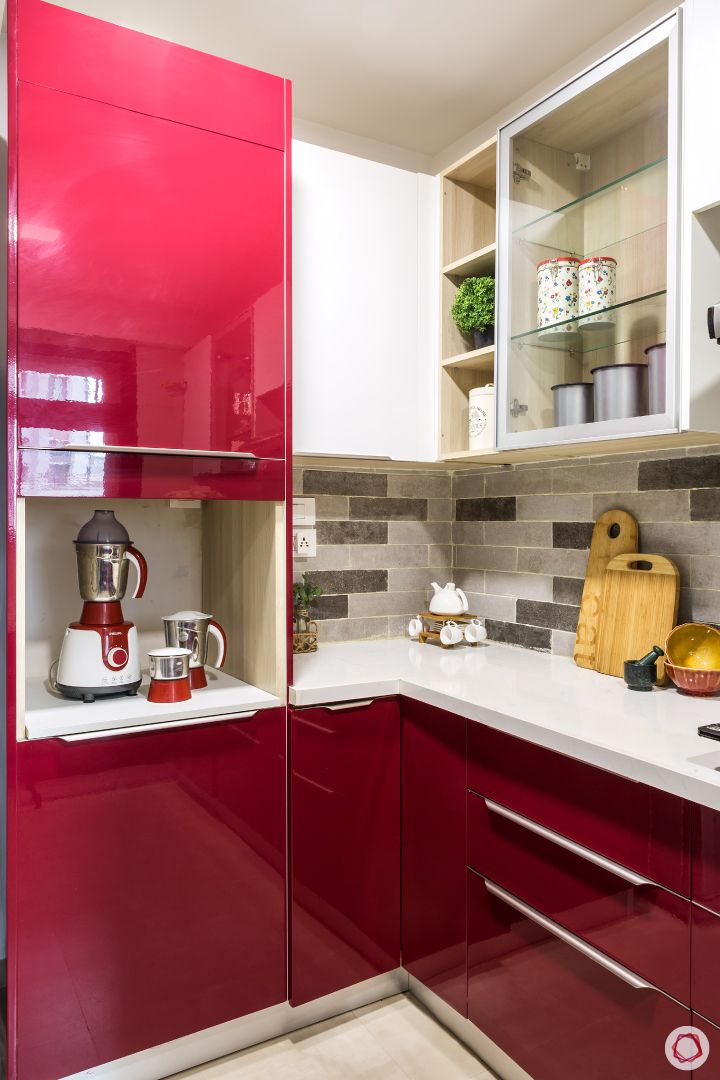 That's what this polished red kitchen would like us to believe. When asked about their kitchen requirement, they said, "The kitchen's usability should be maximum and maintenance should be minimum." They were also particular with maximum storage. With a glossy membrane finish, this modular kitchen is all about efficient workstations. Everything seems to be in a jiffy's reach – just as the Iyers wanted.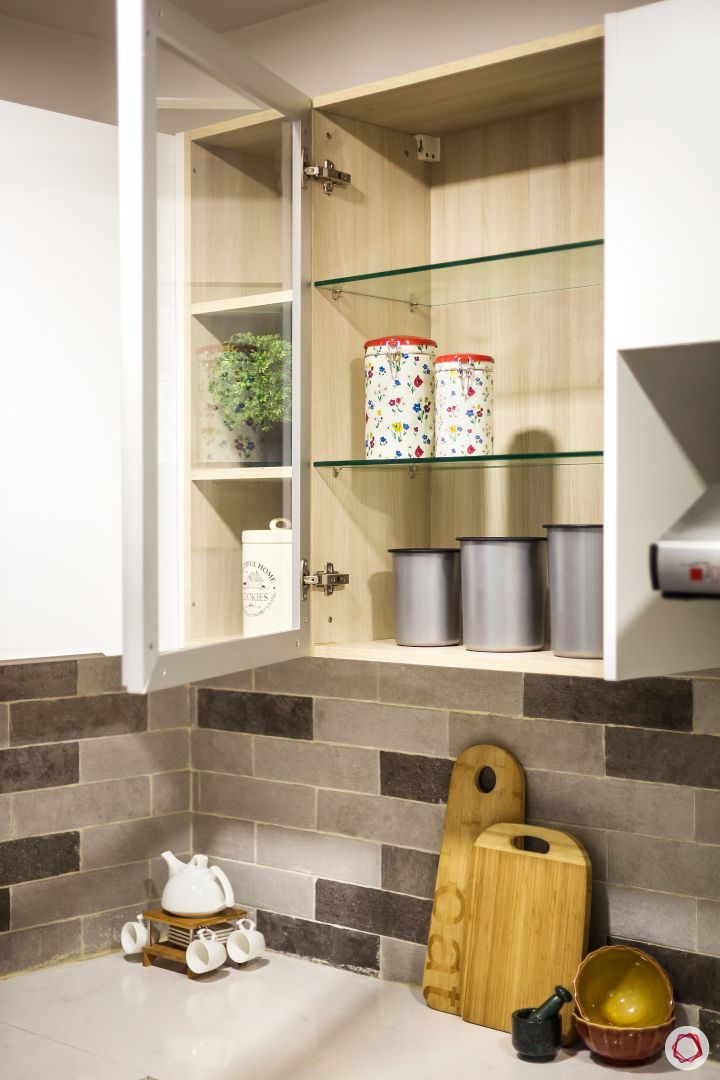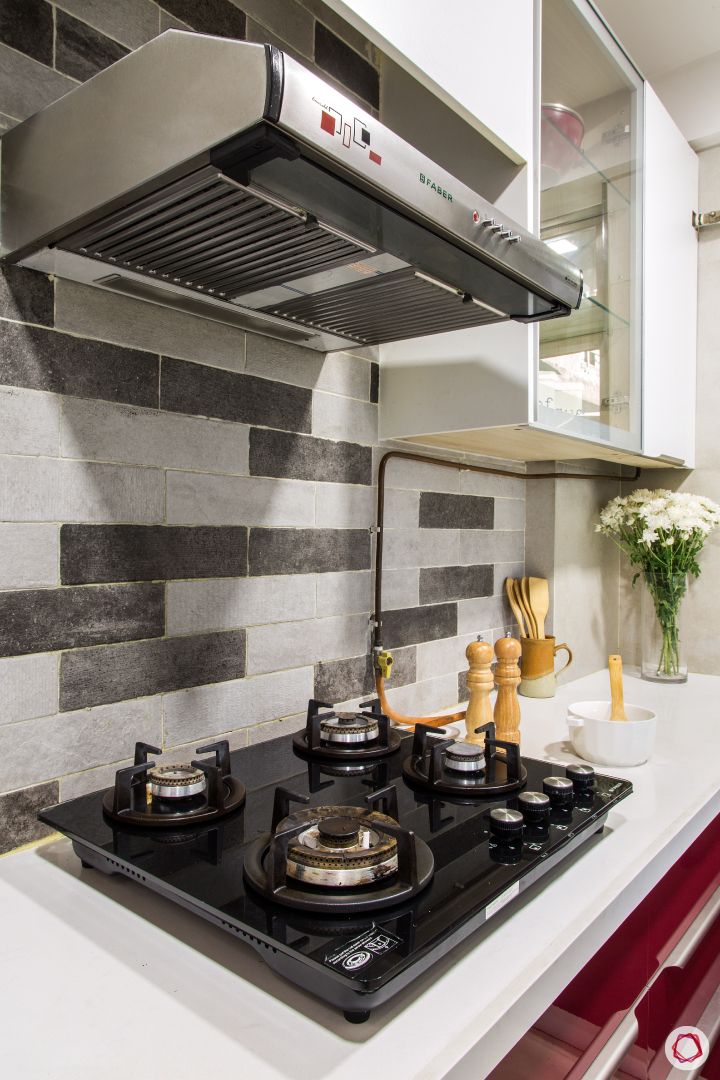 Afreen also ensured to put in adequate drawers and cabinets with open shelves. The backsplash in light and dark greys adds a bit of texture to this efficiently-designed kitchen
Sweet dreams are made of these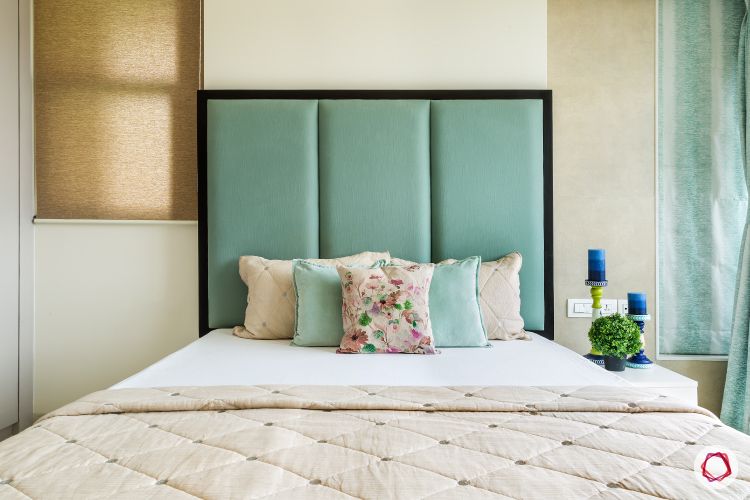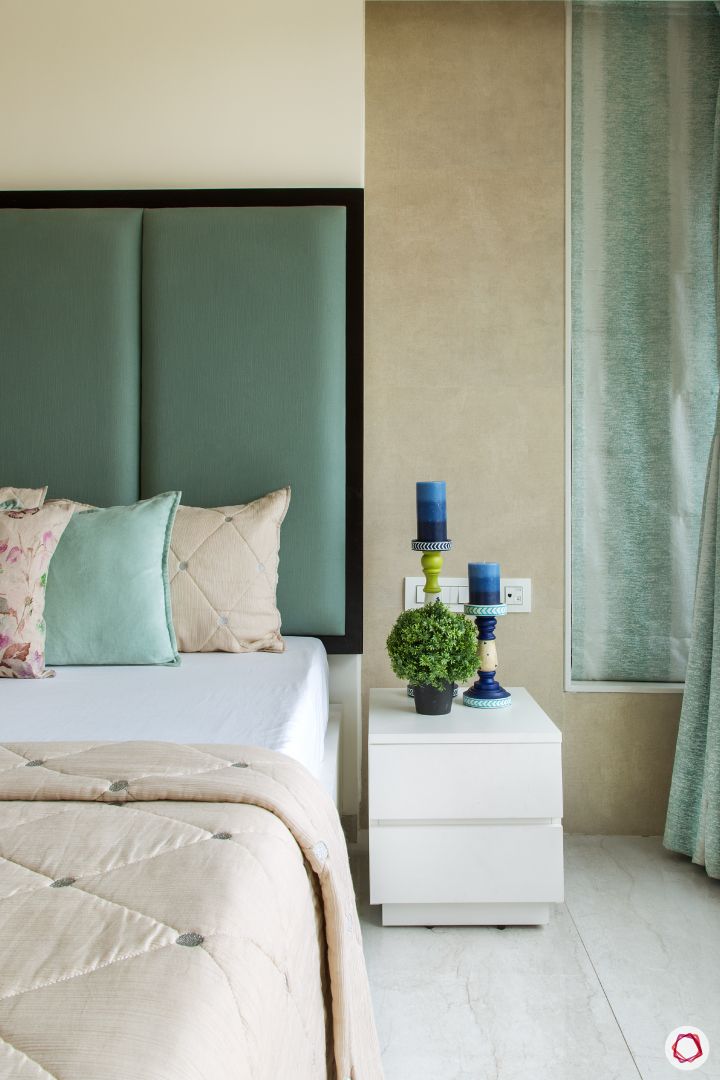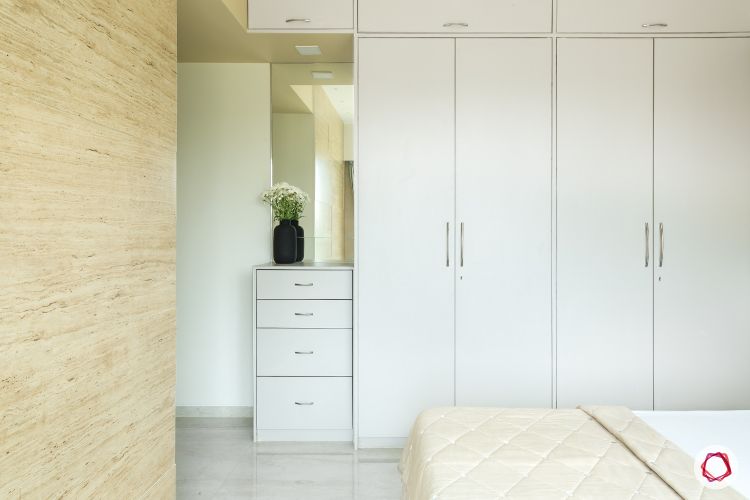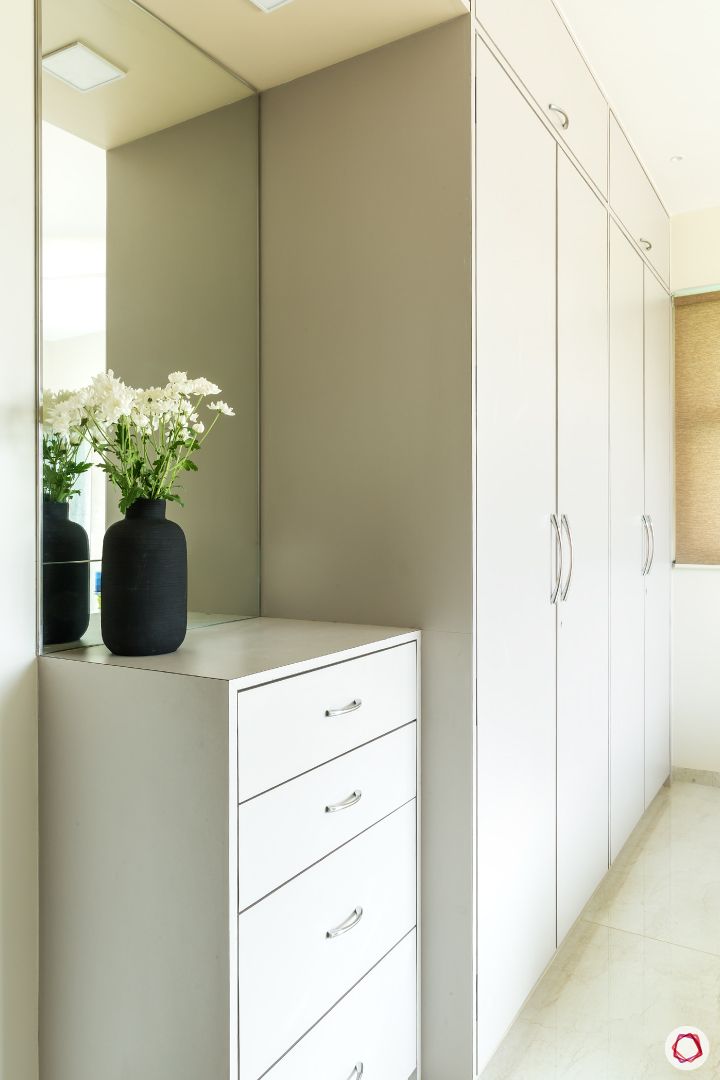 Here's a room that will put lullabies to shame! The Iyers were keen on having a minimal bedroom with only essential furniture. With a calming teal headboard, white wardrobes that blend with the flooring, and sand coloured wallpaper, this bedroom makes a perfect sleeping space.
Bask under the yellow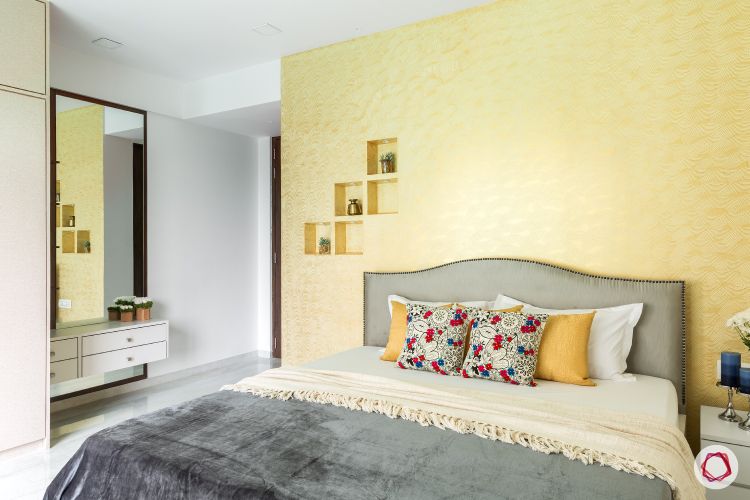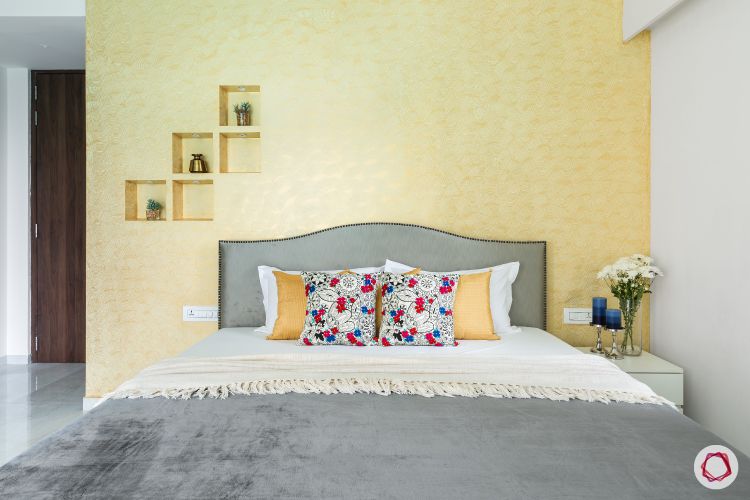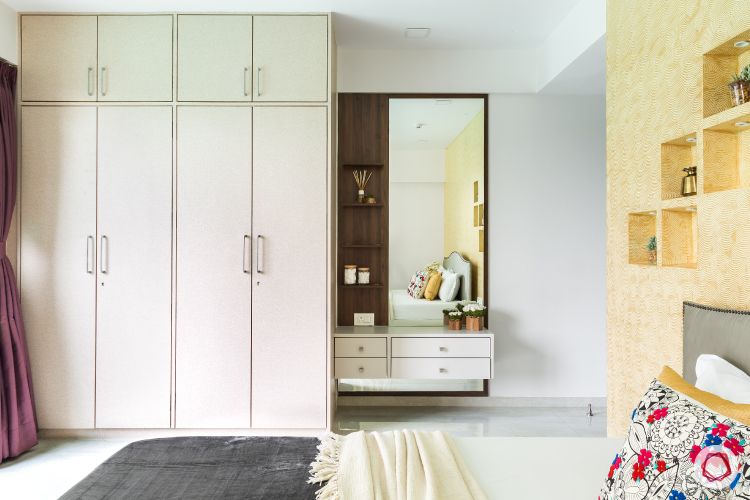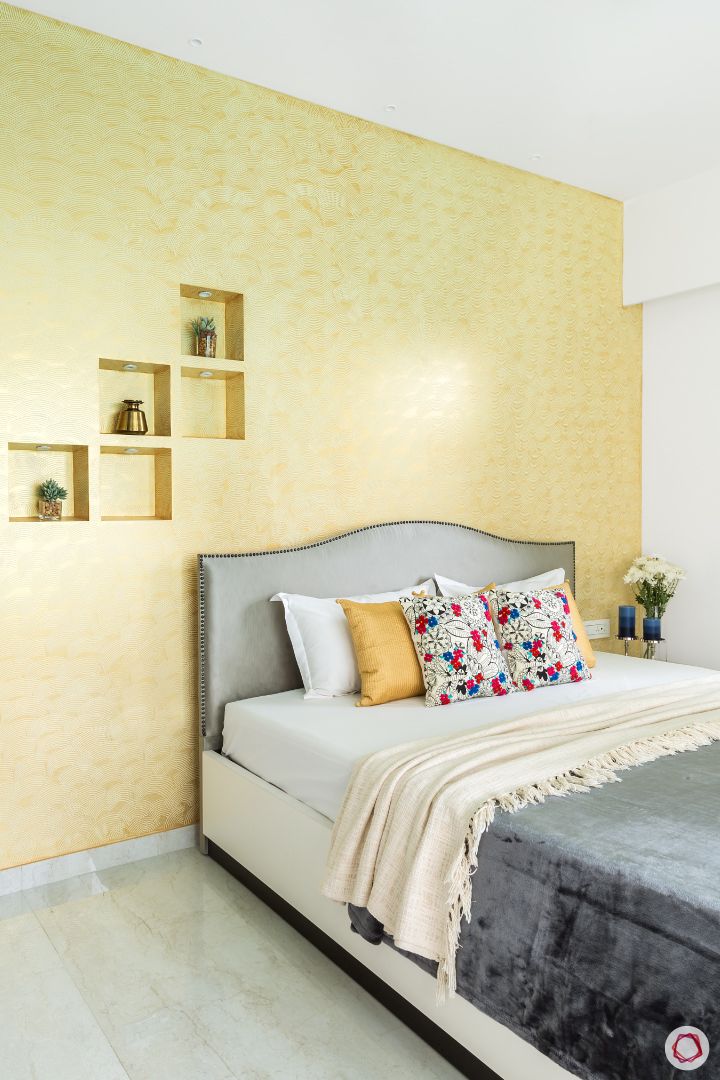 Keeping up with the overall theme of the house, the master bedroom also plays a minimal and elegant design. It has a yellow textured wallpaper that helps to highlight the grey headboard. The large full-length mirror with the dressing table completes the look.
Ride on these waves!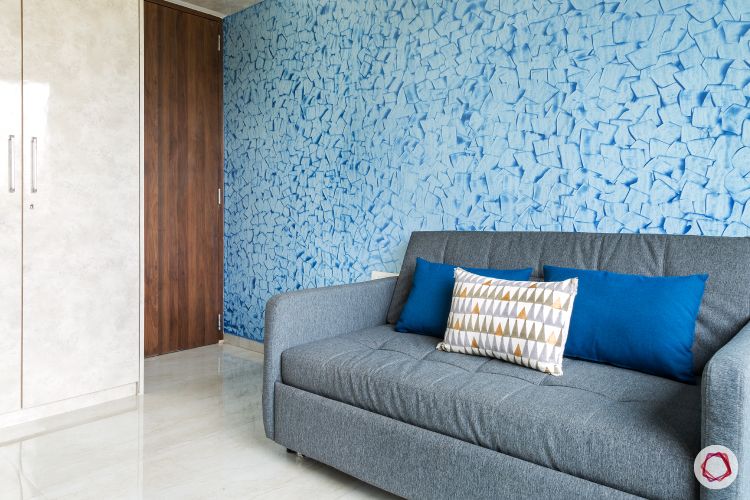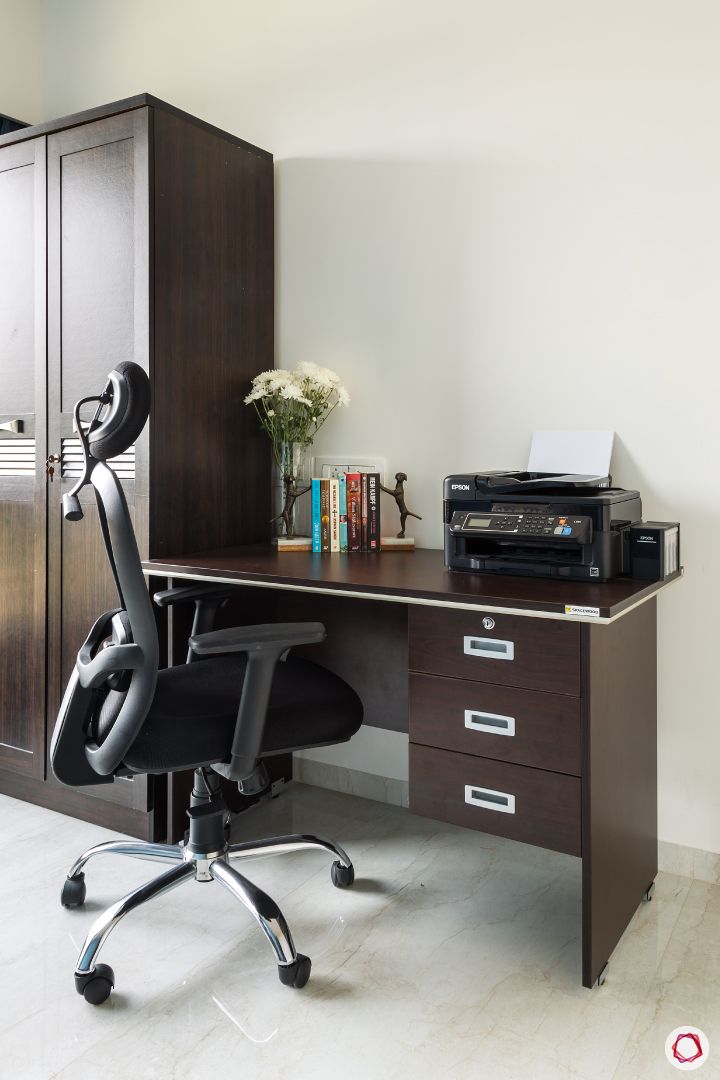 The Iyers wanted a separate space for their work and study. Their idea was to have maximum floor space during the day and a comfy sleeping space by night. Afreen put in a sofa cum bed to bring out the best of this room. Of course, the highlight of this room is the blue textured wallpaper.
---
"I loved working with Shridhar and Roopa Iyer and designing their home. From the get-go itself, all our discussions went smoothly."

– Afreen Ansari, Interior Designer, Livspace

---
If you loved these airy interiors, you should check A Breezy Makeover for This Home for more inspiration and ideas.
Send in your comments and suggestions.