This is what it feels like to walk into a home that instantly relieves your tension!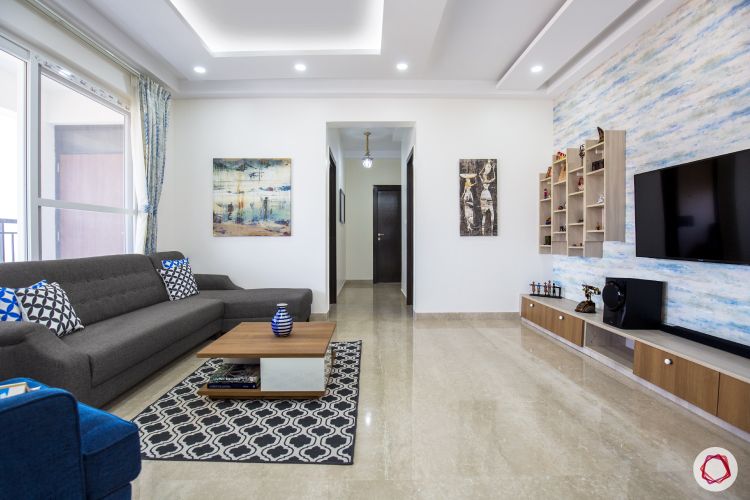 ---
Who livs here: Vidya with her husband Anoop and 9-yr-old son Tushar
Location: Prestige Misty Waters, Hebbal, Bengaluru
Home Size: 4 BHK spanning 2,400 sq ft
Design team: Interior Designer Srushti Angolkar with Quality Manager Prashanth Rao
Livspace service: Full home design
Budget: ₹₹₹₹₹
---
For a first home, Vidya and her husband Anoop wanted something that feels cosy and personal. In addition to this, they felt that a soothing palette will help beat the stress at the end of the day. Their apartment at Prestige Misty Waters, Hebbal, Bengaluru, was already large and bright with ample inlets for sunlight to shine through. Thus, a design complementing the same was what they wanted from the start.
When they met Livspace designer, Srushti Angolkar, they instantly felt comfortable with her casual attitude. She let them take their time in making decisions and provided options on par with their requirements. Thus, a home dressed in blues came into being.
Subtle yet Striking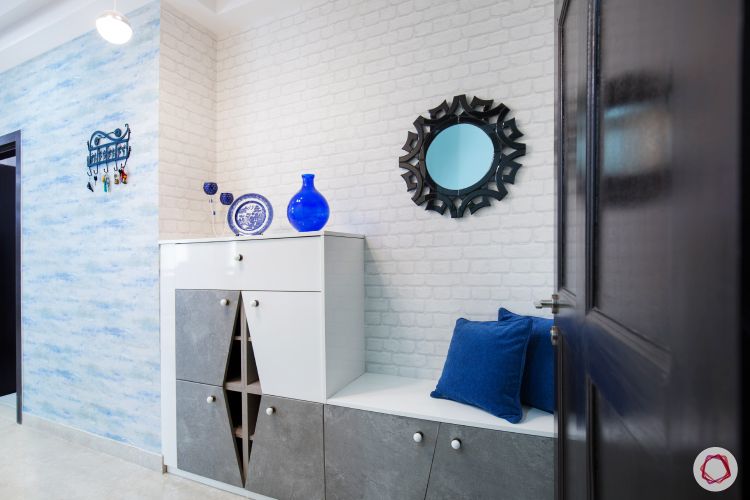 The foyer is a small space with a modular unit, and a decorative mirror embellishing it. Yet the quirky design of stone membrane and frosty white laminate shoe rack makes for a stylish entryway.
Sea of Blues
We can't get enough of this spacious living cum dining room. The printed blue and white wallpaper eases any person and instantly makes one feel welcome. By using the longer wall to add storage units and the TV, Srushti managed to give it a smooth flow and an organised look. Clean lines and compact seating define the space and give it a neat finish.
Ravishing in Red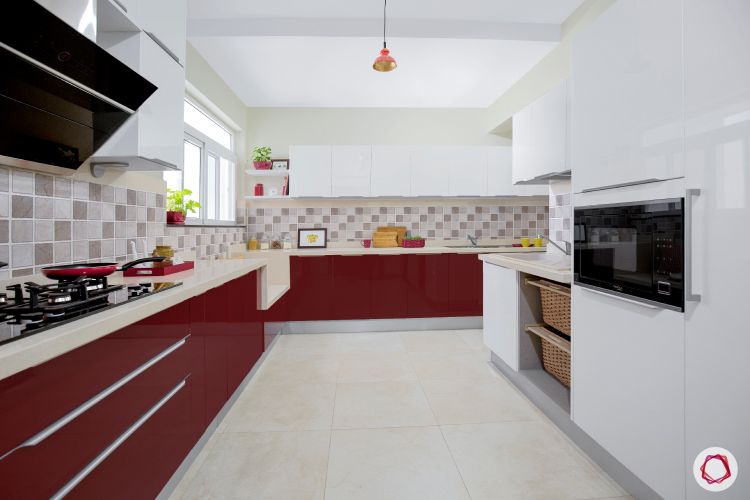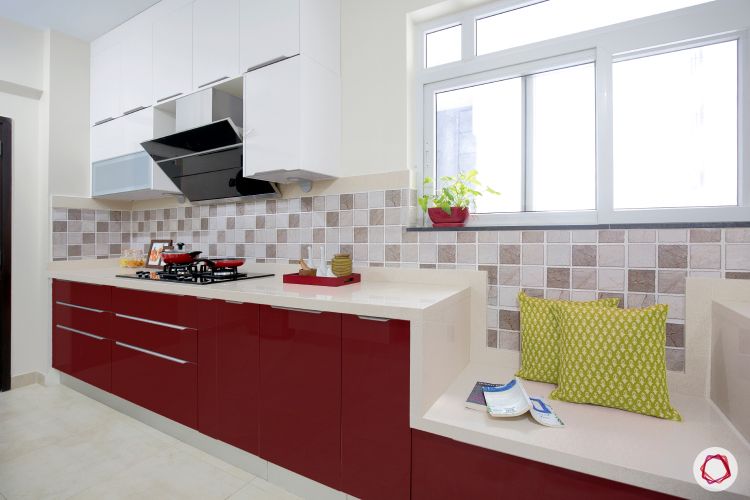 Though small kitchens are trending in apartments, this home has a rather large one. Srushti made it stunning with champagne and wine red finishes while catering to its functional side. The comfy seating option is not just handy while doing tasks but also gives the large counter space a break.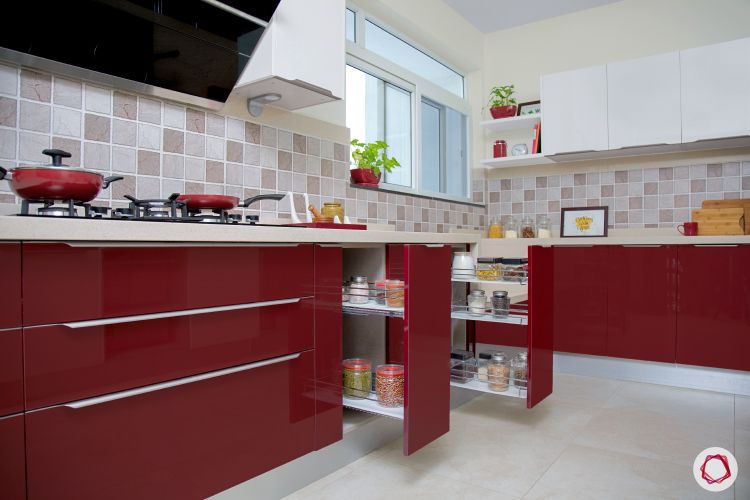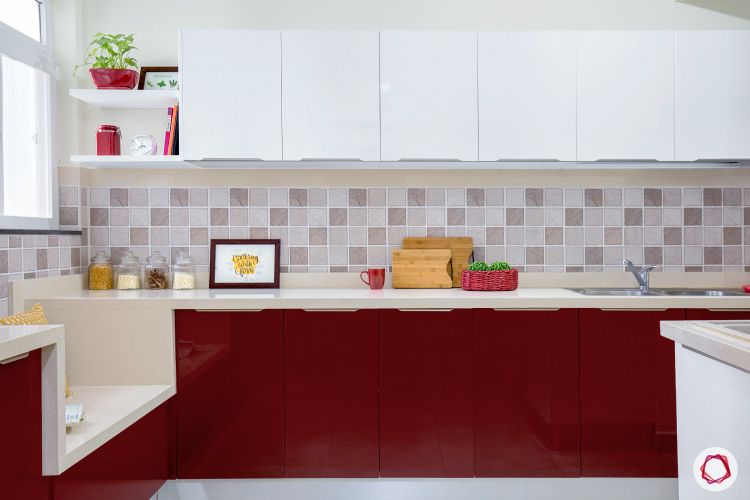 The kitchen is ergonomic with a huge pantry unit to store groceries. A separate service counter is installed that acts as a wet area with a heavy duty sink and a corner to place a washing machine.
Tone-on-Tone Technique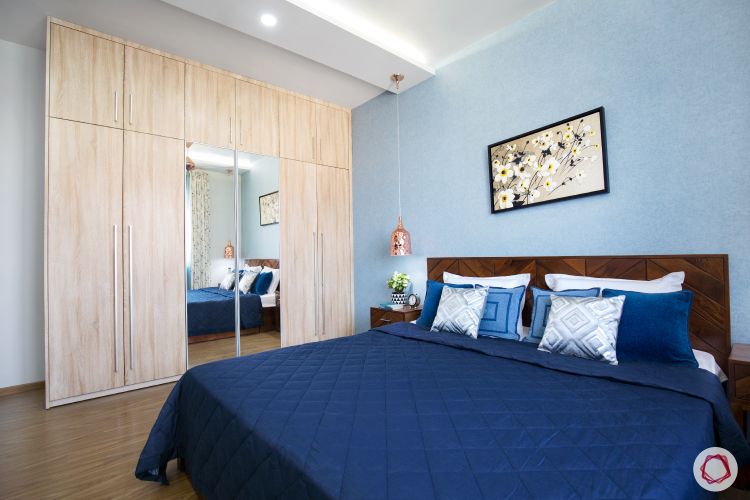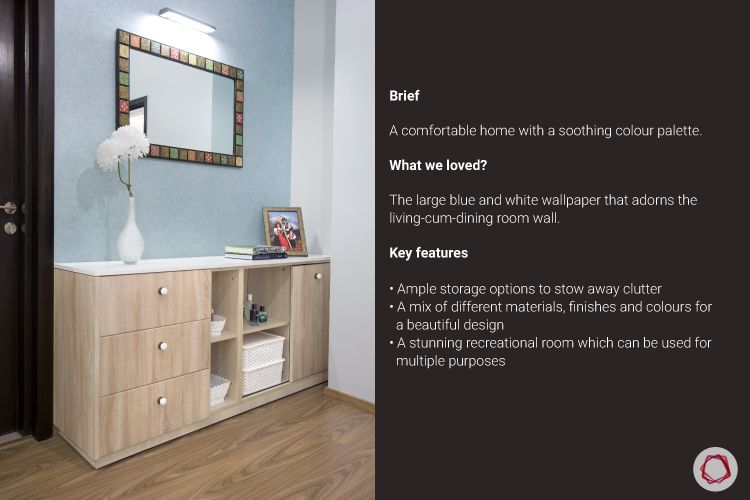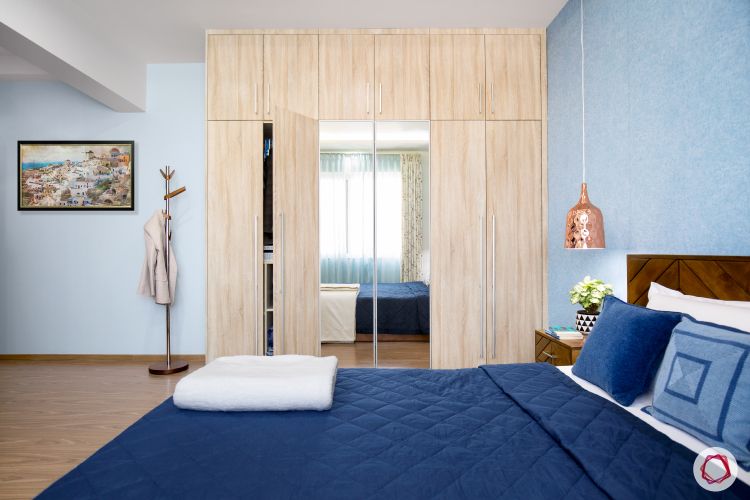 It notable how tone-on-tone technique beautifully amplifies more of calming and appeasing vibes with blue. To give it a hint of warmth, wooden tones in the form of Somana oak for the wardrobe finish have been added.
Designed for Changing Needs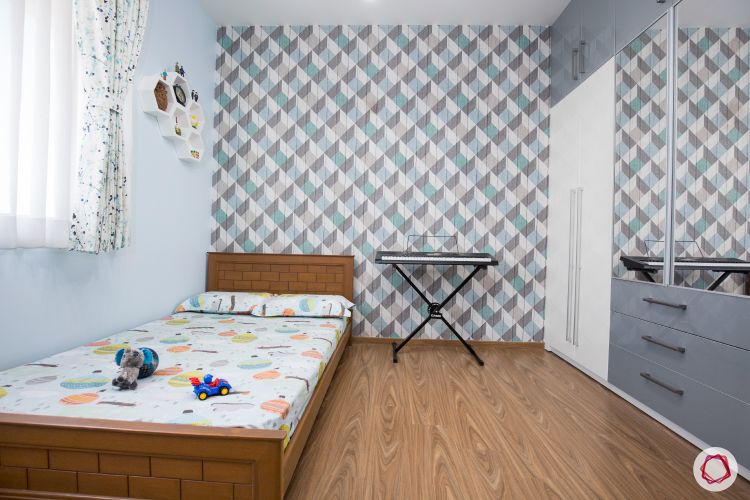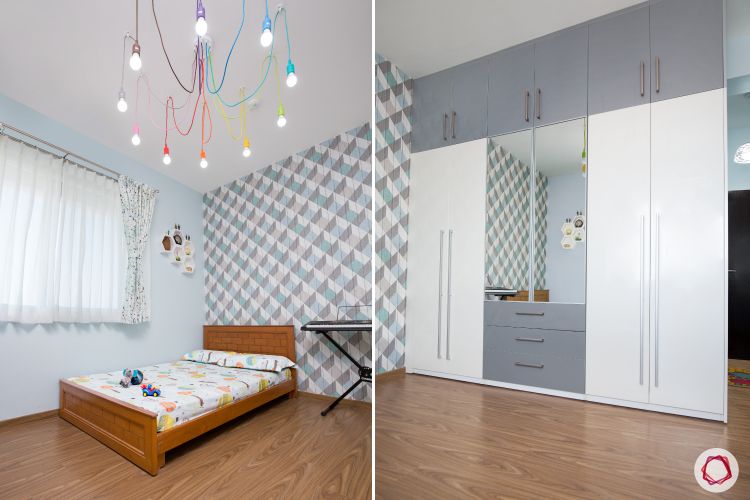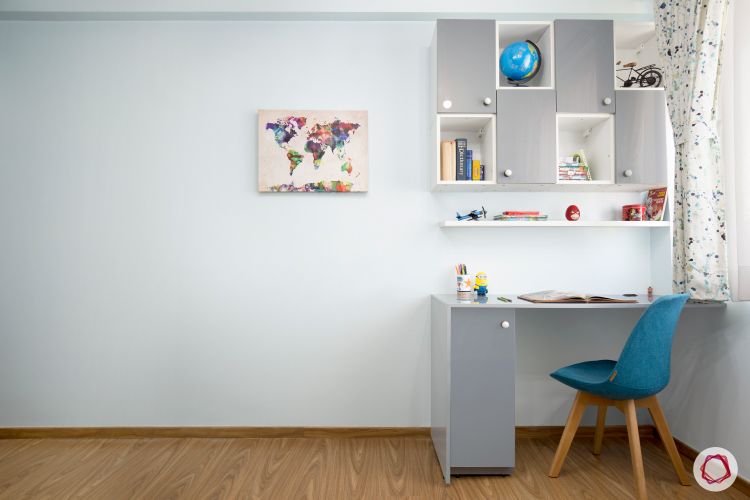 Children usually outgrow designs very quickly. Keeping this in mind, the kids room design has been devised with options that are feasible even when he grows up. For example, the metallic grey wardrobe and a geometric wallpaper. Yet, this doesn't stop him from having fun with eccentric lights, a world map pinboard and a sleek study.
Simplicity is Stunning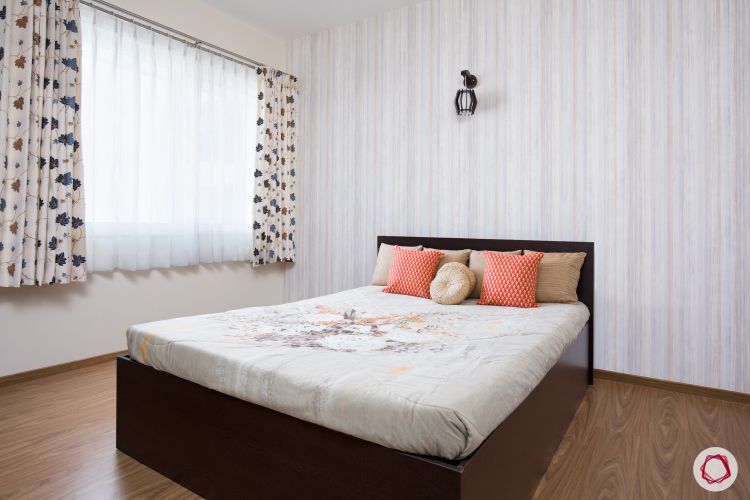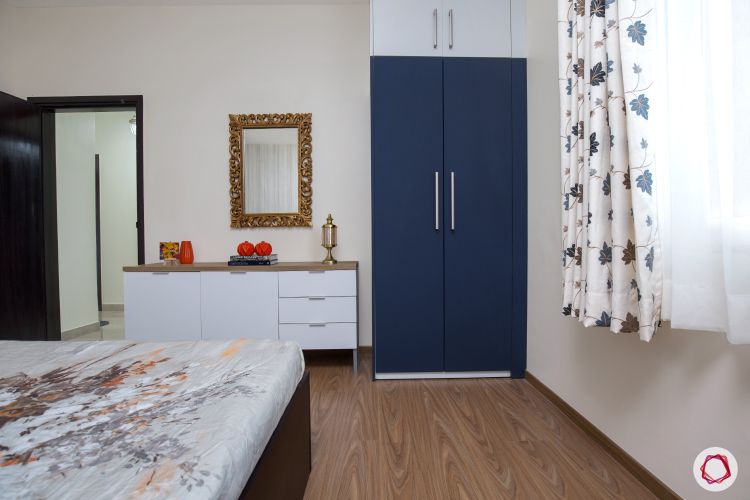 The guest room features bare minimum furniture — a bed, a wardrobe and a dresser. However, this is one of the designs that Srushti adores. The navy blue wardrobe and a stunning mirror balance the aesthetics in this minimalist setting.
Recreation is Required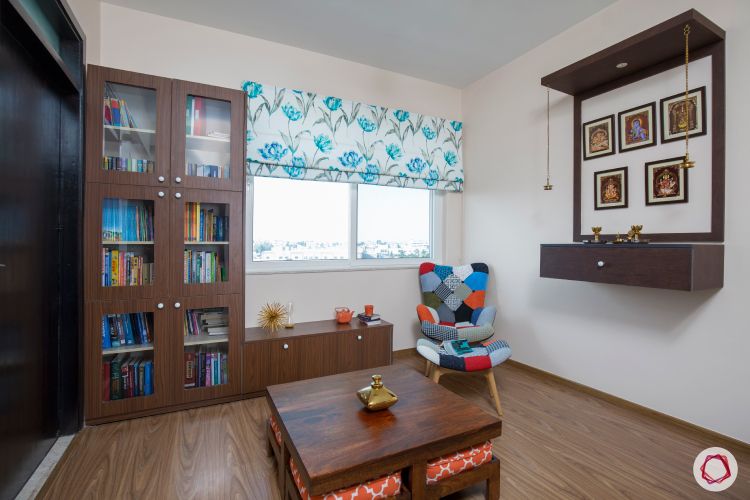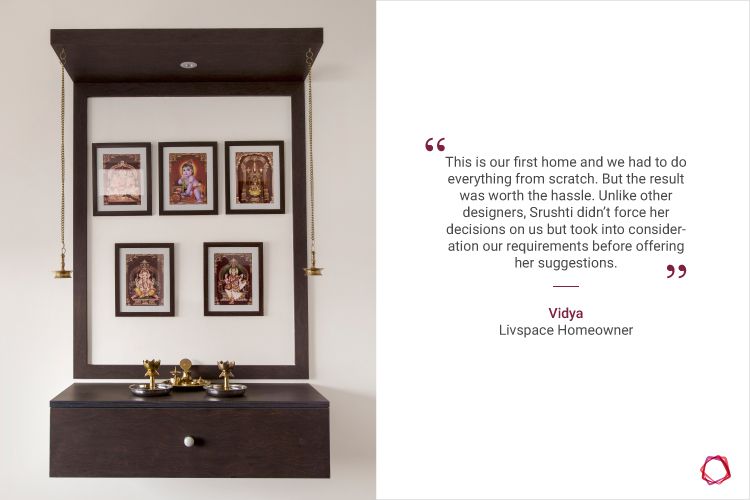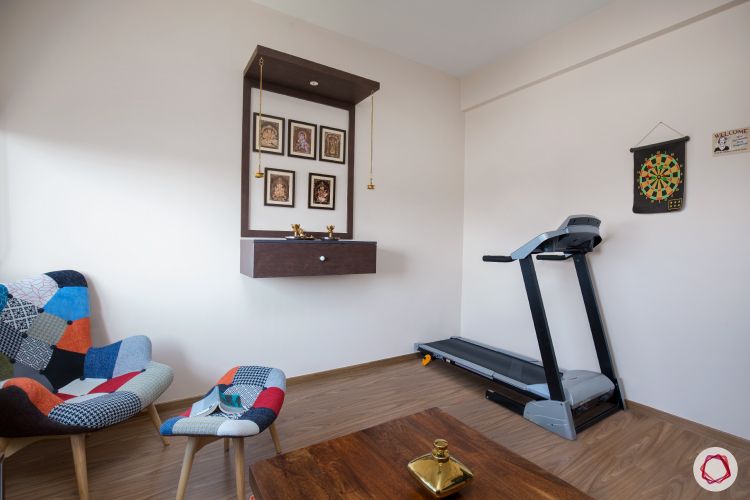 The recreational room, as we like to call it, is designed keeping in mind multiple uses. The couple loves to read and the bookshelf houses all their prized possessions — books. The seating is also comfortable to relax while they indulge in their favourite pastime. Also, it has a pooja corner and a treadmill dedicated to their devotional and health goals.
"Vidya and Anoop were patient and trusted me throughout the designing phase. I initially spent time in understanding their tastes and preferences, so the designing was smooth."

Srushti Angolkar, Livspace Interior Designer
Love this home? Check out more beautiful homes in all budgets here!
Leave us your comments on the email ID mentioned below.