A home design plan that will grab your attention!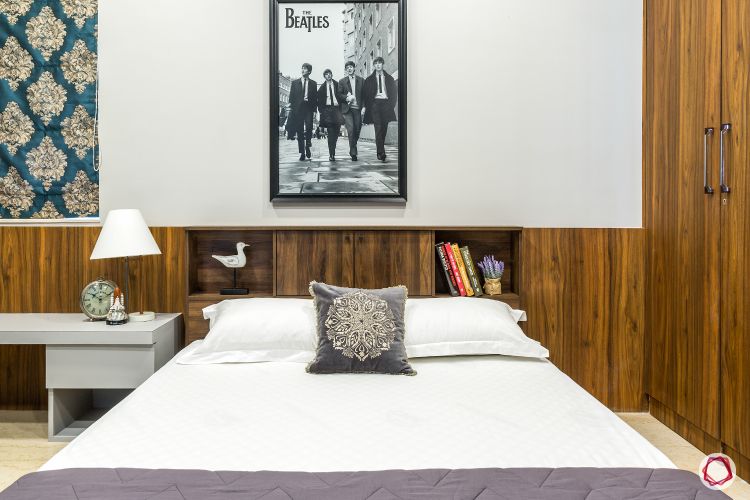 ---
Who livs here: Ravishanker Raman, his wife Shamala and their two sons
Location: Kalpataru Elegant, Siddhachal Housing Society, Thane, Mumbai
Size of home: 4BHK spanning 1780 sq ft
Design team: Interior designer Shantanu Waykar
Livspace service: Full home design (kitchen not included)
Budget: ₹₹₹₹₹
---
Nestled in a quaint nook of the Siddhachal Housing Society in Thane West, stands Kalpataru Elegant where Ravishanker and his family found their dream home. With cozy bedrooms and an abundance of natural light pouring in, they wanted interiors that can enhance these features. Most importantly, they wanted lots of display nooks for their impressive collection of artefacts and antiques.
After reading about Livspace in the newspaper and a quick discussion on the phone, Shantanu Waykar visited their home to understand the work at hand. With a deft hand, Shantanu crafted a home that was perfect for the family. Let's walk right in!
Warm Harmony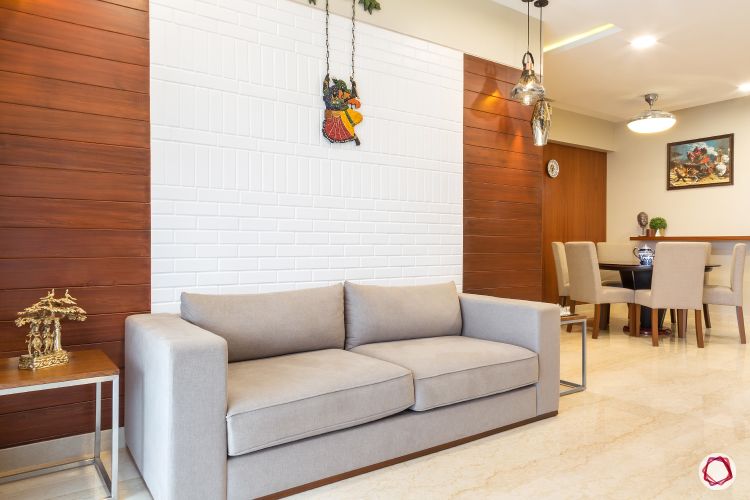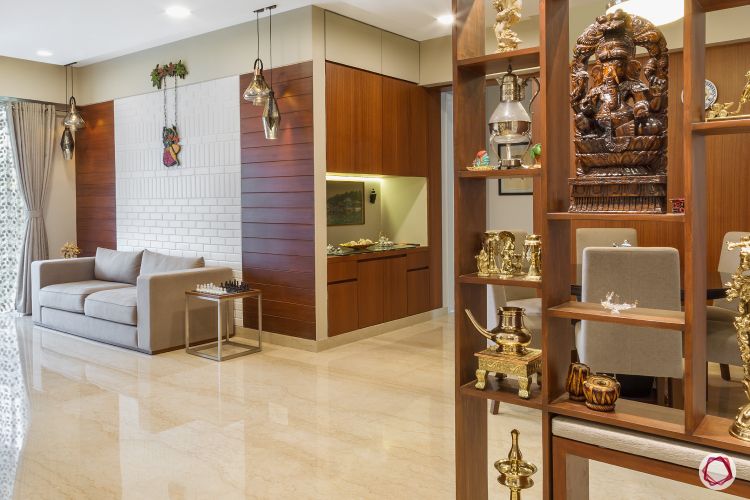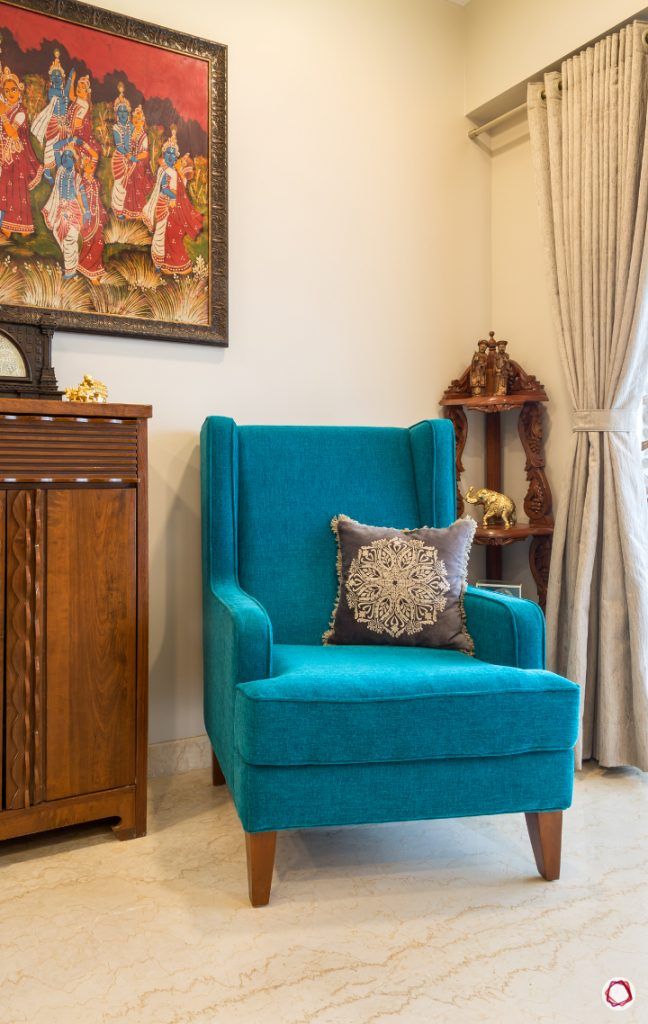 Walking into the living room, you can't help but marvel at the intelligent mix of a veneer panel and white bricks for the centre wall. The accent lights help to accentuate the space that basks under all the natural light. A grey sofa and blue armchair offer comfy seating options. The armchair was an obvious choice for the family after they fell in love with the piece during a visit to our Experience Centre in Lower Parel.
The console table that stands next to the armchair was part of the family's collection of traditional furniture. Shantanu had it re-polished as a well-needed upgrade.
In addition to this, a storage cabinet done up in veneer tucks away plates and other essentials. If you turn your eyes up, you would also notice the neutral overhead cabinets for extra storage. Above all, the wooden elements are arranged in a flow that perfects the space.

Unwind in style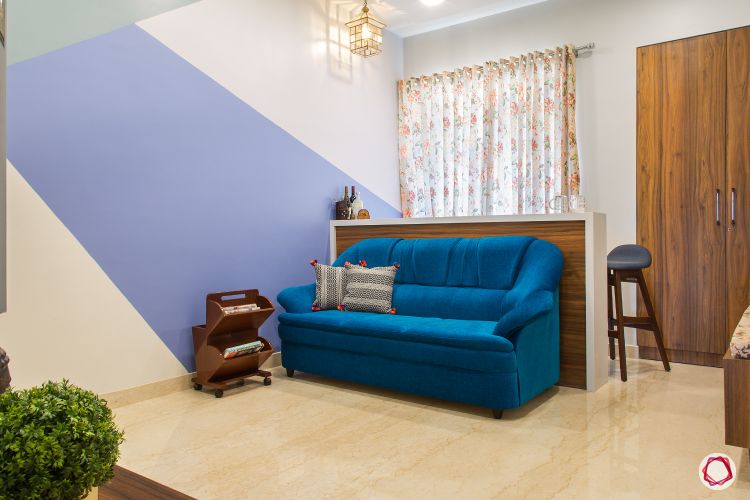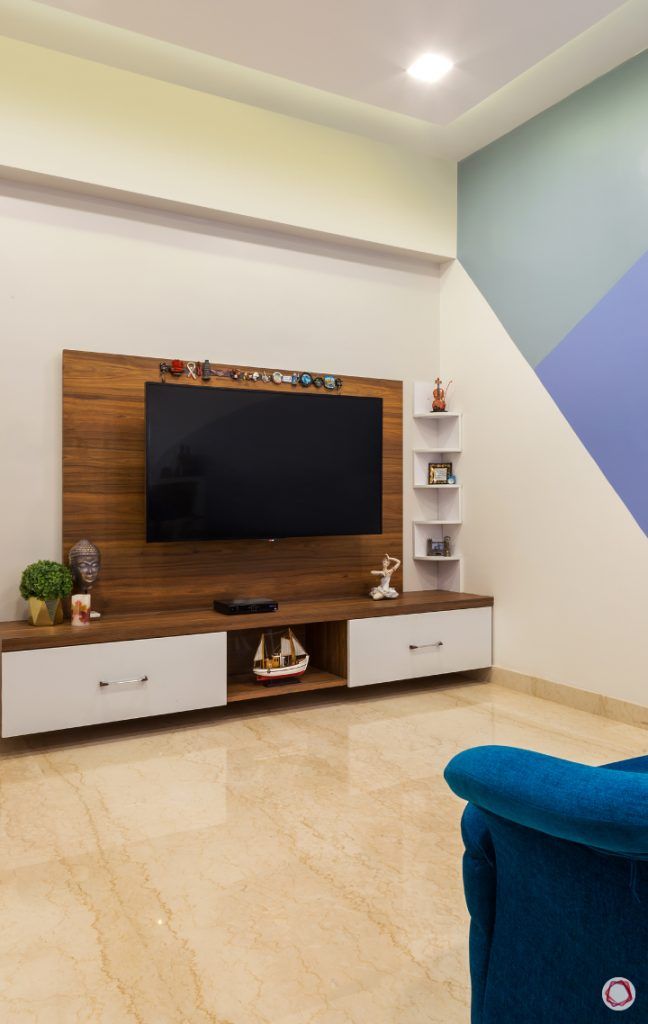 Stir up a cocktail in style in this entertainment-cum-bar nook. The informal room features a sleek TV unit, country style bar counter paired with high stools, and a pre-existing sofa that been's upholstered in teal. And if you look closely, the seats have been strategically done up in a way that makes for uninterrupted viewing, much like in a theatre!
The accent wall helps to brighten up the space perfect for casual conversations.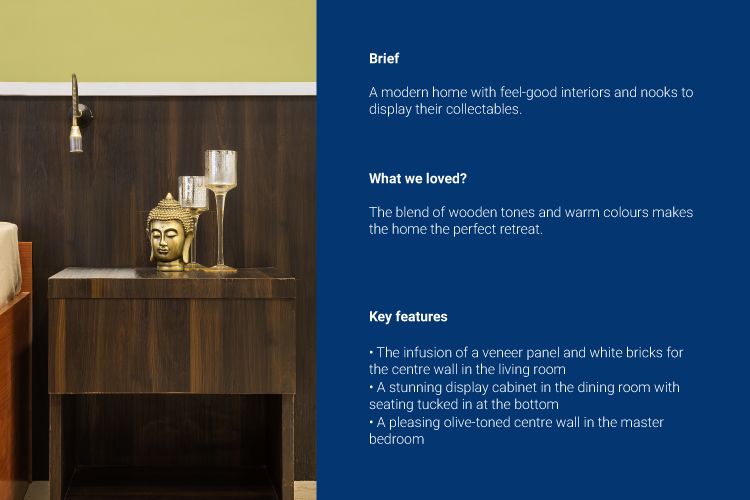 A Collector's Cove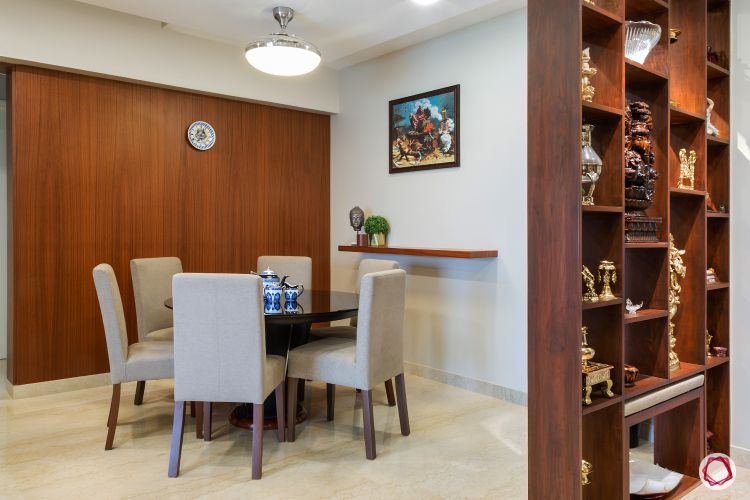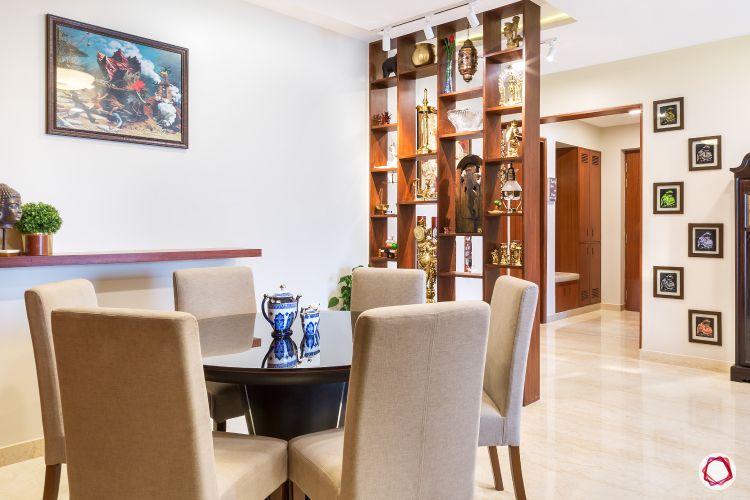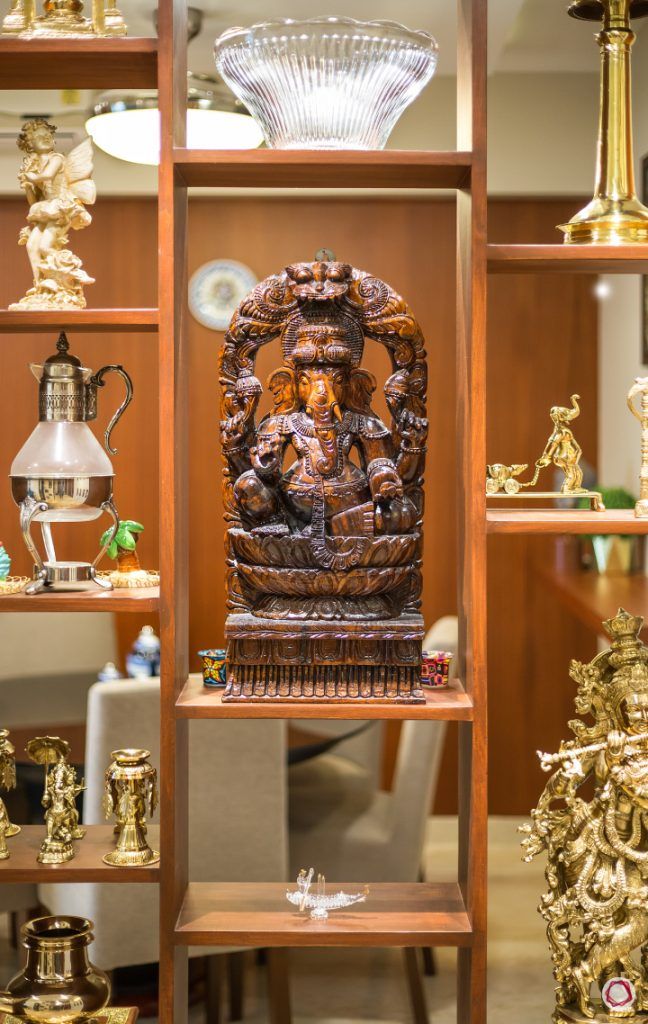 The dining room is refined at its best. Since the minimalist table was part of the family's existing furniture, Shantanu paired it with upholstered chairs. The space makes for cozy dining with wooden elements on all sides of the table.
An almost bare veneer wall adds plenty of warmth to the room while the floor-to-ceiling display cabinet stands out in full glory. The open shelves feature artefacts that have been collected over the years from the family's many travels. The cabinet is an ode to the fine blend of brass and copper pieces with wooden work. If you turn your eyes to the bottom of the cabinet, you would also notice a cushioned stool that has been neatly tucked in.
Comfy Living Redefined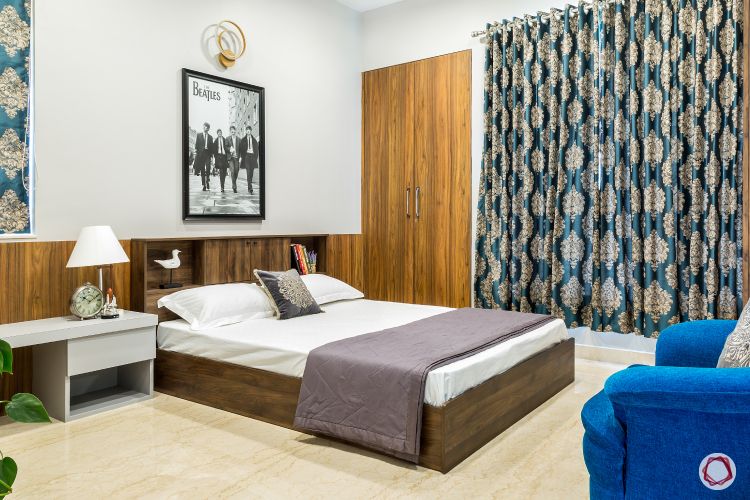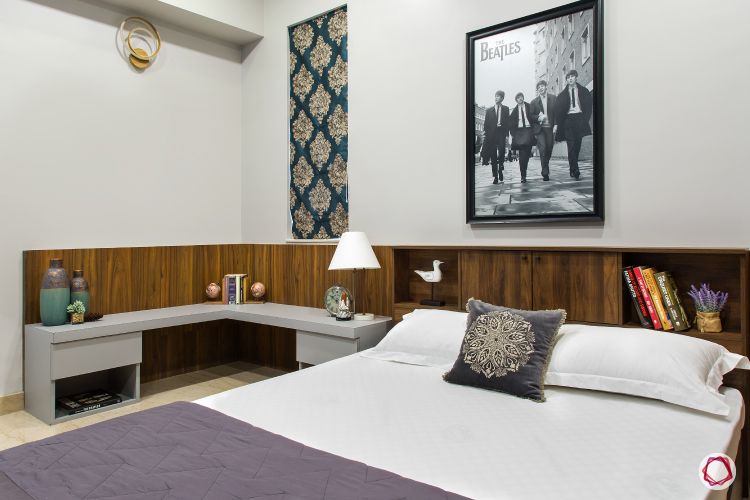 Pop over to the sons' room and the Beatles framed poster would be the first to catch your eye. Since they wanted a lot of display space for their books and knick-knacks, Shantanu put in a single wooden unit as the headboard that extends across the room. This way it doesn't take up precious floor space and adds depth to the room. A makeshift study table in taupe that sits at end of the wooden panel offers a creative nook for the boys.
The family had traditional metal cupboards that they simply couldn't part with but they wanted an upgrade as well. Shantanu crafted a wooden wardrobe large enough to store in their metal cupboard. Nifty, isn't it?
Olive Bliss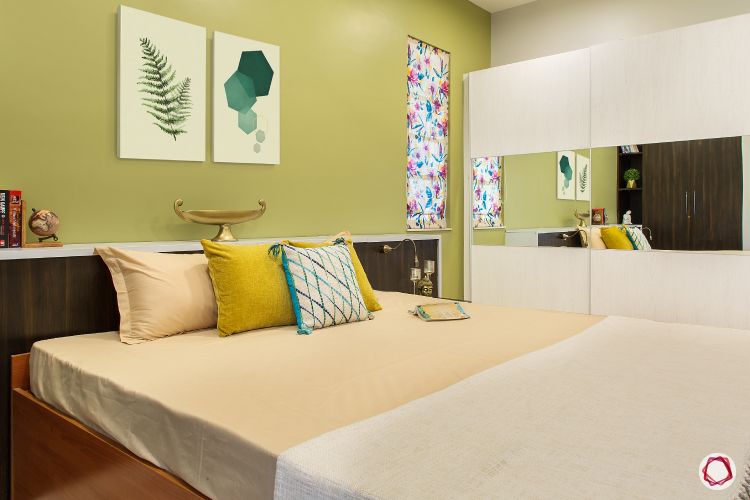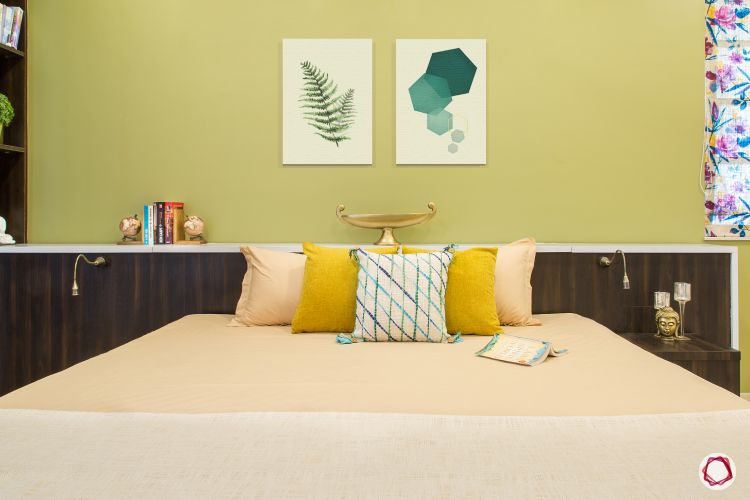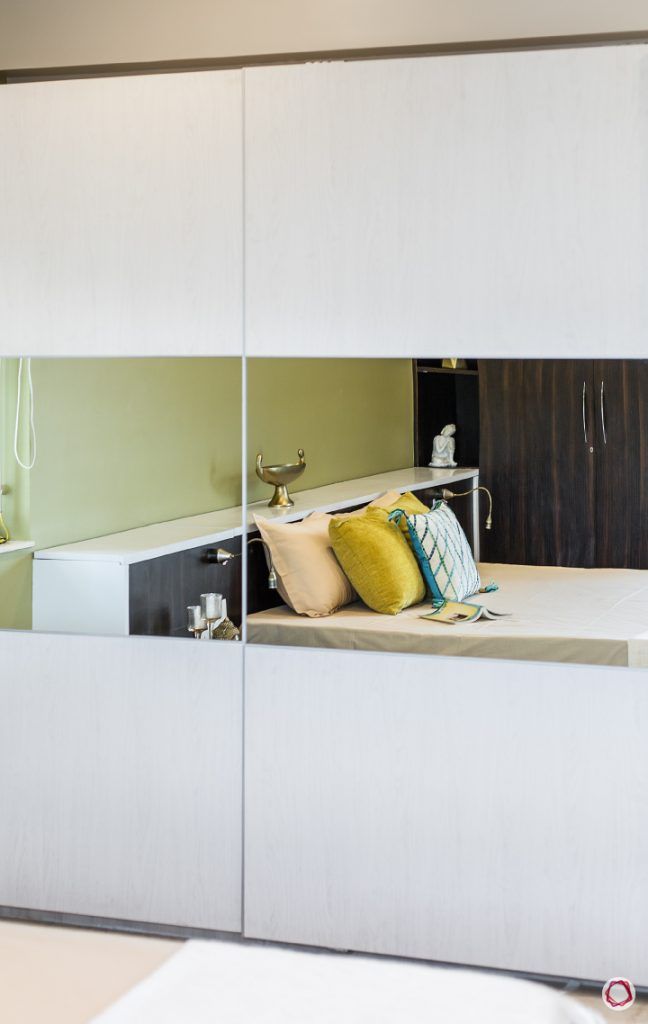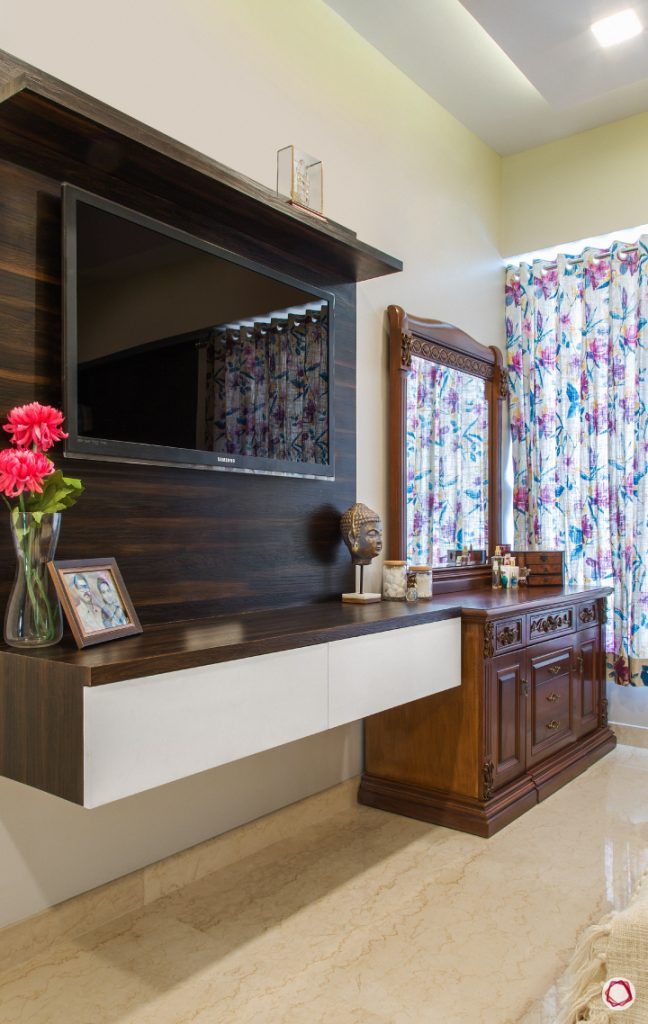 The master bedroom is doused in pleasing tones. The highlight in this room is the olive-toned centre wall that features art pieces set in white portraits. Similar to their sons' room, this too has a wooden panel headboard that doubles as a display unit as well. With an open self on one side of the panel and a bedside table attached to the other, the unit offers a soothing and continuous flow of elements. The pristine white wardrobes are done up in a membrane finish.
A sleek TV unit mounted on the wall features minimal storage to retain the room's breezy interiors. The look is complete with the family's vintage dressing unit.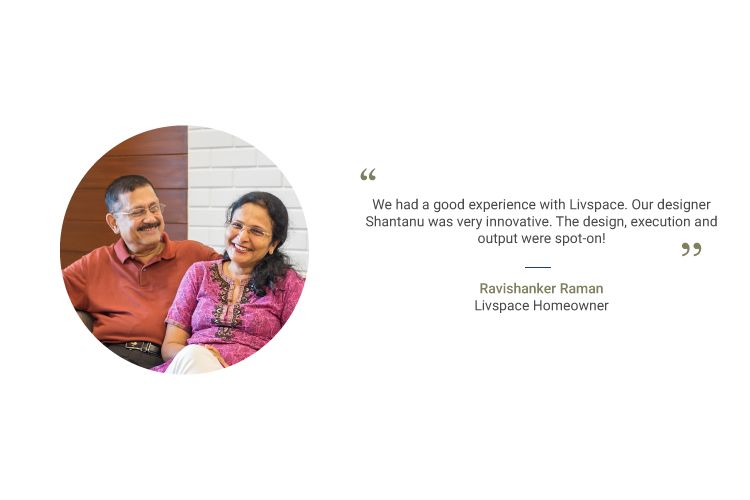 "It was wonderful to work with Ravishanker and his family. I had a lot of freedom in terms of design and they respected my ideas. It was fun incorporating existing furniture with new interiors as well."

– Shantanu Waykar, Interior Designer, Livspace
If you liked this tour, take a look at This 2BHK Blends Warmth with Subtle Style as well.
Send in your comments and suggestions!