At Livspace, we pride ourselves on our ability to design homes tailored to the needs of the homeowners. When Ms. Rachna from Gurgaon approached us to design her 3BHK home, we wanted to help her achieve her ultimate dream home.
As an Associate Professor in Delhi University, Rachna is a role model for many of us. Living and thriving as a single woman in NCR, she's the living embodiment of India's "new modern woman".
Rachna has always wanted to have a home of her own, just like Virginia Woolf in "A Room of One's Own". Coming from a creative space herself, she was bustling with ideas she wanted to incorporate into her home. She wanted each space to have its own personality. From a jacuzzi to a walk-in wardrobe, this home has many surprises.
Our designers put their brilliant minds together to design a home that'd help realise her vision and support her beautiful lifestyle. Come, let's take a tour of this dream home in the heart of Gurgaon:
Hidden Highlights
Before we take you on a full tour, let's show you the things we absolutely love about Rachna's 3BHK home in Gurgaon.
A. The Walk-In Wardrobe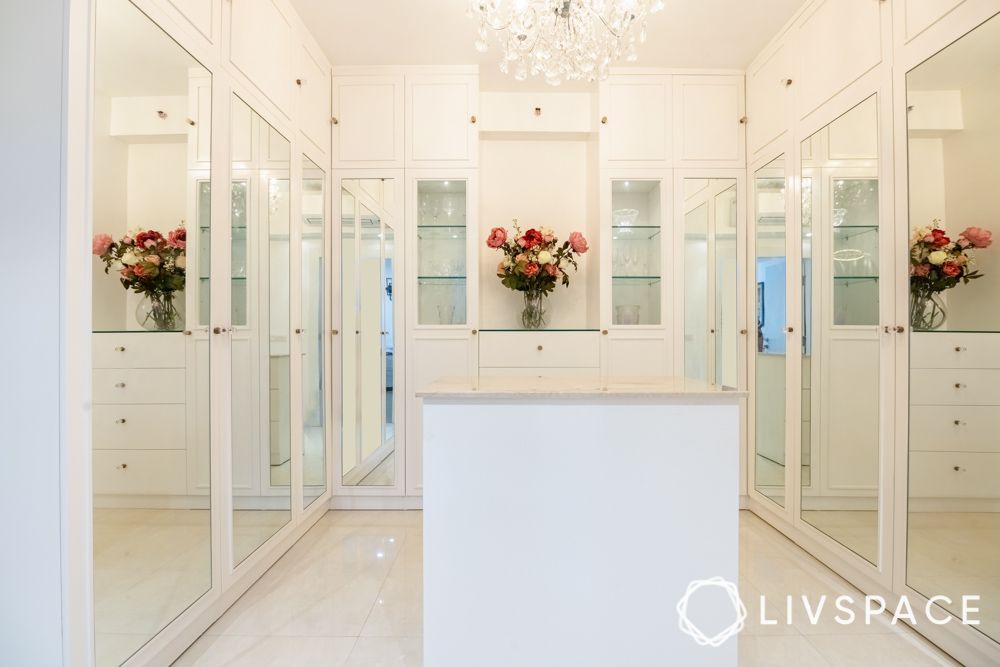 Looks like a dream come true, doesn't it? Rachna has always wanted a walk-in wardrobe to store her extensive collection of handbags, shoes and clothes.
So, we remodelled the lounge space as a walk-in wardrobe that stores not only the essentials, but also her dreams, hopes and wishes! Having a walk-in wardrobe gives you ample storage space and helps you protect your possessions from mildew by giving your clothes the air circulation they require!
B. The Jacuzzi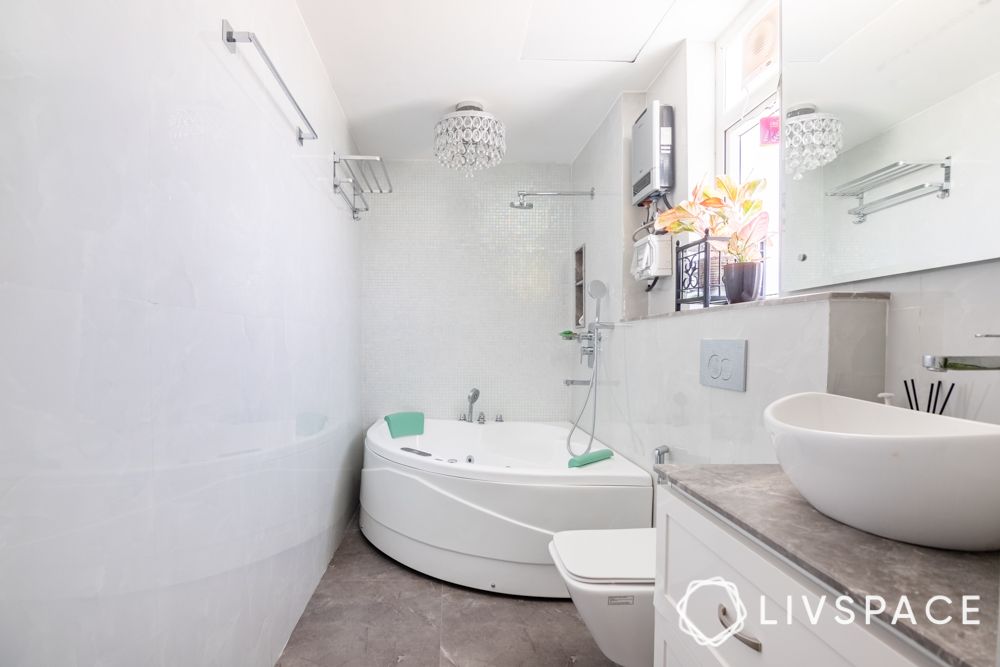 Rachna shows you how to live life, queen size! Unwind in style with a jacuzzi after a busy day of work, and never shy away from taking the time to pamper yourself.
Look at the beautiful jacuzzi this Gurgaon home features. Are you getting inspired to soak in a bubble bath while sipping a glass of wine?
---
Now that we've divulged the hidden secrets of this home, get ready for a complete tour and safe to say, you won't be disappointed.
1. Create a Fantastic First Impression With the Foyer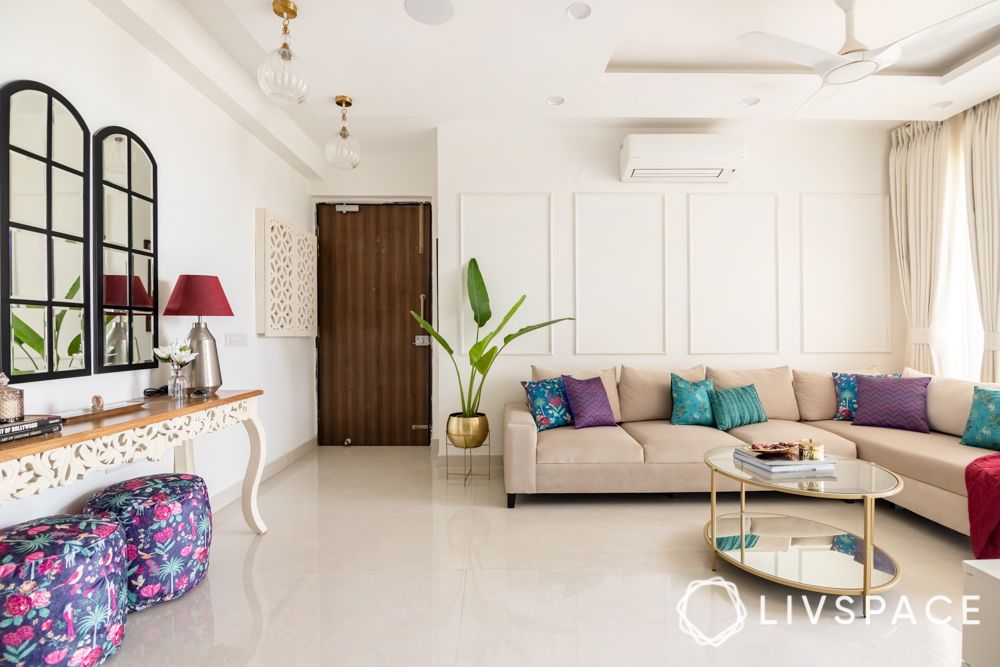 Rachna's living and dining areas follow an open floor layout, without a dedicated foyer space. However, she had always planned on having one.
And so, she did! The foyer design has a beautiful white, wooden table that can double up as a quick catch-all space. Two ottomans are packed beneath the table, and they can be used as additional seating when guests drop by. The mirror-wall decor opens up the space, giving it a larger-than-life look while also adding to the airy vibe.
2. Think Light & Breezy for the Living Space
Rachna's living space has a distinct personality. It's calm, light and soothing. While the wall panels help add character to the off-white walls, the plants add a dose of greenery and freshness to the space.
As she loves to entertain friends and family, the 6-seater sofa is a great idea with a marble centre table to stir conversations. The TV unit maintains the white colour theme, and has a mix of open and closed shelves that can work as display units and storage shelves.
Even the balcony (the home has three beautiful balconies) has a distinct character of its own. When Rachna came to Livspace, she told us how she wanted every space to have its own distinct identity.
3. Add a Pop of Colour in the Dining Area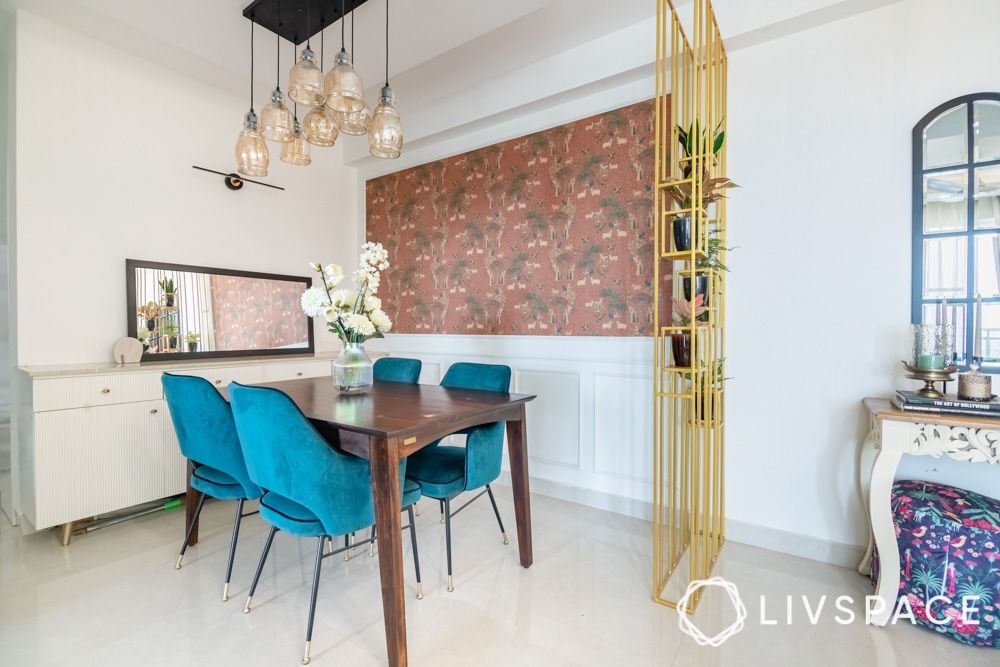 The dining area is a more intimate space that warrants the need for some privacy. That's where the brass door partition comes in handy: it separates the living and dining areas without making it look cluttered.
Plus, the brass tinge adds depth and dimension to the otherwise neutral space, which is heightened further by the floral wallpapers used in the dining space with the beautiful blue chairs.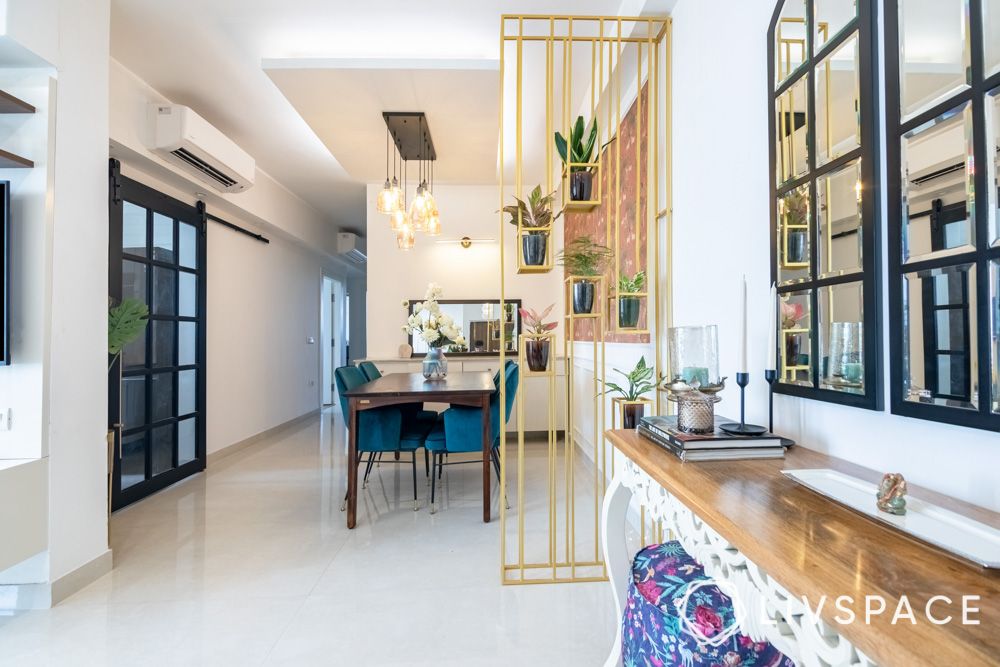 There's storage; there's style! The designer has also added a mirror to amplify the small space and give it an airier look. In fact, take a look at the lights: they've been hand-picked by Rachna to give her home a traditional, rustic touch.
4. Maximise Functionality With a Parallel Kitchen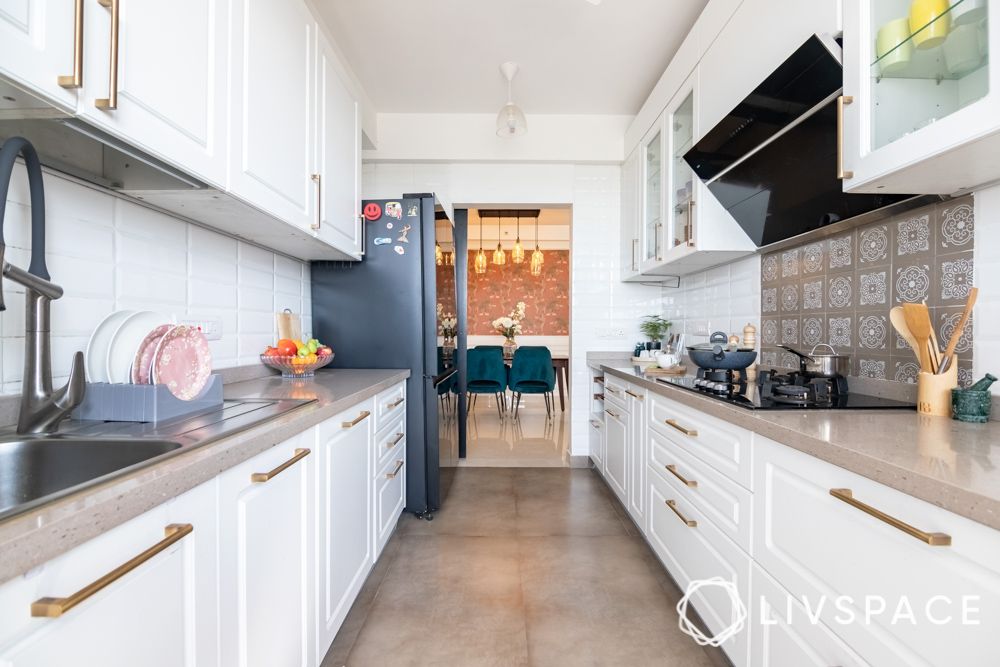 A parallel kitchen allows you to put every nook and corner to good use. Rachna loves to cook and uses every part of her kitchen. When she got her kitchen redesigned with us, her needs were simple: it should be functional, spacious and convenient to use.
The mix of open and closed shelves that run up to the ceiling add to her everyday convenience, while also maximising space dramatically. The light colour palette combined with subtle yet bright materials also helps make the kitchen feel larger and more streamlined.
5. For the Bedrooms, Invest in Basics
You might want to have a lot of fun with eclectic styles in your bedroom, but nothing beats long-term investment pieces that help you lead a good life. Rachna's bedrooms follow the light and neutral look as the rest of the house, but plays with colours in choices of upholstery every now and then!
The master bedroom features recessed lights directly above the bed to help with reading; while the floor-to-ceiling wardrobes with mirrors add storage.
The second bedroom plays with wooden highlights, white and airy shades to create a similarly striking appearance. It has floor-to-ceiling wardrobes, a dresser, additional storage cabinets and a set of bedside tables that add symmetry.
How Can Livspace Help You?
We hope you found our ideas useful! If you want beautiful interiors for your home, then look no further. Book an online consultation with Livspace today. Have any thoughts or suggestions you'd like to share with us? We're all ears! Drop us a line at editor@livspace.com.
To know how our customers feel about working with us, check out these Livspace reviews for more details!