Wardrobes have come a long way from the colonial carved solid wood cupboards or the quintessential steel almirahs. As form follows the function, the latest wardrobe designs for bedrooms are much sleeker, fit into smaller spaces and are less ornamental than their predecessors. Take a look at our pick of 5 latest wardrobe designs for bedrooms from #LivspaceHomes to be inspired.
Latest Wardrobe Design for Bedroom #1: Compact Walk-in Closet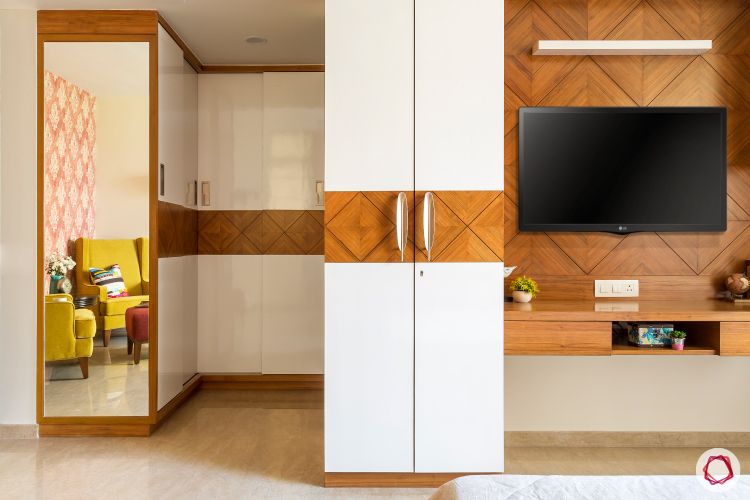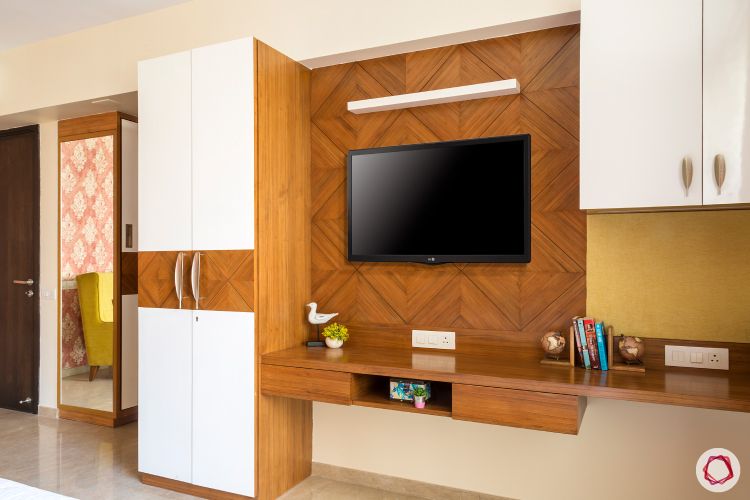 For those of you who have grown up watching Sex And The City in their teens, a walk-in cabinet is a cherished dream. However, a majority of homes do not have enough space to have a full-scale wall-in closet. But Livspace provide a semi walk-in closet that fits your dreams as well as your home.

A semi-walk-in cabinet is basically a compact version of the original that can fit into a medium-sized bedroom. It functionally imitates a full-scale walk-in closet. So you can walk into your closet and pick out clothes. Usually, there is also a modest dressing area furnished with a mirror.
Latest Wardrobe Design for Bedroom #2: Glass Wardrobe Inspired by Minimalism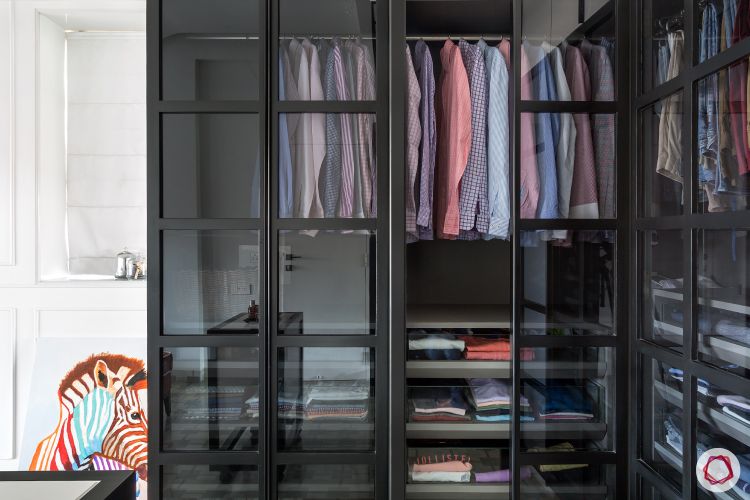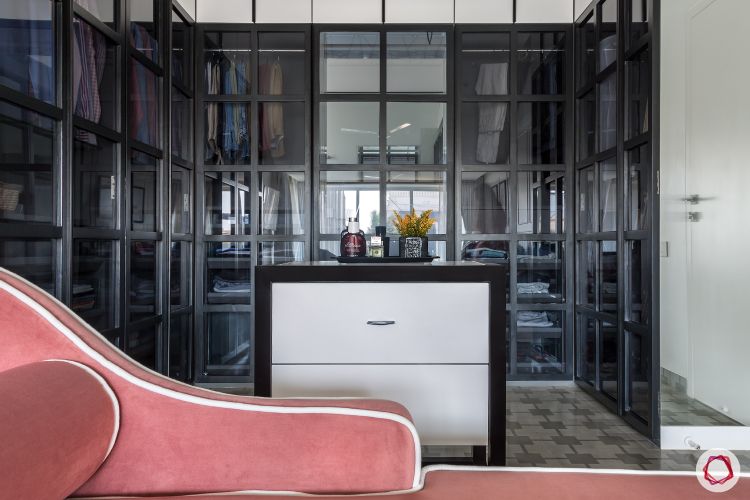 The concept of clean lines and free space that is integral to contemporary design have been inspired by minimalism. Wardrobes with glass shutters have a characteristically uncluttered design; they look both classy and clean. Unlike opaque wardrobes, this latest wardrobe design for bedrooms do not eat up space. Transparent glass wardrobes are highly recommended for neat freaks who manage to keep their closets organised at all times!
Latest Wardrobe Design for Bedroom #3: Sleek Sliding Wardrobe with Mirror Shutters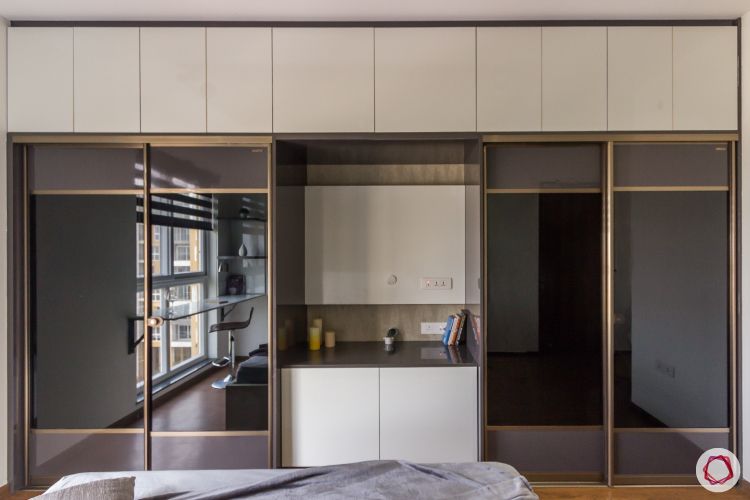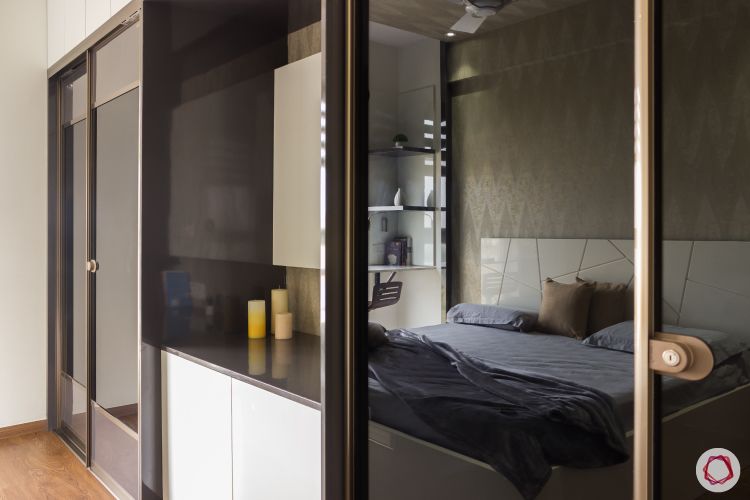 Sliding wardrobes are sleek by virtue of their design. They are typically designed for rooms in which opening a hinged shutter could pose a problem due to space constraints. However, sliding wardrobe as a design is not restricted to small spaces anymore; it has evolved as an independent design for wardrobes. The above wardrobe has tinted mirror shutters and rose gold frames, which give it a distinctly new age vibe. Not only does this wall-to-wall cabinet accentuate the sense of space, the glossy finish adds a modern finesse to the bedroom.
Latest Wardrobe Designs for Bedroom #4: Vibrant Handleless Wardrobe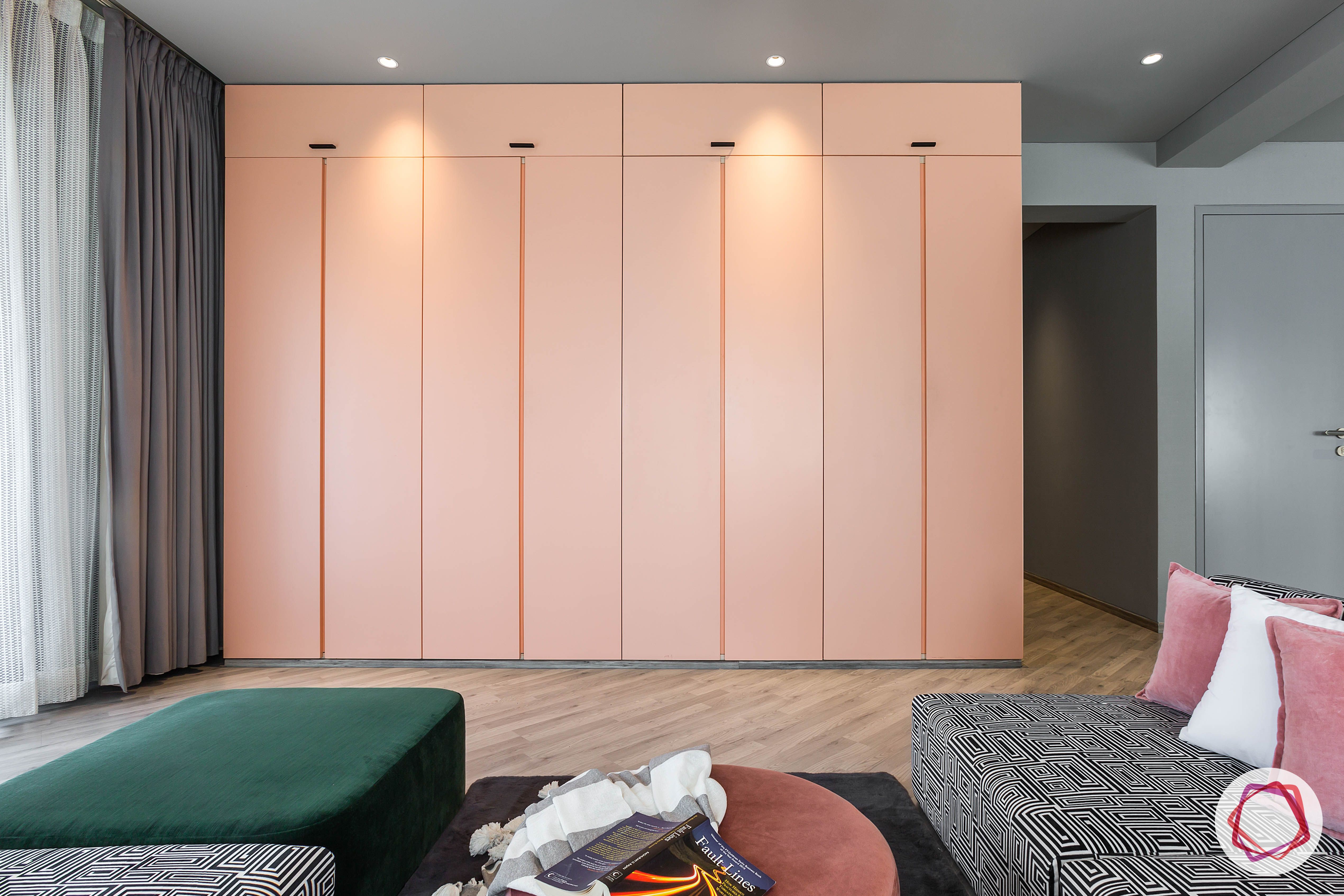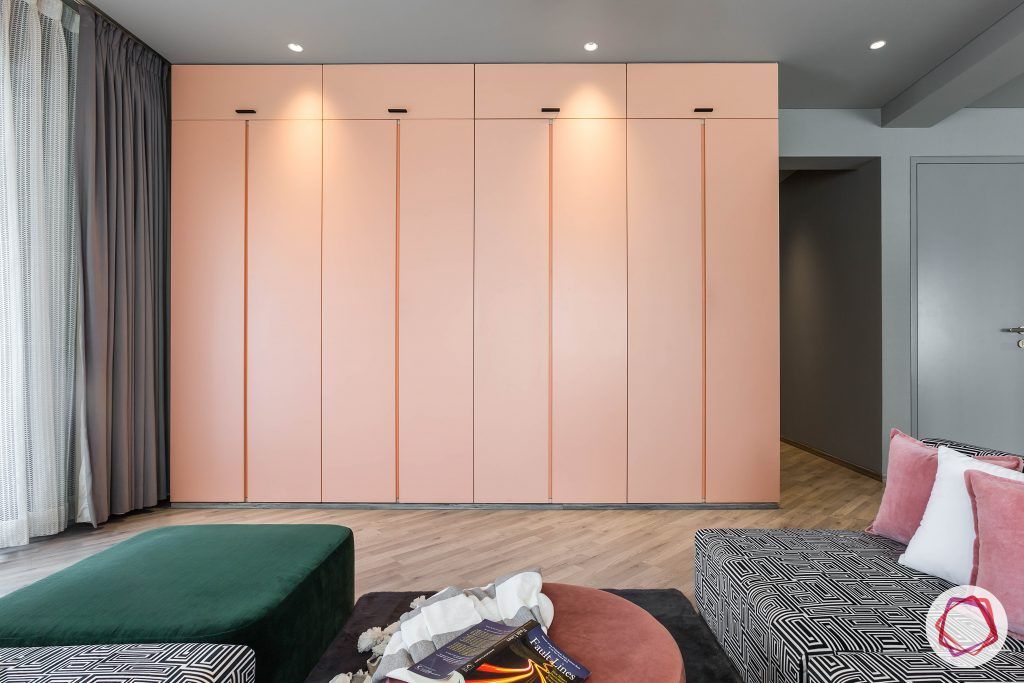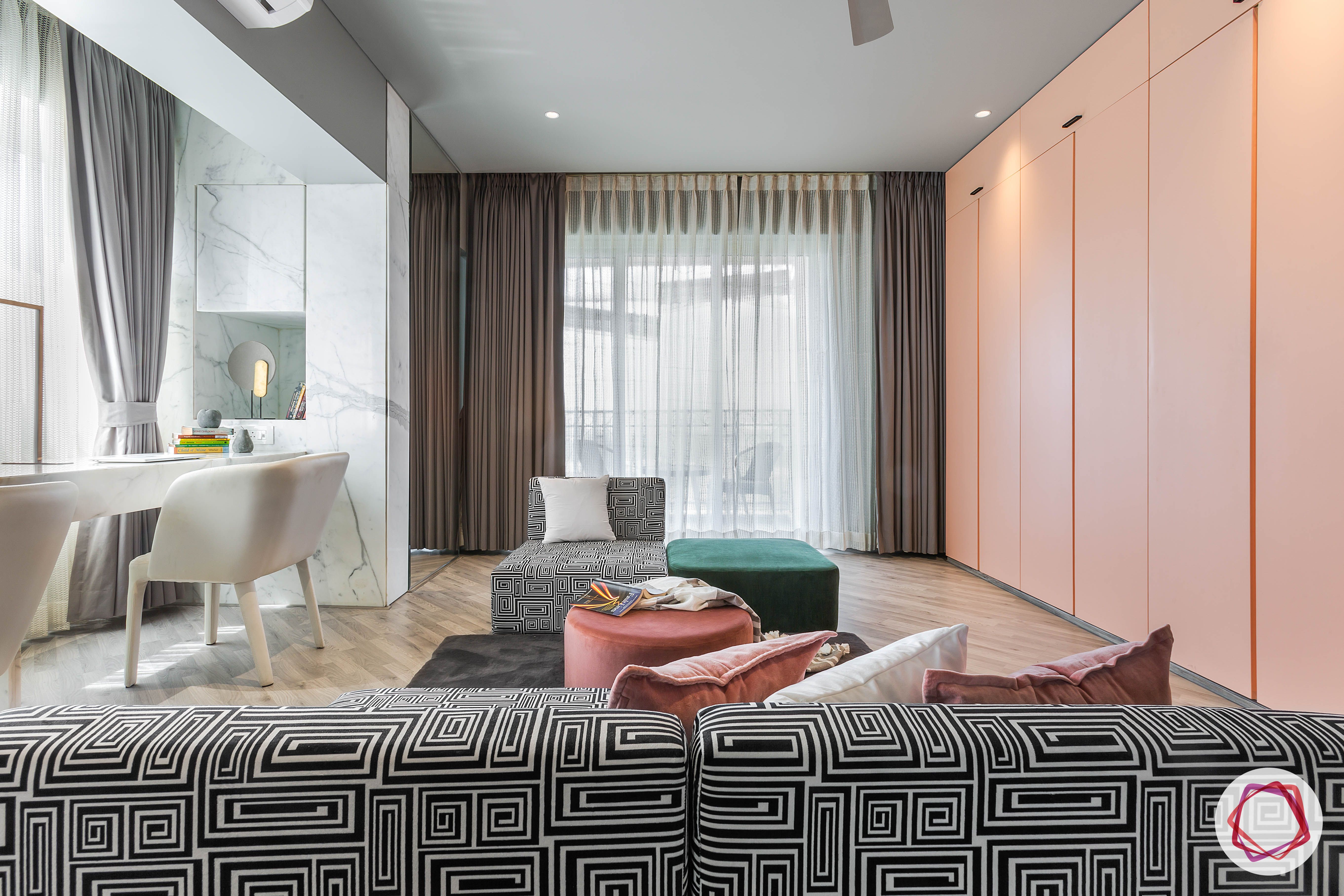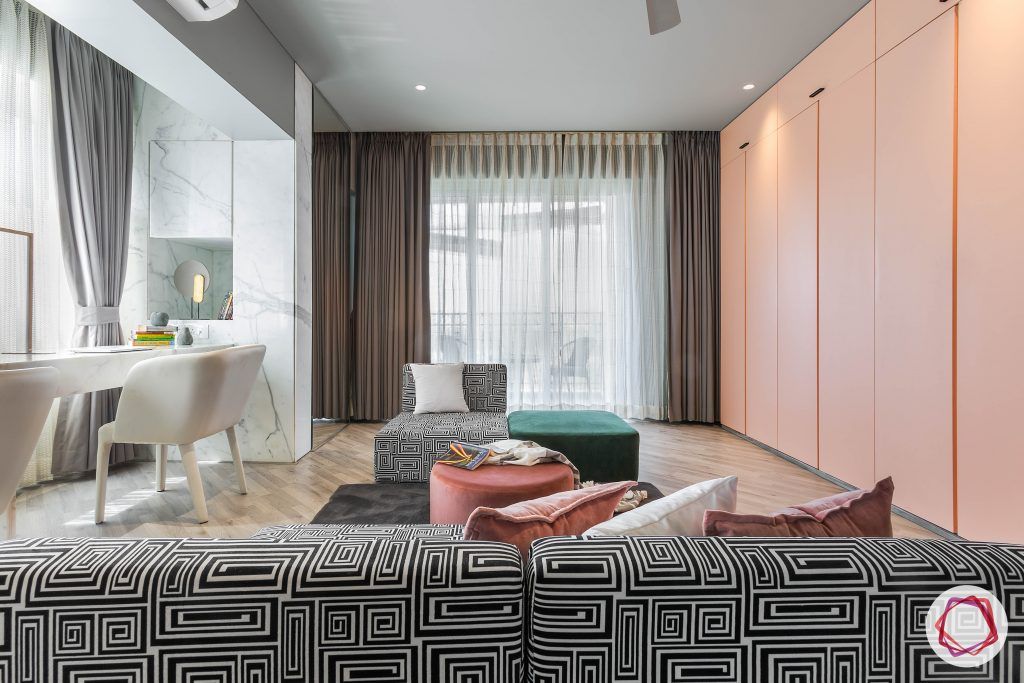 If we have to add colour to a bedroom, we usually try to do so with wall paints, accent pieces, cushions, ottomans or a vibrant headboard. Wardrobes usually come in boring neutral shades that almost never pop. But then rules are meant to be broken! The peach pop of this wardrobe stands out against the muted neutrals in the room. While we love the refreshing colour, we must also draw your attention to its design. The floor-to-ceiling wardrobe has no handles, which is why it looks super sleek. This is a perfect example of push-to-touch wardrobes done right.

Latest Wardrobe Designs for Bedroom #5: Japanese Style Chequered Wardrobe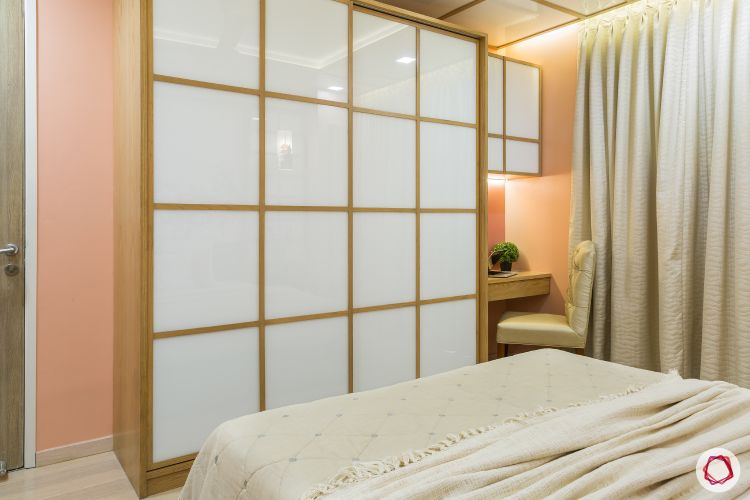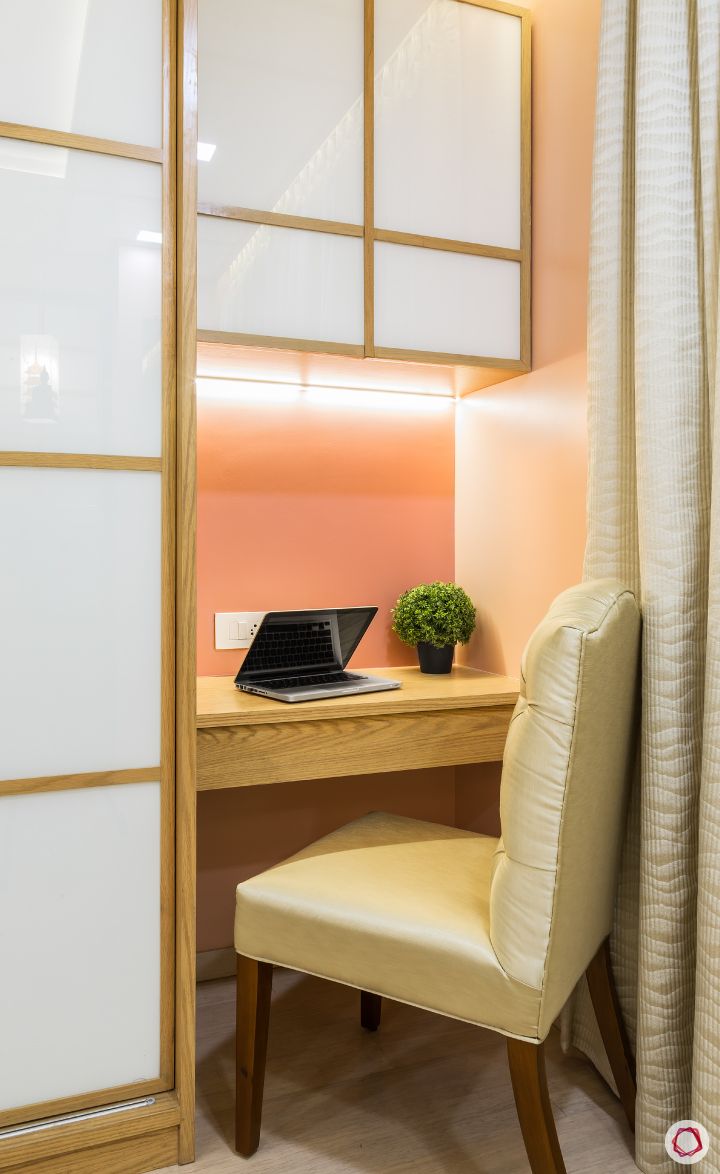 Japanese culture has found its way into contemporary lifestyles in many ways. So while we gorge on sushi rolls and strive to be zen, our homes should also reflect our affinity to the land of Geishas. The checkered pattern of this sliding wardrobe, for example, makes it typically oriental in style. Composed of back painted glass and a wooden frame, this wardrobe is a copybook example of Japanese aesthetics that focuses on uncluttered and minimal designs.

If you found these latest wardrobe designs for bedroom inspiring, also explore Closet Cues for Compact Rooms.