For decades, the ceiling has always been the most ignored part of our homes and it's time to finally give it the attention it deserves. Yes, you can move away from clichéd false ceilings and panels to more expressive designs that show off your personality. From the oh-so-trendy geometric pattern to the carnival style wall for the young ones, these ceiling design ideas have it all!
Read on and find out what suits your taste and get one for your home too.
Ceiling Design #1: Wooden Slats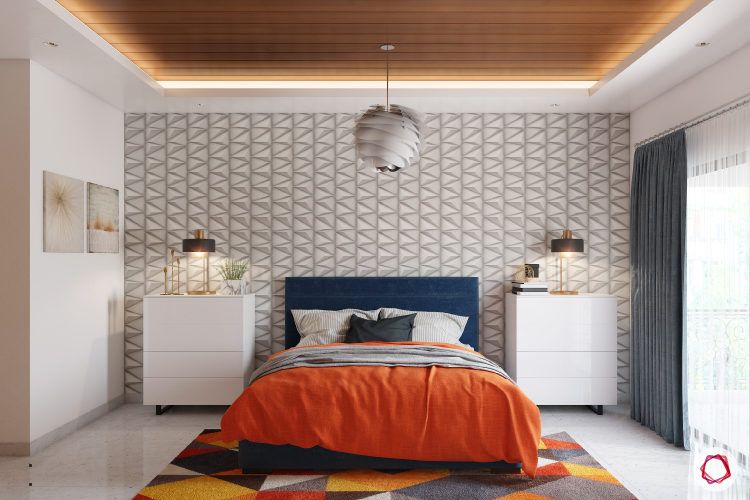 Wood is one material that lends warmth to any space, even the most contemporary of rooms. If you are someone who loves warm wooden accents at home, then you should opt for this ceiling design idea for sure! Get wooden slats installed for your ceiling and feel the cozy vibe set in.
Ceiling Design #2: Motifs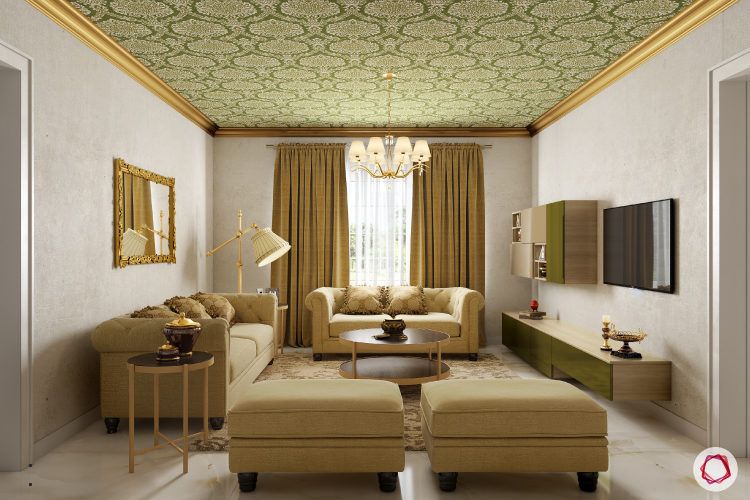 Motifs are the flavour of the season, not only on clothes, but also in your home interiors. If you want your ceiling to stand out, try and add motifs to it and you will not regret it. For added effect, add golden trims on all the edges and see how royal your interiors feel, almost instantly. Anyone who looks up is bound to be mesmerised!
Ceiling Designs #3: Single Colour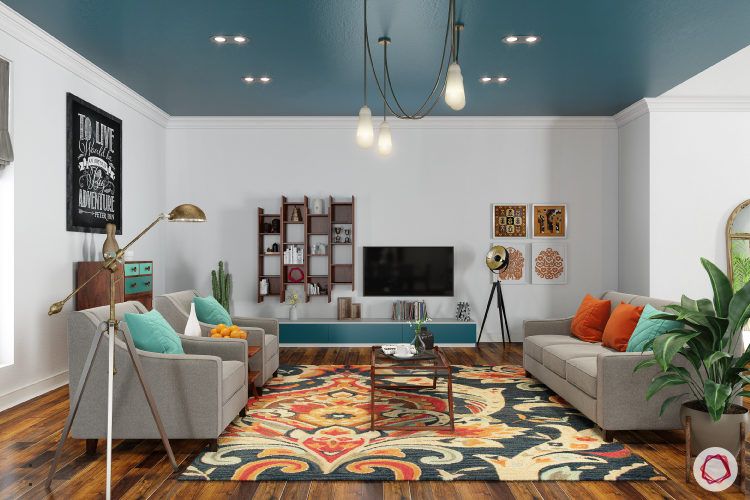 And you thought you can create accent walls only on one of the four sides of the room? Well, think again! Imagine a room with muted or white walls on all four sides and a statement colour on the ceiling. This is not very common and is sure to turn heads when used in your living room.
Ceiling Designs #4: Carnival Style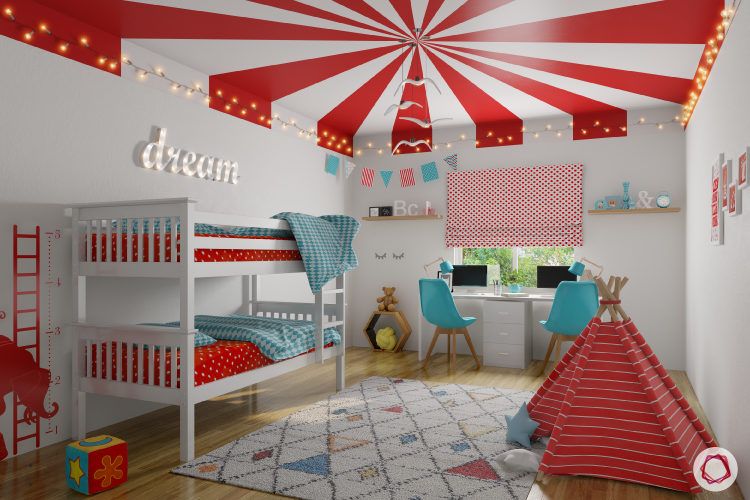 This is our favourite look in the list. This groovy carnival style ceiling design lends such a happy vibe to this room. Perfect for any kid who loves going to fetes and carnivals and enjoys being playful! Let your kids go into their own dreamworld while they lay in bed.
Ceiling Design #5: Abstraction or Stripes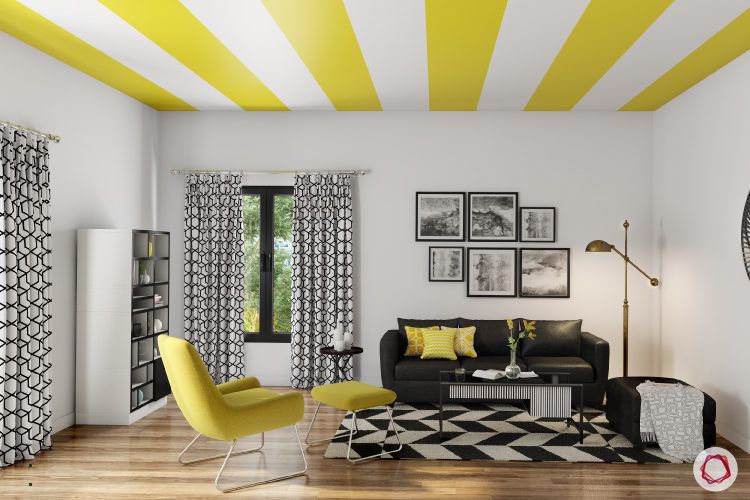 Stripes and abstract prints are always in vogue. You can never go wrong with these! Try creating wonderful abstract patterns on your ceiling or stick to the basic stripes, preferably in a contrast shade. Go bold with bright colours or create zebra stripes. Such a cool effect!
Ceiling Design #6: Go Geometric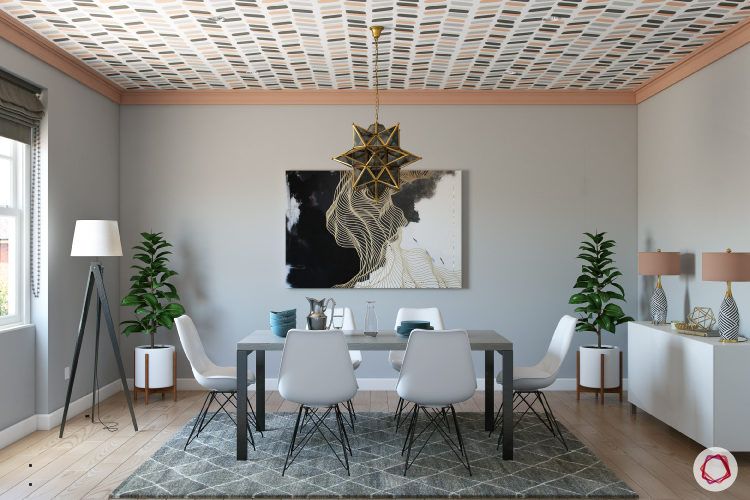 When you do not know what to do with your ceiling, but still want to do something, this is your go-to option. Geometric prints are evergreen and look good almost everywhere, if used moderately. Your ceiling can also flaunt this trend. Dress it up now!
Ceiling Design #7: Subtle Mouldings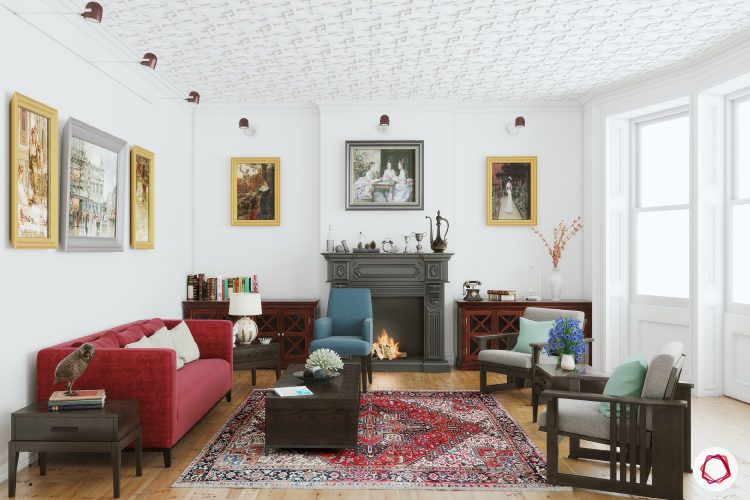 If you are not impressed by any of the options above, and are someone who likes to keep it low-key, then you should try this idea. Subtle mouldings on your ceiling that blend in seamlessly with your interiors will look just right. You can opt for busy or a full-blown moulding or go for subtle trims. Ask your designer for options.
Ceiling Design #8: Flower Power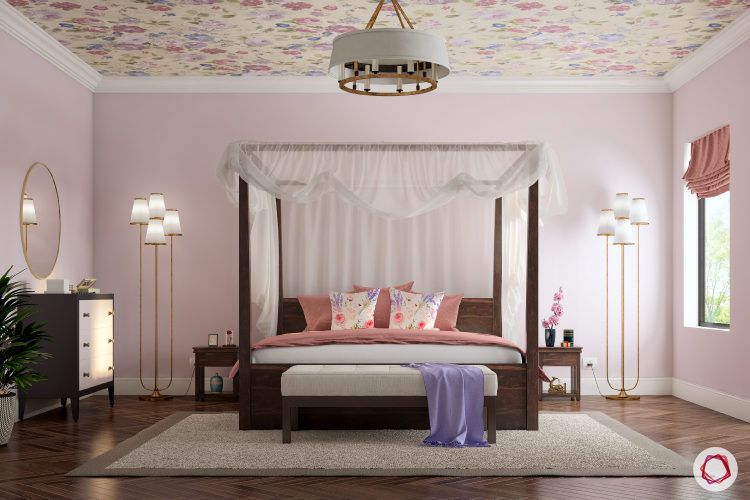 Florals have the power of adding a breath of fresh air in any space and a ceiling with flowers in ice-cream shades is just as dreamy! If you love all things pretty, this one's just right for you. Make sure you do not go too loud with the colours, or it might weigh down your room.
We're sure you're as inspired as we are by now and have decided on what you like best for your home. And, if you have, the we suggest you to go for it immediately. You will love looking up to your ceilings after that! Look at these false ceiling ideas as well for some more inspiration.
Meanwhile, keep the suggestions and feedback coming!