Washing machines in India are becoming more and more common. In fact, it is smart to have a dedicated space in the home layout plan for the same. Thus, it becomes necessary to create a washing room design that fits in seamlessly within your space and your laundry can be done in a streamlined manner. Here is a simple guide on how to manage, organise and optimally use your laundry room design.
What Is a Washing Room?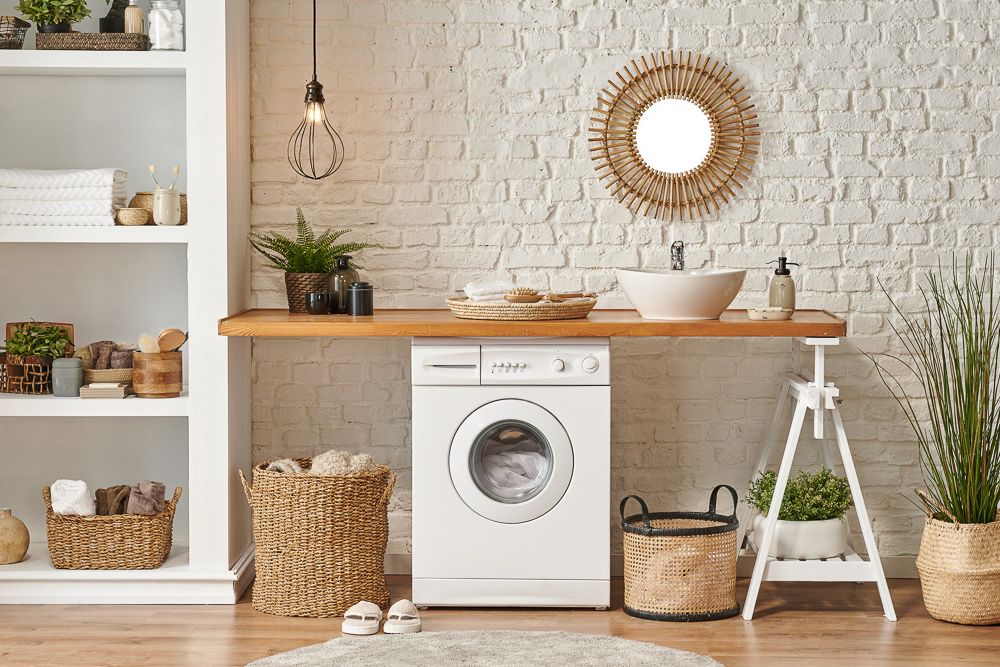 Washing rooms are also known as laundry rooms or utility rooms. As the term suggests, the laundry room design is recognised as a space where you keep your washing machine. They're all designed to serve an important function — to provide extra storage space, to fit our washing machines and to provide a second washing zone.
Why Do You Need a Laundry Room at Home?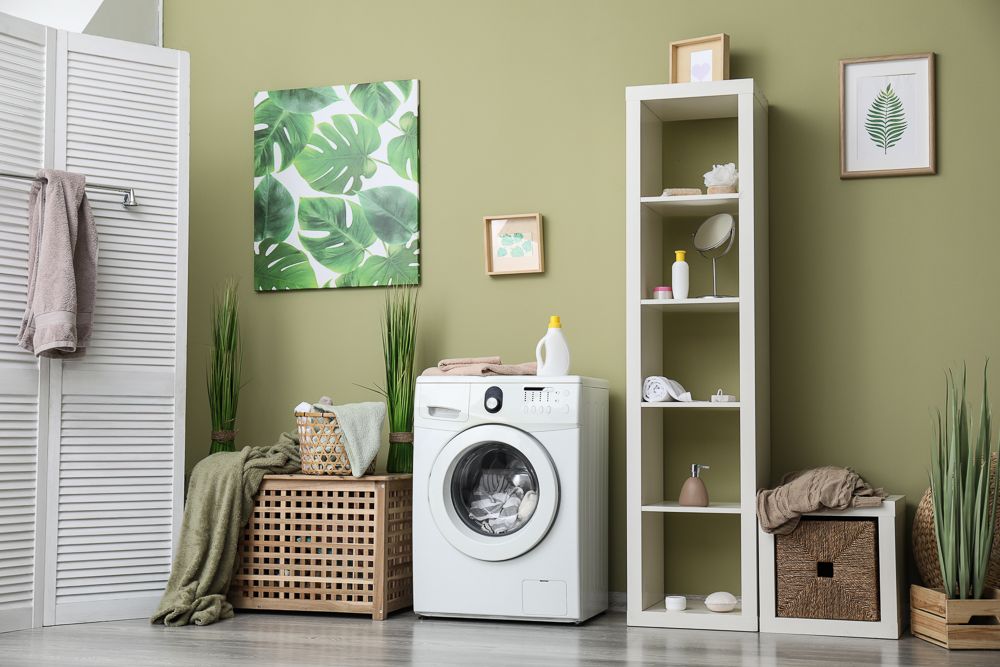 Now the question is, do you really need a washing room design in your home? Demarcating the space as a washing zone helps manage the space better. It can also help you work out laundry room ideas that allow the space to be identified as separate. These could include things such as what type of flooring you would want in the room to make it more child- or elder-friendly, etc.
How Can You Fit in a Washing Room Design in Your Home?
Fitting in an extra washing room may sound like a hassle, especially when you are dealing with a compact space. But don't worry, we have small laundry room ideas too! In fact, given below is an assorted list in ascending order showcasing where you can make your laundry room.
#1: A Separate Laundry Room Design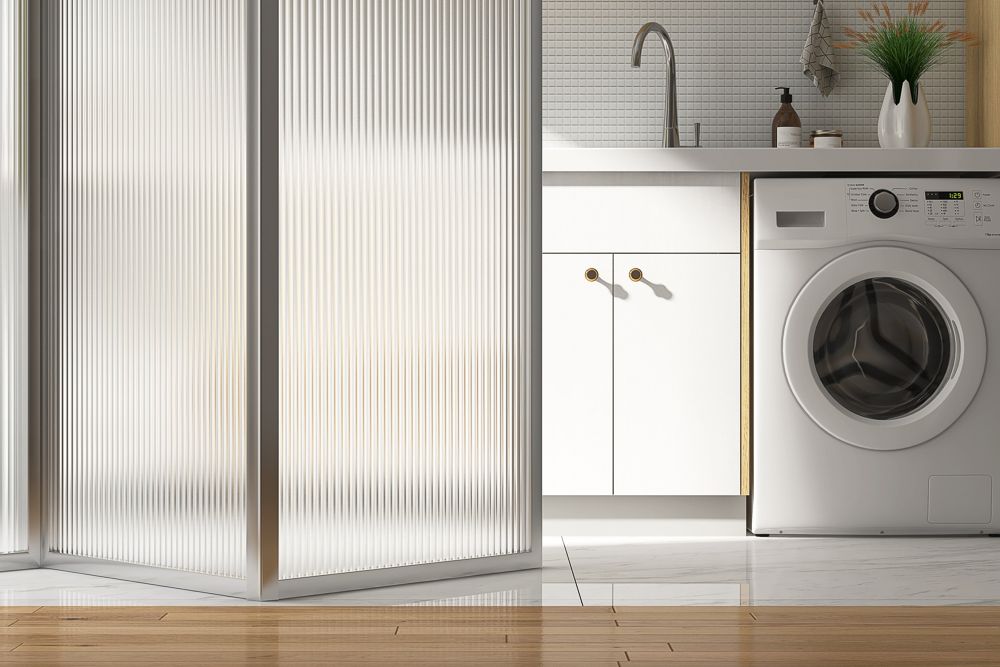 Having a separate utility room serves well in the long run as you confine your clutter to one room. All you need is a compact space to fit in your washing machine and storage to hold your detergent, soap and other essentials for doing laundry. Make sure to figure out the drainage so it doesn't create a hassle afterwards.
#2: Fit the Washing Machine in the Kitchen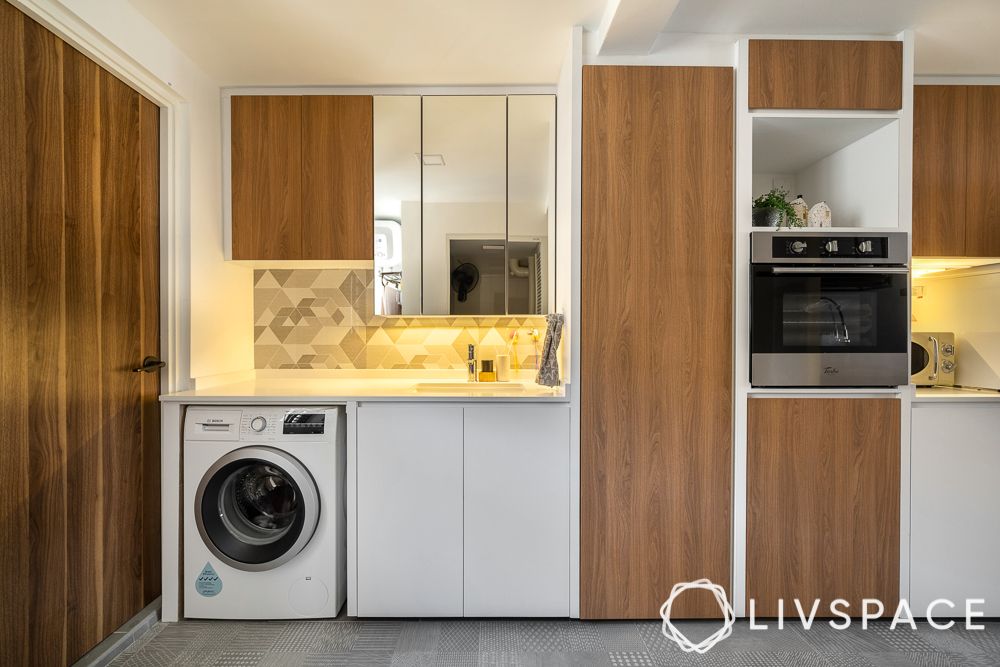 This comes from the book of small laundry room design ideas. Your kitchen can count as a space to fit in your washing room design because it offers you two advantages. First, the laundry area can be segregated into the wet zone of the kitchen. Second, it is easier to find a drainage system in the kitchen. Thus, if you plan it accordingly, your laundry room design can easily fit into the kitchen.
#3: Carve Out a Washing Room Design in the Bathroom
Among other small laundry room ideas is utilising the bathroom as a space for a good laundry room design. It has everything you need — a good drainage system, an efficient pipe system for water supply and complete convenience. How many times have you hopped into your shower or bathroom and wished to wash your clothes instantly? A washing machine in the bathroom would definitely be useful in that scenario.
#4: Laundry Room Design Ideas for Balconies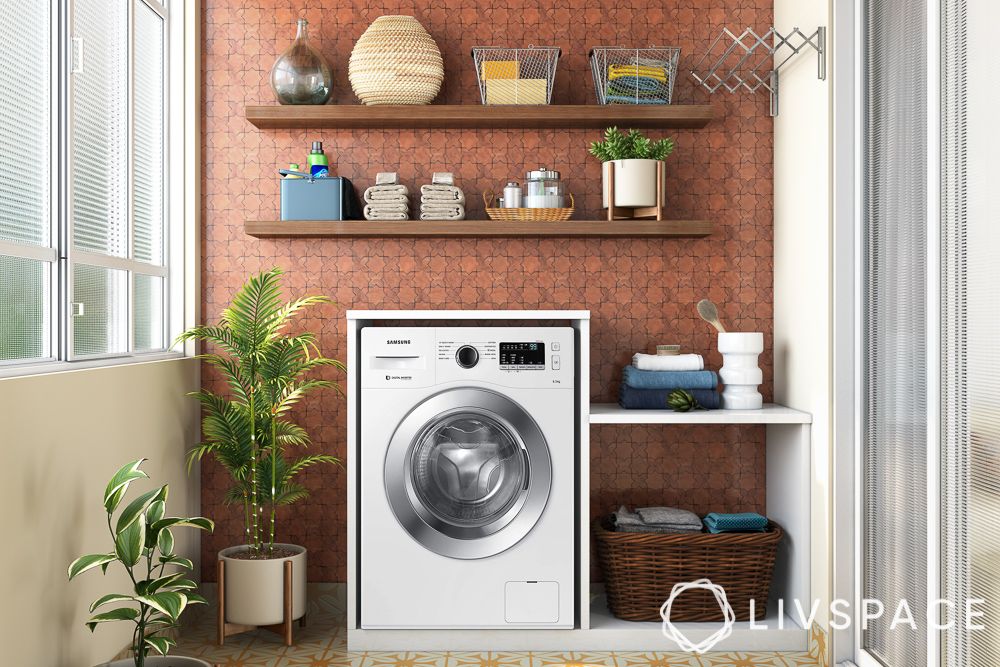 When you have no space, one of the small laundry room ideas to implement is using your balcony as a washing room as well. Most balconies have efficient drainage systems that can be easily used. However, you need to plan your washing room design in such a way that it shields your washing machine from rain damage.
#5: Accommodate a Washing Room Design in an Awkward Corner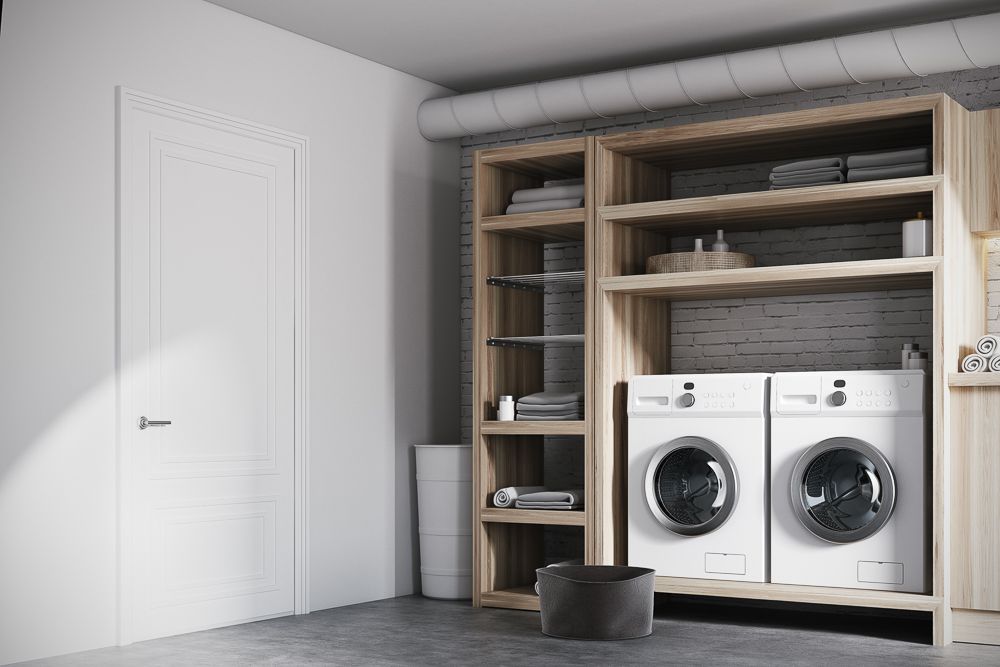 If you are struggling to make any space in your home fit for a laundry room design, pick a niche to install your washing machine. Laundry room design ideas can be applied anywhere, given you can manage efficient water supply and drainage.
#6: Hide It Behind an Accent Wall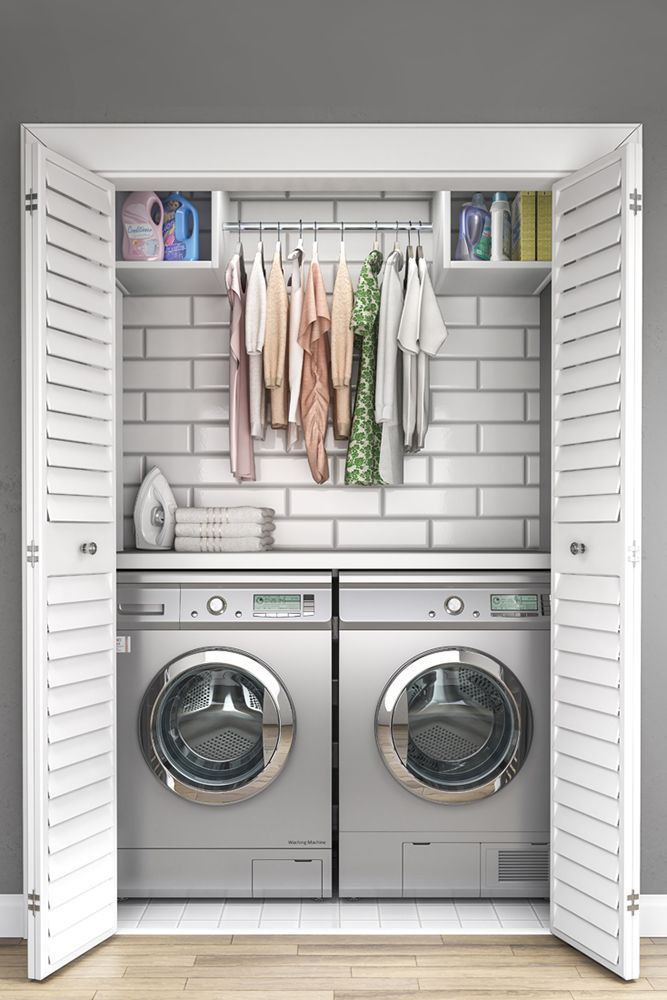 Afraid that a laundry room design will disrupt the look of your home? You can always hide it behind an accent wall. Fit it behind a fancy door or a sliding wall that is the centre of attraction for your home. No one will be able to guess you have a washing room design hidden behind it!
Check out wall paint designs:
#7: Wash Area Designs That Stack It Up!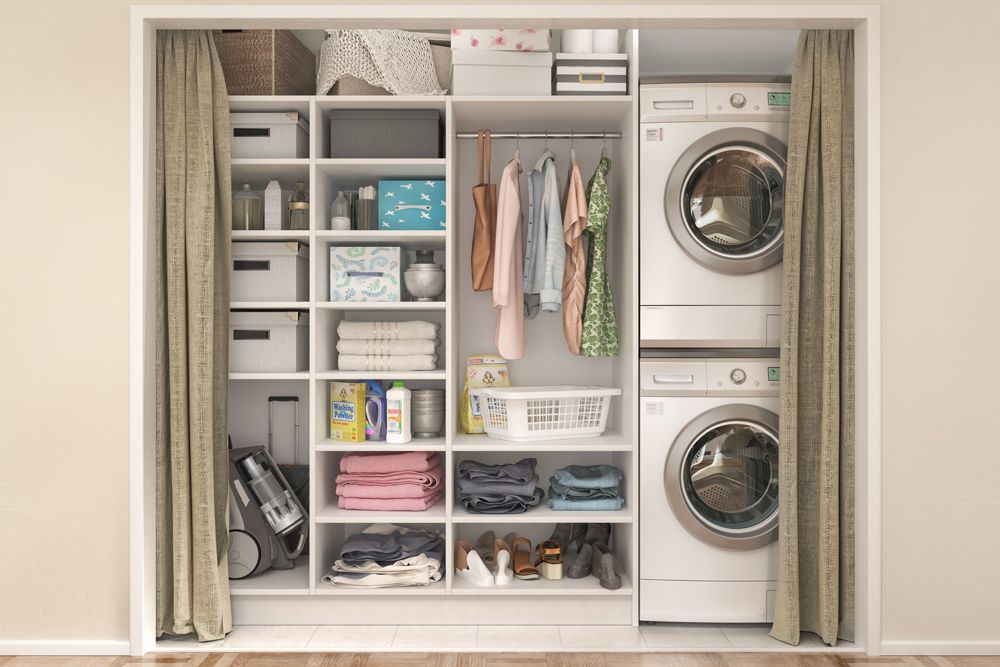 If the space crunch is too much, then stacking up the washing machine and the dryer is a good idea. This is one of the wash area design ideas that needs just a sturdy shelf installed above the washing machine. Then, you can easily place your dryer on it and it will look like you have stacked them up.
#8: Use the Closet for Wash Area Design Ideas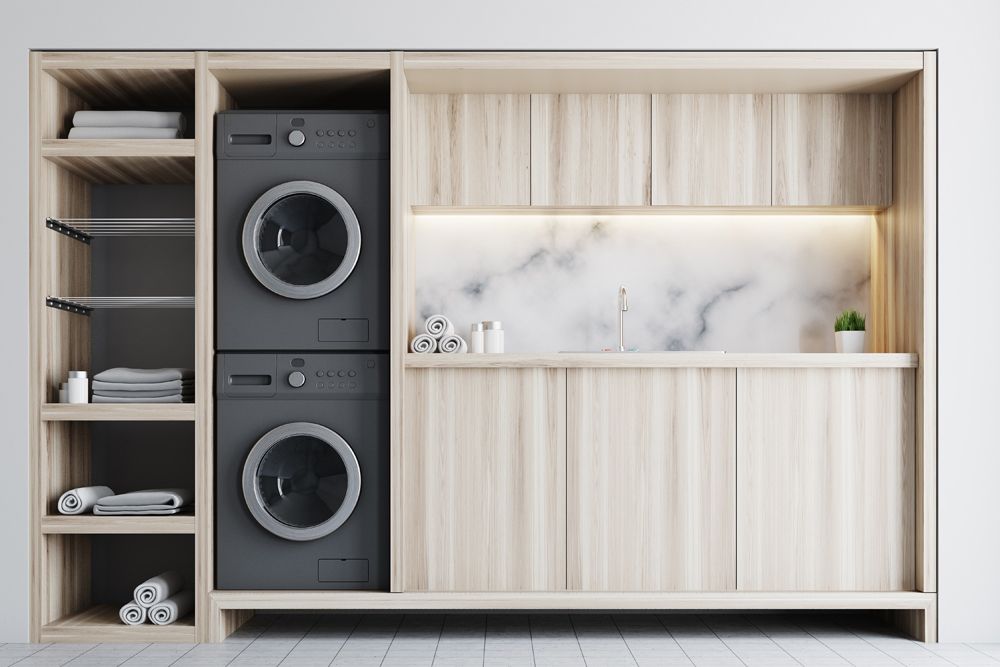 The closet space has become a utility spot too. Optimise the closet space with custom cabinetry and accommodate your washing machine here. Make sure to provide opt drainage and water supply for this washing area design in advance.
#9: Fit Washing Area Designs in Your Garage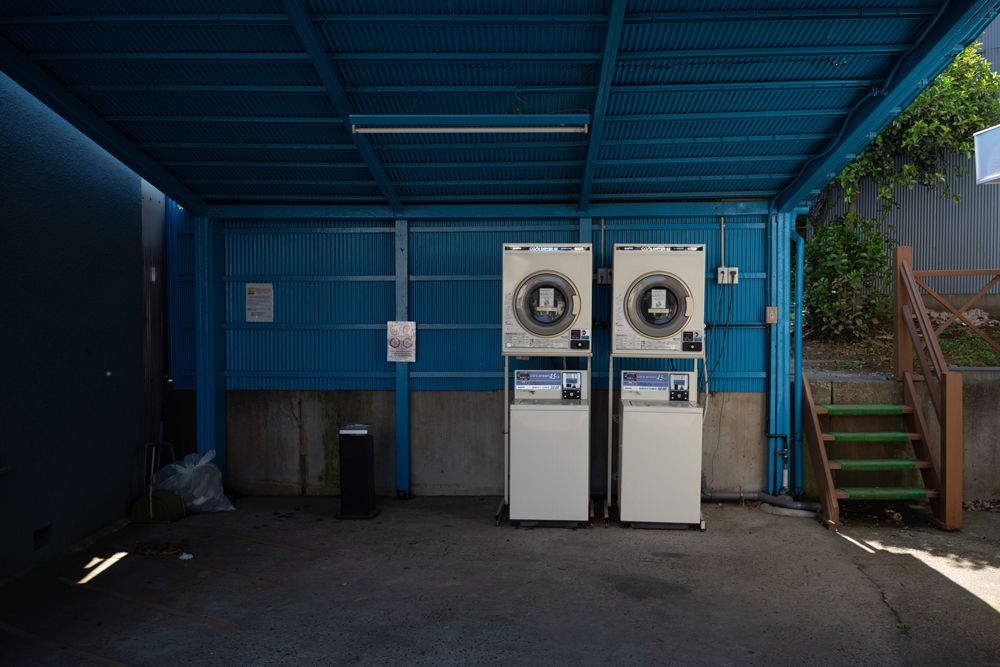 This is a brilliant idea. Doing the laundry in the garage means that you do not have to take a long walk to dry your clothes. In most free-standing homes, most garages are interconnected to the garden or patio where the clothes can be easily hung to be dried in the sun.
#10: Use The Galley Style to Make a Kitchen With Separate Washing Area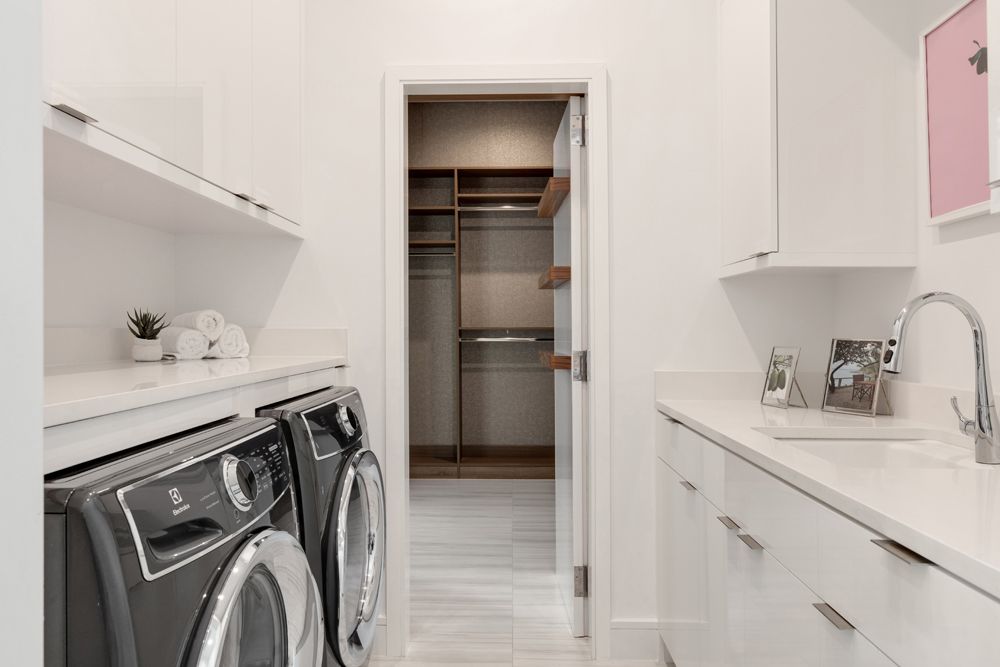 The washing area design in India is mostly accommodated in the kitchen. Thus, for ease of workflow, you can use the galley style. This will separate the cooking and the wash area design. If you are looking for kitchen wash area design ideas, this is a great way to organise the same.
#11: Keep It Behind the Sink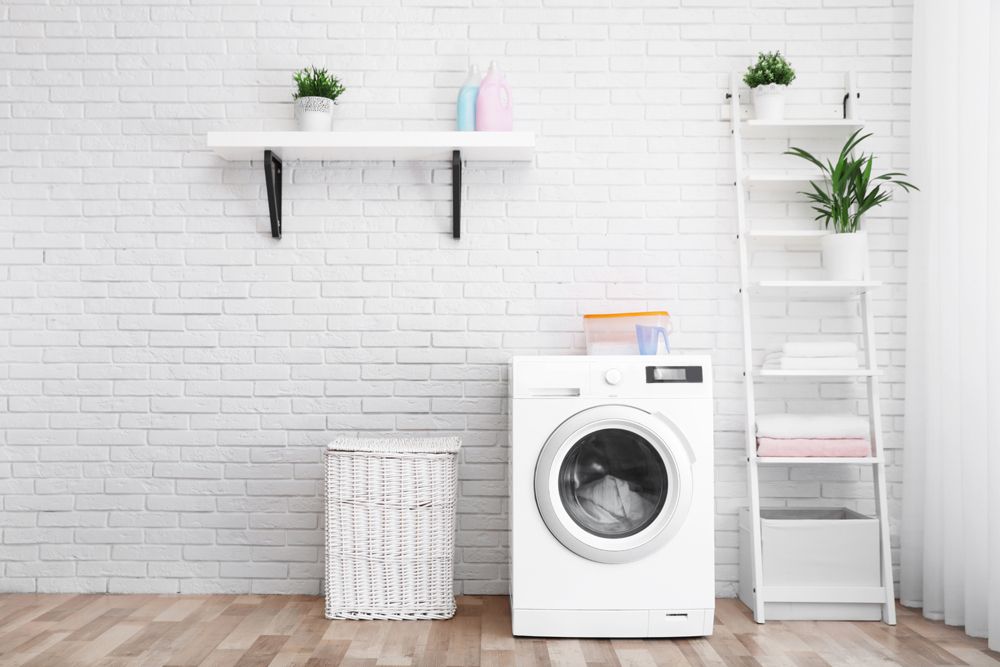 If you cannot fit the washing machine in the kitchen, another good practice is to place the washing machine right behind the kitchen sink wall. This helps you to get easy access to the water supply and the drainage of the kitchen.
#12: Hide Wash Area Designs Behind a Curtain
If you do not have the budget to extend towards wash area design ideas, then think about using a curtain for something other than a window. Repurpose leftover curtains and hide your washing room design behind it.
Apart from these ideas for a laundry area, there are essentials you should consider for your washing area designs.
What Should You Consider While Planning a Washing Room Design?
Whether you decide to make it in a corner or dedicate a room to it, keep these three laundry room ideas in mind.
#1: The Size of Your Washing Room Design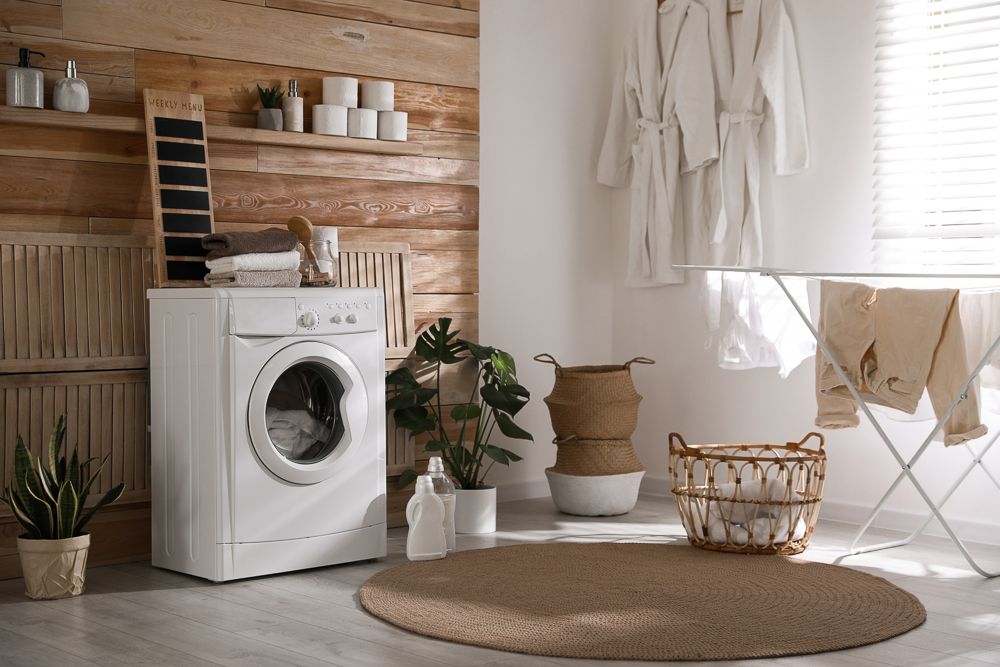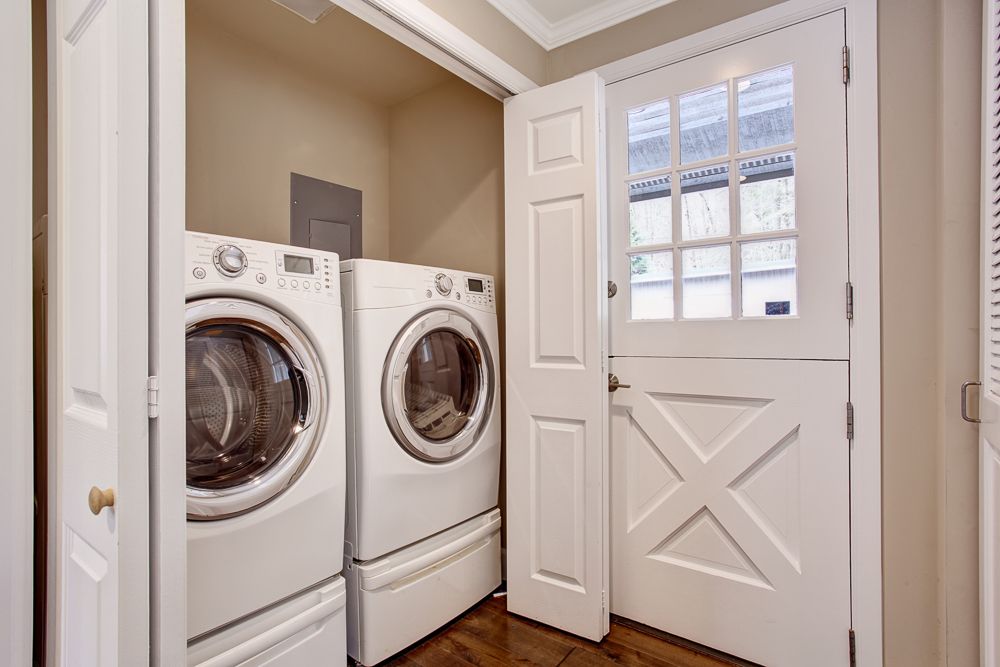 The size of your utility room dictates how to optimise the space in it. For example, if you have a separate room to work with, you can optimise it with more storage options. When that is not the case, try to add baskets or storage options that use vertical space.
#2: Pay Attention to the Flooring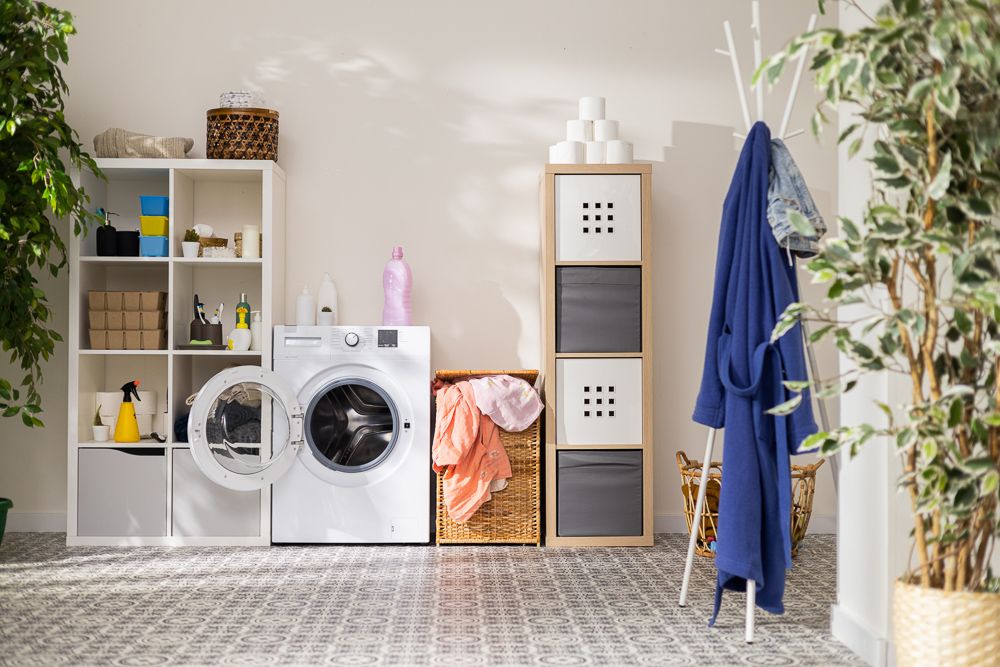 Water spillage is common for washing machines. Thus, make sure that your laundry room design is equipped with anti-skid tiles. This will prevent unwanted accidents and also help you manage the space better.
#3: Say Goodbye to Dingy Lighting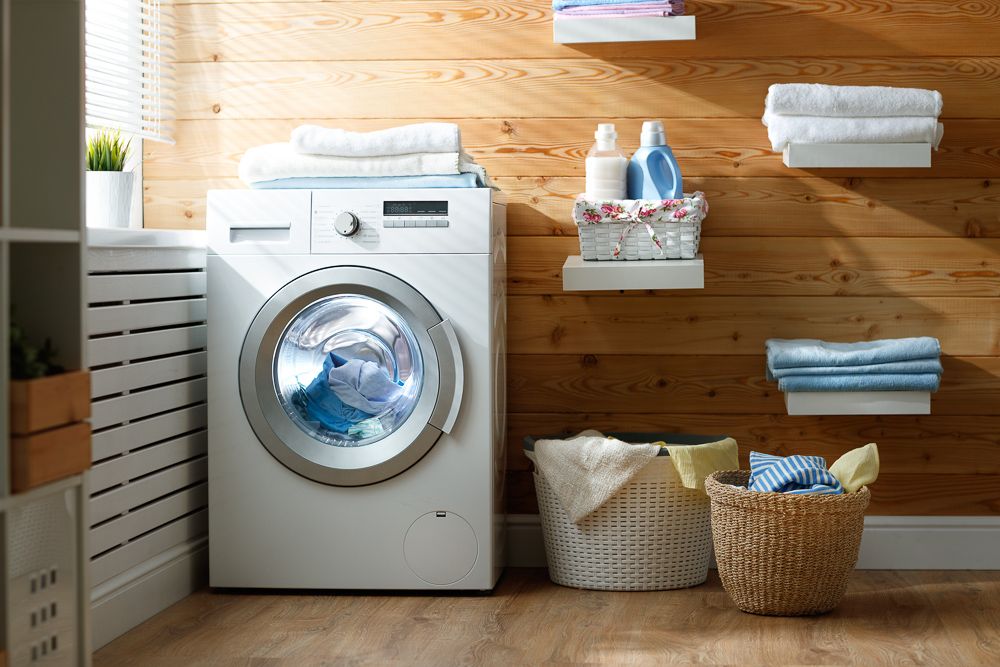 Hollywood may have convinced you that dimly lit washing rooms are common but we recommend you do not pay heed to it. White lights are an ideal pick for a laundry room design as it will help you spot colour mixes in the washing machine easily. Thus, make sure you install a bright light in your laundry room design.
#4: Include a Washbasin in Your Washing Room Design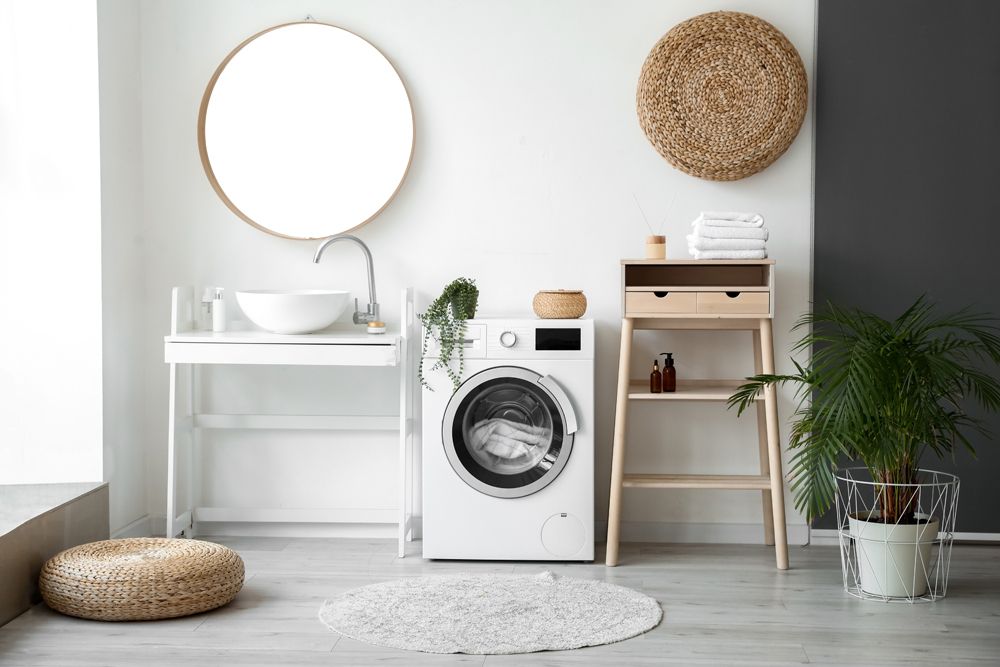 Not every clothing item can take the harsh washing of a machine. Thus, install a wash basin to clean the clothes that require hand cleaning. The basin is multipurpose and can also be used to give your pet a bath.
#5: Think Storage With Washing Machine Cabinet Design Ideas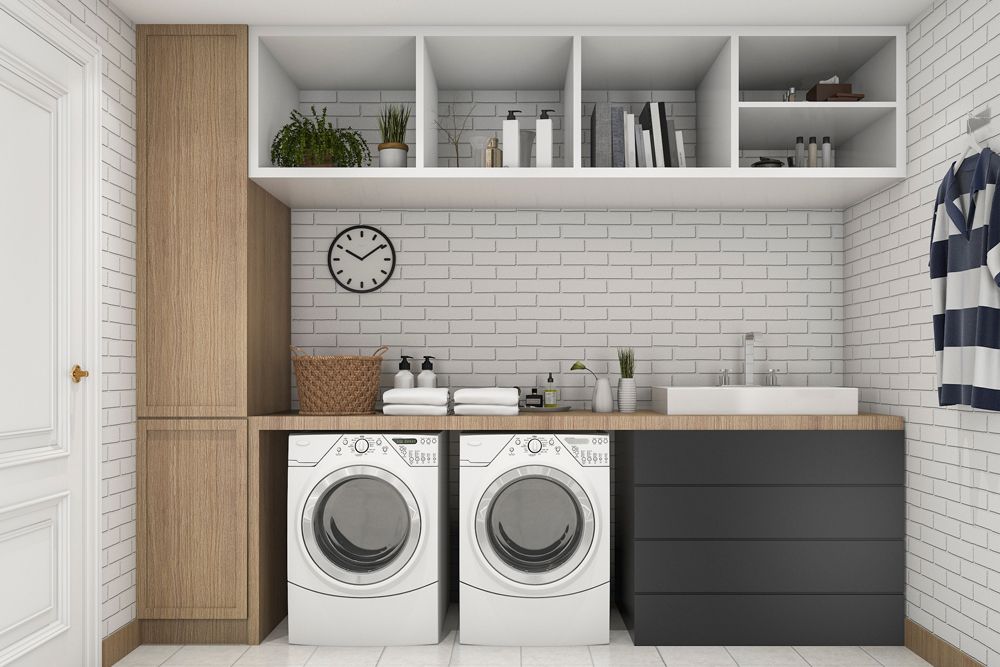 Having washing area designs equipped with storage space is a blessing. The entire process of washing, drying and storing can be done in the same room. This is especially handy for items such as towels and bedsheets that may need a separate storage area.
#6: Consider Pet-Friendly Wash Area Design Ideas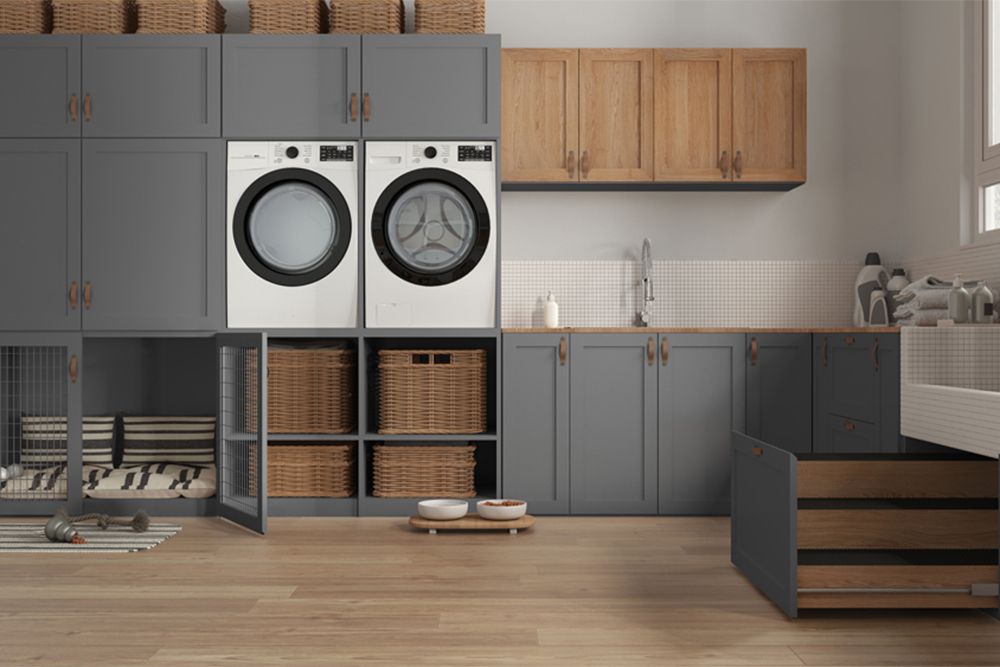 Your washing area design can double up easily as a pet-friendly space. You can use one of the lower cabinets to turn into their cosy spot. Or, it can just be a feeding spot if you have a messy eater. It will be easier to clean. However, we know how cats love to lay on clean laundry so make sure to have cabinets saving your clothes from fur.
#7: Make Space in Your Washing Room Design to Sort Out Laundry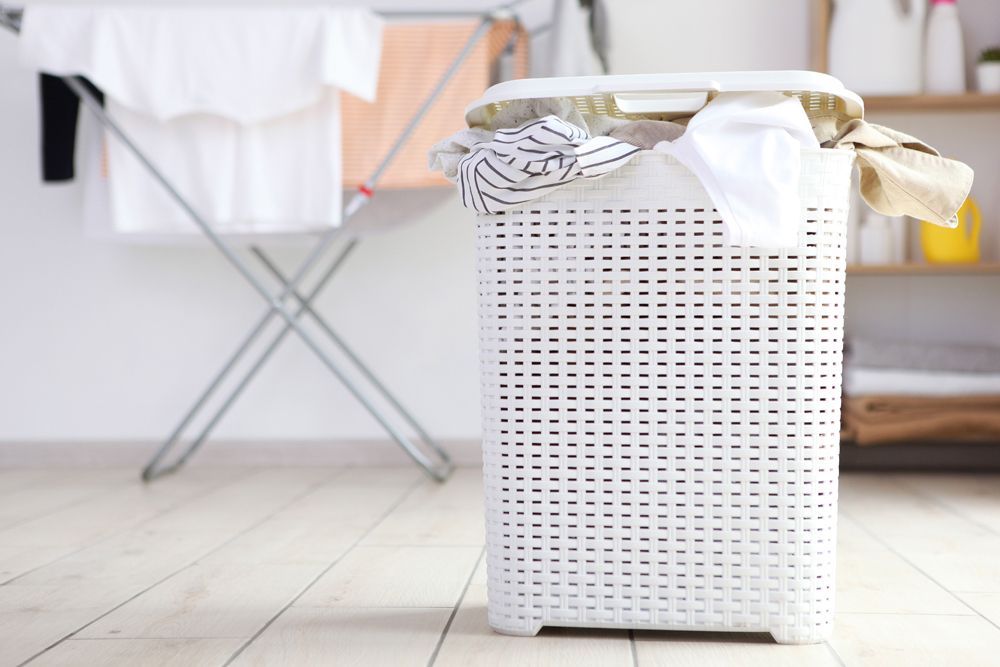 Not every laundry will be spacious enough to accommodate cabinets. Thus, get baskets with ample space to do your laundry. Since it is movable, you can keep the laundry basket anywhere to collect dirty clothes. On washing day, take the basket to the laundry room and put it straight into your washing machine. Isn't this handy?
#8: Bring in a Laundry Cart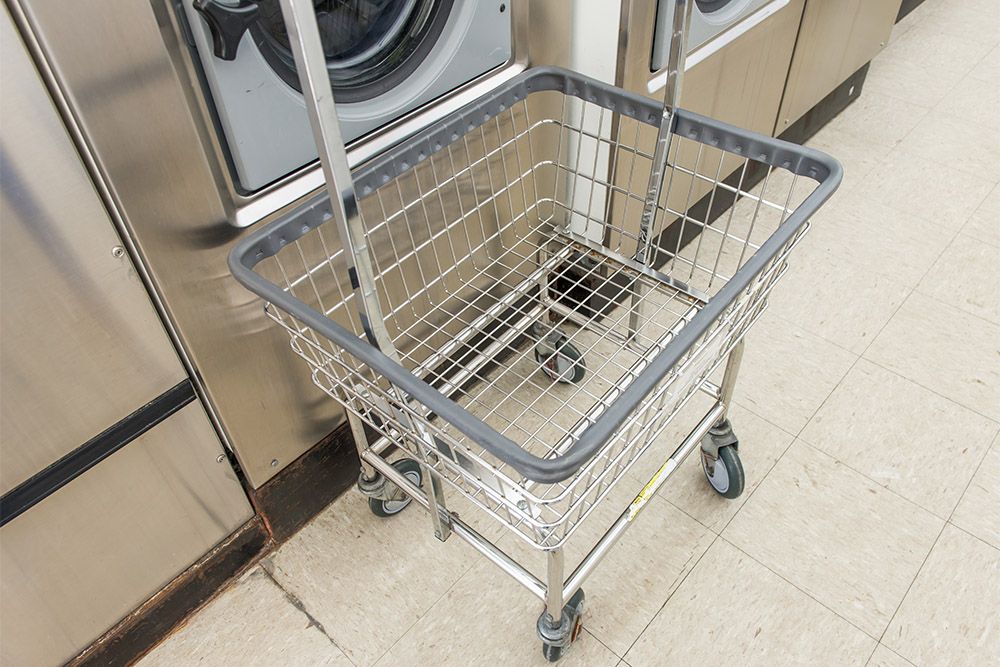 Another alternative to the basket but easier. This is elder- and child-friendly as the cart is carried on wheels. To reduce that nasty back pain, switch to the laundry basket.
#9: Incorporate a Drying Rack in the Washing Area Design, India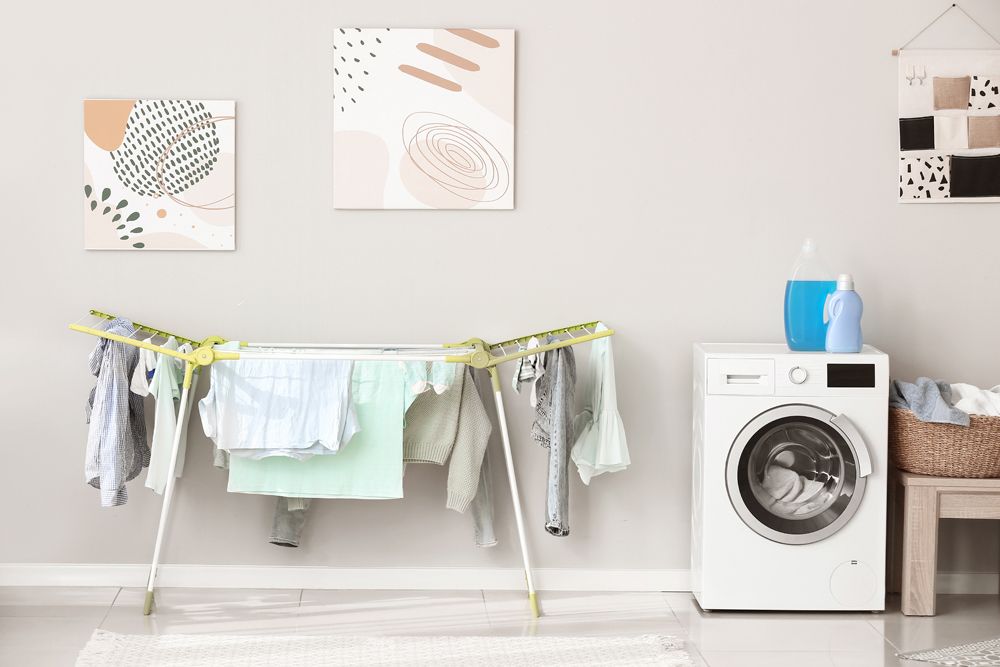 If you have some space to spare, the drying rack is a must. There are many options available in the market including space saving ones that can extend from the wall. This will reduce your labour of going outside with bucket loads of laundry to dry it out.
#10: Build Custom Washing Machine Cabinet Design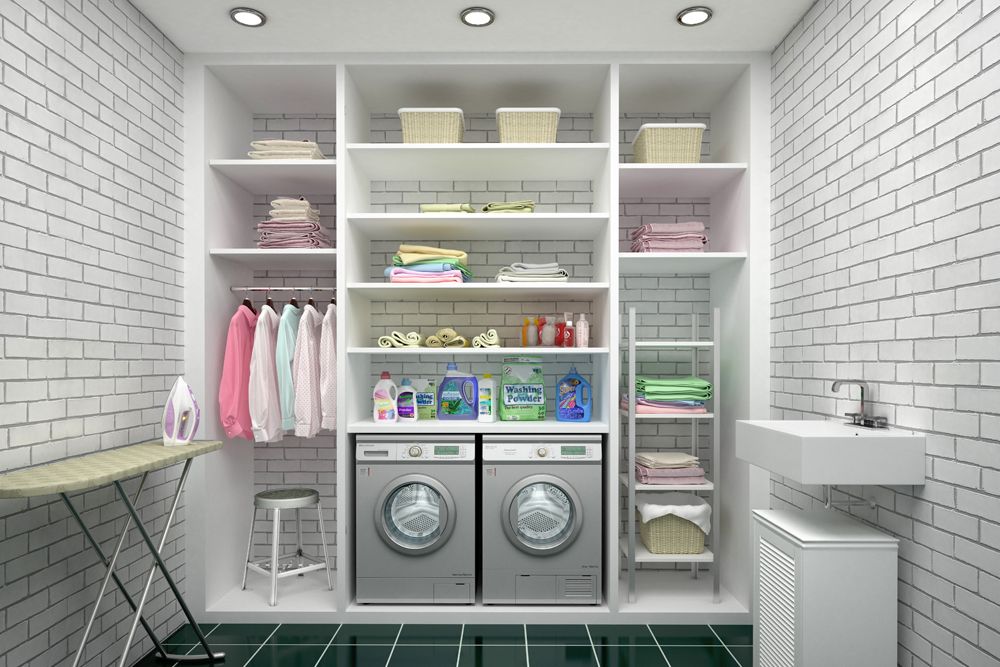 Most people forget that as a utilitarian space, the laundry room design is to be optimised for space. Thus, invest some resources to make custom cabinetry so you do your laundry with ease.
#11: Add an Ironing Board to Your Washing Room Design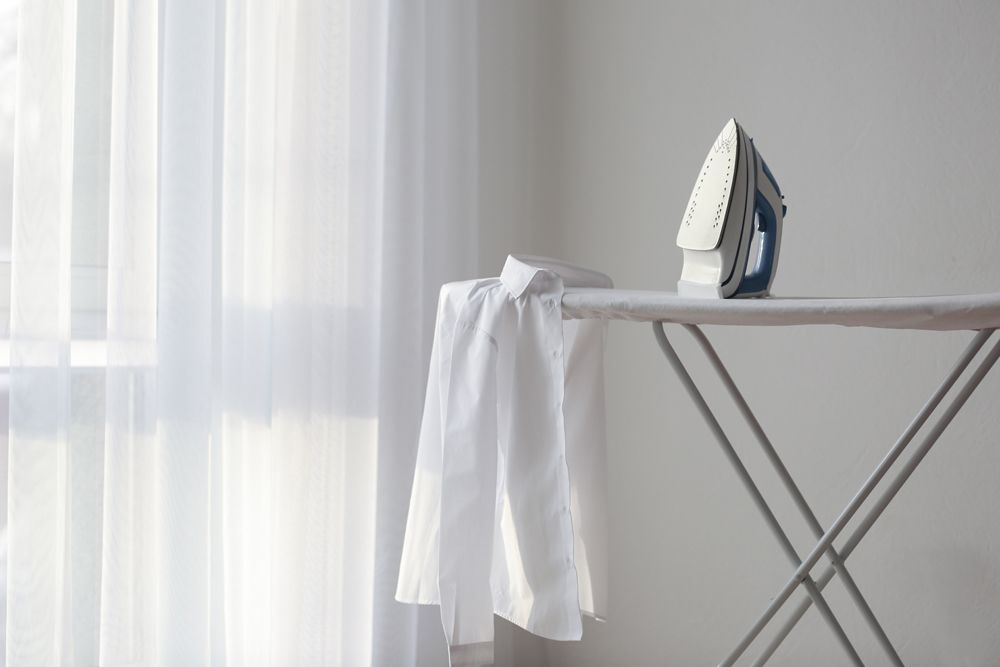 The laundry room design is incomplete without an ironing board. Ironing takes time. And thus, it is easier to install an ironing board so you can be done with the same after the clothes have dried. You can get an extendable board too, if you'd like to save space.
#12: Swipe Washing Machine Cabinet Design for a Wall Pegboard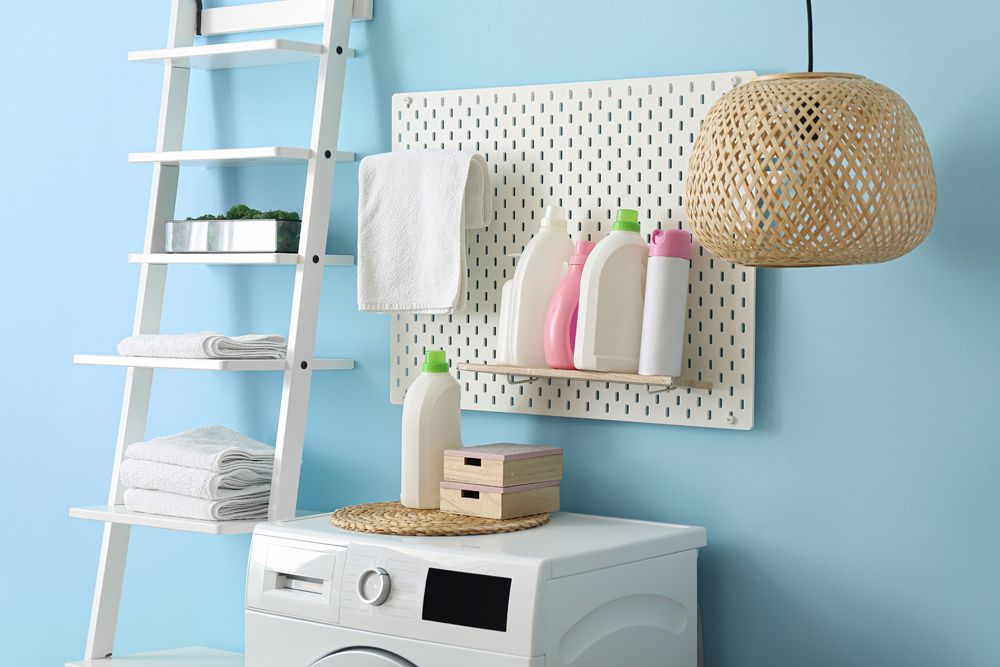 The pegboard is suitable for rental homes. It is versatile enough for makeshift shelves and other types of tools. Use the shelves to arrange your washing detergents on them. You can also store essential tools that may come in your washing room design
#13: Keep a Lint Bin!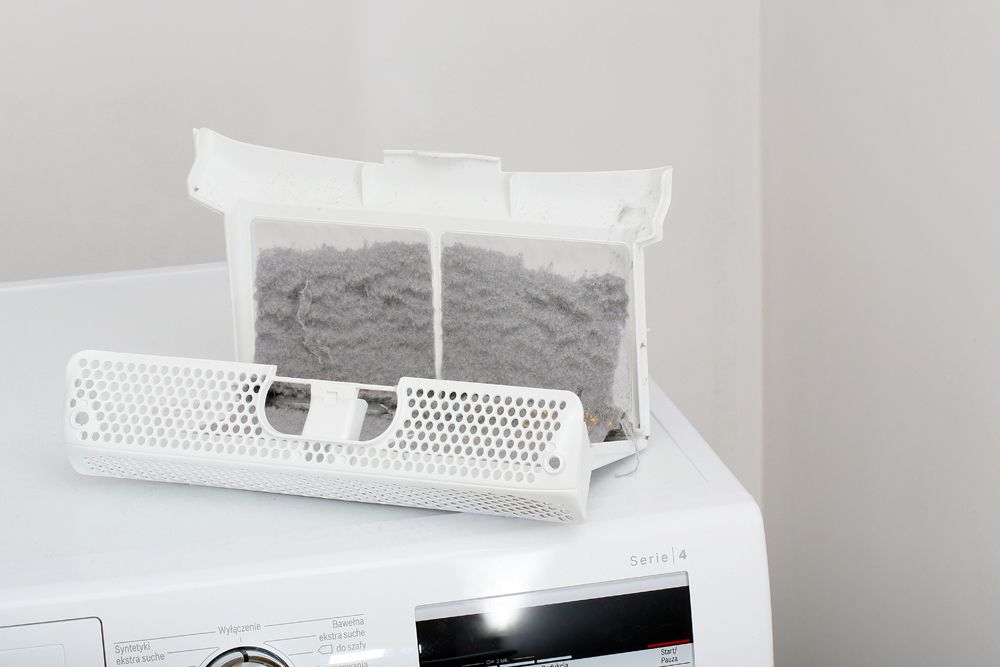 A lint bin is a necessity for wash area designs. Make sure to clean your washing machine monthly and clean the lint for better functioning. A DIY lint bin then can be easily disposed of.
#14: Add Seating to Your Washing Room Design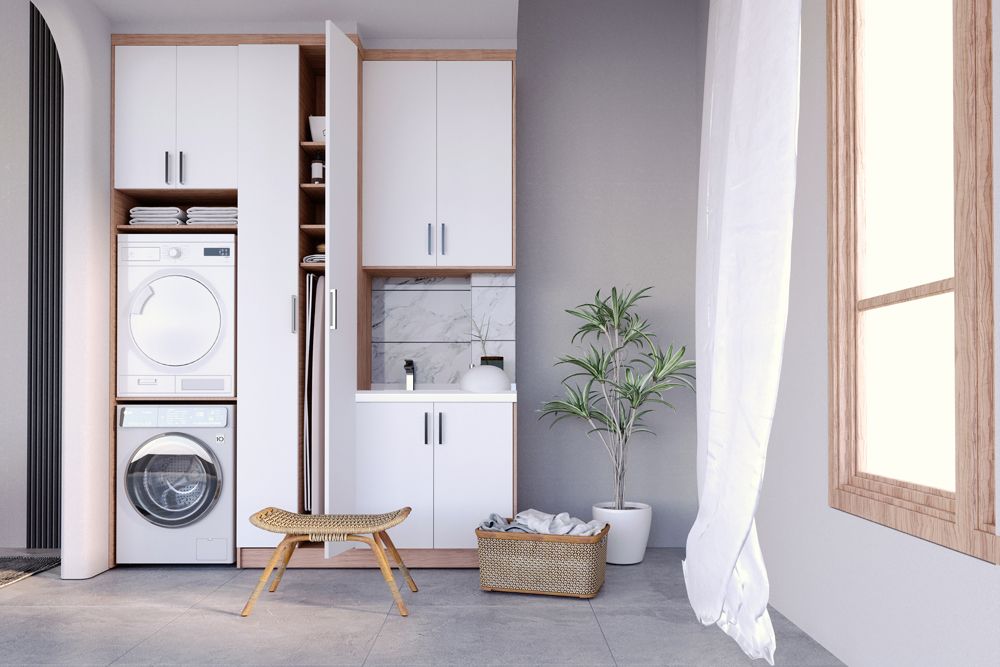 Washing laundry is an exhausting task. Thus, make sure you add seating in the washing room. If you do not have the budget to add seating, you can always bring in a chair to sit on and do the laundry. Use it to check your work emails when the machine is on.
We hoped this article helped you understand how to organise your washing room design better. Read How to Buy a Washing Machine That Checks All the Boxes. Want to know how to design or renovate your home optimally? Call us!
How Can Livspace Help You?
We hope you found our ideas useful! If you want beautiful interiors for your home, then look no further. Book an online consultation with Livspace today.