When Noida-based homeowners Hemant and Roopa Sajwan engaged Livspace to design an apartment for their close-knit family of five, interior designer Nehaa Rakyan created a practical, contemporary space with a mix of colors to suit each occupant's personality.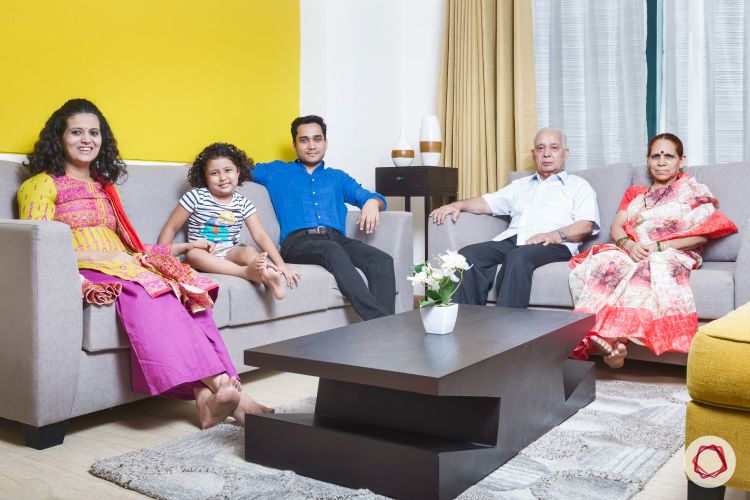 ---
Who livs here: Hemant and Roopa Sajwan with daughter Naina, along with her grandparents
Location: Mahagun Moderne, Noida
Home type & size: A 3-bedroom apartment spanning about 1800 sq ft
Design team: Interior designer Nehaa Rakyan with project manager Harmeet Singh and design manager Varun Chopra
Livspace service: Full Home Design
Budget rating: ₹₹₹₹₹
---
Designing a home for family members of different ages can be quite a challenge. In the case of Hemant and Roopa Sajwan's home, this involved balancing the needs and tastes of the couple's vivacious young daughter Naina as well as their elderly parents.
Their spacious apartment, styled with whites and neutral hues, is cleverly infused with a different color in every room. It speaks to the unique preferences of each occupant and keeps things interesting as one takes a tour of the house.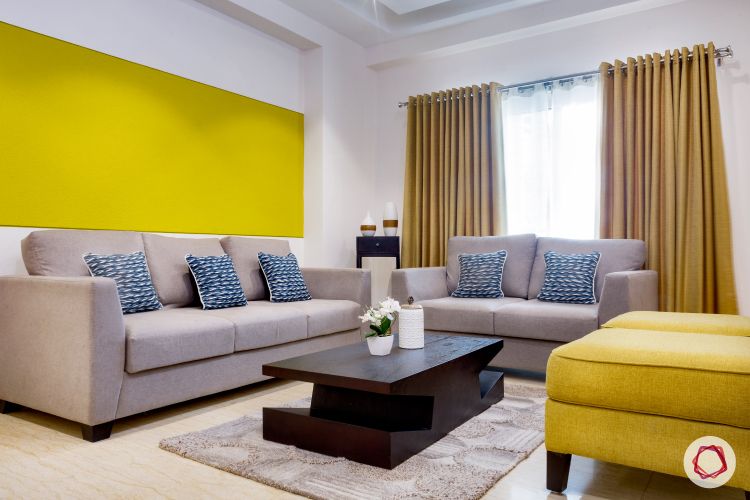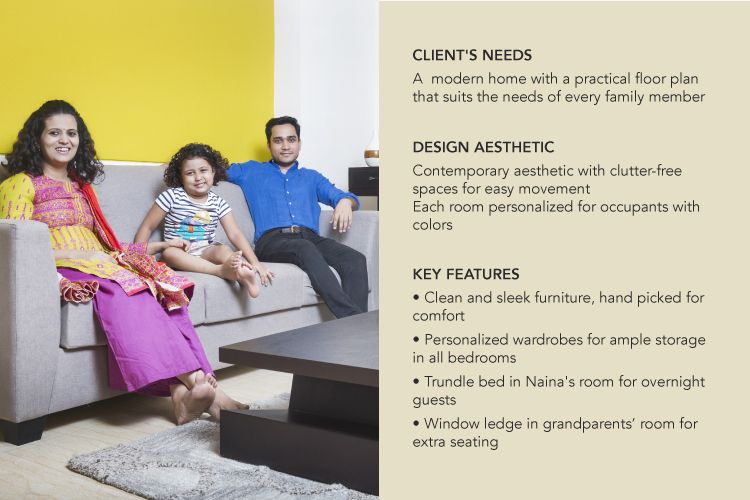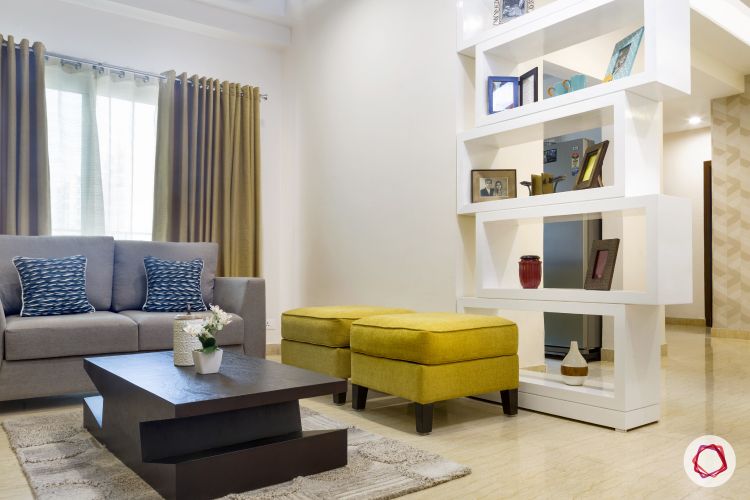 With both a kid and elderly parents at home, Nehaa knew that it was of paramount importance to leave plenty of space for movement. A set of no-frills, comfortable sofas and ottomans in the living room were carefully handpicked to do just that. Yellow accents usher in an invigorating, effervescent feel to family gatherings. Instead of a traditional display unit, a stylish, see-through divider affixed to the floor serves the purpose, partitioning the living space from the dining area.
Contemporary wallpaper and soft lighting create an elegant yet homely atmosphere in the dining room. Simple, slat back chairs around the dining table provide ample back and arm support. The bench makes room for extra guests. A sculptural sideboard adjacent to the dining area completes the transitional look.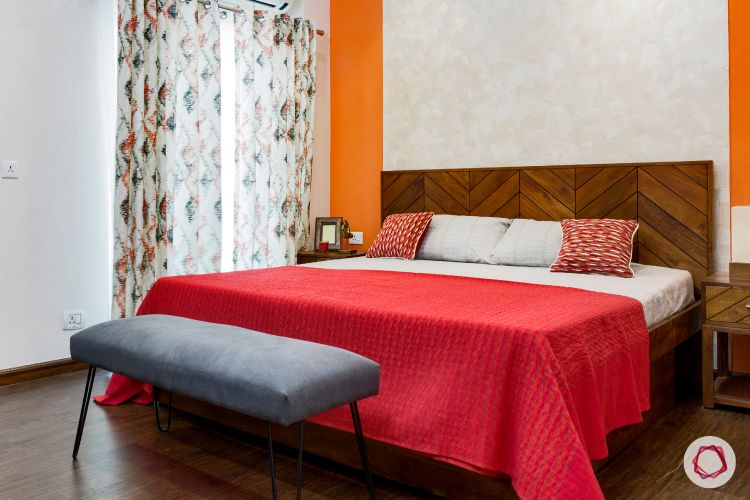 Red and orange accents used in the Hemant and Roopa's bedroom add vibrancy and balance the neutrals. The chevron patterned bed and matching nightstands work as unique design elements. These, along with wood flooring give the space a warm touch.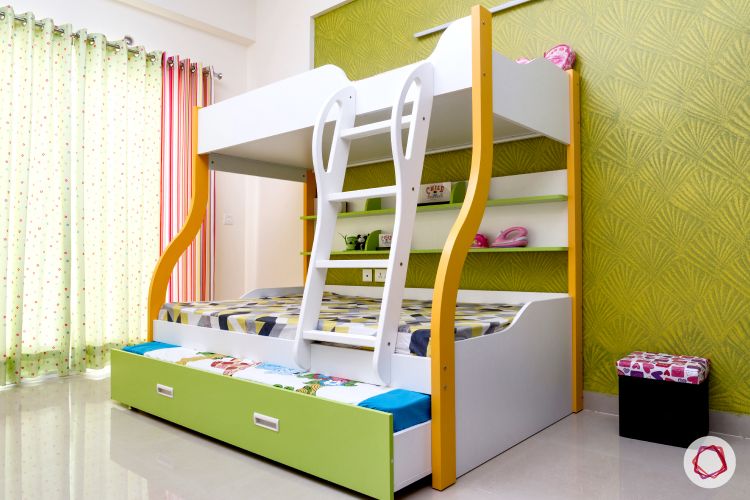 Green lends a fresh, organic look to Naina's bedroom. Hints of pink on the curtains and accent pieces gives it a feminine touch. The bunk bed, large enough to accomodate adults, also features a pull out trundle bed to accommodate two more people. It gives a clean, de-cluttered feel to the bedroom and leaves plenty of floor space for playtime.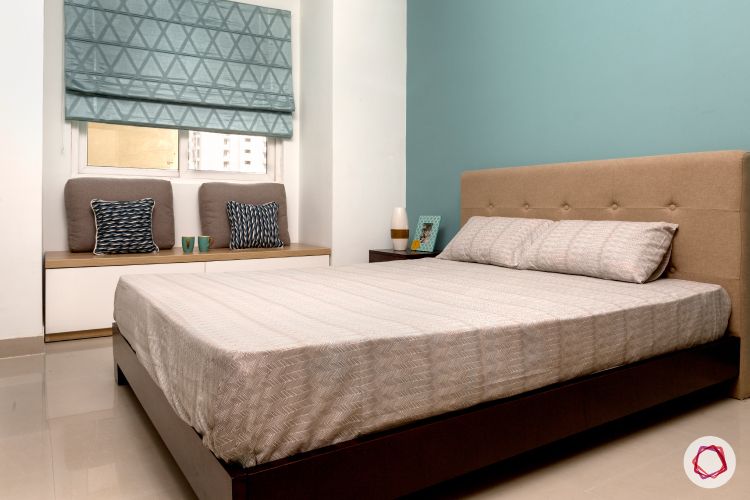 Lastly, the grandparents' room is doused in cool blues for a soothing effect. A small ledge next to the window provides extra seating from where they can look outside and enjoy their morning tea. It also provides storage below. A bed with an upholstered headboard provides a soft and comfortable backrest so they can read out of bed. Outdoor lighting can be regulated with an easy-to-use roman blind.
---
"We wanted to use colors as a primary tool for brightening up the house. The end result is a cheerful home that every member of the family could relate to."

– Nehaa Rakyan, Livspace
---