Superb inspiration for apartments interior designers!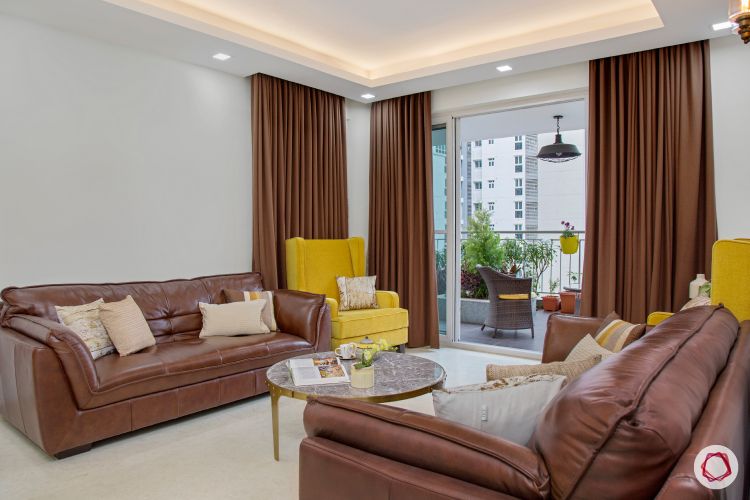 ---
Location: Whitefield, Bengaluru
Size of home: A 4BHK spanning 3,400 sq ft approx.
Design team: Interior Designer Mamata Banthia with Quality Manager Guru Vinayak
Livspace service: Full home design
Budget: ₹₹₹₹₹
---
It's been a little while since we came across a home that we can call "stately", but this home fits right in. Nestled in bustling Whitefield, this apartment is perfect for someone who wants to have a social life and still stay aloof. Our client wanted a home that does not feel cluttered and facilitates easy movement.
When Mamata Banthia was assigned as the design magician for this one, she was elated because she had a huge space to play around with and the clients were open to innovative ideas. Filled with delightful colours and well thought-out designs, this home is a treat for sore eyes. Oh, and did we tell you? This home features a casual living area with sofas imported all the way from Spain. Read on to know more..
A Luxurious Living Area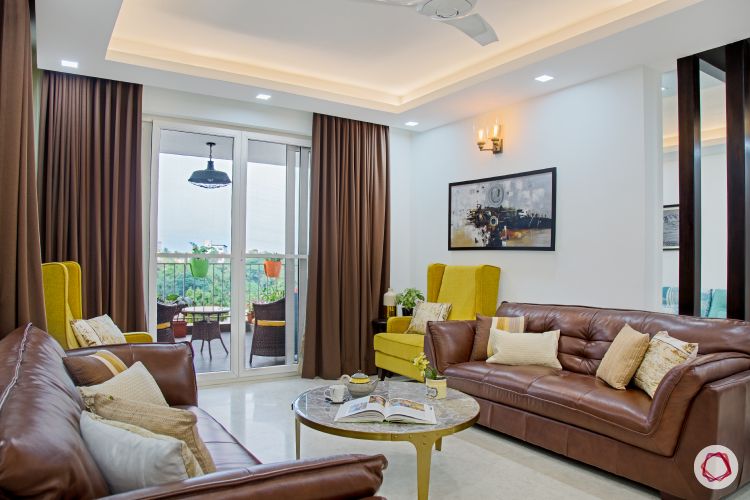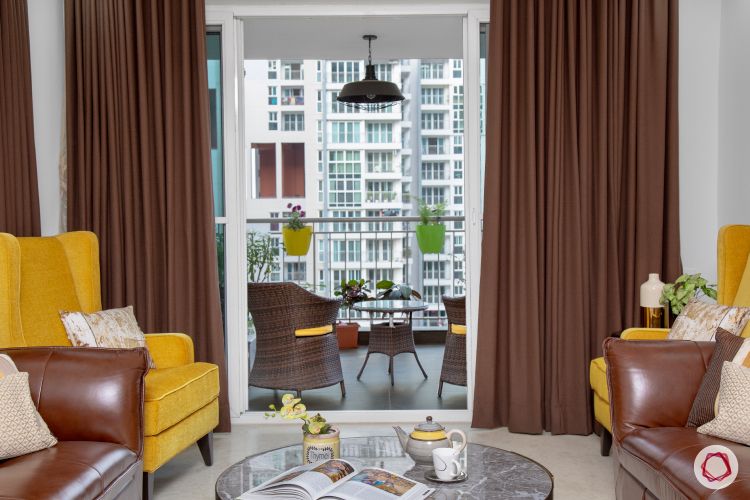 The first thing you see when you enter this lavish apartment, is the formal living area that is designed with modern sensibilities. Plush leather sofas, retained by the client, are the focus in this room. Mamata had to design around the sofas and she did so perfectly by adding two mustard high-back accent chairs that complement the sofas and the theme of this space.
Lovely Wooden False Ceilings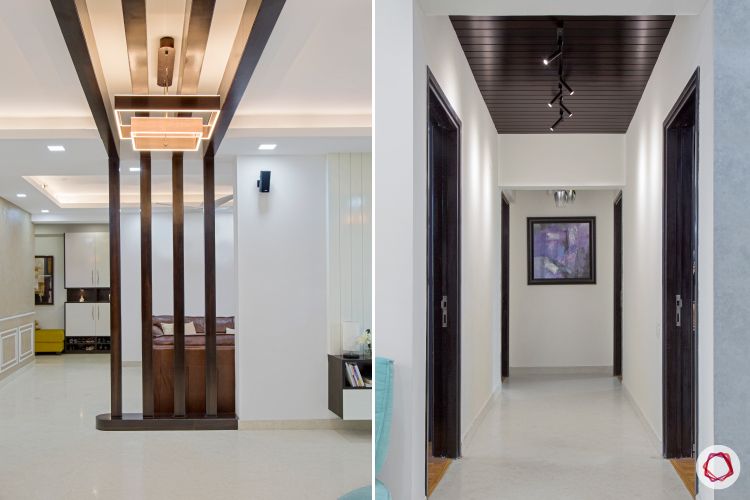 A striking feature of this home is the amazing false ceiling work that Mamata had envisioned and executed with perfection. These lovely ceiling designs are made of high quality veneer. In the living room, you can see rafters that run from the floor all the way up to the ceiling in continuation. The passageway on the other hand, has slats that create a block with minimal track lights to light up the way!
Moving On to More Colourful Things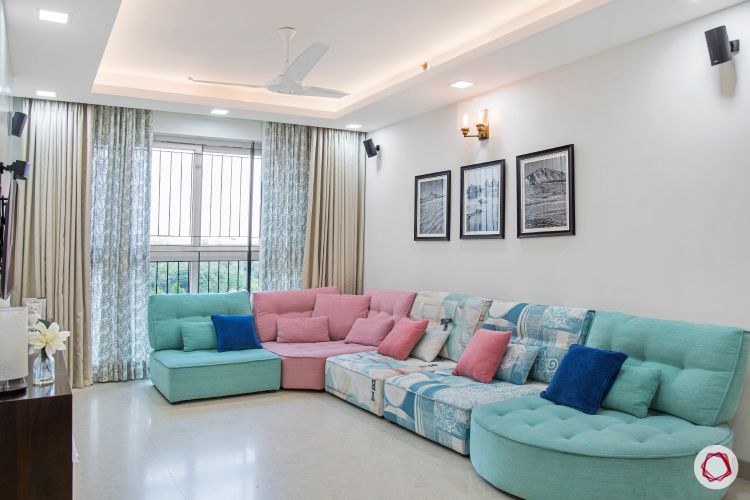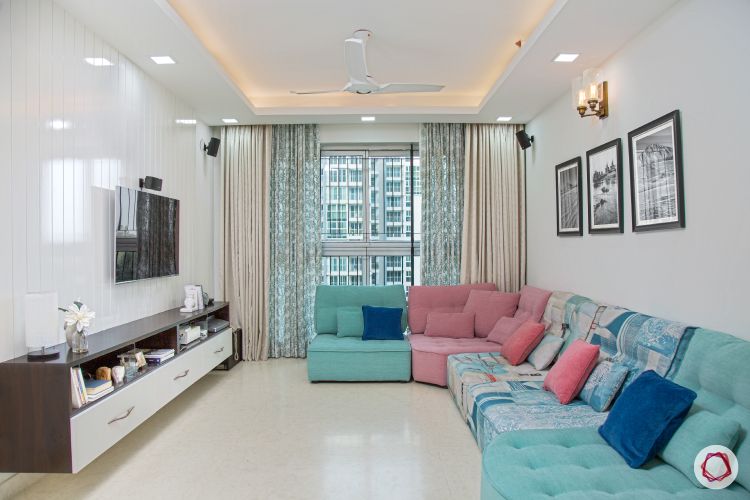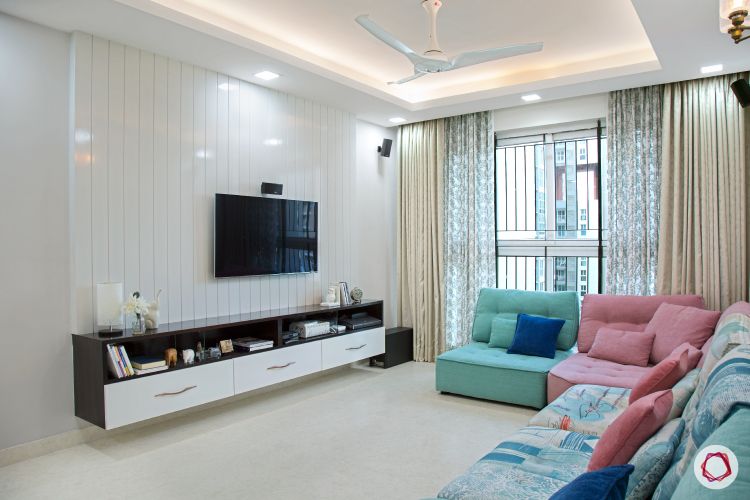 The casual seating area is more of a family room that the clients use to lounge around and we have fallen in love with the colourful sofas that are imported all the way from Spain. This exquisite piece of furniture has a wonderful interplay of solid colours and prints, and is cosy enough to sink right into. For the rest of the room, Mamata has kept a minimal theme going, with a wall-mounted TV unit and the duco finished wall behind the TV, which is the highlight here.

A Classy Dining Room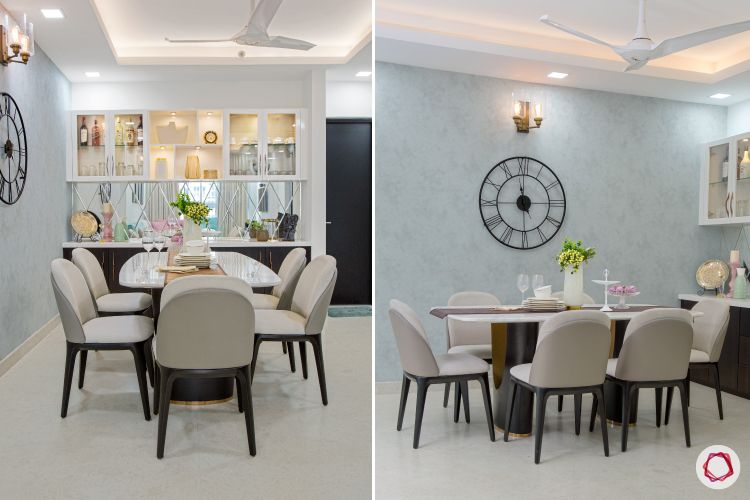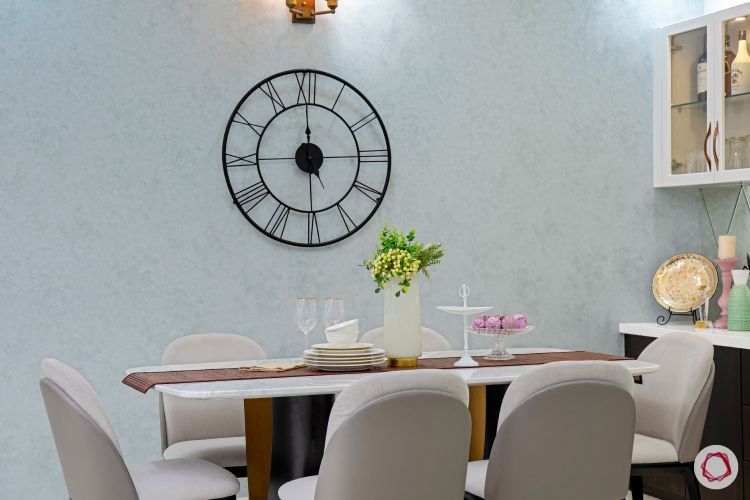 There are a few things about this dining room that catch our attention the moment we step into it. If you notice the crockery unit carefully, you will see a splendid diamond cut mirror backsplash that infuses this room with an unmatched elegance. A combination of opaque and glass cabinets ensure that the family can store their cutlery and put their exclusive china and items up on display. The dining table and chairs are simple, with the giant wall clock creating an impact here!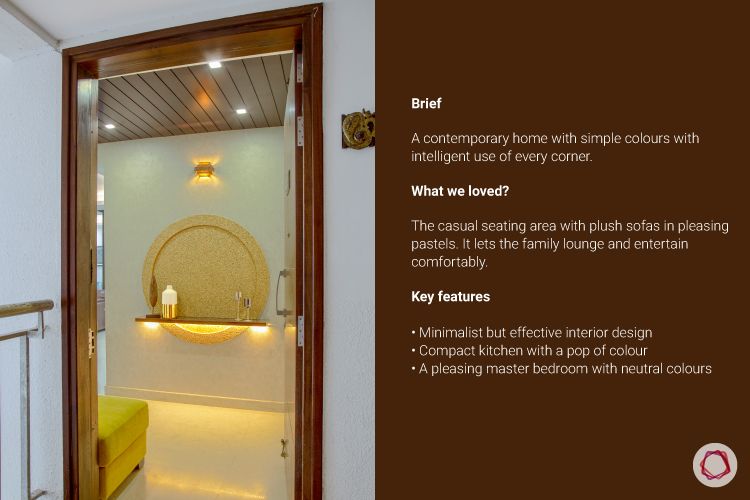 Compact with a Pop of Colour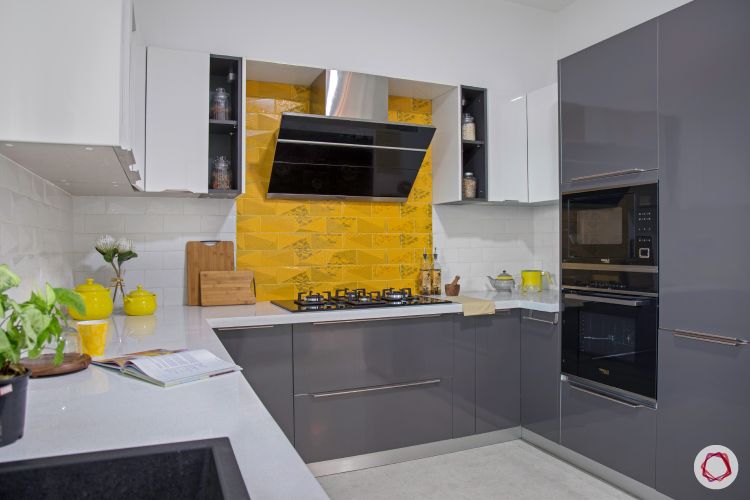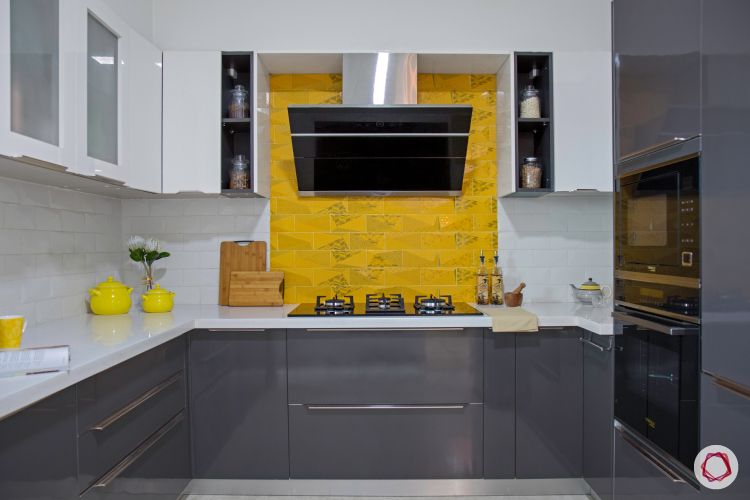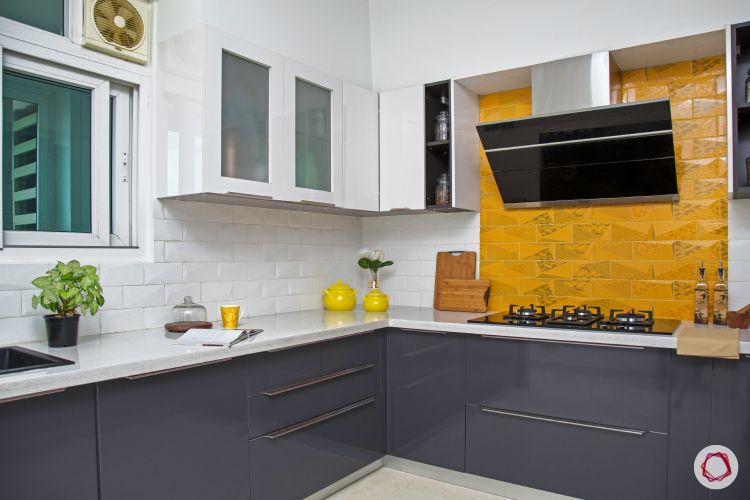 The modular kitchen in this 4BHK is a functional zone with all the things that a kitchen should have. While Mamata gave them neutral colours for the cabinets, she made sure there's a cheery pop of colour on one of the walls. The backsplash in the hob area enjoys a summery yellow hue, while the rest of it is pristine white. The quartz countertop also makes sure that the kitchen is not very high on maintenance and looks classy at the same time.
A Cool Boy Zone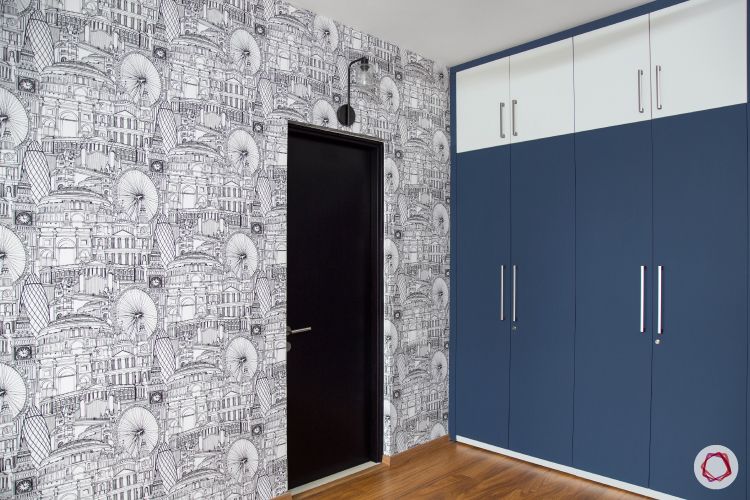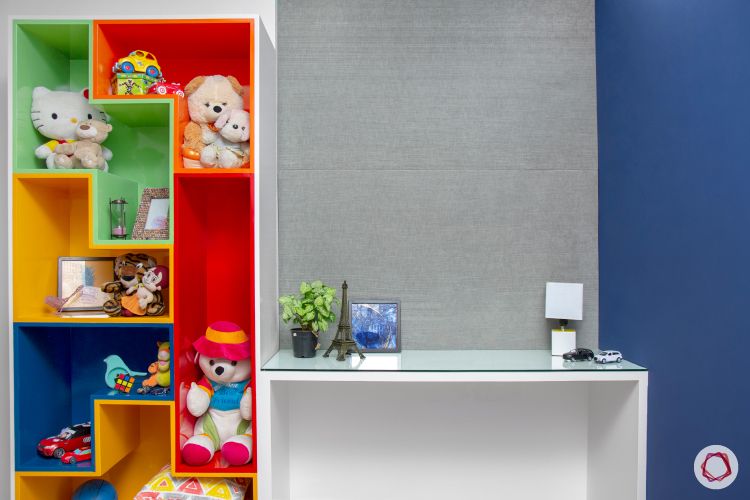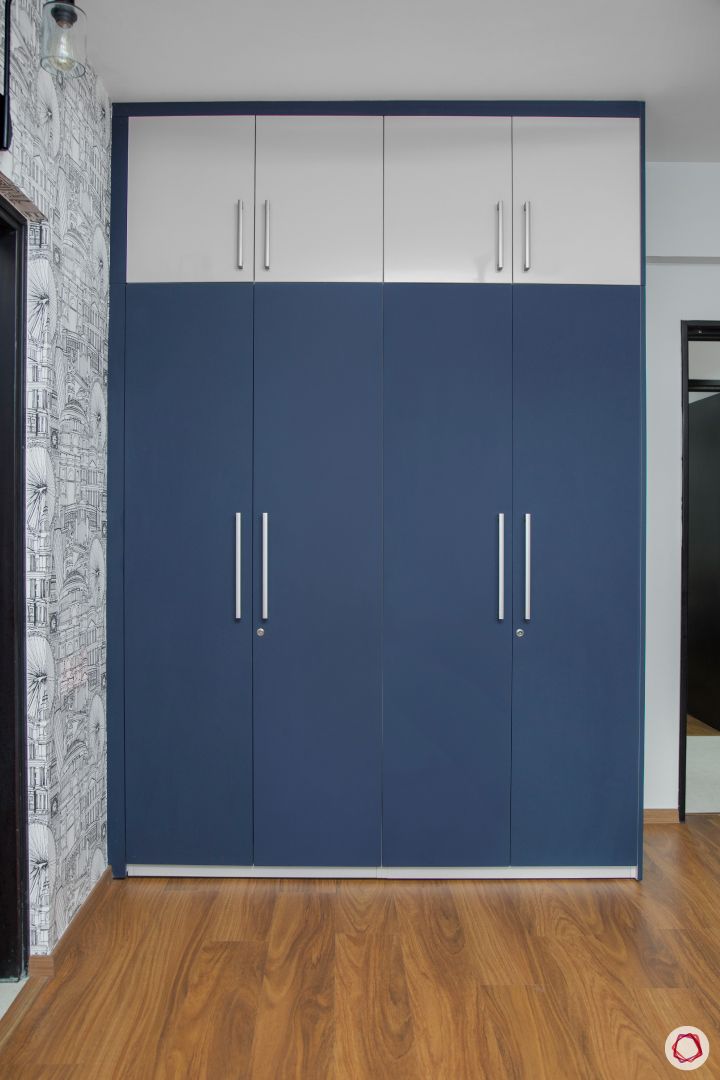 The little boy of this home has a cool blue room that is designed especially for him. While the clients told Mamata to keep the furniture simple, she came up with the idea of giving him a study table that has shelves designed like tetris — a building block game that most of us have played during childhood. The doodle-like wallpaper is another interesting element in this room.
A Flowery Girls' Room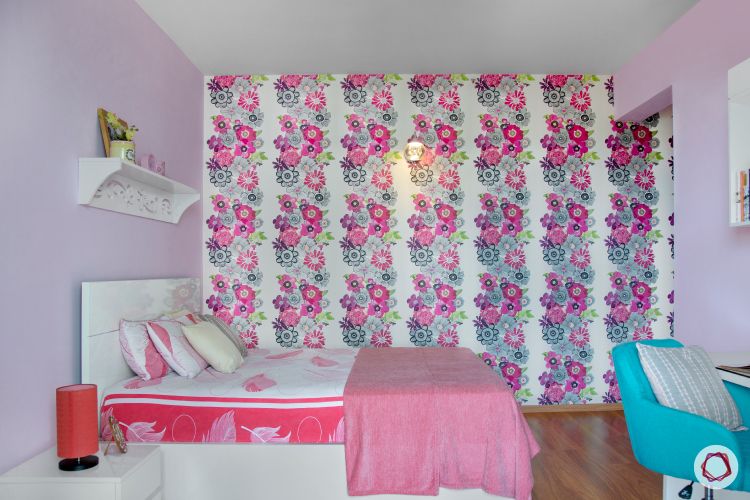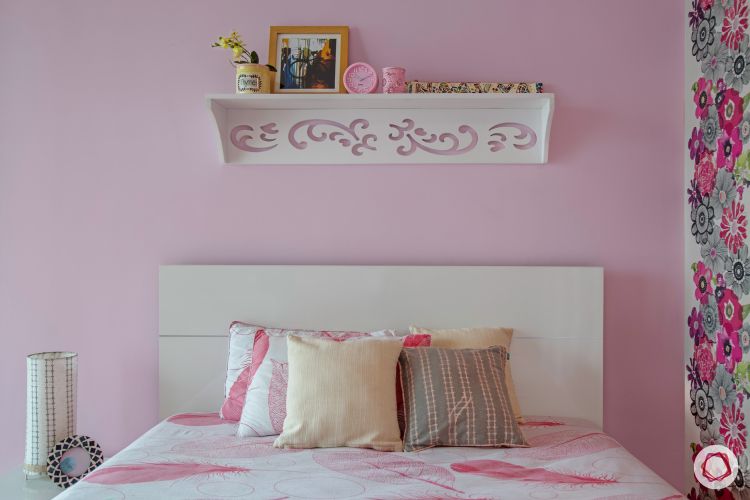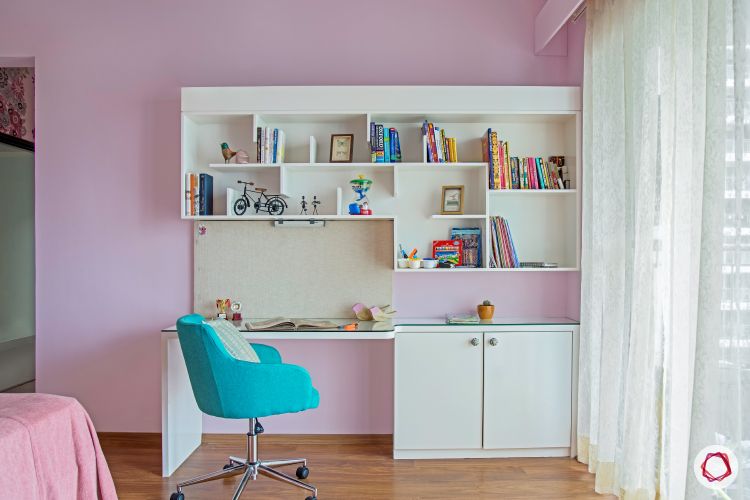 Their daughter's room has a delicious pink and white colour scheme. One thing that Mamata kept in mind was, that as the little angel grows up, so will her tastes and preferences. So, she gave this room elements that are flexible to change over time. For example, the flowery wallpaper, picked up by the daughter herself, can be replaced whenever they want. The ledge above the bed also has a lovely carving on it and can hold little trinkets. Also, notice how the study unit has a cabinet for toys and open shelves for keeping books.
A Classic Master Bedroom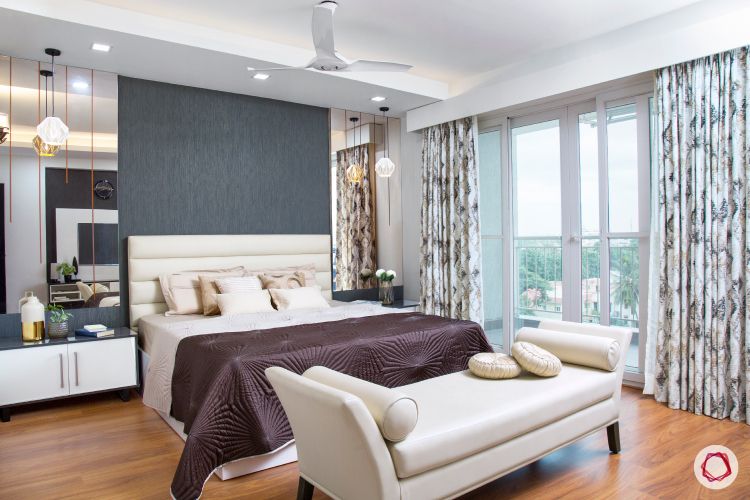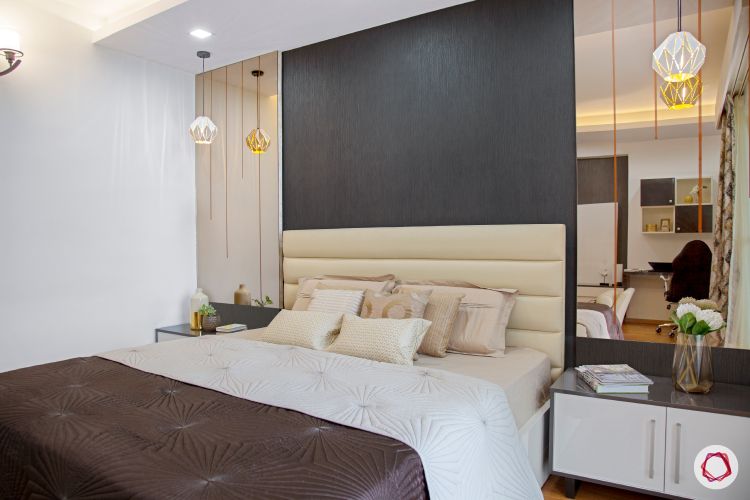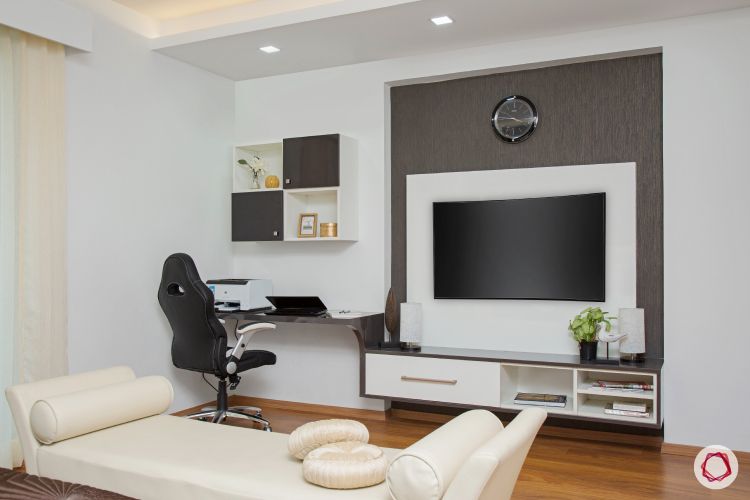 The master bedroom is a stately space, with a neutral colour palette that makes it look classy and elegant. The highlights of this room are the dark grey accent colours on walls that sit opposite to each other and the mirrors on either side of the bed. If you notice carefully, you will see bronze trims on the mirrors that add a nice touch to it. There are little details here that are worth highlighting, like the upholstered bench that sits in between the TV wall and the bed. It breaks the empty space smartly. Also, the tiny study area is perfect for times when you want to work from home.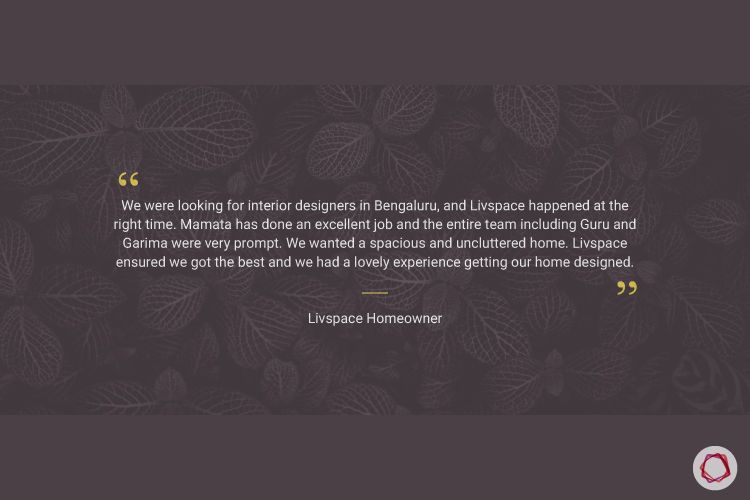 ---
"These clients were very receptive to new ideas and had some amazing design ideas up their sleeves. They knew what they wanted and it was amazing to work for them. I could experiment a lot and use my creativity to design this home. I love how it looks!"

– Mamata Banthia, Interior Designer, Livspace

---
If you loved taking a tour of this home, then you should find out Why We Love This 2BHK (And you Should, Too!) Apartments interior designers are just a call away for you! Click on the image below.
Send in your comments and suggestions.