Beautiful home interiors for this spacious 3BHK in Gurgaon.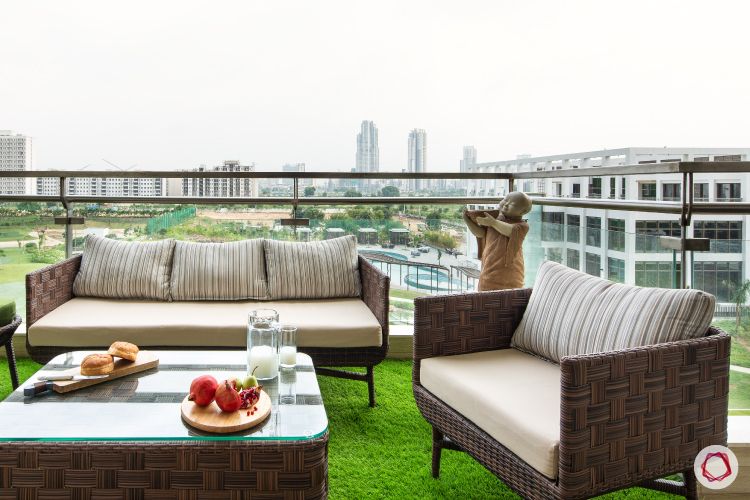 ---
Who livs here: Manish Sehgal with his wife Shubhra and their children, Tushar and Shreya
Location: M3M Golf Estate, Golf Course Extension Road, Gurgaon
Size of home: A 4BHK spanning 4,000 sq ft approx.
Design team: Interior Designer Bhawna Kalra and Project Manager Chandan Gaurav
Livspace service: Full home design
Budget: ₹₹₹₹₹
---
Imagine if a spacious home and glamorous modern design had a love child, it would look a little something like this brilliant 3BHK that belongs to Manish and Shubhra Sehgal. This working couple wanted to move in to a bigger home and that's when they decided to get in touch with Livspace. A very social duo, they wanted their home to exude a warm and welcoming vibe where they could host their friends and family on a regular basis.
Pairing subtle colours with hints of glam, Livspace designer Bhawna Kalra ticked all the boxes. While interacting with the family and getting their brief, she gathered that they despise loud and blingy colours. Therefore, she worked around neutral colours and added a splash of colour through furnishings that they can change over time. Do not miss the pretty balcony that overlooks the sprawling golf course and is the centre of all the activity over weekends!
Beautiful Home Interiors: Welcome Home to Luxury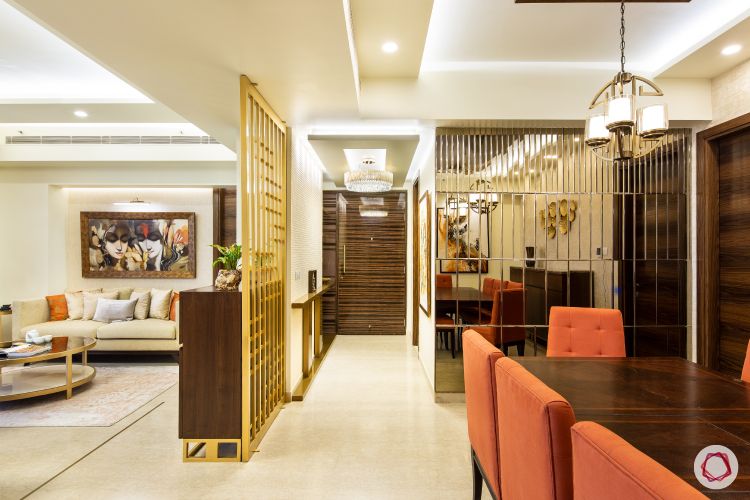 We totally crush on homes that have a well-decorated foyer. Sometimes a statement painting and a sleek console table are just the ingredients that you need to make an impression. Bhawna suggested this round chandelier to illuminate and highlight the elements in this entryway. She has also given a gold-painted jaali as an extension to the wall that acts as a separator between the entrance and the living area. This is just a prelude to the beautiful home interiors that lie beyond.
Beautiful Home Interiors: A Hint of Shimmer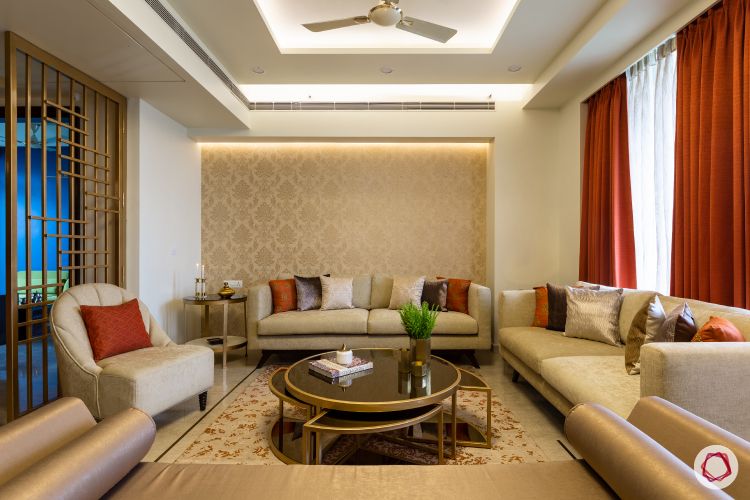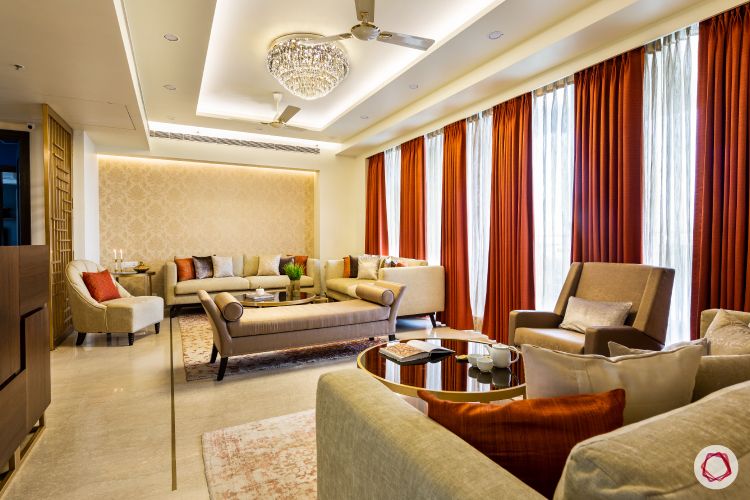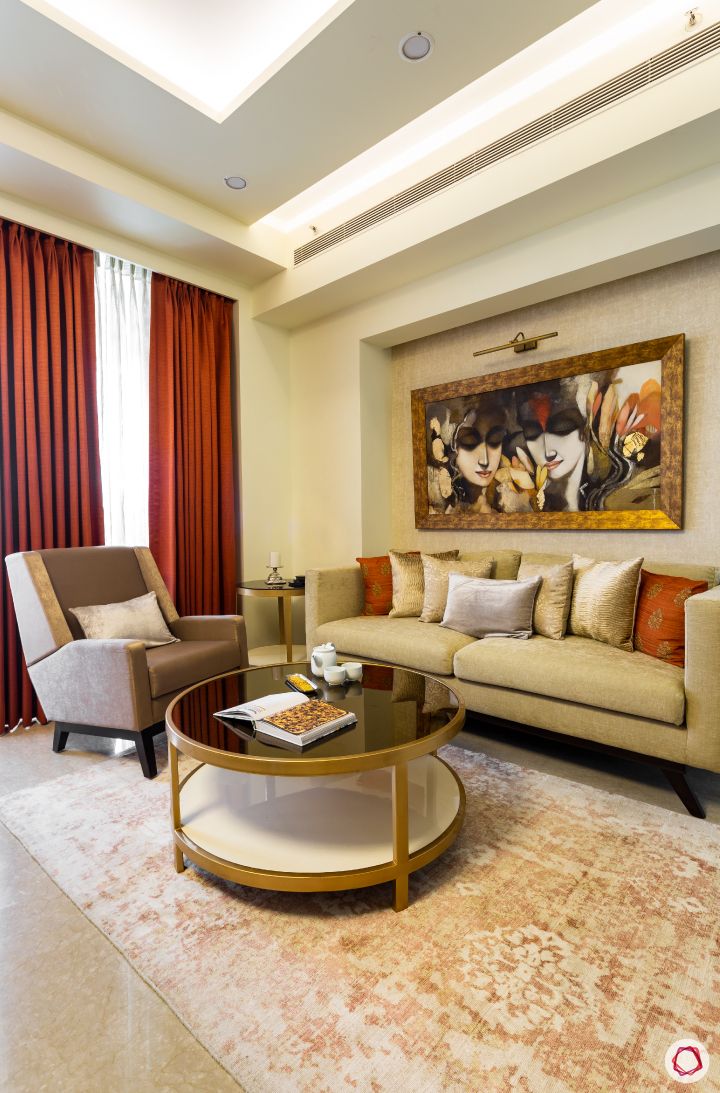 Take a moment to appreciate this beautiful home interiors. This huge space has been divided into two parts: formal seating and a more compact casual seating area. The larger space is occupied by the family when they have get-togethers, while the compact seating is where the family sits with each other. Bhawna has intelligently given them nestled tables in the centre, so that they every guest has easy access to it.
Talking about the colour scheme and the finishes used in here, the sofas sport a rich fabric in neutral beige, while the bench that divides the two areas is upholstered in a subtle shimmer fabric. Bhawna has followed a rust orange and beige theme here, with hints of glitter for company. Notice the Radha-krishna painting on the wall? Well that too was picked up by the family along with the designer.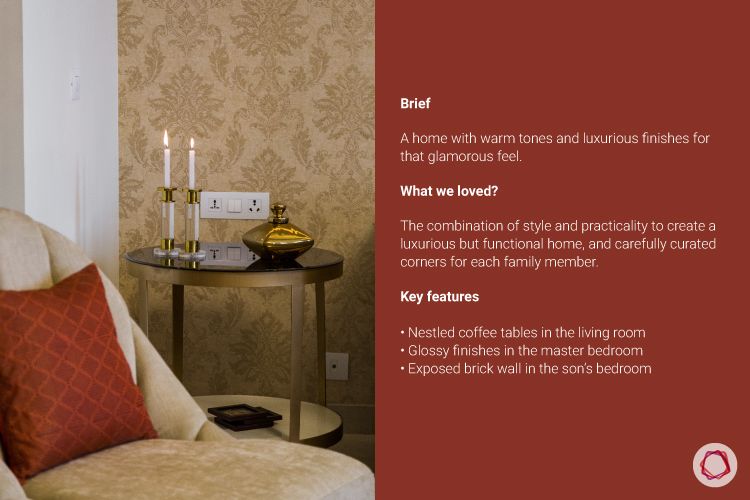 Beautiful Home Interiors: Tangerine Times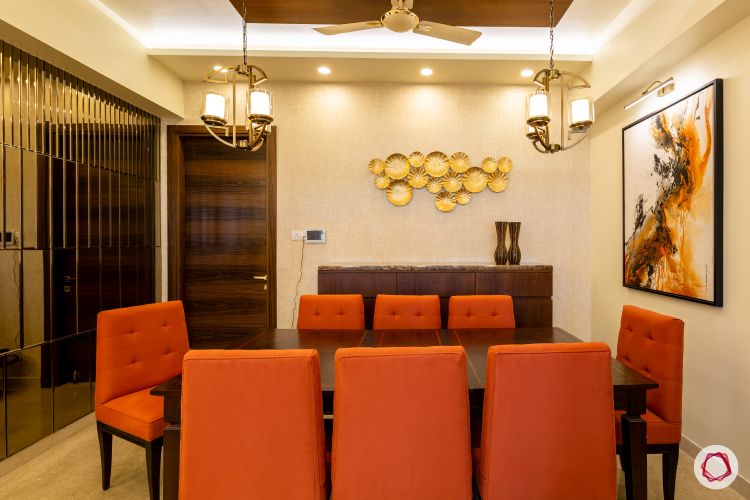 Both, Manish and Shubhra wanted an eight-seater dining table because they love engaging in conversations over meals. We love the splash of rust orange on the plush tufted dining chairs. The mirror wall enlarges the space visually, while the stone top crockery unit takes care of storage. The warm vibe of this space is enhanced by the metal wall installation above the crockery unit. This dining room adds to the beautiful home interiors amazingly!
Beautiful Home Interiors: The Sprawling Balcony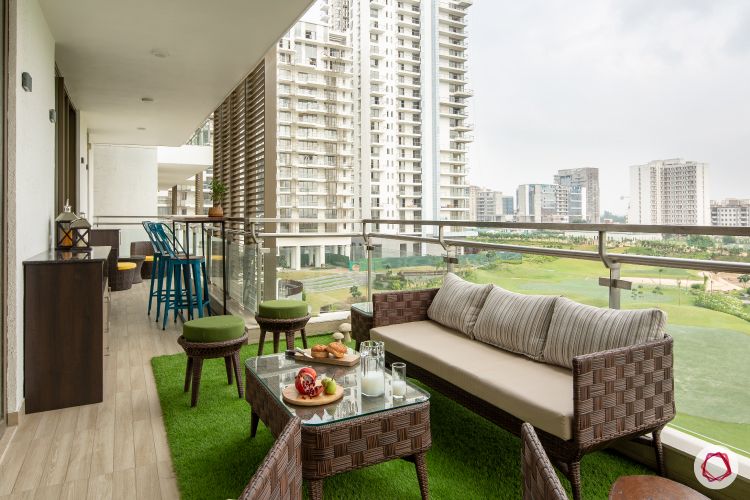 Welcome to the party zone of this luxe house. When you enjoy such a stunning view from your balcony, it's only natural to spend most of your leisure time here. This is where all the action takes place while this couple is entertaining guests. The bar stools offer a great view of the lush green golf course, while the grass carpet feels like an extension to it. This is how Livspace enhances beautiful home interiors!
Beautiful Home Interiors: Neat and Functional Kitchen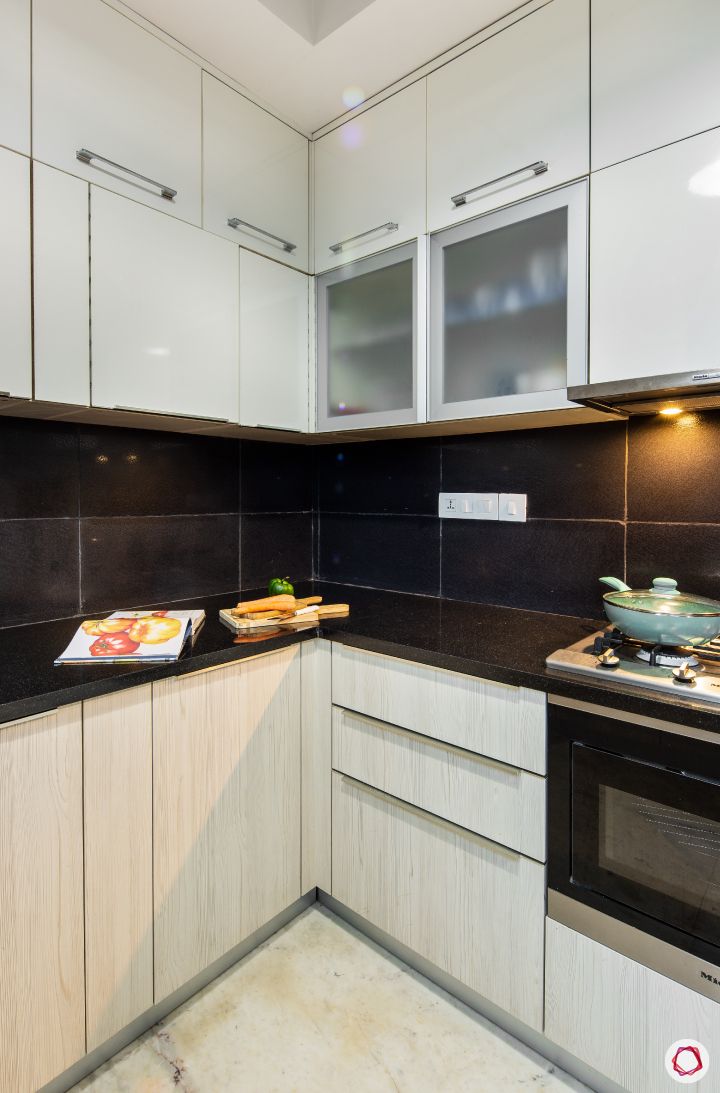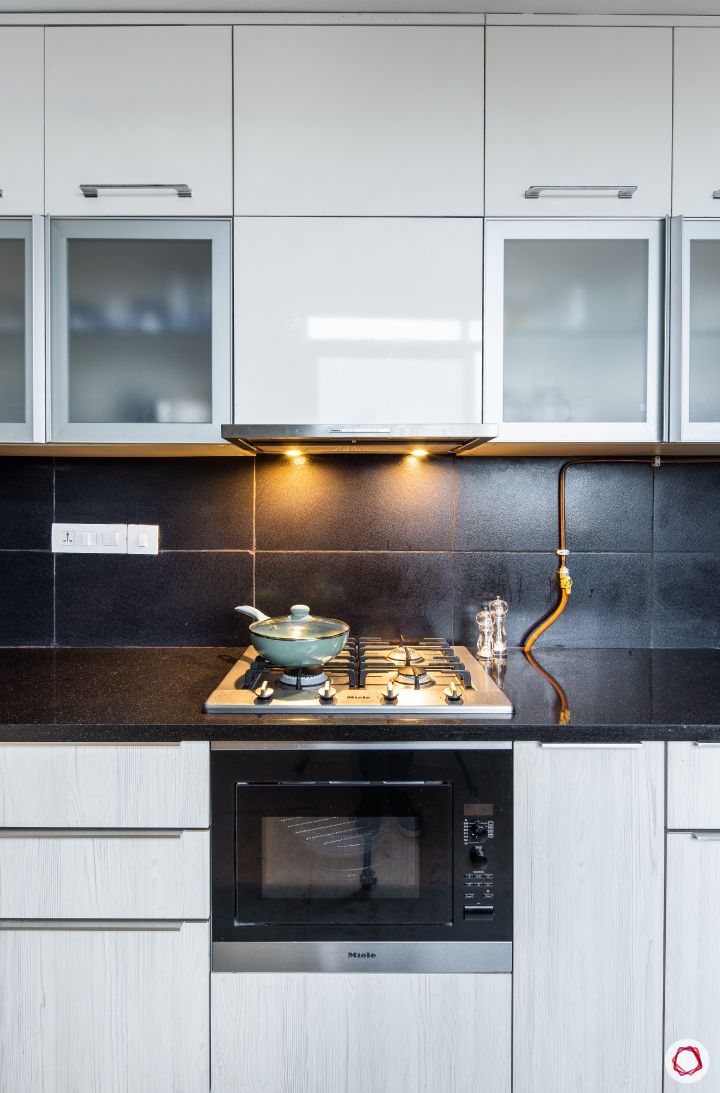 Although the kitchen was given by the builders, Bhawna suggested that they get lofts installed on top. This was solely to facilitate storage and Bhawna made sure that she gave them the same finish so that it looks like a part of the existing cabinets.
---
"We went ahead with Livspace because we heard and read a lot of good reviews about it. We moved to this home because we wanted a larger space to ourselves. I was clear that I did not want any loud colours and the home should be able to accommodate my guests for get-togethers. Bhawna has done an excellent job and we love how our new home looks. We will definitely recommend Livspace to everyone!"

-Manish Sehgal, Livspace Homeowner
Beautiful Home Interiors: Entertainment, entertainment, entertainment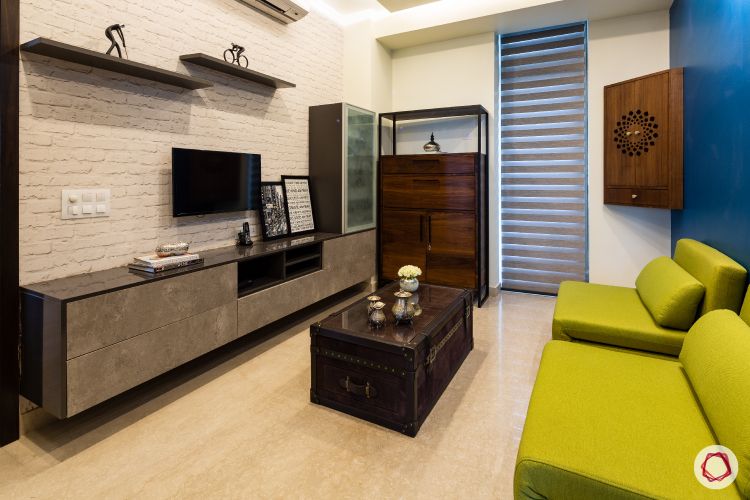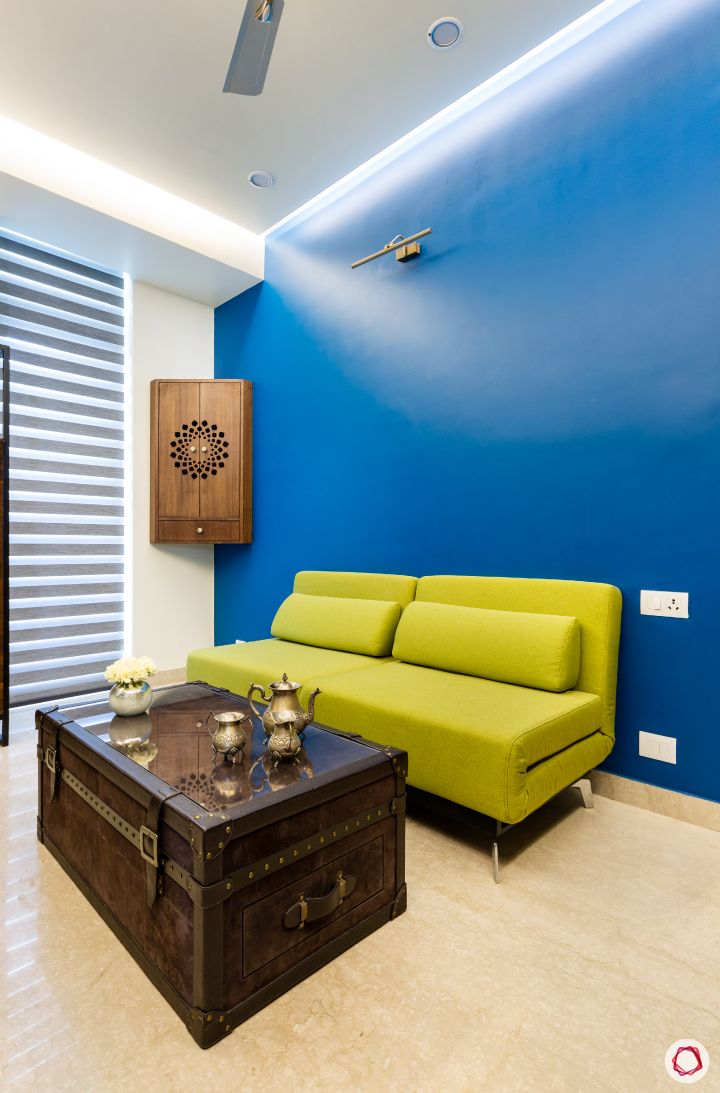 This is one multi-purpose room at home. This is where the family spends time watching television or just relaxing on a regular day. The pop colour sofa sits pretty in front of the blue wall and paints such a happy picture in the beautiful home interiors. A wall-mounted pooja unit also finds its space in this room. The TV unit and the wall behind it are sporting an industrial look, with stone finish cabinets and exposed brick wallpaper.
Beautiful Home Interiors: Comfort Marries Luxury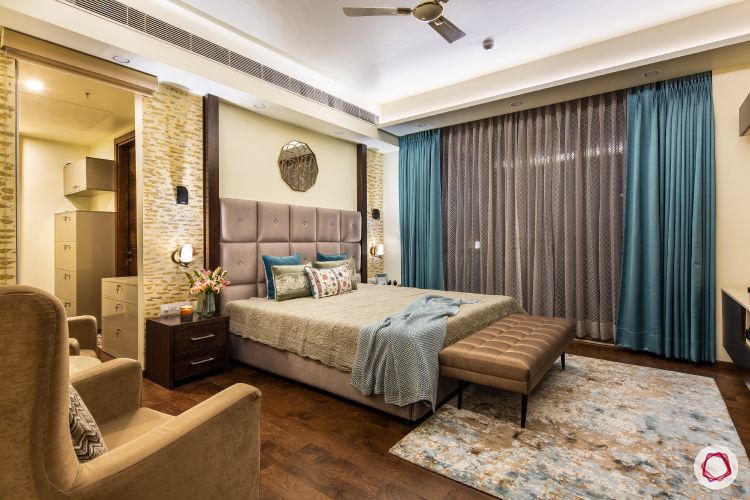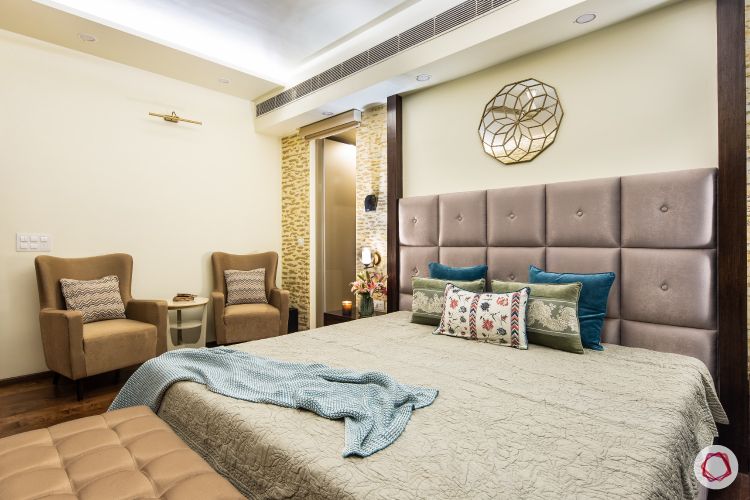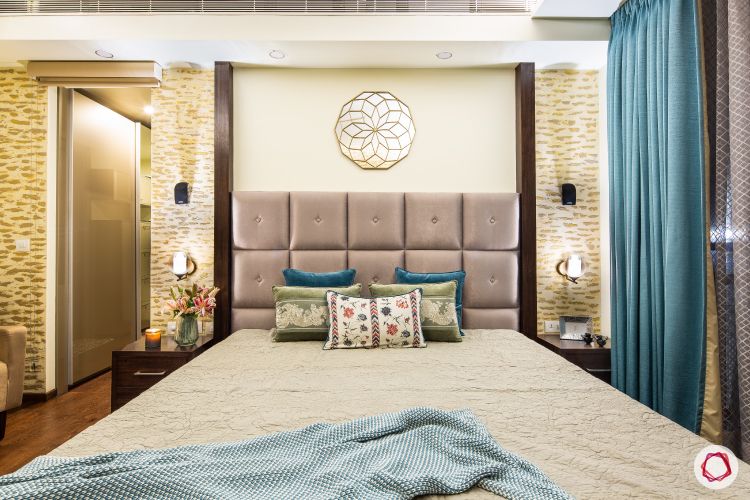 The master bedroom is like the cherry on the cake in these beautiful home interiors. This space has everything that a couple needs. A place to relax, accent chairs to lounge in, a walk-in wardrobe and a storage-filled TV unit. Bhawna has given this room a very glamorous look, with glossy finishes and a statement wallpaper. Since Manish loves being super organised, all the cabinets in the TV unit are dedicated to his books and paperwork. We love the spacious layout of this room.
Beautiful Home Interiors: A Stunning Bedroom for the Daughter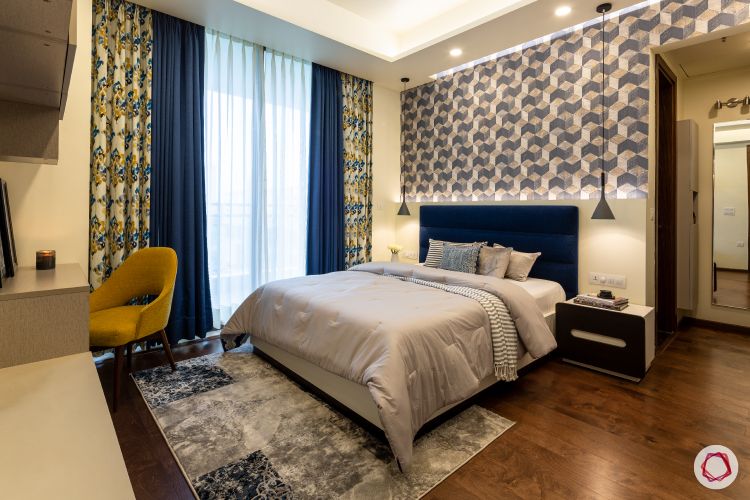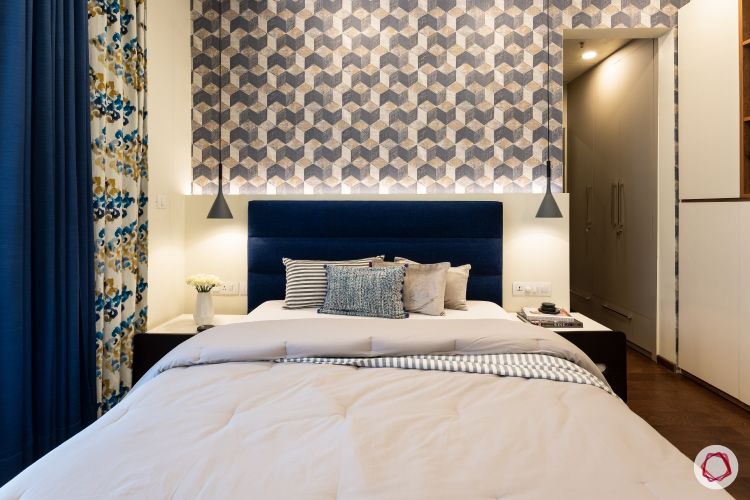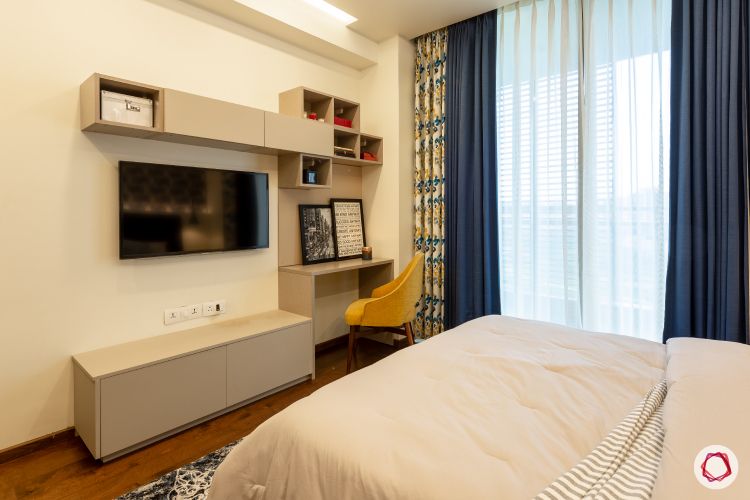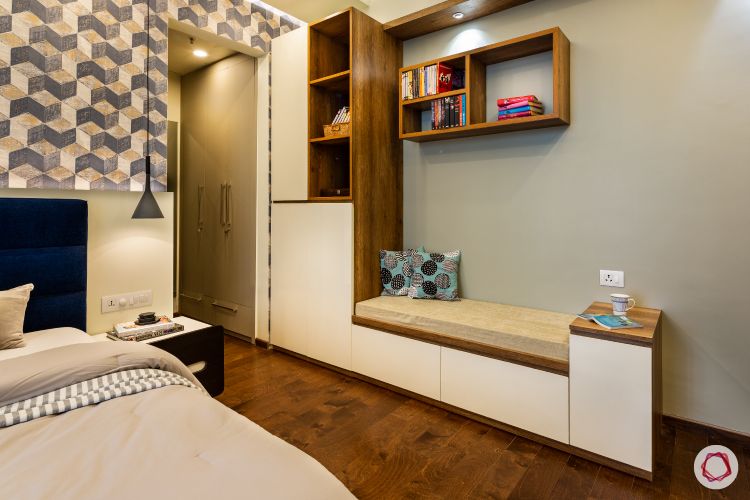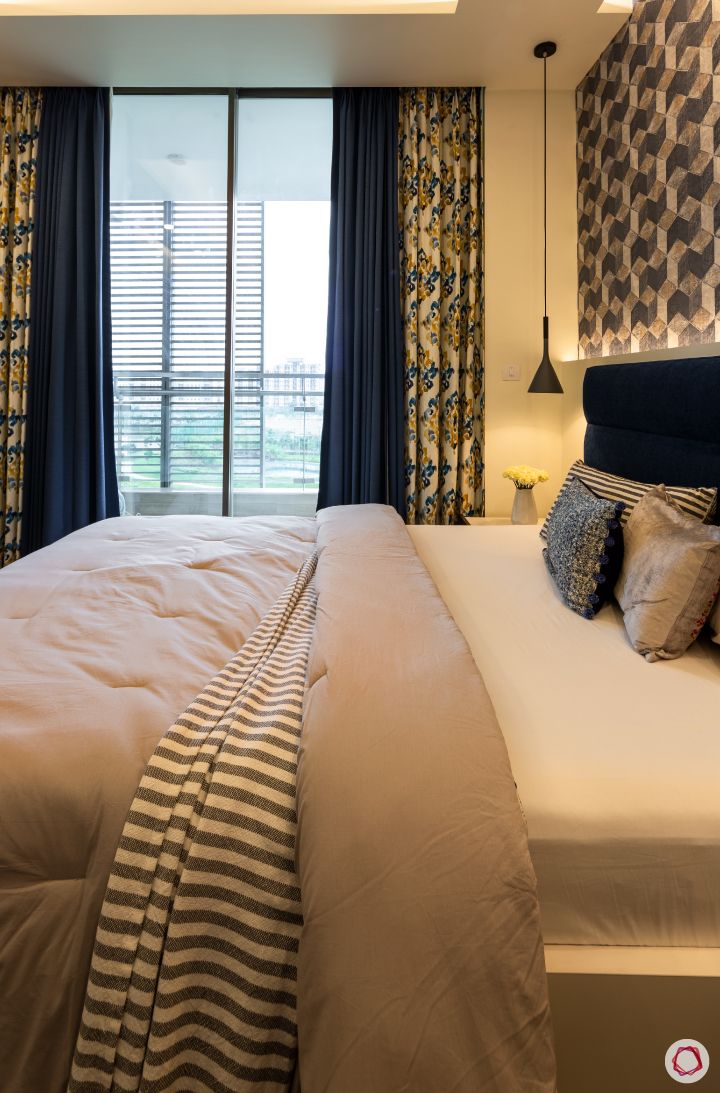 From the moment Bhawna interacted with Shreya, she was clear about not having pink in her room. She was very keen on blue and that's when Bhawna started conceptualising her room. This room blends in with the beautiful home interiors in a way that we envy it. The avid reader wanted her own reading nook in the room and luckily there was enough room to accommodate that. The TV unit-cum-study is sleek packs a punch!
Beautiful Home Interiors: Going Industrial in the Son's Bedroom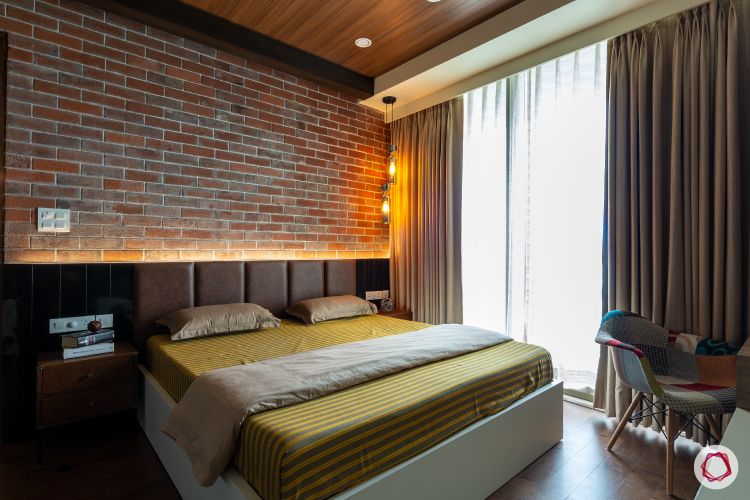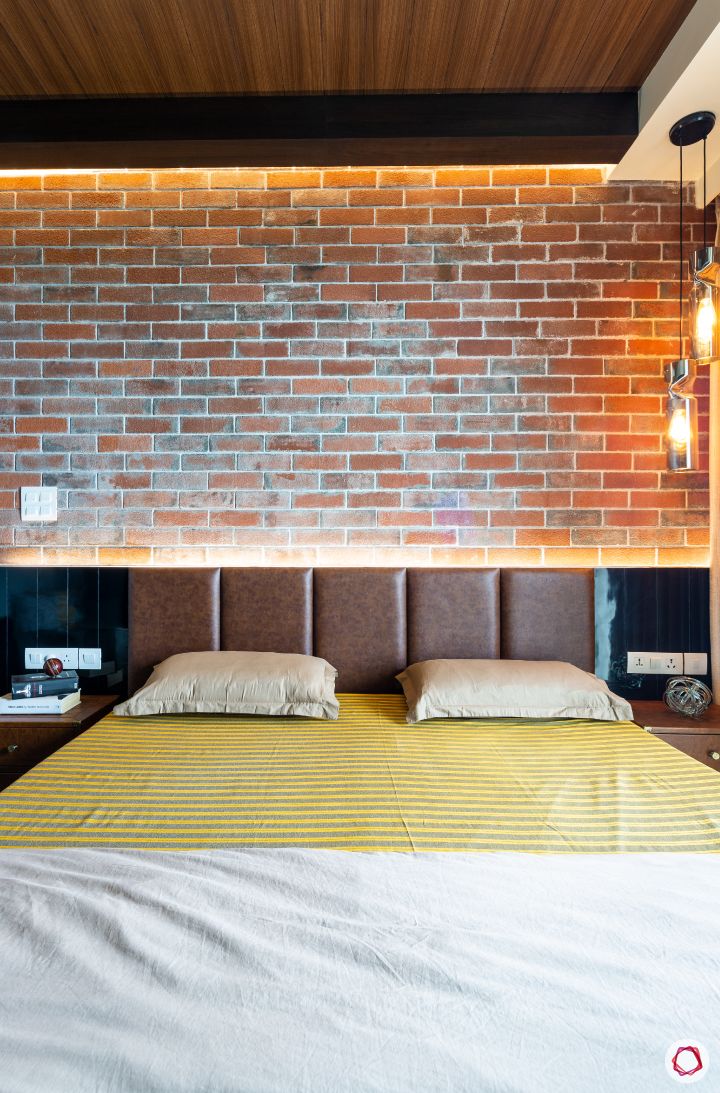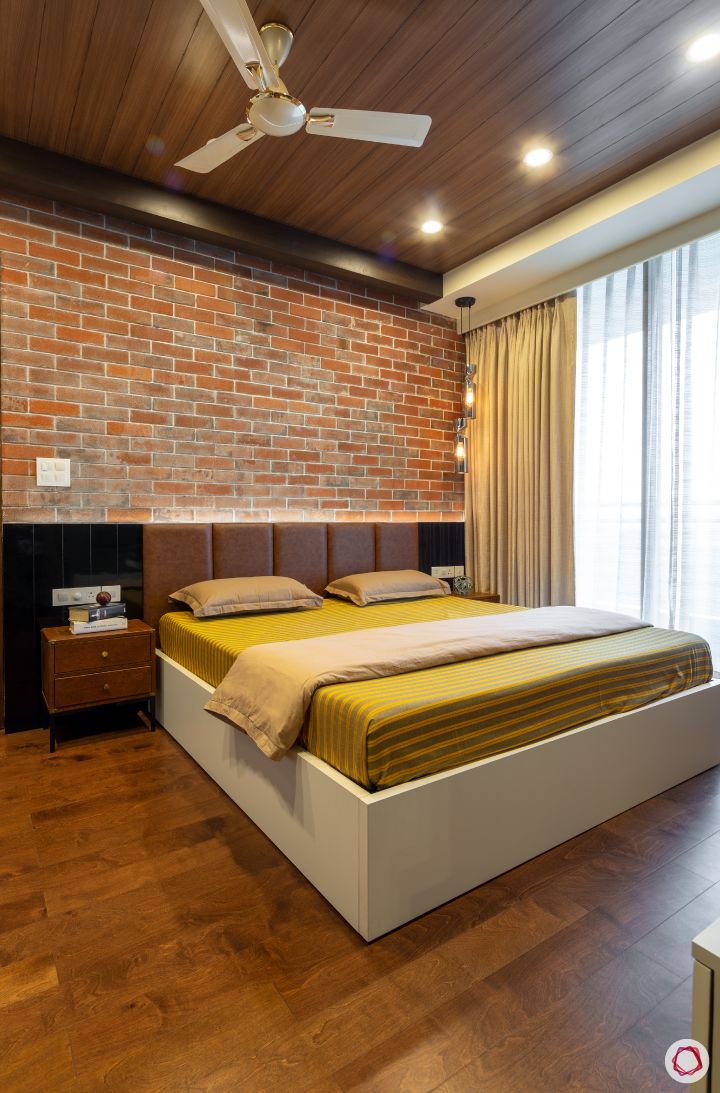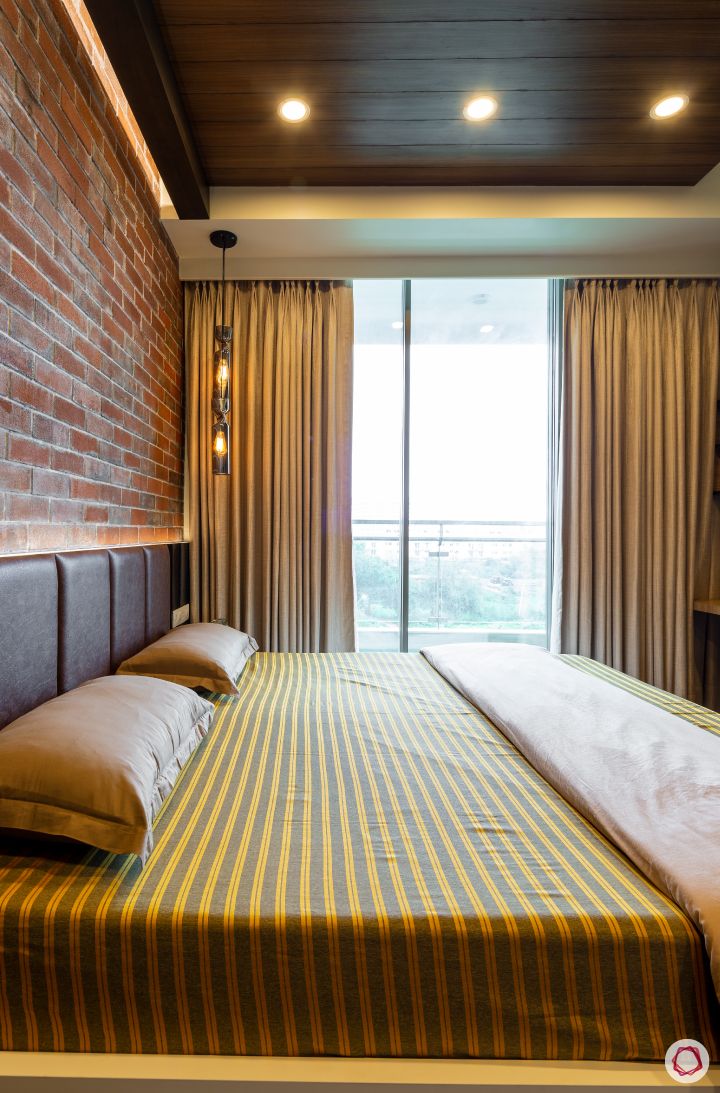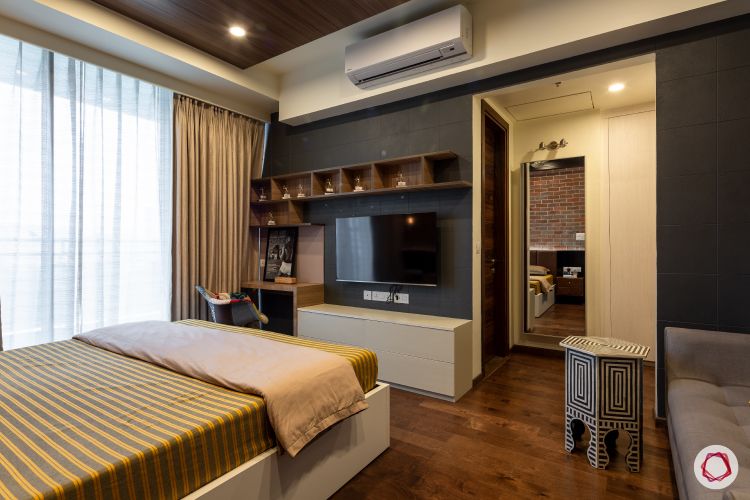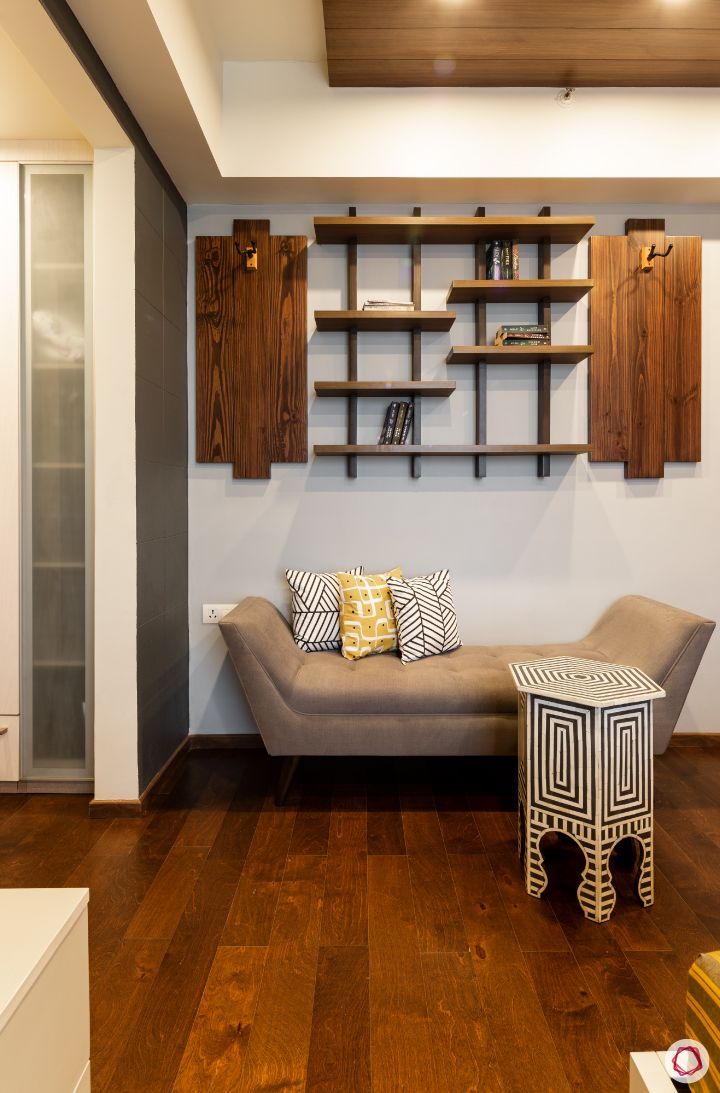 There are more than one element in this room that deserve special mention. Let us start with the most obvious elements, the exposed brick wall — something that Tushar always wanted in his room. It is customised to look completely rustic. Moving on to the theme of the bedroom, it is very industrial with dark colours overpowering the lighter ones. The TV unit wall flaunts a dark grey stone finish with a sleek TV unit and an attached study.
Do you notice the cozy seating corner on one side? Well that's where Tushar spends his time reading when he has the time. He also plays the guitar and his beloved babies have their own spot on the wall above the bench.
---
"It was very exciting to work for the Sehgal family. From the word go they were clear about the colours and feel that they wanted at home. Every member of the family knew the sort of design they wanted for their room. I loved designing their home and the final outcome is amazing!"

-Bhawna Kalra, Interior Designer, Livspace
If this statement home floored you, then you should definitely Check Out the Pomp & Splendour at this 3BHK in Cleo County!
Also, check out their video here.
Send in your comments and suggestions.