Each month we design homes that are not only pretty but also feature some striking design elements. Our designers love adding that punch to interiors and we thought we could compile the best ones for you right here. From the evergreen jaali divider to a functional breakfast counter, our new homes have it all. Read on to check out the best of statement design elements in the latest Livspace homes.
Modern House Plans Idea #1: A Sunshine Yellow Wall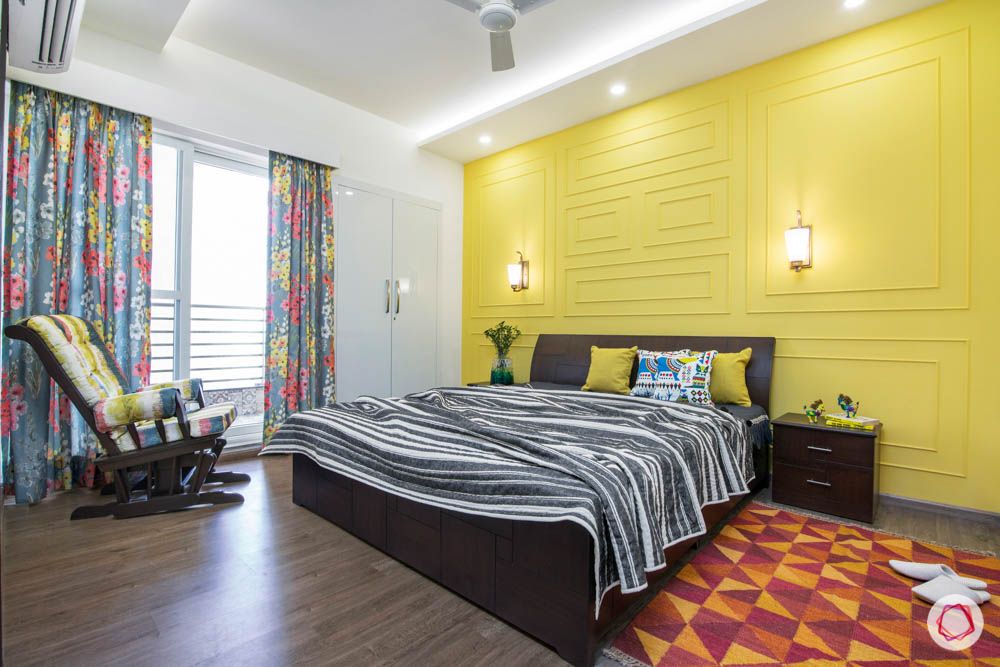 Is this truth or dare? Well, this pretty yellow wall that you see in this bedroom was customised for one of our clients in Noida. If you're someone who loves colourful interiors, you should take a look at this home. Sunny yellow is just what you need to lift your mood after a dull day. Imagine walking into a room that feels like sunshine. Statement wall trims further enhance the look of the wall without looking overpowering.
See full home here.
Modern House Plans Idea #2: Wall-to-ceiling Headboard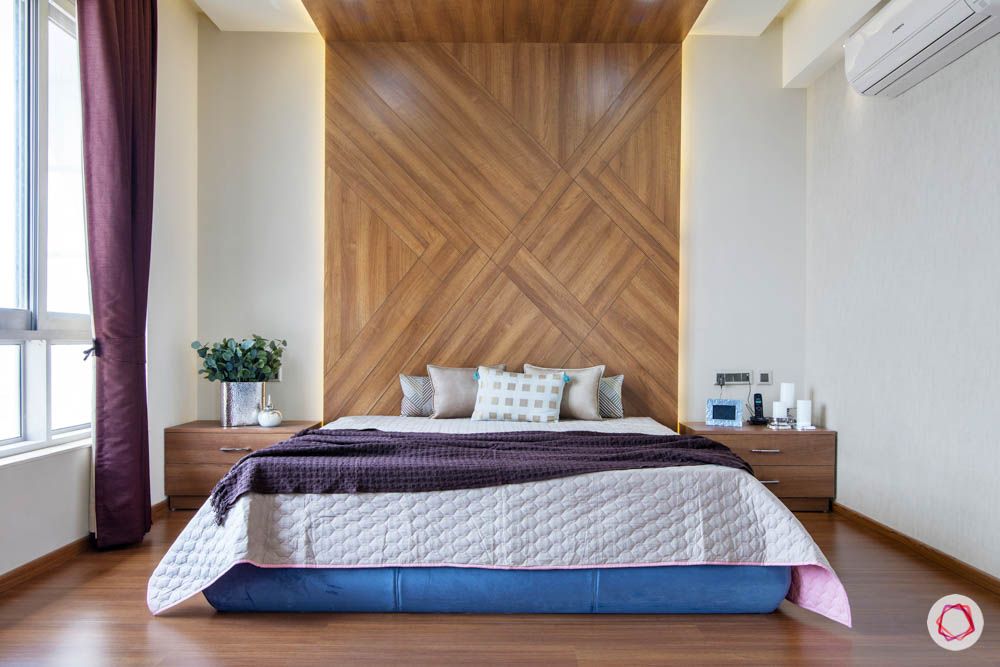 Dramatic headboards are a trend we have been observing for a while. But this one caught our eye because it is understated yet dramatic at the same time. The headboard we see here does not have a splash of colour or heavy patterns. Rather, it is an elegantly textured wooden panel. The drama comes from its structure that extends over to the ceiling like a canopy. Further, the profile lighting around the headboard provides the perfect contouring.
See full home here.
Modern House Plans Idea #3: Exposed Brick Tiles in Kitchen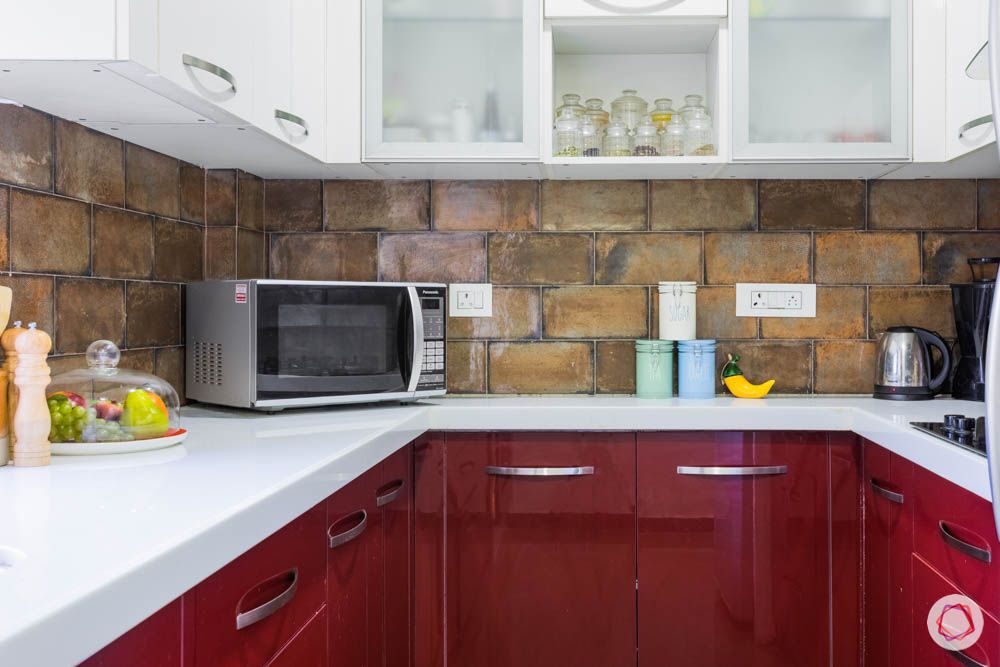 Exposed brick wall is a feature of industrial design, and we keep coming across different versions of it. This particular version is rather unique because you will never guess what this backsplash is made of! It is actually ceramic tiles that have a natural stone finish. We just loved how this backsplash looks raw and real while adding texture to the kitchen. Moreover, it is easy to maintain and much more long-lasting than exposed brick wallpapers!
See full home here.

Modern House Plans Idea #4: Stunning Jaali Divider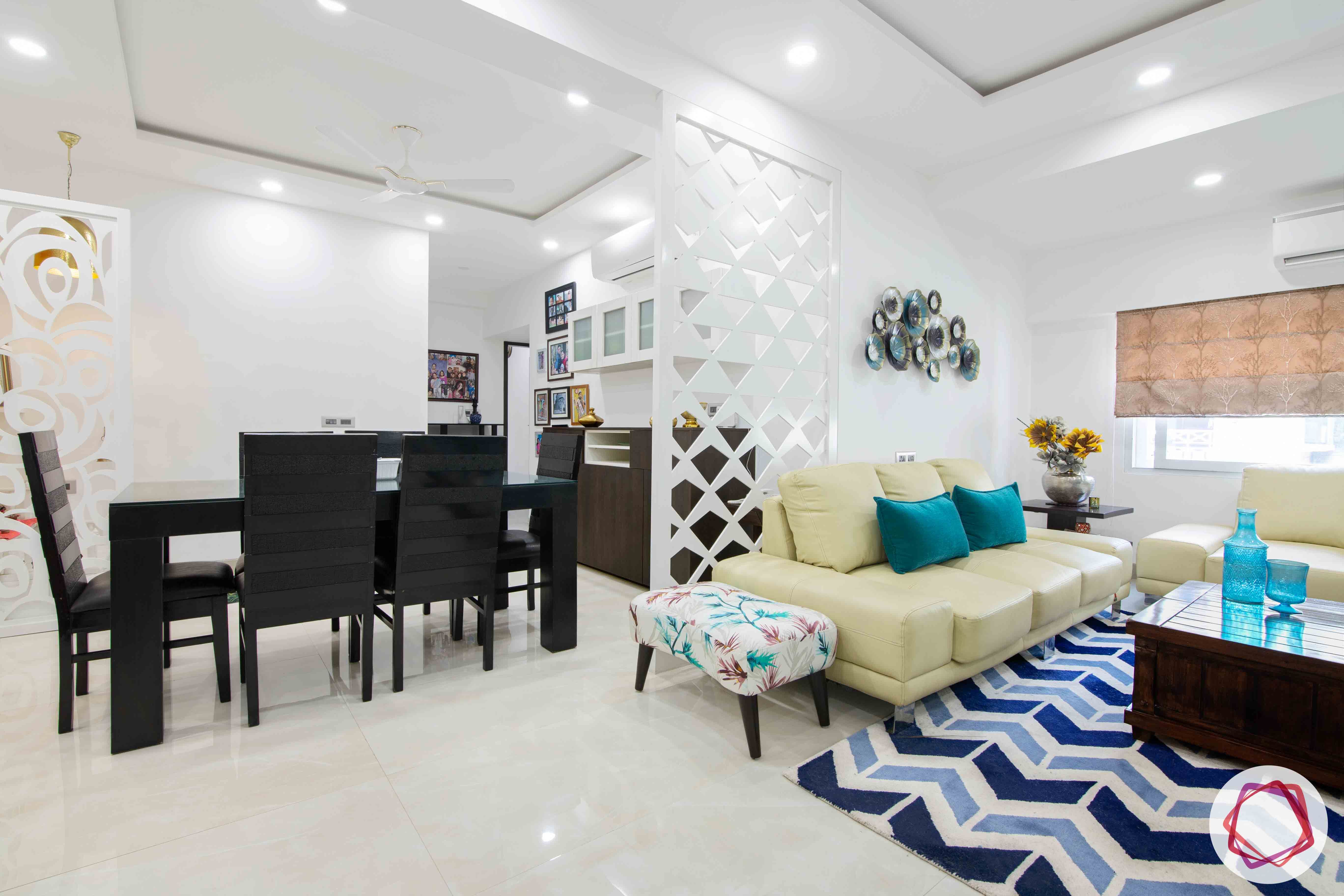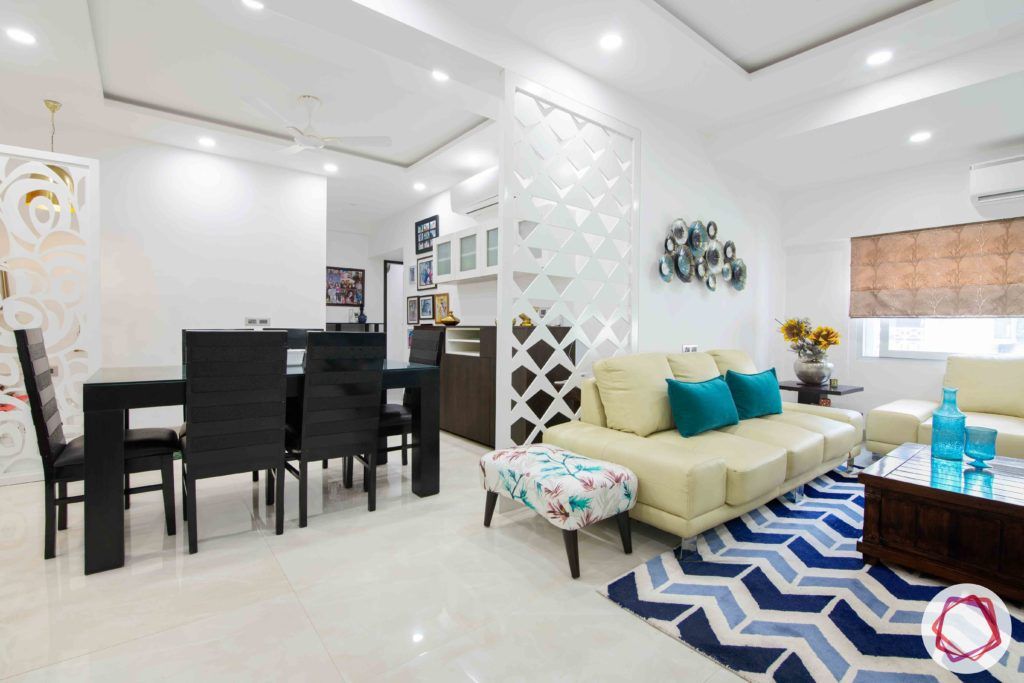 We often get asked, how can we separate the living room and dining room without constructing a wall? Our answer is always jaali. Pattern jaali is the most elegant way to separate parts of any room not only a living room. Here, we have added a geometric lattice jali to separate the two and a pattern jaali is used to make an efficient pooja room in the corner.
See full home here.
Modern House Plans Idea #5: Breakfast Bar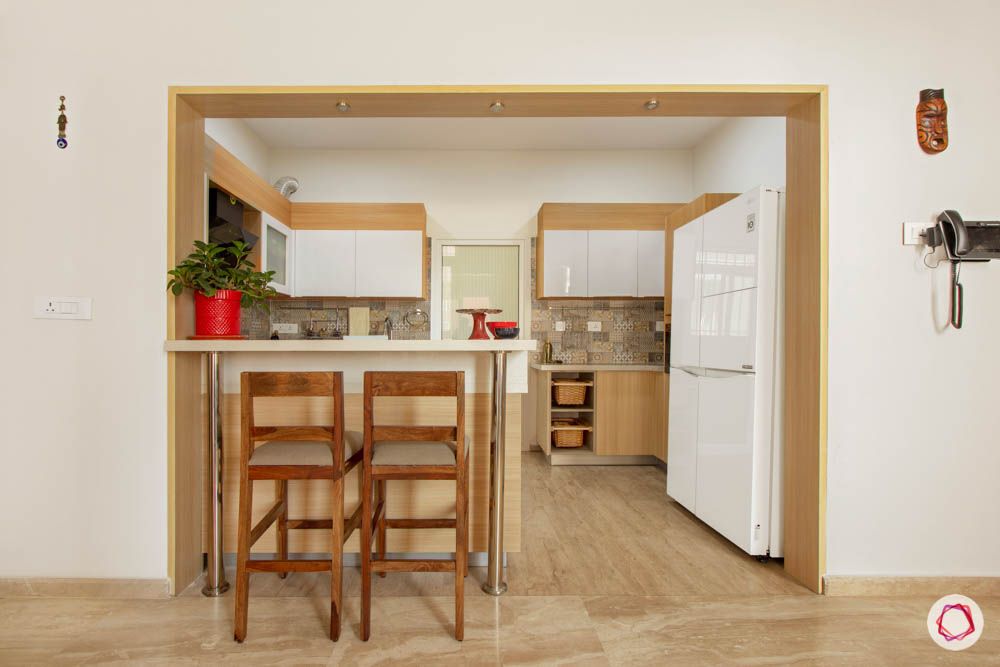 We love a good breakfast bar for the mornings we have to grab a quick bite to eat. A breakfast bar is perfect to hide kitchen clutter as it is raised above the counter. It is a great place to read the newspaper while you drink a cup of coffee or send out emails while eating a meal. This one in white with two wood finish chairs is giving us all sorts of summer vibes.
See full home here.
Bonus: Customised Entertainment Unit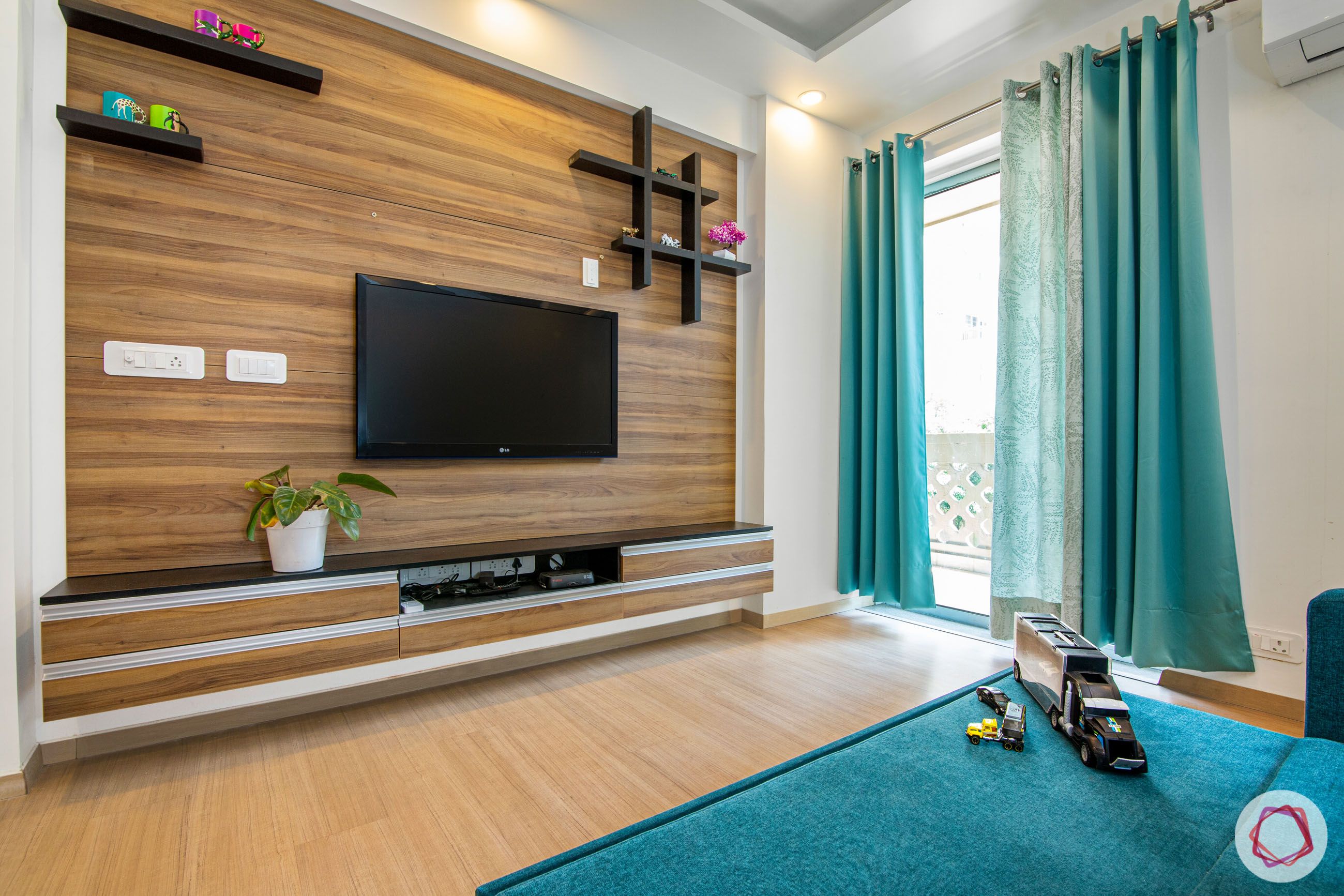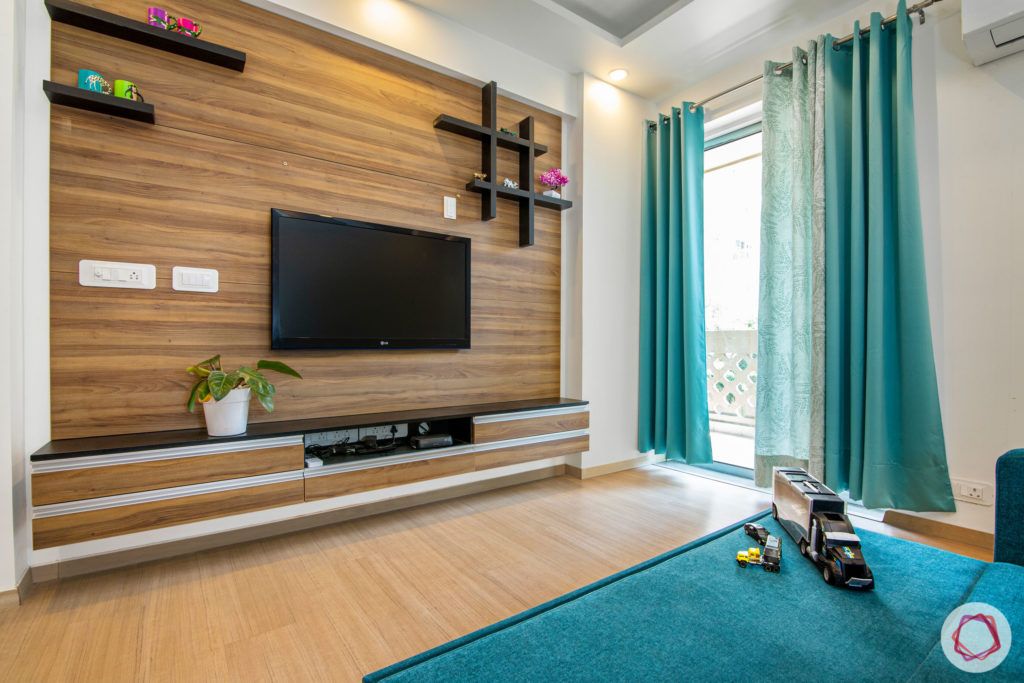 We love space-savers! This entertainment unit fits perfectly in a wall niche and features open shelves to display collectibles. While it has everything you need, the unit doesn't seem bulky or take up too much space in this bedroom. We especially love how it adds warmth to the room, thanks to its warm wooden tone, which is also complements the flooring.
See the full home here.
If you liked reading this, take a look at this: Which Flooring is the Best?
Send in your comments and suggestions.