Pooja ghars or corners are an essential part of most Indian homes, where idols, flowers, lamps and other holy paraphernalia are used to adorn the space. But more often than not, we fail to see how colours can play a magical effect as well. So, if you are looking for a divine makeover, try these colour ideas for Pooja rooms:
Colour ideas for Pooja room #1: Pristine white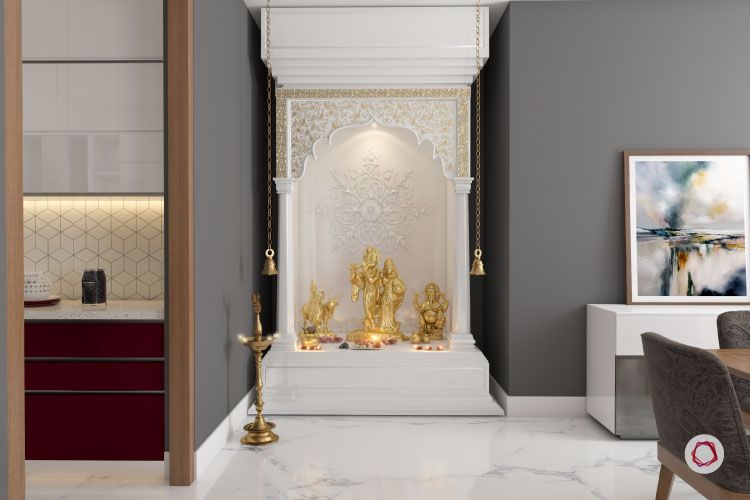 Give your Pooja corner a pure and unblemished feel with white. This traditional mini-temple looks gorgeous with hints of gold and embossed designs in the foreground and background. The versatile hue can be paired with anything and the brass bells here work as the perfectly complement.
When designing with white, ensure that you choose easy-to-clean materials like granite, laminate etc.
Colour ideas for Pooja room #2: Auspicious yellow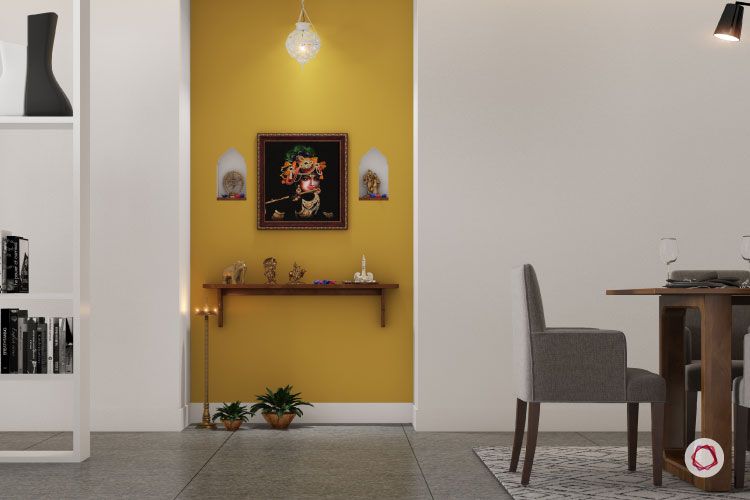 A minimally designed Pooja corner with propitious yellow is such a great combination! Gaudy shades of yellow are passe and subtle shades like canary or mustard yellow in matte finish are in.
Wood accents are common in Pooja spaces and this wall mounted shelf pairs beautifully with the yellow in the Pooja niche. This Pooja corner colour idea will make your place of worship look sanctified like no other.
Colour ideas for Pooja room #3: Cerulean hymn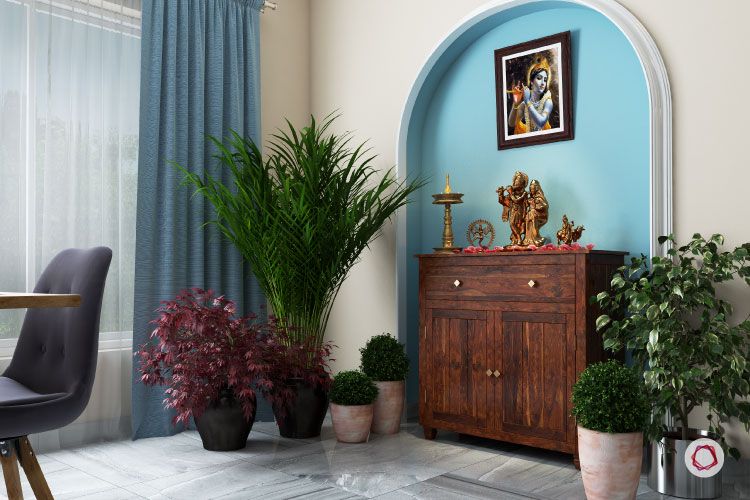 This is such an offbeat and unusual colour for a Pooja corner that it makes a statement instantly. Anyone who sees it is sure to get attracted towards its uniqueness.
We love how the arch, finished with stylish white trims, adds dimension to this area and draws the eye towards the carefully curated holy space.
Colour ideas for Pooja room #4: Faithful red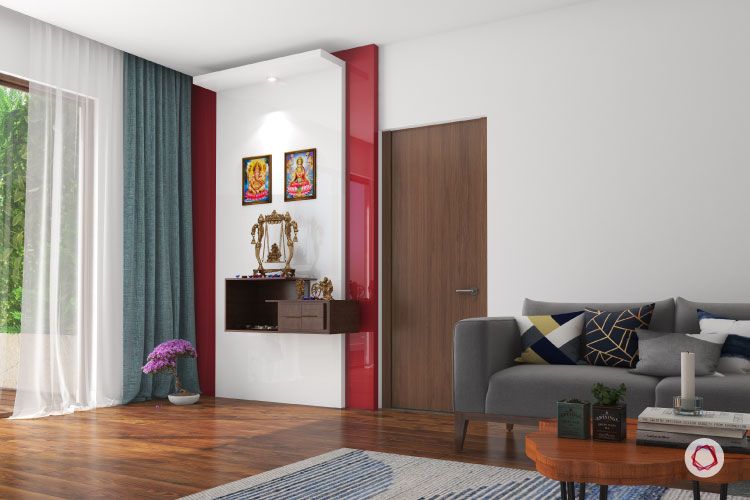 Poojas and reds are almost synonymous. Be it kumkum or the holy dhaga, red is the almost always chosen as the colour of divinity.
Styling your Pooja room walls with swathes of red might be overwhelming, so you can go for a colour combination like above. The glossy red panel overlapped with white, gives an energetic zing to the space without looking too loud.
Colour ideas for Pooja room #5: Two-toned beauty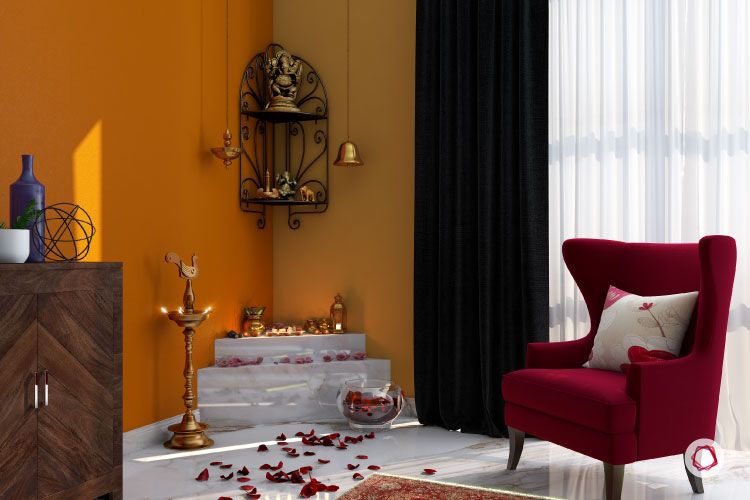 Who said Pooja rooms or corners can have only one colour on the walls? This Pooja corner colour idea is perfect for homes where the Pooja unit is built in between two walls.
This way, you have two walls to choose colours for, and it's best to choose different shades of the same colour.
Colour ideas for Pooja room #6: Green, the colour of life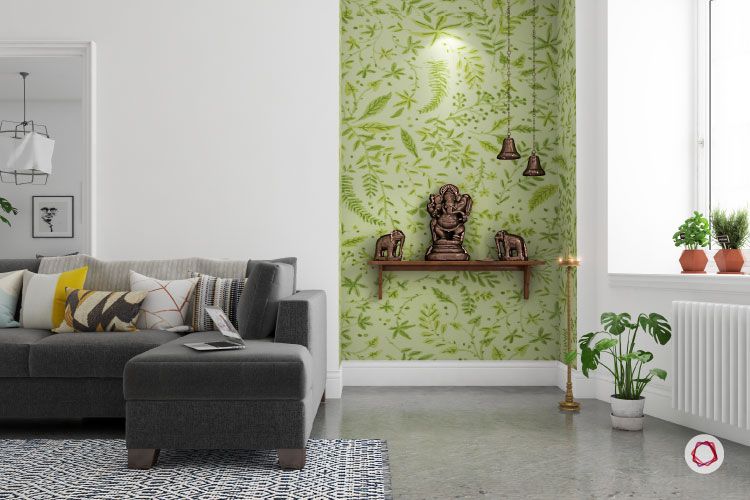 This Pooja corner colour idea will surely make your space of worship look natural and full of life. This holy niche looks peaceful as ever and instantly soothes the senses.
The wooden wall mounted unit with dark brass idols and bells make for the ideal choice here. Green symbolises life and nature, which makes it a good colour option for Pooja spaces.
Colour ideas for Pooja room #6: Vermilion magic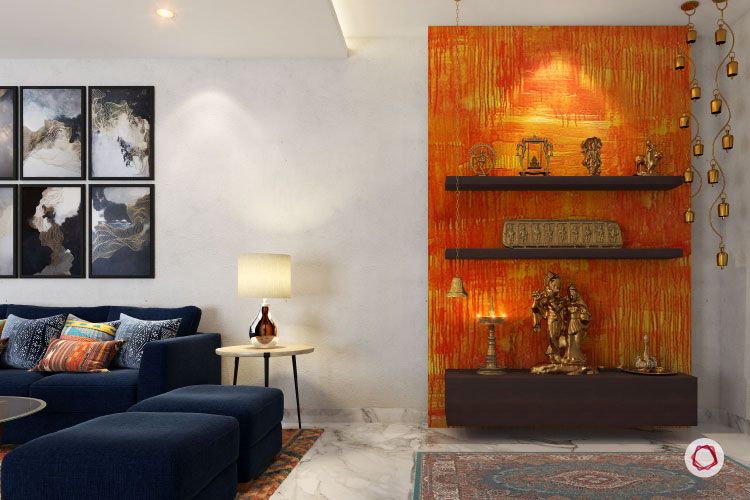 We have saved the best for the last. This stimulating colour idea with a textured finish adds pizazz to this Pooja corner! Orange is such a bright and happy colour, and when used on a wall as a backdrop for your mandir, it just makes it more meaningful.
The right colour in your Pooja corner can make or break the look of that space. You can create an oasis of calm with these fresh hues or pleasing colour combinations. So go on and make your Pooja corner stand out in style!